Our website is supported by our users and contains affiliate links. We get paid when you purchase or sign up for anything through those links. Read the full disclaimer for more information.
Last Updated on July 10, 2023 by Daniella
Remote work is the dream, including remote side hustles.
Being able to work from wherever you are is the ultimate life hack and literally a lifesaver for some folks.
With remote jobs and a remote side hustles, work is becoming more flexible. You no longer have to plan your entire life and schedule around work, put off traveling or moving to the places you want to visit and explore, and you're able to protect yourself in ways you can't when you have to go into an office every day or from gig to gig.
Remote work is also an important business strategy for inclusion that financially empowers workers and grants them the freedom to be able to be themselves when working and building multiple income streams.
As a side hustle & career coach that's tried tons of side hustles over the years, remote side hustles are my absolute favorite. Let's dig in and find the perfect remote income stream for you to start this year!
We've shown you how to get a remote job, what work from home jobs are available, now it's time to break down work from home side hustle ideas and where to actually find gigs for them.
What makes a side hustle remote?
A remote side hustle is basically any income earning opportunity that can be done from a laptop or smartphone, without needing to commute to a location.
These can be many things like part-time second jobs that are remote, working as a virtual freelancer or side business owner, or doing online gigs like testing websites. Side hustles like these allow your earning potential to be completely location independent, making it a much more accessible option for folks looking to increase their income.
22 Remote Side Hustles You Can Do on The Side of Your Day Job
Remote jobs aren't the only way for folks to build a more flexible life. There are several ways to work remote side hustles and find one that's the perfect fit for you. You can work as a freelancer who serves a client or build your own small business on the side of your day job.
There are also ways you can use one off gigs to earn cash online remotely that we'll also discuss.
Whether you want to build a remote portfolio career or simply learn about more ways to monetize your skills online, keep reading.
Freelance Remote Side Hustles
Get started finding clients on your own through a network of yours, browsing for gigs that match your skillset on an open marketplace like Upwork, or start your own brand where you make money by providing content, selling products, and being a creator. For instance, I find freelance writing opportunities through my own network while also being able to make money from wherever I am with my blog income.
However, there are several other ways to get started with a side hustle that doesn't require ever launching a brand or having to market yourself. Find and work remote side hustles online via job boards, gig agencies, and other websites. Start putting together a small resume for this work with a portfolio via MuckRack, Behance, or a premium website via Bluehost.
Another helpful thing to do is to create a profile on Twitter to start reaching out to others in certain "call to pitch" posts to create a small network of freelancers that share gig openings with each other, cowork together, bounce ideas off of, and more. Use this helpful post to get the most out of Twitter's search function.
When searching any of these websites, select "Remote" for your location and filter on freelance opportunities (unless you want part time or full time for a career pivot). Some of the websites below are open marketplaces, remote job and gig boards, or agencies and companies hiring for these specific positions.
1. Writing
Freelance writing is a great remote side hustle that has low startup costs too. You can use all free software to get started like Google Docs, Grammarly for proofreading, other tools for freelancers, and start writing articles in Medium for practice.
You can freelance write in a variety of areas including:
Copywriting
Technical writing
Writing documentation
And more
Then head to these following sites to look for remote freelance writing gigs:
Related: 8 Ways to Get Paid for Your Recipes
2. Editing
Another side hustle idea if writing is skill of yours is editing. It is very similar to freelance writing except you edit the written work, sometimes might have to rewrite parts of the piece, and you'd have more control over the finished product before publishing as well as the overall content calendar of a publication.
Elna Cain actually was freelance writing for 6 years until they came across editing opportunities and they found them to be a great work from home side hustle.
Websites you can use to look for editing gigs are:
Related: Get Paid to Read Books: 14 Ways to Make Money Reading Books
3. Proofreading
If you thought editing and proofreading were the same thing, think again. Proofreading is polishing a submitted work before it publishes, including looking for spelling errors, grammatical errors, sentence structure, formatting, etc. Editing is more time consuming and sometimes involves rewriting pieces of content.
To get started exploring proofreading and if it would be a great remote side hustle for you, check out this free course.
Use the following websites to start looking for freelance proofreading gigs:
Related: 7 Best Online Proofreading Jobs (That Are Actually Legit)
4. Design
Much like freelance writing, editing, and proofreading, you can get paid for your design skills as a freelance designer.
You can freelance in a variety of areas as a designer such as:
Graphic design
Logo design
Branding design
Interior design
Product design
And more
Start with these websites when looking for freelance design gigs:
Related: How to Make Money as an Artist
5. Web Development
My first ever side hustle that I actually paid taxes on was when I worked as a freelance web developer on the side of my day job as a software engineer and it lasted for quite a few years.
As a freelance web developer, your specialty and what you want to work on is entirely up to you. For instance, I strictly helped my clients with custom WordPress builds and support. You could choose to help people build apps, fix code on their small business website, or whatever you want really.
If you already work in tech, think of one thing you love doing the most at your job and then freelance out that skill for a tech side hustle.
To find freelance web developer gigs, start with these websites:
6. Transcription
Transcription is the process of taking an audio or video recording and converting the speech into text. This sounds like it could be pretty easy but your astute attention to detail is going to be what sets you apart from other transcriptionists.
There are tons of free training online that can help you prepare like this free course to help you get started as a transcriptionist. You'll also need a couple of tools to perform gigs such as a foot pedal, Express Scribe, and headphones.
To get started looking for transcription remote side hustles, look at the following websites:
7. Tutoring
If you have experience with tutoring, teaching, or working with students in any capacity, then you could find remote side hustle opportunities as a tutor. As a tutor, you'll help students complete assignments, study for tests, and improve their learning experience.
Start with these websites to start looking for tutoring gigs:
Related: 8 Side Hustles for Teachers
8. Customer Support
If you have experience in customer service or working with customers at all, look into remote side hustle opportunities in customer support. There are a wide range of gigs you could perform in this area including being a chat box customer service representative, take customer support calls, be a moderator, scheduler, work on customer requests via tickets, etc.
Use these websites to start looking for online customer support gigs:
9. Virtual Assisting
As a virtual assistant, you will be performing an array of tasks for businesses and business owners. You might create social media posts, upload blog posts to the website, answer emails, schedule meetings, help plan content, help run events, and anything the business needs you to do.
Start looking for remote virtual assistant gigs using these websites:
10. Social Media Management
As a social media manager, you will be performing a variety of tasks from social media content planning, creation, scheduling, and even the analysis phase of how that content performs. You can get started as an independent freelancer, looking for gigs within your network or community, or get started with online job sites and other websites hiring social media managers.
These websites will help find remote side hustles in social media management:
Related: 7 Side Hustles for Project Managers
11. Coaching or Consulting
Coaches and consultants might sound like they do the same thing and that is partially true. They both work 1 on 1 with clients to get to a particular goal, but both differ slightly from each other.
Coaches coach their clients through tasks to get to a goal, work through mindset blocks, and provide motivation to their clients. Consultants actually consult their clients on more specialized tasks. For instance, a branding consultant works with you on your concerns with your branding and maybe will work with you to redesign that branding.
Where to go to look for remote coaching and consulting gigs:
12. Teach English Online
There are several different ways that you can get paid to teach English online as an ESL (English as a Second Language) teacher. Since English is the most recognized language in the world, you won't have a hard time finding these sorts of gigs with English teachers being in high demand online.
Some requirements to work as an online English teacher is being a native English speaker, obtain a TEFL (Teaching English as a Foreign Language) certification or degree in a similar area. You can work as an English teacher to a group of students or work as a private tutor helping people learn the English language.
Use the following sites to apply to become an online English teacher:
VIPKID: Make $14-$22 an hour as an ESL teacher.
MagicEars: Make up to $26 an hour as an ESL teacher.
13. Teach Music Lessons Online
If you are a music lover and know how to play a certain instrument, you can get paid to teach music lessons online as a remote side hustle idea. You can make money teaching lessons online through virtual schools, setting up your own lesson website, or teaching with a virtual freelancer marketplace.
Online music teachers get paid for private 1 on 1 lessons and group lessons.
Browse the following websites to sign up to become a virtual music lesson teacher:
Takelessons: Sign up to become a teacher and teach private and group lessons.
Udemy: Sign up to teach on Udemy and offer music lessons for your instrument of choice. You can also offer vocal lessons, lessons on musical technique, music software, production, and more.
14. Bookkeeper
Bookkeepers help businesses keep their financial books in order. Usually folks can pay accountants to do this for them, do this themselves, or they hire a bookkeeper to handle it. Some gigs may also require you to be a certified bookkeeper.
To start searching for bookkeeping remote side hustles, start with these sites:
Building Your Own Virtual Side Business
When you're building your own remote side hustle, you are building an actual business. The internet just likes to call those "side hustles" when they are done on the side of another job or other income streams.
And no, these aren't things like taking online surveys,
When you're building a business, you can choose to register your business before you jump in head-first or start out as a sole-proprietor and register your business later on. However, registering your business will help legally protect you.
15. Start a Blog & Monetize It
Starting a blog was the same side hustle that I started on the side of my day job in 2017 in between back-to-back layoffs. This year, that same side hustle allowed me to leave my day job and work for myself full-time.
You can make money blogging in a variety of ways including passive income from displaying ads on your website and affiliate partnerships. Passive income takes much longer to build up to be a good chunk of sustainable income. For instance, it could take up to a year to build up passive income streams from a blog of about $1,000 monthly with ads and affiliates.
However, you can also integrate active income streams with your blog like sponsored brand partnerships, selling a product or service through your blog, freelance writing, and more. There is literally no limit of the amount of income streams that you can create with a blog and you can blog from wherever you are as long as you have wifi and a laptop.
16. Start Vlogging or Creating Video Content
Vlogging is a very lucrative way to make money online. You can start making money passively through YouTube once you reach 1,000 subscribers and 4,000 watch hours on your channel. Once you reach that milestone, you can start serving ads on your videos and racking up passive ad income.
Even if you don't like showing your face, you could still make money on YouTube. A great option for folks who don't want to be on camera is creating a tutorial based YouTube channel where you share tutorials for various tools, how to use certain devices, DIY steps, or videos on how to repair something.
People are searching on YouTube every day for tutorials to help them do their jobs or fix something in their house, so this type of content is in high demand.
Other ways you can make money on YouTube are (but are not limited to):
Affiliate marketing and putting affiliate links in the description of your videos
Sponsored brand partnerships
Offering a service to your audience
Selling a digital product
Selling a physical product
Related: How to Sell Videos Online
17. Create Digital Products to Sell
You can add digital products as a way to make money with Canva and create a new virtual income stream. Digital products are also a great way to build up sustainable semi-passive income .
Selling digital products online is more of a semi-passive income stream when you start out because you will still have admin duties like customer service, updating your listings, adding new listings, marketing, etc. However, this can easily become a 100% passive income stream once you outsource any manual tasks.
You can use any of these apps to set up your digital product store:
Etsy: An upside to Etsy is your audience is already there. You mainly only have to focus on Etsy SEO to bring in customers from the platform. You can also market your listings on Instagram and Pinterest for further visibility.
Shopify: This is what I use for my own digital product store attached to the blog and love it. You can sell digital products, physical products, and even dropship on Shopify.
Stan.store: Stan allows you to easily set up a digital product store with a linktree so your audience from social media can easily buy from you. This is a great option for beginners who have a social media following.
18. Open a Dropshipping or "Print On Demand" Store
The next best option to selling digital products online for semi-passive and passive income is creating a dropshipping store.
Dropshipping means that you sell "on demand" products. On demand means that you don't have to prepare the items and ship them yourself. Instead, you have a warehouse on deck that does all of that for you. Another word that you might see when referring to dropshipping is "print on demand".
There are several apps that easily interface with Etsy and Shopify to be able to have warehouses do all the work for you (for a small fee). Some of these apps are Printify and Printful and you'll choose in the app which you want to use — Etsy or Shopify. You will have to create your Etsy or Shopify separately, then you'll be able to pull in their data in the app once prompted.
You can get started with this type of store by creating a couple of designs in Canva that your target market loves. Then you will use those designs to choose what items you want to sell with the design on them, on whichever app you go with whether that's Printify or Printful. You can choose to sell items like coffee mugs, tumblers, wine glasses, t-shirts, hoodies, and more.
One-Off Ways to Earn Cash Remotely
These are not sustainable remote side hustles, but instead ways to earn cash performing tasks remotely online. They are also great ways to help fund starting up your side hustle or business idea.
However, you shouldn't expect to make a sustainable income from these routes.
19. Test Websites
You can use websites like UserTesting and UserFeel to make money testing websites online. You can make anywhere from $3 – $30 per test but you will have to apply and complete a qualifier type of test to be able to start doing tests.
Each test lasts 5 to 60 minutes and all you need to complete it is wifi, a computer, or phone, or tablet.
20. Take Part in Online Research Studies
A notch up from online surveys are participating in online research studies. You can browse paid research studies on a site like Respondent and do screener tests. When you are chosen for one, you can make anywhere from $15 for 15 minutes or up to $300 per hour depending on the study.
21. Answer Questions if You're an Expert in Something
If you are in expert in any subject and have a degree to show it, you can apply to become an expert on JustAnswer and get paid to answer other people's questions.
The subjects that are currently on JustAnswer are:
Finance
Computers
Programming
Law
Medical
Pet
Home improvement
And more
22. Do Online Surveys (not a sustainable idea)
Finally, the one I was kind of avoiding. Surveys will probably yield you the least amount of money out of all of these options, but they are great for the folks that love them.
Surveys are great for folks who love doing quick tasks for extra money when on the go and find themselves waiting a lot with "idle time". However, they aren't for folks who hate doing anything tedious for a small payout.
Keep in mind that prequalification surveys on these platforms are not paid which is why they are the absolute last item on this list. These sites actually pay a little better than most platforms once you can qualify.
So if you're a survey junkie, I have a couple of survey sites for you to use:
Frequently Asked Questions (FAQ)
What is the best remote side hustle?
The best remote side hustle is one that you can start yourself. When you build your own business, you get to design it however you want. You can work as a freelancer with a business and clients that you find on your own, start a content business like a blog or YouTube, sell something on online, or partner with others for projects.
What are some of the most profitable remote side hustles?
The most profitable side hustle depends on the niche, demand, and how you market it. A side hustle can appear extremely profitable and popular online, but when you get into the nitty gritty of it you find that it is a lot harder than other make it seem. Or maybe you find out that you can't profit at it like others are because it isn't the right choice for you. Selling digital products with the best marketing to accompany them so they target the right audience is a great profitable remote side hustle idea.
Any remote side hustle you choose will take some amount of time to get it to be profitable the way you want so don't give up on it too soon.
How can I make $1,000 on the side or with a remote side hustle?
A great way to make $1,000 on the side with a remote side hustle is with using a side hustle stack. I love stacking side hustles for maximum earning power. For example, I pet sit on Rover sometimes while also completing writing assignments for my freelance writing side hustle. When I do this in a weekend, I can easily make $1,000 from both of those side hustles while also making ad income from my blog, which I make every day regardless of any work being done because it is passive income.
When you reach $400 in side hustle income, you'll be required to report that income so make sure you're using a side hustle tax calculator to set aside the appropriate amount aside for self-employment and income taxes.
What are some passive income ideas or remote side hustles?
Creating a blog or YouTube and serving ads within your content is a great passive income idea. You can also sell digital products online for passive income and semi-passive income like eBooks, social media templates, designs, fonts, and even courses. Before you get started with any other passive income option, start with investing in the stock market to understand the basics of passive income and start investing for retirement.
How can I make an extra $2,000 a month?
There are tons of ways you can make an extra $2,000 a month. Some of these include stacking different side hustles with a combination of active income and passive income, take on 1 client where you charge them $2,000 for that month, sell a course for $100 to 20 people, sell a digital product that costs $50 to 40 people, or build your blog or YouTube up to $2,000 of ad income per month.
Getting Started With Remote Side Hustles
Whether you start your search on a freelancer platform or not or start your own remote side business, you might need extra help with brushing up on skills. Take advantage of free courses online to help you skill up.
Use any of these free resources to help get your trainings complete and ready to dive into your new remote side hustle:
Either way, don't wait until you've gone through a course to start. I guarantee that you already have everything you need to get started.
If you don't feel like you need to skill up, start looking at some of the leaders within the niche you want to start in and start following them. Subscribe to their email list and communities so you can learn more about what they do.
If you feel like you need a course to help you along then make time to do that, but know that you don't have to wait on completing some course.
Now, let's make some moves!
Which of these remote side hustles are you thinking of starting? Let us know in the comments.
Related:
Pin it for later!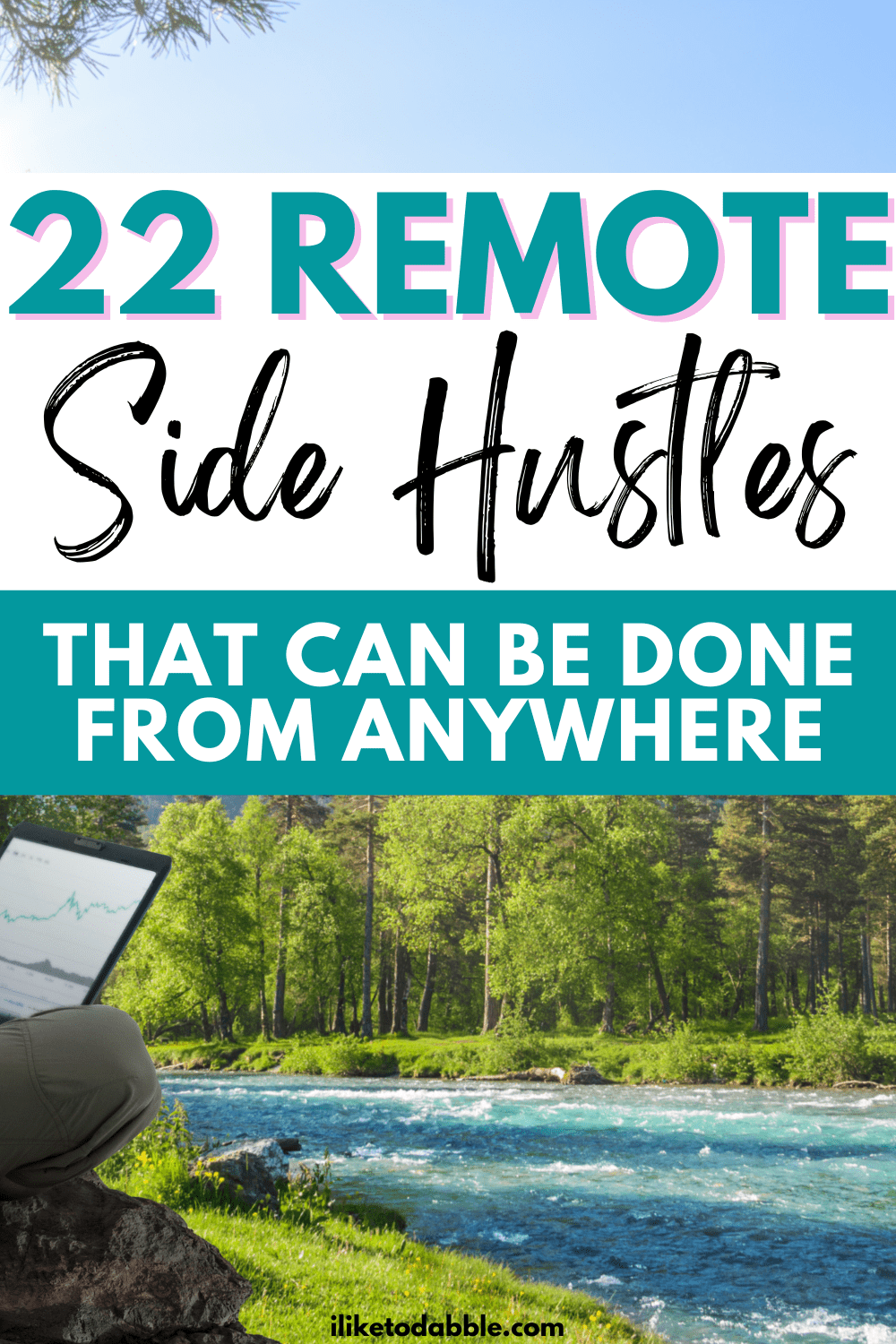 My favorite side hustle tools that make my life 100% easier:
Bluehost: Host your website, blog, or other project using Bluehost and get a special discount only for ILTD readers 😍
Canva: Canva is what we use to create all of the beautiful graphics you see on our blog, social media, marketing, and our free and paid products. This is a MUST HAVE tool for any online side hustler.
Grammarly: Grammarly is a free browser extension that helps me proofread as I write for both the blog and my freelance clients. It makes the editing process so much easier for everyone involved.
Convertkit: Convertkit is what I use to host my email list and all communication between ILTD and our subscribers. I've used the service now for almost 5 years and continue to love it!
Launch Your Side Hustle Program: My All-In-One self-paced course designed to take your side hustle idea to income.
Collective: What I use for keeping track of my business finances all in one place, invoice clients, taxes, and more.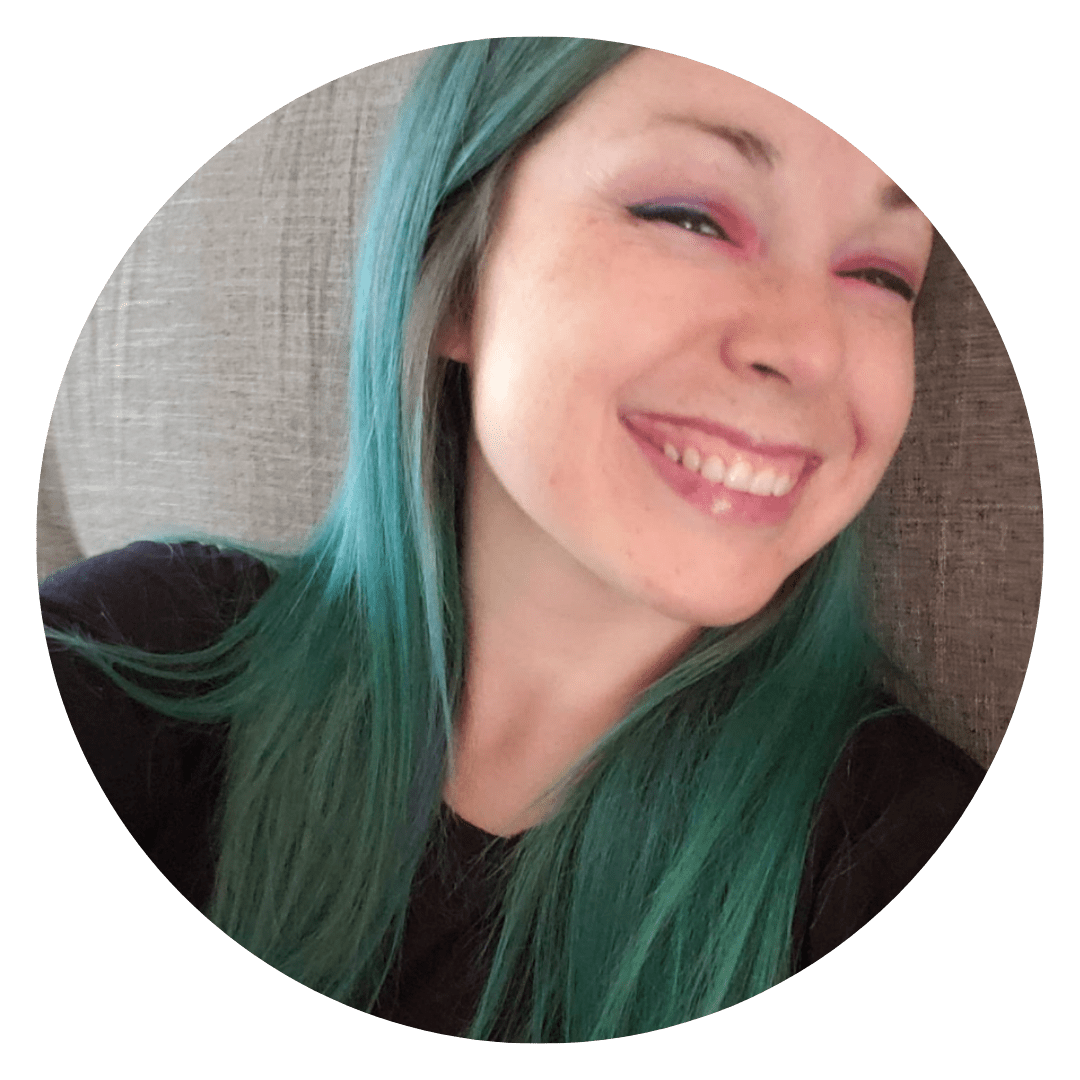 Daniella is the creator and author of iliketodabble.com. When their wife Alexandra and them aren't globetrotting or playing with their 7+ animals, they are dabbling and working towards a future of financial freedom.