Our website is supported by our users and contains affiliate links. We get paid when you purchase or sign up for anything through those links. Read the full disclaimer for more information.
Last Updated on March 7, 2023 by Daniella
College is a stressful time.
Then, during all of that stress, people have the audacity to ask you for your free labor through unpaid internships.
Uh, no. We don't work for free. Starting a side hustle can give you more pay and experience than unpaid internships, and you can even put them on your resume.
Between your job and studying for finals, it can be hard to find extra time for side hustles. However, starting a side hustle in college can set you up for a great foundation of skills, savings, and springboarding into figuring out what you want to do after college.
While exploring side hustle ideas in college and different ways to fit in flexible online work, you can experiment with a digital nomad lifestyle with remote side hustles and maybe even help pay for a gap year. Plus – they give you a better perspective and learning experience for the rest of your life.
Here's my list of favorite side hustles for college students. Before we dive in, don't forget to take our free side hustle quiz that will match you to your perfect type of side hustle based on your interests, availability, style of working, lifestyle, and personality.
20 Side Hustles for College Students
Students can make extra money and build new skills in a variety of ways from tutoring, to traveling and house sitting, to even starting online projects and building entire businesses.
Let's dive into some of the options available, including some that you can build yourself. Since we support a living wage here, we are going to start at opportunities that pay $16 an hour or more.
1. Tutoring
Tutoring is an excellent way to earn some other cash. It doesn't matter if you're tutoring your fellow classmates or if you're tutoring kids, you can make some pretty good money doing this. To get started, apply to be an online Tutor at TutorMe and make up to $16 an hour tutoring others online.
Other ways to get paid to tutor is to:
advertise your skills with your university
look at your university's job board
look for tutoring gigs on NextDoor and your local Facebook groups
2. Pet Sitting
If you're an animal lover, you can get paid to watch other people's pets, walk them, stay with them overnight, or just opt to do drop in visits. With an app like Rover, you can actually choose from all different types of services to offer like pet sitting, dog walking, drop in visits, grooming, and more.
I especially love taking extra work around the holidays to pet sit on Rover because there is such a large demand and it's a great additional income stream while doing other things.
Related: Rover Sitter Review: Is Rover a Good Side Job?
3. House Sitting
House sitting is a great way to make money while working on online course work, visiting a new area, or wanting to do nothing. You'll get to watch someone's house while they're on vacation, and maybe even get a vacation out of it yourself. It can be a great way to get away for the weekend and have pseudo studying retreat – all while getting paid.
You can use apps like Rover and Care to find housesitting jobs.
4. Housecleaning
Offer to clean houses in your community to make some extra money. Depending on your area, you can charge 20-30/hr for your work, and you can come to the houses when you have free time. It's a great money making skill and doesn't take much time.
You can start to look for housecleaning gigs on apps like Handy and Housekeeper.
5. Babysitting
If you're good with kids, look on sites like Care.com to find babysitting gigs. You can take on consistent work, and be a nanny, or do occasional work to help parents who want a night out. Either way, you'll be able to spend a couple hours and make between $30-$50, depending on your area.
6. Grocery Shopping
With the rise of the gig economy, you're able to spend time grocery shopping for someone else. You can use a gig app like Instacart to shop and deliver groceries for others. Instacart Sometimes this service is done internally through the grocery store itself, which you can inquire about their available jobs probably using their website.
Another great option to get paid for grocery shopping is Amazon Flex.
Related: How Much Can You Make With Instacart?
7. Data Entry Side Gigs
If you're good at paying attention to details, then you should pick up some work as a data entry person. Look on FlexJobs, Clickworker, Remote.co for gigs.
What you'll do as a data entry specialist is mostly entering data into fields in websites, spreadsheets, fill out information from forms onto a computer program, and other repetitive data entry work. It's especially a great for people who love doing repetitive work.
8. Car Gigs
Whether you want to deliver items to people or use your car to generate income in other ways like wrapping it with ads or renting your car out on Turo, you can get paid for your car in a variety of ways.
However, keep in mind any maintenance and other costs your car will need once it is in more use this way.
Apps you can use to make money with your car are:
9. TaskRabbit
If you're a general handy person, becoming a task rabbit is an easy way to make some money. You work on your times and pick projects that work best for you.
There are plenty of different things that people want you to do like assembling furniture, doing lawn work, building things, fixing things, etc. The variety of work keeps things interesting.
10. Freelancing
Freelancing is an excellent way to make money if you have a unique skillset. You can freelance as a writer, designer, or coder.
Well actually, you can freelance as a lot of things. Think about any specific skill set, and you can freelance out that service for an income stream.
It truly doesn't matter what your skillset is if there's a market for it.
Look on job boards to find idea for gigs and start putting together your profile to accept gigs:
11. Work on Campus
Look for open jobs on your college's website and job board for on campus open gigs like modeling for art classes, working in certain departments like the library, medicine, or any museums, and seasonal events.
There are some great recommendations from college students in this Buzzfeed article. I also love the site Handshake for college students looking for part-time work.
12. Blogging or Vlogging
If you're a good writer who's interested in writing a lot of content about a specific niche, you should consider blogging. Blogging is a great way to make money through affiliate income, partnerships, and ad revenue. I personally use blogging to make money and it's been fairly lucrative.
Another great side hustle alternative to blogging is vlogging, especially if you'd rather fim your content than type it. Use our free guide about how to start vlogging and making money on YouTube.
13. Selling Class Notes
Are you great at taking notes? If so, then selling your class notes might be a great way to make money, especially if the class you're in is difficult. You can charge between $5-$10 per class, and if a few classmates buy them, that's an extra $20-$30 in your pocket every class. That adds up after a while.
14. Participating in Research Studies
A great way to get paid for participating in research studies is using a site like Respondent to choose from a variety of online studies that you could participate in depending on your experience. What I love about this site is that it isn't just work or school experience they categorize the studies by, but also life experience.
Also check with your university to see what studies are happening. A lot of researchers will pay students in cash or gift cards to participate in studies of all various sorts. You can check with your library to ask where to find them.
15. Website Testing
If you want to do website testing for user experience, then you need to visit the site User Testing. You can get paid between $20-$30/hr for work you do, depending on its complexity.
You can also get paid for some website testing via Respondent if they happen to have any of those specific tech related studies available.
16. Designing Printables
Did you know that you can make money with Canva? I love designing printables and digital guides in Canva to sell in my own online shop.
Selling printables or digital art on Etsy is a great side hustle when you're in college because of how much semi-passive and passive income it can create for you. Plus, you can make all kinds of printables. From budgeting worksheets to school planners, the possibilities are endless.
All it takes is a little creativity to get started and this free guide to selling digital products online.
17. Reselling Textbooks
A classic college side hustle is selling used textbooks online or to your fellow university members.
You can either use reselling sites, like eBay and Amazon, or you can sell directly to classmates. Some universities even have a Facebook group dedicated to textbook reselling to connect students with one another.
Check for one of those groups first so you can get by paying less in fees and shipping, then move on to the reselling apps.
Related: Get Paid to Read Books: 14 Ways to Make Money Reading Books
18. Flipping Items Online
If you have a love for thrifting, use that passion of yours to your advantage! You can become a thrift store flipper and make money reselling your favorite thrift store finds and it also doubles as a creative outlet. You can also flip items from garage sales, yard sales, flea markets, clearance items at your favorite stores, and eBay.
If you loving curation things for others, this is the perfect gig for you. You'll get to hunt for these finds for others, and get the satisfaction of doing so.
Apps to resell your thrift store finds are eBay, Etsy for vintage items, and Facebook Marketplace.
19. Sell Stock Photos or Videos Online
If you're a good photographer, you can take stock photos or videos and sell them online. This is another great side hustle because it's passive income. You can sell the same photo over and over again for a few dollars a piece.
Use any of the below free guides to get started:
20. Sell Old Clothes
Take a moment to browse your closet and identify clothes that you don't want anymore. If they're good brands, you can sell them on Poshmark, ThredUp, Facebook Marketplace, or any other selling app for a pretty penny. This isn't a great long term side hustle, but if you just want a few bucks to spend on spring break, it's not a bad idea.
The Bottom Line
Whether you rather want to do quick side gigs here or a longer term side hustle, remember the goal you have for your side hustle and the extra money coming in. College is a stressful time and even though you think you can do it all, it may come to a point where you can't. ]
Don't forget about taxes either! You'll be responsible for both self-employment and income taxes, which you can easily track using a side hustle tax calculator like Lunafi.
Are you doing these things for yourself or to please someone else? Get clear on your own personal goals for your life ahead and you'll be surprised at what you realize.
What are your favorite side hustles for college students or some that you've tried?
Read for more side hustle ideas:
Pin it for later!
My favorite side hustle tools that make my life 100% easier:
Bluehost: Host your website, blog, or other project using Bluehost and get a special discount only for ILTD readers 😍
Canva: Canva is what we use to create all of the beautiful graphics you see on our blog, social media, marketing, and our free and paid products. This is a MUST HAVE tool for any online side hustler.
Grammarly: Grammarly is a free browser extension that helps me proofread as I write for both the blog and my freelance clients. It makes the editing process so much easier for everyone involved.
Convertkit: Convertkit is what I use to host my email list and all communication between ILTD and our subscribers. I've used the service now for almost 5 years and continue to love it!
Lunafi: Get the same side hustle income tracker I use to calculate profit, taxes, and more.
Quickbooks: What I use for keeping track of my business finances all in one place, invoice clients, and more.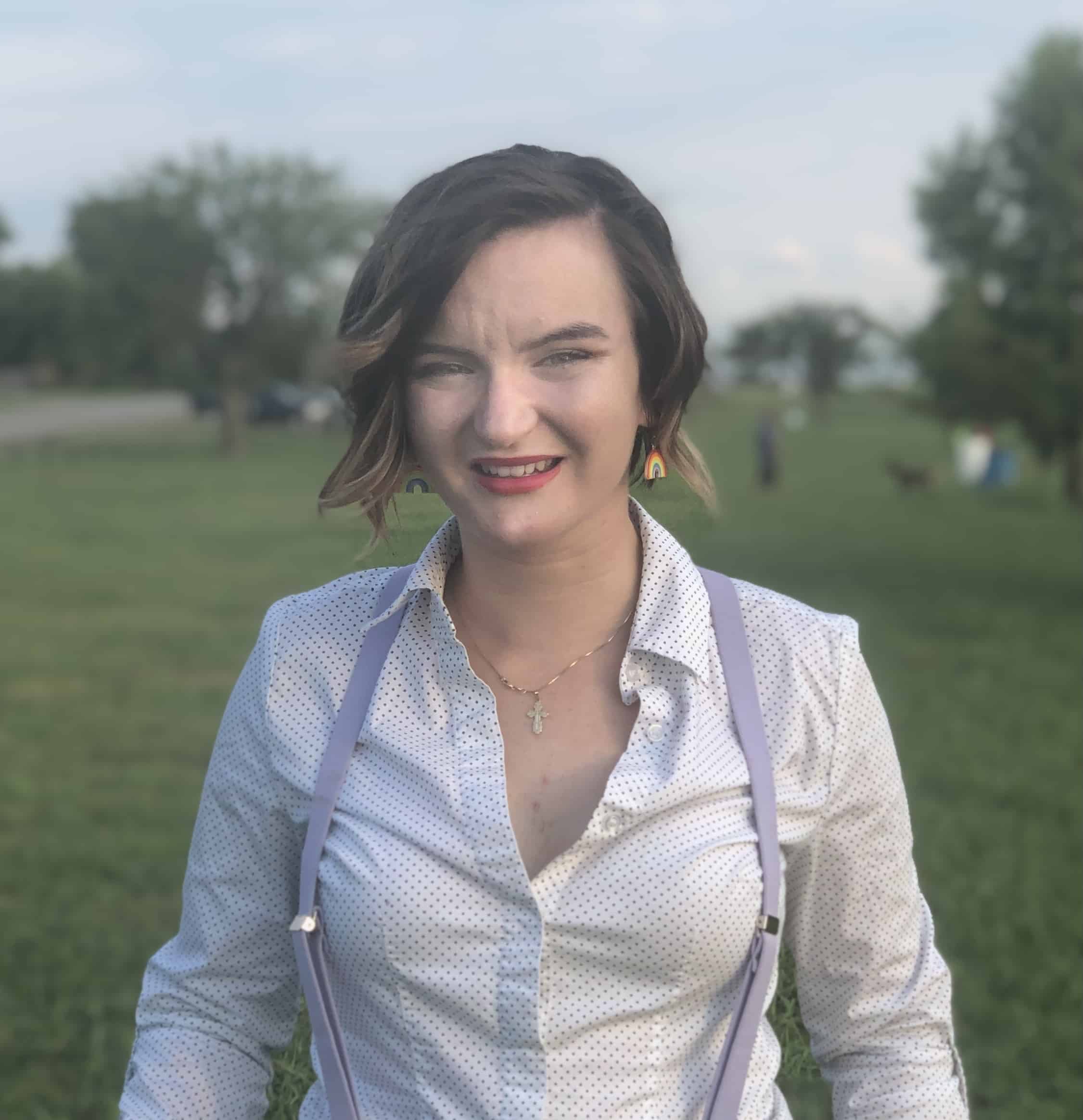 Moriah Chace writes about low-income money and queer culture. Her work has been featured by The Motley Fool and other large media outlets. She has words in Women's Personal Finance, The Deal Taker, and Live Betr. As a part-time barista and full-time coffee addict, she spends her spare time over-caffeinated fixing up her 1978 Winnebago Itasca and plans to travel around the USA with her dog and two cats after she breathes life into the old soul of an RV.