Our website is supported by our users and contains affiliate links. We get paid when you purchase or sign up for anything through those links. Read the full disclaimer for more information.
Last Updated on July 18, 2022 by Daniella
Are you craving to be able to work from anywhere with a flexible schedule, and enjoying the perks of running your own business or digital side hustle? If this sounds appealing, you might be interested in how to become a proofreader.
Proofreading is a growing industry, expected to rise by nearly 6% annually over the next several years.
Proofreading is an opportunity to make money working from home. It's perfect for introverts or people that enjoy working independently in solitude. You can work part-time or full-time, as a W2 employee or freelancer.
In this article, you'll learn more about what proofreaders do, how to become a proofreader, qualifications needed, proofreader salary and how to get started.
Let's go!
What is a proofreader?
Proofreaders review an author's work to spot errors in grammar, spelling, and punctuation. Their role is to spot check documents to ensure it's error-free and ready for publishing.
Proofreading is typically the last step in the editing process before content gets published. You'll likely be the last person to review content for errors prior to publication so this is an important job and a critical part of the publishing process.
Proofreading can be done part-time or full-time. It can also be a side hustle done as a freelancer that you can turn into a full-time freelance business for yourself.
Proofreaders work for:
Bloggers
Podcasters
Publishers
Small businesses
And, other clients
When searching for proofreading jobs, you'll probably see editing or copy editing jobs as well. Let's take a look at the difference between these two careers so you'll have a clearer understanding of the role you'll be taking on as a proofreader.
Proofreading vs Editing
It's important to share the difference between proofreading and editing. A lot of the job tasks you do as a proofreader can crossover into editing and vice versa.
Here's the difference between proofreading and editing:
Proofreading is the last step in the publishing process. The job is meant for spot checking for minor errors in spelling, grammar and punctuation that might not have been caught during editing.
Editing happens earlier in the publishing process. It's about working through the entire document to make changes to critical errors and improve readability. This can include adding, removing, and moving entire sections of content around, changing a sentence or paragraph's structure, correcting spelling, grammar, and punctuation errors, on a large scale.
Editing requires much more work than proofreading. An editor does the first round of edits and makes large scale changes whereas a proofreader is the last round of editing and identifies small errors in documents that have been missed by the editor.
How do I become a proofreader with no experience?
Proofreading is one of the best online jobs for workers with no experience and no degree. Regardless of your background or experience, you can do proofreading.
Do you need certification to be a proofreader?
There is no specific U.S. proofreading certification that exists. However, there are certificate programs in the UK and Canada if that is where you reside, but they aren't absolutely necessary. Some proofreaders hold bachelor degrees in English or journalism but those also aren't absolutely required.
Clients hire proofreaders based on their understanding of the job and industry, skills, and qualifications. They may also ask for references or examples of past work. If you want to build on your proofreading skills, use sites like Coursera and Proofread Anywhere's free workshop.
With the right training under your belt, you can be ready to become a professional proofreader and start making money working from home.
What qualifications do you need to become a proofreader?
Proofreading does not require a college degree or experience.
The qualifications required include:
Excellent communication skills
Strong attention to detail
Deadline-driven
Problem-solving and critical thinking skills
Ability to work well independently
Strong attention to errors like spelling and grammar errors is a must-have skill for this kind of work.
How much do proofreaders make?
According to Salary.com, proofreaders earn a median salary just under $55,000/year but you can make much more freelancing.
If you work in a specialized niche, you can make even more.
Freelancers on Upwork are charging up to $50 to $75 per hour for proofreading services.
How to Become a Proofreader
1. Practice & test yourself
Start with reading all of your favorite websites and books as a proofreader instead of how you'd normally read them. Look out for spelling and grammar errors.
Reach out to bloggers you follow online to see if they would be willing to have you volunteer to proofread some of their blog posts for free to add to your sample work. Then offer your services for paid services if they end up liking your work and need further support.
Keep your samples together in a Google Drive for easy access when you start reaching out to other potential clients.
You can also test yourself on your abilities to see where you might need improvement before you reach out.
2. Pick a niche
Pick a niche or specialty to hone your focus. Proofreading and copyediting can overlap quite a bit so decide which jobs you're going to go after and then from there, consider if picking a niche would make sense.
For example, you could choose to do proofreading for book authors only, proofreading for podcast transcripts, academic proofreading, etc.
While choosing a niche and specialty is optional, if you choose to niche down, you'll be able to perform your job search more efficiently and possibly command a higher pay rate.
Here are some examples of proofreading and editing job titles to look out for:
Proofreader
Copy editor
Academic proofreader
Editor
3. Expand your search
Next, look at expanding your job search. You can start by searching job search websites, remote job search engines and publishing companies that hire proofreaders.
Also look at writing industry websites and online resources that may post proofreading jobs, along with forums.
4. Network
Networking is an underrated job search tool.
The saying can be true, "it's not what you know, it's who you know."
Snagging online proofreading jobs through referrals is one of the best ways to land a legitimate, long-term job.
Networking can be done in-person and online. For online networking, take advantage of career-based social networks and sites like LinkedIn, where you can post to a community, use their online learning portal, support your peers in the industry, share your portfolio, testimonials, and more.
32 Places to Find Remote Proofreading Jobs
Here are some of the best places to find remote proofreading jobs.
1. Upwork
Upwork is a freelancer marketplace. Clients and freelancers come together to work on projects.
A client will post a job, like a proofreading job and freelance proofreaders will bid on the job. One or more candidates will be selected to work on the job and the work will begin.
Upwork is a freelance job board where anyone can post gigs available. Be sure to watch out for any sketchy & too good to be true job scams. Read their guide for staying safe on the platform.
2. Fiverr
Fiverr is a gig marketplace set up in the reverse of Upwork.
Instead of clients posting jobs, freelancers post their gigs. Clients search the marketplace and buy gigs.
Proofreaders can create proofreading gigs available for purchase and when a client buys their gig, they can fulfill the project and get paid.
3. EditFast
EditFast is where people can find help with editing, proofreading, writing and indexing. For proofreaders, it's a solid place to find proofreading work.
After registering and activating your webpage, you'll be eligible to get new project notifications where you can work proofreading jobs.
4. Guru
Guru is a platform where freelancers can find work. You can search proofreading jobs and bid on the projects you'd like to work on, similar to Upwork.
5. Scribbr
Scribbr is an editing and proofreading company that helps students graduate. You can apply to be one of their academic editors where you'll be performing both editing and proofreading.
They have a lengthy application process with an internal training program. Afterwards, you can expect to make up to $30 an hour.
6. Freelancer
Freelancer is a freelancing marketplace similar to Upwork.
After setting up your freelancer profile, you can browse the available jobs hiring, including proofreading jobs. Then, apply to jobs of interest and if you're hired, you'll hear back from the client.
7. LinkedIn
LinkedIn is a social networking website and app for career goers. It's the best place online for networking and connecting with peers in the workforce.
You can find proofreading jobs on LinkedIn through their Jobs section and through networking.
8. Instagram
Instagram is an image-based and video-based social networking app and it's an underrated place to find jobs online. You'll use Instagram for networking, as a path to getting proofreading jobs.
Set up your Instagram account, fill out your bio sharing your background and experience in proofreading, provide a contact email, then be active. Being active can include:
Posting on Instagram
Interacting with other users
Supporting other Instagram posts by liking and sharing
This activity can help boost your own account's engagement, helping you gain more visibility and get hired as a proofreader.
9. Twitter
Twitter is a text-based social networking app. While you can post images and videos, most people use the social network to share short messages, called tweets.
Twitter is a great place to find leads and build relationships.
Set up your Twitter profile, use your bio as the place to brag about your proofreading skills and then start using the social network. You might be surprised how quickly you get contacted by prospective employers for proofreading work.
For a more detailed look at the process, check this out about how to use Twitter to get a job.
10. Proofreading Pal
Proofreading Pal provides proofreading services to their clients. They're currently hiring for proofreading professionals who are deadline-driven, can work independently and meet other requirements.
You should have access to Microsoft Word 2007 or higher, Adobe Standard or Foxit Standard or higher, and Windows XP, Vista, Windows 7 or higher.
11. We Work Remotely
We Work Remotely is a remote job search engine where you can search jobs in:
Programming
Design
Sales and Marketing
Customer Support
And, other categories
Since there's not a writing or proofreading category to search from, I recommend you use the job search bar to find proofreading jobs. Use keywords like "proofreading" or "proofreader" to find relevant jobs.
12. FlexJobs
FlexJobs is a remote job search engine. You can search for remote jobs in various industries including proofreading.
FlexJobs is free to browse job listings but, if you want to learn specifics about the job listing like the employer hiring or you want to apply, you'll need a paid subscription.
13. Virtual Vocations
Virtual Vocations is a remote job search website. You can search the site to find various work-from-home jobs including proofreading jobs.
There's free and paid access to the site.
Registration is free and gives you partial access to the job search site. For full access, you'll need to upgrade to a premium membership account which unlocks full access to the site, gets you priority email alerts, online courses and action plans, and more.
14. Remote
Remote.co is a remote job search engine you can use to search and find proofreading jobs. It's free to use and easy to search for remote work using the site.
15. Solid Gigs
Solid Gigs is a lead generation service that sends you curated, handpicked job leads to your email inbox.
This can save you a lot of time in sourcing the perfect freelance jobs in proofreading. Based on your preferences, you'll get a leads list delivered to your email that you can follow up with, to book proofreading jobs.
16. ClickWorker
At Clickworker you'll register as a freelance professional so you can make money online doing microtasks like some proofreading jobs.
This is for freelancers that crave flexibility and independence. You'll be working remotely from your computer performing proofreading tasks. No special requirements or formal qualifications are needed to work most of the jobs offered on ClickWorker.
17. Wordvice
Wordvice is a proofreading and editing service. They hire for a variety of editing and proofreading jobs including additional positions like translation, video instruction, sales, and more.
18. Gramlee
Gramlee offers copy editing services to their clientele. Their site says they're always on the hunt for great editors. You can submit your application for consideration here.
19. CACTUS Communications
CACTUS Communications offers opportunities for remote full-time and freelance work. They hire for a variety of positions to support the publishing process and right now they have openings for writing and editing available, among other jobs.
They also offer an opportunity to submit your resume at any time, for a position within their team. This would be an excellent way to get hired as a proofreader if proofreading jobs aren't currently open.
20. SimplyHired
SimplyHired is a free job search website. You can use the search bar and filters to find proofreading jobs online.
21. Scribe Media
Scribe Media helps people turn their ideas into a published book. They hire for a number of positions in the publishing space. Visit their careers page to apply for proofreading jobs.
22. Indeed
Indeed is a job search engine catering to both in-person and remote jobs. This is one of the easiest job search tools to use and it's completely free. Use the search bar to find proofreading jobs of interest.
23. Monster
Monster Jobs is another big job search site where you can search and find proofreading jobs. They also offer additional resources to help in your job search like resume help, salary tools and career advice.
24. ProofreadingServices.com
ProofreadingServices.com offers proofreading, editing, and translation services. Their online proofreader job is available for part-time and full-time work. They pay up to $46 per hour, offer flexible hours, and they're currently hiring!
25. Writer's Relief
Writer's Relief is an online resource for authors. Authors submit their work and Writer's Relief offers proofreading services, among other resources. You can complete their proofreader application to potentially get hired as a proofreader.
26. Get Editing Jobs
Get Editing Jobs is a website where you can search and apply for publishing jobs like editing, proofreading, and related positions. Use the job search bar and use keywords like "proofreading" to find proofreading jobs to apply for.
27. MediaBistro
MediaBistro is a website where you can find media-related and creative jobs. Just click the proofreader job category and apply for jobs of interest.
28. Google Jobs
Google Jobs is a free job search tool you can use to find jobs. Take advantage of their search filters which can help you narrow your job search by job posting date, remote work positions, requirements, college degree, and more.
29. Glassdoor
Glassdoor is a career resource and website that gives you access to valuable insights across companies and jobs. You can:
Search jobs
Review company ratings
Read employee feedback
Look at salary insights and real salary information from current and former workers
To find proofreading jobs, go to the Glassdoor Jobs section of the site and search for proofreading work.
When you find jobs you'd like to apply for, you can use the site to research the company, look at comments left by employees to see if it's a good place to work, review salary details, and more.
30. Snagajob
Snagajob is an online job search site that specializes in helping you find hourly jobs. Snagajob is free and easy to use. A search for proofreading jobs in Texas turns up over 600 search results!
31. Ziprecruiter
Ziprecruiter is a free online job search engine. You can browse tons of jobs, search salaries, look at reviews, and much more.
32. Facebook groups
Facebook groups are communities on Facebook. They can be created by any Facebook user and they're usually built around a niche like mental health awareness, special needs education, women in business, copywriting jobs, etc.
Search and find groups where proofreaders hang out then, join and network to find proofreading jobs. Search on Facebook Groups using words like "freelance proofreader", "editors", "editing & proofreading", "proofreading jobs", "writing jobs" and other similar word combinations to browse relevant groups you could join.
Pros and Cons of Proofreading
Here are the pros and cons of working in proofreading.
Pros of Proofreading
Beginner-friendly
Work from home
Flexible schedule
Unlimited income potential
Independent work
Low startup costs
A great fit for introverts who like working in solitude
Great for perfectionists that have a good eye for spotting errors
Cons of Proofreading
Contract work is likely
Deadline-driven environment
Working in a quiet, distraction-free environment will be required
Not a good fit for people who aren't good at time management
Working at home alone might be lonely
Working multiple jobs may be required to make a full-time income
Conclusion: How to become a proofreader
Working as an online proofreader can bring a wealth of benefits to your life. You can fulfill your dream of working from home, in a comfortable, flexible work environment, and unlimited income potential.
If you're a great communicator, you can work well independently and you're deadline-driven, then you have the skills to work in proofreading. But, it takes more than just having a good eye to spot errors.
If you're really serious about working in the proofreading industry, I recommend you check out the training, Proofread Anywhere. The creator behind Proofread Anywhere was a proofreader, herself! This article talks about how she earned over $43,000/year as a proofreader, working 20-25 hours per week!
So, if you're looking for full-time income potential working part-time hours, proofreading can fit the bill.
To learn more and start your journey to becoming a proofreader, check out Proofread Anywhere.
More side hustle ideas and other ways to work from anywhere:
Pin it for later!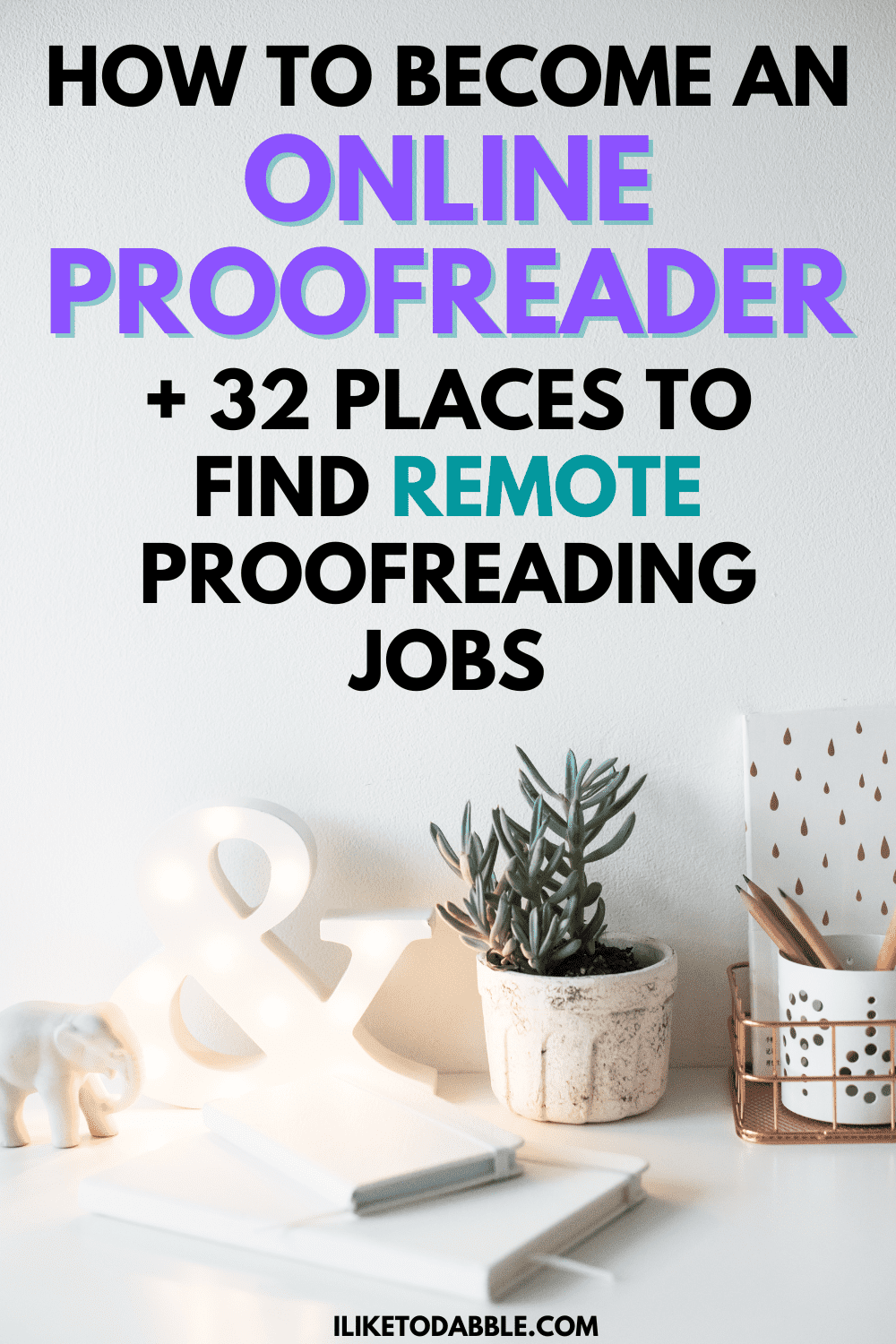 Jenn Leach is a writer, instructor, entrepreneur, and founder of
Millennial Nextdoor
where she teaches millennials life hacks for easy millennial living like being money smart, investing in yourself, and automating your life. When she is not working, you can catch her binge-watching baking reality TV shows or listening to her favorite podcasts about business, money, and life.