Our website is supported by our users and contains affiliate links. We get paid when you purchase or sign up for anything through those links. Read the full disclaimer for more information.
Last Updated on March 7, 2023 by Daniella
As I was thinking of good side jobs this summer, pet sitting came to mind. My wife Alexandra and I are big animal lovers and it seemed like pet sitting was the perfect little gig for us to try out.
Even though we have quite a bit of experience with fur babies as we both had pets all of our lives and currently care for animals with special needs, we were still hesitant. We have all heard the occasional horror story about people getting bit or injured while dog sitting or walking through various apps including Rover.
No matter what, those cautionary thoughts are going to be there. That's a good thing though, to be aware of the danger. Not every dog or cat is going to be perfectly well behaved.
They just aren't.
Luckily there are some cautionary measures to prevent these dangerous encounters when working for Rover. Rover also provides something they call the "Rover Gaurantee" which covers your costs from an injury if one does occur.
But we will dig into that more below.
Anyway, we went for it and signed up. Let's go over our experience using the app and how much we were able to make in this Rover sitter review.
---
Quick note before we get started with this review: If you are disabled, Rover pet sitting or dog walking might not be the best money-making venture for you. If you don't think you can physically handle walking or sitting for a dog, don't push it. Listen to your body. You could possibly try house sitting or cat sitting as those are also available as services that you could offer in the app and may require less physical involvement.
---
Pin it for later (hover over the image and click to pin)!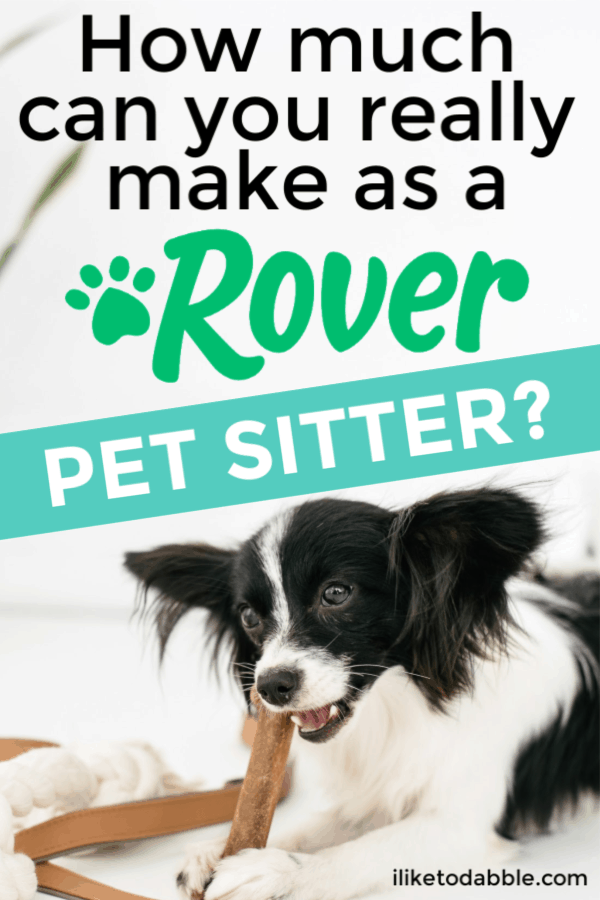 Getting started on Rover
Let's say you only want to pet sit and not dog walk or board dogs for multiple nights in your home. That is perfectly fine and you are able to set those preferences in the app when you sign up.
However, the signup process isn't exactly a 5 to 10-minute easy venture. It isn't hard but it takes about half an hour in total.
What is Needed to Complete a Walker/Sitter Profile
All you need to get started is a smartphone and a stable data/internet connection.
After you download the app, you can apply to be a walker, sitter or both.
The steps you will go through in your application are: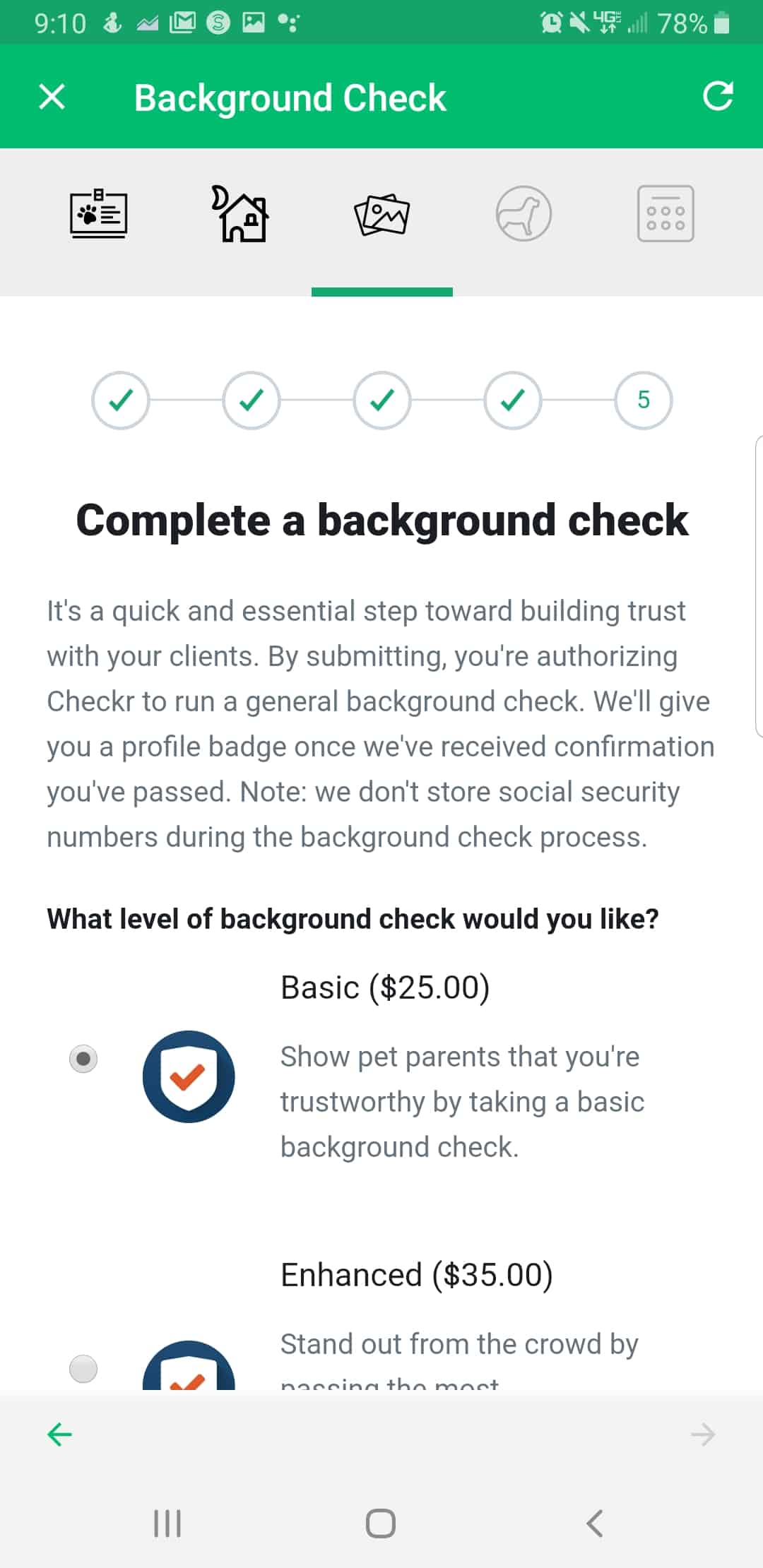 Fill out basic information about you such as your name, address, birthday, etc.
Select your payment method.
Select the services you wish to offer and your rates.
Fill out your pet preferences and calendar availability.
Complete a simple background check (which will cost you $25).
Complete your sitter profile and any prior experience that might apply (no formal experience is required).
Fill in any information about your own pets.
Watch a few short training videos and take a small quiz.
Gather a testimonial to include on your profile.
Promote your profile with your referral link to start getting clients.
Walking and sitting aren't the only services you have to offer though. Over the years, Rover has actually been able to add a variety of different services that you can add to your profile as a sitter.
Services you can offer are:
Dog boarding
House sitting
Drop-in visits
Doggy daycare
Dog walking
The majority of these services are also available for cats. When I did my first gig on Rover, it was for 3 drop-in visits for a cat named Stevie Nicks.
I know, how fitting.
Setting Service Rates
When you are not sure how much you should charge for your rates on the services you opted-in for, browse your area on Rover. Look at what other sitters and walkers are charging to get a good idea of the expectations.
If most walkers in your area are charging $20 per dog walk, don't charge $40 unless you are offering specialized services like large dog preferences, elderly dog care, etc. But still, most pet parents will probably scroll past your profile when you are the only one charging $40 in your area.
I listed my services as $15 for each drop-in visit and $20 for each dog walk. This was the average rate in my area and I figured I would stand out to the pet owners due to my experience with elderly dogs, pets with special needs, the ability to administer medications, etc. My area was pretty saturated with sitters and walkers already though.
Still, I went for it.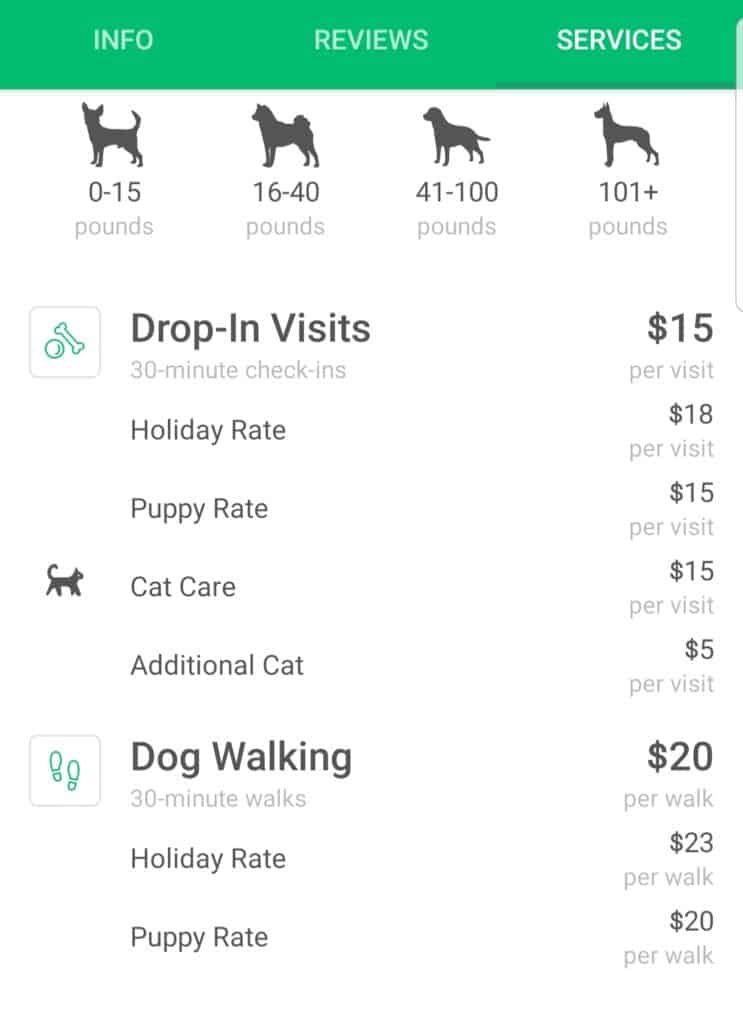 I didn't opt for offering dog boarding with the number of pets we already have. It would have stressed them out probably and no price is worth our pets' stress.
House sitting is one though I would still like to try and haven't yet.
Important Things Not to Miss on Your Profile
When completing your profile, you will be asked to add some photos. These aren't supposed to be of you though (besides your profile picture). Instead, the app wants photos of your pets, showcasing your past experience of pet care. Preferably they want photos of you walking dogs or photos of you with your pets.
You want to also include all prior pet care experience you have in your profile. Go in-depth with any healthcare experience you have with pets such as administering medication, caring for elderly dogs and special needs pets, etc. This is what I look for when I look at other profiles on Rover and know there are others out there looking at those.
Here is an example of how that part looks like in my own Rover profile: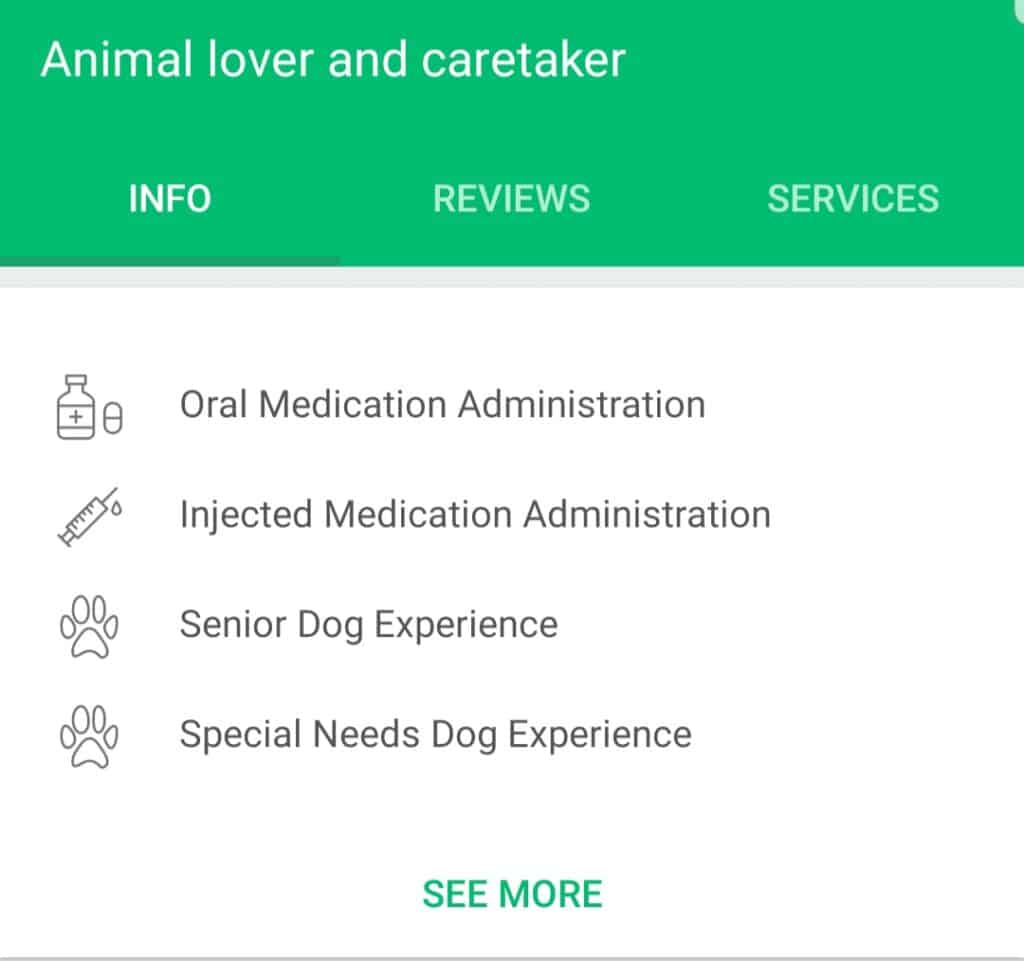 Keeping Your Calendar Up to Date
You have to always be updating your availability in the app to make sure those looking for sitters or walkers see your profile in the search results.
Rover prefers you to have your calendar up to date for the next two weeks. Confirming your availability two weeks ahead of time helps you get more booking requests.
Don't worry, if you forget to do this the app actually reminds you with notifications to update your calendar for the coming two weeks. After your availability is confirmed, a banner will be added to your profile in the search results, increasing the likelihood of a pet owner reaching out to you for a booking.
Communicating With Owners
Let's face it, not everyone is a master communicator. You will notice this when trying to communicate with the owners that reach out to you on Rover.
Some people are complete gems when communicating in the messaging app on Rover and get right to the point. Remember though that not everyone who uses the app knows exactly how to use it. Try to be as polite and accommodating as possible and if they can't quite get their point across via messages (or you can't), offer a phone call for communicating.
But I hadn't experienced too much difficulty in this department.
Steps to Take When You Get Booked
If someone contacts you asking to book with you for a specific day or weekend for whatever service, confirm your availability with them and set up a meet and greet. Not every sitter or walker requires a meet and greet but I do. In my opinion, it is best practice and kind of a "must".
It just gives me a peace of mind to meet both the pet(s) and owner before the actual booked service date and time so I know what I am getting myself into.
It also eases their mind as well so they don't know they are going to serial killer's house.
You can also ask the owner if you can bring a third party with you in case you are iffy about who is on the other side of that phone. I brought Alexandra with me on my first meet and greet and my drop-in.
Rocking Your Meet and Greet
A meet and greet is exactly what it sounds like. You will meet the owner and their pet on the app in either their place, your place or a neutral place in the middle. But the meet and greet must take place before the booked service and before you confirm that booked service.
This is nothing to stress out about though. Just be cool, natural and get to know each other a little bit. Set some expectations of how you and their pet will interact during the booked sessions and describe what will go on during the booked service. Ask about dietary restrictions, medications needed, the pet's routine and what they like/don't like, etc. Try to cover basically anything that comes to mind as you try to serve their pet the best way possible.
I also like to ask for shot records and if the pet is on flea meds. This is for my own safety and I don't want a flea jumping on me that could ride all the way home and onto one of our own pets.
Interact with their pet just as much as you are with the owner during the meet and greet. You want to make sure you and the pet will get along and what to expect from their behavior when under your care.
If there are no red flags, you are good to confirm the booking and go ahead with the scheduled service.
Understanding the "Rover Guarantee"
The Rover Guarantee is essentially a kind of insurance that you have when completing services through Rover at no extra cost to you.
It means that you are covered when something goes wrong. But not everything is covered.
What is covered are any costs that arise from injuries that you experience either from the Rover pet or owner. Those injuries would've had to occur during the service booked and paid through Rover.
What is not covered by the Rover Guarantee (taken from the Rover Support site):
Damage to the sitter or dog walker's property
Injury to the pet care provider or pet owner, or someone related to or residing with the pet care provider or pet owner.
Treatment costs for preventive care, or medical or veterinary bills resulting from an illness or a chronic or pre-existing condition
Injury or damage that arises during a Meet & Greet or otherwise outside of the service dates of a confirmed Rover booking <—- Read that one again!
Preventable conditions such as fleas, ticks, or parasites
Bookings made outside of Rover.com
Be sure to familiarize yourself with everything that is and isn't covered by the Rover Guarantee before proceeding with working any bookings.
This is why I recommend that you always do a meet and greet before any scheduled service. If you feel uncomfortable with a certain animal during a meet and greet, you can let the owner know it isn't a good fit to avoid any conflict that might occur.
As you see above in the things that are not covered, meet and greet sticks out. And yea, that is something I don't necessarily agree with Rover on. I think it should be covered.
That is also why I recommend bringing a third party like a spouse, friend or family member with you on a meet and greet.
Always trust your gut.
Using the App During the Booking
There will be a prompt in the app for you to select the "Start" of the booked service.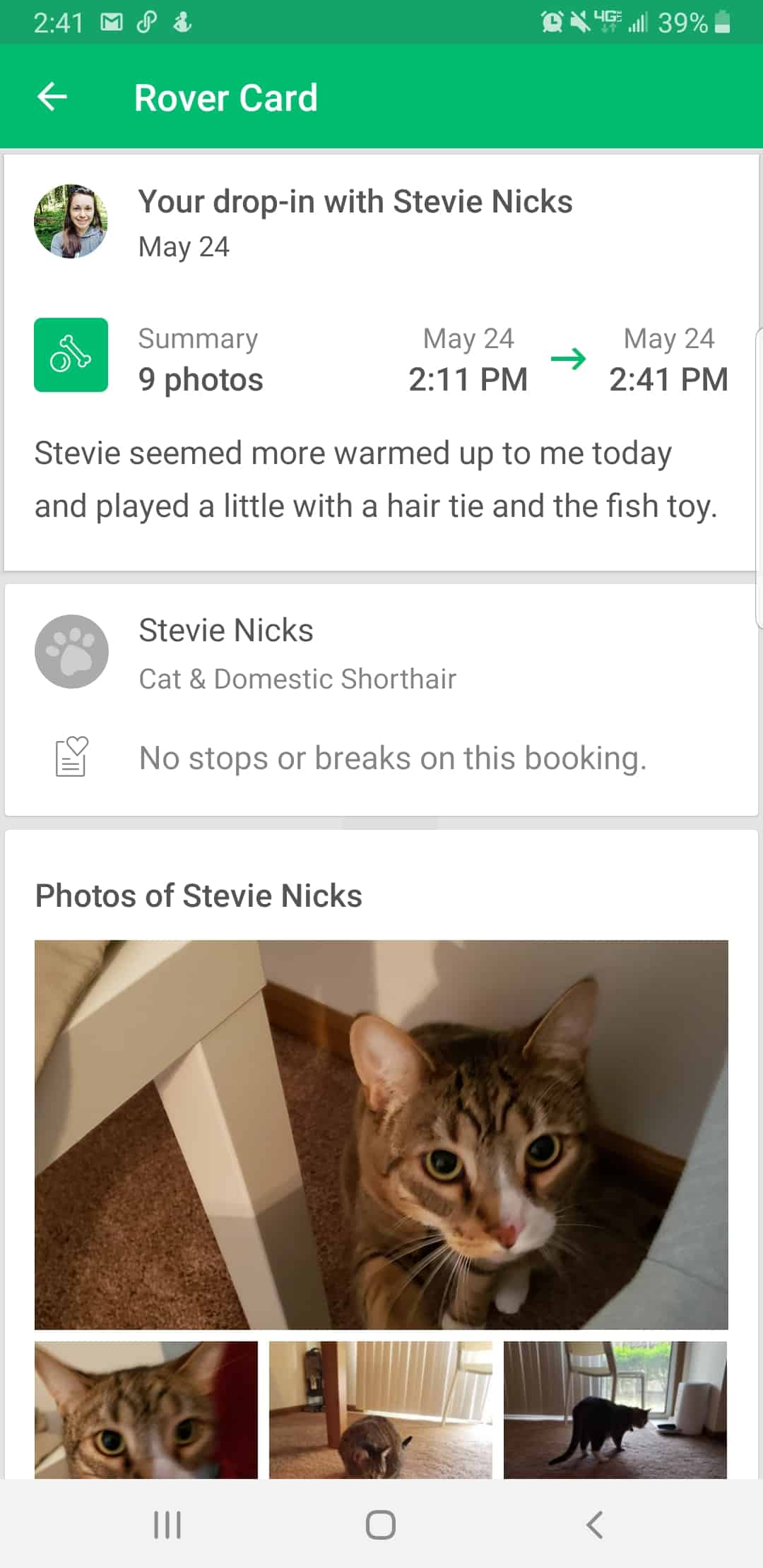 During my first drop-in visit, this actually wasn't hard to find. The app actually sent my phone a push notification that my scheduled booking was about to begin.
When I pulled up to the apartment for the drop-in, I opened the push notification to go into the app. Then I "Started" the service.
Then during the drop-in, I made sure the cat had water (she already had a self-feeder), checked the litter box and played with her using a variety of her cat toys. The app will prompt you to take pictures during the visit (if the owner has requested you to do so) which is my favorite thing to do anyway.
We had ourselves quite the photoshoot.
Since drop-in visits are only to last 30 minutes long, at 30 minutes I selected to end the visit and sent notes from the visit about what we did and how their cat was.
How Much We Made + Rover's Cut
As stated above, I set $15 per drop-in visit as my service rate. For my first drop-in booking, I had 3 days booked while they went out of town for a holiday weekend.
I should've made $45 per this first booking but instead, I made $36.
This is because of Rover's cut.
What does Rover's cut include?
Rover will charge you 20% of every booking. I know, that sucks but that 20% does go to stuff that makes sense for the service.
On the Rover Support section on their site, their statement on this service fee was:
"Service fees allow Rover to operate and continually make improvements based on the needs of our growing community. They also help cover benefits for sitters, including the costs of processing payments and ongoing promotion of sitters on Rover."
Which I totally get. It is a big cut…a 5th to be exact. But I see how they need to make money too to keep the app and services operating. Plus, they need to pay their employees that make Rover possible of existing in the first place.
What about taxes?
If you made over $600 through Rover within a calendar year, Rover will send you a 1099 form. If you receive payments via PayPal, then you won't receive any tax documentation from Rover.
Paypal is distributing the funds to you in this instance and you will have to follow their own tax reporting practices.
To keep track of your side hustle taxes throughout the year, use a side hustle tax calculator like Lunafi. If you want to understand more about how you should handle your taxes from Rover, refer to this page from their support site.
Conclusion: Is Rover a Good Side Job?
The $36 I made in the example I presented for this review, was for an hour and a half of actual work. Which isn't bad. But it's not a liveable payout when you can only get a booking every couple of weeks like me.
It isn't bad for extra cash though. Especially if you love animals and that work didn't seem like actual work.
However, I only did a couple of gigs through Rover and never really put much into it for promoting my services. I also wasn't very consistent with keeping my calendar and availability up to date. But I was still able to get a few clients even with not going all-in on trying to get them.
I think it is a side job worth trying out to see how it works out for you. My area was a little over-saturated with sitters and walkers so maybe that was another reason I didn't get many bookings. If your area isn't as saturated you might be in a great position without having to do much promotion.
If you want to give it a try, you can do so here. I wish you luck!
Have you been able to make money on Rover? Or maybe thinking about it but skeptical? Share with us in the comments below!
More side hustle apps to make money:
Subscribe to get your free list of side hustles you can start this week!
Claim your free list of side hustles + tons of helpful resources to get started!
Pros
Fun way to make money
You can set your own rates
Everything is done and handled within the app
Cons
You have to pay $25 for your background check
Can be tough to get bookings in an area where there are many other sitters/walkers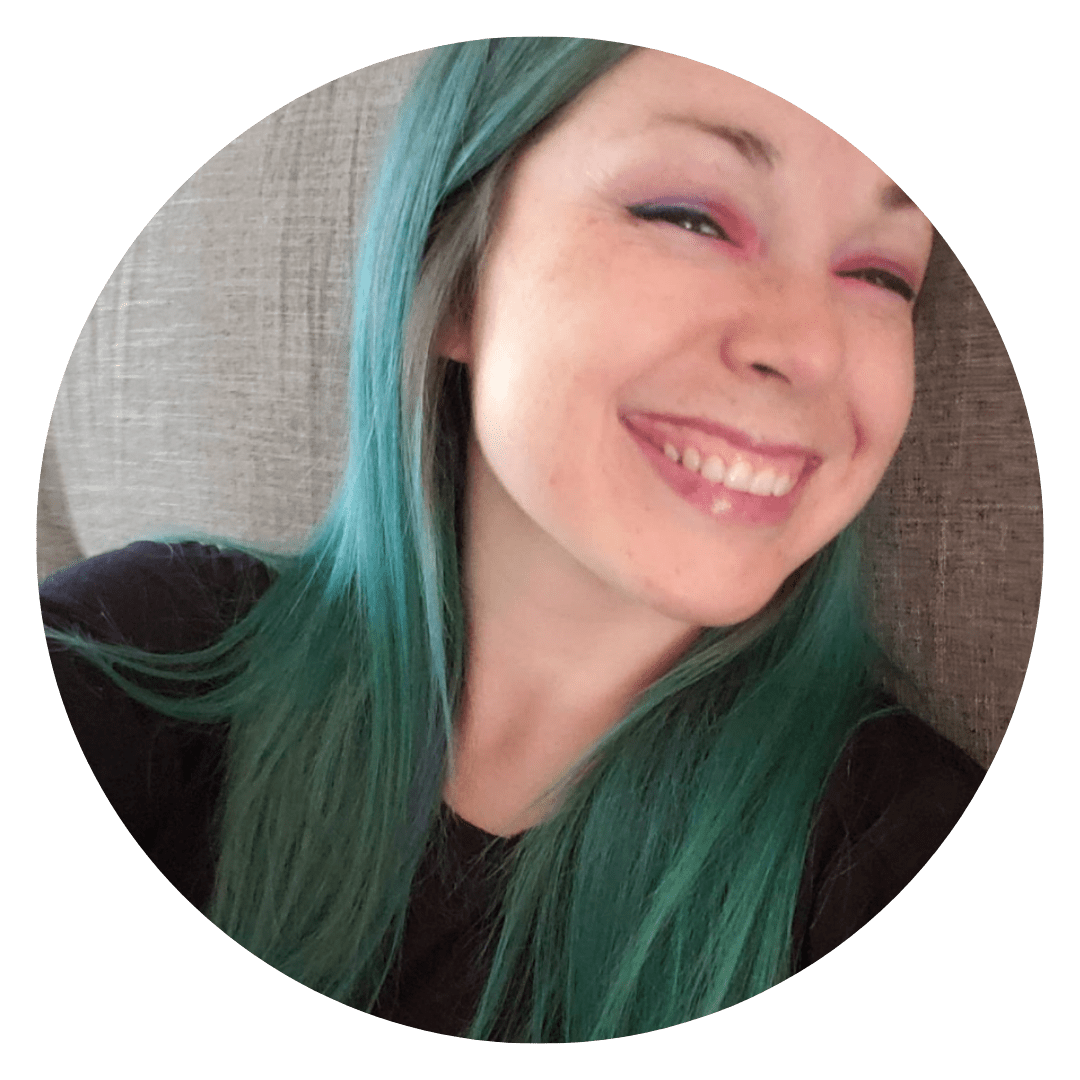 Daniella is the creator and author of iliketodabble.com. When their wife Alexandra and them aren't globetrotting or playing with their 7+ animals, they are dabbling and working towards a future of financial freedom.