Our website is supported by our users and contains affiliate links. We get paid when you purchase or sign up for anything through those links. Read the full disclaimer for more information.
Last Updated on May 5, 2023 by Daniella
Do you dread going to work and want to know how to get a remote job?
Who doesn't? Employers have stretched their employees to the point of exhaustion with long hours, little perks, and less than liveable wages.
Then 2020 happened and many people were sent home to work remote until an unseen time in the future (or until there was a vaccine). A year passed and then some of those people were still working from home.
Many became very comfortable with their new working agreement. Some moved, others traveled, and others found themselves being asked to come back into the office when they aren't even in the same country.
It feels like a violation when your entire job can be done from anywhere in the world but they still have the guts to ask you to come back and work in their stuffy office.
So, people quit, and a lot of them. More than 25 million people quit their jobs in the first seven months of 2021 and more continue to quit every month into 2022.
During The Great Resignation, between March and April 2021, a FlexJobs survey found that 58% of respondents would "'absolutely' look for a new job if they cannot continue remote work."
Not only that, but many are quitting not because of no remote work options, but because of poor working conditions and being fed up with being exploited.
Now is the perfect time to take advantage of the remote and high paying job options out there (so you can live your best life from wherever you want and maybe even get paid to travel).
Note: We acknowledge that there are fields of work that don't allow remote work such as anything that requires you to be in person. However, many can transition into remote jobs in their field – even in fields like nursing, construction, customer service, and more. Read on to find the remote job search tools that can help you find these positions.
How to Get a Remote Job in 4 Simple Steps
When you start your remote job search, be clear on the type of position you want.
Do you want a remote job doing the same thing you are doing now or do you want to pivot to doing something else?
Do you want a job that you have to do a lot of moving and traveling around like a traveling nurse?
Do you want a remote job with a set schedule or a flexible schedule so you work when it fits your lifestyle?
Ask yourself important questions like this and try to visualize the perfect remote work situation. Write it down. It isn't real unless it is written down somewhere where you can find it and refer to it often, so write it down or type it up in a note on your phone.
Bonus points if you screenshot that note and make it your phone background as you continue your remote job search. This is a great way to constantly remind yourself what you truly want so you don't get lost in a sea of remote job positions out there that just aren't the right fit for you.
Now, let's craft your resume to match it.
1. Identify Remote Work Skills & Revamp Your Resume
Remote work skills are probably skills you already use in your every day life, if you don't already do at your job, past jobs, or other past experience.
These aren't some special, mysterious skills that you have to have with a higher level degree or decades or experience either. They're skills like online communication & collaboration with remote work tools like Slack, Notion, or Asana. For example, you can use and learn these tools for free online by going directly to their websites. You can then join free communities to get a hang of this type of skill in a real-world setting such as joining WeWorkRemotely's own Slack community that helps people connect, talk about remote work, and get remote jobs.
However, that is just 1 example of a simple way to dive into one area of remote work skills. There are literally endless types of remote skills out there, including several you probably already have with your own transferable skills.
If you have any of the remote work skills below, add them to a skills or core strengths section on your resume above your job experience (if they apply to your job field). You can also weave these skills into your job experience bullets when you paint your experience, along with keywords and skills you see in the job descriptions you want to apply to:
Digital communication & collaboration
Online scheduling & coordination
Copywriting
Copyediting
Editing & proofreading
Coding & no code tools
Cloud storage management
Data entry
Data analysis
Product design & management
Digital marketing like email marketing & social media marketing
SEO (search engine optimization)
Photo & video editing
Graphic & web design
UX design (user experience design)
Podcast & audio editing
Creating a Resume That Stands Out
There are a couple of additional items to note if you want your resume to stand out from the hundreds of others.
Use these 7 tips for a successful resume that stands out:
Draft a professional summary with the big accomplishments of your career, unique skills and expertise, relevant work experience, and link to a portfolio in this section if you have one. You can use a format similar to the below screenshot.
Under each job position, don't just say what you did at each company. Show how you made an impact. Include results that you were able to drive within your role and give specific quantitative and qualitative data for those results. Example: "Automated [x tasks] for [my team of x people], using [x code, x process or x tool], saving my organization [x amount of dollars or x amount of time] over that year." Take it even a step further with the STAR method but remember to keep these bullets as brief as possible since recruiters only skim resumes for 6-7 seconds, on average.
Has an easy to read format as an either 1 column or 2 column resume for digital resume readers, targeting 1 page or isn't longer than 2 pages. Keep both a .doc and .pdf version ready to go.
List your experience in reverse chronological order including the last 10 years of experience unless otherwise applicable. If you already feel like your resume is getting long and it includes roles that aren't applicable to the current job you're applying for, ditch them. Include the most recent and most relevant.
Highlight any past remote work experience that you have. This doesn't mean you absolutely have to have past fully-remote experience to get a remote job. This means to list any or all remote work experience you've had including hybrid, temporary, or work you've done with other coworkers that weren't on location at your job like off-site teams. If it applies, describe under a job role that you were a part of a remote team of 15, lead a remote team, or worked with a remote team. Showing that you worked with remote teams while you aren't yet remote is a great way to show that experience with that sort of communication and collaboration style, and help you pivot into a remote role yourself.
Showcase any sort of awards and entrepreneurial spirit that you have. If you've ever had a side hustle (or portfolio career) and it's relevant to the position you want to apply for, include it on your resume. If the side hustle was online or done digitally as a remote side hustle such as freelancing, blogging, and consulting, include the office location if you have one and then next to it, put "Remote".
Related: The Only Guide You'll Ever Need for Including Side Hustles on Your Resume
2. Connect With Others
Be open and vocal about your job search. Reach out to others in your network to see if they know anyone hiring, including your personal and professional networks. There is no shame in asking friends and family if they know of a great remote job opportunity.
Don't forget to utilize LinkedIn and optimize your profile as much as you can. Include keywords in your headline so you show up sooner in searches, adjust your "open to work" settings so recruiters know you're open to work, and ask current and past colleagues for skill endorsements and recommendations.
The more optimized your profile is, the more recruiters will start reaching out to you.
3. Know Your Market Rate
Before you start looking at jobs, know what pay ranges you will and won't consider. This will ensure you don't waste any time applying for jobs that don't pay near your rate.
How do you even find what your rate is? I use Glassdoor for this.
Go to Glassdoor, in the Salaries section and search for your position title you are going for and "Remote" or "Work From Home" as the location. This will give you a good ballpark of salaries to expect when looking for work from home jobs. This same tool also has the ability to provide you with negation tips as well.
I personally, love their salary calculator for a quick comparison. Then take that feedback and ask people you know from the various working relationships you've formed or others online about what they are making in the roles you want to go after.
However, your rate may fluctuate above or below depending on your experience, education, and level you want to apply for. Asking friends and collogues that hold positions that you are applying for or have worked at companies that you are applying at what they were paid will also give you a good idea of a real life example.
Salary Transparency Tools
There are tons of salary transparency tools that you can use in addition to Glassdoor to aid you in your overall research.
Some of our favorites are:
Search on Google "[Company name] + salary transparency" to see if the company you are applying at has their salaries published on their website. Companies that are known to share their salaries publicly are Buffer and Mastercard.
All in all, take these different data points to come up with a rate that best fits your needs and goals. Don't base your rate on your past jobs and past pay ranges, base it on what the market is paying for your level, experience, skillset, and what you want to get paid.
4. Look for Jobs With a "Remote-First" Mindset
When you're looking for a remote job, expect nothing else but a remote job. Meaning, don't be lenient on your own requirements and don't settle for a job if it isn't remote.
This is so you don't waste time away from your goal. If you need a job right away, then please be flexible with yourself and maybe take that in person job for awhile until you find a good remote job match.
Seek Out Remote First Companies
With 44% of companies allowing remote work and 16% of companies being completely remote with virtual offices, there are thousands of companies that have a fully remote office model. They don't have a physical building that they perform operations from and allow their workforce to work remotely within their specific agreements.
You can start by searching for the "careers" or "jobs" areas of these remote-first company's websites to see what positions they have open and start applying.
Some of these companies are (but not limited to):
Adobe
Buffer
Hubspot
Dropbox
Microsoft
Reddit
Atlassian
Salesforce
Shopify
Target
Zoom
Square
If any of the above seem like they wouldn't be a company you would work for because you don't think you have the experience, think again. I don't care what it is, go for it – especially if it is a job you think you're unqualified for.
There are people out there with half the talent as you with the audacity to go for the same job, why shouldn't you?
Look to Remote Job Boards
If you want to broaden your search and look at a larger pool of available jobs, use one of the many available remote job boards and remember to filter the location field on "Remote" or "Work From Home". Take note of the countries the specific job posting is hiring from to make sure they hire from your country.
Some sites may not have the best location filters. If that's the case, search "Remote" in the keyword field as well.
These sites are not only for folks seeking full time employment either. You will also find jobs for part time workers, freelancers, contractors, and more.
Start your search with these following sites:
When you search for remote jobs, narrow down to 1 ideal position to go for (2 max). Take note of the keywords used in the job listings and cater your cover letter and resume to include some of these keywords. This will help your application get in front of a hiring manager.
Bonus points if you have any kind words from past managers to share in a small section on your resume called "Kind Words". Employers like to see testimonials just as much as customers do. In this instance, you aren't selling a product but you are selling yourself as the "ideal hire".
5. Nail The Interview
When you're interviewing, be sure to showcase a couple of your favorite accomplishments from your resume in the same STAR method format. Pick these out beforehand so you're prepared.
Be very clear about past remote experience if you have it because you want them to know you know what to expect from a remote work environment. If there is a certain work from home ritual you have that helps you stay on task and in a collaborative, share it. They will be comforted to see that you know what to expect in a remote work setting.
If you don't have any prior remote work experience, practice using the interview software beforehand. Come prepared like any other interview and have your notes up in a google doc or other software on your screen so you can refer to it throughout your interview. Bring questions you would also like to ask the company like how they measure success in the role 6 months down the line.
Be yourself, don't trail off too much when answering situational questions and keep your answers as focused as possible, and never answer the question "what did you make at your previous employer?" – that question is illegal in 21 states.
Related: LGBTQ+ Career Resources
How to Get a Remote Job and Thrive as a Remote Worker
Now that you've found your ideal remote job, it's time to thrive.
Your days of waiting in hours of traffic and rushing to get through the day are over.
Even if the first remote job you get isn't your dream remote job, use your time there for experience to add to your resume so you can work your way to your dream remote job or remote side hustle in no time.
Take the time to create an organized space in your home for a home office and clear work space. Having an organized area as you work from home will keep you organized in your daily tasks. If you are moving to a digital nomad lifestyle and expect to be moving around alot, be sure to have tools that keep some order to this mobile type of work like a well organized Google Drive, a backup of files on a thumb drive, an organized calendar and a waterproof bag for your laptop.
Keep an open communication with your manager and colleagues using tools like Slack and find ways to learn something new every day.
As for your new found free time that you aren't spent in traffic, what will you do with it? Let us know in the comments below and enjoy your new remote work lifestyle!
Related:
Pin it for later!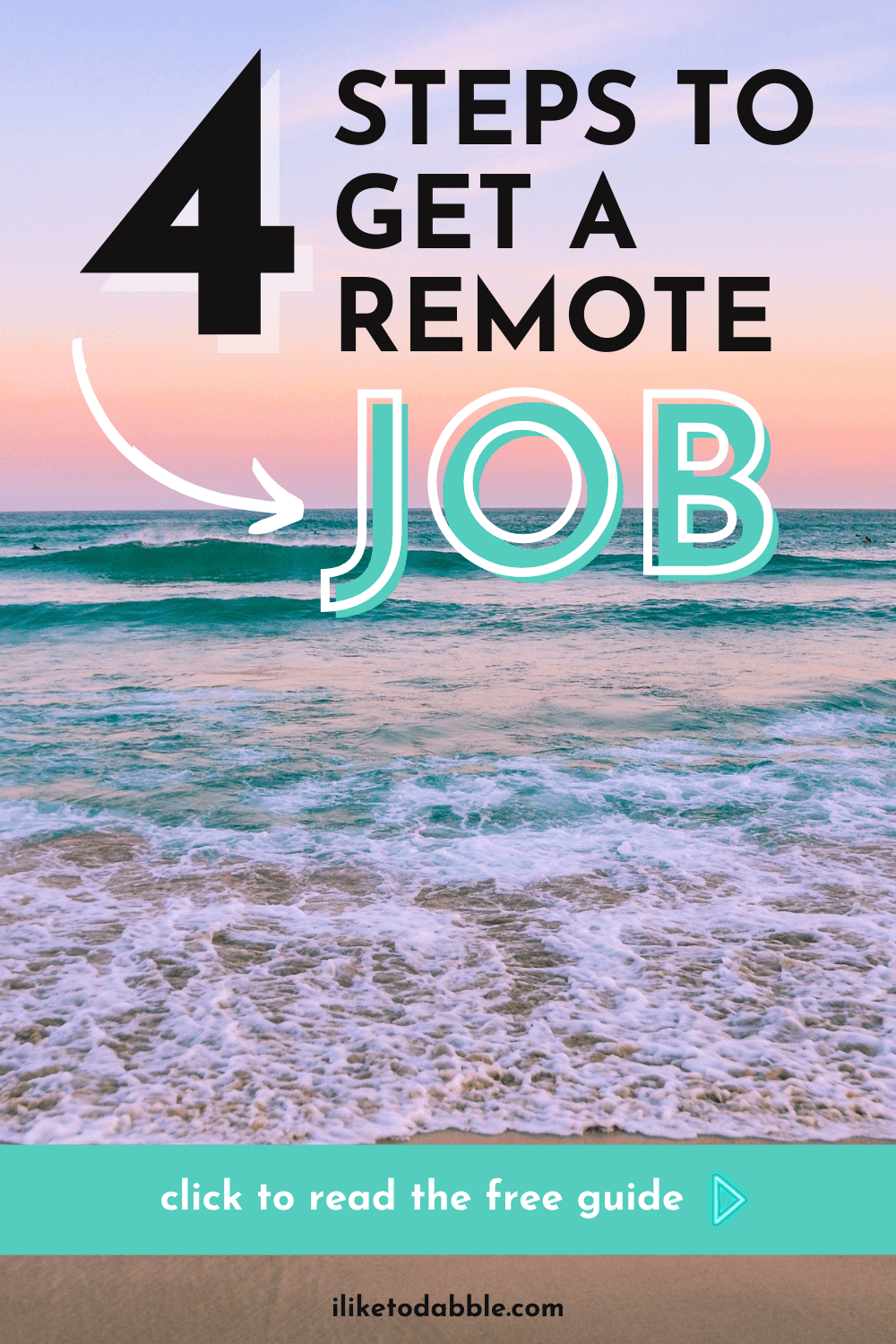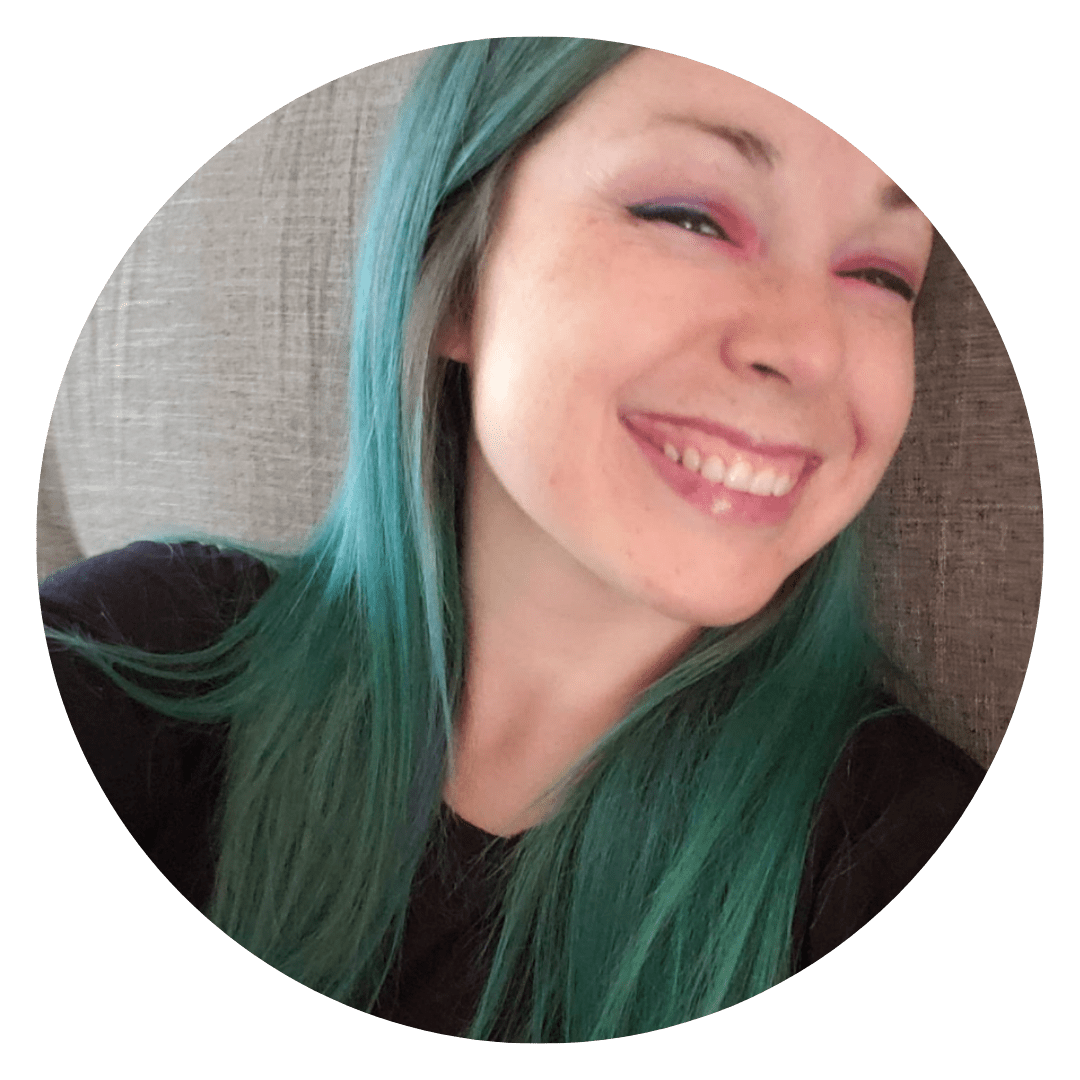 Daniella is the creator and author of iliketodabble.com. When their wife Alexandra and them aren't globetrotting or playing with their 7+ animals, they are dabbling and working towards a future of financial freedom.