Our website is supported by our users and contains affiliate links. We get paid when you purchase or sign up for anything through those links. Read the full disclaimer for more information.
Last Updated on September 8, 2022 by Daniella
It seems like a new course pops up every day, even free online courses.
Whether it be on a platform like Udemy, Ivy Leagues giving entire course sets for certificates away for free, or from your favorite online digital creator, they are becoming very popular and are in high demand. People love the convenience of being able to learn absolutely anything from the comfort of their home (or in the park, or at the coffee shop) – no payment required.
With the rising student debt in the U.S., we don't blame them. When financial aid doesn't come through, there are other options you have to utilize.
Free access to information is a privilege and we should use the heck out of it. If you have access to open education like this, why not use it?
Free access to information is a privilege and we should use the heck out of it.
Do courses still provide value and challenge when they are free?
Absolutely!
We took a free digital illustration course on Brit + Co and it was much more engaging than originally thought (they currently have an awesome Investing 101 course too).
Duolingo was another resource that I've been surprised by how much I've learned from a completely free app!
We've all seen the majority of "freebies" offered online being far from ideal, like free printables from sites that give you the most basic of information. As helpful as starting with the basics is, it is much more valuable to dive deeper into a subject and these free course platforms promise you'll get a worthwhile education.
The Different Skills You Can Learn + Build On
There really is no limit to what you can learn online. You can't necessarily get a Ph.D. for free online, but you can probably find the intro course sets for free.
Now, we won't go into things that you need professional training or training in the field on like medical training, industrial manufacturing, farming and more.
But we will discuss any platform that offers free online education in most other areas of study such as:
Coding
Design
Soft skills
Business
Web tools
Film production/editing
Computer Science
Information technology
Engineering
Math
Logic
Cultural/anthropology
Journalism
Research
Theory
Data science
Analysis
Some law
Speech/public speaking
Arts and humanities
Social sciences
Personal development
Physical science
Language learning
And more
9 Platforms That Offer Free Online Courses
Leveling up your career with continuing education doesn't have to cost you anything. If you don't have the money for a degree and don't feel like taking on student loans, you can still boost your credentials in other ways. With free online courses, online students can work towards their certificate programs or specific online degree without having to cut off an arm and a leg for tuition starting out.
What a lot of people fail to see is that leveling up skills and learning experience in your arsenal can not only get you higher-paying jobs, but jobs with more of your preferences such as flexible work from home options, education reimbursement, travel options, and more. There are entire sites and online programs dedicated to helping people like you grow their skillset and career, even from places like MIT.
These programs include the same fundamentals normal classes in an in-person or paid online learning setting would have such as a syllabus, course materials, online class assignments, quizzes, certificate of completion, and even apply toward online degrees where applicable.
Let's jump to it then.
1. Udemy
Udemy is a site that you can either buy courses on or even teach your own Udemy courses (if that would be of interest to you as a side gig). They also have an array of free courses they offer. You can view these by using their search bar and typing in "free courses".
Udemy is also used by companies like Pinterest, Lyft, and Eventbrite as their destination for employee learning.
View all of the different courses Udemy has to offer here.
2. Coursera
Coursera is a site that you can join for 100% free and they show you personalized options for learning based on your background and where you want to go next in your career (including which higher education to go for next). Not all of the courses and programs on the site are free.
Coursera does, however, offer courses in the following for free (and you can find their complete list by searching for "free courses" in the search bar of the site once you sign in:
Machine learning
Financial markets
Psychology
Negotiation
Management
Medical neuroscience
Politics
And more
View the full list of free courses on Coursera here.
3. Codeacademy
As former code girls, Codeacademy is a resource we know very well and we recommend to anyone wanting to learn how to code. All of their introductory courses online are free, with some listed as "Pro" which you would then have to pay to learn. But they have plenty listed for free.
On Codeacademy, you have the option to learn by subject or by specific language.

Click here to check out Codeacademy.
4. Khan Academy
The Khan Academy is a 501(c)(3) non-profit and takes donations. Their courses are free and include skills that not only help your skills but also, your life.
Even though they seem to be geared towards elementary and high school students, they have a College, Careers, and More section that includes a blended learning and coursework in topics for any age like:
Navigating your career (including salary negotiation, networking, benefits, etc)
Serving your community
How to get into tech fields
Starting a business, freelancing, and different areas of entrepreneurship
Advertising and selling
Conducting research
Managing people
And over 10+ more important topics that help you through each stage of life and career pivot
All of these online classes are self-paced and can be accessed at any time for free.
For side hustlers and those looking to get into freelancing and entrepreneurship, these courses are a great resource for you. The screenshot below shows their learning online portal and lessons of the Start a Business or Go Freelance course.
5. Harvard
Say what!?
Harvard is seriously offering free online courses? For us lowly people? – That's a joke.
But the fact that Harvard offers online free courses year-round is no joke. We are serious about that.
Harvard has a free section of their course catalog including instructional classes in (taught by professors with accreditation):
Game development
Mobile app development
Computer science
Scripture
History
Data science
Statistics
And more
The enrollment for these courses is free and offered through a third party platform called edx.
Check out free classes at Harvard here.
6. Yale
Yale actually has its own platform specifically for its free online course offerings called Open Yale. This is their open-source platform of learning resources. All of these courses are taught by teachers and scholars that work at Yale University.
Courses offered include:
Astronomy
Engineering
Chemistry
Ecology
Economics
English
Environmental
Geology
History
And more
You can view all of these courses at Open Yale here.
7. MIT
Similar to Yale, MIT also developed its own open-source online learning platform called MIT OpenCourseWare.
Topics for these accredited courses include:
Business
Energy
Engineering
Fine arts
Health and medicine
Math
And more
To complement the set of course offerings, MIT also offers:
Supplemental resources
Independent study resources
A podcast and more
Check out MIT OpenCourseWare here.
8. GitHub Learning Lab
If you currently work in technology, you might be pretty familiar with GitHub. GitHub is used by many organizations for their teams to share and build software together.
However, they also have a great learning area of their platform called the Learning Lab for those a little newer to tech or looking to pivot their career to more tech-centric.
On GitHub's Learning Lab, you can learn things completely for free like:
Intro to HTML
Intro to Python
Intro to Ruby
Intro to Java
And other technologies and coding languages
Learn more about GitHub's Learning Lab here.
9. Google Digital Garage
Google has a complete online university called Google Digital Garage full of free online classes.
We just started a free digital marketing course on Google Digital Garage that also includes a certification. This is to help sell our new products more effectively. In just the first few lessons, let us say this – wow. Free online courses have become top-notch.
Most Google users probably don't even know that Google has this free resource available.
Some of the free courses you'll find on Google's Digital Garage are:
Digital marketing
Online advertising
Promoting your business
Understanding customers
Basics of coding
Machine learning
How to get a job
Online business security
Public speaking
Social psychology
And 130+ more topics and free courses
Learn more about Google Digital Garage here.
Can I include free online courses on my resume?
Yes, include these courses and skillsets on your resume! Maybe try to put them in action a little with a side hustle to encapsulate together on your resume.
We always recommend to include a side hustle on your resume. If that side hustle helped you build skills and experience applicable to your career and where you want to go next, why not include it?
You are only helping yourself.
Stuff like building skills and working side hustles that add to your professional development makes you stand out and that is how you get seen past that initial couple seconds of a resume glance.
Subscribe to get your free list of side hustles you can start this week!
Claim your free list of side hustles + tons of helpful resources to get started!
Where to Find Other Free Resources to Help You Level Up Your Career
Just like Udemy is offered to businesses to be able to provide educational resources to its employees, Linkedin has a similar service for businesses to purchase Linkedin Learning for their employees. You can also purchase this paid service individually and this way you can also get certificates through Linkedin.
If you want to pursue any online learning for your career path, definitely check with your employer first to see if they have some sort of internal program or special offer with one of these platforms.
However, you don't have to take a formal online resource to build skills. It actually depends on your preferred style of learning if online courses work well for you or not.
Good thing that online media is this amazing thing that is both educational and entertaining on a variety of platforms that are available for free 24/7.
We are talking about platforms like:
Free apps like Duolingo
YouTube
Podcast platforms like Spotify (depending on what podcasts you listen to)
Community forums like Facebook groups and Instagram Livestreams where special guests teach a topic
Webinars for free tutorials or learning in a small group
Audiobooks
And more
Search around the top accounts in your area of interest that you want to learn something in. If you don't vibe with them, click to see what related channels and accounts exist to see if their content resonates with you more. Sometimes it takes a while of trying out different creators to see which ones you like best.
Knowledge is Power
Whether a formal online course curriculum with a structure is your desired avenue of learning or maybe you like a little less structure like watching your favorite YouTube tutorial channel or your favorite educational podcast, there are a plethora of ways to learn for free online.
It definitely depends on the type of learner you are, your goals, best learning style, and area of interest. With these options, we think you will at least get a starting point.
You also need to apply your new knowledge learned, or those skills go by the wayside.
You must make that connection from listening and learning to actually doing. This means writing about what you learned, doing what is actually in the tutorials you watched, downloading free open source software to practice your skills, communicating with different language speakers to learn new languages fully, and more.
That is all you need to do, is start (along with the time needed to do it).
Have you taken advantage of free online learning before? Do you know of any other resources or pointers we missed from the list? Let us know in the comments below!
We recently just launched our new comprehensive resource to help you start an online side business, make your first $1k, and where to go from there. Click the image below to check it out.


More ways to get free stuff online:
Pin it for later!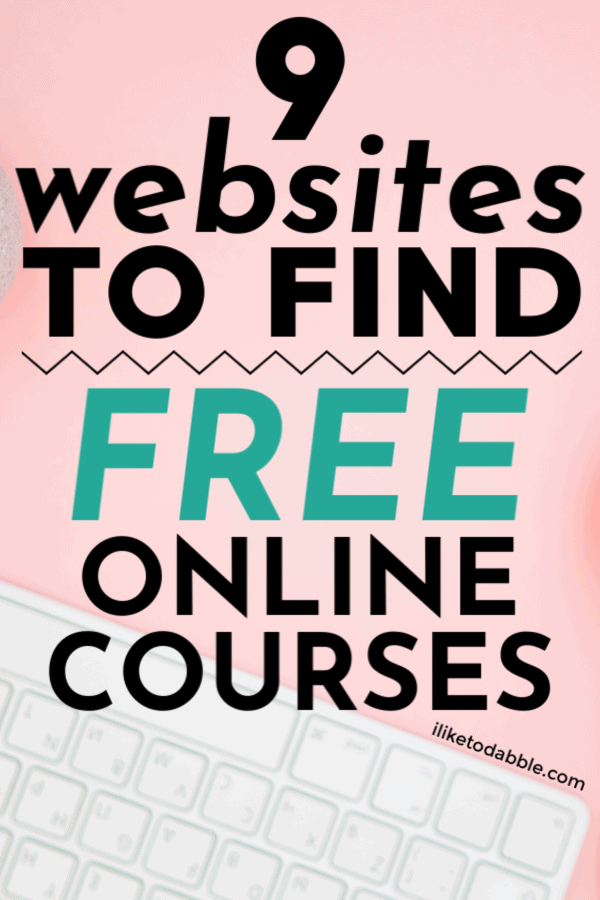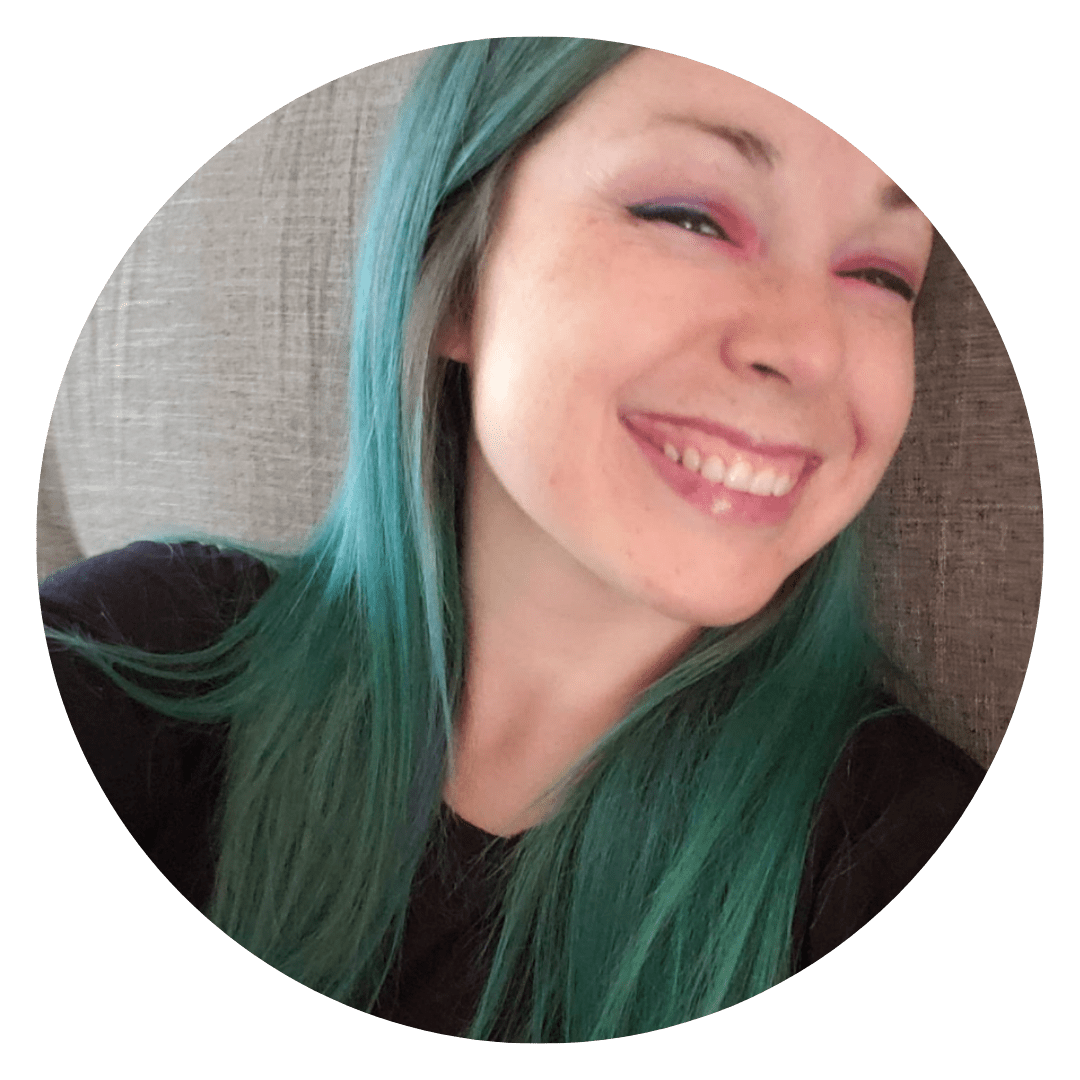 Daniella is the creator and author of iliketodabble.com. When their wife Alexandra and them aren't globetrotting or playing with their 7+ animals, they are dabbling and working towards a future of financial freedom.