Our website is supported by our users and contains affiliate links. We get paid when you purchase or sign up for anything through those links. Read the full disclaimer for more information.
Last Updated on November 30, 2020 by Yovana
The average number of classified ads posted on Craigslist monthly is 80 million.
80 million!!
A large number of them are from people buying and selling. Some categories of items like car parts and concert tickets go quick on Craigslist. However, some other categories are hard to get traction in when trying to sell on the site.
So I went looking for alternative classified sites like Craigslist to see how others perform in different areas.
Craigslist was originally created in 1995 as an email distribution list about local events in San Francisco. Since then it has grown to be the largest online classified website to date. Craigslist includes sections of classifieds devoted to jobs, housing, for sale, items wanted, personals ads, services, and more.
If you are an online reseller like us, you might have used Craigslist at least once to sell stuff. It is like a weird thrift store directory online, and I love thrift stores. Craigslist isn't the only site for buyers and sellers though.
Let's take a look into the many other sites like Craigslist for all your buying and selling needs.
Best Selling Apps to Sell Your Stuff Online and In Person
Craigslist is hardly the best app or site you can use to sell your stuff online. The fact that you have to meet people in-person to close the sale kind of sucks.
However, it does beat having to pay fees and worrying about shipping like with other online selling apps.
1. Locanto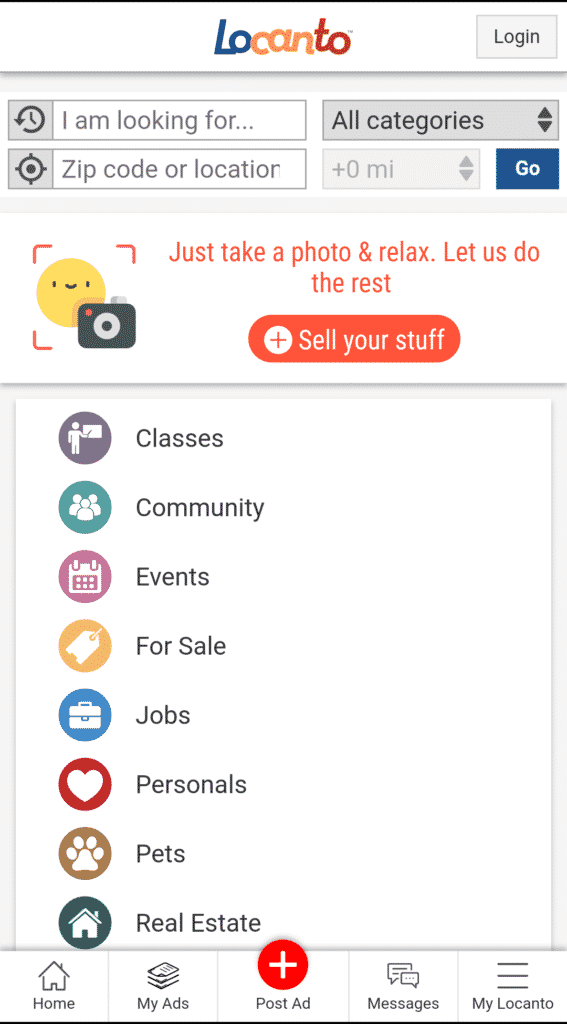 Locanto is another free classifieds similar to Craigslist. And much like Craigslist, Locanto is available in many countries throughout the world.
60 countries, to be exact.
The coolest thing about Locanto is that you can include HTML in your listings. So if you have a website, you can link to it in your listings.
There is certainly a variety of access to Locanto throughout the world. Along with that, there is also a variety of categories for buying and selling.
Buy and Sell Categories include:
Baby and Kids
Fashion
Beauty
Hobby and Leisure
Home and Garden
Multimedia
Music, Movies and Books
Real Estate
Services
Vehicles
and more
Easiest category to sell on Locanto: Multimedia
2. Geebo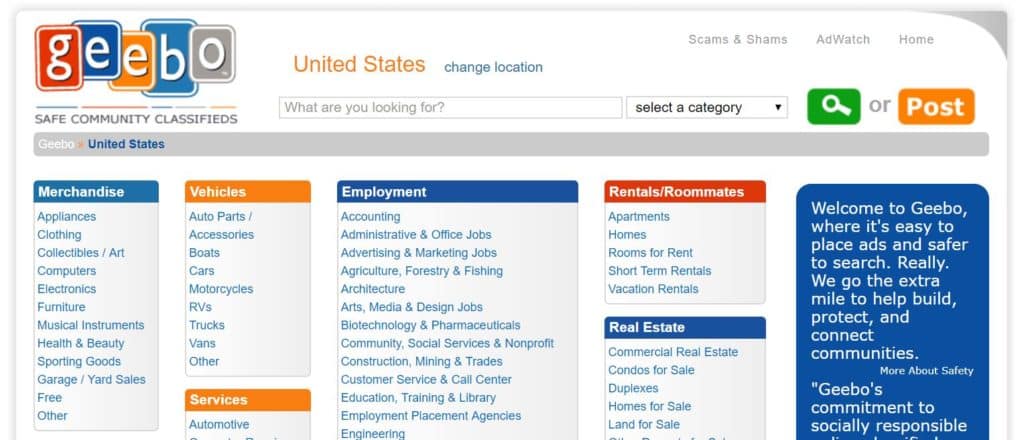 Geebo calls themselves the "Safe Community Classifieds". This might turn more people towards Geebo and away from Craigslist (due to a tainted history Craigslist has with creeps). Either way, Geebo is worth checking out.
The site features a wide variety of categories in merchandise, construction/farm equipment, vehicles, services, real estate, and job listings.
Buy and Sell Categories include:
Appliances
Clothing
Collectibles
Electronics
Furniture
Musical instruments
Gardening equipment
Tractors/ trailers
Sporting goods
Auto parts
Boats, cars, RVs, Trucks, etc
Real estate and rentals
And more
Easiest category to sell on Geebo: Appliances
3. Letgo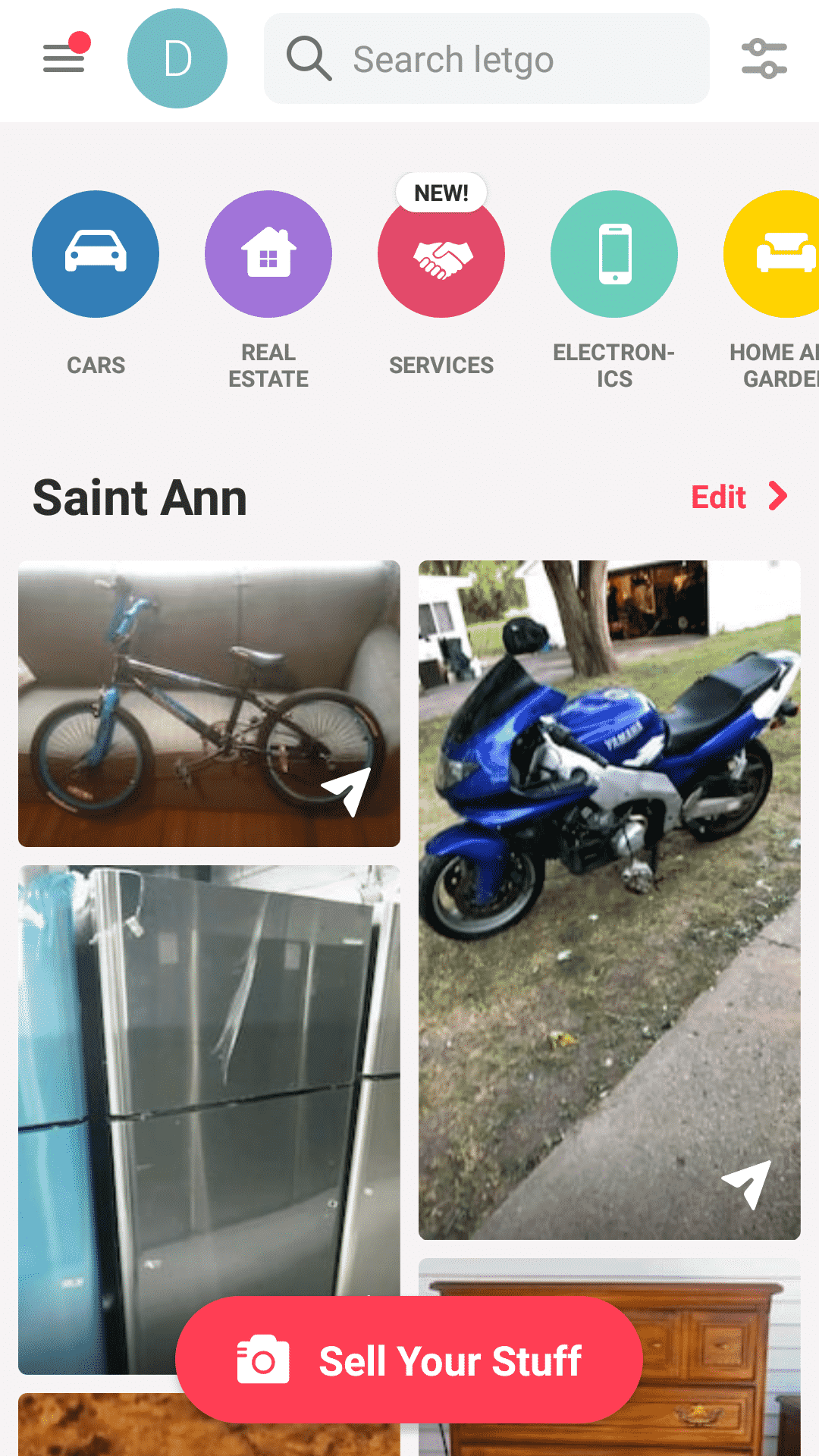 One person's trash is another's treasure. That is the idea with Letgo.
Letgo is a website and mobile app for buying and selling locally. With over 100 million downloads, it is the largest growing app of it's kind.
Selling on Letgo is as simple as taking a photo. Plus is it 100% free to use, making it even more appealing to resellers like you and I.
Buy and Sell Categories include:
Cars and other vehicles
Housing
Free stuff
Electronics
Sports, leisure and games
Home and garden
Movies, books and music
Fashion and accessories
Baby
Other
Services
And more
Easiest category to sell on Letgo: Sports, leisure and games such as gaming consoles
Related posts: 22 Creative Ways to Turn Your Clutter Into Cash
45 Life Hacks That Will Save You a Ton of Money
22 Clever Ways to Get Free Gift Cards
Sign up to get your FREE list of items to flip and resell!
Get your list of over 30 ideas for items to flip and resell for a profit!
4. OfferUp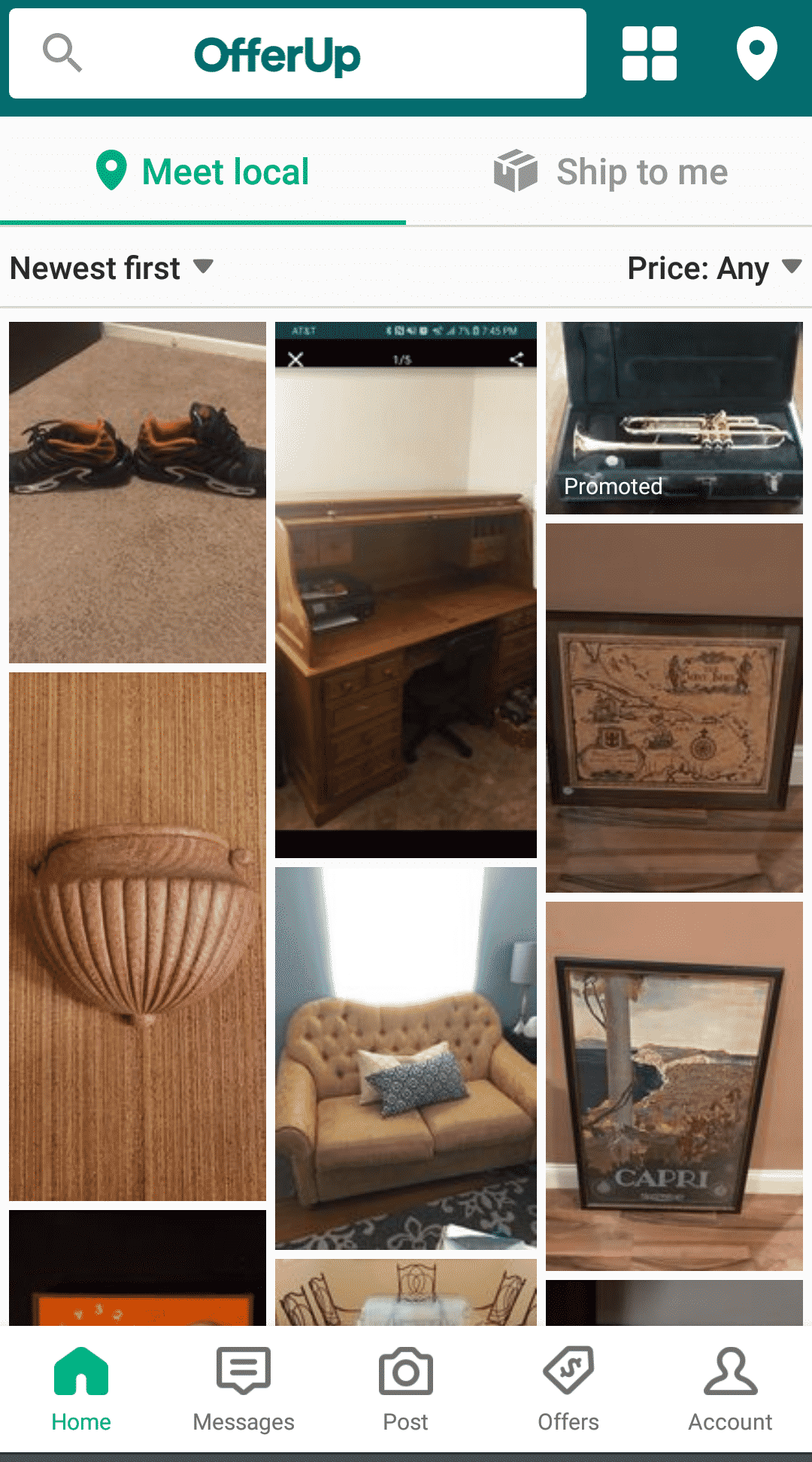 OfferUp is a lot like Letgo where you can find items to buy and sell in your local area. However, the difference between OfferUp and Letgo is that OfferUp now offers shipping so you don't have to meet up locally.
They try to make their app as safe as possible. I think this is very important when you are buying and selling locally.
OfferUp requires you to confirm your identity with an ID, Facebook profile, phone and email.
Buy and Sell Categories include:
Antiques
Appliances
Arts and crafts
Audio equipment
Auto parts
Baby and kids
Beauty and health
Bicycles
Boats, Cars, RVs, and other vehicles
Cell phones
Collectibles
Electronics
Furniture
And 20+ more categories
Easiest category to sell on OfferUp: Furniture
5. eBay

You may or may not be familiar with eBay. But with it being 2019, you should know what eBay is by now.
eBay is our favorite platform to resell items online as it is extremely easy to use for that purpose.
Well, eBay also has a section of their site completely dedicated to classifieds.
Their classifieds are different from the rest of eBay because the transaction is finalized outside of the eBay platform.
eBay classified ads are available in select categories but is perfect for bulky items too large to ship.
Buy and Sell Categories include:
Furniture
Collectibles
Antiques
Vehicles
Multimedia
Musical instruments
Electronics and computer equipment
Appliances
Garden equipment
Apartments for rent
Services
And more
Easiest category to sell on eBay and eBay Classifieds: Collectibles
Related posts: How We Make Money on eBay
15 Side Hustle Apps to Make Extra Money
6. Carousell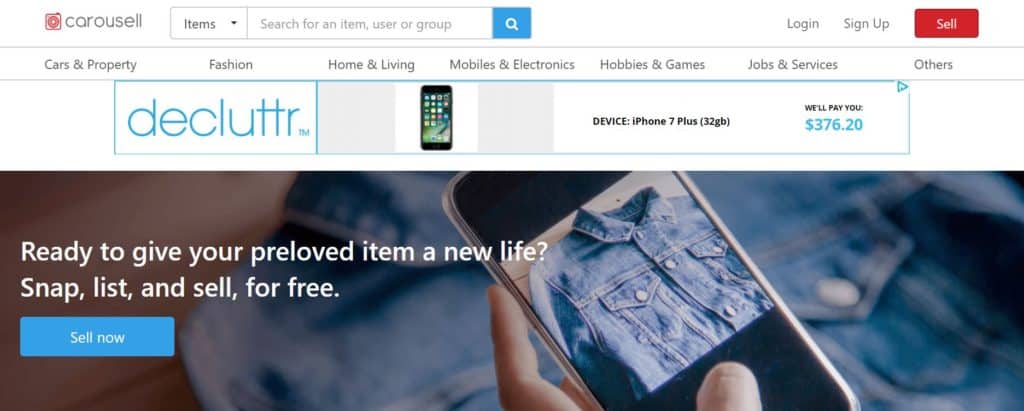 Carousell is perfect for those looking to buy and sell outside of the United States. If you are located in Asia Pacific region, I suggest you try Carousell for buying and selling in those countries.
How you buy and sell on Carousell is through offers and chatting with buyers through the site or app.
You don't have to meet up with buyers either to sell your items on Carousell. If you feel uncomfortable meeting up, use registered mail or normal mail for shipping the items. Or go with a buddy.
Buy and Sell Categories include:
Cars and property
Fashion
Home and living
Mobile and electronics
Hobbies and games
Jobs
Services
Other
Easiest category to sell on Carousell: Mobile and electronics
7. Oodle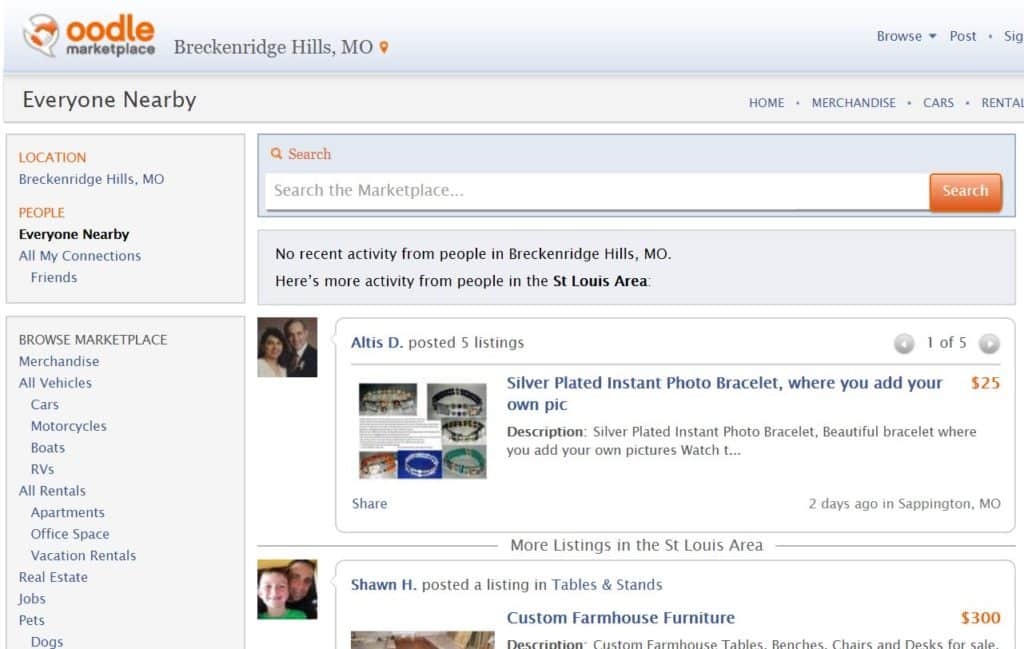 Using the power of social networks, Oodle has reinvented online classifieds.
Oodle started out 6 years ago as a classifieds search engine. Today, it is what powers Facebook Marketplace to expand their reach to over 15 million users. But they still have their own Oodle Marketplace.
Oodle Marketplace immediately grabs your location to show you available listings in your area.
From personals to jobs to even pets, Oodle seems to have everything. That goes for buying and selling categories as well.
Buy and Sell Categories include:
Antiques
Appliances
Baby and kids
Books and magazines
Clothes and accessories
Electronics
Furniture
Home and garden
Mobile phones
Office and biz
Sports and bicycles
Tools
Vehicles
Real estate and rentals
Pets
Services
And more
Easiest category to sell on Oodle: Sports and bicycles
Related posts: The Best Ways to Sell Your Stuff Online
How to Make Money as an Artist
How to Make Money for Your Spring Cleaning
8. Bookoo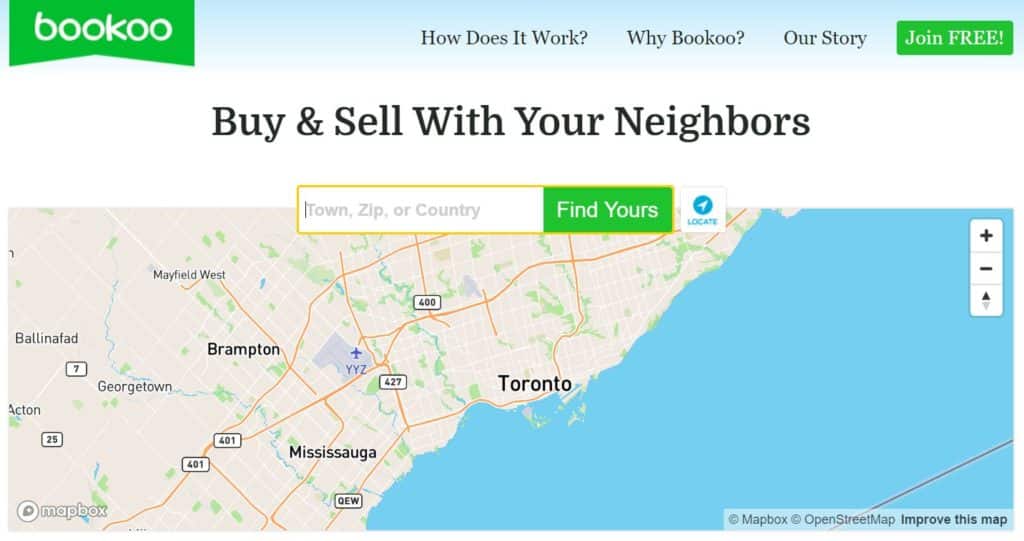 Bookoo is very similar to buying and selling on Craigslist. Everything is done in your local area with face to face meetups.
There are not as many different areas represented on Bookoo as Cragislist has. However there are over 2 million users of the service.
Bookoo also offers more information about sellers. The site lets you upload a bio and tell others what you tend to sell.
So unlike Craigslist, Bookoo gives you a better idea of who you're dealing with on the other end.
Buy and Sell Categories include:
Antiques
Appliances
Arts and crafts
Baby and kids
Books
Cars and trucks
CD/DVD/VHS
Clothing and accessories
Collectibles
Computer
Educational Stuff
Electronics
Farm and livestock
Fitness and sports
Furniture
Health and beauty
Hobby
Household
Real estate
Hunting and outdoors
And 15+ more categories
Easiest category to sell on Bookoo: Clothing and accessories
9. Recycler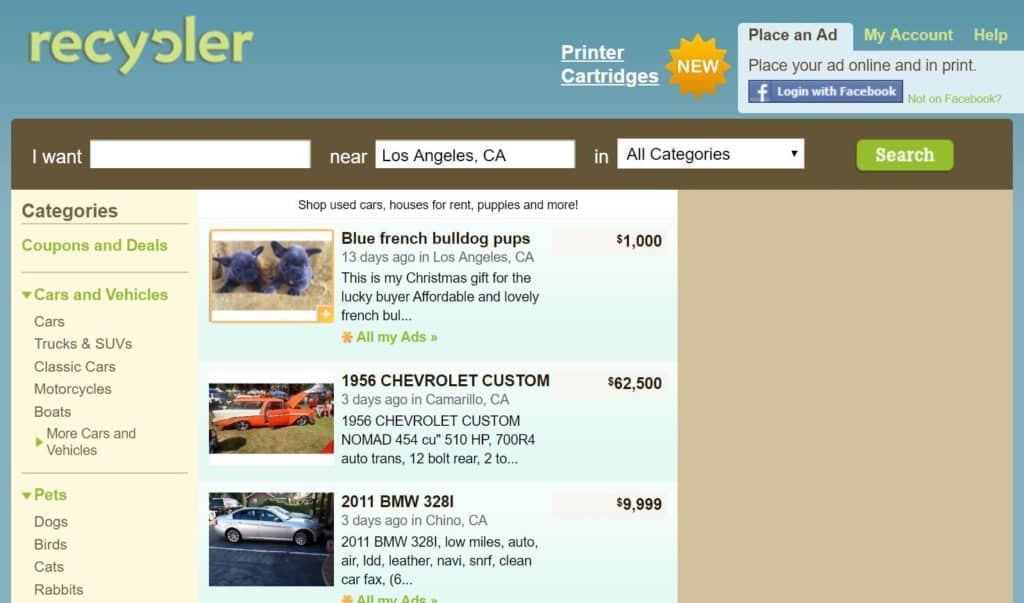 Recycler is an online classifieds site that includes used cars, pets, merchandise and more.
It takes about 2 seconds to create an account and then you are free to list whatever you choose.
Buy and Sell Categories include:
Cars and vehicles
Tickets
Pets
Real estate
Furniture
Appliances
Cameras and videos
Collectibles
Clothing and accessories
Home and garden
Health and beauty
Exercise equipment
Sports and recreation
And literally anything else (they even have firearms listed and even thought I don't recommend buying one from here, it shows you how many used items you can access from this platform)
Easiest category to sell on Recycler: Cars
10. Facebook Marketplace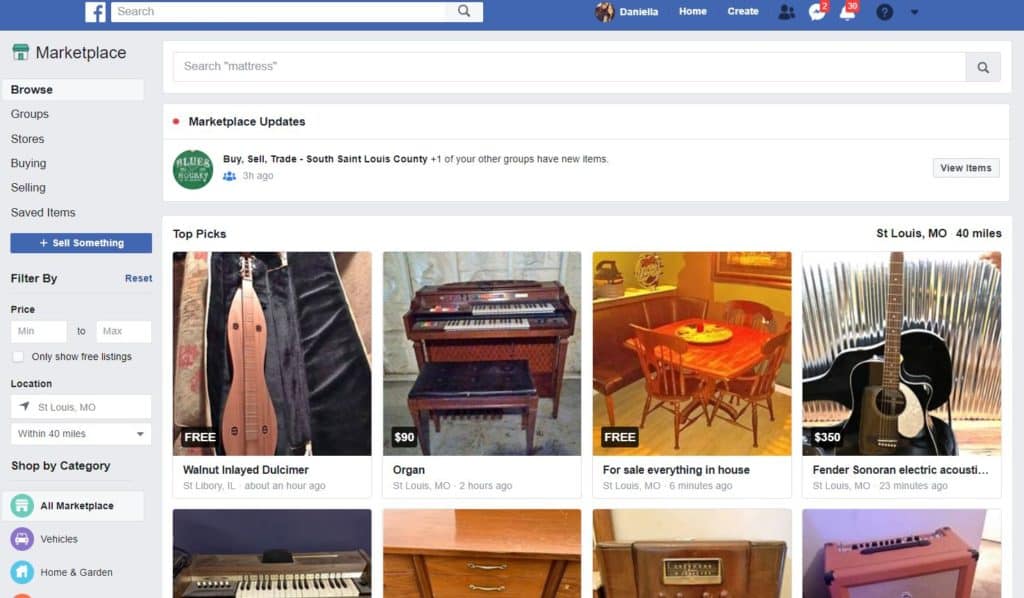 I love Facebook Marketplace since I started using it a couple of months ago. We sell a lot of guitars, guitar cases and other accessories on eBay mostly. But we have a lot of other items that are hard to sell on eBay due to their size and shipping difficulty.
One of the items we didn't want to sell on eBay because of the size was an amp. So we sold it on Facebook Marketplace instead and made $300 within 1 hour of the listing.
Buy and Sell Categories include:
Vehicles
Home and garden
Housing
Entertainment
Clothing and accessories
Family
Electronics
Hobbies
And more
Easiest category to sell on Facebook Marketplace: Furniture
11. VarageSale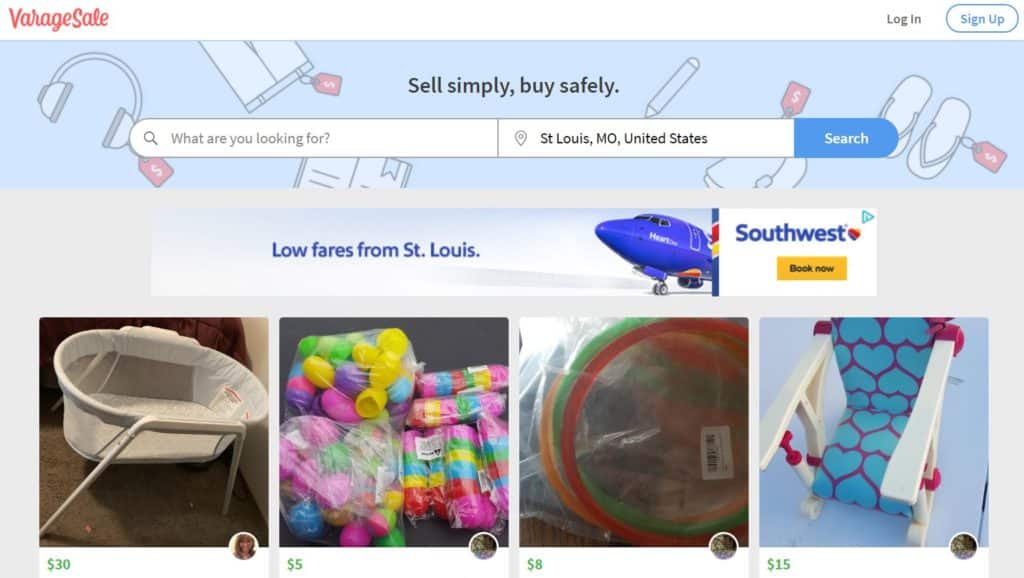 VarageSale is exactly what it's name implies. It is an online garage sale.
To get started you find your local community, get verified by VarageSale connecting to your Facebook and you are ready to buy and sell safely!
Buy and Sell Categories include:
Baby items
Books
Clothing
Electronics and entertainment
Handmade items
Refurbished items
Crafting accessories
Purses
Health and beauty
Parties
Home
Shoes
Sports and fitness
Toys
Vehicles
And more
Easiest category to sell on Varagesale: Baby items
Related posts: 50 Ways to Make an Extra $500 a Month
10 DIY Crafts to Sell for Extra Money
10 Awesome Online Jobs for Stay at Home Moms
12. Mercari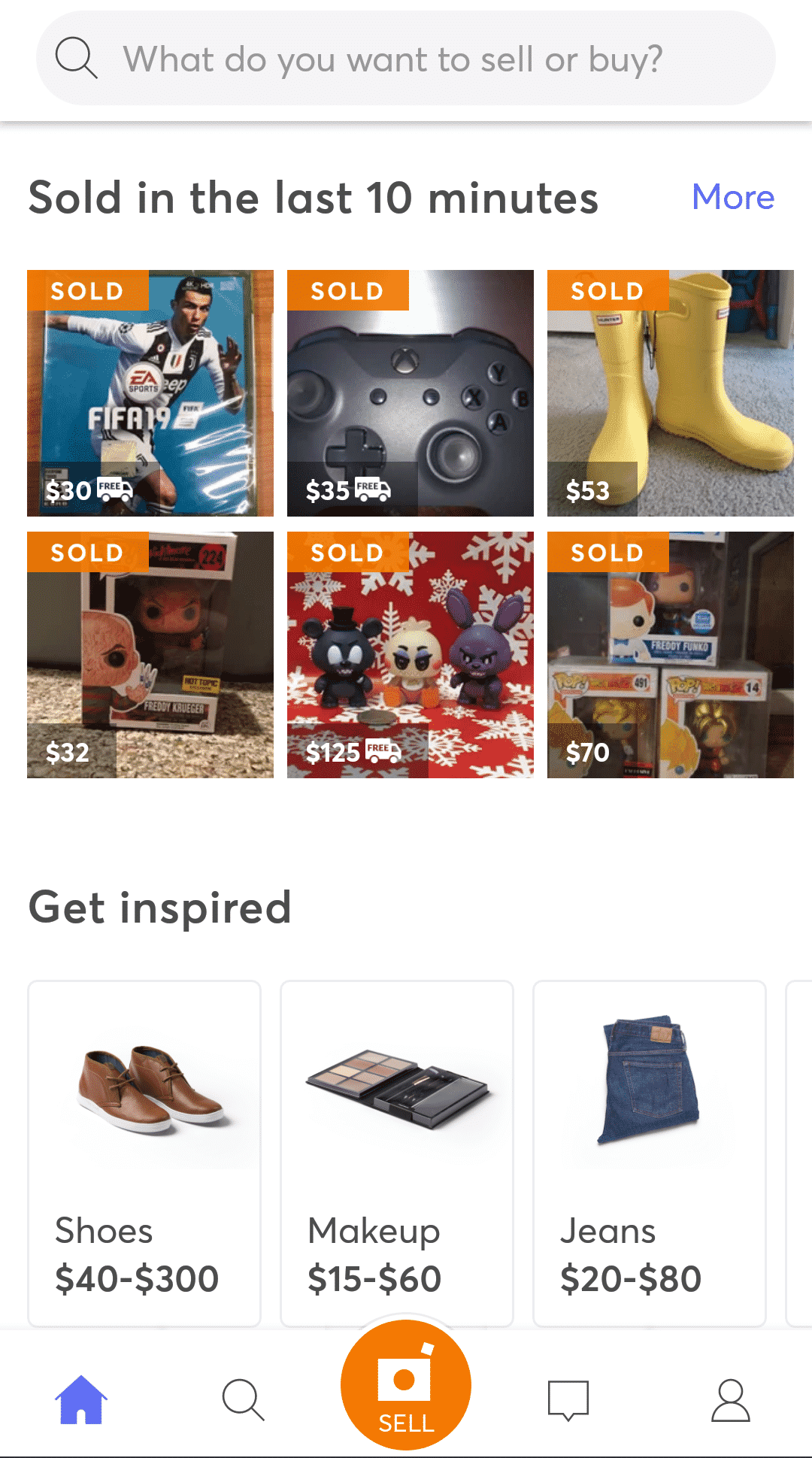 I love Mercari for buying and selling online because there are no meetups required (shipping labels are emailed to you) and the listings are free. But you will have to pay a 10% selling fee when the sale completes.
Even though Mercari isn't really a classifieds site where you post ads, it is perfect for buying and selling literally anything.
Buy and Sell Categories include:
Clothing, shoes and accessories
Jewelry
Kids
Home
Vintage
Beauty
Tech
Sports
Handmade
Other
And more
Easiest category to sell on Mercari: Shoes, laptops, smartphones and gaming accessories
Tips for Buying and Selling on Classified Sites
If you are searching for a good deal when buying on these sites, always compare the prices across platforms.
To sell on classified sites you must create appealing listings.
In addition to writing a catchy and being as descriptive as possible about your listing, you must also remember:
Do not share any personal details about you such as your address, social security number, etc.
Take exceptional pictures with good lighting of what you are selling.
Include multiple photos to fully show the product and it's condition.
Disclose all the details about what you are selling. Include the bad details too.
Related posts: 28 Ways to Make Extra Money
What is Dropshipping and How to Start a Dropshipping Store
How to Hack Your Future by Getting a Side Hustle
How to Recover From Burnout: 5 Steps I've Taken
Tips to Get Deals When Buying Items Online to Resell
By using cash back sites and apps when you buy items to resell online, you can get one heck of a deal.
Cash back sites I use and love:
More Sites For Buying and Selling Online
There are two sites I like for quickly getting rid of stuff if they don't sell quickly for the price you want using any of the above platforms.
Conclusion
Buying and selling on Craigslist and sites like craigslist can have its perks. You can find stuff insanely cheap, especially if people are looking to just unload it. But these sites can have a downside as well, and it's a dark one.
If you are meeting up with anyone for an in-person transaction, always go with a buddy. This way you will feel safer and more confident.
Be sure to keep an eye out for any suspicious listings or scammy behavior too. And as always, have fun with it!
Have you tried buying and selling online at any of these sites? What was your experience? Tell us in the comments!
Pin it for later!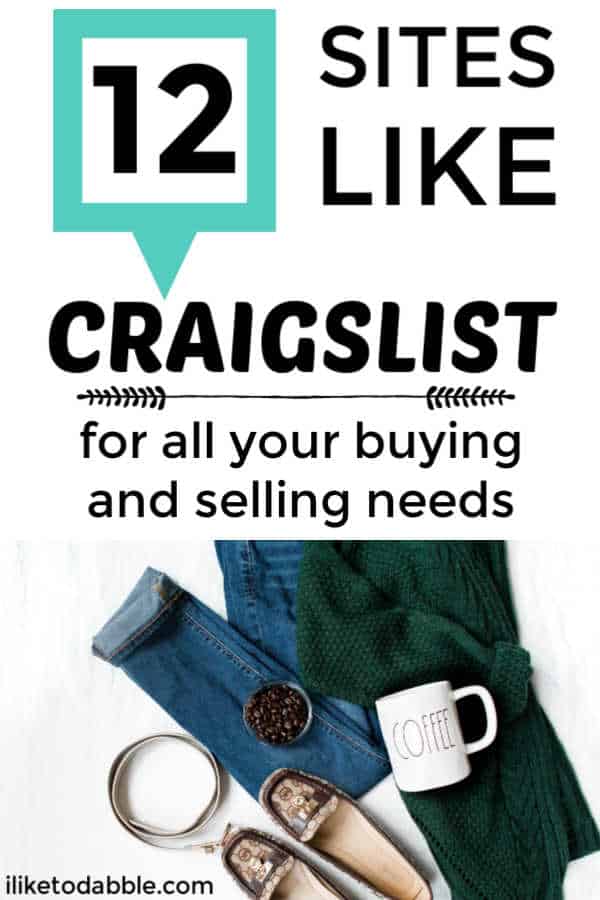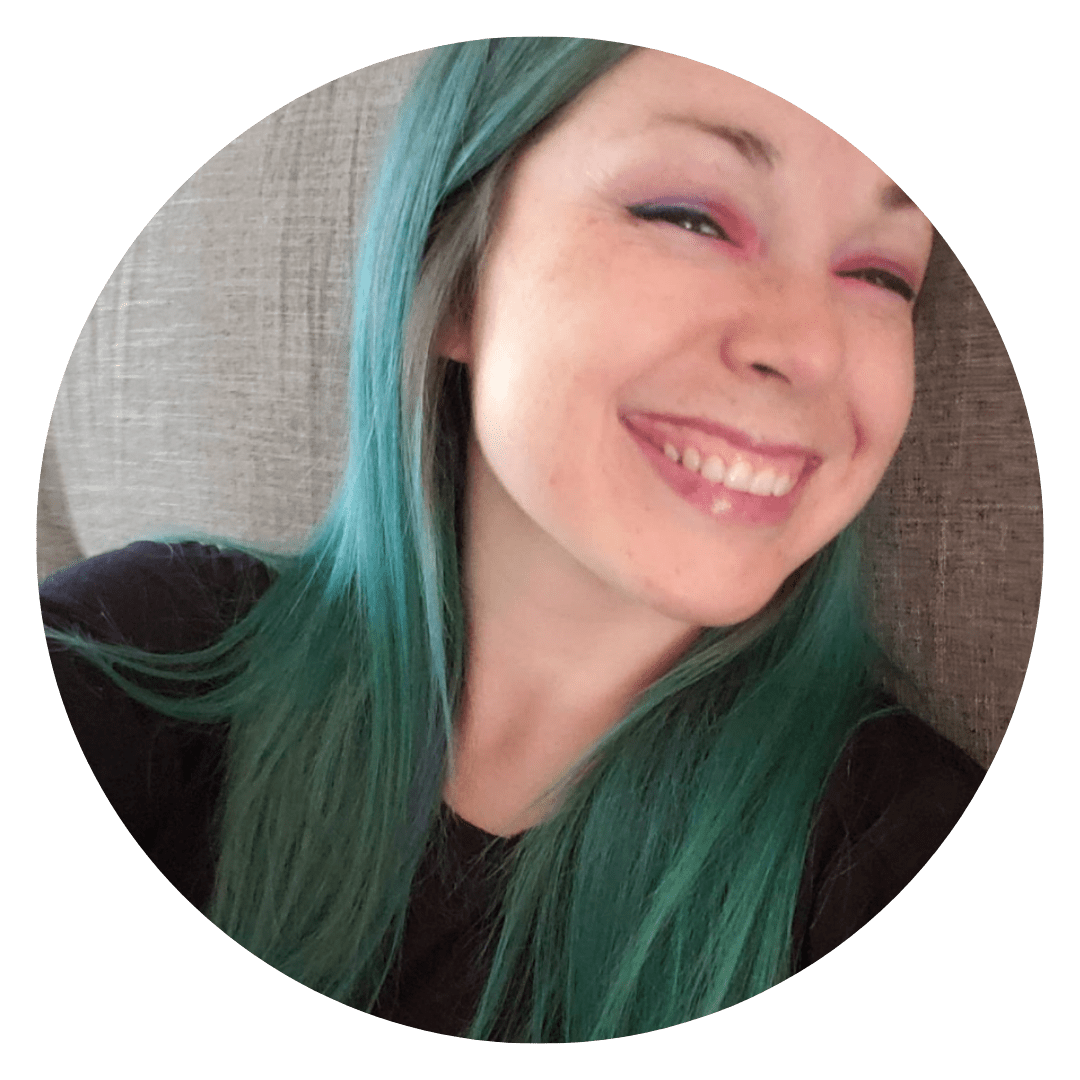 Daniella is the creator and author of iliketodabble.com. When their wife Alexandra and them aren't globetrotting or playing with their 7+ animals, they are dabbling and working towards a future of financial freedom.