Our website is supported by our users and contains affiliate links. We get paid when you purchase or sign up for anything through those links. Read the full disclaimer for more information.
Last Updated on January 21, 2023 by Daniella
If you've ever had to create any sort of graphic on your own time, it's likely you've either heard of or used Canva before.
Did you know that you can also make money with Canva?
Canva is an online design and content creation platform with over 100 million users that allows you to easily create beautiful graphics and videos, manage content marketing schedules, create and schedule social media posts, create digital products, and more. It's also an extremely popular tool among online entrepreneurs, freelancers, and side hustlers, and a powerful tool for several remote workers and teams — allowing them to collaborate asynchronously in their work.
It has both free and paid versions available.

If you're a creative person looking to start a remote side hustle, Canva is the perfect tool to help you monetize your skills. It's also a great tool to keep your brain engaged creatively, if you're someone who struggles working with ADHD.
My favorite ways to make money with Canva are semi-passive income streams like creating and selling e-guides, printables, Canva templates, and creating graphics for my blog.
Canva is the tool I use for the creation process but from there, usually another app will come into play for the actual selling part like Etsy, Shopify, Koji, Teachable, and more.
Semi-passive income streams take some time to set up and build up momentum but after some time can start to generate an income on their own due to the underlying business systems you've set up to maintain them.
Whether you want to level up your brand aesthetic, create a digital product side hustle, offer freelance creative services, or create content, Canva is a pretty awesome all-in-one tool for it. No matter what option you pursue to make money with Canva, neither of these are short cuts or things that will "get you rich quick". They will take some time to create, set up business systems for, and market.
Like any successful product or service, there is usually a lot of time and work that goes behind it before you start to see it flourish. Keep this in mind as you're exploring any certain business idea.
If you are interested in Canva, but want more insight into what type of side hustle is right for you, take the free quiz 👇
Here are the best ways to make money using Canva.
1. Create & sell printables & worksheets.
Printables have high demand for everything from meal planning, to checklists, lesson plans, and more. People love printables to help them stay organized and love the easy access via download.
You can create and sell a variety of types of printables, including:
Planners
Journals
Calendars
Coloring books
Color-in trackers
Printable wall art
Stickers
Posters
Worksheets
Workbooks
Checklists
Bullet lists
Recipe printables
Emergency info sheets
Cheatsheets
And more
To come up with inspiration of what to create, you can browse the free and pro templates available in Canva. Don't try to steal these designs and try to sell them as your own. Instead, use them purely to get a good idea for popular formats, spark new ideas, and see how different color combinations and fonts look together.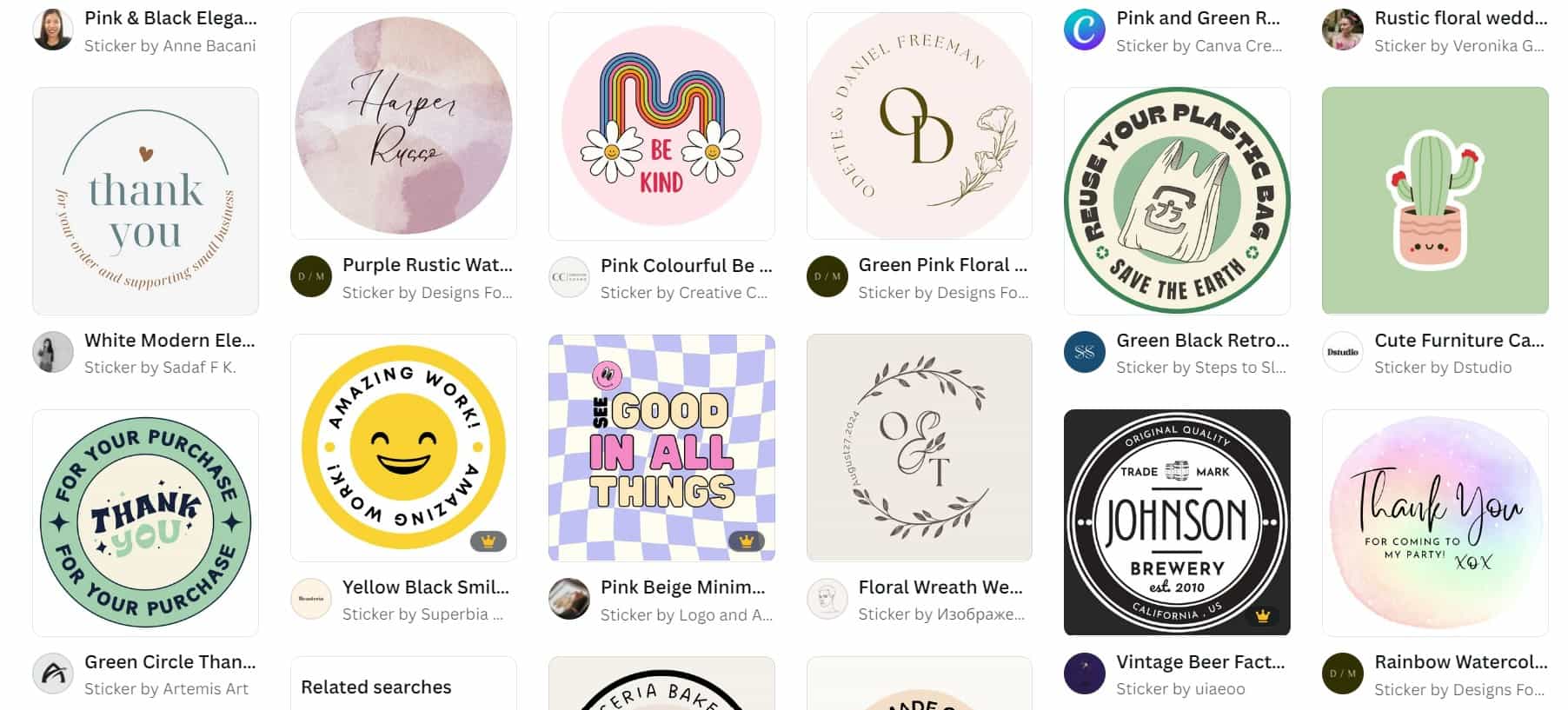 Many bloggers, coaches, and educators create digital products such as printables and worksheets to sell on their websites. Use Canva to design these products and sell them on platforms to reach your ideal customer.
The next step for where to sell your printables are to look at selling platforms like:

For where to start with creating and selling printables, check out this free course from my friend who turned her printable side hustle into a $10k per month business.
2. Sell canva templates.
Canva templates are something I use extensively in my own business. I use them for pinterest images, other social media images, presentations, infographics and more. They cut my creation time in half.
Business owners aren't the only people that benefit from Canva templates either. Teachers, students, parents, and anyone who has to use Canva at their job also take advantage of templates to create in Canva.
Ideas for canva templates to create:
Instagram story templates
Instragram carousel templates
Tiktok templates
Presentation templates
Media kit templates
Resume templates
Website templates
Newsletter templates
To sell these templates, you will usually serve the shareable template link from Canva as the digital download upon purchase or include the shareable link in an instructional document as your digital download.
You can then sell your templates on online selling apps such as:
3. Create & sell digital products like digital planners, journals, etc.
I made $30k last year from creating and selling digital products alone using Shopify, Etsy, Webinarjam, and Teachable. This was an income stream that I started 3 years ago and has taken some time to perfect certain things where the stream has more momentum now with systems I've built. This is also only 1 of several income streams within my online business and blog.
Some of what I sell as digital products are digital guides, ebooks, and bundles — all of which I've created in Canva.
Other ideas of digital products to sell:
Digital planner
Digital journal
Courses
On demand workshops
ebooks and guides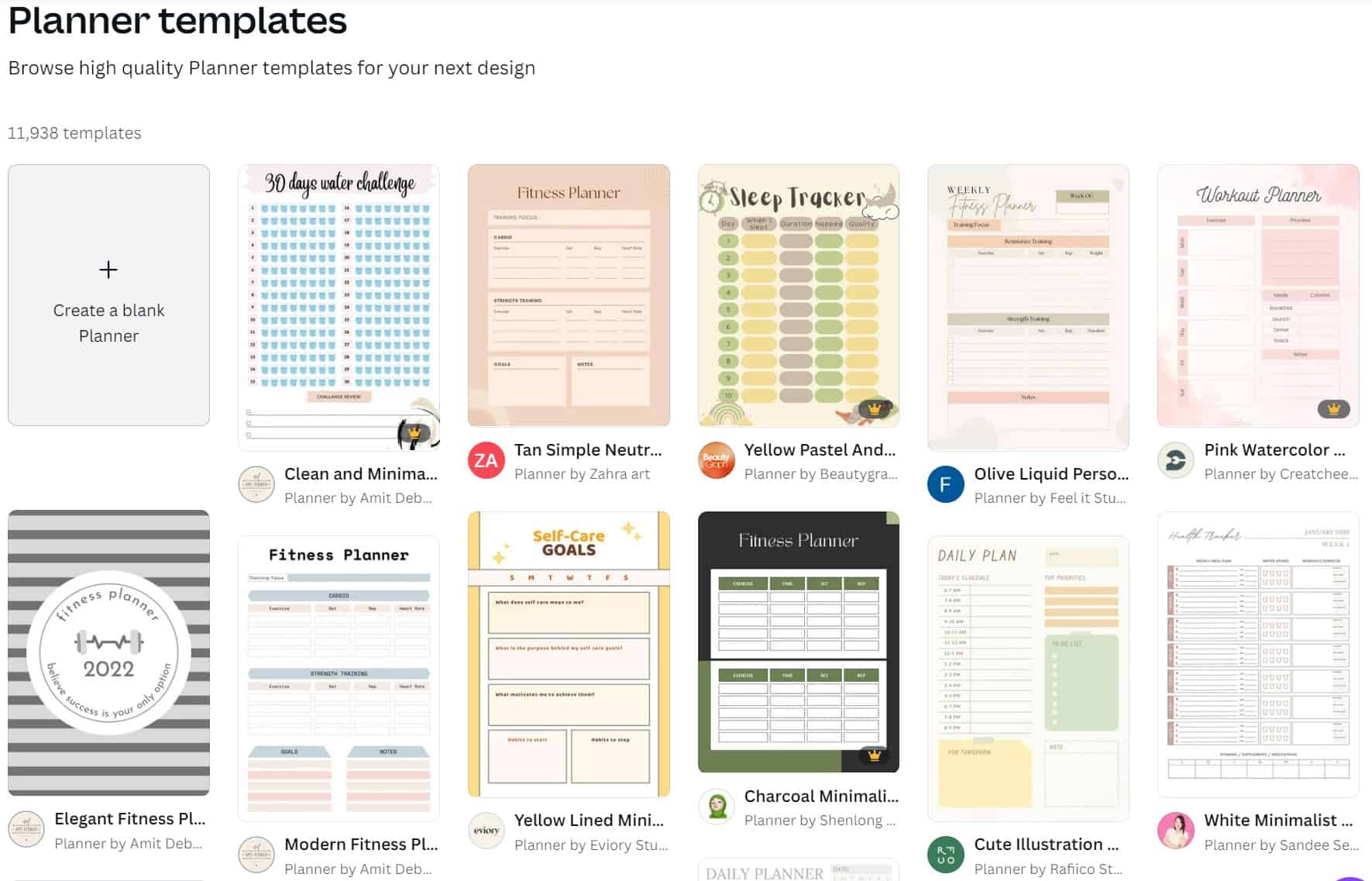 Use Canva to design digital planners and journals that you can sell on platforms like Etsy or your own website.

You can also use the following platforms to sell both digital products and courses:
To get started, use this free introductory course from Coursera.
Related: 20 Best Things to Sell on Etsy
4. Create & manage social media graphics for businesses.
Many small businesses struggle with creating consistent and visually appealing graphics for their social media accounts. Offer your services as a freelance social media designer, manager, or virtual assistant.
You can use Canva to both create, manage, and schedule your entire social media strategy for your clients as well as organize dashboards per client. It's a pretty robust tool for digital marketing.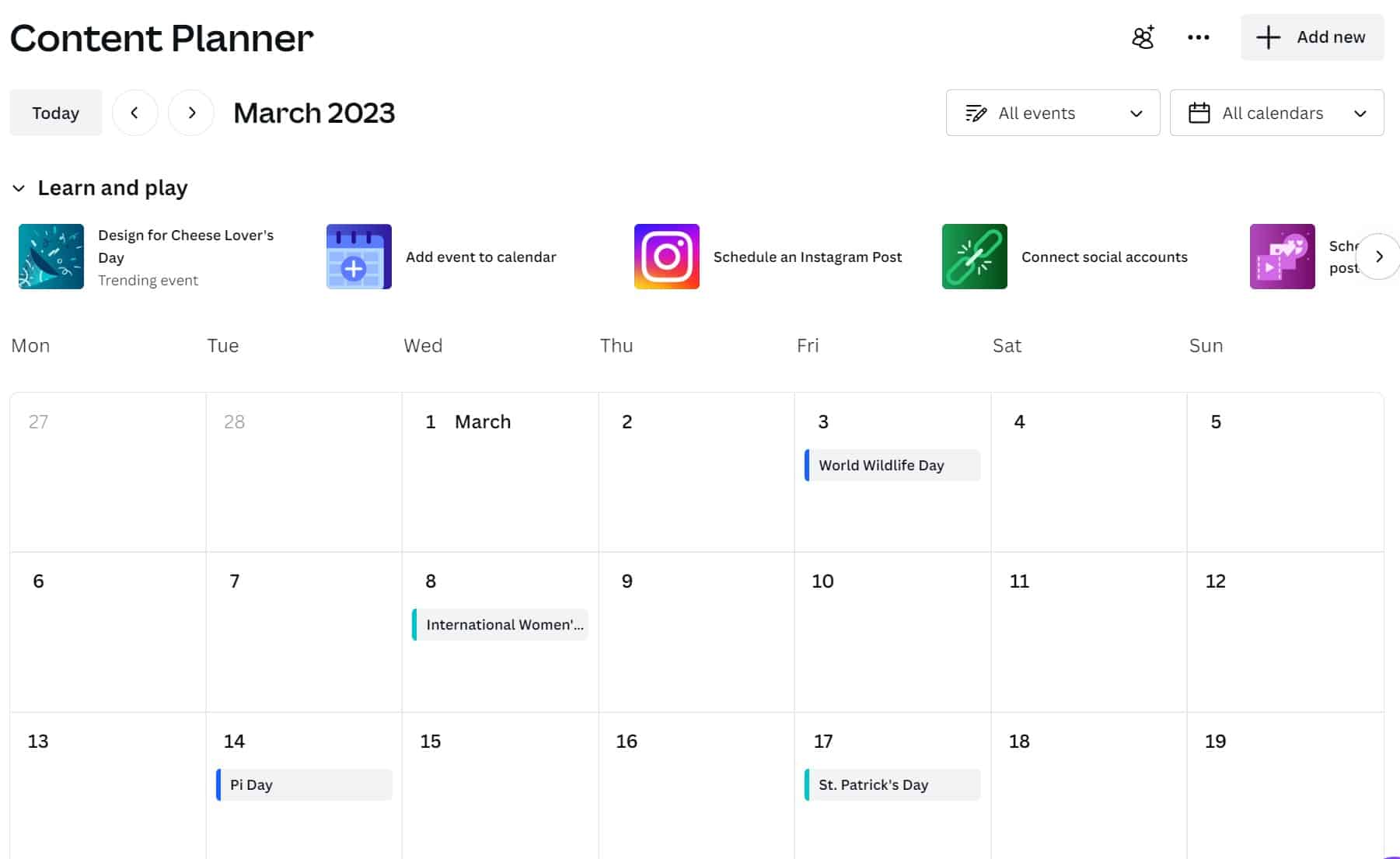 There are a couple of routes to take with creating social media content using Canva. For instance, you could create social media graphics to sell as a digital product on platforms like Etsy or contract out your social media management services on freelancer platforms like Fiverr, Upwork, or do client outreach to small businesses on Instagram and other social media platforms.
Here are more ways to package your social media graphic services to clients.
5. Design e-book covers.
An option for some authors is to self-publish their books though platforms like Amazon Kindle Direct Publishing or Apple Books for Authors. An idea to make money with Canva is to use the tool to design and create e-book covers to help them increase their sales.
You can get in touch with authors to offer this service on platforms like Upwork, 99Designs, or in niche author groups on social media.
6. Design invitations and announcements.
A popular item on Etsy has been both printable and digital items for celebrations and special occasions. Some of these include invitations, announcements, save the dates, name tags, table settings, cards, and more — which you can easily use Canva to create. They also have some great templates to choose from, categorized per occasion.
From birthday parties to baby showers, there is always a need for professional and visually-appealing invitations and announcements. Offer bundles of pre-made orders and custom orders for groups and individuals on platforms like Etsy or your own website.
This invitation shop on Etsy has over 9,000 sales.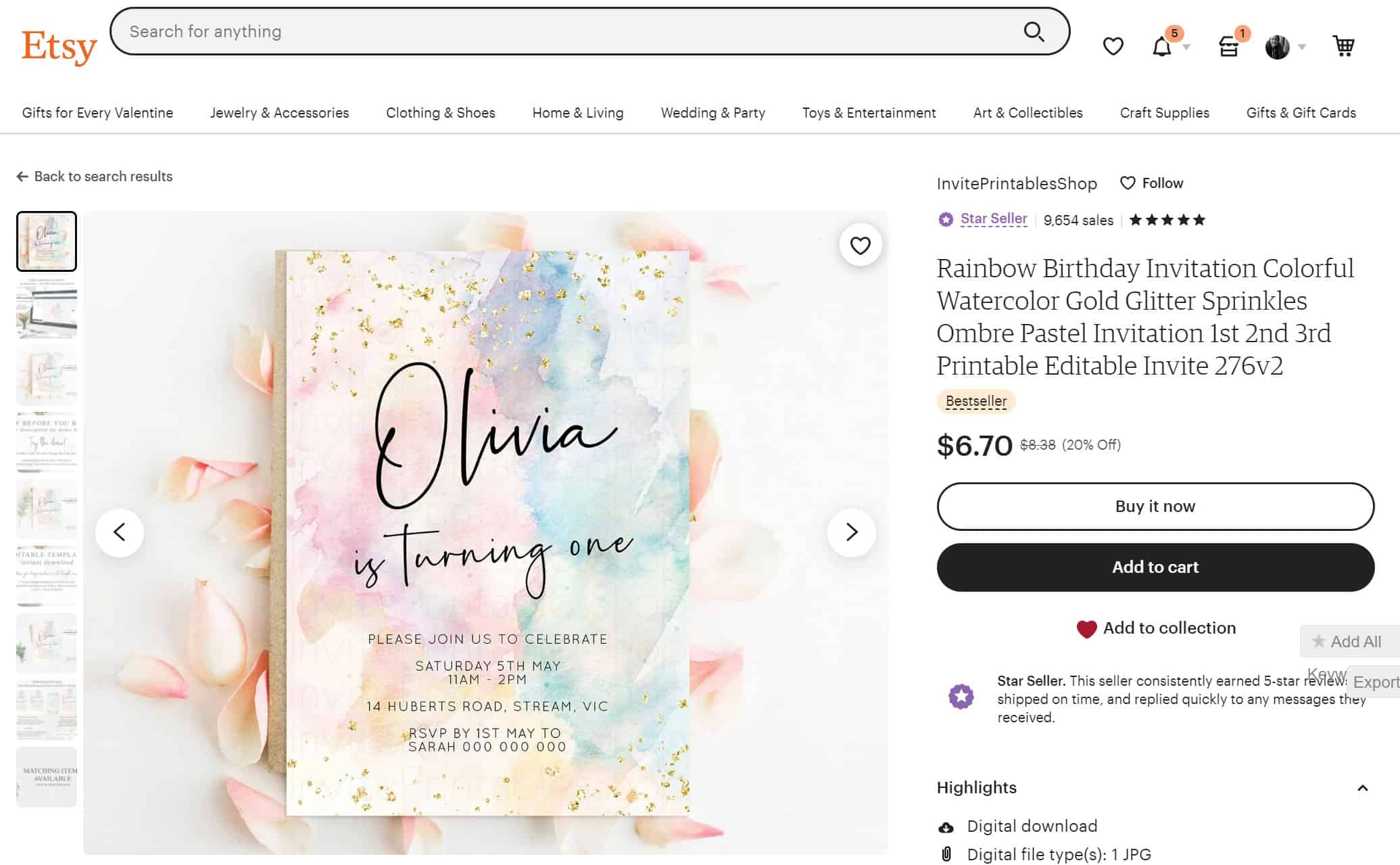 7. Create infographics.
Businesses and websites often use infographics to explain complex information in an easy-to-understand format. I've used Canva in the past to create several infographics for my own website and for pinterest graphics.
You can tell infographic templates online as a digital product or freelance your infographic creation skills to clients.
Use these platforms to offer infographic design services:
8. Design social media ads.
Many businesses turn to social media advertising to reach their target audience. Offer your services to design visually appealing and effective social media ads for your clients using Canva.
You can find potential clients on platforms like:
Upwork
Fiverr
Linkedin
Direct client outreach and through lead magnets
To get started, use this free course from Coursera that steps you through creating ads.
9. Design logos.
Business owners are looking for logo design services every day as they start new businesses. You can offer logo design services to clients on a freelance basis as either a solo service or as a part of other graphic design packages. Use Canva to manage your clients' brand kits and house the graphic assets you create for them. Sometimes you might need to refer to other tools in addition to Canva to be able to open up your creative freedom with logo creation like Adobe Express.
You can sell your graphic design skills on platforms like:
99Designs
Upwork
Fiverr
Linkedin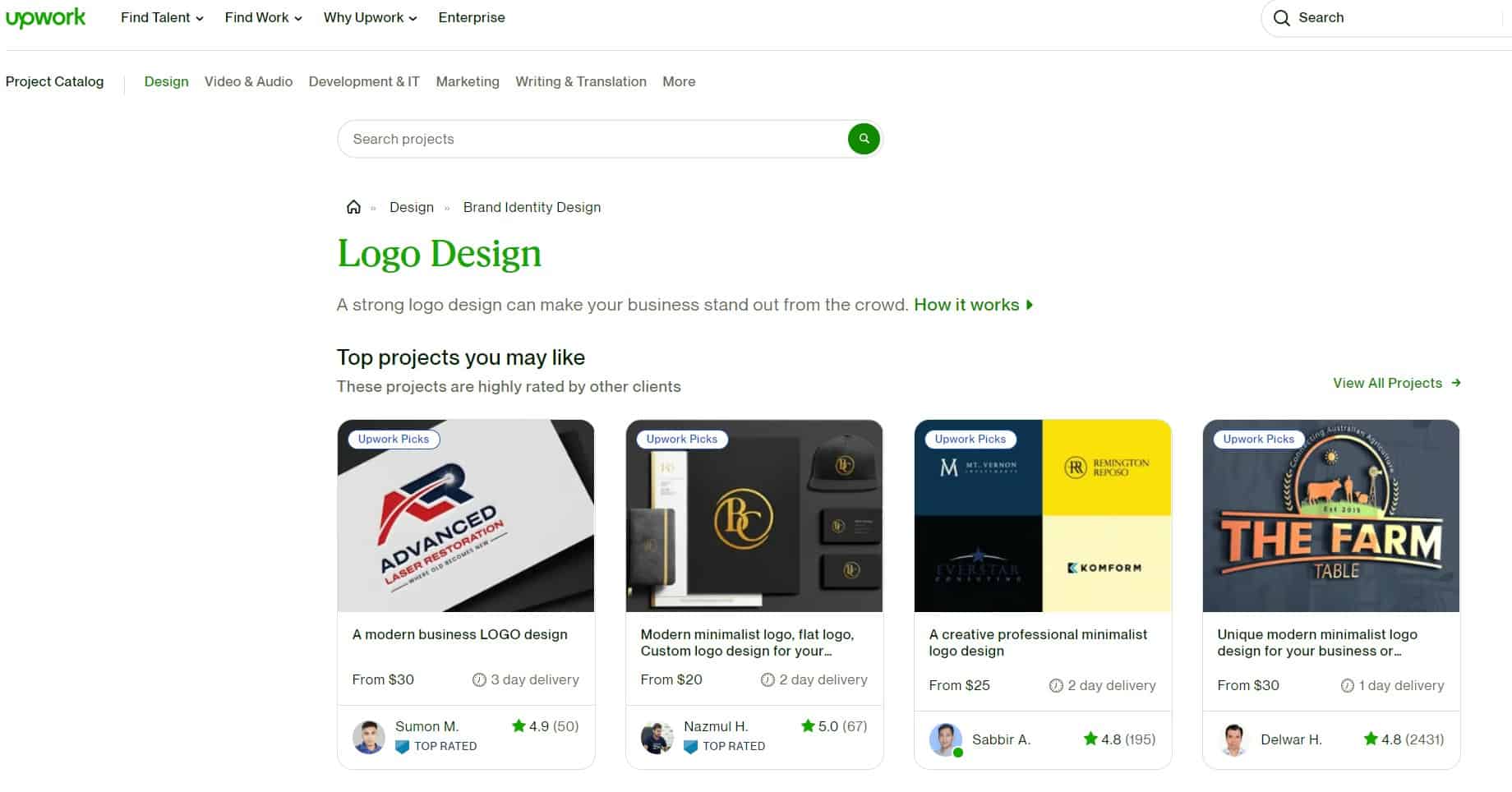 10. Create Pinterest graphics.
Pinterest is a powerful platform for driving traffic to websites and is a huge traffic driver to my own website. I use Canva to create all of my Pinterest graphics that help drive this traffic and translates into ad income, affiliate income, and sales.
You can also create Pinterest graphics in Canva to make money in a variety of other ways including:
Create Pinterest graphics for other businesses
Create Pinterest graphics to link to social media to build your following for more partnerships
Create Pinterest graphics to link to a podcast or YouTube
Create Pinterest graphics to link to digital products for sale
Related: How To Make Money With Pinterest
11. Create designs for print on demand products.
Just like you can use Canva to create digital art, printable wall art, and digital graphics for websites — it can create art and graphics for print on demand products to sell online. Another common word for this is dropshipping.
Print on demand products are products that you create the designs for once and then are printed on the physical products of choice upon purchase from third-party warehouses.
Products that are popular for print on demand:
T-shirts
Sweatshirts
Bags
Tumblers
Mugs
You can create a print on demand ecommerce store using platforms like Shopify or use the following platforms:
Your best bet for success with a print on demand store is to pick a popular niche like humor, purpose driven topics, holidays, pop culture topics, etc. Your designs can be anything from small and simple to large and loud. Let your creativity guide you.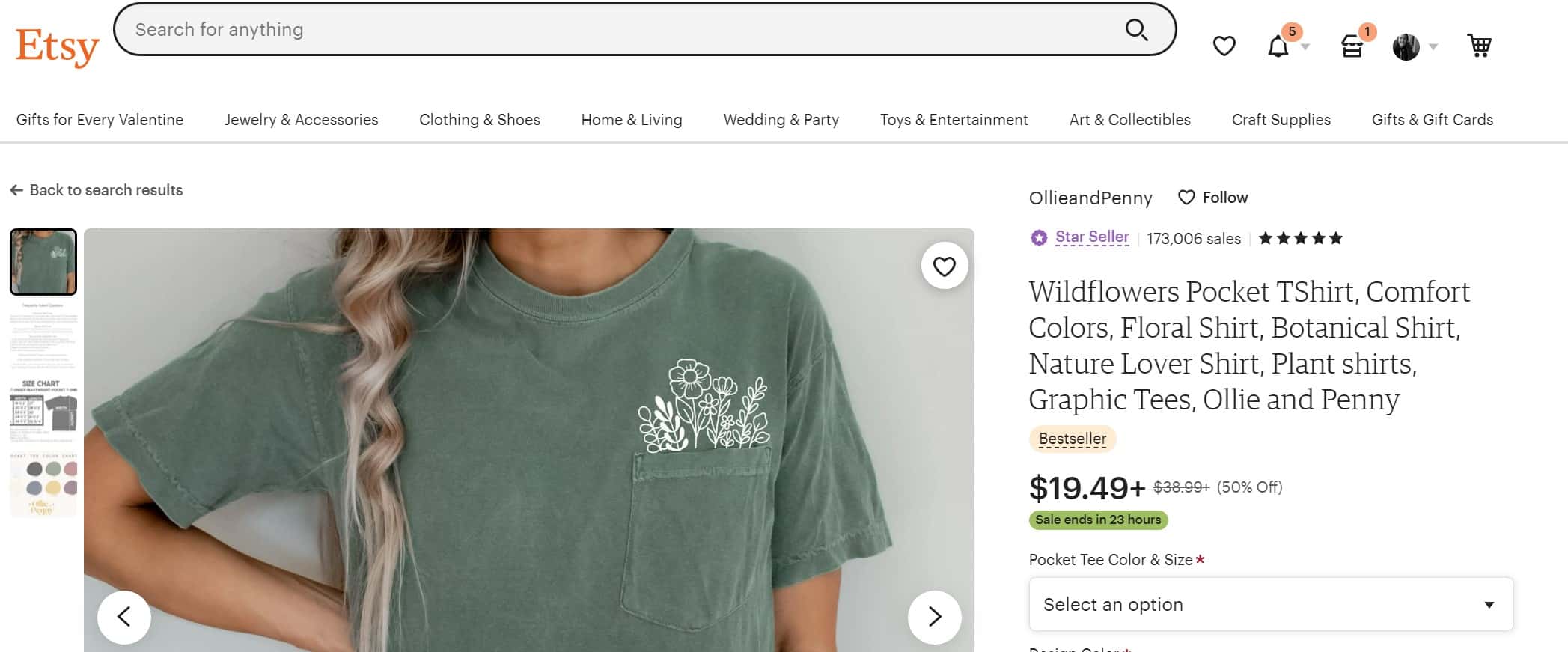 12. Create presentations & sell as video courses.
Canva has tons of presentation templates that I use for my own workshops and videos within my courses. You can also use Canva for both the creation of your slides and then filming video with your slides included. This way, you can easily put together an educational video course.
From there, there next step is to upload your videos to any of the following course platforms or serve it as an on demand workshop:
Ideas of video courses to create in Canva:
How to Use Canva as a Beginner Social Media Manager
Content Marketing Using Canva
How Remote Workers Can Use Canva
Instagram Design 101 Using Canva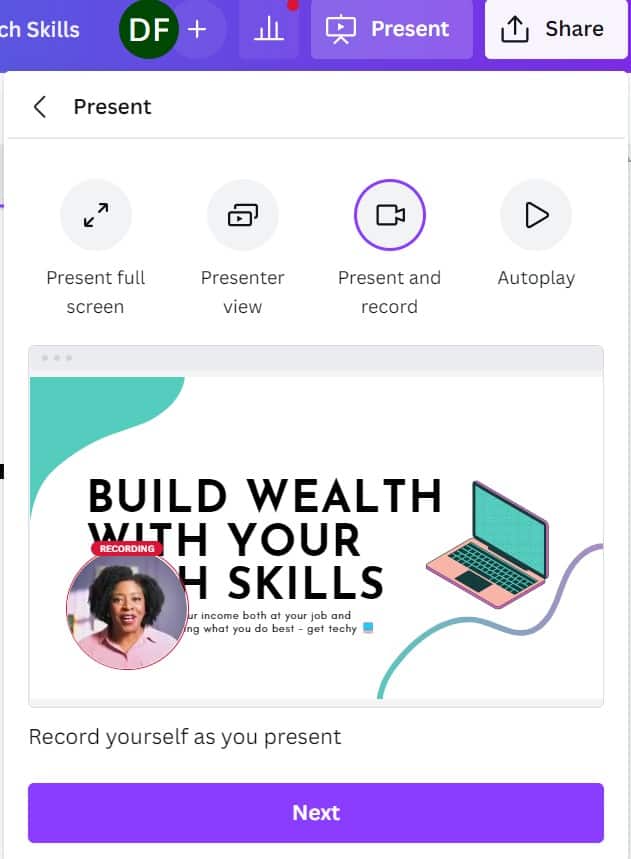 Another option is uploading your videos to YouTube and building up your brand there to monetize your videos from ads, affiliate links, product income, and more.
13. Create a paid newsletter in Canva.
Canva has thousands of templates uploaded into the platform, including templates for entire newsletters.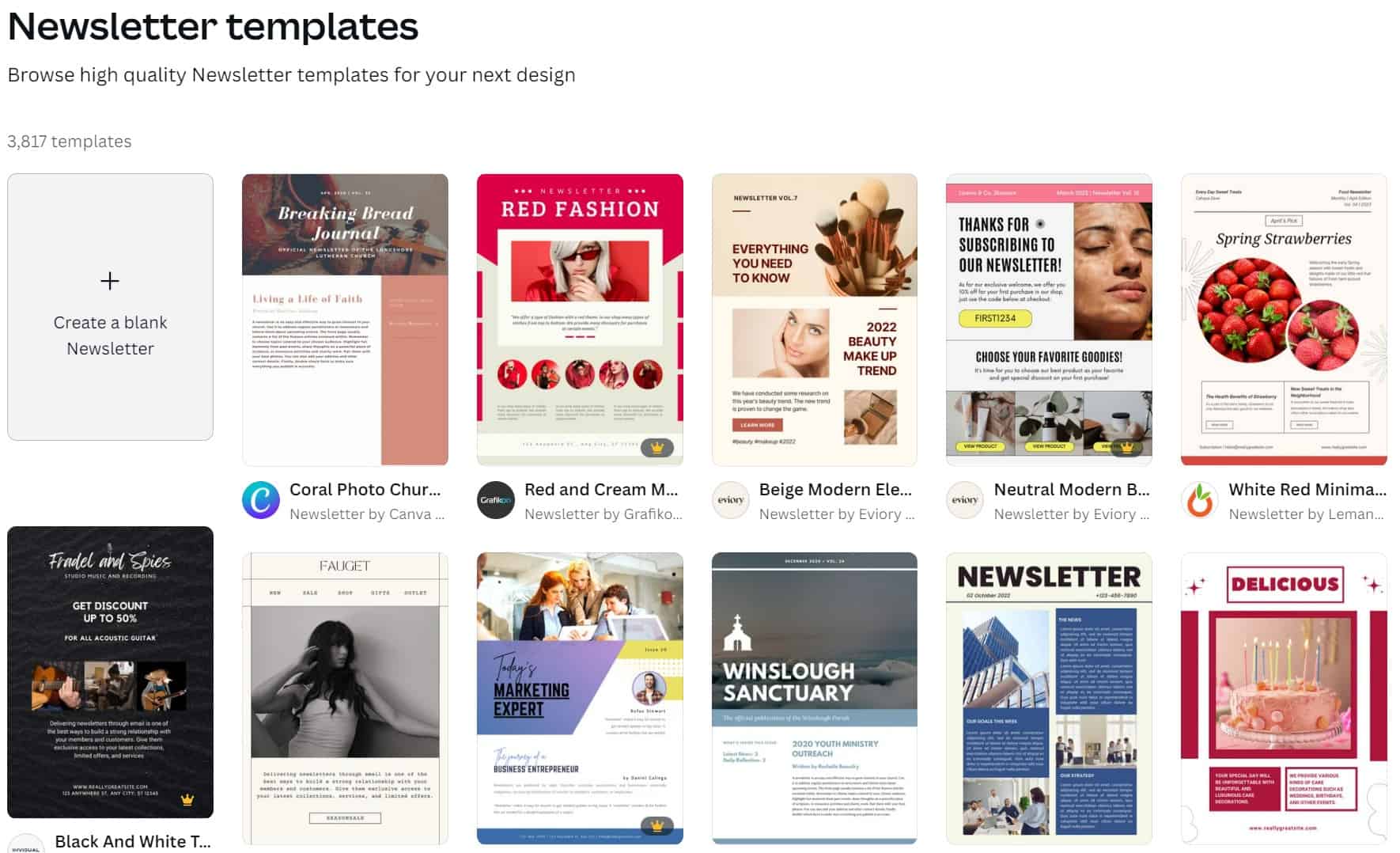 A cool way to monetize content creation quickly is with a paid newsletter through tools like Substack or Convertkit. You can create your newsletters in Canva and upload them for broadcast in your tool of choice. If you charge $5 month to access our newsletter and get 100 subscribers, you can make $500 a month. You can also add add-ons or upsells to your newsletter access like digital products or other exclusive content.
To attract more subscribers to your newsletter, create free lead magnets for signup like free newsletters, free downloads of lists or templates, or anything else your audience wants but needs your newsletter for the full access to that information.
Use this guide to launch your first paid newsletter.
14. Create website graphics.
A visually-appealing website is crucial for any business looking to establish a professional online presence. Use Canva to design website graphics that you can sell on demand and sell graphic design services to your clients via freelancer platforms or direct client outreach.
You can also sell web design services using aspects of Canva.
From there, the next step would be to sell those graphics on platforms like:
Get started with this free Design Course from Coursera.
15. Create travel itineraries.
A popular digital product to sell specifically on Etsy are travel itineraries. Thatch is another popular platform that you could sell itineraries and other travel related digital products on.
People use travel itineraries as they love to meticulously plan every detail of their upcoming trip. Canva also makes for the perfect tool for these itineraries because it allows you to click to different pages in your itinerary, making it an interactive mobile experience.
You can sell already completed itineraris based on your own past trips, custom itineraris per request, or travel itinerary templates.

Related: 7 Best Digital Nomad Jobs for Location Independence
17. Design websites.
Just like you can use Canva to create website graphics, you can also use to tool to design our entire websites.
To get started, browse website templates available and look for inspiration on Pinterest and Creative Market. You can use Canva to create websites for clients wanting simple websites designed and built for them and publish them on Canva.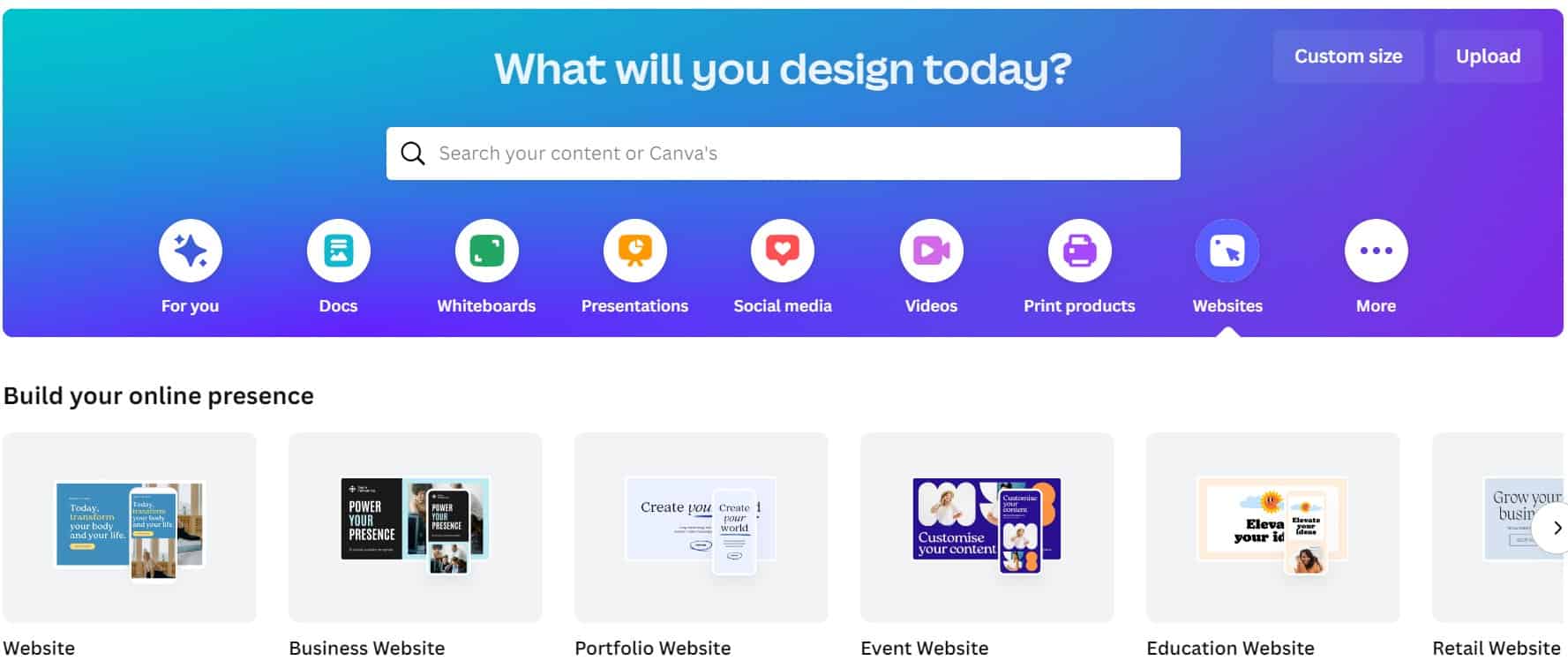 You can also create website templates and sell them on platforms like:
Related: How to Start a Web Design Side Hustle
18. Create YouTube thumbnails.
YouTube is a powerful platform for driving traffic to websites, and having eye-catching thumbnails can be the difference between a video getting watched or not. You can create YouTube thumbnail templates for sale or sell YouTube thumbnail creation services for to other YouTubers.
Sell thumbnail creation services on platforms like Fiverr and Upwork.
You can also create your own thumbnails for your own YouTube and monetize your channel in a variety of ways from ads to affiliate marketing.
19. Join the Canva Creator Program.
Canva will pay you for pieces of content you upload to the platform in their new Creator Program. You'll earn royalties every time your designs are used. How much you make depends on how popular your designs are.
The types of designs that are accepted are:
Templates
Elements
Education resources
Photos
Videos
And more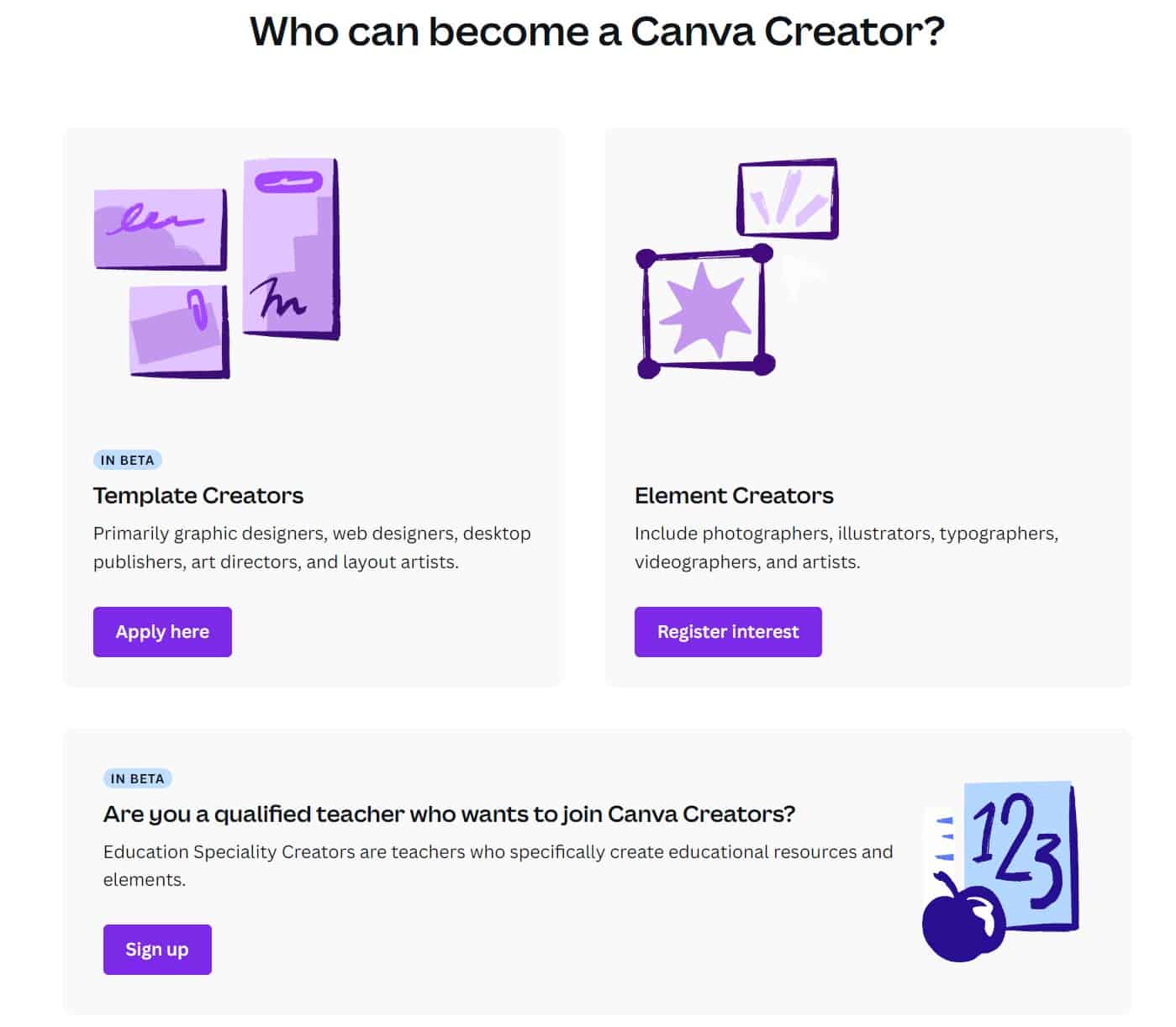 20. Join the Canva affiliate program.
Another way to make money with Canva is using their affiliate program.
I am in the affiliate program and joined through Impact Radius. I currently make up to $36.50 per new Canva subscriber depending on the length and type of subscription they purchase.
Promoting affiliate links for the tools you use and love is a great way to add an additional income stream to your business. You can use affiliate links in blog posts, emails, social media, freebie products, and paid products. Be sure to refer to the affiliate program rules for more details.
21. Build your brand on Canva & land sponsorship deals.
Use Canva to build your brand whether that's a content creation focused type of brand that's main platform is social media or a different type of brand like a podcasting or YouTube brand. You can use Canva to create your media kit and branding material to send to potential partners to earn sponsorship income for working with them on marketing campaigns that serves both of your audiences.
You can find these opportunities by directly messaging brands you'd like to work with on platforms like IG or TikTok or use websites like Aspire and Upfluence.
How to Make Money With Canva: TLDR
There are tons of different ways to make money with Canva from creating and selling digital products that you create in the tool to creating a new Canva skill as a service that you can freelance out to other businesses.
Digital products are better for flexibility and service based income options are better for earning money more quickly.
There will be some additional marketing involved to reach your ideal customer though and making money with Canva is far from a "get rich quick" scheme.
Whatever you choose to do with Canva, have fun creating and experimenting!
Related:
Pin it for later!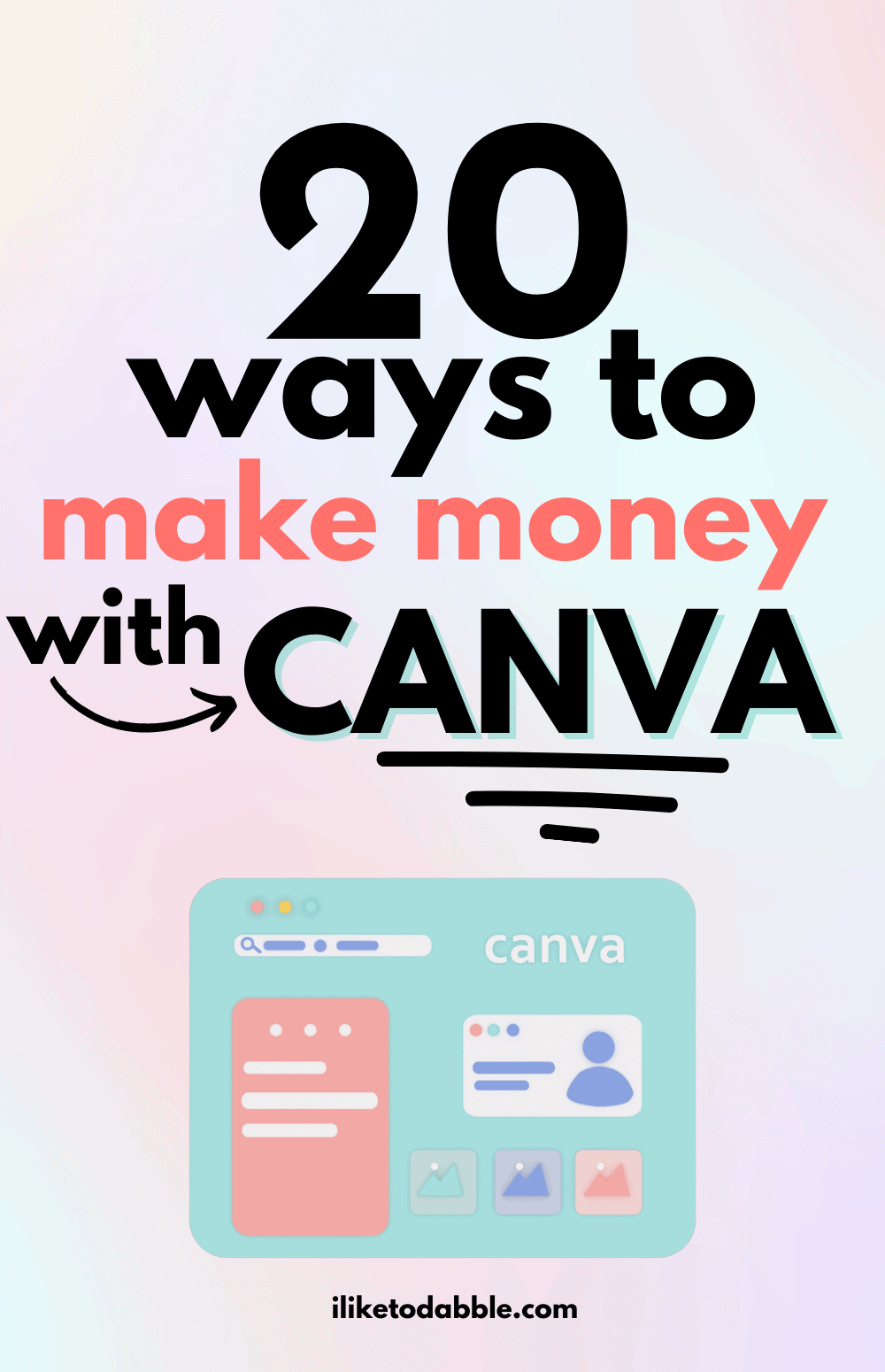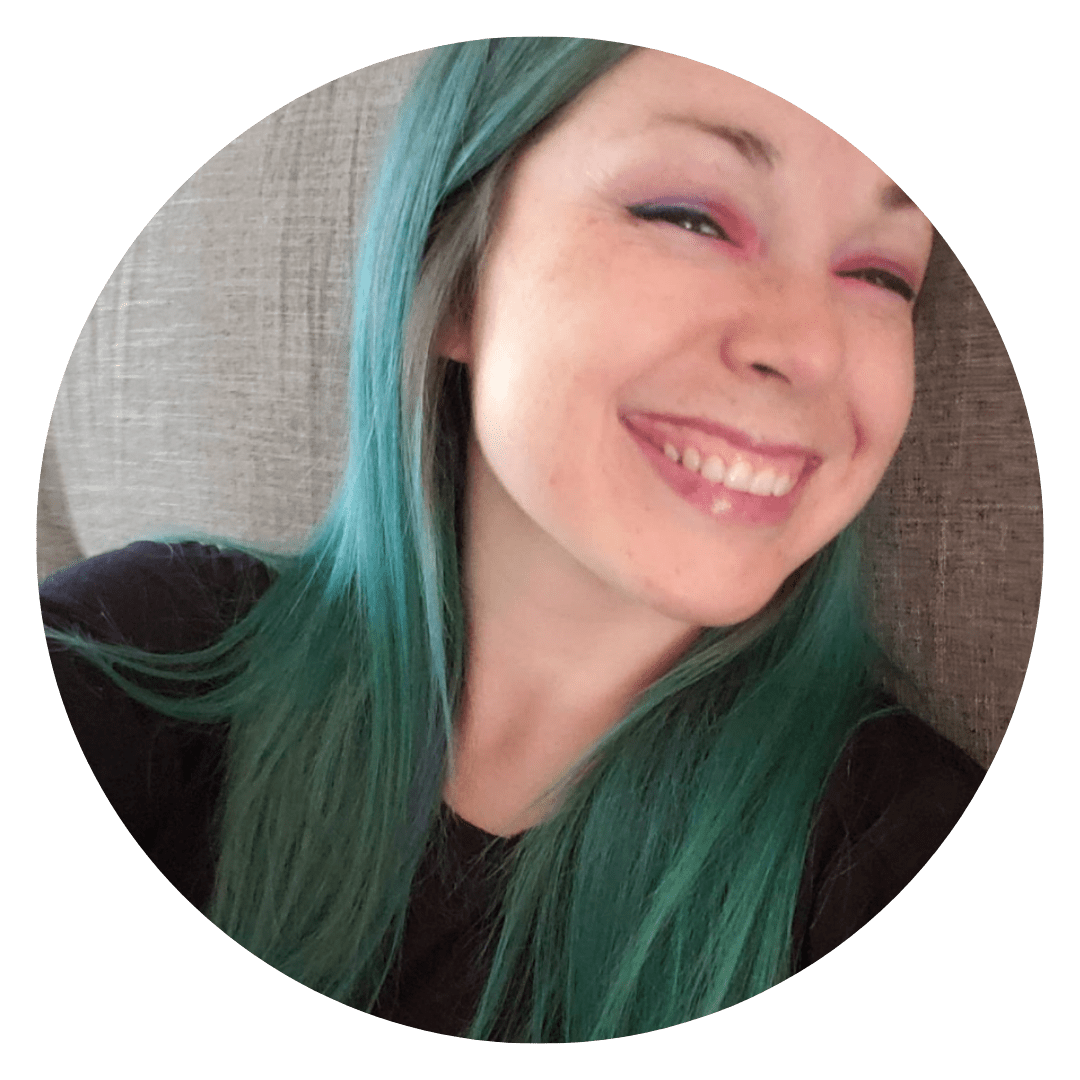 Daniella is the creator and author of iliketodabble.com. When their wife Alexandra and them aren't globetrotting or playing with their 7+ animals, they are dabbling and working towards a future of financial freedom.