Our website is supported by our users and contains affiliate links. We get paid when you purchase or sign up for anything through those links. Read the full disclaimer for more information.
Last Updated on November 30, 2020 by Yovana
There are many ways to work online as a side hustle or even full time. You can find online work in I.T., sell products online, start a blog or write for an existing blog. Many digital nomads have chosen to become virtual assistant, help others with their online businesses and even teach English online.
Do you enjoy working with others and teaching others new skills like learning a new language? Then an online ESL teacher is the perfect gig for you.
In case you are wondering, ESL stands for English as a Second Language.
The best thing about being able to teach English online is that you can work remotely, from anywhere in the world.
Online work is an amazing thing as the Internet now allows us to be able to lead more flexible lifestyles. By being able to work from home we get more time for the things we really want to focus on without having to sacrifice our income.
All online English teaching companies require you to have certain prerequisites before accepting you as a remote teacher. Some of these may include certain degree's or certificates, formal or informal teaching experience, a certain internet connection speed and other essentials to be qualified.
But once you are qualified and pass your interview, you can make a quite the pretty penny.
Up to $26 an hour, actually.
What is required for online English teaching jobs?
In order to be able to teach English online, there might be a few prerequisites you have to meet.
All of these jobs require you to be a native or near native English speaker. Most of these jobs require you to be from USA, Canada or another country with English as the first language.
You must also possess a reliable internet connection, microphone, webcam and quiet yet inviting space for lessons.
Some of these (not all) will require you to have either have a bachelors degree, be currently in school working towards your bachelors degree or have a TEFL certificate.
If you have a degree but it isn't in teaching, no worries. Some of these companies listed will still work with you.
But even if you don't have a degree, I recommend getting TEFL certified to brighten your chances of getting hired. Some of these companies will also accept some sort of prior teaching experience if you do not have a degree.
A few of these companies also require a bit of actual teaching experience. If you tutored in high school or worked at an after school program, that counts as teaching experience.
Pin it for later!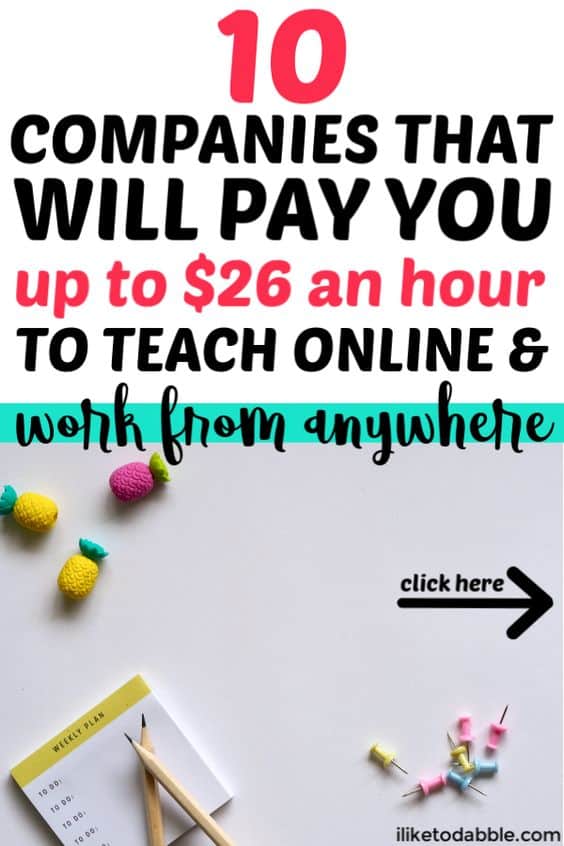 How much money can you make teaching English online?
You can make anywhere from $9-$26 an hour teaching students English online.
Your pay depends on what company you work with. Some companies will pay your per class and you can work more than one class an hour.
But still, that pays better than most other jobs. And this job doesn't require you to physically commute.
Let's look into the specifics now of each of the top companies that pay you to teach remote.
Top 10 Companies That Will Pay You To Teach English Online
1. Magic Ears
Magic Ears in the past did not require you to have a degree to apply as an online English teacher. Now they do.
Along with a university degree, you must be native English speakers from USA or Canada.
Magic Ears also requires you to have a strong wired DSL connection. This means at least 10mbps for both upload and download speeds. You can test your connection speed here.
Their application process lasts usually around 14 days and consists of a live interview, online workshop and training.
After your training is complete, pass a background check and sign your contract, you can begin teaching. Each contract runs for 6 months and can renew upon approval of both parties.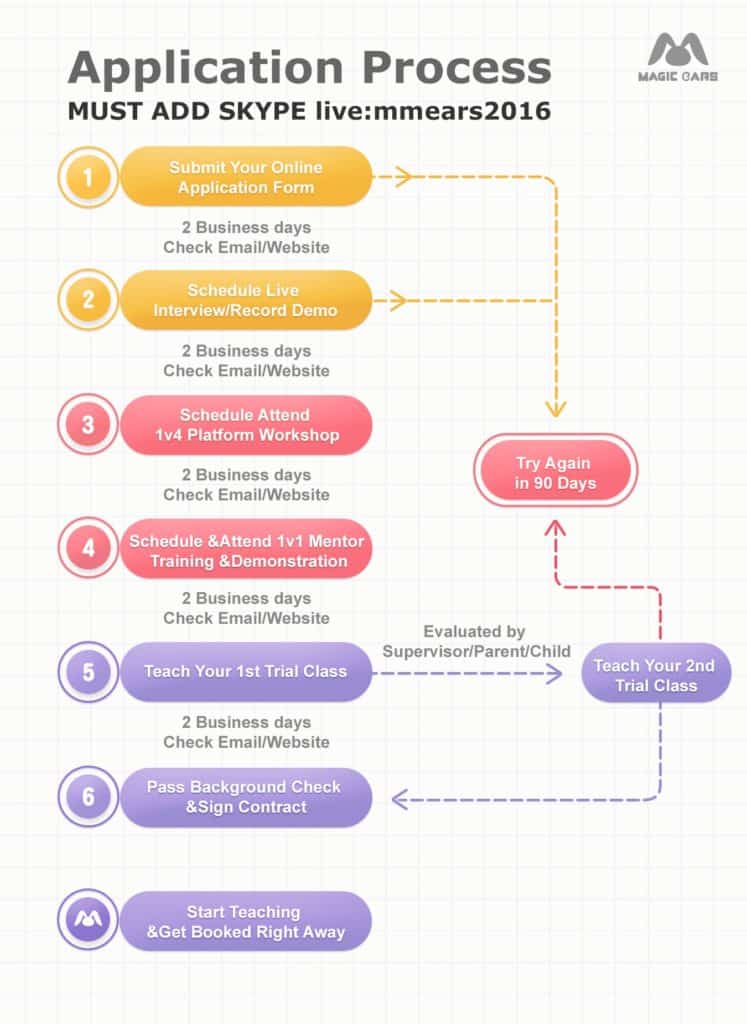 What to expect working as a Magic Ears teacher:
Teach anytime between 9 AM – 6 PM, Monday – Friday.
Keep your virtual classroom clean, child friendly, and quiet with high quality lighting and audio.
Classes consist of 1 – 4 students each and last 25 minutes long.
There is no need to prepare curriculum as the Magic Ears curriculum team takes care of creating all of the lessons for you.
Review the material and prepare at least 2 relevant props beforehand.
Don't worry about talking to parents, Magic Ears also takes care of that. You will see ratings from the parents in the teacher portal.
You are required to complete all student evaluations in the teacher portal within 12 hours of the class's start time.
Payment is on the 10th working day of the next calendar month via bank transfer or PayPal.
Pay rate: $18 – $26 per hour
Apply to teach for Magic Ears here.
Related posts: 15 Remote Jobs That Pay More Than $15 Hourly
10 Awesome Online Jobs For Stay At Home Moms
50 Ways To Make An Extra $500 A Month
2. VIPKID
To teach English online with VIPKID you must possess a bachelor's degree. They make no exceptions for this.
However, you can teach for VIPKID from absolutely anywhere in the world as long as you have a stable internet connection.
The interview process requires you to also do a demo lesson to showcase your teaching abilities to the hiring personnel.
During the interview process, you are evaluated on things such as:
Once you are hired to teach English online with VIPKID you are paid as an independent contractor per class (as stated in our deep dive VIPKID review). Because VIPKID throws in little incentives that boost your pay rate, you can make up to $22 per hour.
This is how VIPKID breaks down what you get paid: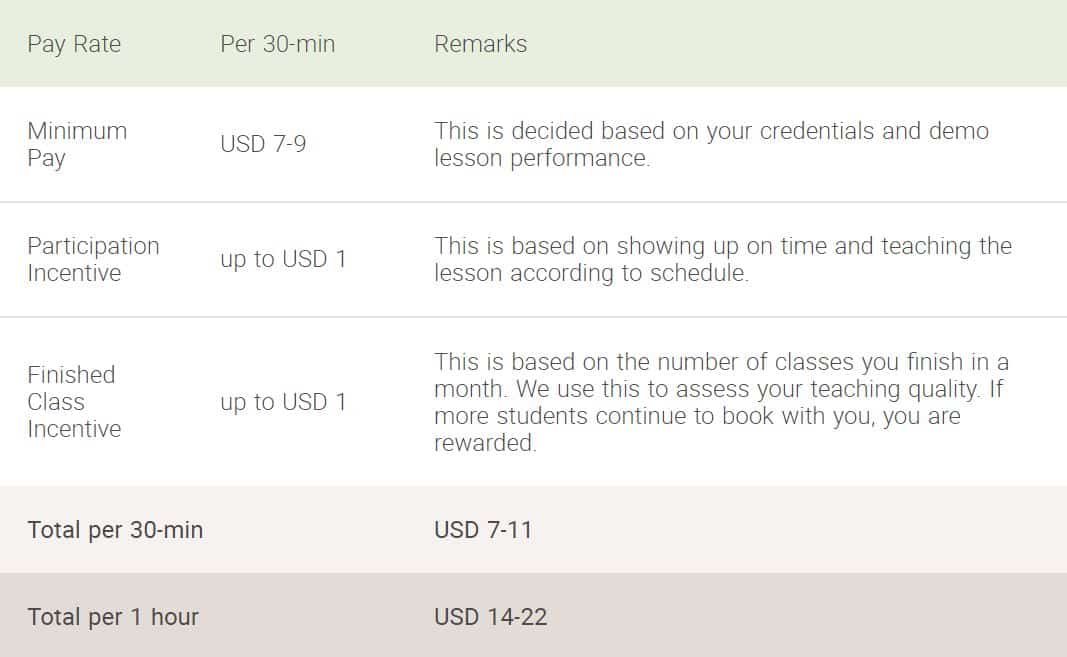 What to expect working as a VIPKID teacher:
Classes last for 25 minutes but your total time commitment per class is 30 minutes.
All VIPKID classes are one-on-one.
VIPKID's curriculum team prepares the class materials for you so you don't have to.
Class materials become available in the online teacher portal anywhere from 6-12 hours in advance to the lesson.
No communication with parents.
Classes take place on VIPKID's own education platform.
Payment is via direct deposit on the 10th and the 15th of each month.
Pay rate: $14 – $22 per hour
Apply to teach for VIPKID here.
3. 51 Talk / HAWO
51 Talk and HAWO are both language schools apart of the China Online Education Group. 51 Talk is their brand of one-on-one teaching and HAWO is their group class product.
If you want to work for 51 Talk or HAWO, you are not required to have a bachelors degree. However if you do not, they do require that you are at least enrolled as an education major in a university.
51 Talk and HAWO also prefer you to have any of the following certificates, but is not absolutely required. Keep in mind that this does come into a deciding factor when they have a large number of applicants.
TEFL
CELTA
CertTESOL
DELTA
DipTESOL
state ESL endorsement
MA TESOL
If you are questioning the difference between some of these certifications, check out this article.
To be able to teach for 51 Talk or HAWO you must also have experience teaching or tutoring and be a native english speaker with a neutral accent.
Their hiring process includes an online interview, demo, orientation, training and formal on boarding.

What to expect working as a 51 Talk or HAWO teacher:
Teach from your computer in a quiet, simple and inviting setting.
Teach Chinese students on the 51 Talk / HAWO simple to use online portal.
Be committed to teaching group classes at least 10 hours a week for 10 weeks, including weekends.
Choose your schedule.
Become a master teacher.
Make up to $22 an hour.
Pay rate: up to $22 per hour
Apply to teach for 51 Talk/ HAWO here.
4. EF Education First
The special thing with teaching for Education First is you aren't only teaching children, you get to teach adults too – from all different countries.
I think it is great that they don't limit their education services to any certain group of people.
Since their teaching services span globally, they do require a bit more from you before hiring. EF Education First requires you to not only have a bachelors degree but to also possess a 40 hour TEFL certificate (or anything that would serve as an equivalent).
You must also be passionate about teaching and authorized to work in the United States.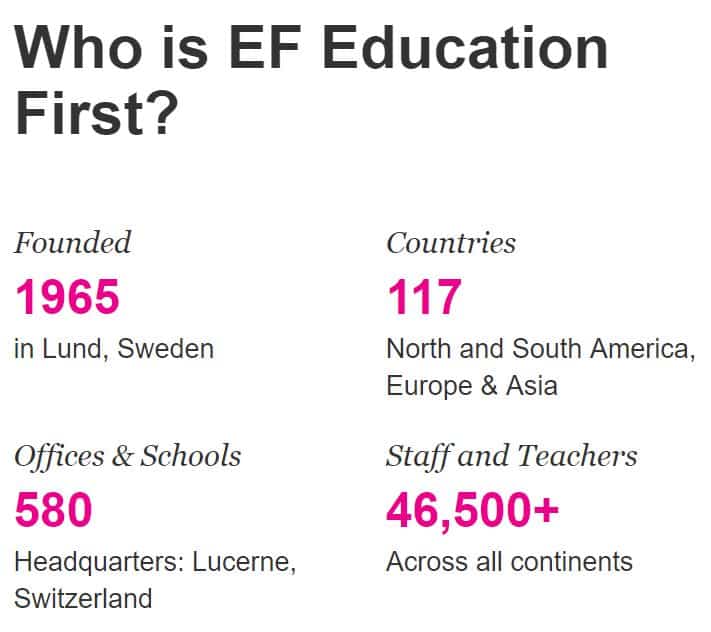 What to expect working as a EF teacher:
A flexible schedule and the ability to work from home teaching online classes.
Work on EF's custom-designed, user-friendly platform and online classroom.
Access to EF material with options to customize your lesson plans.
24/7 basic troubleshooting support.
Communication and payment transfer from a U.S.-based company.
Education First does not only hire and provide online English teachers, they also hire for and provide other English learning opportunities that include:
Education travel
Hosting student services
University programs abroad
ESL jobs working abroad
Pay rate: $12 – $19 per hour
Apply to teach for EF Education First here.
5. Qkids
Qkids allows you to work anywhere in the U.S. or Canada, teaching English online. You are required to have a bachelors degree, some teaching experience and teaching certification is preferred (but not required).
Their specifics for internet connection speed requirements are 2mbps for a minimum upload speed and 4mbps for a minimum download speed. You can test your speeds at the link I provided towards the beginning of this post.
After you apply for Qkids with the following materials, you can expect to hear back from them within 3 business days:
Resume
Availability
A Screenshot of Computer SPECS
1 to 2 minute introduction video, introducing yourself, where you live, your educational background, and any experience teaching or working with kids. Then tell or read a children's story.

What to expect working as a Qkids teacher:
You will be teaching through Qkids interactive gaming-based learning platform. All curricula are preset and incorporated with animated characters and games.
Each lesson is 30 minutes long, consists of 1 to 4 students and pays a base rate of $8.
Prepare for each lesson before hand with props for aid.
No communication with parents.
A time commitment of at least 6 hours (12 lessons).
Work as an independent contractor is 6 month contract increments.

Your class schedule is set weekly. You can check your schedule for the upcoming week in the Qkids Teacher Software every Sunday evening.

In case of emergency, you may cancel the scheduled class by notifying Qkids Class Coordination Team at least 24 hours in advance.
Payment is via bank transfer on the 15th of each month.
Pay rate: $16 – $20 per hour
Read our full review of Qkids here.
Apply to teach for Qkids here.
Important: Schedule your video interview as soon as possible after you complete the application. This is necessary to be considered for the position.
6. Gogokid
Gogokid specializes in teaching English online to Chinese children. The gogokid mission is to foster their students to learn the English language as a tool and become individuals with creative and critical thinking skills.
Gogokid does not require you to live any specific area to become a teacher. As long as you have a bachelors degree and a stable internet connection, you can teach from anywhere in the world.
After you complete the online application you will be asked to complete an interview, demo, orientation and paperwork before beginning lessons.

What to expect working as a Gogokid teacher:
All lessons are one on one so you will teach 1 student per 1 class.
Only required communication with parents is submitted feedback on how the class went within 12 hours of the class ending.
The classes will take place in the virtual classroom and accessible via the teacher portal 30 minutes before the start of each class.
You are paid on the 15th of the following calendar month.
Base payment is $7 to $10 per class.

Pay rate: $14 – $25 per hour
Apply to teach for Gogokid here.
Related posts: Ways To Make Extra Money: 28 Ways To Make An Extra $100 Every Day
10+ Summer Money Making Ideas For College Students
Steady App Review: 10 Side Hustles That You Can Do Through The Steady App
7. Two Sigmas
Two Sigmas helps teachers find jobs with a variety of partner schools.
You must have a bachelors degree in either Education, Linguistics or Languages to be considered to teach English online with Two Sigmas.
In addition to a university degree, you must have experience working with children between the ages of 5-12 and ESL teaching experience (or a current teaching certification).
If you have all of the previous requirements stated and legal authorization to work in the U.S., Canada or the U.K., I encourage you to apply to work with Two Sigmas.
The application process normally takes a couple of weeks. This covers the interview process, training, documents and submission.
What to expect working as a Two Sigmas teacher:
Work from home with a flexible schedule, teaching English online to young learners.
Teaching hours are in the mornings and evenings in the US (Eastern Time). Teaching hours do vary depending on our partner school.
Typical pay range is between $15 – $23 an hour.
Make sure that you speak slowly and clearly.
Keep your instructions simple, straight forward and use body language to really engage with your students.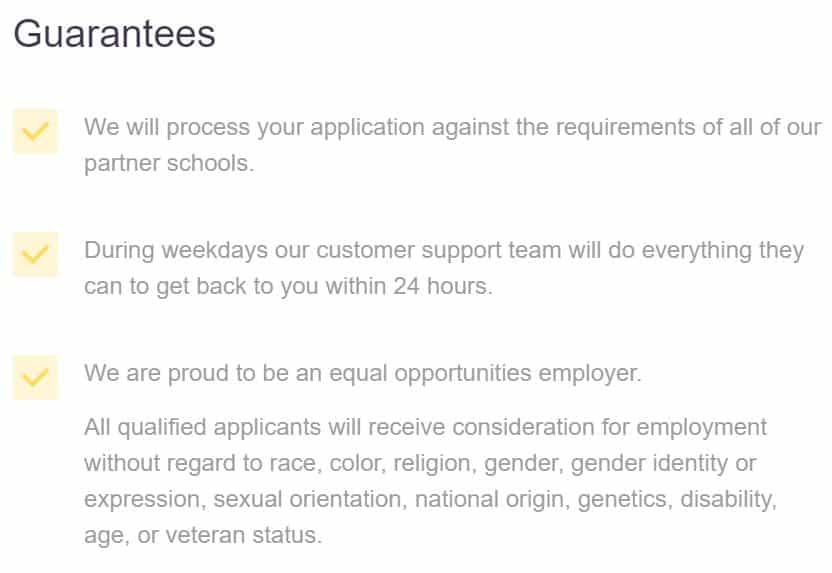 Pay rate: $15 – $23 per hour
Apply to teach for Two Sigmas here.
8. Italki
Italki is an online learning platform where anyone can sign up for free to learn any language. Once you sign up for Italki and enter what language you want to pursue learning, you will be presented a list of teachers available to teach you that language.
I love this site because it is available to anyone, anywhere to learn any language.
There are two types of profiles you can create on Italki, a professional teaching profile or a community language tutor profile.
In order to create a professional teaching profile on Italki you must either have a bachelors degree in education or language training, a language teaching certificate or teaching license.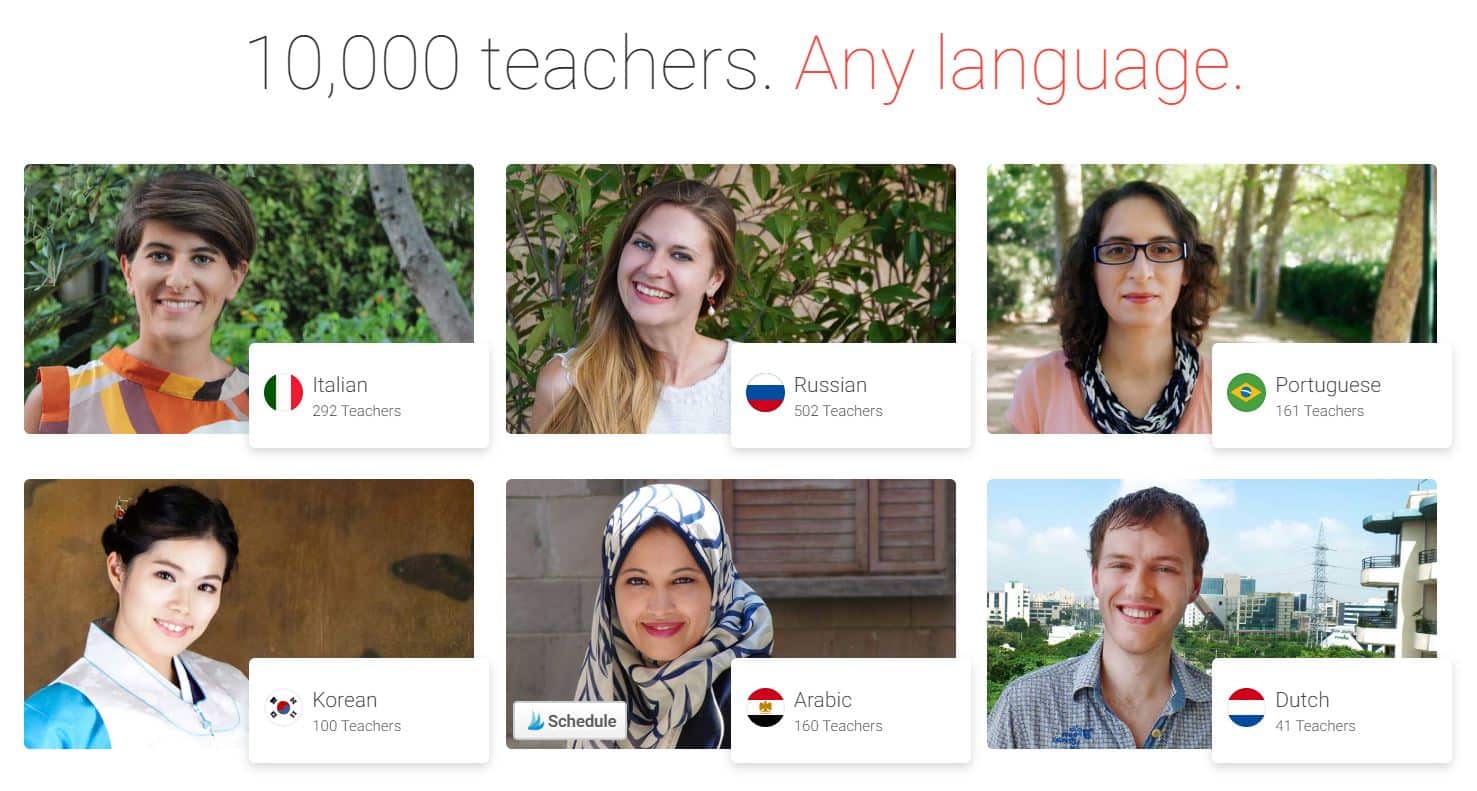 What to expect working as a Italki teacher:
Set your own hourly rate. I have seen hourly rate from teachers on Italki ranging from $9 an hour to up to $30 an hour.
Set your own schedule. You set the dates and times you are available and the students select when they want the lesson to occur during your available times.
Italki handles the payment processes for you.
Manage all your students records and history on Italki.
Build an online teaching reputation. Demonstrate a history of quality, reliability, and student satisfaction.
Pay rate: $9 – $22 per hour
Apply to teach for Italki here.
9. English Hunt
There is no teaching experience required to teach English online with English Hunt, but you do need a 4 year degree to be hired.
English Hunt does make an effort to hire experienced teachers though and all of their instructors are based out of the United States.
You can apply to teach live video classes or live phone classes. All teachers go through instructor training and all programs have a set curriculum and resources for online teachers to use.
What to expect working as an English Hunt teacher:
Review already set material before lessons.
Compensation is on a case by case basis and there are opportunities to earn more by writing original ESL content, reviewing essay submissions, voice recordings, etc.
Payments are made via direct deposit.
Shifts vary from 1 to 6 hours in duration and you can work when you want.
All phone and video classes are recorded.
There are opportunities for advancement.
Pay rate: figured on a case by case basis
Apply to teach for English Hunt here.
10. GoFLUENT
GoFLUENT hires people to teach and tutor online. Their web site states that they require some college education but a degree is preferred.
Even though there is no pay rates published on their website, from online word of mouth I found that GoFLUENT employees are very happy with what they are paid.
GoFLUENT is the only company on this site that actually hires you as en employee so your taxes will automatically be taken from your pay.

What to expect working as a GoFLUENT teacher:
Commit a minimum of 20 hours a week to teaching or tutoring.
Training takes place either remotely or at their physical offices.
Payment is monthly via direct deposit.
Work from the comfort of your home and set your own hours.
Most of the teaching you do is with corporate professionals who have a need to learn English, but it isn't their first language.
Pay rate: not published on their site
Apply to teach for GoFLUENT here.
Bonus Way to Get Paid to Teach English Online:
If you have teaching experience and have a passion for teaching a language to others, then you could create your very own learning product. You can create an audio book or online course on platforms like Teachable to create your own interactive English learning experience.
This way you wouldn't have to rely on other companies available teaching time slots, limited pay rates and you would be able to earn income passively.
Subscribe to get your free list of side hustles you can start this week!
Claim your free list of side hustles + tons of helpful resources to get started!
Related posts: 12+ Side Hustle Ideas To Make Extra Cash This Month
How To Make $10,000 a Month Using Skills You Already Have
Money Moves Graduates Should Make After College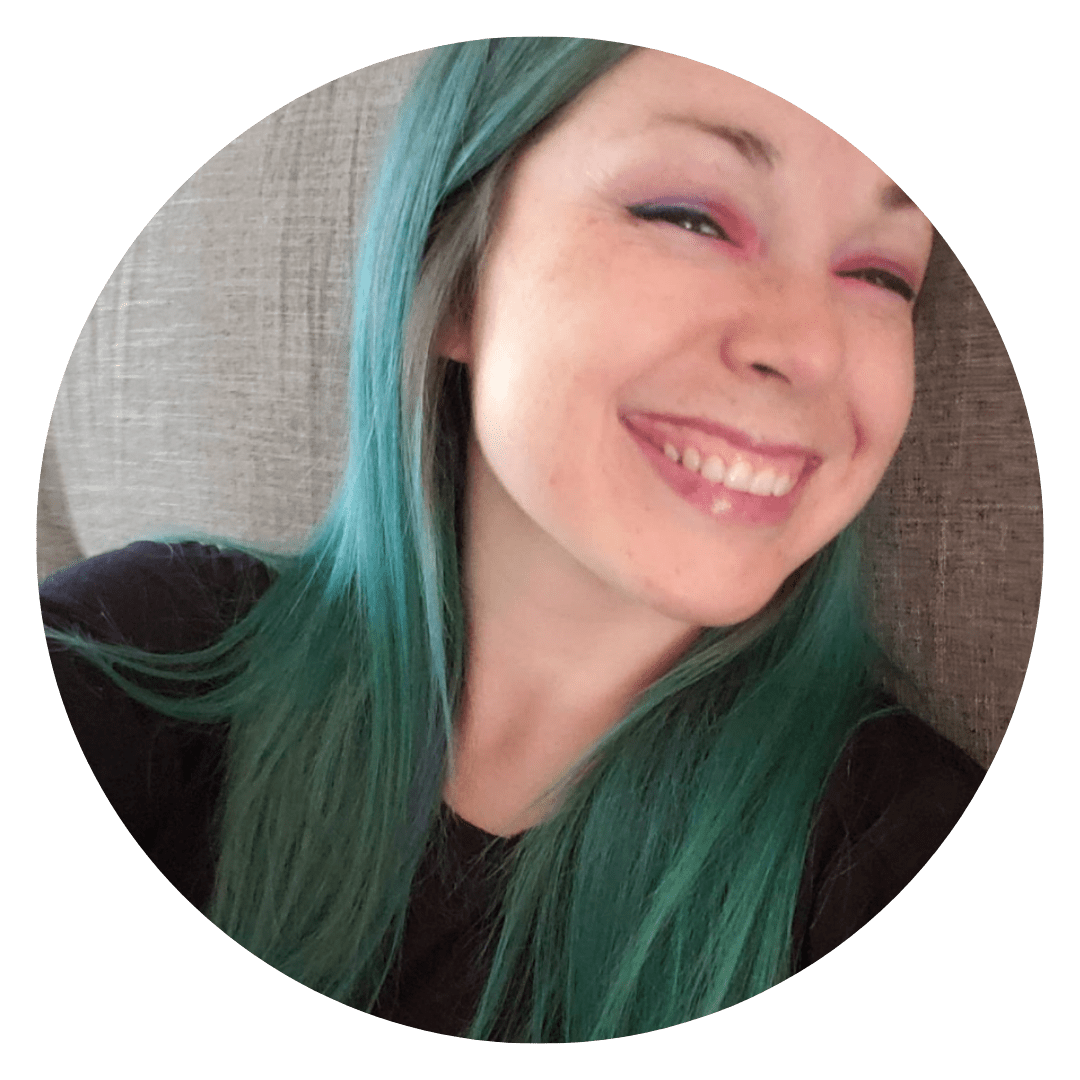 Daniella is the creator and author of iliketodabble.com. When their wife Alexandra and them aren't globetrotting or playing with their 7+ animals, they are dabbling and working towards a future of financial freedom.