Our website is supported by our users and contains affiliate links. We get paid when you purchase or sign up for anything through those links. Read the full disclaimer for more information.
Last Updated on February 6, 2023 by Daniella
If you've ever looked into working from home, then you've probably searched for telecommuting or work-from-home jobs. It can be difficult to sift through all the options for remote or home-based work, so there are plenty of websites out there that help you to find jobs that you are qualified for.
Virtual Vocations is one of the most popular remote job boards and job-finding websites on the market. Curious if you should join or stay away? Keep reading to find out.
What is Virtual Vocations?
Virtual Vocations has been around since 2007 and was founded by two people who wanted to help others stay ahead of the changing workforce. They understood that the internet brought forward specific challenges as well as opportunities. Therefore, they created Virtual Vocations, a website that collects work-from-home or telecommuting jobs and makes them available for public viewing. This way, people who are searching for jobs to do from anywhere can search for opportunities in their field without having to leave their homes.
The jobs listed on Virtual Vocations span several industries. Users can find opportunities in accounting and bookkeeping, writing, web design, and more. Essentially, any job that can be done from a computer is available on this website. If you do not have a job that can be done from a computer such as nursing or otherwise, there are still consulting opportunities in your field.
Most opportunities are fully remote. There are part-time, full-time, and even short and long-term positions available. While some of the jobs are inside of the United States, users may only apply for jobs in countries that they are eligible to work.
How Does Virtual Vocations Work?
If joining Virtual Vocations and finding remote work sounds good to you so far, then the next step is to understand how the website works. It's important to understand your willingness to pay for the service and what you'll receive in return before signing up.
Getting Started
Users can sign up for Virtual Vocations in a matter of minutes. When you visit www.virtualvocations.com, you will click on the 'Register' button at the top of the home page. You will then enter your name and email address and create a password. This automatically places you into a free account and you can choose how to move forward from there. We recommend filling out your profile in detail before starting a paid subscription.
Free vs. Paid Accounts
Users are automatically placed into a free account when they sign up. Free account users can upload and store documents such as resumes, cover letters, and more. They can also save jobs that they find and want to revisit later. The website has new job postings daily, so users can sign up for job alerts in their field and receive daily emails with job leads as well.
Finally, all free users receive a free e-course to learn about telecommuting and the best ways to do so. However, free users can't apply to jobs or see the full listings without a paid membership.
Users can choose to sign up for a paid account at any time. The subscription costs $15.99 per month, $39.99 every quarter, or $59.99 for a six-month subscription. The longer you subscribe, the lower the monthly cost. You can choose to pay with a credit card or PayPal account and can cancel at any time. This subscription level grants you access to a wider job database, multiple online courses, and priority job alerts.
Applying for Jobs
Once you find a job that you're interested in, you will be able to apply for it. Some similar websites require users to bid for jobs, but Virtual Vocations is a simple application process. You will be able to see the job requirements, the pay, and other details about the job before applying. Then, the jobs will reach out to you if they like your resume and other information.
Job Categories Available
The types of jobs available on Virtual Vocations are:
Subscription
Only paid users will be able to apply for jobs on Virtual Vocations.
Once you have your profile filled out and have selected a subscription term (one, three, or six months), you will be able to start searching for jobs. You will be able to filter by keyword, date, job category, and more. Some jobs will require travel. This could mean traveling into a brick-and-mortar location occasionally or traveling to meet with clients. You can also search for employers and other requirements.
Remember that you can search for jobs with a free membership but will not be able to apply for them or see the full job description.
Virtual Vocations also has options for upgrades. One example is that for $39.99 they will enhance your resume or cover letter. This offer will help you to rewrite your resume in a better format. If you haven't worked remotely before, you may need additional assistance in making your experience seem relevant to potential employers.
Job Alerts
When you fill out your profile, you can change your job alert settings. You can choose to receive alerts for any frequency or filter that you want. You can receive job alerts with a free account or a paid account, but free accounts may not be able to view the whole job description.
How Much Can I Expect to Earn?
Each employer can offer a different pay rate and term. This means that some jobs might be short-term and pay well, and others might be long-term but pay minimum wage. It is up to you to apply for jobs that pay what you expect to earn.
When you find a job on Virtual Vocations, you will be paid by the company that hires you. Therefore, you won't be receiving any money from Virtual Vocations. You and your new employer will decide how your payment is handled.
It is a good idea to have a conversation about direct deposit or payment methods before signing any contracts with your new employer. You will want to ensure you are comfortable with all terms before moving forward.
What Users Have to Say
So, you might be wondering what kind of experience other people have had. While there are myriad reviews online that are both good and bad, here are the pros and cons that we can discern:
Pros
Virtual Vocations users seemed to appreciate:
Cons
Users of Virtual Vocations did not like:
Other Job Sites Like Virtual Vocations:
The most similar site to Virtual Vocations is FlexJobs. FlexJobs also offers all telecommuting and other remote work-at-home opportunities for its users to browse and apply to. They also vet all of the companies listed on the site and offer both free and paid subscriptions.
Other sites to browse remote jobs (but are completely free):
Should I Use Virtual Vocations?
If you are in the United States and ready to work remotely, then Virtual Vocations might be a great option for you to search for jobs. The paid function allows you to continually search and apply for jobs that you are eligible for, and the website vets out companies so that you don't have to. However, be ready to receive a lot of unwanted emails in the process even after you've paid for your subscription.
The website has additional services that can help you to land your dream work-from-home job including resume and cover letter review. They have a long history of helping people find remote work that they love and have maintained a strong reputation for over a decade. If you have the money to put toward your remote job search, then Virtual Vocations could be a great fit.
Read more reviews:
Pin it for later!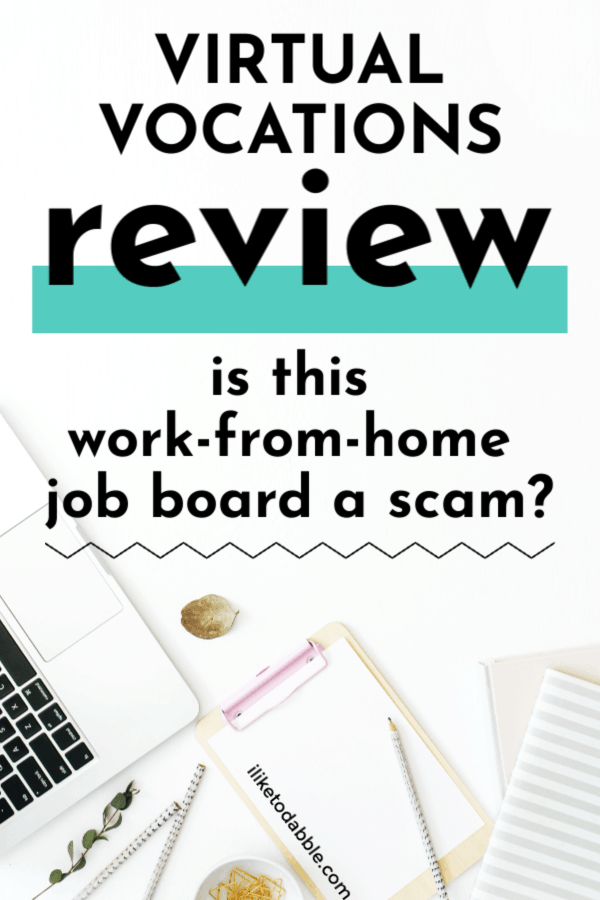 Virtual Vocations
Free and Paid Options
Diverse Job Listings
8.5/10
Pros
Job and company vetting
Great job filtering function
Job alert customization
Cons
You must be on a paid subscription to apply for jobs
Hard to find listings that pay more than $15 an hour
Not all listings are fully remote
There is no free trial of the premium product
They send too many emails
Ashley is a personal finance writer and content creator. In addition to being a contributing writer at I Like to Dabble, she writes for solo entrepreneurs as well as for Fortune 500 companies. When she's not calculating her net worth or reading the hot new finance book, you might find Ashley cage diving with great white sharks in South Africa.