Our website is supported by our users and contains affiliate links. We get paid when you purchase or sign up for anything through those links. Read the full disclaimer for more information.
Last Updated on January 23, 2023 by Daniella
Are you exhausted from social interaction and looking for side hustles for introverts? Then you're in the right place.
What if you're not sure if you're an introvert?
If you have a quiet, shy personality and you get your energy from solitude then you're probably an introvert.
There are actually 4 different shades of introversion:
social
thinking
anxious
restrained
Many introverts are a mix of all four types rather than just 1 or the other. Some introverts are also a little bit extroverted (like myself) and vice versa.
Today's article is going to share the best side hustle ideas for introverts, including remote side hustles options as well. These gigs are perfect to match your introverted personality with limited in person interaction and the ability to explore your creative abilities in the solitude you love so much.
However, if you're not fully an introvert but would like to save your energy from unnecessary social interactions, these will work great for you too.
11 Best Side Hustles For Introverts That Won't Stress The Hell Out of You
Introverts enjoy doing independent work. They might shy away from social settings or jobs that involve lots of one-on-one interaction with others.
With some folks being a mix of introversion and extroversion as well so you may want some social interaction, but limited. So, we will explore those options as well.
There are plenty of side hustles that can create an additional income stream for you, even as an introvert.
You don't have to feel anxious, overwhelmed or stressed out working a job that's best suited for extroverted personality types. These 11 side gigs are just what you're looking for.
1. Freelance Writing
Freelance writing is the perfect side gig for introverts. You can work alone with no supervision and shine doing your craft.
Freelance writing comes with a lot of perks like:
Flexibility
Independent work
High income potential
Work from home
If you have writing skills, consider doing work for others in the freelance writing industry. Your clients can range from small businesses, SAAS companies, e-commerce store owners, etc.
New freelance writers with strong writing skills can start by charging up to $0.20/word and you can take on as many clients as you'd like. Ghostwriters tend to make a bit more due to the fact that they don't take the credit for the writing, the client does.
Find writing work online in places like:
Twitter has a small tight knit writer community and if you're connected, you can find writing jobs faster than if you went at it alone. This Twitter account, Who Pays Writers is a good one to start with and follow.
If you're interested in starting this side hustle as a freelance writer, check out this article on how to get started freelance writing.
Pro tip: Another option is to work as a freelance proofreader and proofread books, articles, courses, and even social media posts for others. You can get started with this free training.
2. Virtual Assistance
A virtual assistant or VA is an online personal assistant that works will virtual business owners, bloggers, content creators, etc.
As a virtual assistant, you'll work with clients that need help getting organized, managing their social media, and managing their overall day-to-day activities.
Virtual assistants are usually paid hourly rates or on retainer, like a flat fee for a set period.
According to Zip Recruiter, a full-time virtual assistant can earn $67,115 per year, on average.
It's not unusual to make up to $10,000+ per month as a VA.
Find virtual assistant jobs on freelance marketplace sites like Fiverr, Upwork, Freelancer, or Guru. You can also find work through your personal network, on social media sites like Facebook or LinkedIn, and job boards.
If you're well-organized, a great communicator and you enjoy helping others, working as a VA would be a good fit for you. It's a high paying side hustle that allows you to work from home, on a flexible schedule, with the clients you like working with.
Check out this IG Live with one of our very own virtual assistants on how they got started.
3. Blogging
A blogger is a content creator that shares content around a specific topic or topics. They write on their personal website, connect with an audience, and make money online blogging through a variety of channels like sponsorships, ads, affiliate marketing, and selling products.
Top bloggers can earn up to $100,000 per month.
It can take some time to start earning a part-time or full-time income from blogging but some beginner bloggers have seen success right away, making thousands per month within a few months of starting.
You can blog about any topic you'd like, from travel, fashion, food, finance, etc.
This is great for introverts because you're the boss, you work for yourself and you can work independently running your entire blog operation on your own as a solopreneur.
Check out these 30+ blogging resources to help you run a profitable blog.
4. Social Media Management
A social media manager is in charge of managing social networks for their busy clients. You might do work like:
Creating a content calendar
Responding to comments from followers
Content curation
Social media optimization
Introverts will love this job because it's behind a computer screen, you'll work independently in your own business, working on your daily tasks for your client.
If you enjoy working on social media, you're a dependable and organized worker, look into working as a social media manager.
The average pay is just over $52,000 per year, according to this source.
To get started, read this article on how to become a social media manager.
5. Delivery Driving Apps
Delivery drivers make money delivering food and goods to consumers' homes.
A lot of these jobs are food delivery and you would work for a company like Doordash from the comfort of your car, taking food delivery orders and transporting orders from the restaurant to the customer.
Here are some places where you can find driving jobs:
There are requirements that must be met in order to qualify, like you must be at least 18 years old for most companies, with a clean driving record, and your vehicle might need to meet minimum requirements as well.
As an introvert you'll appreciate a job as a delivery driver because you won't have to work alongside coworkers or a supervisor. You take the orders you want and work the hours you desire.
You can make money part-time or full-time as a delivery driver and some full-time drivers can average up to $200 to $300 per day. Click on the delivery driver job above that you're most interested in to learn more.
Read this Doordash review to find out how much money you can really make with them.
6. Flipping
Flipping or arbitrage is an easy, low-stress job great for introverts who like to work alone. There is high income potential and this job has a low barrier to entry so anybody who's interested can get started with this side hustle.
What is flipping?
You make money on the price difference between your purchase price and sales price for the item you flip.
Here's an example:
You purchase a pair of Adidas sneakers for $50 at the Adidas outlet store and you resell them online on Ebay for $112. The income you make is $62 (before fees).
Rinse and repeat flipping many items throughout the month to earn extra income.
This is how flipping works.
You can flip virtually any product from shoes, apparel, electronics, handbags, toys, home goods, etc.
You can even flip digital products like domains, websites, etc.
Book flipping is pretty popular and sellers have reported making up to $4,000 or more per month with this. You can source used books at places like the Salvation Army, Goodwill, used book stores, or online. Then, resell them at a profit!
Thrift shop flipping is good to try, too. You visit thrift shops, find high value products and flip for a profit.
Ready to dive into this?
Fleamarketflipper is a great resource to check out to get started learning how to buy and resell items for profit.
7. Selling Digital Products
Digital products are an untapped source of income a lot of people aren't taking advantage of.
If you have the knowledge, all you do is create a digital product around your expertise and sell it online, indefinitely. If you don't have the knowledge, you can still pursue this by outsourcing the product creation to an expert and then reselling online as your own product.
Digital products reselling is a great way to earn passive income and for introverts, you can work by yourself to create in a tool like Canva and sell your product online, without having to report to a boss or work closely with peers or a supervisor.
Places where you can sell your products online:
Your own website
Social media networks like Facebook, Tik Tok, Instagram, etc.
Here are 10 digital products you can sell for passive income.
8. Digital Artist
A digital artist is someone who creates artwork online. This can be a graphic designer or visual artist selling their content on their own website, on marketplace sites like Etsy, and other places.
Some options of what to sell as a digital artist are endless. You can sell digital products featuring your design skills, on-demand products that feature your art, fonts and other design assets, templates, and more.
Read how to make money as an artist.
9. E-commerce
Running an e-commerce store can be fruitful, rewarding and bring a part-time or full-time income. It's a good side hustle for introverts because as the owner/operator, you'll be the boss which means you won't have to report to a supervisor or work closely with coworkers.
You can run your store with full independence and any interaction you have with suppliers, customers or other people within your business can be done all online.
You can operate your store in just about any niche you desire from women's fashion, accessories, electronics, home goods, toys, etc.
There are many paths you can follow with e-commerce. Check out this guide on how someone started a woodworking ecommerce store.
10. Web Developer
Many web developers are huge introverts. Much like freelance writing, you work on an independent contractor basis with each client and work as your own boss.
You get to work independently and hone your technical skills with each client.
If you want to start looking for web development gigs, check out the following sites:
Check out this guide for the best remote side hustles for programmers and web developers.
11. Pet Sitting
If you love animals more than people, you can try a pet sitting side hustle on an app like Rover.
You can pet sit dogs and cats in the owner's home combined with house sitting or host the pets in your own home. This is especially a great side hustle for college students because they can work on school work while they pet and house sit.
The thing with Rover is even though you mostly only deal with pets, you still will have to meet their owners before they decide to work with you and may see them from time to time after that. You will also have to speak with them virtually via the app to report on their pets. We are giving you a heads up with this one – there may be some live social interaction required.
If pet sitting is too much of a commitment, you can choose to do dog walks and drop in visits instead.
Check out this Rover app review to see where you can get started.
Final Thoughts
This wraps up our list of side hustles of introverts. Whether you're a creative, you want to work as a freelancer, on side gig apps, or run your own side virtual business, there's an option for you.
How do you choose the right job?
Consider your passions and follow the path you think you'll enjoy the most.
Do any of these side hustles for introverts get your attention?
Share your favorites down below in the comments.
Read related guides in this series:
Pin it for later!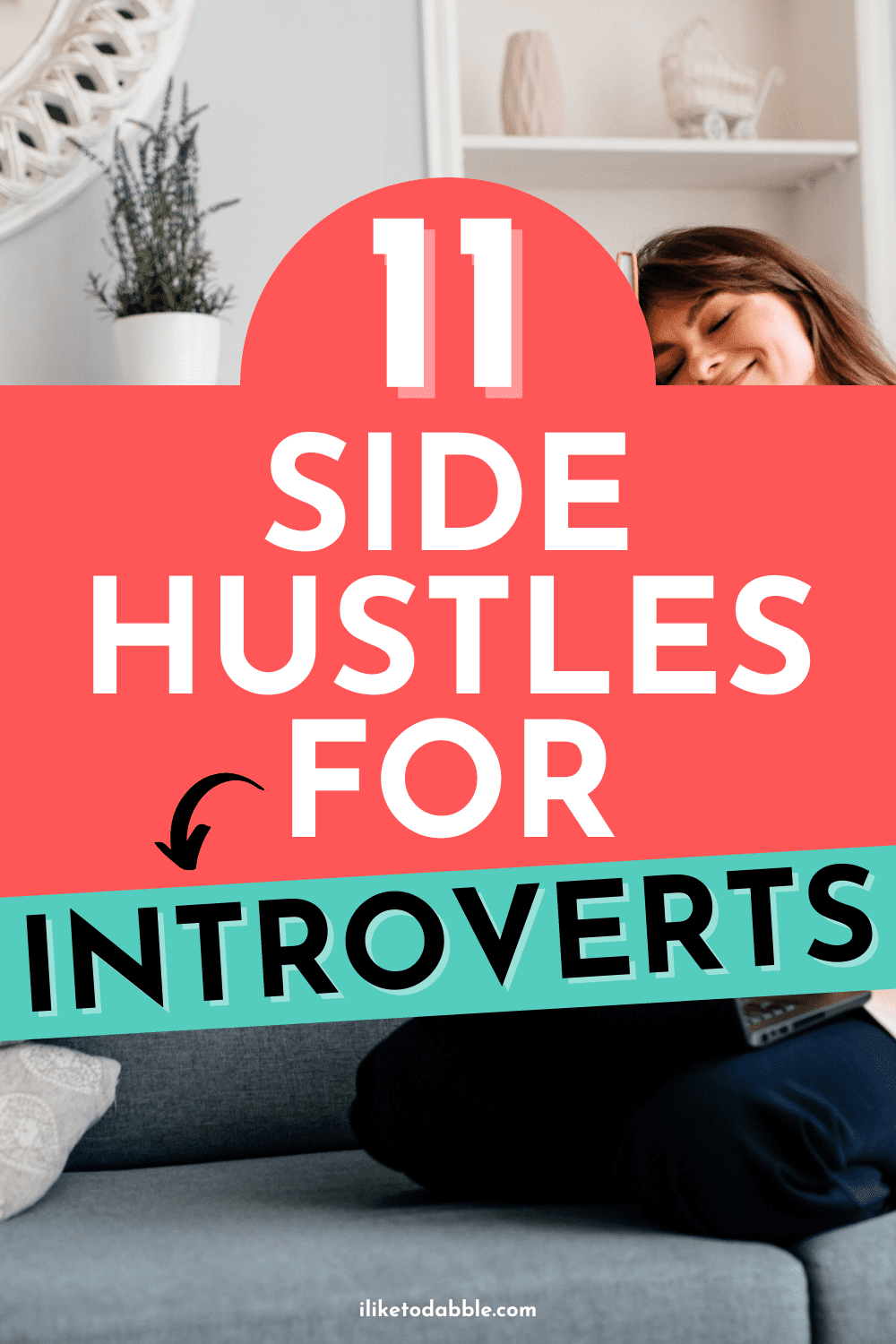 Jenn Leach is a writer, instructor, entrepreneur, and founder of
Millennial Nextdoor
where she teaches millennials life hacks for easy millennial living like being money smart, investing in yourself, and automating your life. When she is not working, you can catch her binge-watching baking reality TV shows or listening to her favorite podcasts about business, money, and life.