Our website is supported by our users and contains affiliate links. We get paid when you purchase or sign up for anything through those links. Read the full disclaimer for more information.
Last Updated on December 21, 2021 by Daniella
With the rise of online and mobile banking comes the rise of personal finance apps. And with the rise of the gig economy comes the rise of side hustle apps.
There are more side hustle apps on the market now more than ever, the opportunities for starting a side hustle are endless. There are seriously tons of them.
And there are new ones every day.
From renting out your car to assembling IKEA furniture, anyone can find and work a side gig using their smart phone.
Earning extra cash in your free time while getting to set your own schedule? And even set your own rates in some cases? Sign me up!
These are especially great if you need ways to make extra money quickly for an upcoming event or large bill.
Whether you are good with your hands or just need to make some extra money driving other people around, these mobile apps will have more than you need to get started.
Pin it for later!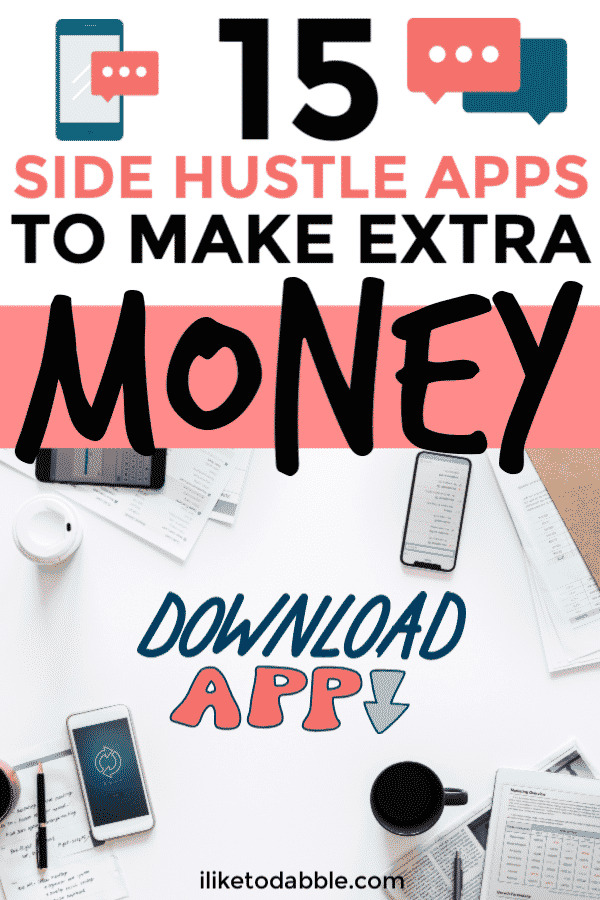 1. Airbnb
Being an Airbnb host is one of the best side hustle ideas because it basically generates passive income (money earned with minimal activity).
Whether it is an extra room or "suite" you want to rent out in your house or another property you want to rent out on Airbnb, you can assign all those tasks associated with that listing to third parties so you won't ever have to lift a finger.
This is especially great for properties that are difficult to sell or you want to target short term and vacation renters.
With a 153% global compound growth rate since 2009 and a 45% increase in U.S. bookings year-to-year, there is so much opportunity in this side hustle app. You might love it so much to even turn it into your new full time job.
Look here to see what you could potentially earn a month with your property.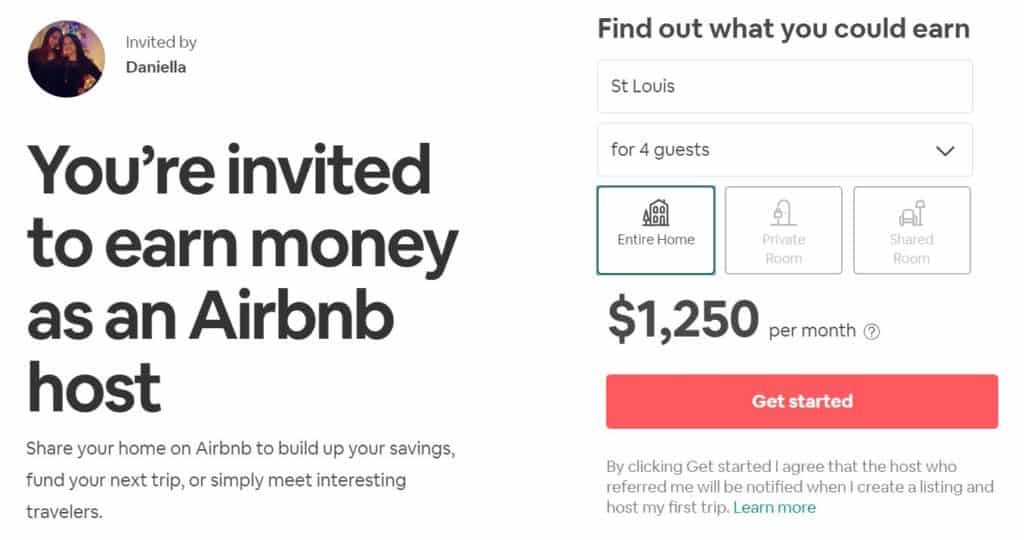 How to get started:
Have space to rent out as a suite, a private room or an entire property to list on Airbnb
Be responsive
Provide essential amenities
Income potential: You can set your own rates but starting out you can easily make over $1,000 a month depending on your property and location.
Related posts: 10 Unknown Airbnb Hacks You Have To Try
Hustle Quotes: 85 Perfect Quotes to Inspire Your Hustle
---
Quick side note: AppJobs and Steady will help you find specific gigs using a combination of the demand in your area and their algorithm. These apps are perfect if you don't want to sift through all the different types of side hustle job apps out there.
---
2. Turo
Turo is like the Airbnb of car rentals. I bet you didn't even think that was a thing! But it is.
You can list your car for rent using this side hustle app and not have to do any actual work. If you have a car of somewhat-high market value, you can make over $1,000 a month from the app. If you have a car with a somewhat-low to average market value, you are looking at $300-$600 a month.
I got to this calculation using their calculation tool that you can also use to see how much you could get per month with your car.
How to get started:
Have a vehicle under 12 years old
Fewer than 130,000 miles
Car must have a clean title
Income potential: $300 – $1,000 a month or more depending on the make and model of your car.
Related posts: 35 Best Side Hustle Ideas
3. Postmates
This side hustle app makes it possible for you to continue your grind no matter where you are. You can travel and can take this job with you as long as you have a car.
With no time commitments or fees, you can come online whenever you want to make money delivering with Postmates.
When you earn with Postmates, you take home 100% of your pay and tips along with the ability to cash out instantly whenever you want or free weekly deposits.

How to get started:
Complete an application
Supply a driver's license and insurance for your car
Pass a background check
Income potential: $25 an hour + tips
Related posts: 3 Gig Economy Jobs That May Not Be Worth It
---
Side note: Download hurdlr to automatically track your mileage, expenses, income streams and tax deductions in real-time from your side hustles. People have found an average of $5,600 of tax deductions while using hurdlr. Try it for free using my link!
---
4. Lyft

The ride share craze isn't going away anytime soon. Especially now as they are slowly releasing self driving cars!
Don't worry, the self driving cars aren't sucking up all of these ride sharing jobs yet. You can still make this a lucrative way to make money on the side for the time being.
How to get started:
Be at least 21 years old.
Pass their free, online DMV and background checks.
Have a U.S. diver's license and provide proof of insurance
Income potential: $25 an hour
Related posts: Steady App Review: 10 Side Hustles That You Can Do Through The Steady App
5. Instacart
If you love shopping, you can get paid to shop for other people's groceries and become an Instacart shopper. And no, you don't need a vehicle in order to shop for Instacart. You can sign up to be either an in-store shopper (no vehicle required) or a full-service shopper (vehicle required).
You receive and manage all requests and shopping trips in the app, do your shopping and delivery and the Instacart app takes care of the rest.
Get paid weekly and work peak days (like days before holidays or dangerous weather) to maximize earnings.
How to get started:
Be at least 18 years or older
Be eligible to work in the United States
Have a smartphone
Be able to lift between 30-40 lbs with or without an accommodation
Income potential: $20 an hour or more
Related posts: How Much Can You Make With Instacart?
6. DoorDash
DoorDash is another wonderful app that pays you weekly! When you become a dasher, you deliver food from a variety of restaurants and merchants to those who request the delivery on the app.
You can work from anywhere and set your own hours.
As all side hustle apps mentioned in this list, everything is managed in the app itself.
How to get started:
Income potential: Up to $25 an hour.
Related posts:28 Ways To Make An Extra $100 Every Day
7. TaskRabbit
If you need something done and you don't have the time to do it (or just don't want to), you can use TaskRabbit to hire a "tasker" to complete it for you. You can also work as a "tasker" using the TaskRabbit app and earn money by completing tasks for others.
If you are someone who loves work with their hands, experienced in home improvement, can tolerate heavy lifting and love to assemble things, you need to download and sign up for TaskRabbit.
While some only make a couple of extra hundred a month with TaskRabbit, 10 to 15% of TaskRabbit contractors earn up to $7,000 per month!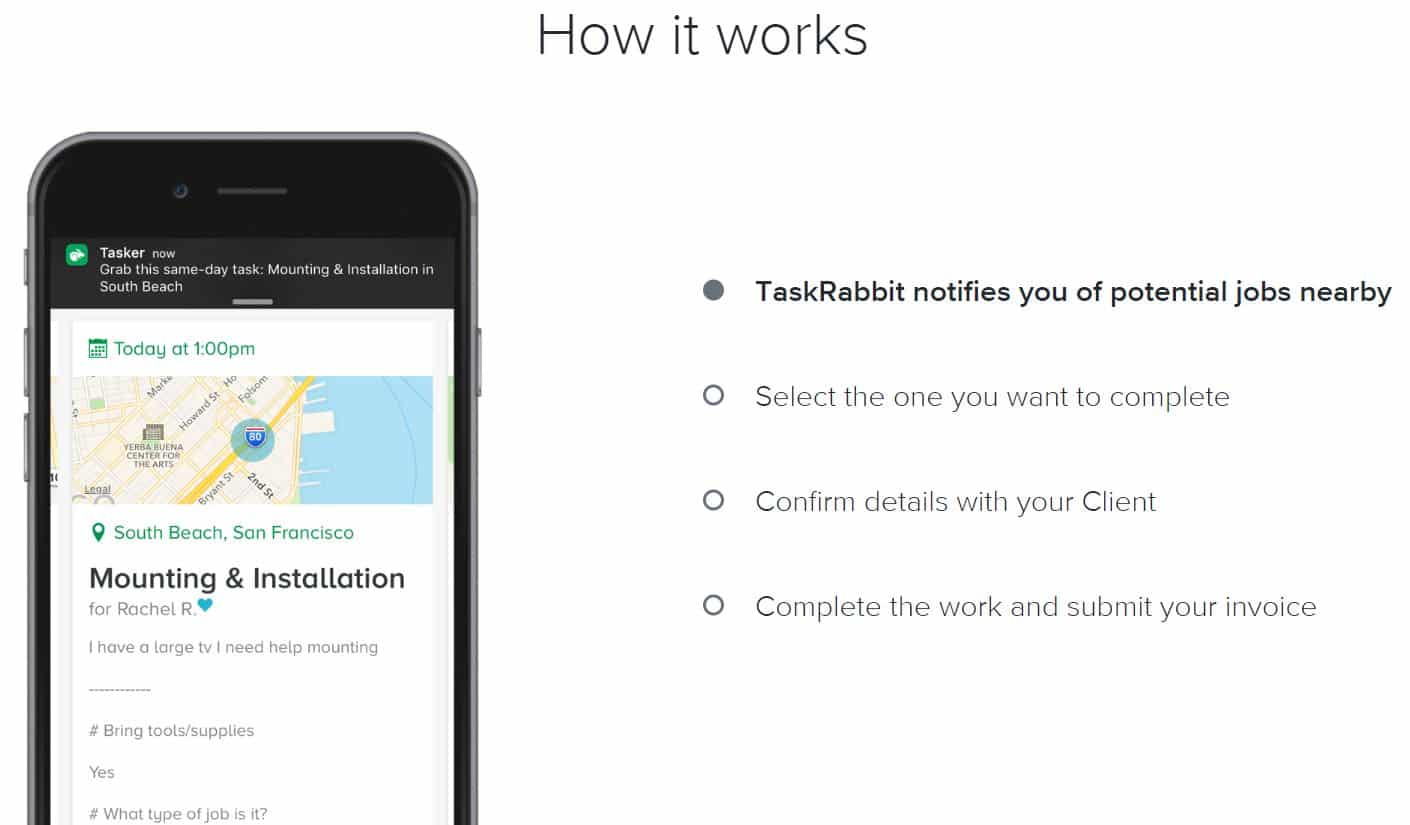 How to get started:
Be at least 21 years old
Pass a background check
Have a bank account and a valid credit card
Posses the skills and abilities in at least 1 of the 25+ categories of tasks
Have a smart phone
Income potential: Up to $2,000 a week
8. Fat Llama
Ever thought you can get paid for renting out your stuff? The sharing economy has blossomed into something truly incredible to be able to get paid for our stuff without actually selling them!
When people are looking to use something like a video camera or a gaming system, they don't have to necessarily buy that item. They can rent the item from someone in their area instead with Fat Llama.
The London based app has recently expanded to the U.S. with some London earners making as much as $5,000 a month renting out their stuff.
You can rent anything out from lawn mowers to video cameras to even tools.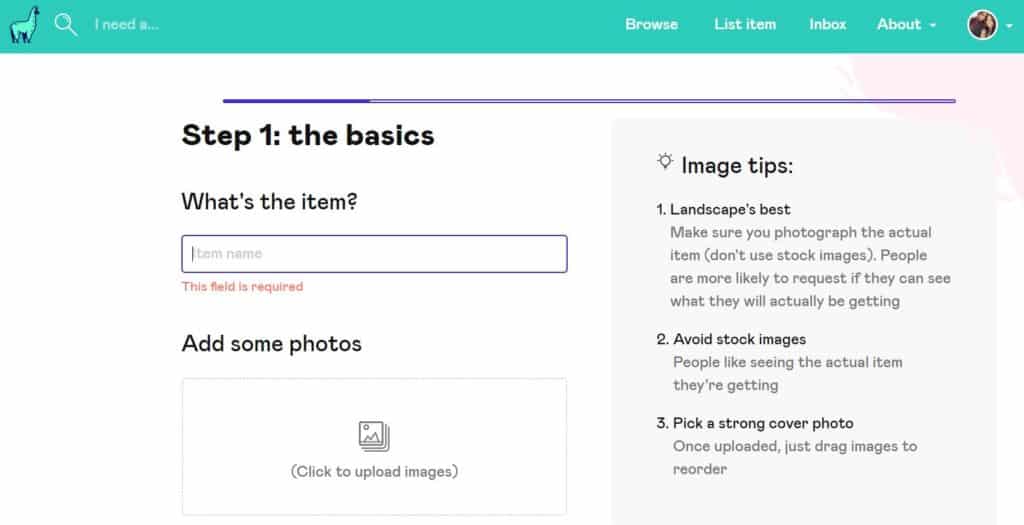 How to get started:
List your first item for rent
Income potential: As much as $1,000 – $5,000 a month if the app is available in your area. They are adding new areas every day.
Related posts:How To Boost Your Income With The Sharing Economy
9. Rover
Rover is an app where you can find local pet sitters or walkers in your area and schedule pet day sitting, overnight boarding, dog walking or someone to just come and check up on your pets while you are out of town.
You can also sign up to be one of these pet sitters or dog walkers through the app.
When looking at the app myself, I can see some walkers charge $20 per half hour dog walk. That would be $40 an hour that you could make in great side money for just walking dogs.
How to get started:
Pass a background check
Must love dogs and animals
I actually tried out Rover myself for extra money, you can read the full review here.
Income potential: $1,000 a month or more
Related posts: Rover Sitter Review: Is Rover a Good Side Job?
10. eBay
eBay is one of the best and easiest ideas to make money. Especially online without ever having to meet face to face with anyone.
You can sell anything you already have or easily flip items online like we do with guitars. We make up to $3,000 in side hustle money during some months flipping guitars on eBay.
How to get started:
Income potential: As much as you can sell. We make as much as $1,000 – $3,000 a month flipping guitars.
Related posts: 12 Sites Like Craigslist to Sell Anything Online
11. Drive for Deliv
You can drive for Deliv and deliver packages on your own schedule.
Deliv is a same-day delivery service helping local businesses deliver retail items to their customers. Since looking into signing up for Flex in my area, I saw that signups were close and probably closed in many other areas as well.
So if you are looking for a delivery opportunity like Flex but didn;t sign up in time, try Deliv. You can earn up to $22 an hour delivering for Deliv.
How to get started:
Fill out your details
Pass a background check
Be at least 18 and lift 50 lbs
Income potential: $22 an hour
12. Fiverr

If you have a special skill, you could bank off of it using Fiverr. Fiverr is where you can basically make money off of your products and services as a freelancer.
With so many people having blogs and websites these days but don't have the basic knowledge of maintaining those online domains, they turn to Fiverr for help. People on Fiverr do everything from writing to coding to design, and basically anything you can think of contracting out for a specific skill, service or product.
You can work when you want and set your own rates. You can even decline when a project seems sketchy or outside the scope or your skill set.
How to get started:
Create your seller profile
Create your gig and even offer packages
Income potential: You set your own rates but you can easily earn up to $1,000 a month depending on your pricing.
13. Poshmark
I love using Poshmark to sell used designer clothing and accessories. I have sold old boots that I never wore, jewelry and even unused hair dye and makeup (don't worry, they weren't past the expiry date).
If you have a lot of designer products that you never use, you can sell them on Poshmark and make hundreds of extra dollars a month. You can even buy designer products on sale in bulk and then sell them on Poshmark for a profit.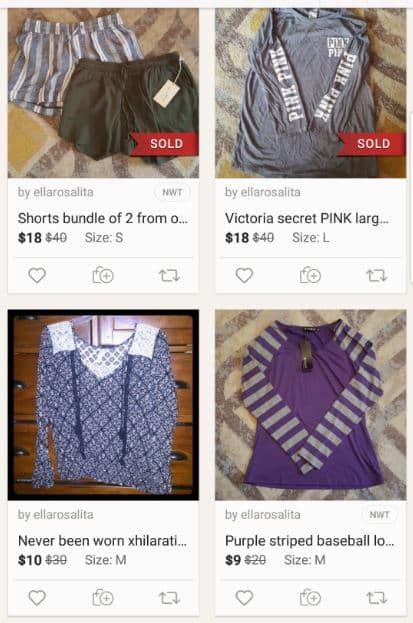 How to get started:
List your first item in your closet
Income potential: Depends on how much you can sell. I have made an extra $200 in one month selling on Poshmark.
Related posts: 22 Creative Ways to Turn Your Clutter Into Cash
14. Etsy
I just got started with Etsy and created a shop linked to this blog. On the shop we sell hoodies, t-shirts, stickers and more.
Even though at the time of writing this post we have only made 3 sales on the app, it has only been a couple of weeks since creating the shop. We hope to add new products soon and expand the shop's reach.
For seasoned Etsy sellers, some make probably more than your yearly salary. The more niche a product is on Etsy, the better it seems to do.
How to get started:
Sign up for Etsy
Create an Etsy store
Start adding products to your store
Income potential: Depends on how much you can sell. This one mom makes $70,000 a month on Etsy!
Related posts:10 DIY Crafts To Sell For Extra Money
15. UrbanSitter
UrbanSitter is the online "Babysitter's Club" that you didn't know you had.
With this app you can book babysitters and nannies in your area, with no hassle. If you love this kind of work and looking for a side gig, look no further. You can also sign up to be a babysitter or nanny through the app.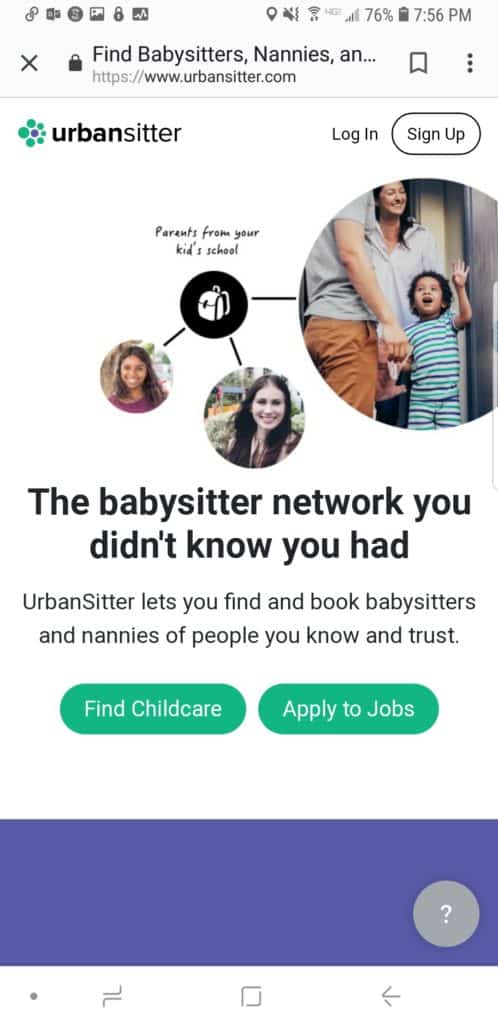 How to get started:
Sign up to be a sitter
Must be at least 16 years old
Pass a background check
Browse the sitter job board or receive a booking request
Income potential: You can set your own rates. Average rates range from $11 – $16 an hour for one child.
Related posts: Teach English Online: 10 Companies That Will Pay You to Teach and Work From Anywhere
More ways to make extra cash with your phone:
Concluding Thoughts
It seems like you can make money from your phone doing almost anything with apps. But the thing is, not all side hustle apps are created equally.
They are great for earning quick cash when you are in a bind and need to make money on the side. However, they may not be a long term solution. You could think of merging your side hustles into a side business idea and get more bang for your buck down the line.
Think about it. Otherwise, keep on hustling.
Related posts: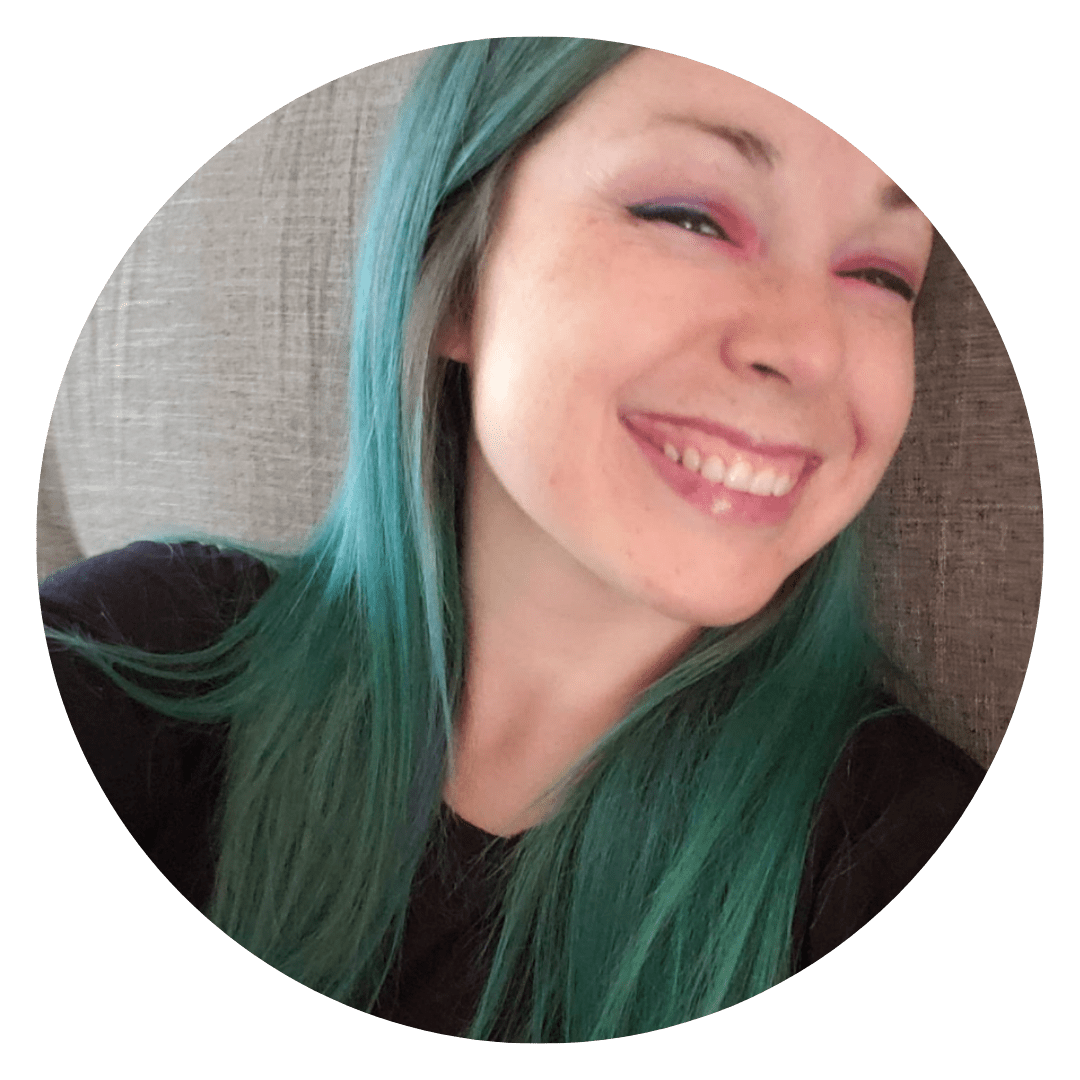 Daniella is the creator and author of iliketodabble.com. When their wife Alexandra and them aren't globetrotting or playing with their 7+ animals, they are dabbling and working towards a future of financial freedom.