Our website is supported by our users and contains affiliate links. We get paid when you purchase or sign up for anything through those links. Read the full disclaimer for more information.
Last Updated on August 4, 2022 by Daniella
Being able to work remotely from wherever we are is the future of work.
This doesn't mean you have to have a degree or be on the phone all day to get a remote job or remote side hustle either.
Many careers exist that don't include phone work, cater to introverts, and don't require a degree or experience. Transcription work is an example of this kind of remote work.
In this article, you will read about how to become a transcriptionist and how to find remote transcription jobs.
We will cover:
What a transcriptionist does
Qualifications needed to be a transcriptionist
How to become a transcriptionist with no experience
The difference between transcription vs. captioning
How to find transcription jobs
A list of 24 remote transcription jobs that are beginner-friendly
Let's get started.
What is a transcriptionist?
Transcription work is one of the best work from home jobs out there. As a transcriptionist, you will listen to audio files and convert them to written text. Transcriptionists listen to audio and record the conversation by typing it into a transcript.
Working in transcription means you're an independent worker with a good ear, you can follow instructions, and you have excellent communication skills.
Some examples of transcripts you'll be providing might include:
Court recordings
Medical transcription
Podcasts
Video content
Lectures
Interviews
Transcriptionists can have a lot of flexibility in their schedule. There typically isn't a set schedule you have to work. As long as you can complete the assignment by the deadline, how you manage your time is in your hands.
This is one of the many perks of working in transcription.
This kind of work might be a good fit for people who are:
Introverted and thrive working independently
Stay-at-home parents
People looking for a flexible side hustle
If you're not sure is transcription is right for you for a side hustle or full time remote gig, take our free side hustle quiz:
Pros and Cons of Transcription Work
Like all careers, it isn't perfect. Here's a breakdown of the pros and cons to consider.
Pros of Transcription Work
Beginner-friendly
Introvert-friendly
Flexible schedule
Ability to work from home or wherever you are
Phone work is not required
Cons of Transcription Work
Working in a quiet environment is required
Equipment may be necessary
Training and certification may be required
It is contract work so no employee benefits are included
Transcription vs Captioning
As you dive into your job search for transcription work, you may come across captioner jobs alongside transcriptionist jobs.
Transcriptionists listen to audio files and convert them into text in a written transcript.
Captioners (also called stenographers) are the professionals who add captions to television broadcasts. Captioners use a stenograph to perform this specialized form of transcription.
Captioners can work in real-time where they are captioning live broadcasts like sports events. They can also do offline caption work where they add captions to pre-recorded broadcasts.
Transcriptionists and captioners perform similar work. They both work to translate one form of medium to another. Other than the work differences, transcriptionists tend to make a bit more than captioners.
According to Glassdoor, the national average salary of a transcriptionist is roughly $65,000/year compared to $49,000/year for captioners.
General Transcription vs. Legal Transcription
There are various kinds of transcriptionists but the two main categories are general transcription and legal transcription.
General transcription pertains to a big chunk of the industry. Your clients might be teachers, podcasters, bloggers, vloggers, etc. As a general transcriptionist, you'll be transcribing an array of audio files into transcripts.
Legal transcriptionists do the same kind of work, transcribing audio files to transcripts but, for legal proceedings only. As a legal transcriptionist, your clients might include attorneys, court reporters, and insurance companies, to name a few.
What qualifications do you need to be a transcriptionist?
Transcriptionists should have these skills and qualifications to excel in this industry:
Strong communication skills
Strong command of the native language
Excellent listening skills
Fast typist
This is one of the best work-from-home jobs that do not require a college degree. While some jobs may ask for a candidate's degree, this definitely isn't a major requirement for the industry.
With these skills and the proper training, you can become a transcriptionist and start your remote work journey.
Equipment and Training
Transcription work is a career where equipment will be needed. The kind of equipment you need will vary from job to job.
Some jobs may ask you to have a computer with internet while other jobs may need you to have transcription software and a foot pedal.
Training is another requirement of the job. Getting into transcription is more than just landing a job where you can listen to audio and type what you hear. The right training will show you how to do the job, give you an opportunity to practice your skills, test your understanding, and provide support.
Our recommendation for transcription training is Transcribe Anywhere. The creator behind Transcribe Anywhere has been in the transcription industry for a decade. You'll get tutorials, video lessons, marketing how-tos, and access to the community.
Get started by taking their free mini course.
You can also test yourself with practice tests.
How long does it take to become a transcriber?
You become a transcriptionist as soon as you complete the training.
Students of Transcribe Anywhere can take up to 4 months to complete the training but the course is self-paced so it could take shorter or longer, depending on how quickly you learn.
Once you complete the training, you'll be ready to start your job search for transcription jobs.
How do I become a transcriptionist with no experience?
One of the perks of working in transcription is that no degree and no experience is required. With training under your belt, even people with no work experience can excel in transcription.
How much do transcriptionists get paid?
The average salary of a transcriptionist is around $65,000/year, according to Glassdoor.
Transcriptionists earn per audio hour so, the more you work, the more you can potentially earn.
Likewise, the more experienced you become, the more you can potentially earn. Experienced transcriptionists can command a higher pay rate and they typically work at a faster pace than beginners, helping them do more work (and earn more) at a faster rate.
You can earn a part-time or full-time income from transcription work.
How to Find Remote Transcription Jobs
There are many places online where you can find transcription jobs. Transcribe Anywhere gives you information and exclusive strategies for marketing yourself and getting transcription jobs.
Sometimes a simple online search can turn up your dream transcription job. Other times, more marketing and networking might need to be done.
Here are 24 beginner-friendly remote transcription jobs we found online that you can start with.
24 Remote Transcription Jobs for Beginners
When starting the hunt for online transcription jobs, you can check out job search engines, remote job search sites, social media, and transcription-friendly job sites.
Job Search Engines
These online job search engines are a mix of free and paid websites. You can use them to search for remote transcription jobs. These are not remote-only job search sites so remember to use filters for remote work or use words like "remote" or "work from home" in your search.
1. Indeed or Glassdoor
Indeed is one of the most popular job search engines online. They offer tons of different jobs to search from and the site is very easy to use. Indeed is also what is used to feed into Glassdoor's job postings so anything you find on Glassdoor, you'll find on Indeed too.
Be sure to keep a keen out for any work from home scams that might pop up on either one of these sites. They are great resources but they can't guarantee that scams won't show up so they recommend you follow their safety practices.
2. Monster
Monster Jobs is another big player in the job search industry. It's free to use Monster and you can browse and apply for jobs of interest.
3. Google Jobs
Google Jobs is a free job search tool. They're known for their job filters that you can toggle on to filter your search results by remote work, degree, and more.
Remote Job Search Sites
Next, are remote job search websites which cater to work-from-home jobs only. You can rest assured that every job you review on these sites is for remote workers only.
4. We Work Remotely
We Work Remotely is one of the largest remote work communities online. It's free to use their site to search for online jobs from popular categories like marketing, customer support, and others.
5. Remote
Remote.co is a remote-only job board for remote job seekers. You can browse and search for remote jobs on the site for free. They post jobs in a bunch of popular categories for career goers like entry-level and part-time jobs. You can also search by job category, company name, or keyword.
6. Working Nomads
On Working Nomads, you can search for tons of online-only jobs in various categories like design, sales, writing, and others. You can also use the search bar to find remote jobs by keyword.
7. Flex Jobs
FlexJobs is a paid remote job search website and premium service. When you pay for their service, you not only get exclusive access to remote jobs that are hand-scanned to make sure they are scam free, but you also get access to resume review services, career coaches, courses, and more.
You can browse the site for remote jobs and review the results for free but key information like the employer's name and other relevant details are only revealed to premium members. Membership plans are flexible and you can get a membership for as short as a week.
8. Virtual Vocations
VirtualVocations is a remote job search engine. They offer free and paid memberships. To get full access to the site, a paid membership will be required.
Social Media Networks
Social media networks are perfect for social networking. You can mix and mingle with peers in the workforce online, make connections, and land remote transcription jobs!
9. Facebook groups
Facebook groups are free online communities housed on Facebook. Any Facebook member can create a group.
Groups are usually built around a niche like a hobby, passion, job, etc. Browse Facebook to find groups where transcriptionists are hanging out and join. Then, start networking.
Be sure to watch out for scams and don't give your personal or financial information out to anyone. Use secure invoicing services like Wave to send invoices to new clients for payment.
10. LinkedIn
LinkedIn is one of the top career-based social networks. It's the online network where career goers hang out and it's also severely underestimated as a free tool to create portfolios for your freelance transcription work.
Create a LinkedIn account, set up your profile to highlight your strengths as a transcriptionist, and start using the social network consistently to make connections.
11. Instagram
Instagram is a social networking app you can use to post images and videos about virtually anything. You can post about your transcription skills, show your craft, and look to accounts that might be looking for a transcriptionist. You can follow podcasters you admire and reach out to them to see if they are possibly hiring help.
To search for transcription jobs, use keywords like "transcription" or "transcription work" to find Instagram accounts to follow.
12. Twitter
Twitter is a social networking website and app that's more text-based, as opposed to its visual-based competitors like Instagram and Tik Tok. People share on Twitter by posting short messages called tweets.
It's a good place to network with others in your industry and meet clients online to work on transcription projects. Use this guide for finding clients on the platform.
13. Tik Tok
Tik Tok is a video-based social networking app. You can create your Tik Tok profile as a transcriptionist and attract transcription clients.
Transcription Websites and Other Miscellaneous Sites
Lastly, this collection of websites is for transcriptionists and freelancing opportunities where you can find transcription work.
14. Upwork
Upwork is a freelancer marketplace where clients and freelancers can come together to work on projects.
Clients can be small businesses, large organizations, or individuals that need help with projects like proofreading, managing a technical task, or transcription, among other projects. Clients will post their projects and freelancers on Upwork place their bids to hopefully win the job.
To use Upwork, you can join the platform for free, create your freelancer profile, then search and bid on transcription projects you're interested in. When applying for gigs and sending proposals, be sure to read their guide on how to avoid scams and stay safe on the platform.
15. Freelancer
Freelancer is a freelance marketplace site set up very similarly to Upwork. The concept is the same. Clients post their projects. Freelancers bid on projects and one or more freelancers wins the bid and starts working on the project.
Join the platform, set up your profile, and then bid for transcription-related projects.
16. Guru
Guru is another option to check out, set up similarly to Upwork and Freelancer. Clients visit the platform, post their projects and hire a freelancer from the pool of applicants that apply.
17. Rev
Rev is a transcription and captioning company. They hire transcriptionists. They promise flexible schedules, weekly pay via Paypal, and access to hundreds of transcription jobs to keep you busy.
Just visit their job openings on their Become a Freelancer page and fill out the form to apply for the transcriptionist job.
18. GoTranscript
GoTranscript offers transcription services to their clients. They hire for work-from-home transcriptionist jobs with competitive pay, flexible work hours, support from their team, and more. To work for GoTranscript as a transcriptionist, visit their Jobs page to get started.
19. TranscribeMe
TranscribeMe offers transcriptionist jobs with top monthly earners making up to $2,200/month. You'll get flexible work hours and the opportunity to work from home. Check out the jobs page to apply.
20. Crowdsurf
Crowdsurf provides transcription and caption services. They share that they're always searching for new transcriptionists. Read about the 3-step process to apply and start doing transcription work for Crowdsurf.
21. SpeakWrite
SpeakWrite Transcription Services is hiring freelance transcriptionists and legal transcriptionists. Top monthly earners make up to $3,400 per month. Read the qualifications and apply for open roles here.
22. QuickTate
QuickTate offers transcription and dictation services. Transcriptionists looking for work can sign up for assignments on this page.
23. Scribie
Earn up to $20 per hour on Scribie. They also provide automated transcripts to save you about 60% of the work.
Click here to get started on Scribie.
24. BabbleType
BabbleType provides market research transcription services and employs several freelancers in other areas as well.
There is no experience needed to get started on BabbleType. Get started with your application here.
Common questions about how to become a transcriptionist
1. Is it hard to become a transcriptionist?
Transcription work is a specialized skill that everyone can't do. If you're a great communicator, you enjoy working alone, have excellent listening skills and fast typing skills, a transcriptionist job might be the right fit for you.
2. What are the main benefits of working in transcription?
You will get the chance to break into an industry where a college degree and experience is not required. You will work a non-phone job, enjoy flexible working hours, and work independently from the comfort of home, part-time or full-time.
3. Is training required?
Transcription training is highly recommended. Training can get you prepared for what you'll experience working as a transcriptionist professional.
With training under your belt, you will feel more confident working, you'll have the skills and experience to do the job well, and earn a competitive salary.
Plus, the training program we recommend by Transcribe Anywhere is a lot more than just training you for the job. You'll get the opportunity to practice transcription, get access to the instructor and team, lifetime access to the course, you can join the transcriptionist community, there's a final exam, certificate, and more.
What do you need to get started as a transcriptionist?
If you're ready to start your journey as a transcriptionist, you'll need three things:
Skills
Equipment
Training
The must-have skills you'll need to do this work are excellent communication skills, strong listening skills, and typing skills.
For equipment, as a beginner you can start with a computer and then, for training, you can look to Transcribe Anywhere. They offer general transcription and legal transcription training which will equip you with the skills and experience to start your career as a professional transcriptionist.
Click here to visit Transcribe Anywhere.
More side hustles & remote work ideas:
Pin it for later!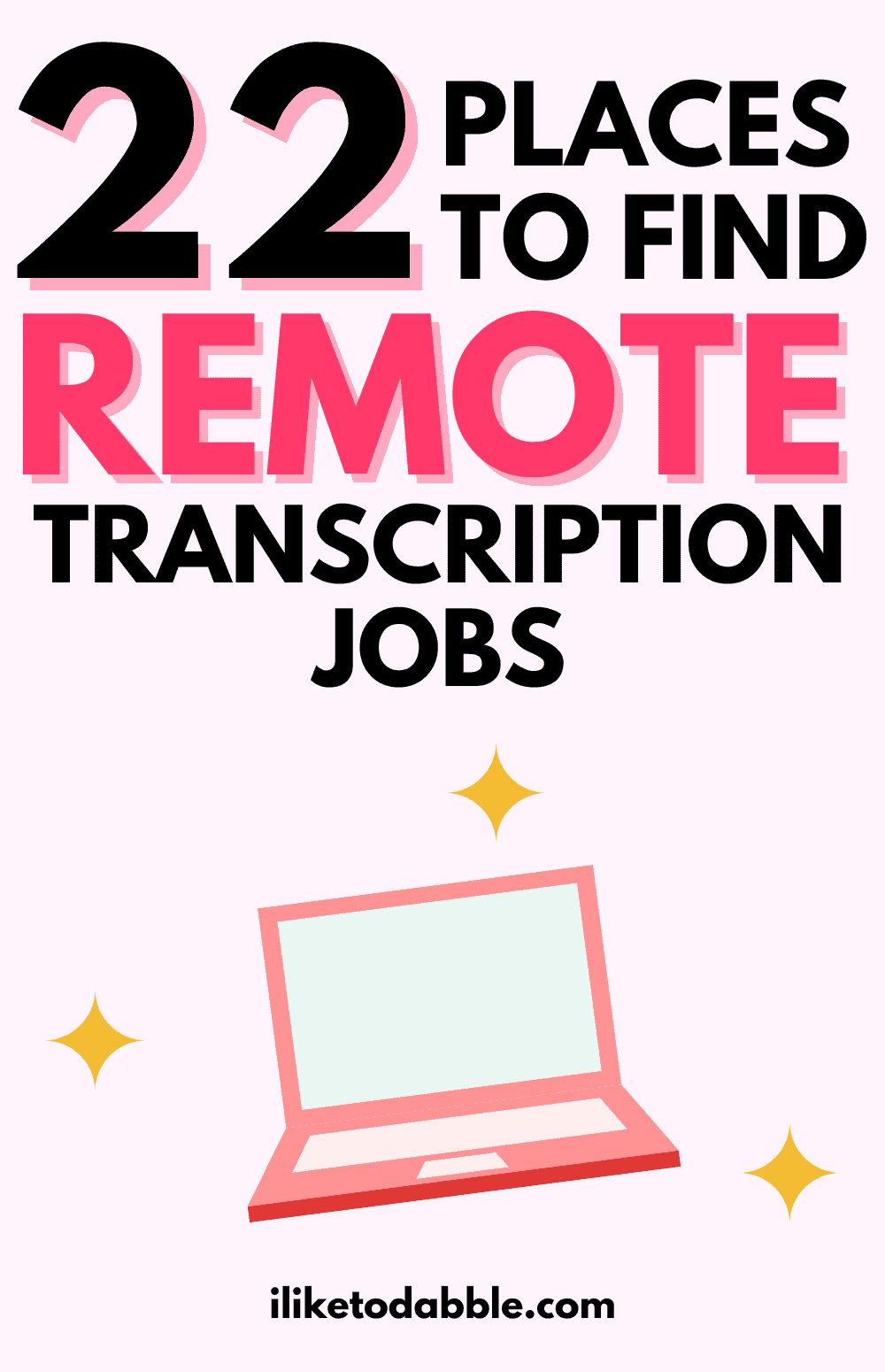 Jenn Leach is a writer, instructor, entrepreneur, and founder of
Millennial Nextdoor
where she teaches millennials life hacks for easy millennial living like being money smart, investing in yourself, and automating your life. When she is not working, you can catch her binge-watching baking reality TV shows or listening to her favorite podcasts about business, money, and life.