Our website is supported by our users and contains affiliate links. We get paid when you purchase or sign up for anything through those links. Read the full disclaimer for more information.
Last Updated on November 28, 2021 by Daniella
You know what I wanted to be when I grew up? An artist.
Of course as a child, I didn't think growing up meant making a living.
I never thought about how to make money as an artist (nor would have known about the opportunities available online to make money as an artist). When I was a teenager I thought long and hard about ways to make art my career and couldn't find a possible way that was within my reach. But my reach was already limited on how I perceived making an income as an artist – I hardly had much of an idea of how that could look like.
I never knew I could make money with selling designs in an online store, teaching online classes, creating my own courses, and more – all as an artist online. How technology has grown, and how easily we can make connections online and transfer those connections in real life allows making money as an artist easier than ever before.
Don't think you need a degree to do this either.
How to Find Online Art Classes
Thanks to the internet, you can find training almost anywhere for your certain category of creative expertise you are going for, no college degree required. Focus on what you enjoy creating, where your strengths are, investing in yourself and taking any training you need for things you want to learn with your creative side hustle, and how you can start putting a portfolio together for a collection of your work.
If you are looking for to invest in training, guidance, classes, and a wonderful community to help you along the way, I suggest Creativebug. Sign up for Creativebug for a 14 day trial with access to 1,000 classes, new classes added every day, and free templates, patterns, and even recipes PLUS a 20% off Joann coupon code.
Udemy is another great great online learning platform that has an array of different art and digital art classes.
If you are strapped for cash, check this guide for tons of free course platforms to look for additional training you want.
How to Start a Creative Business
* This is not professional tax advice. Please consult a professional accountant and lawyer before proceeding with anything.
If you want to start a creative business and sell your art online, there are legal and tax precautions you should take. Even if you are only selling a couple of items a month as a side hustle, your income is taxable.
Some taxes you might be liable for, for both online digital art downloads and physical art sold:
Federal income tax
State income tax
Sales tax
Self employment tax depending on your business structure
You'll also need to set up a separate business bank account and make your business legal. Many artists decide to classify as a sole proprietorship starting out or LLC. But what you classify as must be best for your situation and I recommend speaking to an accountant or lawyer to help you determine this.
Then you'll head to your state's website to register your business or Google "Register business in [state]" where [] is your state.
How to Make Money as an Artist Online: 11 ways
When I was in college and after, I needed some extra cash so I was actually able to sell some of my artwork. This came hard to me at first because I was confused on how to sell them and even price them.
Remember, revenue – expenses = profit
Revenue is the money you have coming in as an artist whether that is sales, teaching, mentoring, etc.
Be sure to price yourself high enough to pay for not only your materials but your labor and expertise too.
1. Create an online store with Shopify or Etsy.
If you want to sell your art in your own online shop, you could start one using Shopify or sell on Etsy. There are pros and cons to both.
A pro to using Etsy is that they have the userbase already on Etsy looking for your designs. By knowing who your target custoemr is and using keywords they are searching for on Etsy, determines if those users ever see your listings but it does manage to automate the marketing for you once you have an established store on the site.
However, with Etsy you don't actually own the domain of your store and they can remove your store at any time, without warning which is a problem for many Etsy shop owners.
With Shopify, you own your domain and your store isn't going to be taken down by shopify unless there is some sort of cease and desist order sent to your hosting provider per any legal action. But you won't have a pool of customers already searching for your listings unless you start marketing your store on Instagram, TikTok, Facebook, Google Ads, mailing list, etc.
A pro to Shopify is that you don't have the recommended listings from other shops pop up like it does in Etsy which strays shoppers away from your store. That doesn't happen on Shopify.
2. Sell fonts and designs on Creative Market.
Creative Market is one of my favorites if you are a graphic designer. On Creative Market, you can open a shop and sell your designs, vector patterns, fonts, icons, and more. You can even sell animations, patterns, textures, templates, mockups, and more.
It is a small business owner's dream.
For some Ideas for things you can sell on the marketplace:
You can use a tool like PaintFont.com to create different fonts and sell them on the platform.
Create designs in photoshop and sell them in series packs.
Create social media templates in Canva and sell them on the platform.
3. Sell your art on Instagram.
There are artists out there that as soon as they post a picture of a new painting on Instagram, it take only seconds to sell. Instagram is so widely used now that many enjoy using it more than even Etsy for selling art work. You can do flash sales and promote them with Insta-stories.
Check out here how one girl sells her work for up to $30,000 right off of Instagram.
Photographers can also market their photos on Instagram and funnel their followers to their website where they sell their work.
Related posts:
10 DIY Crafts To Sell For Extra Money
4. Live paint at events and concerts (and TikTok).
You can do live painting in busy areas like town squares or shopping centers that have an eclectic feel. I use to go to live concerts at a small venue in the area and ask the owner if I could 'live paint' during certain concerts during the week or weekend. This wasn't a problem as many artists do the same thing at the same venue.
I would bring some paintings with me that were already finished and set them up around the spot where I would be live painting. Between sessions and throughout the night, people would browse and usually every night people would buy a couple. The most I made in one night was $800.
Depending on the type of art you create, live painting or creating can be possible in the ideal setting. For me it was indie/psychedelic and experimental concerts because my paintings were very bright, surreal and abstract.
Find the spots where your ideal customer would interact and go there. Look into music festivals coming up where there might be opportunities for you to do this and maybe get a booth to sell more of your inventory.
You could set this up as being an online experience through TikTok lives and running sales on your online shop at the same time.
5. Create a YouTube or blog.
To supplement your income from an online shop, you can create a YouTube where you post videos of you creating your art whether it is painting, digital painting, illustrating, crafting, building, producing music, etc.
Post videos consistently on the platform while targeting specific keywords your target audience would be searching for. Over time you will build up an audience. Once you get to 1,000 followers, you can start serving ads on your videos which will earn you money every time someone watches your videos.
This starts out as active income but can become passive income once you serve ads and tone down your posting schedule.
You can do the same thing with a blog if your artistic expression is writing, are a bit introverted, and don't want to be in front of a camera. You can serve ads on your blog to add another income stream. You can get started with a Blog with Bluehost.
6. Sell on Amazon Handmade.
Because of the killing that artists are making through selling on Etsy, Amazon came up with their own version of an Etsy styled experience called Amazon Handmade.
Amazon Handmade is where artisans can share their craft and easily sell their work through Amazon.
7. Contract out your skills for projects and become a freelance artist.
If you have expert design experience and are a master at the Adobe suite, you might be able to contract out your services on Upwork or Fiverr. These skills are perfect for someone who wants to become a freelancer. Create a website or blog to showcase your portfolio and offer freelance services through a 'Work With Me' page. Make sure you have a PayPal setup to easily invoice your clients.
Then create an Instagram to showcase your artwork, freelance services, products, etc and get the word out there!
Fiverr is difficult to get work through starting out so I suggest following a mentor online to help know how to craft the perfect profile and raise your rates.
I also suggest looking into other ways to gain freelance clients though like platforms like:
Facebook groups and search on "freelance artist jobs" or "freelance designers", "freelance design jobs", etc
8. Put your designs on sites like Threadless.
I use to spend hours browsing on Threadless for the perfect comforter because of how many mindblowing designs the site offered. I later found out this is because on Threadless, you can create a store for free with little to no effort for actually trying to sell your products.
After you get your shop set up, all you have to do is submit your design and what you want to sell with your design on it (cups, blankets, curtains, home decor, clothing, whatever you want), and Threadless takes care of all the marketing, packaging, shipping, and even customer support.
9. License your art commercially.
Art licensing is when you "rent" your artwork and designs to other companies to put on their products. You get paid anytime they decide to use your art.
To get started with how you can do this, read this ultimate guide to art licensing.
10. Print your art on merchandise to sell using sites like Printul and Printify.
You can sell designs you make online on shirts, shorts, hoodies, mugs, blankets, and more on sites like Printful and Printify.
These sites are print on demand 3rd party vendors and you can hook up the account to your Etsy or Shopify store. When a customer purchases your listing, the item is already being printed and shipped by the 3rd party company.
11. Create a course.
If you want to teach others how to create art like you do, you can create courses on platforms like Teachable.
You can start to build a following through your store on Instagram, TikTok, and Pinterest, build an email list, and create a course about painting or something else your audience wants to learn and market it to your email list and following.
Conclusion: Embrace your creativity!
As you can see, there really are no limits to the ways you can make money as an artist, both online and offline. Embrace your creativity and go where your energy flows.
If you are also an artist or striving artist, what other ways do you make money? We would love to hear more from you!
Related:
Redbubble Review: Make Money Online as an Artist
10 Digital Products to Sell for Passive Income
Unconventional Entrepreneurship: My Burlesque Dancing Side Hustle
How I Made $1,000 Per Month Selling Broadway Playbills
10 Digital Products to Sell for Passive Income
Pin it for later!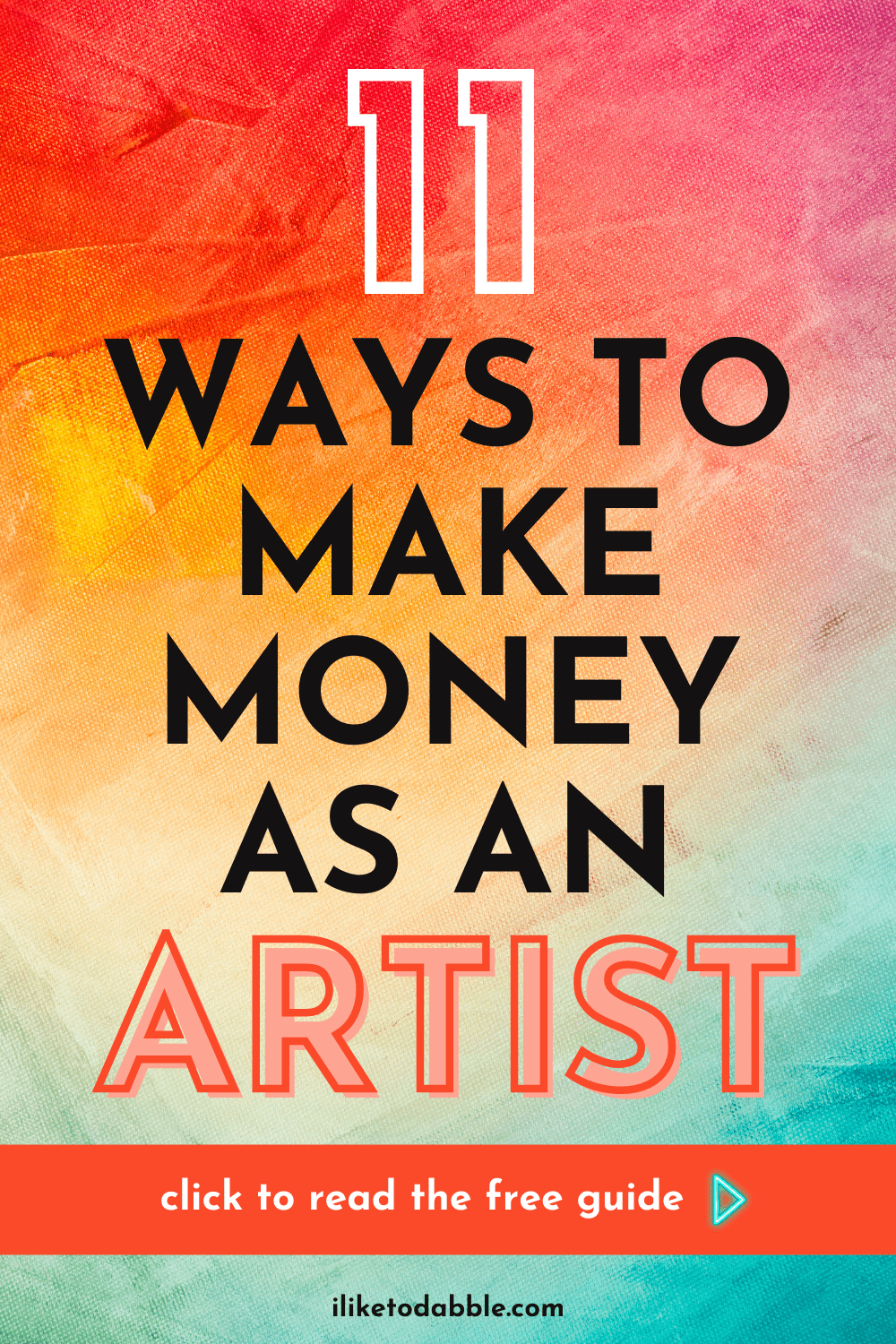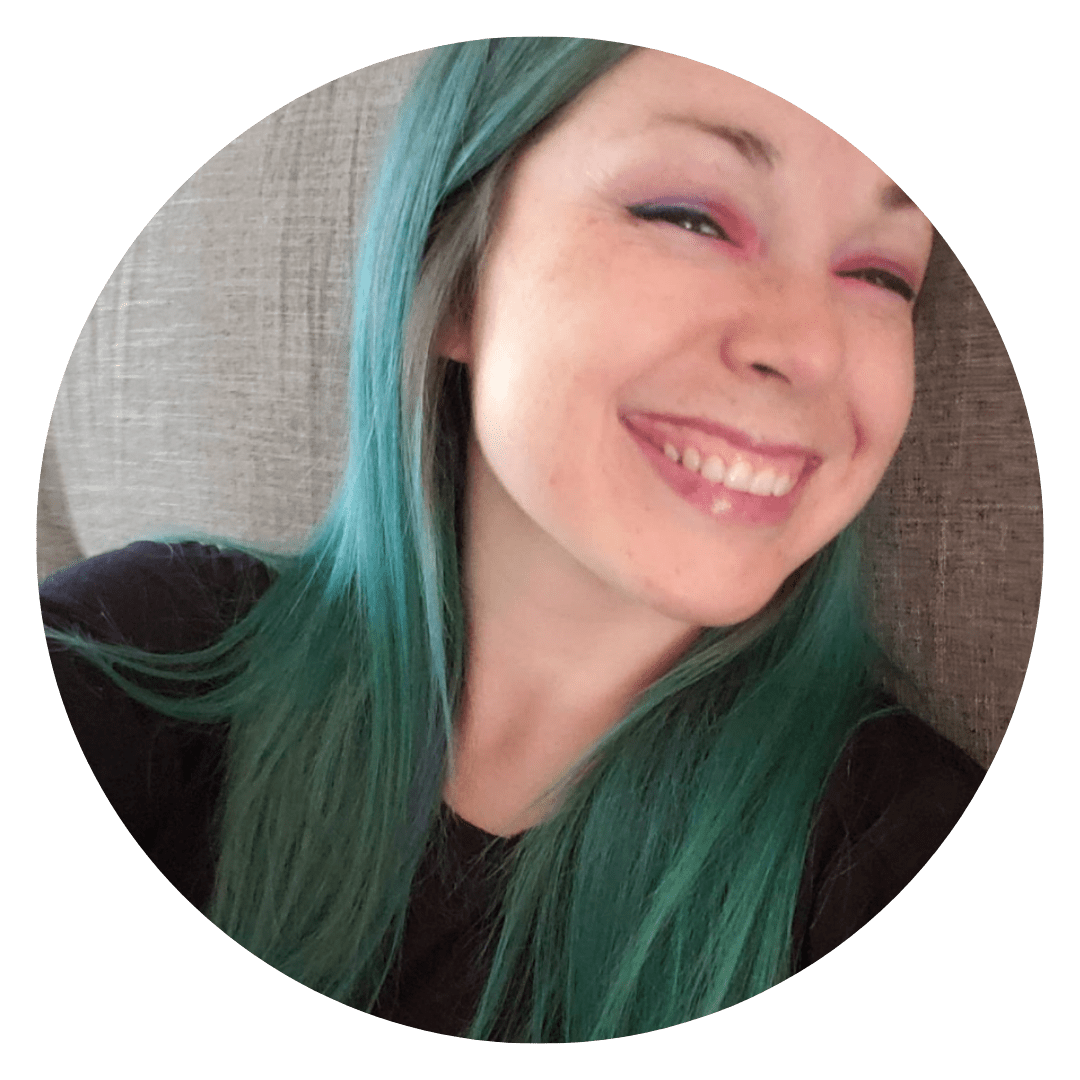 Daniella is the creator and author of iliketodabble.com. When their wife Alexandra and them aren't globetrotting or playing with their 7+ animals, they are dabbling and working towards a future of financial freedom.