Our website is supported by our users and contains affiliate links. We get paid when you purchase or sign up for anything through those links. Read the full disclaimer for more information.
Last Updated on February 19, 2023 by Daniella
One of the best things I ever did for myself and my career was when I became a virtual assistant (VA).
While my job now consists of being a freelance writer and a community manager, for the longest time, I was working strictly as a VA and LOVED it! I grew my income and eventually leaped into freelancing full-time this past March. I also would not have my current gigs if I hadn't started as a VA in the first place.
If you're looking for ways to grow your side hustle and wondering more about what goes into becoming a virtual assistant, keep reading.
First, decide on your skillset.
A virtual assistant's job is to make a client's life easier. This role is primarily done virtually and usually includes administrative tasks such as email, organizing one's calendar, or being a point of contact so you can help filter their workload.
Other things virtual assistants do:
Social media research and management
Post scheduling
WordPress administrative duties
Travel arrangements
Copywriting
Bookkeeping
Project management and organization
Data entry
Help with blog post writing and editing
Help with eCommerce store management and listing copywriting
Help with running online communities and Facebook groups
There really isn't anything that virtual assistants can't do.
Some businesses even look for tech virtual assistants that help them with the tech side of their business and setting up systems. Utilizing your tech savvy skills like this could be a great tech side hustle for extra money and experience to add to a resume.
The first step is to decide what skills you can provide to help your client move the needle in their business. Along with the administrative tasks listed above, your skill set can include the following:
Social media management: If you're a whiz on Instagram or love engaging in Facebook groups, this could be a service you offer to business owners who lack time but need engagement in their business. Many business owners find their clients through social media and need someone to engage with regularly.
Website management: A business owner needs content for their website and someone to ensure it's running smoothly.
Research: You may be asked to look at competitors who offer similar services or a product and then come up with information your client may need to move forward with their idea.
Writing: Everyone writes in their daily life, from emails to text messages and even status updates on their social media. Some business owners ask their VAs to draft emails and other content on their behalf.
Decide on a pricing strategy.
Next, you'll need to decide how you would like to get paid. Many virtual assistants charge a package rate that guarantees their clients a set amount of hours per month. For example, if you wanted to charge $25 an hour, you could offer a client a 10-hour package at $250. The more hours you spend, the higher your package would cost.
You can also charge hourly, which is what I do. I'm candid about my time management and how much of a capacity I can take on at any given time. I would feel horrible if I charged someone for 30 hours yet could only complete 16. Every assistant is different, and everyone has a different pricing structure that works for them.
The important thing is to determine a rate that works for you and be honest about how many hours you can offer to whatever clients you choose to bring on. At my peak, I had four clients and my full-time job.
You'll also want to figure out an invoicing system that works for you. I use PayPal and Freshbooks.
Next, create an online home for your business.
Having a place where others can easily find you online is crucial to growing your business. You'll want a home to be able to share a portfolio of work you've previously done, services you offer, and selling points on what sets you apart from your competitors. People like people, not robots, so don't be afraid to allow your unique personality to shine through.
Social media is easy enough to set up for your brand, but creating a website may be harder, depending on your skillset. Use this tutorial to set up a simple website using Bluehost or use a no code tool like Webflow.
Related: 25 Best Tools for Freelancers to Run Their Business
Time To Find Clients
Once you've decided on your skillset, a pricing structure, and have an online home for your business, it's time to get busy and find your first clients.
The best thing about a remote side hustle like virtual assisting, is that you aren't bound by clients within a certain commuting radius. You can work with all types of clients from all over the world and connect via an array of online job boards and online networks.
Freelancing job boards are a great way to start. If you have little to no experience and would like to start small, you could fill out an application for the job board Fancy Hands. Tasks on Fancy Hands are small and only take a few minutes to complete. Pay can range per task, and you can complete them when convenient. This might be a great way to build confidence in your skillset while starting small. Fancy Hands is great for starting out but doesn't pay enough to continue work on. Use it only for starter experience.
Consider a freelancing job board like Upwork or Fiverr if you're ready to jump in fully or reach out directly to small businesses on social media.
On Upwork, there is a list of projects posted by clients themselves looking for virtual assistants. Once you find a project you would like to apply for, you offer the client a price quote, otherwise known as a bid on Upwork. If the client accepts your proposal, Upwork will connect you for a fee. Fiverr allows you to showcase your skills and let clients come to you instead.
You can use freelancer platforms for awhile but after some time, see if your clients would be interested in working with you independently without the platform, so you aren't stuck with a third-party company dipping into your earnings.
Other places to find virtual assistant work online:
Search Facebook groups using keywords like "virtual assistant" or the specialty you do like "social media managers", "content managers", etc to look for folks posting that they are looking for virtual assistants and to build relationships with other virtual assistants
Follow bloggers, YouTubers, podcasters, and other online creators on Twitter and other social media platforms. Build relationships with certain creators you admire in your niche and reach out to see if they're looking for a virtual assistant.
If you don't already, advertise your services on your social media platforms, especially on Linkedin. Linkedin is a way to network with other small business owners and find clients who regularly post new listings on what their company needs. On Linkedin, you can also create a service page for your virtual assistant services.
Set up a search alerts for a specific keywords like "virtual assistant", and Linkedin will send you updates, including new job listings. I love Linkedin for this very reason, and I try to share my work as much as possible so others can take notice of my skills.
Always be looking for ways to grow
It's easy for us to become complacent in what we know, but when we look for ways to grow, we stand out from others. If a client mentions they need someone to do something, and you think it's something you could learn, offer to do it. This is how I learned how to write copy via a client's newsletter. When it was presented to me, I took an opportunity and used it for paid training.
You can use opportunities like that to learn, along with free courses and online opportunities for learning – Coursera and Udemy are great for this. Use these same opportunities to look for ways to create passive income in your virtual assistant business and diversify your income streams.
There are a lot of ways to become a virtual assistant. I hope the tips mentioned above can help you on your way to becoming one. Virtual assisting can be one of the most lucrative and fulfilling online jobs, especially since you can make your hours and can work from wherever you are.
When you can have that type of freedom with your work, it changes everything.
Related:
Pin it for later!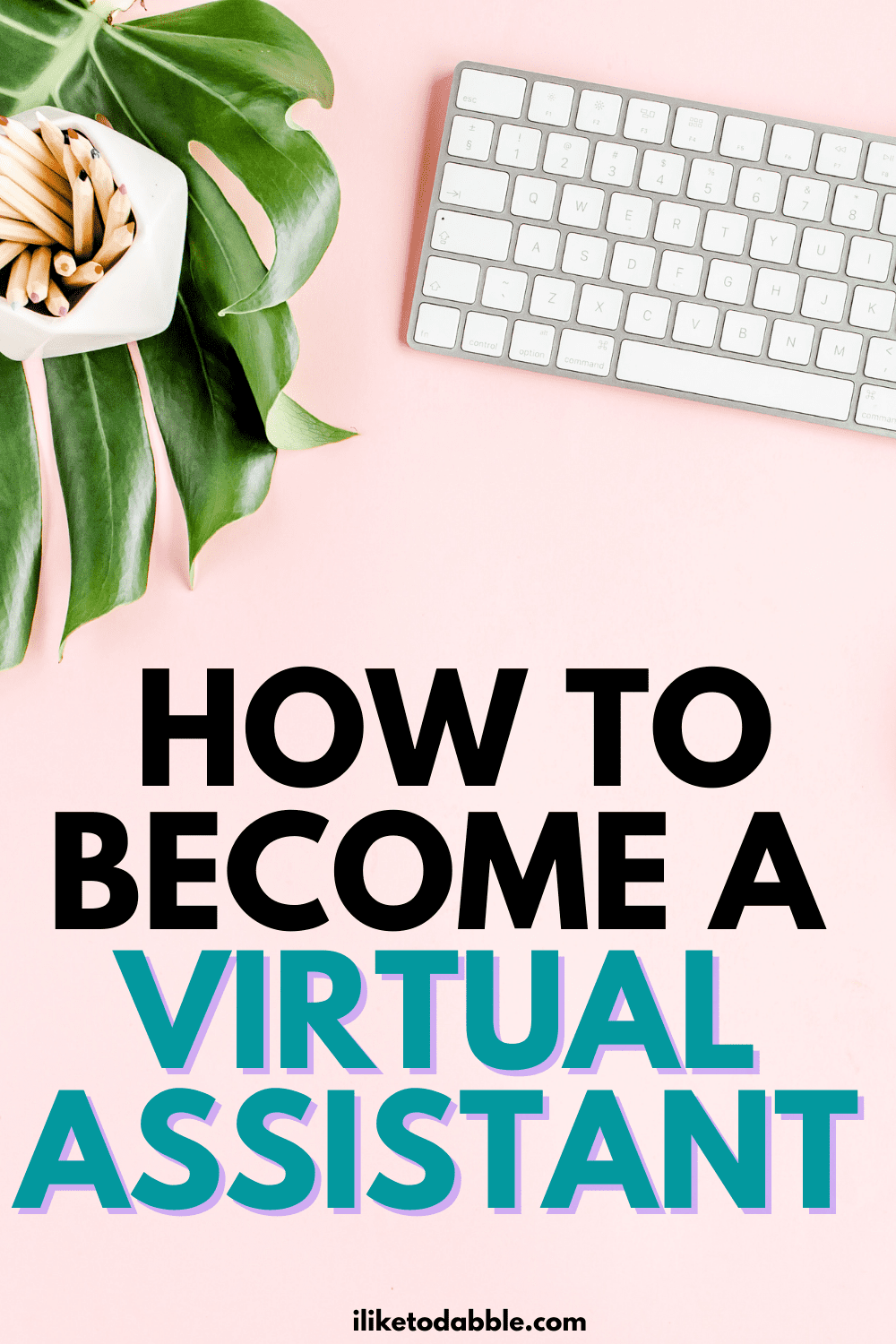 Once homeless in high school, Athena Valentine Lent is now an award-winning nationally published financial columnist for Slate Magazine. When not working, she can be found reading a Stephen King novel with her main man, a polydactyl cat named Harrison George.