Our website is supported by our users and contains affiliate links. We get paid when you purchase or sign up for anything through those links. Read the full disclaimer for more information.
Last Updated on June 20, 2022 by Daniella
Remote and work from home jobs are becoming the new normal. 74% of people agree with me on that one according to a survey done by FlexJobs.
With a 159% increase in remote work from 2005 to 2017 and 44% growth in the last 5 years alone, the new normal is looking pretty promising.
The ability to work from home for someone means a variety of things that only makes their lives easier. The 9 to 5 grind where burnout is frequent is becoming less and less appealing as remote and more flexible work environments emerge.
People are loving it (including me).
Browse this guide for the best work from home jobs that pay well and where to find those jobs.
With a 159% increase in remote work from 2005 to 2017 and 44% growth in the last 5 years alone, the new normal is looking pretty promising.
The Pros and Cons of Working From Home
Even though working from home sounds like the dream to some that may have never been able to work remote before, it can have its drawbacks.
Pros
Your job doesn't have to suck with long commutes and office politics (although you might have to stomach some on emails and conference calls).
Working from home means people can:
Save more on commuting costs
Get more time back from not commuting
Experience less stress and fewer distractions (depending on your remote work environment)
Eat out less frequently
Be more flexible for their family
You can actually see with this calculator how much time, money and taxes you can save each year by working from home.
Remote offices and jobs are also just as beneficial to employers as they are the employees. Employers save money on rent, supplies and other overhead with a remote workforce.
Cons
If you don't know how to manage your time effectively, you can easily self sabotage your efforts working from home. It is hard to separate your work time from leisure time unless you create a schedule and routine you follow every day.
There is also a big chunk of people that crave the social connection they get from going into an office every day and socializing with their coworkers. Working from home isn't for everyone so you should first ask yourself if it is for you before looking for a remote job.
Where to Find Real Work From Home Jobs
You shouldn't go to Craigslist to start your job search thinking you are going to find a legit work from home opportunity (however it was great for finding gigs when I was a brand ambassador). Refer to our free guide for how to get a remote job.
The best online job boards for home-based jobs:
Are Amazon remote jobs worth it and do they pay well?
We've all heard the horror stories of the working conditions in some Amazon warehouses, but what about their work from home jobs?
Amazon has had a wave of work from home jobs that have become available in the last 5 years. From corporate-level analyst jobs to remote customer service jobs, Amazon's online job opportunities have definitely grown.
If you are against the company, don't even bother. Working for a company that you hate will only make your life harder even if you can land a sweet work from home gig earning money with them.
But if you're an Amazon supporter, you can make as much as $15 an hour working as one of their at-home customer service representatives or as much as $116,000 a year as one of their in high demand cloud architect and solutions jobs.
Browse remote Amazon jobs here.
31 High Paying Best Work From Home Jobs
There are high paying work from home opportunities out there for everyone regardless of your age or schedule.
Think about the skills you currently have and where your interests lie to determine the best work from home job for you.
To make it a little easier, I separated them out by:
Jobs with no college degree required
Jobs with a college degree or some sort of formal training required
"Self made" work from home jobs
Micro jobs
We excluded things like taking surveys from this list because even though you can make some extra money in your spare time with these, they aren't going to be legit opportunities for full-time work.
Important note: If you see the work from home job of your dreams but maybe ar missing a few requirements or skills that would seal the deal for you, look into free online courses to aid you in your job search and bump up your resume a bit. Free online training is a MUST if you can find it (and it being free doesn't make it any less valuable to your career than any other training you have).
eNo College Degree Required
With the rising demand of workers that's fueled work from home job availability, there are plenty of positions that don't require a 4-year college degree.
1. Web Developer
Many companies now hire web developers to work from home, no college degree required. However, you might need to take some online training to learn how to code and some companies require certain certifications.
But it is a trade that can be self-taught. Even though I did get a bachelor's degree in computer science before my first job as a web engineer, I learned more on the job at that startup than I ever did in school.
Different web development technologies you will work with as a web developer:
HTML
CSS
Javascript
Python
PHP
Perl
and more
Resources for training:
How much do web developers make? According to Glassdoor, the range is between $60,000 to $110,000 yearly.
2. Graphic Designer/Web Designer
If you are creative and love design, companies often hire their graphic and web designers to work remote. As with many opportunities that don't require formal education, you are going to have the best luck getting a remote job if you have the portfolio to back you up.
Best ways to build a portfolio:
Offer to do discounted designs (or free) for friends and other people you know to get started
Offer services on Fiver to add to your portfolio
Create a small website to house your portfolio and contact info for people to reach out
How much do graphic designers make? The average salary is $44,000 a year and some reported salaries go up to $63,000.
3. Social Media Manager/Consultant
A lot of bloggers and online influencers work as social media managers/consultants on the side. It is a great way to add another income stream when your pay is inconsistent as an entrepreneur.
Many companies are also in desperate need of these positions while they need to reach their audience on various social media platforms.
But what do social media managers do exactly? Good question.
What social media managers do:
Create and schedule posts
Create graphics that go with posts
Create stories to post on social media
Manage messages and any private groups associated with the social media page
Create promotions and run ads
How much do social media managers make? The average salary is $53,000 with the higher end of salaries reported as $79,000 yearly.
4. Data Analyst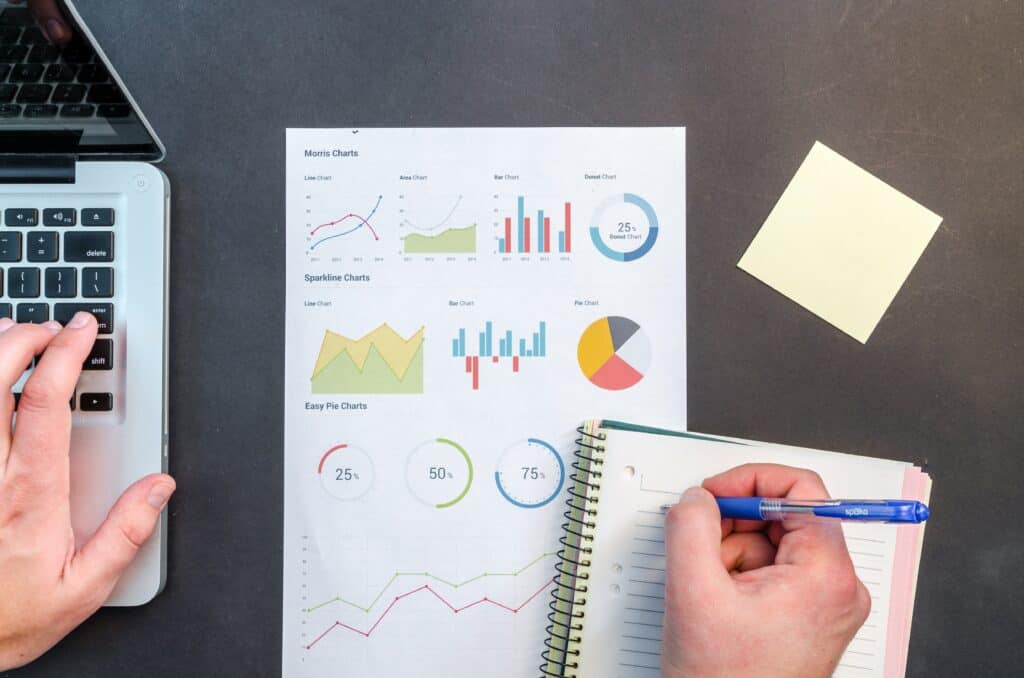 I once worked as a data and system analyst for a company that did VA (Veteran Affairs) contracts. The company had a 100% remote office meaning people from all over the United States worked remote. We had daily and weekly meetings and only saw each other when we had to go to conferences.
It was one of the only jobs I've ever had where it didn't have that sort of stale work culture where people are so obsessed with face time in the office. However, I got laid off when a new president was elected and a big chunk of VA contracts was cut from the budget.
What do data analysts do:
Run reports and analyze data (most of the time requires heavy SQL knowledge to manipulate data and pull complex reports)
Create dynamic reports and dashboards
Create models from the data
Make recommendations to take holders based on the current data and projected data
This job is also very attainable without a college degree as long as you have the experience to back you up.
How much do data analysts make? When I worked as a VA contractor, I made $65,000 year. Glassdoor's reported range of salaries for data analysts are between $61,000 and $88,000
5. Virtual Assistant
Big corporations, small businesses, and entrepreneurs desperately need virtual assistants. Virtual assistants basically take care of online administration tasks and therefore don't need to come into a physical office setting in order to do their job.
Online administrative tasks that virtual assistants do:
Manage and monitor email
Social media management
Manage a schedule
Transcribing meetings and conference calls
Preparing presentations
Answering support tickets and emails
Manage a list of contacts
Email outreach
And much more
How much do virtual assistants make? The average salary is $31,000 a year with the high end being $49,000.
6. Affiliate Marketer
Affiliate marketing is when you promote brands and products through affiliate links (links with affiliate codes or referral codes attached to it for tracking). When someone makes a purchase or performs a specific action through the link, you make a commission.
Affiliate marketing was something I only learned about because of my blog as you will see throughout this blog a variety of brands and products I promote. I make a commission off of your purchases through those links.
This skill is a great skill to have as many bloggers are looking for help with their affiliate marketing strategies as well as companies.
Resources to learn affiliate marketing:
How much do affiliate marketers make? If you do this full-time for a company (and not a blog), you can make up to $112,000 a year. If you are on the other side of the coin and the one making affiliate commissions from a blog or other platform, your earnings depend on your audience, traffic and a couple of other factors.
7. Proofreader/Copyeditor
If you love to read, you could actually get paid to read. Hear me out.
Are a stickler for correct spelling and grammer? You could become an online proofreader or copyeditor. The two are however often mistaken to be the same thing and they are not.
Copyediting is the step taken before proofreading where all the spelling, grammar and punctuation errors are corrected. Then the piece is sent off to be proofread in which it is a nearly finished product but proofreaders check for any typographical errors such as minor text and formatting errors.
Online proofreaders are often copyeditors as well and can work entirely remote as part-time and full time. I recommend this 76-minute FREE online workshop that introduces how to create a profitable proofreading/copyediting online business.
Where to find proofreader/copyeditor jobs:
How much do proofreaders/copyeditors make? Copyeditors make between $45,000 and $65,000 a year.
8. Writer/Copywriter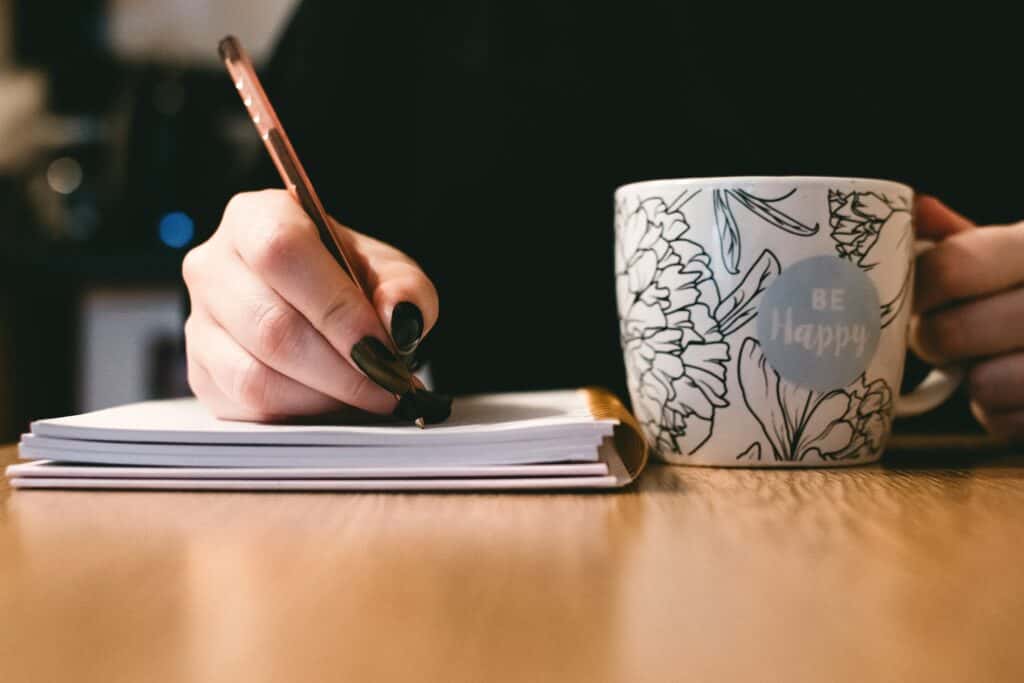 To extend on our job opportunities that pay well for reading and writing, writers and copywriters often make a decent salary working from home.
However, if you mainly stick to freelance work, you may find it hard to have a consistent pay month-to-month.
Different writer/copywriter jobs:
Ad copywriter
Website copywriter
Freelance writer for online publications
eBook writer and/or book author
Self publisher
Content writer for large publications, startups, and corporations
How much do writers/copywriters make? It absolutely depends on the type of work you do and how many streams of income you can create for yourself as a writer but according to Glassdoor, you can make up to $98,000 a year.
9. Voice Over Actor
Voice over acting and audiobook narration are some great remote job opportunities especially for those who love to talk and express themselves vocally.
However for these types of jobs you will have to have some samples to present and the necessary home setup to be able to do your job.
The setup needed for voice over:
A mic
Headphones
Recording and editing software
A quiet space and a computer
How much do voice over actors and narrators make? Usually, they are paid per job but the reported pay is up to $200 an hour.
10. Pet Sitter
Working as a pet sitter in your own home means you can make money without ever going into an office or having to talk to people (just animals).
That's my kind of gig. I tried this with Rover but only did drop-in visits in pet owner's homes. If I offered to do it in my own home, I would have a lot more bookings but I don't want to put our current pets through that stress of new animals always coming and going.
If you don't have pets or only have one pet that loves other pets, pet sitting in your home might be a great option for you. You can create your own pet sitting business and run it out of your home or register as a sitter on apps like Rover and Wag.
How much do pet sitters make? When I pet sat for Rover, I made $15 for every half hour drop-in visit.
11. House Sitter
House sitters are a great way to make money from home and are pretty legit (depending on where you find your house sitting gigs).
You can house sit in other's houses in your own area or travel and get free accommodation (while also getting paid) to house sit.
The best sites and apps to find house sitting jobs:
Rover (not just for pet sitting)
How much do house sitters make? The national average reported by ZipRecuiter is $52,000 a year.
12. Child Care/Nanny
You can work from your own home babysitting or you can work for others in their homes as a nanny.
You don't need any sort of formal training to work these gigs but it does help to have experience working with children.
Where to find childcare jobs:
How much do child care workers make? You can make anywhere from $15 an hour to $40-$50 an hour depending on your employer and experience.
13. Customer Service/ Virtual Call Center
Working as a customer service rep means as long as you have a reliable internet connection and can take phone calls, you can work from wherever you want.
Keep in mind though that you will be on the phone or on online conference calls for most of your work day. If you hate talking to people, this isn't the job for you. But if you love it, go for it.
What customer service reps do:
Answer support calls and support chat boxes
Answer support tickets
Participate in conference calls
Troubleshoot issues
Document root cause analysis
How much do customer service reps make? The average pay is $15 an hour according to PayScale but can go up depending on your employer, availability, and experience.
14. Website Tester
If you love surfing the web and have an eye for detail, website testing is the perfect work-at-home job.
I've taken tests before for website testing and even though I wasn't selected on account of positions being full, it wasn't hard to pass. It also does not require any formal education or training. But you will have to have some level of tech savvy-ness.
What website testers do:
Click around on websites (there will usually be basic instruction of which use cases to test and what links to click)
Record your voice and describe the website behavior as you click and navigate the website
Record your screen as you navigate the website
Fill out a questionnaire at the end of the test session
How much do website testers make? Websites like UserTesting pay $10 per test. Browse FlexJobs for full-time website tester jobs.
15. Transcriber
Transcribing isn't exactly a skill covered by most college degrees so in your case, that's a good thing. However, you will have to watch out for sites that want to squeeze a lot of work out of you for very little pay. One inparticular you should stay away from is Rev.com as I've seen the pay reported as very low for the time put in by transcribers.
What transcribers do:
Listen to recorded audio
Type what you hear
Be as accurate as possible (but also quick)
How much do transcriptionists make? The average pay is $15 to $20 an hour but it depends on which site you sign up as a tester for or which company you end up working for.
When you are starting out as a transcriptionist, I recommend this free Transcribe Anywhere course.
16. Data Entry
Data entry jobs are exactly what they sound like. You get paid to enter data online using a variety of platforms.
The best sites to look for online data entry jobs:
How much do data entry jobs pay? Data entry clerks make up to $40,000 a year (and more if you take on some freelance work).
17. Travel Agent
You can either work as an independent travel agent or work for a travel agency. You could even use this gig to get paid to travel! But watch out for scams where you have to purchase anything upfront.
The home setup needed to be a travel agent:
Home computer with a reliable internet connection
Headset
Phone line
Printer
How much do travel agents make? According to Glassdoor, you can make up to $45,000 a year as a travel agent.
College Degree, License or Other Formal Training Required
If you have a college degree you'd like to leverage, there are tons of work from home jobs waiting for you.
18. Online Teaching Jobs
If you have a bachelor's degree and some sort of teaching experience (or any childcare experience), you may qualify to teach online.
There are a variety of sites hiring online teachers currently, both part-time and full-time.
Where to find online teaching jobs:
How much do online teachers make? You can make anywhere from $20 an hour to $26 an hour.
Related: Teach English Online: 10 Companies That Will Pay You to Teach and Work From Anywhere
19. Human Resources
When I worked for the company with an entire remote office, all of their human resources employees also worked remote.
You can find human resources work from home jobs at all the normal online job boards. Remember to filter the location by "Remote".
Where to find work from home jobs in human resources:
How much do human resources employees make? You can make up to $90,000 a year in HR, according to Glassdoor.
20. Bookkeeper/Accountant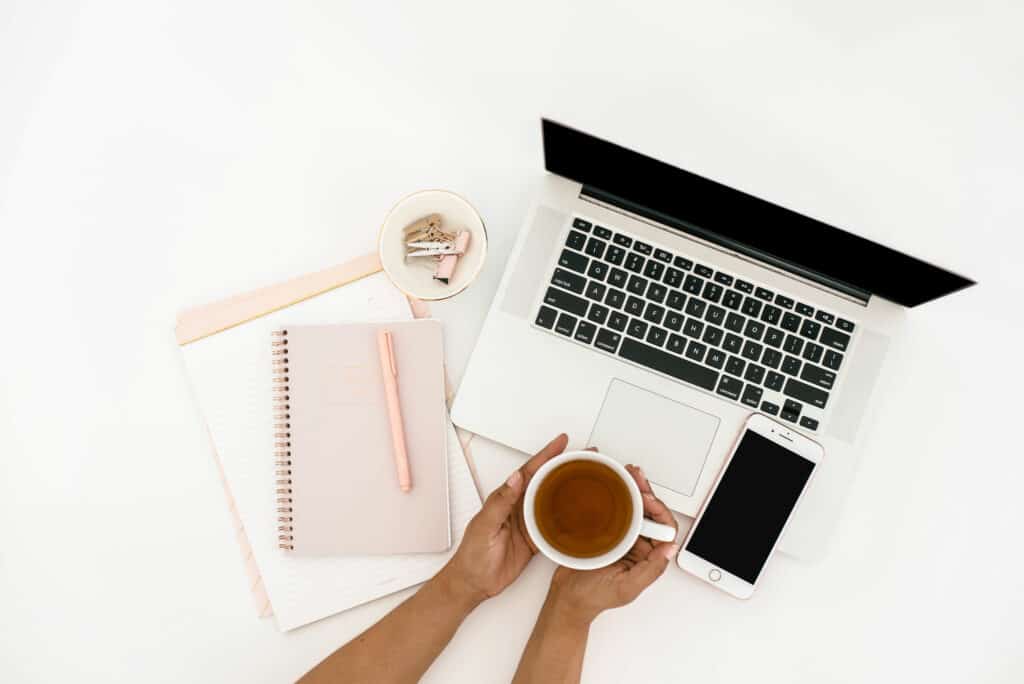 Most bookkeeper/accountants need the necessary education and training to first become a CPA (certified public accountant). Once you are certified, you can easily find online jobs.
Since most of the work CPA's do can be done online, they can easily be done from home or anywhere with a secure connection.
What bookeepers/accountants do:
Keep a record of all transactions
Produce financial statements and other reports
Manage some or all of the organization's accounts
How much to bookkeeper/accountants make? According to Glassdoor, you can make up to $75,000 as a CPA.
21. Translator
Ok, you don't absolutely need a college degree to offer translation services but the credentials do help when there is a lot of competition.
However, if you are naturally bilingual in 2 or more languages, you can easily find work from home jobs without formal education.
What translators do:
Convert text from one language to another
Translate speech in real-time
Translate audio
How much do translators make? According to ZipRecruiter, you can make anywhere from $10 to $100 an hour as a translator.
22. Therapist
Therapists don't usually work remote but with working remote becoming so popular (and convenient), therapists can now work out of their houses and do skype sessions with their patients.
You absolutely need formal education and certification to become a therapist.
There are apps now designed around remote sessions with therapists like Talkspace where you can search for online therapists for much cheaper than a therapist in person.
How much do remote therapists make? Psychologists make up to $92,000 a year, according to Glassdoor.
Self Made
I named this category of work from home jobs "self made" because these are jobs you basically create yourself as a side hustle or entrepreneur rather than finding the job on a job board.
23. Blogger or Vlogger
Blogging is something that is not a get rich quick deal and doesn't have a stable paycheck attached to it. But it is so worth it.
It took me a year of blogging until I was consistently making over $1,000 a month but it was on the side of my full-time job (and other little side hustles). If I had more time to devote to it and invested in courses and the relationships early on, I think I would've been able to make more a little quicker.
Now I am making $2,000 – $3,000 a month and am approaching my 3rd year of blogging (still part-time).
Ways to make money blogging/vlogging:
Display ads
Sell products
And more
How much do bloggers make? It depends on how much traffic you get to your blog, the types of ads you serve and other monetization methods but according to Glassdoor, most bloggers make an average of a little over $30,000 a year. However, there are some bloggers out there making six figures or more.
Click here for how to create a blog.
Related: Blogging as a Side Hustle: Mid Year Blog Checkin, Income, Redesign & More
24. Podcaster
I've always wanted to get into podcasting but there are too many side hustles and too little time.
Podcasters work from home or wherever they want and run a variety of types of shows. The setup required to start a podcast is just your phone when you are starting out. An app called Anchor allows you to record your podcast with your smartphone.
Types of podcast show ideas:
Interview style
Story telling
Open dialogue
Thought streaming
And more.
How much do podcasters make? Your income with podcasting solely depends on if you are able to land sponsors or not. The average pay from sponsorships is $2,000 – $4,000 monthly.
25. Online Coach
Many bloggers straddle the line of blogger and coach. They use their blog to get coaching clients and thus, increasing their monthly income streams.
Some popular ways to work as a coach:
Life coach
Financial coach
Health coach
How much do online coaches make? Depending on how much you charge for your coaching services, you can easily make $100 an hour and up to $200,000 a year.
26. Course Creator
Creating courses are a great way to set up passive streams of income that pay you over and over again for months and years to come. You just have to partner with a company ot consultant that knows how to market those courses.
Or offer them on platforms like Udemy where they market the courses for you.
Teachable is another popular online platform to create online courses on a particular skill set you have.
Ideas for courses to create:
How to create a website
How to invest in real estate
Graphic design basics
Filing taxes as a small business owner
How to self publish a book
Crafting courses
Any skill you have that you think people already know, they don't and they will pay for a course on it!
How much do online course creators make? Depending on how you price your course, you can make anywhere from $50 to as much as $500 per purchase of your course.
27. Baker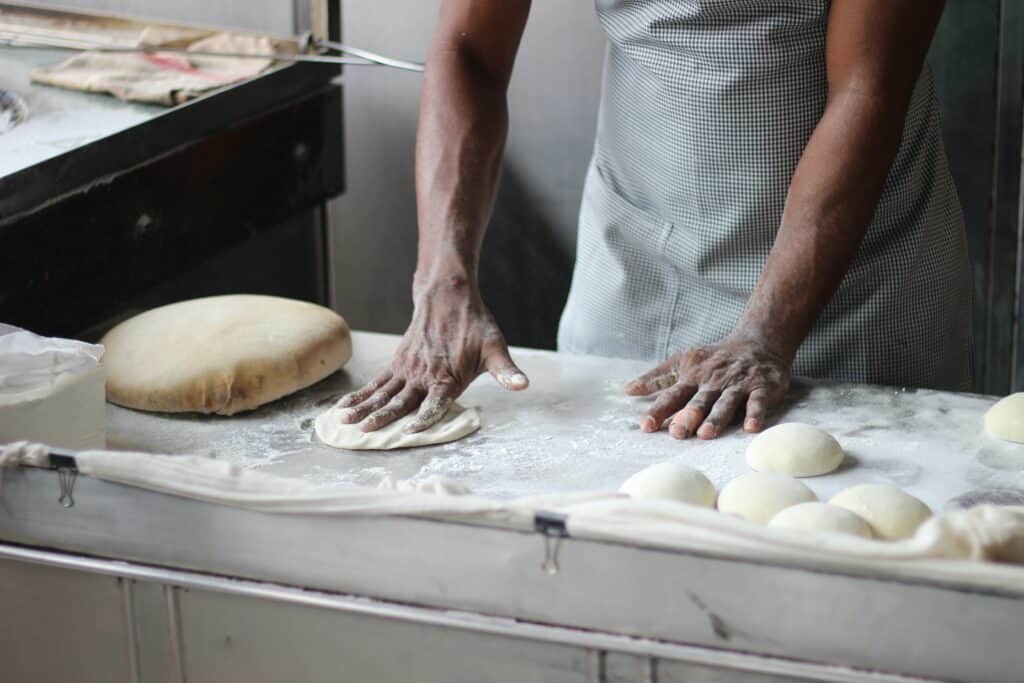 You can run a small bakery out of your house and work from home. Partner with a good online platform for checking out such as Square, and you have your bakery all set up and ready to go.
Ideas for what to bake:
Cookies
Muffins
Cupcakes
Cakes
Pies
Tarts
Danishes
And more
How much do bakers make? Bakers make $30,000 a year on avergae but you can increase this if you mix up your income sources by adding baking classes, baking books, etc.
28. Online Reseller
People are quitting their jobs to resell online full time from the comfort of their homes. From Amazon to eBay, there are tons of online platforms now that make reselling possible. It's not easy and takes some time to get ramped up with sales and profits.
There is also quite a bit of research that goes into making sure you can profit off of an item you find at a thrift store, in-store or online.
Platforms to use for reselling:
How much do online resellers make? Depending on how much stuff you can flip and resell, you can make up to six figures a year reselling online. My wife does this on the side of her full-time job with guitars and other items and has made up to $3,000 some months.
Sign up to get your FREE list of items to flip and resell!
Get your list of over 30 ideas for items to flip and resell for a profit!
Related: How One Couple Quit Their Jobs to Resell Bras on Amazon
Micro Jobs
Micro jobs are jobs that can be done almost anywhere (but usually at the client site) and are usually task-based. You work as an independent contractor and don't normally receive any sort of benefits like health insurance or paid time off.
29. Handy
Handy is a mobile app where people post jobs and tasks for others to pick up. You don't need any experience or education and everything is tracked within the app.
The types of jobs on Handy:
Home renovation
Home repair
Cleaning
And more
How much can you make on Handy? You can make anywhere from $14 to $45 an hour on Handy.
30. TaskRabbit
TaskRabbit is almost exactly like Handy with those same sorts of "handyman" type of jobs.
The most common jobs on TaskRabbit:
Moving
Packing
Cleaning
Heavy Lifting
Assembly
How much can you make on TaskRabbit? You can make anywhere from $15 an hour to as much a $100,000 a year, depending on the type of work you take on and how many jobs you do.
31. MTurk
MTurk is short for Amazon Mechanical Turk which is a crowdsourcing marketplace for businesses to outsource certain processes and tasks.
Tasks available on MTurk:
Enter and process data
Research
Locate images
And more
How much can you make on MTurk? This isn't the best option for the best pay but it works great if you need extra cash. Most people make minimum wage or below.
Related: 45 Best Side Hustle Ideas To Start This Year
How to Make Quick Cash From Home
These are not legit opportunities for full-time work but could make you a couple of bucks in your spare time.
Apps that will help you make quick cash:
How to Avoid Work From Home Scams
A couple of things to steer clear of when looking for work from home opportunities are MLM scams and other work-at-home scams.
MLM Scams
MLM scams are increasingly common now with the rise of Instagram and MLM company representatives preying on single stay at home moms via their DMs to buy inventory and sell the home-based job dream. The reality with these companies is they will try to get you to buy high priced inventory upfront with the promise that others will buy it and you also make money on referrals.
Working for an MLM is not a legit work from home opportunity and many people lose more money than they ever end up making back.
Common MLM scams to look out for:
Beachbody coaching
LuLaRoe
Amway
LimeLife
Work-At-Home Scams
Work-at-home scams are everywhere and they can fool you if you don't do the necessary background research on the company you are thinking about working for.
The red flags to look out for when spotting a work from home scam are:
Job posting lacks detail
Requiring any upfront payment
You can't find any information on the company (they are online ghosts)
When things are too good to be true, they usually are
I also love using the BBB to look up any scam reports on companies.
Enjoy a More Balanced Work Life
The ability to work from home is an extremely convenient and privileged way of making a living. Some may not have the skills or resources in their home to be able to pull off a fully remote lifestyle.
If you have the skills and resources to take advantage of, definitely do. But only do if it makes sense for you.
Some people actually do 50% work from home and 50% in the office to still have that social connection. This is something I currently do with my current job but only because it is their normal working situation with all their employees – that people can work from home whenever they want. I have been thinking about asking if I could move to full time remote and see what they say.
This is another strategy to work from home, to ask your employer. The worst thing they can say is no.
Have you ever worked from home? Where did you find your work from home job? Let us know in the comments below!
More ways to make money and work from anywhere:
Pin it for later!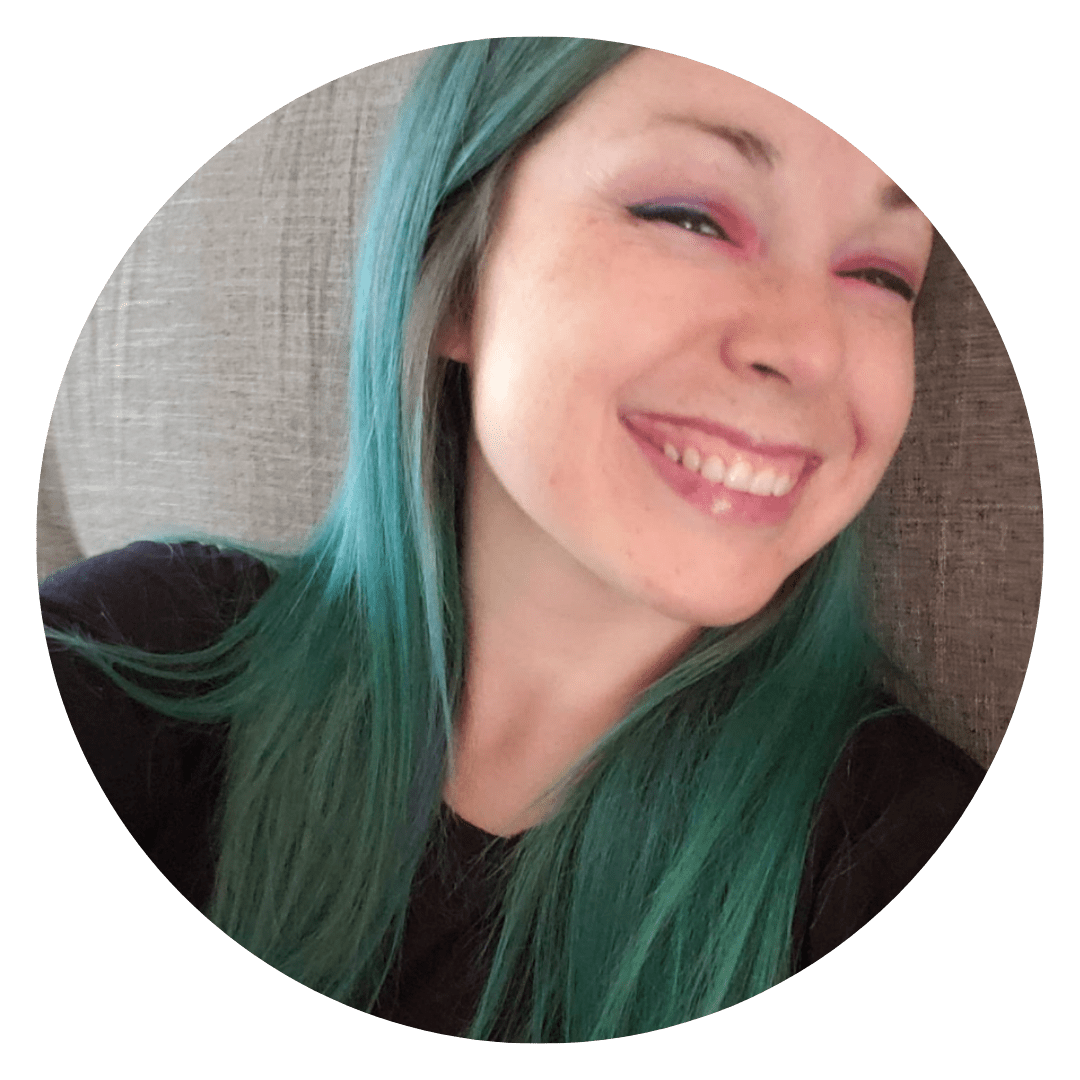 Daniella is the creator and author of iliketodabble.com. When their wife Alexandra and them aren't globetrotting or playing with their 7+ animals, they are dabbling and working towards a future of financial freedom.