Our website is supported by our users and contains affiliate links. We get paid when you purchase or sign up for anything through those links. Read the full disclaimer for more information.
Last Updated on January 26, 2021 by Daniella
You may have heard of a social media manager, "but what exactly does this entail?" you might ask.
Is it stalking via social media to get every detail on a person?
No, but that sort of attention to detail and determination (with the skills of navigating social media like that) will make you a great social media manager.
There are many tasks that a social media manager can do, which is the best part about it. You can limit it to as few or as many offerings as you'd like, but the more tasks you complete, the more likely someone will want to utilize your services, and the more money you can charge.
What is a social media manager?
Social media managers are also graphic designers, content marketers, and social media marketing managers.
They help build brand awareness through a brand's social media presence and social network to help draw their target audience to them (and engage with those potential customers). Social media managers do this by managing and curating social media channels for the brands they work for through a social media strategy of content marketing and social engagement.
They maintain the information on the social media page and profile, monitor and respond to comments, create and post shareable images, manage social media partnerships with other brands, and more.
The Different Social Media Sites You Can Specialize In
As a social media manager, you are also a community manager as well as a marketer.
There are a variety of social networks you'll use for your online marketing work. You can also specialize in specific social media sites and platforms if you didn't want to work with those that you don't enjoy using.
Social media platforms you can specialize in that have a growing demand:
Instagram
Twitter
Facebook
Pinterest
TikTok
Snapchat
YouTube
LinkedIn
Tumblr
Reddit
Remember, the more platforms you support and tasks you can do will mean how many people will want to utilize you and how much you can charge.
Who can be a social media manager?
Anyone with social media, some graphic design, and digital marketing skills can leverage those skills to become a social media manager.
This is perfect for anyone wanting to make a little extra cash or even turning it into a full-time job or business.
You can offer a wide variety of creative and marketing services, such as:
designing graphics
making memes
content strategy
content marketing
social strategy
social networking
moderating groups
interacting with followers
moderating social media giveaways
hashtag research and use
managing social accounts
content creation such as creating marketing copy and captions (such as micro blog posts)
marketing strategy
creating marketing campaigns (such as Facebook ads)
managing a social content calendar and scheduling content
social media analytics
social media advertising (paid)
You could also offer services on the technical or administrative side, such as:
paid and organic advertising
funnels
answering customer questions through a chat feature
SEO
data reports
Google Analytics reporting
engaging with people
researching hashtags
creating video content and other types of digital media
scheduling content.
How does one become a social media manager?
You can become a social media manager for little or no money to start (depending on what you already have).
There are a couple of tools required to get you up and running. Let's start off by talking about those.
What You Need to Get Started
Starting out, you'll want a computer, a decent phone or tablet, and a nice & cozy little office set up (I guess that the last one isn't a requirement; however, it will help you stay focused and comfortable while working from home). Once you have your set up, you'll want to look into different tools you will need as a social media manager.
Well, today, you're in luck because I have compiled a free list of online tools anyone can use in their social media business.
They are as follows:
Related: 30+ Blogging Resources to Create and Maintain a Profitable Blog
How to Find Software Tutorials
Start by practicing using the tools above to create and test social media content, so that you are up to par once you start landing clients.
There are also many online courses and webinars to give you helpful tips and to show you how to use different tools if you don't have the experience. You can find some good ones in freelancing Facebook groups or searching on YouTube or Facebook.
Setting Up Your Online Social Media Manager Portfolio
Next, you should set up a website or online portfolio of some type. Currently, I am using an online portfolio that I put together through Wix.
You can also use WordPress for an easy website setup. Even though Wix provides a quicker setup, WordPress provides more options for customization.
I have samples of my work, contact information, a contact form for them to fill out with any questions, a place where I sell social media manager templates (even more side hustle money), my previous experience, and client testimonials. You may not have all of this right away, but it's good to keep in mind. Put any information or previous work that you have on there, and you'll build as you go.
Next, if you don't already have one, you'll want to create a professional email address. You can create a free email account on many different email sites, but I just simply use Gmail. The easier the email is to remember, the more likely the clients are going to be able to contact you quickly.
Related: How To Create A Self Hosted WordPress Blog
How to Find Clients
When you think you're ready to begin looking for clients, you want to make sure that you are very organized. I like to stay organized in Trello and in an old school notebook.
The notebook is just my extra back up security in case something happens to my computer or other electronics. It's also nice to have a notebook so that I can quickly jot things down when I'm on the go and easily referred to if I need something.
Where to Start
At this point, you're ready to begin your search. You can sign up for apps to find clients like Upwork, Fiverr, and Freelancer. These apps connect you with other people, businesses, bloggers, brands, and influencers looking to hire freelancers, and you'll have a lot of luck searching for social media management work here.
You can also look on job platforms like Indeed or Craigslist, but I just stick to Facebook groups on social media managers because it's less saturated in individual groups, and you are more likely to connect with your client on a more personal level. It's a good idea to niche down to something specific because then you'll be able to find groups that will better match up with the type of target client you're looking for.
You can also use the search bar on Facebook and filter it down to searching in a group individually, and either type in what your niche is to try to find a group to join or you can type in social media manager (or social media manager virtual assistant) and search through the public posts that were posted most recently. Once you find someone (before you reach out), you'll want to take the time to draft up a message or an email because the more professional and grammatically correct the email is, the more likely they are going to want to use your services.
Since you're most likely to be engaging, managing messages, and creating captions; your first impression through email is crucial, and your client is going to be looking to see if everything is spelled correctly.
Accepting Payment
You'll need to set up a payment system like PayPal, Venmo, or Wave so that you can start collecting payments. It is always the standard to put aside around 30% per payment for when tax time comes around, and it's encouraged to file taxes quarterly so that you aren't left with any surprises during tax time (and prevent fees from the IRS). QuickBooks and Wave are great for keeping track of that and creating invoices.
Once you have done some work for the client for a couple of weeks, it is always nice to send them a thank you or some form of appreciation. I typically do a follow-up and ask them how things are going, if I need to improve on anything, or if they like my services. It's always nice to ask because it shows that you genuinely care for your clients. Once they are satisfied overall, ask them to write a review for you so that you have some shown on your social media pages, and then you can share on your website.
Legal Mumbo Jumbo
When working with clients as a freelance social media manager, you will be doing so as an independent contractor and you will need to lay some ground rules before proceeding to work with each other. You will need a contract and statement of work. You might think this isn't worth it but it helps make sure you get paid and they get the services they ordered.
Either way, you'll be glad you have it to legally protect yourself.
I recommend these templates from A Self Guru (these are all created by a business lawyer, fully customizable and easy to use, and where I get all my legal templates from):
Independent Contractor Template: What to send your client before beginning work.
Sponsored Posts Contract Template: What to use if you decide to include sponsored partnership management in your social media manager services. You will use this every time you negotiate a sponsored partnership between your client and the brand that wants to work with them.
Related: How to Legally Cover Your Side Hustle
Parting Words: Always Keep Learning
Definitely start out by only offering a bundle of services specialized in one or two platforms and add more as you become more comfortable managing the load. Always keep learning and tweaking to make your business fit more to your liking (and cash flow you want).
Lastly, I wanted to mention keeping up with different trends. As technology emerges, it is beneficial to keep taking classes and reading about upcoming and new technology.
You should also follow influencers and big businesses to track their trends alongside your trends so that you're with the times and keep your client's current followers and expand to gain more followers and get more engagement to aim your client's business in the right direction.
What questions do you have regarding this side hustle idea? Let us know in the comments below!
Sign up to get your FREE Side Hustle Idea Mind Map Template
This mind map template will help you decide everything you need to do to get your idea up and running + see if it is the right idea for you.
More side hustle ideas:
Pin it for later!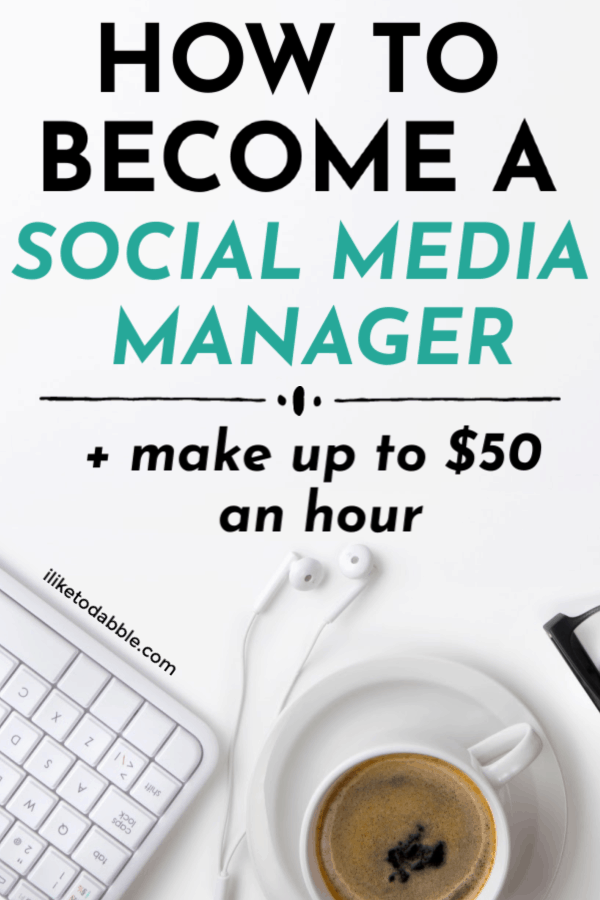 Erin has been a freelance writer for different blogs and companies for the last 8 years. As an honors graduate from Rasmussen College in Marketing, creating is her passion. She loves to write about pretty much anything, as long as it gets her brain going!