Our website is supported by our users and contains affiliate links. We get paid when you purchase or sign up for anything through those links. Read the full disclaimer for more information.
Last Updated on December 12, 2022 by Daniella
Researching how to become a brand ambassador 10 years ago versus today are two very different (yet similar) things. It was mostly word of mouth and using good ole' Google.
I started my job search to become a brand ambassador 10 years ago and mostly found out about gigs through other friends. They would give me their contact's email address or told me to look on Craigslist which is where I found all the gigs I worked in my early 20s including working for the NFL and Bacardi.
It was a great way to make good money on the side of finishing out my Bachelor's degree.
What turned me onto the gig was that most brand ambassador jobs usually started at $25 an hour. That was a much higher pay than other jobs for someone still in college and it still is.
Keep in mind 2010 is the same year that Instagram emerged on the app store (and 3 years after the first iPhone came out). It was in a matter of years that influencer marketing was born and changed the game for what being a brand ambassador means.
From representing a brand in-person to online influence, brand ambassadors continue to evolve and multiply the profits for the companies they partner with.
You've probably seen your fair share of influencers on Instagram and have a couple of accounts that you love to follow. They are (in some way) brand ambassadors. It isn't a tough game to get into, but it is strategic.
I put together this ultimate guide for how to become a brand ambassador including:
What you need to get started
Steps to take
What to look out for
Avoiding scams
Other useful tips
2010 is the same year that Instagram emerged on the app store (and 3 years after the first iPhone came out). It was in a matter of years that influencer marketing was born and changed the game for what being a brand ambassador means.
How to Become a Brand Ambassador: 16 Ways
There isn't any specific education you need to become a brand ambassador and many different ways to get gigs.
1. Look for In-Person Opportunities
As stated above, Craigslist was a great avenue for me but those listings always had an email address, website and phone number. Each opportunity I found via Craigslist involved me speaking to an actual person on the phone before going to the interview.
Do not proceed to meet anyone in person from a Craigslist ad without speaking to them on the phone and getting some information about the company beforehand. Look up the website, address and anything you can find online about the brand.
In addition to Craigslist, you can find in-person gigs on the following sites and searching "brand ambassador" for the job title:
Facebook
Indeed
Glassdoor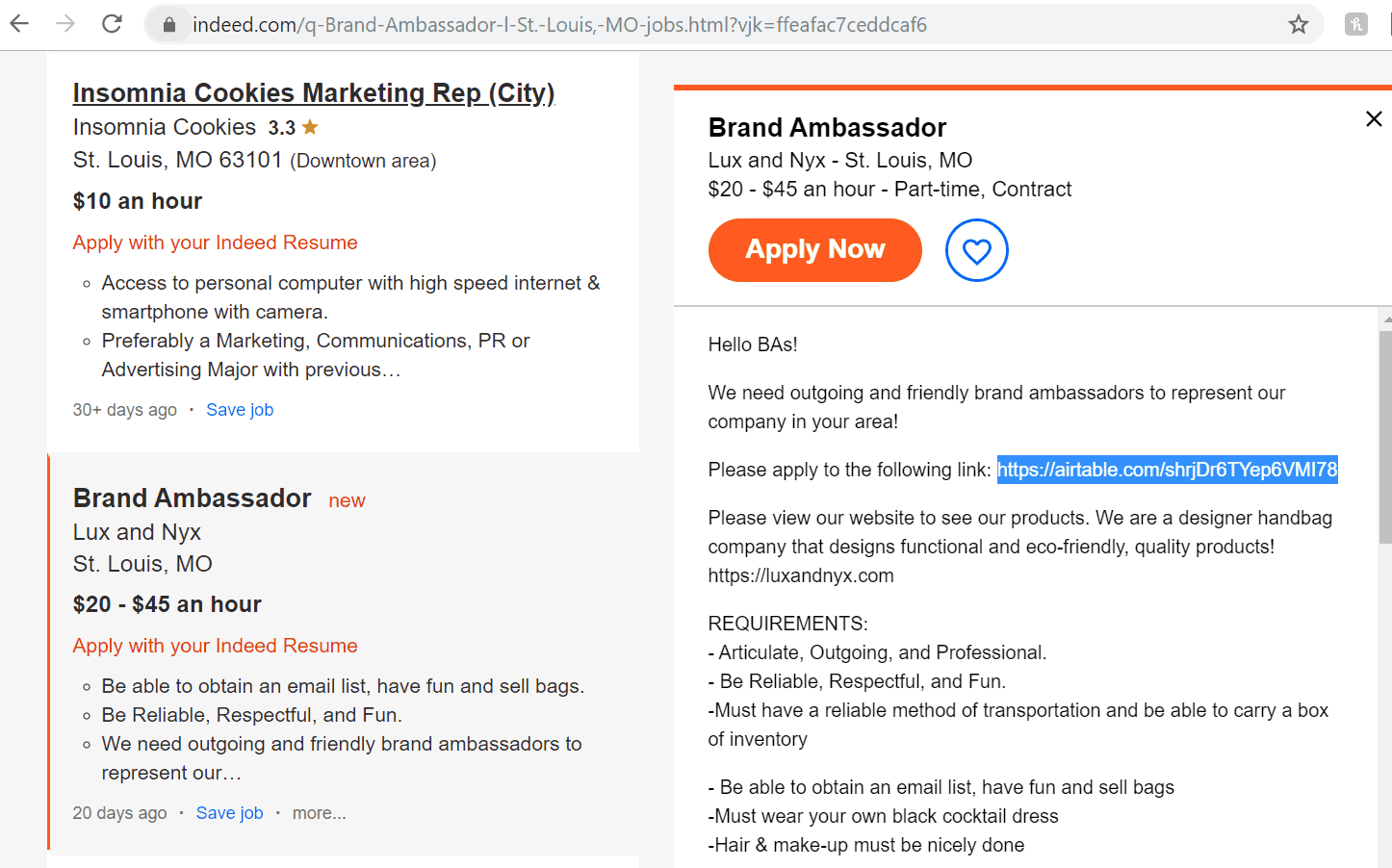 2. Choose Your Main Platform (Youtube, Blog, or Social Media Only)
If you decide to become an online brand ambassador or "influencer", pick your main platform to start out with and expand later if you want. I say to start with one because it can become difficult (and distracting) when trying to manage multiple platforms and accounts.
Look up free resources and courses for how to start a blog, YouTube channel or Podcast. Don't invest in any paid training until you have a clear plan of how you will make that money back.
If running a blog or creating multiple videos and podcast episodes seems like too much, start small with a social media account first like on Instagram. Create a clear profile, post meaningful content and post often. Give yourself some time to build up an audience and then think about creating a website to expand your audience.
3. Learn Marketing
To become a successful brand ambassador, you will need to learn some basic marketing skills. This starts with your brand story which is a story that inspires a certain emotion in your target audience.
This is something I was resistant to at first but as soon as I started to go off and learn some of this stuff, everything became much easier.
Basic marketing educational resources I recommend:
Udemy is a great resource for looking up courses on any skillset you are looking to explore, including marketing. Click this link and then type in marketing to browse courses.
4. What's your story?
Do you have a clear vision of the story you want to tell your audience?
This should be a story about you and how it relates to your niche.
Questions to ask yourself when putting this story together:
Who are you?
Why are you creating this platform/profile?
Who is your ideal audience?
How can you help them?
What is something you've overcome?
What makes you different from others in your space?
5. Know Your Audience
Do you know who your audience is? If not, I suggest you start jotting down some characteristics of the people you are trying to reach through your platform. The easiest way to do this is to think of a common problem your audience has.
For my blog, I followed an exercise where I created an avatar of my audience. This avatar would represent most of my audience even though there was a range of ages and backgrounds my audience comes from.
Then think of the types of brands that resonate with this audience. These are the brands you will want to partner with.
6. Create an Engaging Social Media Profile
To create an engaging social media profile, you must create content that attracts the audience described in #5.
There are many factors that make the perfect social media profile that brands want to work with.
This is what brands look for in your social media profile:
Follower count and how that relates to the engagement on your content – If you have a high follower count and no engagement, this would hint that you bought your followers. Brands won't want to work with you if they suspect this.
What makes you different? – Be real about who you are, what makes you different and try to do things differently than everyone else in your space. A brand wants to work with someone who stands out and can help them build their image.
Create your own brand of yourself – As an online brand ambassador and "influencer", you are a brand. Even if you don't think so, start seeing yourself as one as it will be easier to work with other brands this way and talk to your audience.
Does your niche and message fit with theirs? – What keywords do you come up in searches? Does your message of how you come across fit in with the brand's message (does your "brand" fit in some way with theirs and who they are trying to reach)?
7. Be Active on Your Platform and Social Media
To me, being active means posting at least weekly. On social media, however, you may need to post daily to keep in touch with your audience.
For my platform being my blog, this is how often I post:
Once a week for original content
Once a week for guest posts or syndicated content
I also email my audience once a week for new content (if they signed up for emails)
This is how often I post on social media:
I use Canva for all of the graphics that I post on all of my social media channels. You can follow this helpful guide to create templates for your graphics and save you a ton of time.
8. Be Authentic and Post Valuable Content
Being authentic means to be genuine. It is like going to work and sitting through meeting after meeting, discussing the same "small talk" over and over again. That isn't very authentic and everyone knows we just do it to get through those unbearable meetings.
Your audience doesn't want that type of interaction as they are exhausted from it in their everyday lives. They want real $hit. Don't echo the same "fluff" everyone else in your space is echoing. Provide real value that can help your audience.
What is something they can only get from you? – You.
9. Learn Hashtags and Personalize
Identify a couple of hashtags for your brand to use and attach them to your current and future posts. Create new ones for giveaways and certain special promotions you do on your profile.
When you reach out to brands later, showcase these posts to the brand showing them the types of campaigns you can run with them. It will also show the brand you know what you're doing.
10. Think of Brands You Love and Reach Out
Think of brands you use in your everyday life and if they fit with your own online brand. If they do, jot down the first 5 you can think of and look for their contact information online.
On their websites, scroll to the bottom and look for their contact page or press page. Look to see if they have a marketing contact and if not, use whatever email address you can find on the contact page.
If you are a beauty influencer or blogger, find a way to get on your favorite brand's PR list so you can receive PR packages of their newest products for free. Look for their public relations contact information on their website to reach out to them regarding this.
For a basic checklist for reaching out to brands for paid opportunities, I really love this free checklist which I used for my first outreach emails.
11. Start Small and Go Up
Out of the brands you identified in #10, rank them from the companies that are the smallest to the ones who are the largest.
Reach out to the smaller ones first. This will raise your chances of landing partnerships to build up your portfolio and later reach out to the larger ones.
Then you will have a greater chance of landing those larger partnerships once you can show a good track record and established portfolio of past work.
12. Create a Centralized Place Brands Can Contact You
If you have a website, create a basic contact page with a contact email. Add this contact page on your main menu and footer menu so there are multiple clear places for brands to navigate to and find where to reach you.
If you don't have a website yet, provide your email address in your social media profile bio or create a free linktree to link to in your profile. Link to your other online profiles and your email in your linktree and brands can use this to reach you (and maybe where else to find you online).
13. Work with Influencer Marketing Agencies and Platforms
In addition to reaching out directly to brands, you can also join influencer marketing agencies and platforms (or brand networks) that serve as the middle man between you and the brand.
Brand networks with legitimate paid sponsored opportunities:
My favorite networks to find affiliate programs to promote:
14. Network
Network with other influencers and brand ambassadors in forums and social media groups. These can be people in your niche or not. They just have to be going for that same goal you are – landing paid gigs.
You can swap strategies of what worked and what didn't work. Share with others certain opportunities you find and share each other's content. These networks are also great for general support as sometimes the online world can be brutal.
15. Look at What Others are Doing in Your Niche
If you are struggling with coming up with ideas for sponsored campaigns you could partner with brands on (and what to pitch them), look at some of the top performers in your niche. Don't steal directly from them but use what they are doing as inspiration.
Look at multiple different profiles and see if they are doing anything new. Brain dump any idea that comes to your head from looking at the various profiles and strategies.
16. No Shortcuts
As mentioned previously, don't buy followers. You can participate in "follow for follow" threads, "like for like" threads or "share" threads starting out. This is just to get a boost but don't depend on them in the long term. You'll only create a strewed audience of followers that will eventually unfollow you.
You want to create an organic following with organic engagement. The only way to do this is slow and steady over time with authenticity – no shortcuts.
The Different Types of Brand Ambassadors
I was mainly an in-person brand ambassador 10 years ago as Instagram had just been established and influencer marketing wasn't anything like what it is today.
Fast forward to today where I run 2 blogs, multiple social media accounts and partner with various companies to get paid for representing their brand in one way or another.
In-Person
Do you have a Total Wine where you live? If you go there on the weekends (or any given day in my experience), you will find that they do free wine tastings for their featured brands.
This is one example of in-person brand ambassadorship but in this case, Total Wine is featuring certain brands in their merchant setting.
Brands also pay people to represent them and promote their product in a variety of different settings including:
Festivals
Conventions
Events
Parades
Bars and nightclubs
Grocery stores
Liquor stores
Gas stations
I was able to experience brand ambassadorship in an event and merchant setting. While working for Bacardi, I would be assigned to go to a specific liquor store, grocery store or event on that night (was a rotating schedule), make a drink and pour out samples of that drink. They would instruct me what drink it was I would make that night and what liquor to use as Bacardi had a variety of products. This was 2011 and at the time, Bacardi Dragonberry was often the product of choice.
Name a fruity drink and I probably made it with Dragonberry to give out to customers for free. I made $25 an hour plus a commission for any bottles of Dragonberry bought by a customer during the time frame while I was at the store.
Alcohol and tobacco brands love this way of marketing and still do this today. You work as an independent contractor for the company and do not receive any benefits besides perks like free stuff.
As a former smoker, I also did a couple of event gigs for Camel as an independent contractor.
10 years later, the current me cringes looking at that photo that I am sharing for context. I quit smoking a year ago and would never represent a tobacco company today in any setting.
Online
Online brand ambassadorship is also known as "influencer marketing" where someone uses their influence online via their social media account or another online following to promote a brand or product to their followers.
This is done through:
Posting pictures of yourself using the product with a caption about the product
Posting "stories" about the product
Entire social media account takeovers that can last a couple of days to a week
Giveaways and other online interactive events for followers to get more "word of mouth" out about the product
Promoting the product on your website, blog or to your email list
Partnering with a brand for videos, courses, ebooks, etc.
Being paid directly by a brand for sponsorship to promote the product
Being paid per sign up or purchase of the product
It is a great way to work remote and create your own hours once you get the ball rolling with partnerships.
Related: 11 Legit Online Jobs For College Students ($15/Hour or More)
Affiliate Partnerships
Affiliate partnerships are when you sign up as an affiliate with a company and use a set of promotional resources like links and ads to promote to your following.
When someone clicks the links and performs an action from that link (such as signing up, purchasing anything or downloading anything), then you receive a percentage or commission for that action.
You can promote affiliate links and ads via:
Your website or blog
Social media posts
Social media stories
Emails
Social media groups and forums
Courses, eBooks, etc.
Referral links
Referral links are a great way to get started with affiliate marketing. With referral links, they usually come with some sort of incentive like a special offer (such as a free $5, etc). Get started by navigating to apps you love that might help your audience, finding your referral link and copy/pasting it to share to your audience.
You don't have to be approved to share your referral links and it will give you a taste of what you will be doing with affiliate links (basically the same thing but aligns with a specific affiliate program policy).
Apps that I use and share my referral link from:
You can share referral links wherever you want. Your personal social media profiles, your professional or personal brand's (or blog's) social media, website, blog, YouTube, podcast, anywhere.
Sponsored Partnerships
Sponsored partnerships is when you work with a brand to negotiate either a temporary or long term "sponsored partnership". They would pay you to promote their product through whatever means are included in the contract that you negotiated with the brand.
This sponsorship could include:
Sponsoring a video, blog post, social media post, email, etc/
Sponsoring a month of posts
You posting a story and social media post of you using the product and your review of hte product
Publishing a review in video format or blog post format
A social media takeover of either their account or your account
Receiving free products in exchange for online reviews
Sponsored free airfare and travel in exchange for travel-related reviews, itineraries, social media posts and stories, etc.
And a billion of other ways that you can promote their product to your audience
The upside to this route is that you don't have to get any signups or specific actions from your audience in order to get paid (as an affiliate partnership entails for payment).
Related:


What do you need to become a brand ambassador?
You don't need any sort of college degree or advanced education to be a brand ambassador. To be an in-person brand ambassador, you need somewhat of a social personality and a clean background (if the company wants to do a background check).
I am not the most social person and am somewhat of an introvert myself. What helped me the most with getting in-person brand ambassador gigs was having experience in the service industry as a cocktail waitress and server.
To be an online brand ambassador, you need a smartphone and any sort of online following. This might take longer to build up if you are just getting started. The good news is more brands have started to work with "micro-influencers" more which are influencers with a smaller and more targeted audience.
What to Watch Out For
As with any opportunity, online or in-person, there are always schemes and scams to look out for.
MLM Scams
MLMs are multi-level marketing companies that make money from recruiting "consultants" to sell their products for them. Their model is very similar to pyramid schemes and I do not recommend ever working for an MLM.
I've known too many people who have lost more money than they ever made with MLMs.
MLMs will sometimes market their "consultant" positions as brand ambassador positions and will say that you "won't ever have to sell anything to make money".
Steer clear of these MLM scams at all costs.
Companies That Require You to Purchase Anything
Piggybacking off of the last item about MLMs, there are many companies and brands out there that will reach out to you via social media platforms and email asking you to become a "brand ambassador" for them.
After some discussion and you agree to promote their product for them, they will ask you to pay for shipping for the product or a small portion of the price of the product.
I tried one of these "brand ambassador programs" that actually reached out to me on Instagram. I later found out on a Facebook group for influencers I was in that the program was pretty shady and charged others in the groups monthly or multiple times a month without saying they would upfront.
I quickly withdrew as I did not agree to a subscription. See the screenshot below from my interaction with them. If you see this brand name come across your DMs, don't fall for it!
If a company pulls something like this, they are just trying to get your money and don't care about any serious partnership.
Know Your Worth
When working as an online brand ambassador or "influencer", companies might ask you to promote their product in exchange for a free product. This is without any payment.
In this case, think about what they are asking and the time you will need to spend on their promotion. Chances are, your effort will be worth much more than a free product. I urge you to negotiate for the time you will spend on their promotion and come to a monetary agreement.
If they are unable to compromise, they aren't worth it.
When working as an in-person brand ambassador, you might find that it will take some time to get paid. This is because they use third parties to pay you and usually payout monthly (unless it is one event and it can take up to a month or two months after to get paid). You will also be responsible for all expenses and taxes as an independent contractor when working as an in-person brand ambassador.
Follow Guidelines to a T
This is especially important for online brand partnerships.
When you get into an agreement with a brand, be sure to fully understand all terms of the contract before signing and starting work.
Be aware of all the rules you will need to follow during the term of the contract. If you break any of the rules or don't follow all of the guidelines fully, you might run the risk of forfeiting payment.
Many people who run blogs and promote to their following might have a resource to review these legal agreements, but many normal people don't. If they don't bring up a contract, I urge you to create one using this template and get them to sign and agree to your terms (while discussing anything additional they need and if extra payment will be added for those) before starting any work.
Frequently Asked Questions
What is a brand ambassador?
A brand ambassador is someone who represents a company and its products either in-person or online.
Companies use brand ambassadors as a medium to their customer base to build brand awareness. This is a way to personify their brand and make it easy to interact with, in an attempt to "influence" the customer.
Brand ambassadors do this through a variety of settings including online social media, blogging, vlogging, podcasts or in-person interaction at merchants and events.
What do you need to become a brand ambassador?
You don't need any sort of college degree or advanced education to be a brand ambassador. To be an in-person brand ambassador, you need somewhat of a social personality and a clean background (if the company wants to do a background check).
I am not the most social person and am somewhat of an introvert myself. What helped me the most with getting in-person brand ambassador gigs was having experience in the service industry as a cocktail waitress and server.
To be an online brand ambassador, you need a smartphone and any sort of online following. This might take longer to build up if you are just getting started. The good news is more brands have started to work with "micro-influencers" more which are influencers with a smaller and more targeted audience.
How much does a brand ambassador make?
In-person brand ambassadors make anywhere from $15 per hour to as much as $50 per hour and it depends on the brand, event you are working, and level of ambassador. Online brand ambassadors (or influencers) make what they are paid in affiliate commissions or whatever is negotiated in their sponsored partnership contract.
How many followers do you need to become a brand ambassador?
This entirely depends on the brand and type of influencer they are looking to work with. You could have as low as 1,000 followers with high engagement and still be able to land brand deals.
What skills do you need to be a brand ambassador?
Successful brand ambassadors tend to be very sociable, know their audience, drive high engagement with who they are talking to (both online and in-person) and aren't afraid to step out of the box and do things differently.
Pave The Way for Future Opportunities
Once you find your first gig as an in-person brand ambassador, more opportunities will continue to present themselves to you. Most people who are brand ambassadors tend to represent more than one brand so you will meet others who will give you connections to new gigs.
The same goes for online representation and influence. Once you get that first brand deal, the next few will come easily as you get more experienced reaching out and hone your marketing skills.
Start small, continue to learn and great things will come.
Have you been a brand ambassador before? Have you been able to land big brand deals and if so, who was your biggest partnership with? We would love to hear from you in the comments below!
More ways to side hustle:
Subscribe to get your free list of side hustles you can start this week!
Claim your free list of side hustles + tons of helpful resources to get started!
Pin it for later!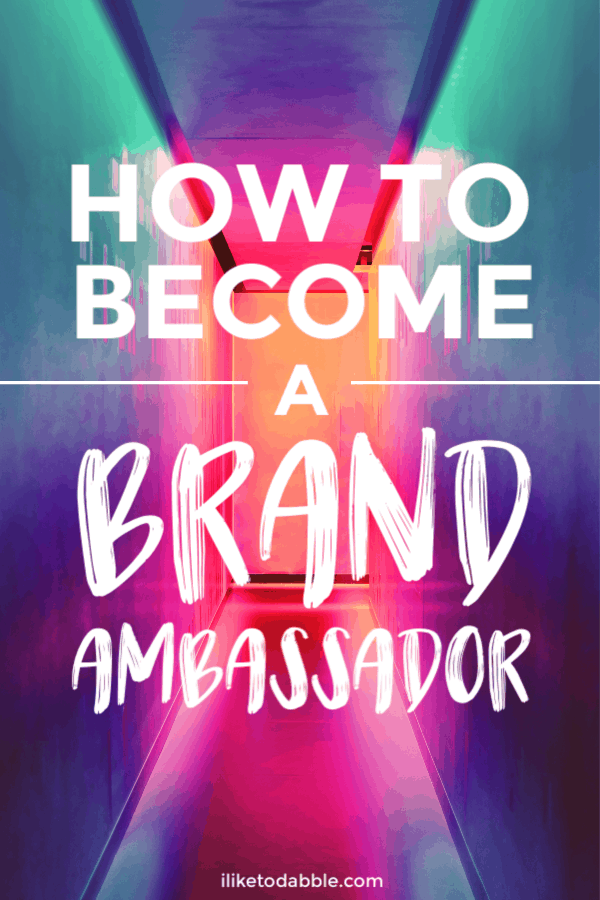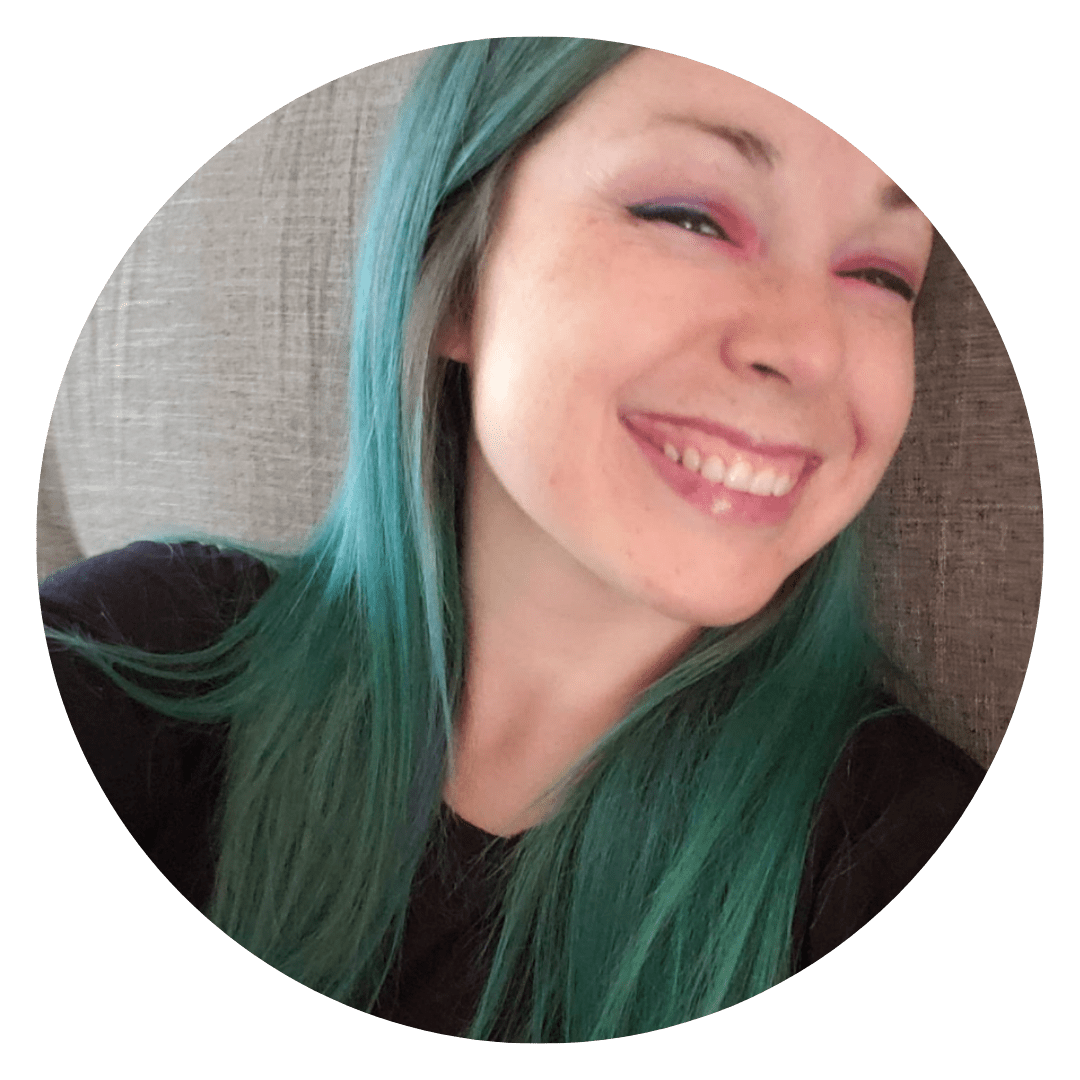 Daniella is the creator and author of iliketodabble.com. When their wife Alexandra and them aren't globetrotting or playing with their 7+ animals, they are dabbling and working towards a future of financial freedom.