Our website is supported by our users and contains affiliate links. We get paid when you purchase or sign up for anything through those links. Read the full disclaimer for more information.
Last Updated on November 30, 2020 by Yovana
Recently I've been on a kick lately for finding the best side cash opportunities. These aren't exactly the same as full-on side hustles as they are quicker ways to scrounge extra cash using apps (and mystery shopping apps are great for that).
I was able to make $11 on EasyShift (2 shopping jobs) over Memorial Day weekend in 30 minutes! That's better than most survey apps.
Even though they may not be able to replace a full-time income, they can definitely help you earn extra income in a smaller amount of time than other side hustles.
The only things missing in my recent post about the best side hustle apps were mystery shopping apps.
I want to go through which apps I've found to be not only the most profitable but also the ones with the most jobs available.
Pin it for later!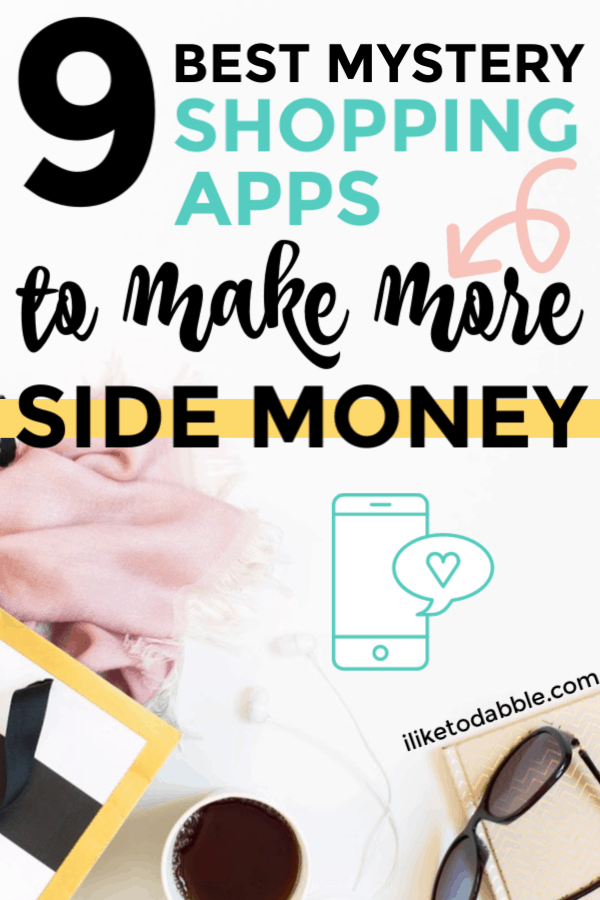 But first – What is a mystery shopper?
A mystery shopper is someone who visits a merchant incognito to gain access to the goods and services in which they will be reporting on and reviewing. That person is then paid by a shopping company for the findings while on location.
Mystery shopping is used by market research companies, watchdog organizations and internally by companies themselves (or by using services from a company like Market Force).
The sole purpose of mystery shopping is to gather data on products and services, measure the quality of service or measure compliance with regulations.
Can anyone be a mystery shopper?
Yes!
You do not need any sort of formal education or shopping experience besides the basic training and information the apps actually supply to you before accepting any jobs. But it does help to do a little research.
Mystery shopping is especially perfect for people who love to shop, browse stores and have the extra time to fit in shopping jobs.
In order to be paid, you have to complete the jobs exactly to the expectations of the specific app. If you do not, the app can actually reject your job and you might not get paid.
Examples of when mystery shopper apps can reject a completed job:
If you do not capture all the products in a display (if some are missing from getting cut off in the photo, you must take another picture showing the products that weren't fully visible in the last photo). EasyShift rejected one of my completed jobs because I did not take pictures showing items on the top shelf fully (they were cut off in my pictures).
If you do not capture all of the products in a narrow aisle due to restricting space. If you find yourself in a narrow aisle for a job, take as many pictures of you can in the aisle at both an aisle view and head-on view.
Subscribe to get your free list of side hustles you can start this week!
Claim your free list of side hustles + tons of helpful resources to get started!
Is Mystery Shopping Legit?
Not every mystery shopping job out there is going to necessarily be legit so you have to be careful and do as much research as possible on the company's history (or in this case, the app's history).
I normally check BBB for this or by reading other Google reviews of the apps and their ratings.
Related: How to Become a Brand Ambassador: The Ultimate Guide
The Best Mystery Shopping Apps
I've done mystery shopping work for companies in the past like Best Mark but never tried anything with the apps. It wasn't until I saw someone on Twitter raving about how much they made on Field Agent that I started to do a little deeper digging on the idea.
I've personally tried shopping jobs on 5 of the 9 apps in this list, but have downloaded all 9 apps to verify the legitimacy of the apps themselves (and test out some of the functionality).
Secret shopper activities that you might complete using these mobile apps include (but not limited to):
Taking photos of the location
Taking photos of displays and individual items
Taking photos of bar codes or scanning bar codes with your phone
Reviewing online services
Speaking to employees and asking them questions
Speaking to customer service either in-store or on phone calls (if you do any telephone mystery shops for customer service reviews). However, phone mystery shops are not common on the jobs available in these apps.
Checking in at locations
Buy and try items (and answer questions about the item)
And much more.
1. Field Agent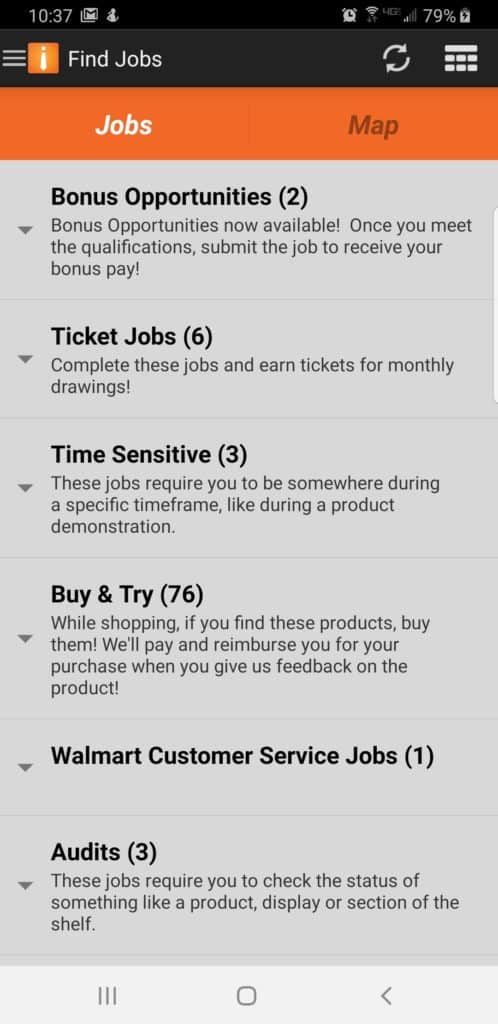 Field Agent is a mystery shopping app that you can use on your smartphone to view available shopping jobs nearby via the map or list view.
The types of jobs range from a variety of categories including:
Buy & Try (where you have to buy a product for the job but you get reimbursed for that product in addition to your payment for the job upon completion)
Ticket Jobs (where you earn tickets for monthly drawings)
Walmart Customer Service Jobs (where you take pictures of the store and answer questions based on your experience talking to the store employees)
Audits (where you take pictures of products or displays and answer questions about them)
General (a little bit of everything)
Anywhere Survey (jobs that are not location-specific)
Scavenger hunt (where you find products in stores with exact UPCs in the job, take pictures and answer questions)
Field Agent has the most shopping opportunities that any other app on this list. And most of them pay pretty well (try $6.50 payout for only one product scavenger hunt).
Each job's allowed time is always the same: 2 hours. If you are unable to complete the full job in that time frame from the time you accept the job, you may not get paid. Besides that time constraint though, most of the jobs are fairly easy to complete and most pay over $6.00 (for things that only take a couple of minutes to complete).
Income Potential: $3.00+ per Buy & Try with Audits at $4.00+ and Scavenger Hunts at $6.00+. You can make $12+ an hour with Scavenger Hunts and other jobs depending on the amount of time it takes you to complete a job.
Amount of Jobs Available: 100+ in a given area based on what showed up in my location.
Related posts: 35 Best Side Hustle Ideas
How to Make $1,000 with Your Smart Phone
12 Sites and Apps Like Craigslist for Buying and Selling Online
2. EasyShift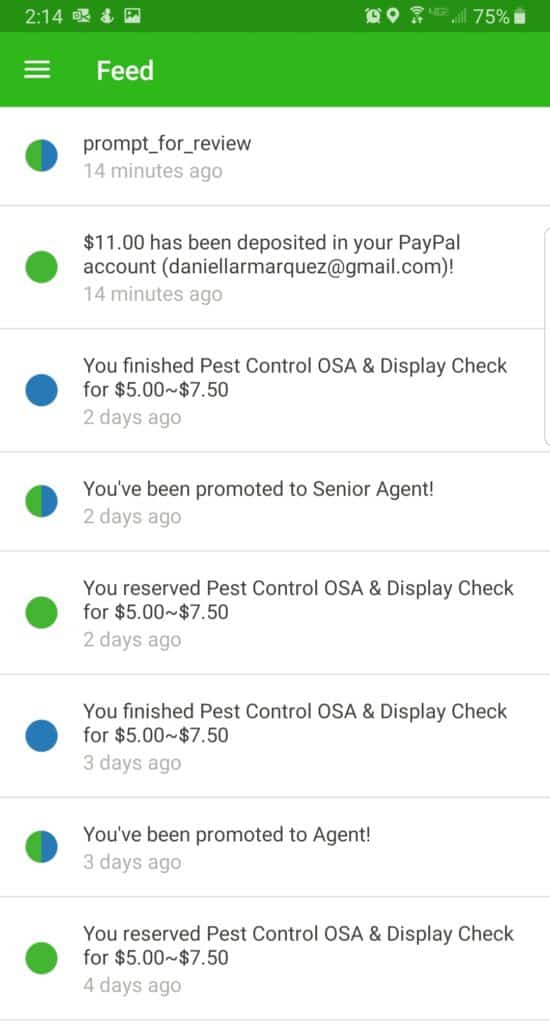 EasyShift doesn't have nearly as many jobs available as Field Agent does but they are 100 times easier to complete and get paid for, in my experience. This is my favorite app company that will pay.
When I accepted a shift to take pictures of a Pest Control Display at a local Lowe's and found that the Lowe's actually recently closed, the app even prompted me to take pictures of the closed store (showing the address). The next day, they still paid me for that shift even though the store was closed!
The types of jobs available on EasyShift are mostly display and product audits to make sure everything expected in the display is actually there.
Income Potential: $11 per half hour per my personal experience (but with much more potential to earn more as I have seen some listed that pay $20 and $22 plus $0.50 per additional display in the audit).
Amount of Jobs Available: 10 jobs were available in my area when writing this post.
3. Shopkick
Shopkick is a mystery shopping app where you earn "kicks" at stores by simply walking in the store, scanning bar codes, scanning receipts or linking your credit card. You can also earn kicks by shopping online.
All your earned kicks transfer to your gift card of choice. You can choose from PayPal credit, Amazon gift cards, Target gift cards and more. When you first complete your app registration is when you choose your gift card of choice and then when you reach 1,250 kicks, you can redeem your first $5 gift card (or 1300 kicks for $5 PayPal credit).
You can change the gift card of choice at any time.
Each store has the opportunity to earn anywhere from 450 kicks to as much as 20,000 kicks in one visit. You will see the potential for how many kicks you can earn from the Earn tab and when you click through to view the kick offers.
Sign up for Shopkick using my link and enter the code WALK250 to earn a bonus 250 kicks after signing up!
Income Potential: $5 per store visit if you can scan bar codes and receipts for the existing kick offers.
Amount of Jobs Available: 100+ including the online kick offers.
4. Gigwalk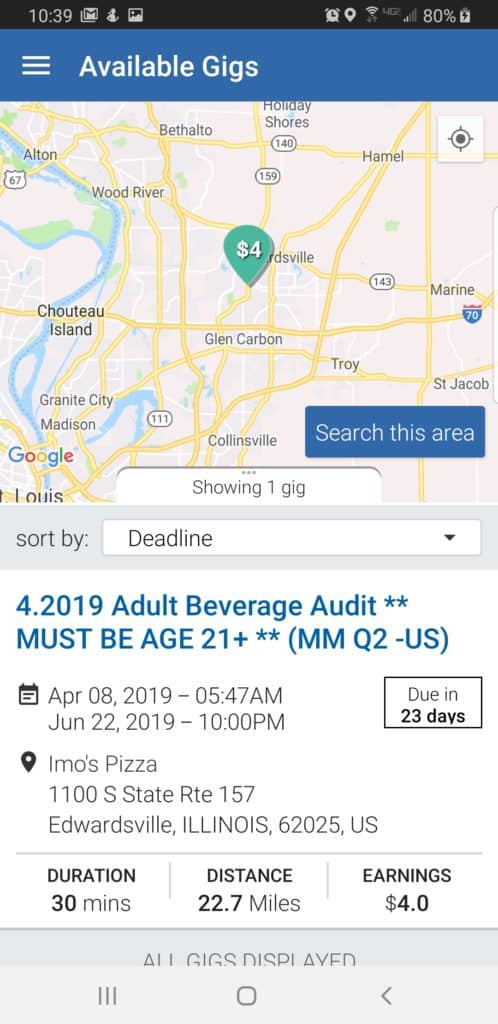 Gigwalk is a little different in the way that jobs are accepted. On Field Agent and EasyShift, you simply click the job and begin working it if it is still available. On Gigwalk, you must apply for the job and if you are chosen, then you complete the job.
Luckily, being accepted from applications on Gigwalk isn't that hard. The first job I applied for, I never heard anything back on. But then today I applied for a beverage audit (that pays $4) and was accepted immediately.
This is due to some of the jobs available only accepting a limited number of applicants and I may have missed the boat on that first shopping job application.
That still shouldn't deter you from trying this app out though. There are well-paid jobs available such as website feedback jobs that pay $10 (with a 30-minute duration).
Income Potential: $10 per 30 minutes is the best paying job I've seen on this app.
Amount of Jobs Available: 2 available in my area at the time of writing this post.
5. Mobee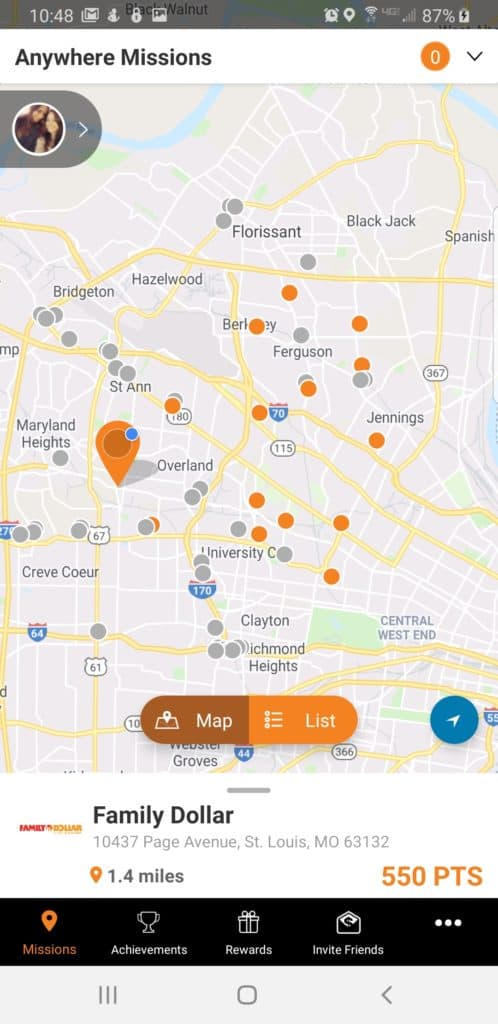 Mobee is a secret shopper app that pays you in points for the shopping shifts you successfully complete. You can then redeem those points to either donate to organizations like Habitat for Humanity, American Red Cross, St. Jude Children's Research Hospital, etc or redeem them for gift cards.
500 points transfer to $5 gift cards, 1000 points for $10 gift cards, 2500 points for $25 gift cards, and so on.
Gift cards available for redemption include:
eBay
iTunes
Starbucks
Amazon
Old Navy
Whole Foods
MasterCard
And more
The jobs on Mobee are defined as missions where you locate specific products or displays. Most missions pay 550 points and last 10 – 15 minutes.
You can sign up for Mobee here (and if you use my code 4T7W , you get a free 300 points!)
Income Potential: 550 points ($5.50) for 10-15 minutes of shopping/answering questions.
Amount of Jobs Available: 50+ in a given area based on what showed up in my location.
Related posts: Get Paid to Shop
22 Clever Ways to Get Free Gift Cards
Sweatcoin Review: Is It a Scam or a Legit Way to Get Paid to Walk?
6. Presto Insta-Shops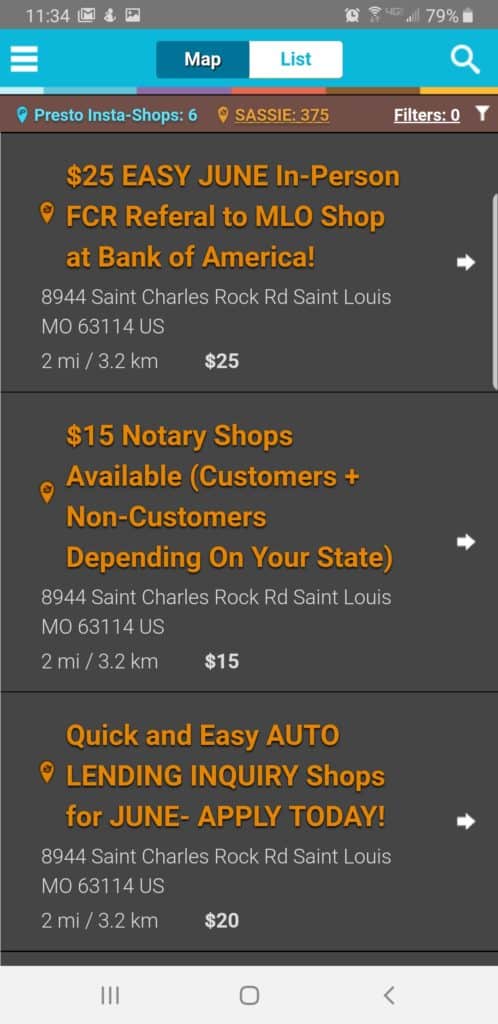 Presto is another mystery shopper app that shows jobs available in either the map view of your location or list view. The only thing that is different from this app when compared to others is that when you click an available job, you are redirected to the original source of that job. The shopping jobs are not hosted by the app itself but pulled in from a varying number of mystery shopping companies.
Most of the jobs available seem to be for movie theaters, financial services mystery shops like investment phone shops, fast food and drive-thru studies, etc. Presto recruits for jobs that center around customer interaction rather than shopping at merchants and retailers (and the products available at the merchant or retailer).
It's definitely an interesting app with LOADS of mystery shopping jobs available. I would definitely take a stab at this one if you have the time. I am thinking we might try a movie theater mystery shop soon.
Income Potential: Jobs listed on the app pay anywhere from $5 to as much as $200 (from what I've seen based on my location area).
Amount of Jobs Available: 100+ in a given area based on what showed up in my location.
7. Rewardable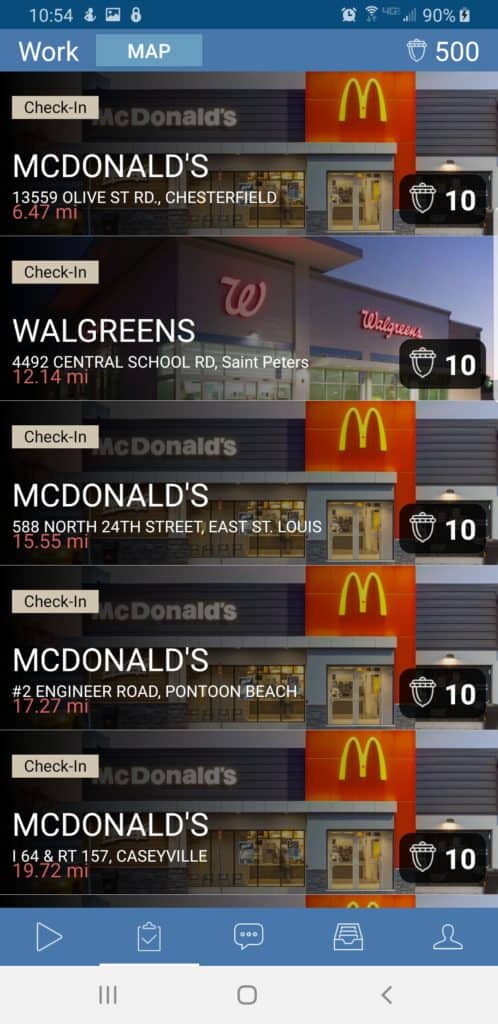 Rewardable is another app that awards you points for completed tasks. Points are called Acorns (and they are not related in any way to the Acorns investment app). 100 Acorns equal $1.
You can earn acorns on Rewardable by:
Entering basic information about yourself such as salary and marital status
Checking in at merchants like Walgreens and McDonald's
Watching trailers
Filling out surveys
Trying out mobile games and other mobile offers
And more
Most tasks pay 10 acorns check-ins at merchants like Walgreens and McDonald's. The online offers like downloading mobile games or completing surveys seem to pay much more.
This app definitely doesn't rank as high as Field Agent and Easy Shift in the income potential department, but it might be fun to try in your spare time.
Income Potential: You can earn up to $5 after watching a couple of movie trailers and downloading mobile games but you will only earn 10 acorns per location check-in (which comes out to $0.01 cent).
Amount of Jobs Available: Only 7 location check-ins were available in my location at the time of writing this but there are 50+ mobile offers available.
8. iSecretShop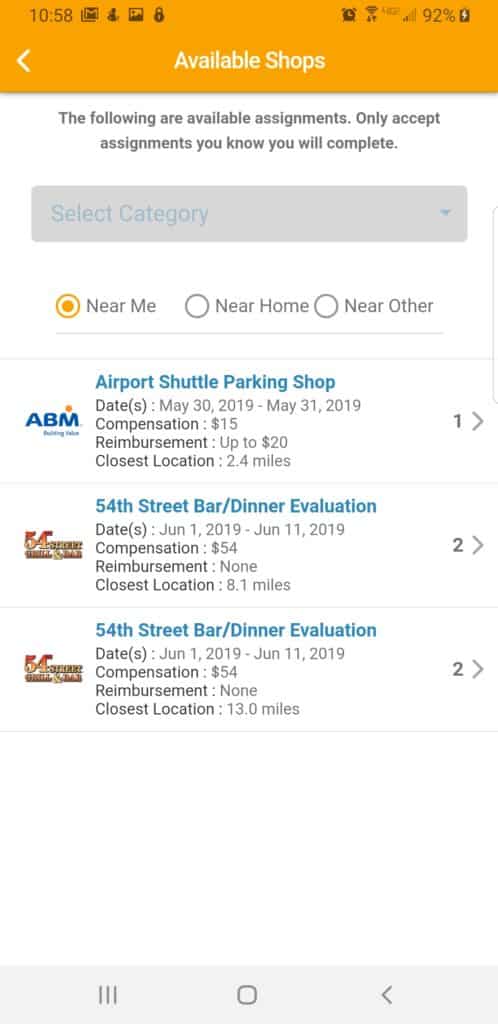 iSecretShop not only has on-location shops available but they also offer web and phone shops as well as opinion polls that you can complete for a payout.
The only thing that I didn't like about this app was there were only 3 on-location shops available in my area. The good news is that two of them (showed in the screenshot above) both pay $54 in compensation.
However, make sure you note that when you do a dinner evaluation like these, check the reimbursement notes of the job. These two state that there is no reimbursement available so you would have to subtract your cost of the dinner from your compensation to get your total profit.
Income Potential: $15 – $54+ for on-location shops and $5 per web and phone shop.
Amount of Jobs Available: 2 jobs were available in my area and 3 web and phone shopping jobs were available at the time of writing this.
9. Secret Shopper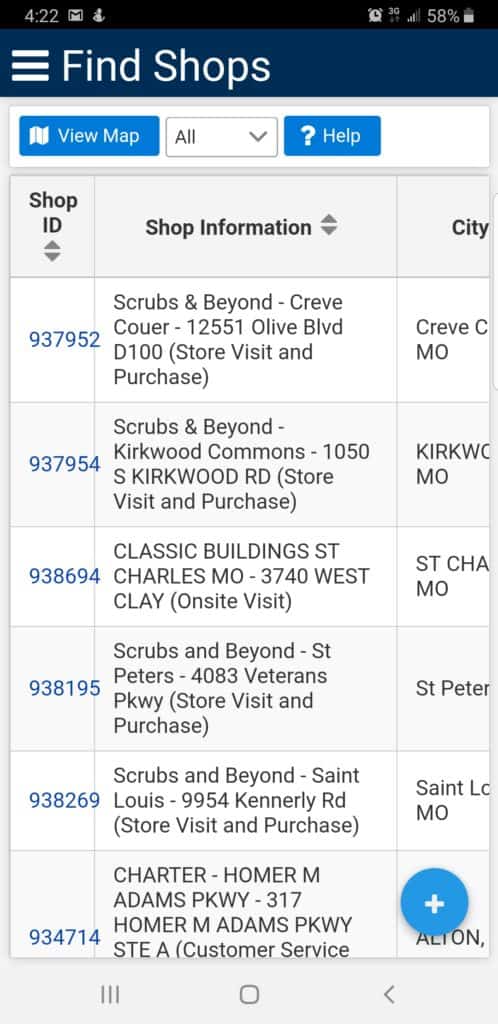 Secret Shopper is more than just a mystery shopping app. It is more like a mystery shopping company that is also an app.
They offer shopper jobs that pay a flat payment of $15 to $20, but some may have a waitlist. Shops are often released near the start of the month. To find the best shops, frequently check for new shops near the start of the month. The Next Release page of the app will have this information on what date the next release of new shops comes out.
You can self-schedule all of your shops and checks are mailed on the 20th of each month.
Sounds simple enough. Give this app a try and sign up for Secret Shopper here!
Income Potential: Most jobs pay a flat payment of $15 – $20.
Amount of Jobs Available: 10 jobs were available in my area when writing this post.
Related posts: Clarity Money Review: The All-in-One Money App
InboxDollars Review: What Happened When We Tried It
Steady App Review: 10 Side Hustles That You Can Do Through The Steady App
Avoid Mystery Shopper Scams
If you get an email that didn't come from the mystery shopping company itself and from someone you don't know about a mystery shopping job that you didn't sign up for, don't do it.
This is a common scam that people are seeing a lot more of these days. The best way to spot them is if they ask you to transfer any money to Western Union.
If you do get an email like this, report it immediately to the FTC.
Tips for a Successful Job Completion
As mentioned earlier in this post, there are some factors that could affect if you get paid or not for completing mystery shopping jobs through these apps.
To make sure you get paid for every shopping task you complete, make sure you follow all of the instructions listed for the job. And for apps like EasyShift, you have to follow them to a T. This means no blurry photos, informative replies to the questions about your shopping tasks and products, no extra space in your photos, etc.
Other factors that go into a successful job completion include:
Make sure your phone is fully charged and test out your service throughout the store before accepting the job. I recommend this because you could lose service in the middle of your job and may fail to complete it accurately.
Complete the tasks on time before the deadline.
If the stores are permanently closed, be sure to capture the address in the photos of the store so you get paid for visiting it.
Don't rush through the job. <– Read that one again.
Turning on your location and Bluetooth on your phone so the app can gather your location information accurately.
Refer to any further successful job completion tips in each app themselves, as their guidelines may differ slightly to each other.
Other Ways to Make Extra Money While Shopping
There are more ways you can make extra cash with your phone while shopping without completing mystery shopping tasks.
Some of my favorite ways to make extra cash while shopping are:
What other ways have you gotten paid to shop? Any other companies or apps you've had experience with? We'd love to hear from you in the comments below!
Related posts: 15 Side Hustle Apps to Make Extra Money
Free Makeup Samples: 11 Fun Ways to Find Them
4 Side Hustles That Help Us Pay Off Debt
March 2019 Side Hustle Income Report
Dosh Review: Should You Link Your Card?
Subscribe to get your free list of side hustles you can start this week!
Claim your free list of side hustles + tons of helpful resources to get started!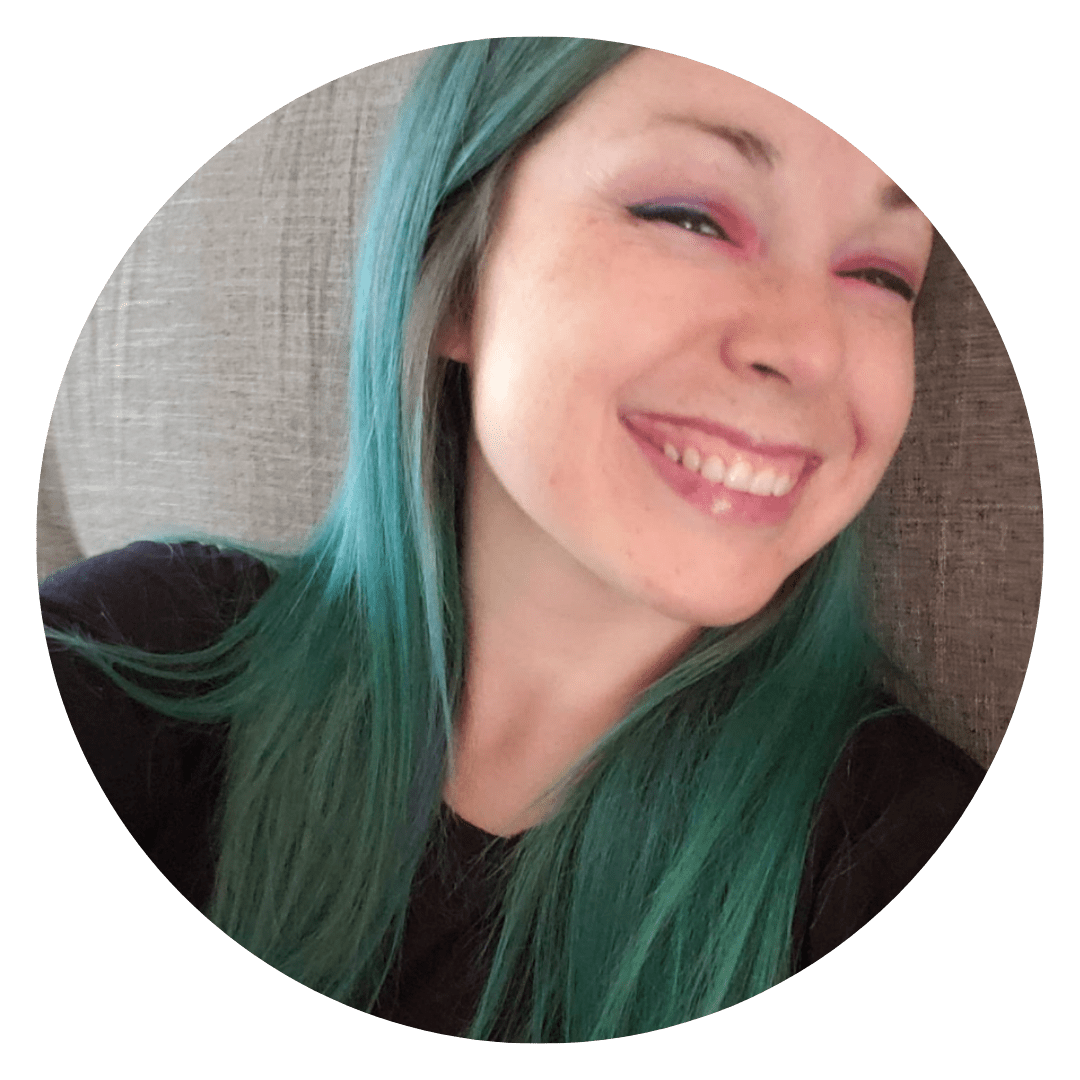 Daniella is the creator and author of iliketodabble.com. When their wife Alexandra and them aren't globetrotting or playing with their 7+ animals, they are dabbling and working towards a future of financial freedom.