Our website is supported by our users and contains affiliate links. We get paid when you purchase or sign up for anything through those links. Read the full disclaimer for more information.
Last Updated on June 4, 2021 by Daniella
Among online teaching jobs available, VIPKID reviews that are honest and comprehensive are hard to find.
There is no time to go on and on about how great online English teaching is and how you can make money working from home (or even nomadically). We know, working from home is awesome. That is why we wanted to review services like VIPKID to begin with.
We are going to cut through the nonsense and get right into the nitty-gritty of ESL teaching with VIPKID.
This VIPKID review dives right into the full experience from a current teacher, the difficulty of getting started teaching that isn't talked about, reviews from some of her friends, pros and cons, and more.
When I Found VIPKID
Finding a side gig that didn't interfere with my kids' evening and weekend activities seemed like a pretty tall order.
Then a friend posted on Facebook about her new venture into contracted employment as an online teacher with a company based in Beijing called VIPKID. When first thinking about it, teaching English online to Chinese children seemed pretty challenging.
I mean, I don't speak Chinese, and I'm not an English teacher! It also seemed too good to be true.
Work from anywhere? Meet children and families from the other side of the world? Really?
I didn't know you could get paid for teaching online and giving English lessons without ever going to school to become a teacher.
I decided to ask my friend more questions before taking the plunge myself.
What is VIPKID?
VIPKID is an online school providing English classes to Chinese children.
Chinese kids take English classes at their every-day school, but the teachers usually aren't native English speakers and the classes are usually reading classes.
However, Chinese parents want their children to speak English, and they want them to sound American. Because of this, VIPKID only hires teachers in North America (USA and Canada).
While VIPKID has started making classes available to other countries, like Japan, for the most part, students are Chinese.
Is VIPKID a scam?
No, VIPKID is not a scam. They are a legitimate company that employs over 30,000 teachers as independent contractors.
VIPKID pays their teachers the amount as advertised and they pay on time. There are no start-up costs or financial investment required unless you don't have the gear and internet required to get started.
VIPKID Qualifications and Required Materials
Applicants must have the following prerequisites to be invited for an interview upon applying:
Be a native English speaker
Have a bachelor's degree in any field
Experience working with children
You can use your experience teaching Sunday School or leading VBS (Vacation Bible School). If you homeschool your children, mention it. If you meet these requirements, give it a shot!
What You Need to Get Started
To teach online, you will need to have:
A reliable high-speed internet connection: Hard-wired is preferred over wireless, but many teachers use wireless with no issue.
Computer with a camera: Camera can be built-in or external.
Headphones or earbuds with a microphone (headset) are also highly recommended (you can get these on Amazon for $20).
Make sure you have adequate lighting and test out using lamps you already have before buying anything new.
These are the only things you absolutely need to have to teach.
I also bought a dry erase board at Dollar Tree, markers at Wal-Mart, and borrowed some educational-like posters from a teacher friend to hang on the wall behind me. I grabbed the play food out of storage, as well as toy cars, blocks, toy animals, and alphabet flashcards for learning props.
These were all things that had been my kids' when they were younger, so I didn't have to pay for anything.
---
Quick tip: Download and install Nielsen on any of the devices you use your internet regularly on and get paid for your internet usage (it isn't much but it's nice extra cash).
---
VIPKID Application and Interview Process
As I've seen in other VIPKID reviews, everyone's hiring process is unique. And the length of time it takes to complete everything is up to you, in large part, but there are some variables that are out of your control.
If a friend has provided you with a referral link or code, use that. You'll create a basic profile and provide information about your education and work experience.
This is the first hurdle. If you meet basic hiring requirements, you will be invited to schedule an interview.
2. Get Past The First Interview
The first interview will be with a Chinese person who is sitting in a cubicle in Beijing. You will pick a time from a schedule to interview. The times will be early morning or late at night as this is when people in China are at work.
In this interview, the VIPKID employee will verify your education and experience. This interview is also to test your internet connection and your equipment.
Mock 5-Minute Lesson
You will teach a 5-minute lesson to this employee as they pretend to be a young Chinese student with limited English skills. The lesson is supplied to you when you schedule the interview.
At this point, you will receive some suggestions on how to best teach English as a Second Language (ESL) classes, and they will let you know what your base pay rate will be should you be hired.
Provided you didn't mess up too badly (you must've shown that you know how to teach and can teach), you will be invited to schedule a mock 1 interview.
3. Complete a Mock 1 Interview
The mock 1 interview is a mock lesson that you will teach an adult pretending to be a young Chinese student. The lesson is provided to you, and mine was 10 minutes of a Level 2 class (Beginning English), then 15 minutes of a Level 5 class.
This interview was with an English-speaking ESL teacher living in the United States who observed:
Teaching technique
The ability to complete the course within the 25-minute timeframe
Transitions from a beginning-level student to an advanced student
When I was finished teaching the lesson, he gave me feedback on what I'd done well and made some suggestions as to how I could do better. His feedback was very helpful.
The results of this mock class are sent to VIPKID for consideration. At this point, you might be hired. Or, you might be asked to schedule a mock 2 interview.
4. Complete a Mock 2 Interview
If you are asked to do a mock 2, don't be discouraged. It could be that they were really impressed with your mock 1 and gave you accelerated feedback to see if you have great talent with very young or with advanced level students.
Perhaps you did a good job, but they want to see how you function using the suggestions given in feedback. At any rate, prep for the mock 2 and do the best you can.
After finishing mock 1, or mock 2 if that be the case, I got an email from VIPKID thanking me for the interview and letting me know that I'd know something within the next day or so.
I had an email within a few hours, though, and was so excited. This process took me 5 days to complete.
5. Sign a VIPKID Teaching Contract, Upload Documentation and Complete a Background Check
The next part of the hiring process is to sign a contract, upload documentation to the VIPKID portal, and provide information for a background check.
The following documents I had to provide were:
Documentation of my two degrees (they don't require transcripts)
A copy of my driver's license
My banking information to receive my paychecks
The background check can take weeks, but mine was back in a couple of days.
You also need to upload a profile picture for your VIPKID profile, two casual pictures (these can even be with your family), and a welcome video.
The Welcome Video
The welcome video was a holdup for me. I had no idea what to say or do.
I looked at several examples on YouTube, but it took me over a week to commit to making a video. Because of that, it was 11 days after my hire date before I was able to start booking classes.
TESOL (Teachers of English to Speakers of Other Languages) Certification
Since I began teaching English for VIPKID, there has been a new law passed in China requiring English teachers to have a TESOL (Teachers of English to Speakers of Other Languages) certification. Fortunately, TESOL and VIPKID worked together to create a certification for VIPKID teachers.
Unfortunately, you'll have to obtain this certification in order to teach. The study materials are on the VIPKID portal, and you must pass a quiz to obtain the certification. You may take the quiz as many times as necessary.
For reference, a TESOL certification includes both a TEFL certification and TESL certification.
TEFL: Teaching English as a Foreign Language
TESL: Teaching English as a Second Language
Whenever you see a site like VIPKID state requirements as a TEFL certificate or a TESL certificate,or any ESL teaching job, know a TESOL certificate will suffice for both.
Working as an ESL Teacher for VIPKID
Once making it through the application process, there are a couple of speed bumps to getting started teaching classes and some useful information you might need before you fully dive in.
When will you get your first booking?
Some people start getting bookings the week they are hired.
I was hired on February 6 during Chinese New Year, the biggest event in China. However, I didn't really get any bookings in March or April either. It was very discouraging.
I'm not sure if this was all due to my inexperience as a teacher or not, but I just couldn't get a booking. I kept attending online teaching workshops and completing additional training, and one day I woke up to a nearly full schedule of bookings. It was the first week of May.
Like I say, others are busy right out of the gate. A friend of mine began getting booked almost immediately. He is a veteran teacher, though, and I've wondered if being a man was also a factor. Most of his students are male, where most of mine are female. Maybe male students are more comfortable with a male teacher. Who knows?
How to Get More Bookings
When I was hired, I was certified to teach Levels 4 and 5. When the bookings weren't flying in, I studied and tested to become certified in other levels.
I'm now certified to teach Levels 1-7 and have supplemental certifications in classes on grammar, vocabulary, phonics, proper pronunciation, and others.
Setting Up Your Schedule
VIPKID has an amazing teacher portal full of resources. This is where you go to open spots in your schedule for parents to book classes.
Classes won't be booked within 24 hours of class time unless you have checked the short notice option for that class. I mark all of my classes short notice when opening them.
Teaching Classes and Peak Hours
Each class is 25 minutes long and with one student. The most popular peak times for classes are 7:00-9:00 PM, Beijing time, which is 5:00-7:00 AM for me here in the central time zone.
Friday and Saturday evenings are also popular. In fact, some teachers start teaching on Friday or Saturday night and teach through to the next morning.
Course Levels and Curriculum
There are seven levels of courses in VIPKID.
Fewer teachers are certified for levels 1 and 6, and even fewer for Level 7. Levels 1-6 each have 12 units, and each unit has 12 classes. Level seven has 6 units with 24 classes in each unit.
VIPKID writes all of the curriculum, including lesson plans. All I have to do is look at the lesson plan they've prepared, read over the notes VIPKID has attached to each slide, pull any props I want to use, and I'm set.
Each lesson lists the lesson objectives, and each slide has instructions on how to complete the activities, the answers to the questions, and even tells you exactly what to say at times.
The curriculum isn't just sitting out there for you to review at your leisure, though. You can only see a lesson when you've been booked to teach it, and you can't see the lessons that happened prior to it. That can be tricky until you are familiar with the curriculum since you don't know what knowledge or skills your student has already learned.
VIPKID Teacher Pay
VIPKID pays by the class and pay ranges from $7-9 per class. In addition to this, VIPKID has an incentive structure, which has recently changed.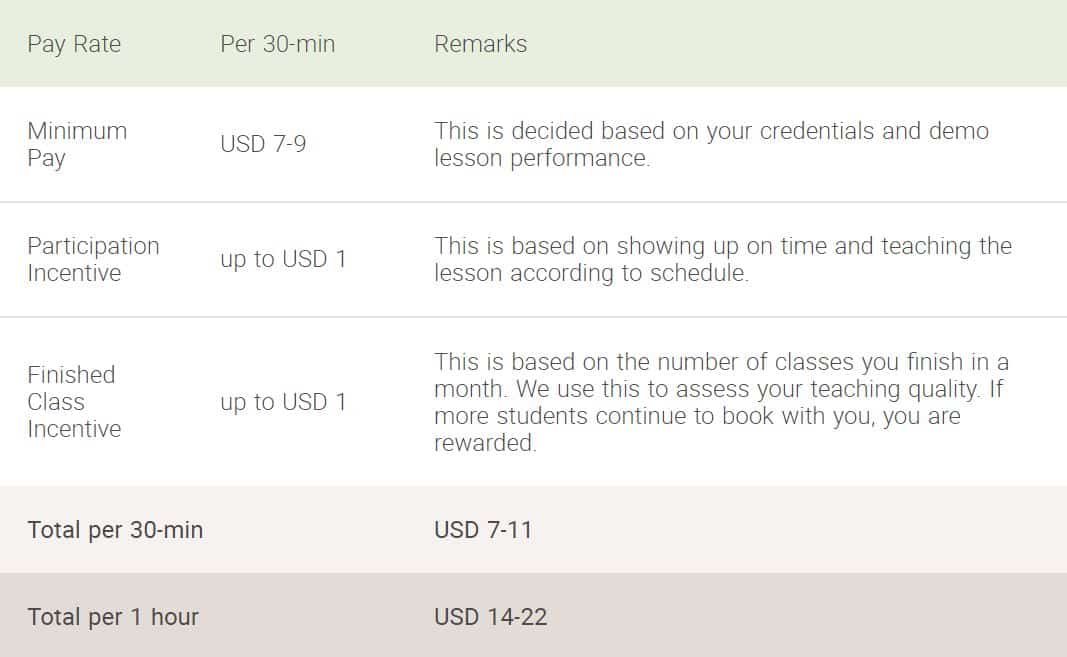 Incentive Pay
My incentive pay is different than anyone who interviews after December 26, 2019. Employees interviewed after December 26, 2019, are placed into a tier based on the total number of classes taught since hire.
Within that tier, a different incentive is paid for every 20 classes you teach in a month. The more you teach, the more you earn.
For each of the weeks I work, I am paid my base rate (or base class rate) without incentives until I reach the week that has the last day of the month. That check will contain the extra incentives I've earned, so it's always the biggest. The weekly pay is a help to me because my full-time job is paid monthly.
There's also a $5 incentive for converting trial students to a full course. VIPKID runs other incentives periodically. There are big incentives for referring new teachers. For every teacher referred, you receive $100 upon their hire.
There are milestone incentives for recruiting too, so if you're recruiting quite a bit, you can earn extra incentives there too.
With incentive pay, you can earn up to a $22 hourly rate as an online English teacher with VIPKID.
Payment Frequency and Methods
Teachers may opt to be paid monthly, bi-monthly, or weekly. I began at the monthly rate (we didn't have the other options at that time), but I'm now on a weekly pay rate (weeks run from Sunday to Saturday, BJT).
The pay is sent directly to your bank account. Because the money is coming from Beijing, some financial institutions assess charges. VIPKID will cover the first $12 of these charges. My bank doesn't charge any fees, though. On Friday, I usually receive the pay for the week ending on the prior Saturday.
Because you are a contracted teacher, and not an employee of VIPKID, no income taxes are withheld from your pay. You'll want to talk to a tax professional to be certain you are saving enough money to cover your self-employment income taxes. My tax professional has recommended 30%.
Life With VIPKID
I'm beginning my third year with VIPKID. I find the early mornings don't tire me as much as they used to, and I don't spend near the time I used to in preparing for class.
My Teaching Experience and Process
I'm sure I haven't taught every lesson, but I feel like I've taught most of them. I rarely get booked for a class that I haven't taught previously.
Before I go to bed, I pull up the VIPKID Teacher app on my phone and flip through the lessons I have in the morning.
I pull out any props I'll want to use, Google any images I might want, or research additional information about the topics we're discussing if I'm teaching an upper-level class. Aside from the time I spend in the classroom, I spend, maybe, 15 minutes preparing for class each day.
In the morning, my alarm goes off 30 minutes before my first class. My classroom is in my bedroom, so I walk to the end of the bed and pull a rolling table out from the wall. I have a rolling cart of props and classroom materials in my closet that I also bring out each morning.
I turn on my computer and lighting, log into the teacher portal, and enter the virtual classroom. Before opening the camera, I dress in an orange VIPKID t-shirt.
I have an anti-fatigue mat so that I can stand to teach. My rolling table is a craft table that can adjust the height, and I have it as tall as possible so the camera in my laptop is straight in front of me. I just recently began standing to teach; many teachers sit to teach.
I can be ready to go in 7 minutes; I use the other 23 minutes to wake up. I don't like to look as though I just rolled out of bed, even though that's exactly what I did.
VIPKID Pros
The more flexible hours a side hustle has, naturally there will be more pros.
The Flexibility
The biggest pro for me is that I can work a second job earning some decent scratch without taking time away from my family.
I am needed from the time everyone wakes up and until they go to sleep. If I was working nights or weekends, my absence would be greatly noticed and create a hardship for my family and others.
Teaching for VIPKID for remote work is flexible enough to fit into my life. I like that I can pick when, and if, I work (and how much I work).
I can make money online when and where I want.
Focused Teaching Environment
I like that I only teach one child at a time. I'm getting to know children from the other side of the world and spending time with them inside their homes is enjoyable and rewards. Chinese parents are so gracious and kind.
The Abundance of Teaching Resources
VIPKID has so many resources available to teachers. Besides training resources on topics like student engagement and providing parent feedback, there are also printable props, flashcards, and reward systems.
They also have different forums for teachers to network. There are a countless number of VIPKID groups on Facebook, and VIPKID has "meetups" in different locations throughout the country.
There is No Policing of Teachers
I get to teach the way I want. No one is telling me that I don't use enough props, that my assessment scores aren't high enough, or that other teachers are producing students that are more fluent and confident English speakers.
It's just me, teaching the best way I know how, to kids who enjoy learning from me.
VIPKID Cons
As with any gig, there will be some less-than-ideal things that happen. Not everything is 100% perfect.
Strict Rules for No-Shows
I don't like some of the rules relating to teacher no-shows and teacher IT problems. If you sleep through a class, that's a teacher no-show, and I'm not arguing that.
However, there have been times that I haven't been able to get into the VIPKID classroom due to technical issues. I can even be chatting with their firemen (the people who work the help desk) to get the issue resolved, and if we can't get the issue resolved within 3 minutes, it's considered a Teacher No-Show.
The problem with a no-show is that not only do you not get paid for the class, but they also deduct $10 from your pay.
I feel that if I have contacted the firemen before class begins and together we can't get the issue resolved (the issue is almost always my internet connection), it shouldn't be a no-show.
Clearly, I was having technical issues and should be given a Teacher IT, which still doesn't pay but doesn't deduct $10 from my pay.
Raises are Hard to Obtain
The conditions for earning a raise are almost impossible for me. I'm starting my 3rd year and have never received a raise.
The requirements to receive a raise are:
Maximum of two no-shows
Less than 1% teacher cancellations
Teach at least 1200 classes with more than 600 of them occurring in the peak times (5-7 AM CST)
25% of your completed classes rated at 5-apples (not all parents complete a review, though, because it isn't mandatory)
I completed 960 classes in 2019 and had over 5 no-shows, so I didn't get a raise this last year.
Self-Employment Taxes
Another part of working a side gig like this is that I'm contracted and there are no income taxes deducted from my pay. This makes tax return time stressful.
I try to save back 30% as my tax professional advised, but I'm a single mom with teenaged twins. Sometimes I need the money to pay for sports equipment or new tennis shoes. This isn't really a negative exclusive to VIPKID, though.
Alternatives to VIPKID
There are a couple of sites similar to VIPKID out there that all involve teaching English online. The most popular ones are:
All 3 require you to have a bachelor's degree to qualify for an interview.
VIPKID Review: Wrapping Things Up
While it does seem unfair that I've worked for a company for three years without a raise, I am teaching from my bedroom in pajama pants.
Without the income from this job, I wouldn't be able to support my family, let alone provide them the extra activities and experiences they enjoy. I am also able to make extra money without sacrificing those moments with my family (and actually get to be there for them).
VIPKID was the perfect solution to a need my family has. I am so grateful to this company and for the opportunities it has given me.
Have you worked for VIPKID before and have a review to share? Or have a question regarding this review? Leave it in the comments below!
Subscribe to get your free list of side hustles you can start this week!
Claim your free list of side hustles + tons of helpful resources to get started!
Related reviews:
Pin it for later!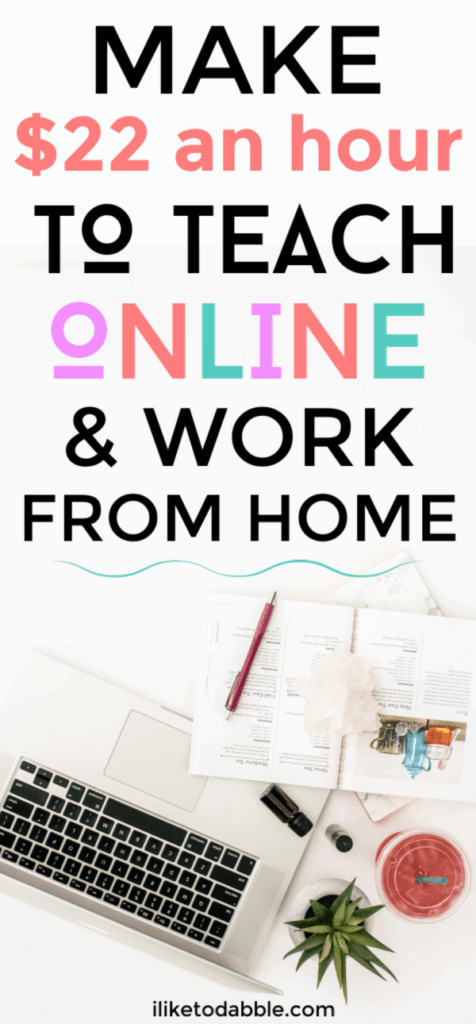 Kerry Savage lives in Chillicothe, Missouri, the Home of Sliced Bread. Her sons, Parker and Clayton, started high school this year and keep her hopping from one activity to another. The savages have a 90-pound shelter dog named Amelia who is a lap dog at heart. By day, Kerry is the administrative secretary at a teeny-tiny country school with 63 kids. In the early morning hours, she wakes with the chickens to teach English to students in China. Any time her sons play video games and the dog naps, Kerry enjoys reading, crocheting, sewing, scrapbooking, crafting, and Netflix binging. She is an avid Harry Potter fan and a Capricorn.