Our website is supported by our users and contains affiliate links. We get paid when you purchase or sign up for anything through those links. Read the full disclaimer for more information.
Last Updated on June 20, 2022 by Daniella
As someone who prefers to work from home, I love learning of new remote jobs that pay well. This is 2018, and we are far past the beginning of the age of virtual offices and virtual work in general. It is now more possible than ever to work from anywhere and find remote jobs from home.
I use to work for an employer who was a 100% virtual office.
Now I work from home part time while having to go into the office some days a week. It isn't bad, I can't complain, but I do agree more with the idea of a virtual office. Not only for the company saving money but for the employee saving money as well.
The problem with most of the open postings online for remote jobs from home is it is hard to sift through what is legit and what isn't. However there are legitimate sites you can visit tailored to specific work from home professions or online work from home jobs and postings.
Pin it for later!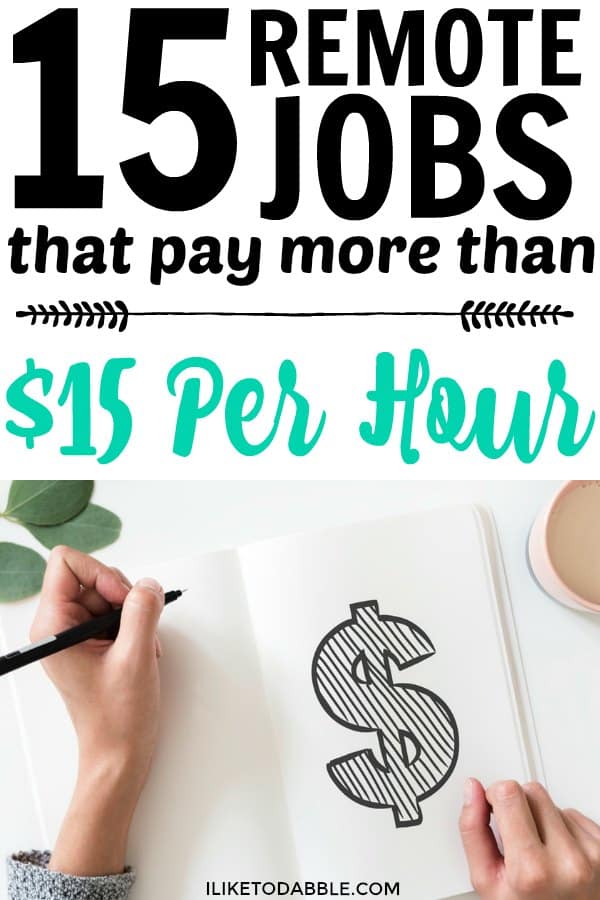 15 Remote Jobs That Pay More Than $15 Hourly
You can find freelance work online through Fiverr or Upwork. Check job sites that include the remote option in their search such as Indeed, Glassdoor, etc.
There are also sites and resources that will hire you to teach online, become a virtual assistant, transcribe, or even perform medical work such as coding. Not all of them pay well but I found quite a number of ones that do.
I love FlexJobs and heavily recommend this site for finding remote jobs. They guarantee that every single job posted is 100% legitimate. I know I can trust this site because not only was my own experience seamless but they also have an A+ rating with the Better Business Bureau. Feel weary for paying for a service like this? Don't be! They have a money-back guarantee if you are unhappy with your experience on the site. Sign up today and get 50% off.
You will also be able to find opportunities on FlexJobs for each and every remote job mentioned below.
—->Start searching for remote jobs
1. Online Teacher
As most online teaching jobs require you to already have a bachelor's degree, Magic Ears does not. You can teach online with Magic Ears and work from anywhere you want since it is through their online teaching portal. Be your own boss, no degree required. (Updated 12/8/2018: They now require a bachelors degree or above)
If you are in school to become a teacher, this is perfect experience for you on top of the $26 per hour you will be making for your time. Making less as a tutor already? Ditch that and sign up for Magic Ears!
If you are in graduate school and already have your degree, it might be worth checking out VIP KID for a worth while side hustle. You would be teaching English online and getting paid up to $22 per hour. An added bonus is there are no lesson plans or grading to stress over. You get to work from home or anywhere and pick your own hours.
Check it out here to see if you qualify!
Pay rate: $22 – $26 per hour
2. Virtual Assistant
Virtual assistants perform an array of different job duties. I know some virtual assistants that focus on social media management and marketing, some that perform site maintenance and content management, some that focus on general admin tasks, and some that specialize in Pinterest management and marketing. You don't have to be fluent in all of those tasks to become a virtual assistant though. You can specialize in one service or a couple. The more capable you are the more money you will be able to get though.
If you have a good understanding and some background in content management, html, social media marketing, etc, then you can end up making quite a bit per hour as a virtual assistant.
The best way to find virtual assistant openings is to do some research online (search through several job sites that might have some remote openings) and also engage in virtual assistant Facebook groups. It is all about who you know anyway, right? 😉
Pay rate: $15 – $40 per hour
Subscribe to get your free list of side hustles you can start this week!
Claim your free list of side hustles + tons of helpful resources to get started!
3. Freelance Writer
If you have a passion for writing or storytelling, you should try a remote job as a freelance writer. Sites like Contena pay freelance writers up to $45 per hour for their work. You can also search for freelance writing opportunities on various job boards or pitch big sites and blogs.
Check out this awesome list from Elna Cain for 20 more ways to find freelance writing opportunities.
Pay rate: $16 – $45 per hour
Related posts: 10+ Summer Money Making Ideas For College Students
How To Work From Home Doing Anything You Want
How To Make Money As An Artist
15+ Ways To Make An Extra $100 Every Day
4. Web Designer/Devloper
In the beginning of my career as a web engineer, I was at a job that I was not happy at. I quit that job and instead went the route of working as a remote freelance web developer. Which actually paid off for me.
I found a company that was willing to pay me $100 per hour, part time, to help them with a couple of their WordPress sites and other sites (fix bugs, add new functionality, etc). So as you can see, if you have the necessary experience, web design/development is a great remote job opportunity.
Github is a software company that allows many of its employees to work remotely. They have regular openings for techy savvy positions like developers, engineers, designers, analysts etc. as well as some customer support positions. Per Glassdoor, most Github positions provide a salary of over $70K per year.
Pay rate: $20 – $100 per hour (depending on experience)
Extra tip to make some side cash in your spare time: Make extra money easily from your phone or laptop with Swagbucks and InboxDollars. —->Sign up for Swagbucks with my link and get a free $5 to start out with!
5. Customer Service
If you have experience with customer service, I suggest looking at Remote.co for remote customer service rep opportunities. Indeed is another great site for finding remote customer service opportunities. I see Amazon on Indeed always hiring for this kind of position.
Another great resource for finding these opportunities is NexRep who hires customer service reps and outbound sales agents as independent contractors. Your work involves making and receiving inbound and outbound calls then handling email support.
Pay rate: $20 – $25 per hour
6. Transcriptionist
Want to get paid $25 per hour just for listening and typing? If you are a great note taker and pay good attention to detail, taking on an online gig as a transcriptionist might be perfect for you. Check out TranscribeAnywhere for more information on how to become a transcriptionist!
There's even a free introductory mini-course you can try out.
Pay rate: $25 per hour
Related posts: 40+ Easy Ways To Make Money Online
How To Make An Extra $1000 This Month With Your Phone
8 Ways To Make Extra Money Without Getting Out of Bed
50 Ways To Make An Extra $500 A Month
7. Online Proofreader
If you can't stand it when you see the usage of "your" in an online comment, when it should indeed be "you're", then an online proofreader could make a suitable side hustle idea. If you have no clue how to go about starting an online proofreading side hustle, I urge you to check out the Proofread Anywhere course. This course teaches you the skills you need to start your freelance proofreading side hustle.
If this is something you don't think you can do because of any excuse you can come up with, this course also teaches you the confidence and motivation to make it work!
Pay rate: $20 per hour
8. Online Interpreter
If you are bilingual or multilingual, why not profit off of your translation skills? You can work from the comfort of your home translating for online travel companies and other sites. Online interpreters make an average of $79,000 a year! That makes me want to up my Spanish speaking skills for sure.
Check out these 7 Companies with remote jobs in translation.
Pay rate: $20 – $40 per hour
9. I.T. Support
I have been in I.T. for about 8 years now and believe me when I say, I am so thankful I chose a path with so many remote opportunities available. I worked with the VA remotely for an entire year, making decent money and only had to see my coworkers once a year at a conference.
Even now working remote 50% is perfect for us and our life. Working in I.T. has given us the flexibility we need for work/life balance. Plus, not spending tons on gas and parking each week is great for our budget.
I have found most of my past remote opportunities in I.T. on Indeed, FlexJobs, and Glassdoor. Also Linkedin is a great resource as I often get recruiters who reach out to me for these type of opportunities to see if I or anyone I know is looking.
Pay rate: $15-60 per hour (depending on the role)
10. Medical Coder
What a medical coder does is abstracts clinical information from a variety of medical records and assigns appropriate ICD 10 CM and/or CPT codes to patient records according to established procedures. You do not need a college degree for this type of work and actually most of the remote medical coder jobs are looking for people with a high school degree or equivalent work experience.
SimplyHired is a great resource for medical coder jobs and here are 20 best remote medical coder jobs hiring now!
Pay rate: $21-26 per hour
11. Social Media Manager
Buffer provides web-based social media management solutions. They allow all their workers to work remotely, and they provide transparent salary information. When you click that link, you can see that the majority of their employees are making over $20 an hour. They often hire for many different positions , from engineers to customer support as well.
If you are currently a virtual assistant with social media manager experience and looking for more work, Buffer may be perfect for you!
Pay rate: $20+ per hour
Related posts: How To Make Money With Pinterest
How We Made $2,000 Per Month by Renting Rooms in Our House
22 Creative Ways To Turn Your Clutter Into Cash
How To Create A Budget When You Are Horrible With Money
12. Work At Home Nurse
When you see a remote positionremote position for a nurse, you mostly always think of traveling home nurses and physical therapy nurses. That isn't always the case though.
Carenet hires work at home registered nurses for telephone triage. Meaning, you don't have to go from one strangers house to the next. Instead, you get to work from home speaking to patients on the phone.
Pay rate: $25 per hour
13. Online Editor
In order to find remote jobs as an online editor, the search is similar to that of virtual assistant,freelance writing and online proofreader remote job searches. Check big blogs and sites to see if they are hiring for online editors as well and get in contact with blogging and editing Facebook groups to see who might know of a remote opening.
Always check google and several job sites for these type of openings as well. You will be suprised how much you can find with a simple google search. Online editors make an average of $50,000 per year.
Pay rate: $15-24 per hour
14. Remote Pet Care
If you love animals, work as a pet sitter and dog walker and get paid doing what you love while never having to leave your house (unless to walk a dog). Rover is this amazing site used to find local dog sitters, walkers, boarding, etc. You can sign up here to become one of these dog walkers or sitters and earn up to $1000 a month. Rover makes it easy for you to accomplish this and more by promoting you to the nations largest network of pet parents.
Signing up for Rover is 100% free and if you also have a dog of your own that you might need these same services for in the future, signing up is a win-win.
You can manage your dog sitting or walking business all within the Rover app along with 24/7 support including vet assistance and Rover protects your services up to $1,000,000.
Pay rate: $15-$50 per hour (this is calculated from how much other's charge for their 30 minute dog walks on Rover)
Related posts: How To Save Money On Pet Care
12+ Side Hustle Ideas To Make Extra Cash This Month
17+ Ways To Make Extra Money By Taking Online Surveys
15. Online Tutor
Chegg is a tutoring company that pays their tutors $20 per hour. So if you don't like the idea of an online teacher with Magic Ears or VIPKID (mentioned at the beginning of this post), then try online tutoring and work when you want. They have flexible working hours and you can work from anywhere in the world. Most tutors earn $1,000 per month on average and payments go out every week.
Pay rate: $20 per hour
Bonus idea for remote work:
Start a blog or podcast.
Starting a blog can be a great way to work from anywhere you want where you can be your own boss and make your own hours. Not sure how to make money blogging? Well it is a little bit of a long term commitment that requires a lot of work but it is 100% worth it. I know a handful of successful bloggers that make far more than $15 an hour. Much more in fact.
It has almost been a year since I bought my domain and I only work on my blog about 10 hours a week as I do it on the side of my full time job. If I could dedicate myself to it as a full time gig, I could easily replace my day job income. I am still working up to that though.
You don't need to have an established blog that has been around forever either in order to make money blogging. I started making money my first month of blogging.
Anyway, I am telling you anyone can make money online by starting a blog and you can blog about whatever you want. If you are more of a talker, a podcast might be right up your alley.
Do some research before to get a feel for what topics get more traffic and potentially can make more money. Search and brainstorm some strategies and make sure you have a plan to look before your leap! I have seen some crazy niches make an insane amount of money though. If you love writing, telling stories, giving advice and reviewing the products you love then a blog might be your think. Check out How To Create A Self Hosted WordPress Blog. If you sign up for Bluehost with my link you get a free domain, free site builders, free 1-click WordPress install, 24/7 support and all for only $2.95 a month! You really can't beat that deal.
Affiliate marketing is where I earn most of the money from my blog. This is thanks to the Making Sense Of Affiliate Marketing course. When starting your blogging venture, this course is an absolute must.
Related posts: Make Money Blogging: How I Made $1,174.86 In March 2018 Blogging
Blogging For Beginners: 30+ Blogging Resources to Create and Maintain a Profitable Blog
10 Effective Ways To Make Money Blogging
The Top 28 Sites That Pay You To Blog
22 Easy Affiliate Programs For Bloggers
Not sure about starting a blog? No sweat! You can even make money with affiliate marketing on Pinterest!
Start a Money Making Blog Free Email Course
In this free 5 day email course, I show you everything from creating your blog from scratch, to SEO keyword research strategies, basic branding, creating an email list, social media strategies and monetization strategies to start building a profitable blog.
Sign up for the newsletter to receive regular updates and get instant access to the free course.

---
Resources That I Can't Live Without
Below are my top recommendations for saving money, making money and living a more frugal and sustainable lifestyle.
Nielsen: Nielsen will pay you for your internet usage. All you have to do is download their app and register your devices. It is noninvasive, will not impact your device's performance and is 100% secure. Then you get rewarded for using the internet like you do any other day! I currently have it installed on all of my devices and it is nice for a little extra income.
Trim: Trim will negotiate lower bills for you without you ever having to do a thing besides entering your bill and bank info when you sign up. Trim negotiated a savings amount of $17.40 a month on our AT&T bill. This will put us on track for a yearly savings of $208.80 just from lowering our cell phone bill with no consequence or loss of quality!
Qoins: Qoins is an app that saves up your spare change from purchases into a savings account. Then it will pay off any debt accounts that you tell the app to send the payments to from your spare change savings account. You'll also get $3 with this link ;).
Ibotta: Get cash back for scanning your receipts or shopping through the app online. Sign up with my link to get $10 cash back on Ibotta.
Dosh: All the perks of a cash back credit card without having to actually get one! Just link your current cards to the app and get cash back! No receipt scanning, no waiting for the bank to approve your rebate, nothing but instant cash back!
Personal capital: One of the best 100% free finance tracking apps with no hidden fees. What makes Personal Capital so great is that it syncs your spending, saving and investing all in one app.
$5 Meal Plan: Try meal prepping with $5 Meal Plan, a weekly meal plan service that can simplify your meal planning beyond belief for just $5 a month and for free for the first 14 days. If you have a specialized health need, they have several specialized meal plans to tailor to those needs too.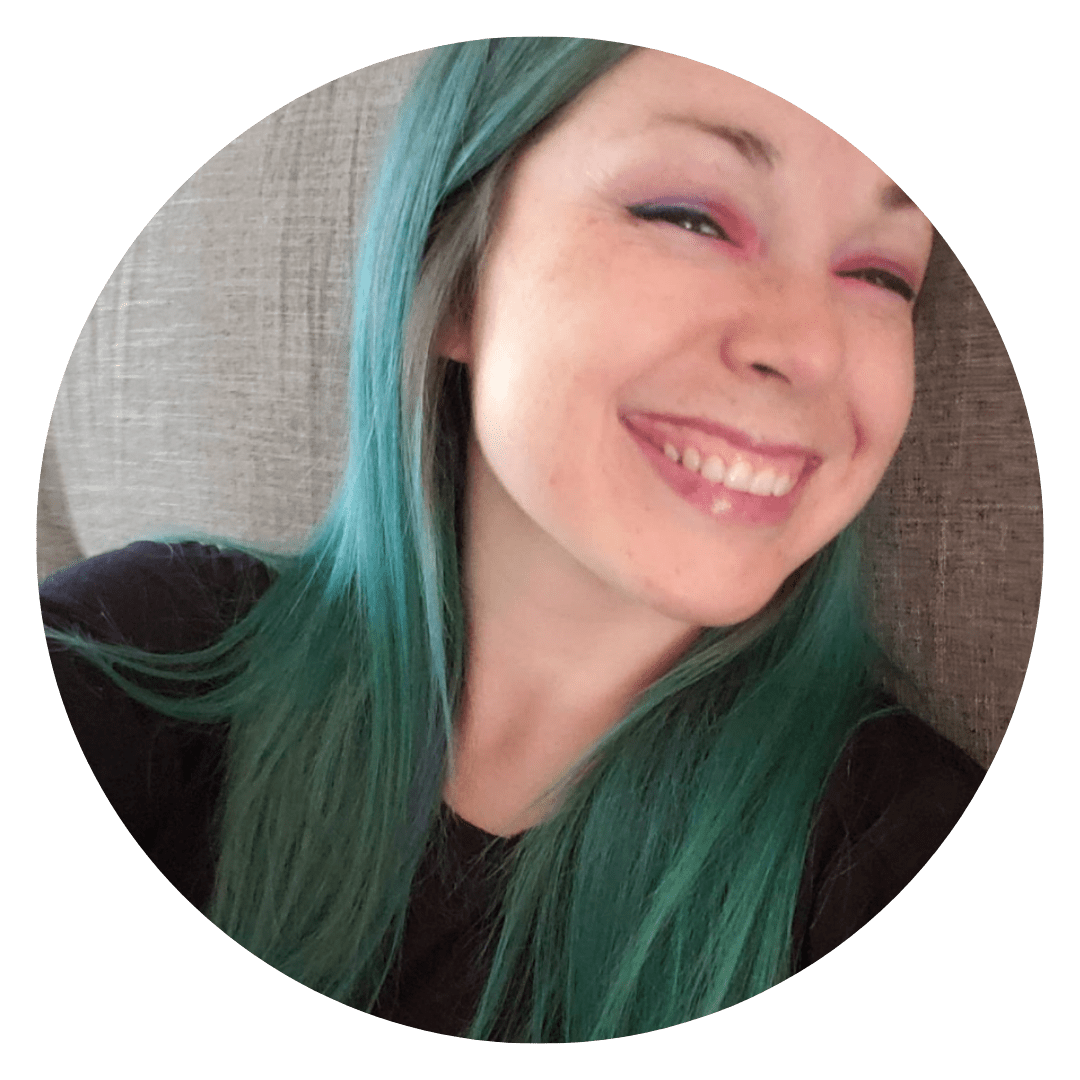 Daniella is the creator and author of iliketodabble.com. When their wife Alexandra and them aren't globetrotting or playing with their 7+ animals, they are dabbling and working towards a future of financial freedom.