Our website is supported by our users and contains affiliate links. We get paid when you purchase or sign up for anything through those links. Read the full disclaimer for more information.
Last Updated on January 18, 2022 by Daniella
We went on so many trips in the past couple of year and we aren't stopping anytime soon. Especially with our new travel hacking techniques and discovering cheap travel destinations for the new year.
Well, until Covid came and traveling safely by plane became difficult. However, we are ramped up to hit some of these spots as soon as we are able to.
So….
My parents gave us gift cards to Southwest Airlines for Christmas. I seriously love my family! That got me researching our trips for the year to get my creative, travel guide wheels turning.
I could use my new gift cards along with my points racked up from last year on my Sapphire Reserve Card for a free trip (with some left over).
In my research I found that you could fly to San Jose, Costa Rica from St. Louis, MO for as low as $199 each way if you book in the middle of the week in March and April.
Even if you don't plan to fly there in those months you can still get cheap flights to Costa Rica. For the least expensive flights, book at least 2 months before your travel date.
Once you get there, Costa Rica can be more expensive than other Central American countries. However, I found that budget travelers can survive on $30 – $50 USD per day.
Pin it for later!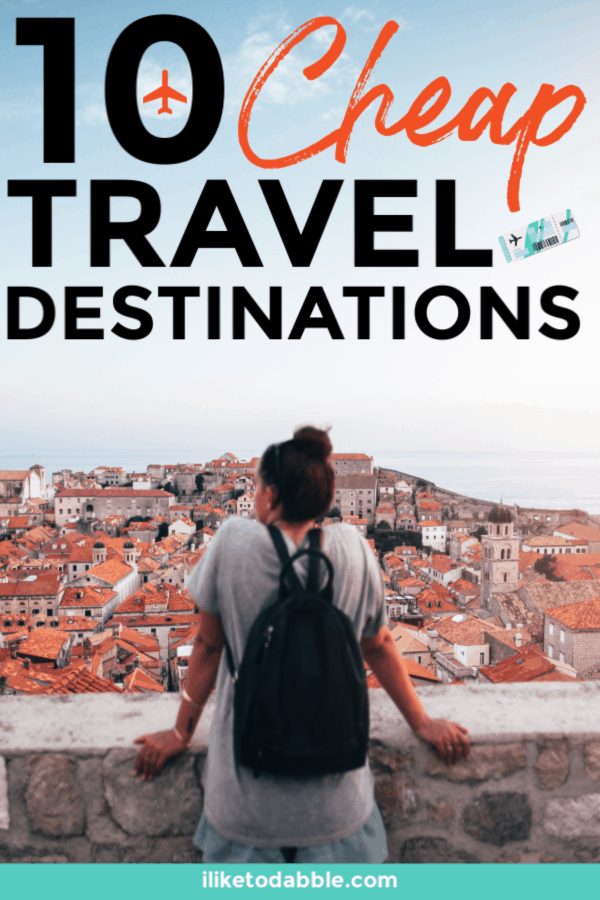 The "Land of Fire" isn't the only cheap travel destination possibility though. There are TONS of countries you can travel to for cheap (or even get paid to travel to). Let's discuss some of my favorites.
Keep in mind that for airfare, it depends on your distance from the destination. So someone in Belize can fly to Costa Rica for much cheaper than someone in the Midwestern United States.
Sagres, Portugal
Sagres is the perfect spot to take in the gorgeous natural landscapes of Portugal. Between the gnarly waves you'll find on the coast of the Pacific Ocean and the free hiking trails you can trek in and around the area, you won't run out of activities on your budget trip to this European hidden gem.
This destination has many perks for the budget traveler. It is both affordable and doesn't tend to get very crowded in the summer.
There are some incredibly nice hostels in the area too. The Goodfeeling hostel is within 10km to Sagres and starts at $17 a night with free beach transfers.
Flights to Sagres start for as low as $466!
What is not to love about this exciting cheap travel destination?
Related posts: 12+ Ways to Travel for Free
31 Ways to Save Money on Travel
How to Get Free Flights (& Free Travel)
Sign up to get your free travel budget planner!
Enter your email and we will send it straight to your inbox!
Verona, Italy
Verona is the setting of Shakespeare's Romeo and Juliet and a beautiful romantic setting for travelers looking to save a buck or two.
I originally found in my research that you can eat for as cheap as $6.75 per person, per meal. But later found in some forums that if you are in the more touristy areas of the city, you will need to expect to pay around 15 Euros per meal.
So plan where you will eat before you go, to save money.
There is plenty to do for cheap or free. The churches are breathtaking and only cost a couple of Euros to enter. If you sightsee anything without entering, it can be for free!
If you are already in Europe, you can fly to Verona for as low as $109 round trip. If you fly from the U.S. (like us) you are looking at $1,000+ round trip because let's face it, it's far. But once you're there, your budget travel dreams are endless.
Groupon as some great travel package deals, especially Europe travel packages. See what kind of packages they have for Verona, Italy!
Karlovac, Croatia
I first looked at Dubrovnik, as it is the top destination in Croatia. But then later found it is probably the most expensive one too, which is what we don't want. It probably doesn't hurt to visit Dubrovnik for a day or two though while you're there.
Instead I found Karlovac. Karlovac is southwest of Zagreb and quite the interesting town to explore. It is shaped like a star! Seriously!
In the 1500s, Karlovac was designed as a renaissance town with the intention of beautiful harmony. Which is why it is in the shape of a 6 pointed star, divided into 24 blocks of the same size.
Karlovac is perfect for rafting and kayaking as well as other water sports. All of which are budget friendly. Food and drink are also cheap in Karlovac. Here is a great list of the 10 best cheap eats in Karlovac.
Even though you can't fly directly into Karlovac, you can fly to Zagreb for as low as $440.
Loei, Thailand
Thailand is one of the cheapest countries to travel to in the world. The best times to visit are during the dry months between October and February. But the cheapest time to go is during the wet season between March and September.
Southeast Asia (as a whole) is one of the cheapest places to travel to.
Loei, Thailand is especially cheap. According to MTL Blog, you can eat for as low as $1.65 per meal!
Loei is beautiful, mountainous and not often visited by tourists, which makes it the perfect budget destination. A popular thing to go in the region is to take the hike up to Phu Kradueng mountain. Here is where you can catch picturesque views of waterfalls and sandstone cliffs.
You won't run out of hikes, parks and things to do in Loei. Which is why we are definitely adding it to our bucket list.
Flights to Thailand from the U.S. range from $600 – $1,000 +, depending on where you fly from, when you fly and what airline you use.
Symi, Greece
Greece is another country on our bucket list and it just happens to be also be cheap travel destination.
If you are into the low key vibe, Symi is the perfect island getaway. Symi, Greece has 8 different white sand beaches and tons of coves to explore. Hike your way around the island and take in the full experience.
You can eat for as low a $7 a meal and I hear the seafood is out of this world.
The island's capital has a section called Gialos, full of colorful neoclassical mansions that stun visitors. Most of the sight seeing and activities you take part in at Symi are free. It is just the way that you get there that won't be.
It is also easy to find affordable accommodation and hotels in Symi. I personally love browsing TripAdvisor before any concrete plans are made so I can read all the good, the bad and the ugly reviews before we go.
Flying to Greece will cost you over $1,000 from the states and you will have to take a boat to get to Symi. After you are done at Symi, take another boat over to Rhodes!
Related posts: 45 Life Hacks to Save a Ton of Money
Expedia Hacks That Will Save You Money
Cancun, Mexico
What makes Mexico one of the cheapest budget travel destinations out there is because how big "all inclusive" travel packages are there.
We went to Mexico for my 21st birthday and I loved it! My family had an all inclusive package for the week. All inclusive travel packages for Mexico are the best way to save money during your visit because they include airfare, accommodation, food and drink!
These are very common to come by and I have seen some 5 day packages for as low as $400 on Groupon.
Once in Cancun, there are countless things you can do at the resort alone including morning yoga, soaking up the sun on the beach, hit up the pool bar or rent a jet ski for the day. After you are bored of the resort, venture out and visit the Chichen Itza and Valladolid ruins.
Did you know you can fly from Houston to Cancun for as low as $78? Yas!
So if you are in Texas, this might be your cheapest option on the list!
Lima, Peru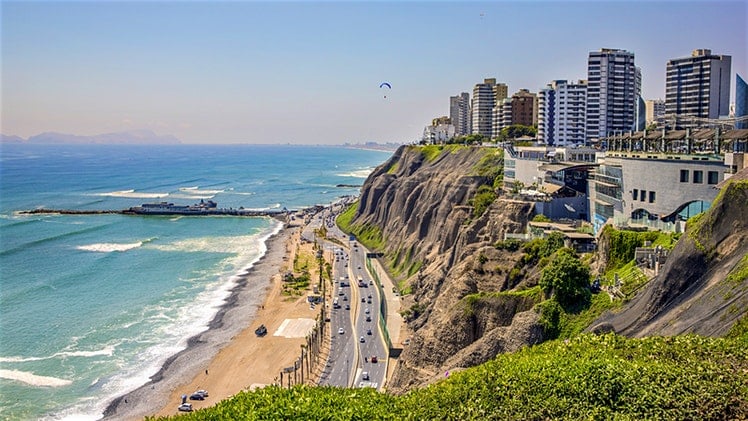 I have never been to Peru but we would love to go Machu Picchu!
Lima is the capital of Peru and a stunning coastal city. Things to do range from visiting the seafront, museums and even learn about Peruvian chocolate.
There are a couple of Inca ruins to explore nearby as well.
Even though the food isn't as cheap as some of the other destinations on this list, the price for lodging makes up for it. Miraflores is the tourist district of Lima and they have dorm rooms for only $7 a night!
Flights to Peru from where we are in the Midwest start at $800. They will be cheaper the further south you go.
Quito, Ecuador
Quito is at 3,000 meters above sea level and is the capital of Ecuador. I love that I keep finding cheap travel options that happen to also be capitals. The options for things to do in capitals are endless.
I personally would love to hike the Pichincha volcano if I ever find myself in Ecuador.
Quito is also the perfect home base to return to as you take in the entire country. They have buses that will travel anywhere you want and only cost $1 an hour.
This city is known for great hostels that are only $6 a night. They also have dorms available for tourists, similar to Peru.
Flights from Florida to Quito, Ecuador start at $400.
Bali, Indonesia
You might have noticed in the recent years that Instagram influencers have become obsessed with Bali and it is on top of all their travel lists. Bali is an Instagrammer's dream and the perfect destination for a budget friendly trip.
According to The Blonde Abroad, you can travel comfortably around Bali for roughly $50 a day.
Cheap accommodation is very common in Bali and you can find your perfect oasis like the one below on Airbnb for only $25 a night. If you sign up for Airbnb with my link, you get a $40 credit that you can put towards your trip!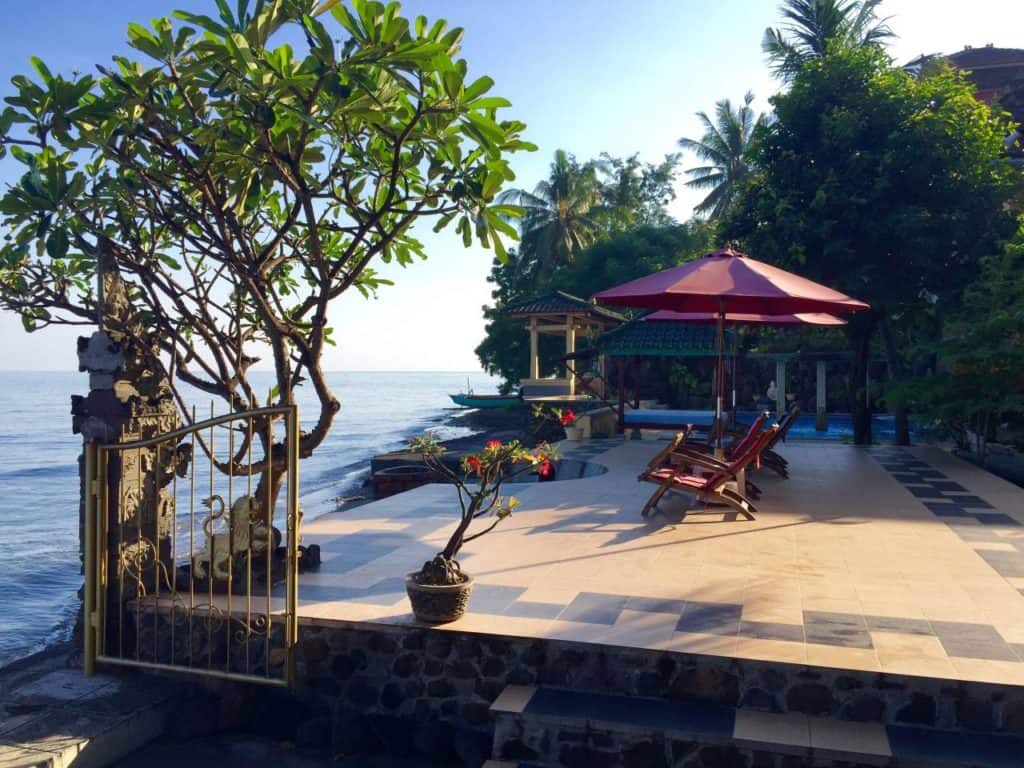 You can rent a motorbike for daily transportation for only $3 a day and eat street food for as low as $1 per meal.
The only thing you will have to splurge on is the airfare if you fly from the United States. Flights to Bali from the U.S. start for as low as $800 from New York City, New York.
Related posts: 10 Unknown Airbnb Hacks You Have To Try
How To Take An Unrealistic Road Trip On A Realistic Budget
10 Enchanting Yurts For Rent On Airbnb
Las Vegas, Nevada, U.S.
I had to include at least one American destination on this list. Since I am already in the U.S., it is cheapest to fly and drive to other U.S. destinations over any international ones.
If you are into aliens, "Mary Jane" and gambling, Las Vegas is the place to be. The flights and hotels are always cheap. It is the food, drink and gambling that you have to watch out for.
Also, never buy anything from the hotel convenience stores. I once had to pay $20 for a box of tampons in one of these because I didn't have time to go to a Walgreen's. Seriously, why aren't tampons covered by healthcare yet!?
Flights from Missouri to Las Vegas, NV start for as low as $149 round trip.
How to Save Money on Airfare
As you can see as we went through the list above, airfare gets a little expensive the farther away the country is. So I wanted to introduce a way that I currently save on airfare to potentially help you out.
Travel Hacking
Travel hacking is the best way to save money on airfare and even score free flights. How it works is you essentially earn points with your travel rewards card that you can exchange for air miles, hotel accommodations, cash and more.
You also get some awesome perks with most travel rewards cards like discounts on certain car rental companies, yearly complimentary credit to apply towards travel, lounge access and TSA pre check.
We personally love the Southwest Rapid Rewards Priority card which helped us get the Companion Pass for the rest of 2019 and 2020 where my wife will get to fly with me for free (and now into half of 2021)! We also love the free upgrades which saved us a couple of times when our flights were canceled and we had to squeeze on a last-minute flight.
Related post: 5 Ways to Travel Hack Without Trashing Your Credit
Dollar Flight Club
Another one of my favorite new ways to save money on airfare is by using Dollar Flight Club! Dollar Flight Club's goal is to help you travel more and enjoy experiences that you wouldn't have been able to afford otherwise.
How Dollar Flight Club works is as an email subscription service that helps thousands of people save an outrageous amount of money on airfare. Subscribers save over $500 USD per international ticket on average. The service currently has 500,000 members, 700+ departure airports, serves 35 countries and has been able to save $2,000,000 dollars total for their members!
Rewards Apps
There are more ways to save money on airfare such as using rewards from your every day shopping to cash out for airline gift cards. Or stash away cash from rewards in a travel fund.
My favorite rewards apps that I use and love:
Ibotta: Get cash back and rewards for shopping both in store and online. Also snag a $10 bonus just for signing up!
Ebates: Sign up for Ebates for another free $10 bonus, more cash back and savings bonuses. They also have tons of cash back offers for travel purchases.
Dosh: Dosh is where you can get cash back at tons of restaurants, bars and gas stations. Read our review of the Dosh app here.
I also love using Hopper to compare dates with their amazing interactive calendar to snag the best prices on flights, according to timing and their predictions.
Related posts: Three Ways Driving With Uber Can Help You Save Up For A Trip
86 Genius Tips to Save Money Every Day
22 Clever Ways to Get Free Gift Cards
10+ Legit Ways to Get Free Stuff
How to Create a Budget When You Are Horrible With Money
Money Saving Challenge: Save $1,000 in 10 Weeks
What other countries do you think are great cheap travel destinations? What are some other ways you save money on travel? We would love to hear from you in the comments below!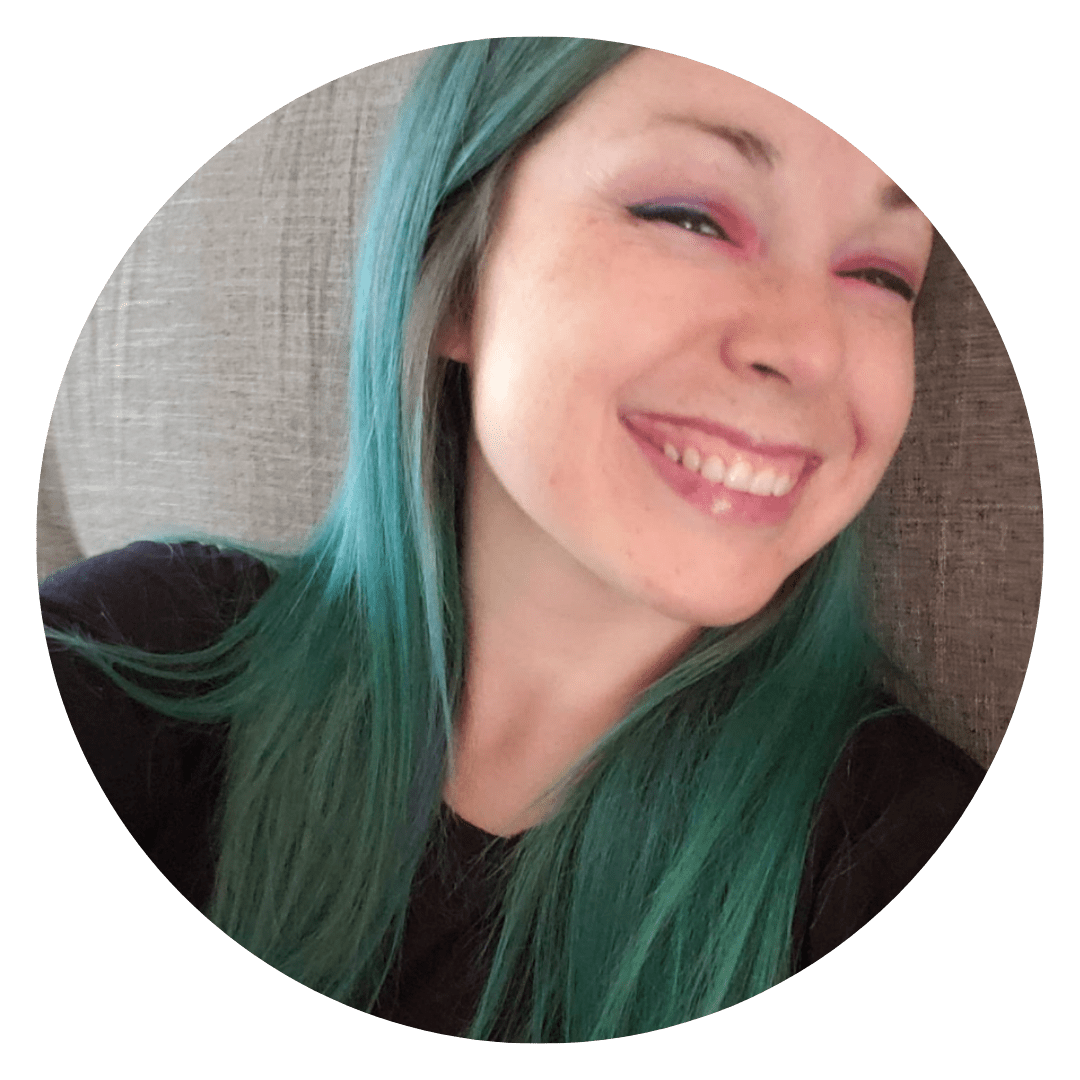 Daniella is the creator and author of iliketodabble.com. When their wife Alexandra and them aren't globetrotting or playing with their 7+ animals, they are dabbling and working towards a future of financial freedom.