Our website is supported by our users and contains affiliate links. We get paid when you purchase or sign up for anything through those links. Read the full disclaimer for more information.
Last Updated on December 1, 2020 by Yovana
Can you really make money online by playing mobile games? We answer exactly that in this Mistplay review.
We've covered in the past other ways to make money from your phone including:
Now, we want to cover how you can essentially get paid for playing games on your smartphone and monetize your love for video games.
According to Variety, 70% of Americans (roughly 210 million) play games on at least one type of mobile device. 90% of those play games are on their smartphones.
Now, imagine if those same 210 million people were able to earn points for free gift cards and make extra money by those same games on their smartphones?
They won't be able to make a full-time income with mobile gaming or replace their day jobs, but they'll still be able to earn cash with something they already do.
Let's get into some of the specifics in this Mistplay review (from my own experience with the app).
Mistplay Review: Is it worth your time?
I went ahead and tried Mistplay myself. I put a total of 30 minutes into the app by playing 2 different games over a span of 2 different mornings. It is a pretty fun app and kind of addictive.
What is Mistplay?
Mistplay is a mobile app that arose on the scene back in 2017. The platform is a loyalty program for its users so they can earn rewards playing games on their phones.
It's also the first loyalty program of it's kind.
Mobile gamers earn rewards for games they download, install and play within the app. The longer you play and the more you level up means the more points you are able to earn. Once reaching certain thresholds of points, you can cash out your points in the Mistplay app for gift cards, Google Play credits, virtual Visa cards, and more.
Who is Mistplay for?
If you have an Android phone, you can download Mistplay for free, play for free and never pay a dime to use it. Mistplay is 100% free to use.
However, if you have an iPhone, you're out of luck. The app isn't available yet for IOS but it is coming.
Another important thing to note is you must be 18 years of age or older to use Mistplay.
How does Mistplay work?
To use Mistplay to pay you for the games you play on your phone, you first need to download Mistplay from the app store and install it on your phone. Once installed, open the app and sign up for an account which is completely free to do.
Phone Settings That Need Modification
Once you sign up, you will have to make the following changes to your phone settings to be able to collect points for playing games through Mistplay.
Settings to change are:
Disable power-saving mode
Allow the app to display over other apps running
Earning Points
Mistplay works by choosing a game to download, install and play within the app (so it can measure your playtime and levels up to reward you with Mistplay points called units).
There are many different categories of mobile video games to choose from and download including:
Simulation
Strategy
Bingo
Word
War
Board games
Other games
There are always new games being added.
You will be able to see the earning power of each game as you scroll through. Some will state they can earn 1x units, 2x units, 2.5x units, 3x units, and so on. If you refer to the featured game section that appears first within the app, this is usually where the games with the most earning power are listed. The section labeled "Mistplay Favorites" also has high earning games listed.
Select your game of choice and start playing.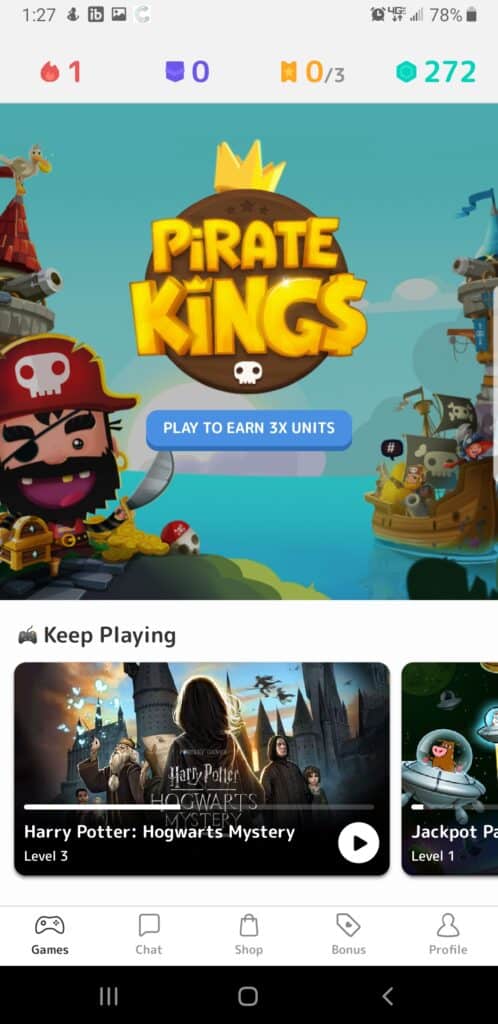 With your phone settings properly set for the game to track points, as you play the game you will see GXP (Game Experience Points) applied throughout gameplay and you will see this at the top while playing. The longer you play, the more you earn.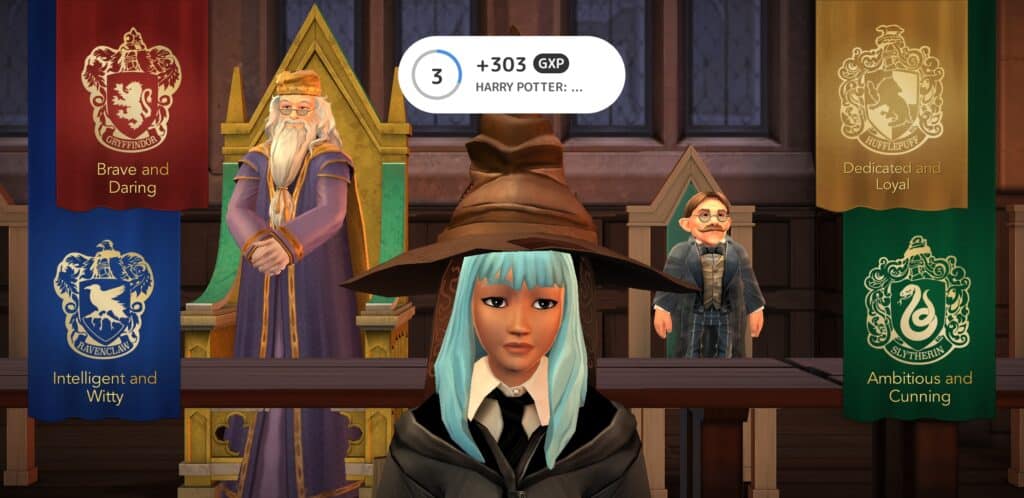 Different games have different requirements for when you receive units. You will see your total units earned from that cycle of playtime once exiting the game. Depending on your location, you may different games available when compared to gamers in other locations. The use of VPN is prohibited and you will be blocked from Mistplay if they catch you using it.
Is Mistplay trustworthy?
Data protection is important to Mistplay and they collect and treat user information in accordance to their privacy policy. Mistplay states in their privacy policy that they will not sell, rent or disclose any of your information.
Mistplay will also never ask for any personal banking or credit card information to redeem any units earned for payout.
How can users make money playing mobile games on Mistplay?
Users earn money playing games through Mistplay by earning units for their playtime. The longer you play, the more GXPs (Game Experience Points) and PXPs (Player Experience Points) you earn which will, in turn, increase the number of units you earn.
Some games may award you for your feedback on the gameplay experience after your playtime. Once you submit your feedback, you'll receive those units in your account.
When navigating to the "Bonus" tab on the app, you can also earn units outside of playing games on the app with daily bonuses, entering contests, referring friends, using Mistplay codes, and completing actions such as following and subscribing to Mistplay.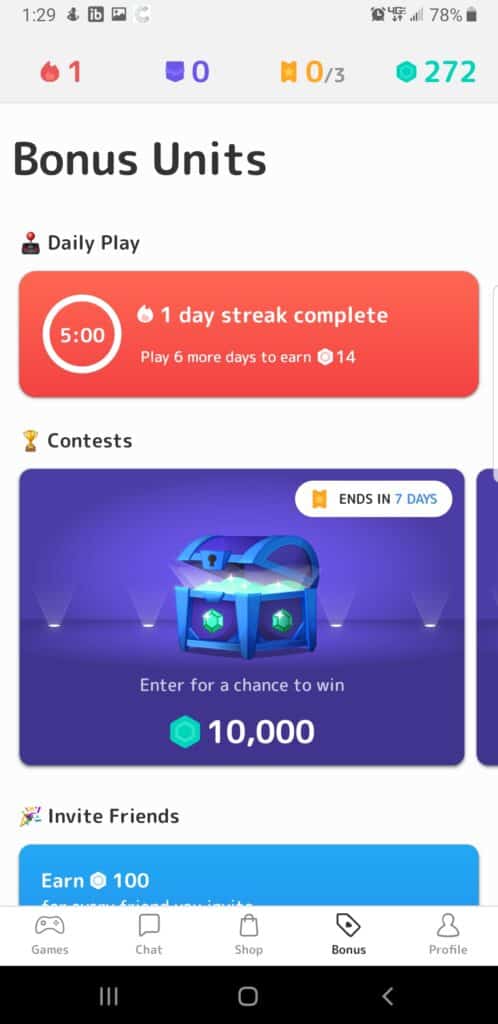 Units, GXPs and PXPs
Units are the main currency of exchange within the Mistplay app but there are 2 other elements that play into how many units you can earn throughout game play.
GXPs (Game Experience Points): GXPs indicate the amount of time you've spent playing a game and the more GXPs you earn increases the number of units you can earn from that game.
PXPs (Player Experience Points): PXPs represent your entire experience in a game, including what level you are at in a game. Each level you move up will earn you bonus units and priveledges such as new player avatars.
Daily Bonuses
You can earn additional units by earning daily bonuses. The Daily Play bonus is 14 bonus units for playing at least 5 minutes a day and for 7 days in a row.
Contests
Enter ongoing contests to win up to 10,000 units by completing steps such as:
Installing one new game and reaching level 5
Getting 1 new follower
Play another game for 30 minutes
There is about 1 contest per month.
Refer Friends to the Mistplay App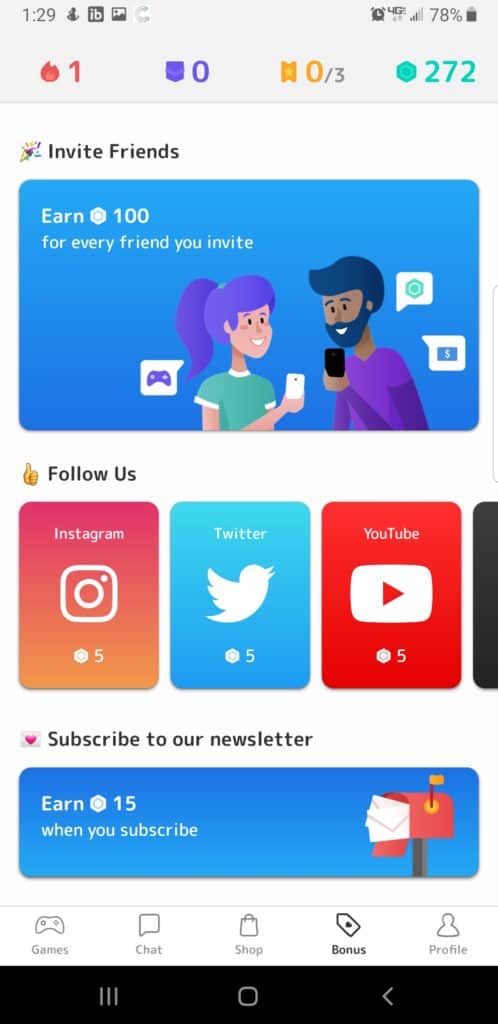 Mistplay has its own referral program where you can earn 100 units for every friend and new user you refer to the Mistplay app. The app will provide you with a unique link that your friends and others sign up with and you'll earn 100 units once they reach level 4.
They will receive 50 bonus units for using your unique link (which includes your invite code) to sign up.
Use Mistplay Codes for Free Units
Mistplay grants any new user that signs up with an invite code from another user (or their unique referral link) bonus units that are free. The person who shared their referral Mistplay code or unique link will earn 100 bonus free units once their referral reaches level 4 in a game.
Each game also has its own chat room for players to chat with each other and share tips and codes. Some game chat rooms will have specific chat rooms for Mistplay codes for you to use but will have to reach a certain level before you can join those.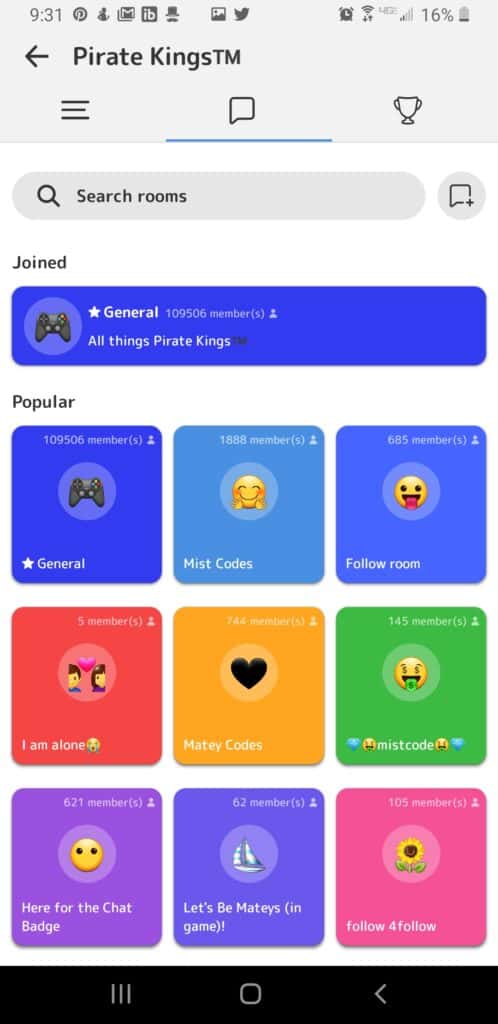 Follow Mistplay and Subscribe
You can even earn more units with supporting Mistplay. I suggest you complete each and every one of the actions provided to increase your units.
You will earn 5 units for following Mistplay on each of these platforms:
Instagram
Twitter
YouTube
Facebook
Then scroll to the end of the "Bonus" screen to earn 15 units for subscribing to Mistplay's newsletter.
When do you get paid on the Mistplay app?
You don't ever get paid in actual money via a deposit. There is no way to redeem your units for money via PayPal or Venmo and units can only be redeemed for a variety of gift cards in the "Shop" section of the app.
You will get paid once selecting a gift card amount to redeem and receiving the email with the award from Mistplay. It may take up to 48 hours to receive the email with the link to your card.
How do you redeem Mistplay points?
When navigating to the "Shop" tab within the app on the bottom menu, you will see the list of ways to redeem your Mistplay units.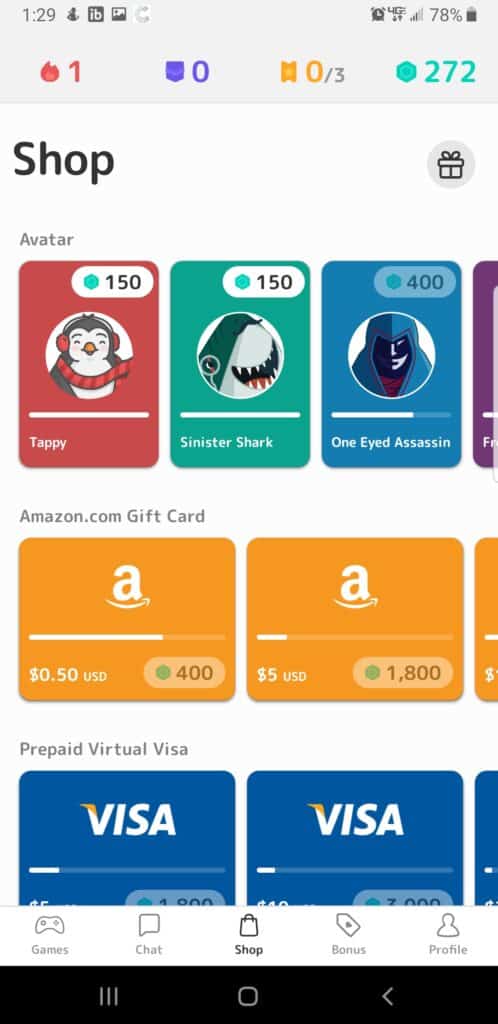 You can redeem units for:
Avatars
Amazon gift cards
Visa gift cards
Google Play gift cards
PlayStation store cards
Xbox gift cards
GameStop gift cards
iTunes gift cards
Starbucks gift cards
Nintendo eShop cards
and eBay gift cards
Once you've reached the number of units stated on each redeemable option, you can click on that option and select "Buy". Mistplay will email you our gift card and simply click on the link in the email to access the virtual card.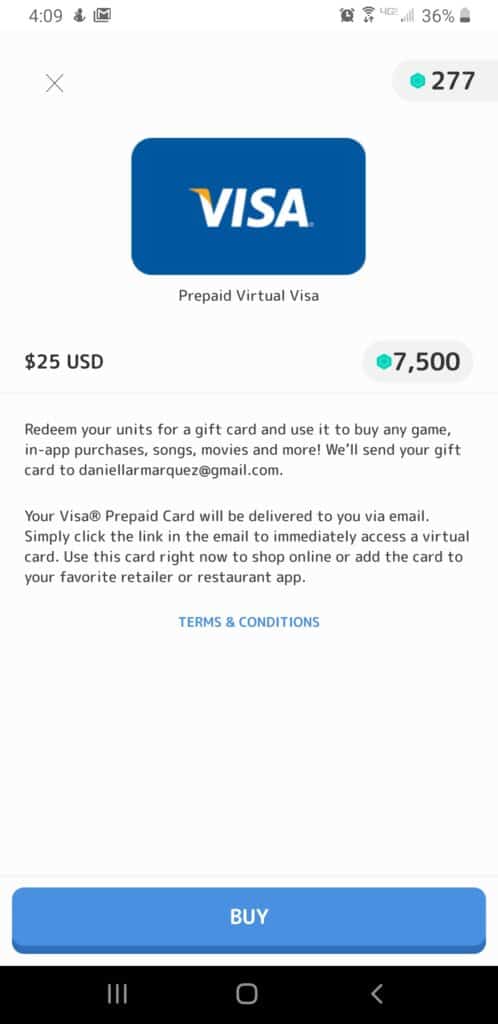 You cannot, however, redeem any of your units for actual cash, only the gift card options in the app. Because of this, Mistplay is not a good option for something that could replace a full-time job.
How much can you earn with Mistplay?
You can make up to $50 of rewards per month on Mistplay but you will have to put in a lot of game time to reach that.
It is hard to control how many units you are able to earn every single time you play but you can control the amount of time you spend in each game. You can either bounce around from high unit earning games fulfilling the requirements or spend more time in one game and develop your skills in it.
The number of units per gift card amount is as follows in USD:
400 units = $0.50
1,800 units = $5
3,000 units = $10
4,500 units = $15
6,000 units = $20
7,500 units = $25
15,000 = $50
Playing when you want over time can definitely add up especially if you are idle for a good chunk of the week. Filling up that extra time with making money on Mistplay may not be a bad idea!
However, if you are a gamer looking for a side hustle that pays more than $50 a month, I suggest maybe starting a YouTube or Twitch channel.
Earn More Cash Using Your Internet
If you are at home playing games through Mistplay, get paid for using your internet while playing by signing up for Nielsen and registering your smartphone.
It is a great way to earn more cash for not really doing anything else but registering your device with them and using it.
How Much I Made on Mistplay
I only played the app for a total of 30 minutes over the span of 2 days. I played 2 different games and the highest level I reached in those games was level 3.
Here is a breakdown of my points earned at that time:
4,488 GXP
715 PXP
277 units
I am almost up to a $0.50 cents redeemable gift card but the more time I put into it the faster I would be able to earn (this will vary from each time I play it though and depends on what game I play).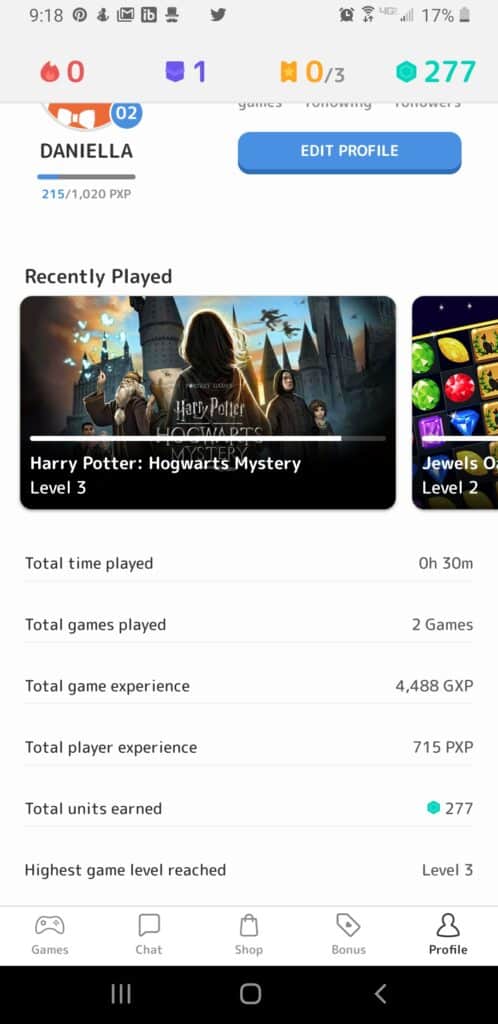 How does Mistplay make money?
Since Mistplay is essentially a game testing website for mobile game developers, it remains free to use by its users. As you play games and submit feedback in Mistplay, gaming companies and their developers can identify glitches and bugs in games and work to improve those games.
Your feedback also helps the developers understand how easy or difficult a game is at any given level and may provide suggestions to tweak the experience for their users.
Mistplay Review: Things to Keep in Mind
If you want to continue to earn on Mistplay, make sure to watch how long you let your account go inactive. If you go 180 days without opening the app and playing, you will lose all of your units earned prior and your account will be automatically deleted.
To recap a couple of other important things to note about Mistplay:
Gamers must be 18 years old to use Mistplay.
They cannot use VPN and will be blocked if caught using it.
There will be different games available to you based on your location.
Users can make up to $50 a month on Mistplay.
Point earning potential varies.
How to boost your earning potential:
Look for games that pay a higher amount of units (go for 3x and higher) but remember the way the game pays can change at any time.
Find Mistplay codes in chat rooms to earn free units (as in you didn't have to put in any playtime for them).
Complete all the bonus opportunities for more units.
Always offer valuable feedback after playing games.
Apps Like Mistplay
There are a few other apps you might've heard about long before you stumbled across Mistplay. One of my favorites I've used before is Swagbucks where you could make extra cash filling out surveys, watching videos, completing offers, and installing/playing games through the app.
Some other apps like Mistplay and Swagbucks are:
InboxDollars: Get paid for installing games and playing them through InboxDollars. Read our full InboxDollars review.
MyPoints: Get paid to play casino games, GSN games and more (points are redeemable for cash payment).
Mistplay Review: Concluding Thoughts
I can say from my own experience that Mistplay is a legit app to earn money online in the form of gift cards and other rewards for playing games on your smartphone. However, I am not a fan of how much time and action went into the amount of money I made so if you are looking for passive income, it isn't for you.
I love the idea of getting to earn some cash from something I would already be doing. It is great for filling spare-time in a waiting room somewhere to earn some beer money. However, Mistplay is nowhere near a lucrative side hustle idea (and probably won't be much for an extra income) and you would have a much better result with freelancing or something that will be a larger money-making endeavor.
BUT, If you are a mobile gamer I suggest you give it a try and see if you like it. The worst-case scenario is you earn a couple of extra bucks.
Browse more reviews:
Subscribe to get your free list of side hustles you can start this week!
Claim your free list of side hustles + tons of helpful resources to get started!
Pin it for later!
Installation and Setup
9.0/10
Pros
Easy way to make money from anywhere
Great chat features
A lot of opportunities to earn bonus units
Flexible reward options
Data security
Cons
Only available on Android
Game options are limited per your location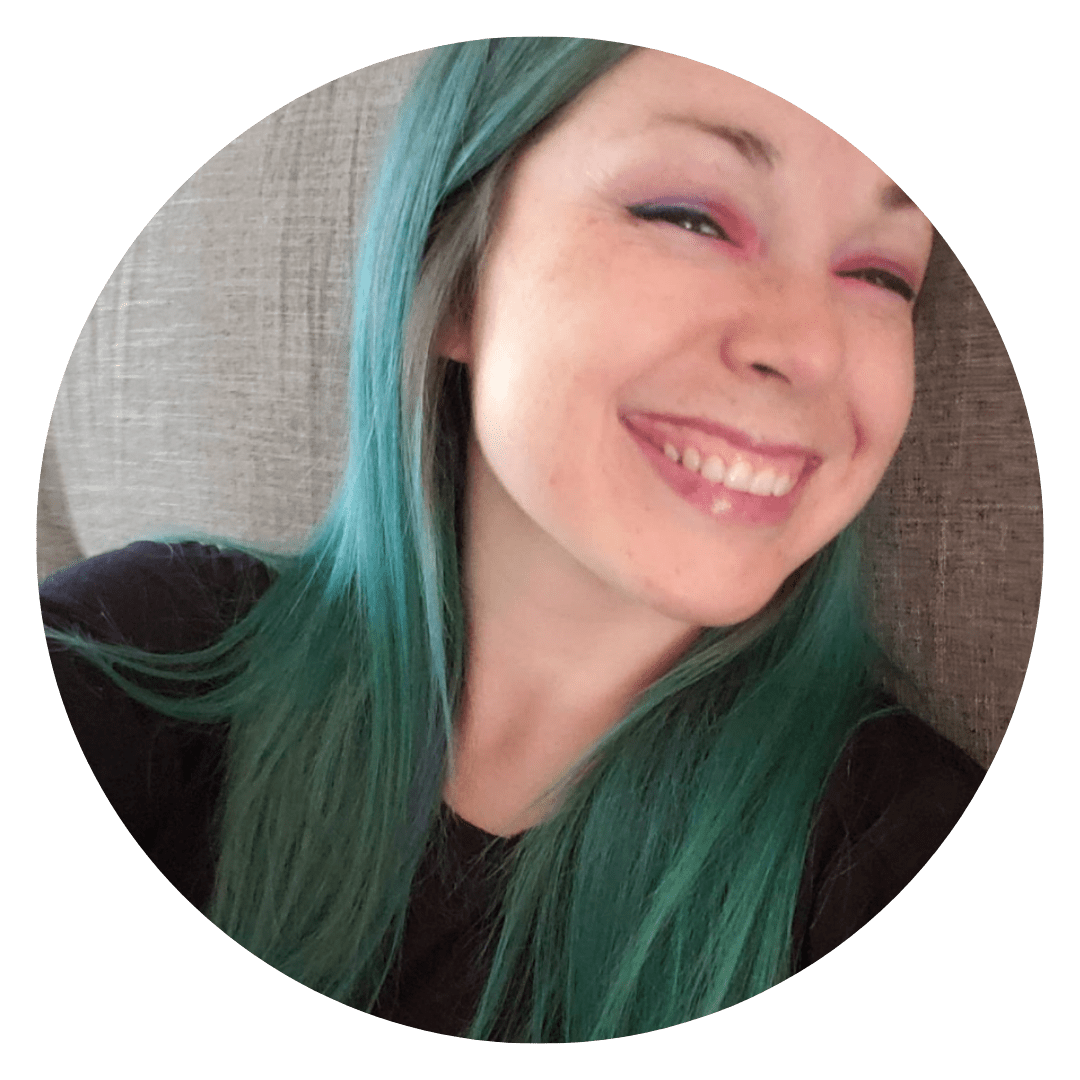 Daniella is the creator and author of iliketodabble.com. When their wife Alexandra and them aren't globetrotting or playing with their 7+ animals, they are dabbling and working towards a future of financial freedom.