Our website is supported by our users and contains affiliate links. We get paid when you purchase or sign up for anything through those links. Read the full disclaimer for more information.
Last Updated on January 22, 2023 by Daniella
If you have an artistic side and looking for a side hustle that you can work on from anywhere you want and build up over time, printables might be the perfect thing for you.
Printables are actually my favorite way to earn passive income (even though they weren't always that way for me).
I have so much fun releasing my creative energy as I dream up ideas for new designs. As a painter and designer myself, it never occurred to me that creating things like printables could actually be a great side hustle idea.
Blogging and exploring the different income streams I could create with a blog is actually what first opened my eyes up to the ideas of printables and selling other digital products online.
I first created them to offer as freebies and the more people responded well to them, I started testing out paid products and selling printables on my own site.
A little over a year later, I bring in hundreds of dollars in passive income a month from my printables and other digital products.
How to Create Your Own Printables
First, you need to have an idea of what you want to create before you create it.
Start with what you like to use. Are there any hobbies that you like to use a printable for or maybe other people do (that is a potential audience right there, and one to consider for marketing)?
What are some printables that come in handy in your own day to day life? Are there any meal planners, budget sheets, or tracking sheets you like to use?
Sign up to get your FREE Side Hustle Idea Mind Map Template
This mind map template will help you decide everything you need to do to get your idea up and running + see if it is the right idea for you.
Where to Find Inspiration
I love Pinterest for digital marketing and finding ideas for…well, absolutely anything.
Start searching for the types of printables you are interested in creating. For example, use search terms like "Budget Printables", "Productivity Printable", "Mood Tracker Printable", "Meal Planner Printable", etc.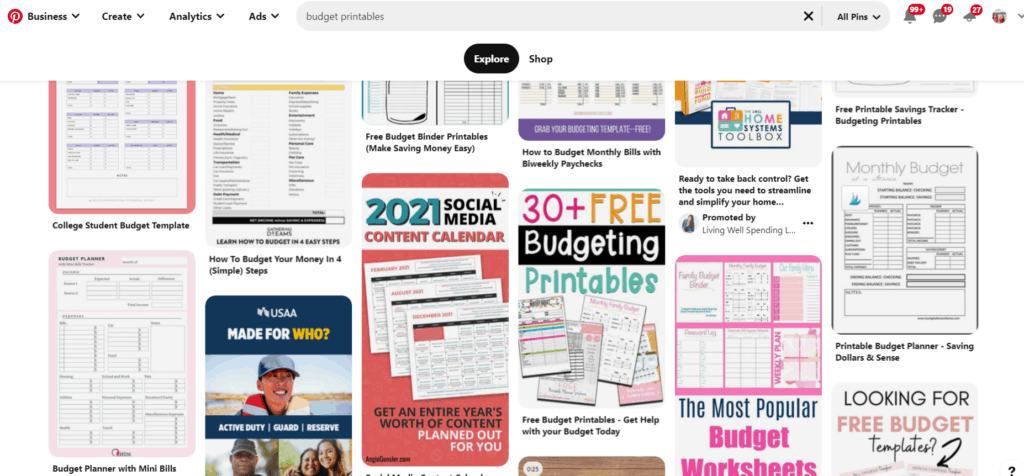 Also search for different formatting, fonts, colors, and designs that you like. You don't have to use just Pinterest for this either. I especially love browsing the ideas on Canva and Creative Market for inspiration too.
Browse through the different designs and save what appeals to you in a private Pinterest board to use sort of like a mood board.
Take the inspiration and start drafting on paper the sort of designs you want to create (and never steal directly from other designs or Canva).
Printable Ideas
When you first get started out, it might be hard to come up with different ideas for what to exactly create. A printable can be literally anything that is able to be printed and used. So, you have a lot of room to play around and get creative with this type of digital download product.
Ideas for printables to create:
Software to Use
I use Canva to create all of my printables and other digital products I sell like Pinterest Templates. There are a surprising number of ways to make money with Canva but I'll save that for another post.
You can try out Canva for 100% free. However, the paid version has much more functionality and elements available to create more designs. I use the paid version Canva Pro which is only $10 a month for 420,000+ new free templates with new designs daily, 75+ million premium stock photos, videos, audio and graphics free-to-use, 100GB of cloud storage, and more.
Where to Sell Them Online
I actually sell all of my printables on my own shop that I host on my website, like this printable bundle of mine: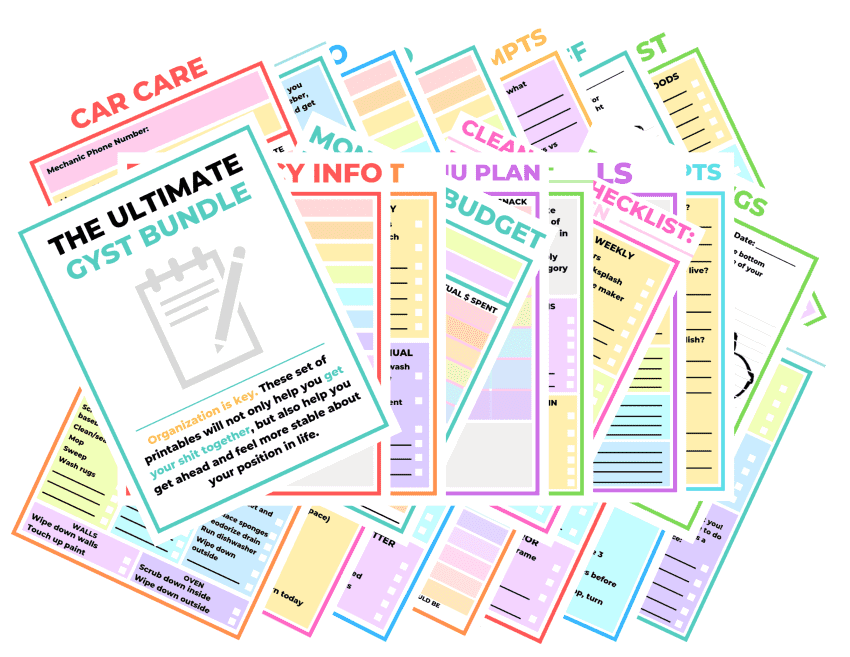 Tools used to sell products on my site:
There are tons of ways to sell your digital products and printables online though and you don't have to use my setup.
Other ways to sell printables online:
How to Set Up Systems to Bring In Passive Income from Your Printables
Alright – you have your printable created, tested out, loaded on your online store setup of choice, but aren't getting any sales. Don't be ready to throw in the towel quite yet.
In order to sell your products, there are 3 things you need to think about and implement:
SEO
Promotion
Automation
The third one is what is going to help you make your monthly printable earnings more passive than active down the road.
SEO (Search Engine Optimization)
When you list your printables, ask yourself how people will find them. Not only that, they also have to be the right people who also want to buy them.
On a platform like Etsy, the one thing that is going to help you with sales is learning about Etsy SEO and how to implement it the right way on your listings. The stronger your SEO strategy, the more your listings will get seen and ultimately, the more printables you'll sell.
You can actually implement SEO with any platform you use. Be sure to do some research on the platform you're using typing in popular keywords and see the recommended keyword combinations that pop up (you can do this in Google too). Research potential competitor listings and see the keywords that they are using for listings similar to yours.
You can also use a tool like Semrush to aid you in your keyword research and SEO strategy.
Promotion
My favorite way to promote my printables are on Pinterest because people are already there searching for what I sell.
I create multiple pins a week to promote my listings using the same tool I used to create my printables – Canva. I then schedule them out using Tailwind.
But Pinterest isn't the only place to promote your printables on. You can also promote your listings using:
Automation
The part in the last section where I talked about scheduling out my Pinterst posts in Tailwind is the automation piece of the puzzle. I automate my Pinterest marketing so I don't have to work on it actively.
I sit down and "batch" out pins promoting my printables (batching is quickly producing a lot of content in one sitting), using templates to quickly crank out a large number of them, and then schedule them out for the week, month, or several months ahead.
I schedule them for times where Pinterest is the most popular so it increases their exposure.
You can schedule most social media promotion and marketing using other tools (some of the tools support different platforms) too like:
Other examples of automating your printable promotion are:
With automation, there is usually a period of trial and error before you find your groove. Experimentation is key.
Taking on a Printable Side Hustle: Let Your Creativity Run Wild
As you get your creativity flowing and brain buzzing with your new side hustle idea, make sure you are prepared to legally cover it as well.
I recommend consulting a lawyer and accountant before you list anything so you are aware of any business licenses you need, sales taxes you need to pay, etc. This part seems daunting at first but once you talk to a professional for what you need to do, it gets much easier (trust me).
If you want to dive into creating and selling printables, check out this free course from my friend Julie who makes $1,000+ a month passively from selling printables on Etsy.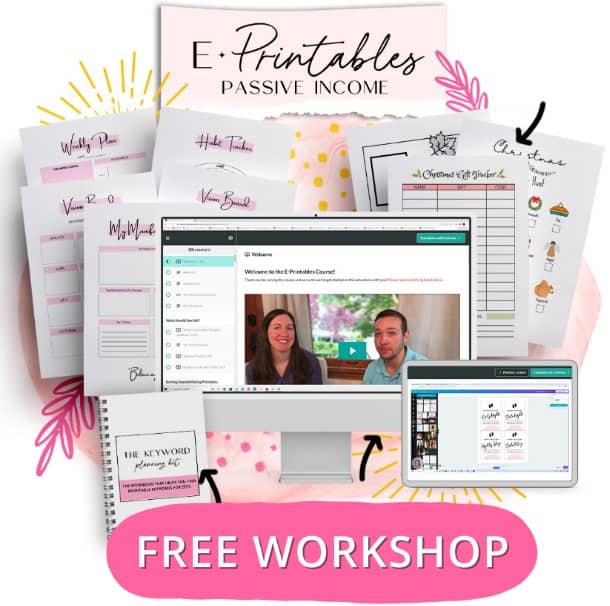 Remember to have fun with it, explore your creativity, and really let it loose.
It's time to start creating, dabbling, and have some fun!
Related:
Pin it for later!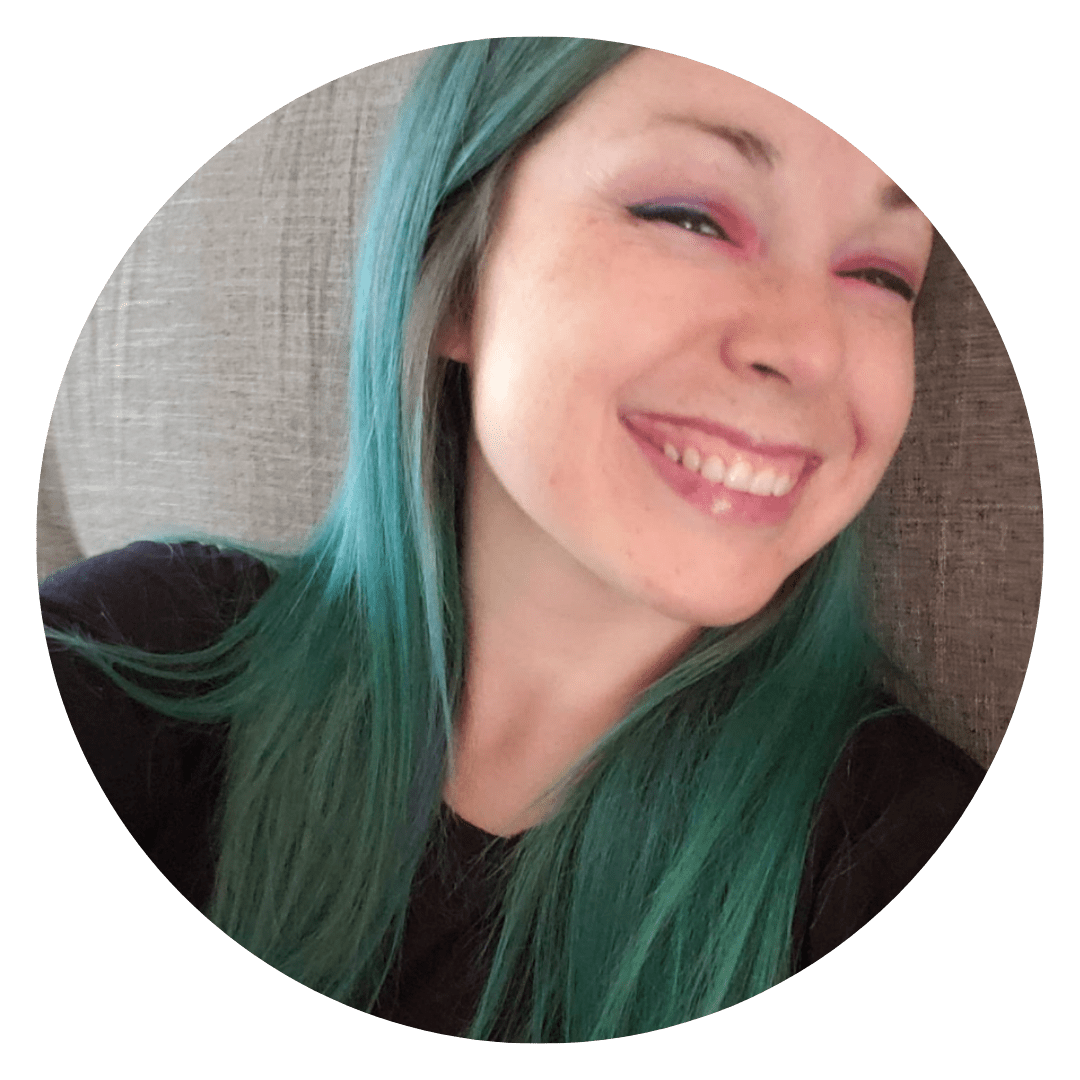 Daniella is the creator and author of iliketodabble.com. When their wife Alexandra and them aren't globetrotting or playing with their 7+ animals, they are dabbling and working towards a future of financial freedom.