Our website is supported by our users and contains affiliate links. We get paid when you purchase or sign up for anything through those links. Read the full disclaimer for more information.
Last Updated on December 1, 2020 by Yovana
If you're on a budget, you've probably heard of ThredUp, the largest online consignment and thrift store.
With their super low prices on popular brands and applaudable mission to encourage consumers to choose secondhand first, ThredUp shoppers can rest assured that they are shopping frugally, consciously, and in style.
ThredUp also offers to take your unwanted treasures off your hands and sell them for the same reasonable prices, giving you a percentage of the profits.
But how much can you actually make selling clothes on ThredUp? And is it possible to make more on other platforms like Poshmark?
Keep reading for a full Thredup review of what to expect when buying and selling on ThredUp and how it compares to other options for online thrifting.
What is ThredUp?
ThredUp is a virtual store where you can purchase trendy secondhand apparel and accessories for a fraction of the cost of buying new, and potentially cash in on retired items from your own closet.
How ThredUp Works
When shopping on ThredUp, you can browse by item, brand, or discount level and apply a number of different filters such as color, material, and condition to find what you're looking for. Some items are even new with tags and yes, there's even a filter for that!
As a seller, you can easily order a "clean-out kit" which arrives in the mail. Once you receive it, you can fill it with pieces that no longer spark joy, mail it back, and ThredUp will decide which items are suitable to sell and which are on the road to being recycled.
The Buying Experience
ThredUp makes it easy to navigate the site and find what you're looking for. Whether you're in pursuit of wardrobe essentials for the upcoming season or looking to shop your favorite brands for way less than retail, you can browse the home page menu with ease and apply the various filters to narrow your search.
The site even remembers your sizes and allows you to conveniently save your searches which saves you time if you typically look for the same brands, colors, fabrics, and wear conditions.
All items are photographed on a mannequin so the presentation is quite uniform. The only thing that makes it less than ideal is that some items appear to be wrinkled or may fit the mannequin differently than they would a person.
Overall the display is clean and straight-forward – a definite improvement from sifting through crowded racks at your local thrift stop.
How ThredUp Is Different
In the past two years, ThredUp has launched new initiatives in an effort to tailor and enhance the shopping experience.
One example, Shop Her Closet is a series in which the company partners with influencers, celebrities, and prominent ThredUp sellers to showcase and sell items from their covetable closets.
There's also The Rescue Box which contains items that have either seen better days or have otherwise gone unsold within their selling period. You can order one of these boxes and receive a mix of 25 items for $60 or $2.40 per item. They even offer a DIY t-shirt box that contains 25 pieces for $28 – that's $1.12 per item! The sizes are mixed but it's truly a steal if you're a creative with an affinity for reviving and repurposing old threads.
And finally, they've got The Goody Box – a selection of items curated for you by a ThredUp stylist based on your responses to a detailed style quiz. You can order this box once or receive it monthly – similar to Stitch Fix, only secondhand. You pay a $10 styling fee plus the cost of whatever items you decide to keep, which can range anywhere between $20 and $120 each.
If you're thinking that those prices sound a bit steep for a thrift store, it's because they do. But from my understanding, the Goody Box seems to be an effort to provide a more personalized and deluxe experience, complete with premium items which may be well worth the higher price tag.
Based on other reviews, the Goody Box can sometimes be hit or miss but the good thing is that you can return whatever you don't love without paying anything for those pieces.
The Selling Experience
Selling on ThredUp is as simple as ordering a clean out kit, filling it with clean clothes that are in good condition, and mailing it right back. Once your kit is received, the ThredUp team evaluates your items, prices them, photographs them, and lists them on the site to sell. If your items are on-trend, in-season, and high quality, you can get paid 5-80% of the anticipated selling price up front before they sell.
However, if the items are off-season they will go into consignment and you'll get paid out once they're sold.
The payout system is where it can get disappointing for some. For one thing, ThredUp only accepts pieces that are in demand and in decent condition, then they recycle the rest. They provide guidelines on how to improve the odds of your clothing being accepted but it can still be difficult to predict how much of what you send will actually end up being sold, and how much it will be sold for.
The better the quality and higher the market value of the items you send in, the greater percentage you'll make from each sale as you can see in the following table:
In the past I've earned a total of $33.51 on 18 items that were sold on ThredUp.
My highest payout was $9.40 on a t-shirt that sold for $23.49 and my lowest payout was $0.40 on a pair of jeans that sold for $7.99.
ThredUp credits your account with your payout and you can either use it to shop on the site or choose to cash out via PayPal or Prepaid Visa within 14 days of your payout being available.
The Pros
Great deals on brand name and designer items
Could be awesome if you're looking to stock up on basics or try a new trend without breaking the bank
With lots of filters, it's easy to narrow your search if you already have a clear idea of what you're looking for
Items are professionally photographed and listed for you in a consistent fashion
New, personalized ways to shop like Shop Her Closet, The Rescue Box, and The Goody Box
Choosing #secondhandfirst and keeps these clothes out of landfills
ThredUp sells your items for you
The kits and shipping are free
The Cons
Can be overwhelming to sift through items and styles you don't love (for example, it is somewhat of a challenge to find a simple white button-down shirt)
Payouts can be small depending on the quality of items sold
Delayed payout if you opt to cash out rather than spend in store
Payouts can take even longer if your items are sold on consignment
ThredUp recommends that sellers launder their clothing before mailing it in
The Competition: Poshmark
Poshmark is another platform where you can buy and sell secondhand fashion. It's user-operated which can allow for a better customer experience since Poshmark sellers have to be competitive in order to sell their items.
How Poshmark Works
Sellers display pieces in their "closet" with a layout similar to Instagram and the most successful sellers have attractive, well-lit photos. It's also common to use model photos from the original retail listings which can give an idea of what the pieces will look like when they're on.
Since users price their own items, there is more price variation so it's possible to not get the best possible deal upfront if you're shopping. However, there's also the option to negotiate and sellers will frequently offer discounts to get their items to sell faster.
One big difference between the two platforms is in the seller payout.
According to their seller fee policy, Poshmark splits sales 80/20 on items over $15 which is a huge difference from the 10% that you would be making on ThredUp for the same sale.
However, since Poshmark is more user-focused, one drawback is having to photograph, price, and list all items yourself which takes a considerable amount of time and effort if you want the items to sell.
Since there are so many other sellers to compete with, it can also take a long time for a piece to sell. Personally, I've had pieces listed for years, but I'm also not very active on the platform.
The Pros
Same amazing deals on brand name and designer items
Bigger payouts – sellers make up to 80% of the sale with Poshmark keeping only 20% (on ThredUp you only make 80% if your item sells for $200 or more)
Also a convenient and eco-friendly way to shop if you're purchasing pre-loved pieces
The Cons
Photographing and listing items yourself – sellers put effort into curating their own shops which can result in better buyer experience but more competitive seller experience
Items can take a long time to sell
When shopping, listing photos don't always show the true condition of the item
Final Thoughts
ThredUp might be for you if you know what you want and don't mind spending some time looking for it. They've also launched a ton of initiatives to make secondhand shopping more fun and bespoke.
With their admirable commitment to reducing textile waste and encouraging consumers to #chooseused, ThredUp makes strong efforts to make thrift shopping easy and fun. You can also save tons of money which is always a plus!
Though it may not be the best option if you're looking to make some quick extra cash, it's definitely a convenient choice if you're just looking to free up space and make some money back on old purchases.
While Poshmark offers the potential to make a lot more, selling on the platform also entails a bit more work which might be a welcome challenge for some! Many people selling on Poshmark have transformed it into a viable side dabble and even a full-time gig. It could be for you if you've got a passion for fashion and are interested in starting a small side business.
Both companies have solid visions and offer unique experiences for shoppers and sellers alike.
It all depends on the experience you're looking for!
Was this post helpful to you and have you tried any of these apps? Tell us in the comments below!
More reviews:
Pin it for later!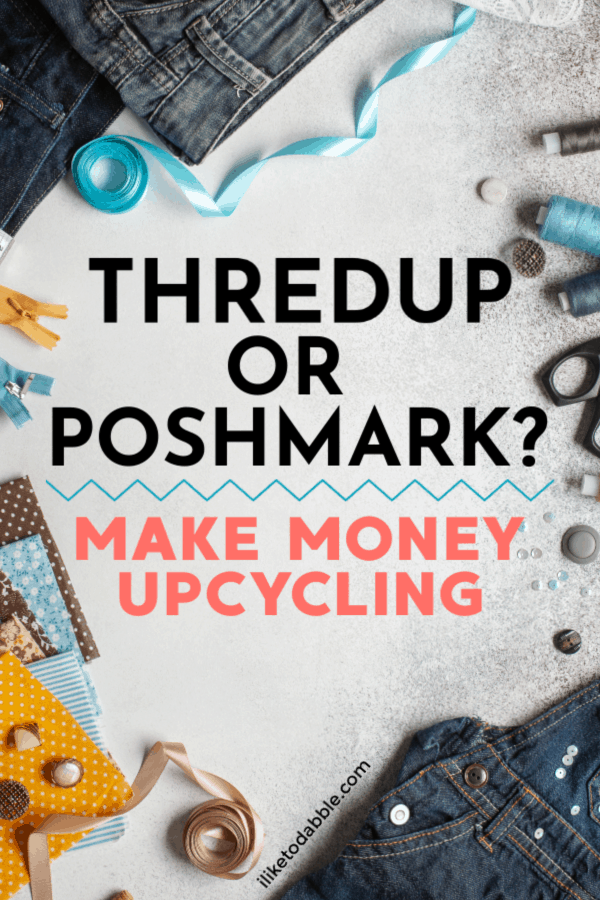 Difficulty Selling
9.0/10
Pros
The kits and shipping is free
ThredUp sells the items for you
Choosing #secondhandfirst and keeps these clothes out of landfills
New, personalized ways to shop like Shop Her Closet, The Rescue Box, and The Goody Box
Cons
Payouts can be small depending on the quality of items sold
Delayed payout if you opt to cash out rather than spend in store
Payouts can take even longer if your items are sold on consignment
Can be overwhelming to sift through items and styles you don't love
Kayla Faccilongo is an opera singer and financial services professional who's passionate about helping young professionals achieve confidence and clarity in their financial lives. When she's not on stage or at the office, you can find her shopping at her local Housing Works, singing rock music at open mic nights, or enjoying nature with a good book.