Our website is supported by our users and contains affiliate links. We get paid when you purchase or sign up for anything through those links. Read the full disclaimer for more information.
Last Updated on November 28, 2021 by Daniella
Interested in dabbling in photography and wondering how to make money as a photographer?
Photography is a craft that you can perfect over time. Creatives nurture that craft to capture the world around us, earning an income as a business owner.
Honestly, photography is one of those skills I wish I was good at. It's a high value skill that you can use for both business and personal life.
And, it's a skill that anyone can develop regardless of your background.
Many of the best photographers in the world are self-taught like one of my former coworkers I used to work with.
She took up photography as a hobby and then began to start photographing weddings and did senior portraits on the side. Within a year of starting, she was making enough from her amateur photography gig to quit her job and take on that hobby to make full-time income!
If you're looking to take your photography skills and start making money, keep reading while we share tips to start making money in photography, ways to make money with your photography business, places to sell your photos online, and more.
Find the best way to make money with a photography skill using our free side hustle quiz below. 👇 Then head to the rest of the article.
4 Ways to Make Money as a Photographer
1. Booking Client Gigs to Make Money
Making money through client work is by far the most lucrative way to make money as a photographer.
You'll be working with clients one-on-one to photograph their special occasion or event and deliver a beautiful body of work for them that they'll rave about.
Some of the best opportunities to make money in photography include:
Weddings
High school events like school dances
Senior portraits
Family photos
Baby photos
2. Selling on Stock Photo Sites
Next, you can look at selling your photography on stock photo sites. This is about uploading your content on these sites and making money when your photo or video sells.
This is a passive way to make money and only requires a little work up front to get set up on the stock photo site and upload your content.
3. Teaching Courses and Workshops
A high-paying opportunity to make money with your photography skills is teaching what you know to others through courses and workshops.
An online course will involve you picking a photography topic to address and organizing it into a course. The idea is that someone could buy and take your course, leaving with a new skill they learned or new knowledge they acquired.
Workshops are like online courses but they're live. This can be in-person or online.
You'll work with a class to teach something tangible like learning astrophotography, how to capture food in photographs, photo editing, camera elements like shutter speed or aperture, etc.
Some platforms that you can start selling courses and workshops include Teachable and Crowdcast.
4. Selling Digital Products like Ebooks
Selling digital products like ebooks is another avenue to pursue to make money in photography.
You'll write a book teaching something photographers or aspiring photographers would be interested to learn about. It's like a condensed version of an online course and it'll be in written form.
Ebooks are easy to create. You can write them in Microsoft Word or Google Docs, design a book cover in Canva and sell online using tools like Sendowl, Shopify, Etsy, Gumroad, or publish through Amazon KDP.
Places to sell your photos
Here are some of the best places to sell your photos online:
1. Stock photo sites
There are plenty of stock photo websites you can sign up to and sell your photography. This is a great avenue to pursue for an additional income stream and it's an opportunity for you to make passive income.
Here are some examples:
Adobe Stock
With Adobe Stock you can sell your photography work to what they call the world's largest creative community.
You'll be an Adobe stock artist and you'll automatically get access to Adobe Portfolio so you can set up a website to display your work.
They're looking for high quality photos, vectors, and videos that you own the rights for.
To join you should be at least 18 years old and they pay 33% royalties when you sell your work on Adobe Stock.
Foap
Foap helps you make money with your photos and video content. All you have to do is upload your content to Foap and start earning cash.
When you make a sale, you earn 50% of the earnings.
Dreamstime
Dreamstime offers a way for photographers to make money on their photos and videos. Here are some of the requirements:
You must own the work
No offensive content
Clear copyright
Model release required for any recognizable people in your photos or videos
Their payout plan is unique, offering a combination of revenue share and optional bonus on the photos and videos you sell.
You can click here to read more about how to get started selling your content on Dreamstime.
SmugMug
SmugMug promises you can start making money fast with their platform. Their setup takes minutes for you to complete then, you can begin uploading your prints and digital downloads, set your pricing and start selling.
Twenty20
Twenty20 lets you set up your own personal gallery where your content can live on their platform online. Then, you can sell your work, making money on every sale.
They have an iPhone app and a website that you can get started with for selling your photography.
Head to Twenty20 to learn more.
Society6
Society6 gives you a platform to sell your art online.
First, you'll upload your work. Then, start selling. They work with all creators from photographers, fine artists, graphic designers, etc.
You'll earn 10% of every sale with the ability to earn more on framed prints, art prints, and canvas prints.
2. Handmade marketplaces
Handmade marketplaces like Etsy are an opportunity to increase your income while appealing to their huge audience.
First, join Etsy for free. You can start uploading your content and begin selling right away. Etsy charges a small amount (under $0.50 ) on each listing and their platform is really simple to manage.
They also have promoted listings available where you can pay for ads for your products to get more exposure on the platform.
Read this article to learn how to start an Etsy shop and how this seller started her journey of making $2,000/month on Etsy.
3. Art marketplaces
Art marketplaces have a focus on artwork including photography.
The idea is simple. Upload your content, set pricing and make money on the sale.
Here are some art marketplaces that you can sell your photography on:
Redbubble
Redbubble is a marketplace where photographers and other creators flock to for selling their work. For photographers you can sell art prints, posters, art board prints, and a lot more.
Getting started selling is easy.
Join Redbubble then sign up to sell as an artist, open your shop where you'll upload your products and when customers buy, the content they bought will be produced to order and shipped!
Read more about Redbubble in our full review.
Big Cartel
Big Cartel helps you sell in your own online store. They're for artists and creators who are looking for an outlet to sell their work. They have three store options ranging from free to $19.99/month giving you the option to sell 5 to up to 500 products.
They cater to clothing and apparel brands so if you're up for selling your photography and content on t-shirts, shoes, etc. this will work.
Storenvy
Storenvy is a marketplace where you can set up your own shop and sell anything from jewelry, art, apparel, shoes, accessories, and more.
Joining Storenvy helped me reach $1,000+ in monthly sales from apparel on my first ecommerce store. That was my start which helped me grow my ecommerce brand and quit my 9-to-5 job a year later!
This marketplace is creator-friendly. They have four store options ranging from free (20 products) up to $49.99/month (5,000 products).
4. Auction websites
Auction websites like Ebay and others are an option for selling your photography.
Ebay is an auction marketplace where millions of transactions happen every month. You can join Ebay for free and set up a listing to sell your photography in minutes. They run promotions for free Ebay listings often so you only have to pay them on the successful sale of your work.
If you're not listing during one of their promotion periods, listing fees are very affordable at under $0.50 per listing.
This is a low cost way to sell your photography and very easy for anyone to start doing.
6 tips to start making money in photography
1. Get organized
The first thing you want to do when starting a photography business is to get yourself organized. To help you with this, I recommend you create a business plan.
A business plan will help you identify your goals, forecast your future business objectives, and lay out a roadmap for every part of your company from marketing to operations, finances, etc.
As you create your business plan, you're going to need an operating agreement. I recommend this template by my friend Amira.
2. Setup your business
Setting up your business will involve you:
Taking a business form
Getting the necessary permits and business licenses for your area
Building a website
Staffing, as needed
Taking a business form means you'll be filing for a business type like a sole proprietorship or LLC.
When choosing which is the right for you, this resource can help.
Next, depending on your area, a business permit or license might be required. Do some research to see what you'll need to operate as a business where you live.
Building a website is optional but it's a great idea to have a place online where you can show off your work and share your portfolio. It can also be an opportunity for you to capture leads, when people contact you to inquire about your services.
Lastly, consider any staffing needs you might have. Even as a startup, you might need some help with bookkeeping, client acquisition, onboarding, editing, and other areas. I love using Fiverr to help find online assistants to help me get more stuff done.
3. Create a portfolio
A portfolio is necessary if you're a photographer. Prospective clients want to see examples of your work. They want to know what their money is getting for them and a portfolio is an easy way to show them that.
If you don't have any photos you can use for a portfolio, work with friends or family to offer free photography to them so you can build up your portfolio.
You can host your portfolio on your personal website or on a portfolio site like Format.
4. Join photography communities
Connecting with other creatives in your field is great for learning and building community. It's nice to belong to a group of professionals in your industry that you can learn from.
Look at joining Facebook groups, subreddits in the photography space, forums and other communities for photographers.
5. Promote yourself
Promoting is so critical. It's how you can market yourself and your business to gain a customer base and start making money from your photography.
Some ideas for promotion include getting business cards that you can hand out whenever an opportunity presents, while on the go.
You can also invest in paid advertising, set up an email funnel to collect leads, promotion using social media, sharing with friends and family, and asking for referrals from happy clients.
6. Pursue multiple income streams
There are many ways to monetize your skills as a photographer. To make the most money including earning passive income, look at creating multiple income streams.
Here are some examples:
Client gigs
Selling stock photos
Teaching photography courses or workshops in person or online
Selling photography ebooks
Read about these 9 ways to make money selling photos.
Final Thoughts
If you're an amateur photographer or you're interested in developing your photo skills, there are many ways you can make money whether you're looking for side hustle income or hoping to make a full-time living.
I hope this article gave you some ideas to get started growing your income in photography.
Did we miss anything?
Comment below.
Related:
Pin it for later!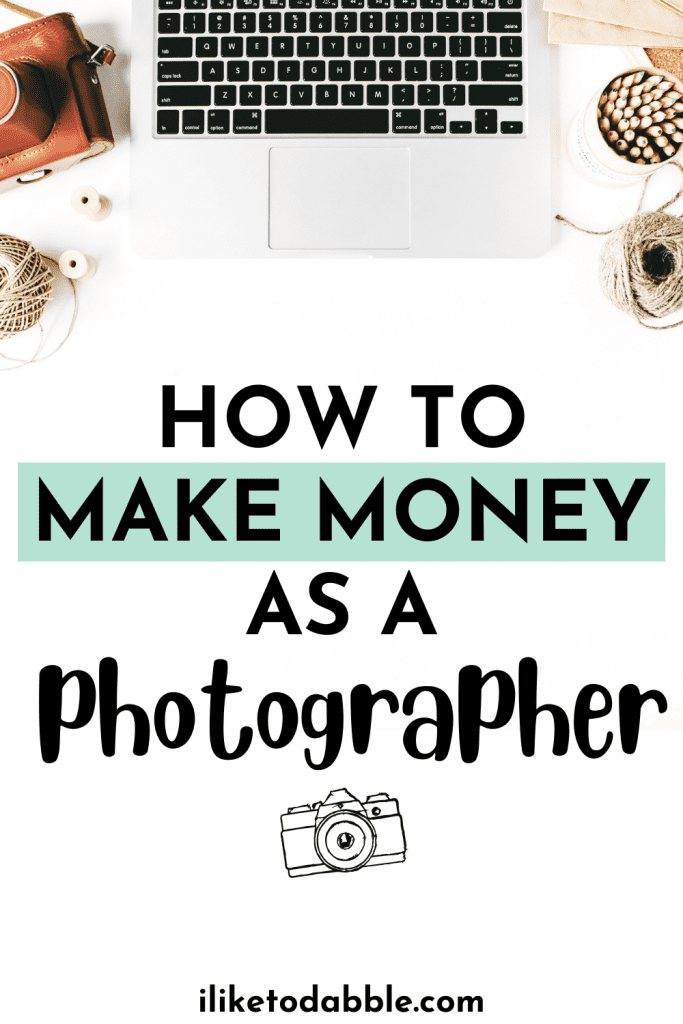 Jenn Leach is a writer, instructor, entrepreneur, and founder of
Millennial Nextdoor
where she teaches millennials life hacks for easy millennial living like being money smart, investing in yourself, and automating your life. When she is not working, you can catch her binge-watching baking reality TV shows or listening to her favorite podcasts about business, money, and life.