Our website is supported by our users and contains affiliate links. We get paid when you purchase or sign up for anything through those links. Read the full disclaimer for more information.
Last Updated on December 1, 2020 by Yovana
Amazon Flex Quick Facts:
Users must be 21, have a smartphone, a valid driver's license, and a social security number to be eligible to drive for Amazon Flex.
Drivers make $18 to $25 an hour, are able to work flexible hours, set their own schedule, and get paid twice weekly (on business days, either on Tuesday or Friday). The larger your vehicle is, the more you will be able to earn. You are also able to earn tips through the app.
You work as an independent contractor, meaning you will have to keep track of taxes, mileage for deductions, and won't get any added benefits like healthcare, access to a 401k, PTO, etc.
If you're looking for a great way to earn cash, you might be considering taking on the role of an Amazon Flex driver. When it comes to freedom and flexibility, not only does this role pay well over minimum wage, drivers use their vehicles and can set scheduling blocks for themselves. Additionally, Amazon Flex drivers do not carry passengers like Uber or Lyft drivers, but packages and goods instead.
Does this sound interesting to you? Read on to learn about what an Amazon Flex driver does, how to get involved, and decide if this side hustle is right for you.
What is Amazon Flex?
Amazon Flex is Amazon's courier service. Drivers deliver for Amazon.com, AmazonFresh, PrimeNow, and Amazon Restaurants. In other words, Amazon is using Flex drivers to deliver anything from dinner to diapers, gifts to groceries.
The need for drivers comes from Amazon's growing need for fast delivery. They offer one-day delivery to their 100 million Prime members for hundreds of thousands of items. Additionally, some services and areas offer one and two-hour deliveries including groceries.
However, the company was not able to keep up with the demand that they created for the items they are selling. They couldn't rely on UPS, FedEx, and the USPS to get packages to their customers in the time promised. Enter: Amazon Flex. Independent contractors can sign up for an account and start delivering Amazon parcels at homes and businesses. Flex promises to take care of the 'last mile' deliveries, which is the most intricate part of the delivery process.
While the Flex app helps to deal with the fluctuations in orders that can occur during the holidays and on high-volume days such as Prime Day, it operates year-round.
What You Need to Get Started
The requirements of Flex drivers are relatively simple. Users must be 21, have a smartphone and a valid driver's license, and a social security number. Drivers must also have access to a vehicle that can hold a volume of packages, have proof of auto insurance, and pass a background check that clears them of any felonies, histories of theft or violence, or even a poor driving record.
It is important to note that Amazon Flex only operates in about 50 U.S. cities. Permitting that you live in or near one of these 50 cities and meet the rest of the requirements, the next step is to sign up.
How to Sign Up
If you are interested in signing up for Amazon Flex, head over to their web page or download the app on your smartphone. Most of what you will need to schedule your time, do pick-ups, and drop off packages is available in the app.
The first step after downloading the app is to answer a series of eligibility questions. You will be asked to share your location and enter personal information including your insurance, social security number, and more. You will fill out a series of forms within the app and connect your bank account information to set up direct deposit.
How Flex Works
Once you're fully signed up, you can start signing up to make deliveries. Delivery time blocks are typically three to six hours long, so it is wise to plan these blocks in your schedule. You will be able to enter your availability into the app and will be sent push notifications with options that fit your hours. The app has a calendar feature that you can use to schedule these time blocks.
Another option is to get some delivery hours on short notice. Users can select 'Check Available Blocks' within the app to see what last-minute delivery blocks are available. It is common for blocks to be available during busy hours of the day, and those high-traffic hours often pay more than those that are less sought-after.
Regardless of if you choose hours last-minute or well in advance, the app will send you a notification an hour before your block begins. It will tell you where to pick up your items, where you will take them, and the number of packages you'll deliver.
Drivers start getting paid when they arrive at the pickup location. They must check-in for their 'timer' to start. Drivers must scan in each of their items using the camera on their smartphone as well as load them into their cars.
The app will then create a route for the drivers to follow. Depending on the capacity of your car and the nature of the load, drivers might be expected to deliver as many as 70 packages in a shift. At each drop off point, drivers must check in on their app to verify the address and check for any specific instructions. They then scan the bar code on each package that will be delivered at that location to confirm that they've completed the delivery before continuing the route.
How Do Drivers Get Paid?
The Amazon Flex website states that drivers can make between $18 and $25 per hour. This amount is contingent on the capacity of your car. For example, someone driving a large van is eligible to earn more than someone with a midsize sedan. This is because someone with a larger car can deliver more packages.
One way to increase the amount you get paid is to schedule blocks during busy times. Busy times are marked during the app so users know when they can earn more. Another option is to deliver for Prime Now, AmazonFresh, and Amazon Restaurants as they allow customers to leave tips for drivers in the app.
Drivers are paid twice weekly. The payment days are Tuesdays and Fridays, and standard delivery drivers are paid on their most recent deliveries. If users are driving for Amazon Restaurants or Prime Now, they will be paid after their tips are processed. This can take up to a few days. Regardless of what Amazon service users are driving for, payments are made via direct deposit.
Advantages of Working for Amazon Flex
Amazon Flex can be a great way to make money on a flexible schedule. Because drivers work as contract employees, there are no horrible bosses to report to. This delivery program pays higher than many others and gives users the freedom to use their cars, phones, and schedules to plan their workdays. The pay is consistent when compared with other driving services such as Uber, where if there are no pick-ups to be made drivers do not get paid.
For some, an advantage of Amazon Flex is that they do not have to drive people around but instead get to deliver packages to their destinations. Additionally, parking your car and making deliveries counts as time on the clock.
Disadvantages of Working for Amazon Flex
Even though there are several advantages of working for Amazon Flex, there are several disadvantages to consider. For example, the time to get started can seem lengthy. Once drivers sign up, they must watch about a dozen educational videos so that they understand what to do in situations such as delivering alcohol or how to deliver to complex sites such as large apartments or office buildings. This educational process is unpaid.
If drivers are delivering food, they are responsible for keeping it at a reasonable temperature. This might mean investing in insulated bags or running air conditioning. Drivers are also responsible for the expense of parking, which can be very difficult in the cities that Amazon Flex operates in.
Delivering for Amazon Flex can be physically taxing. Some individuals may not be able to handle carrying many or large packages and navigating large apartments or office buildings can be hard on some people.
Finally, driving for Amazon Flex means you work as an independent contractor in which you don't receive any benefits like employer-sponsored medical insurance, access to a 401k, PTO, etc.
Amazon Flex also does not take taxes out for you so be sure to set aside enough for income and self-employment tax and keep track of mileage so it is easier for you come tax time. Try an app like Hurdlr that tracks all of this in real-time and could get you over $5,600 in tax deductions.
Is Amazon Flex Right for You?
If these pros and cons sound reasonable, then you may want to give Amazon Flex a try. You could earn a good amount of money as a side hustle and ultimately push you closer to your financial goals.
The only way to know for sure is to try it. You can look at Amazon Flex's website here to sign up.
Subscribe to get your free list of side hustles you can start this week!
Claim your free list of side hustles + tons of helpful resources to get started!
Alternatives
If Amazon Flex doesn't seem right for you, or if they do not operate in your city, you may want to explore other delivery driving options with other delivery partners. There are plenty of delivery service companies in the gig economy to work for but here are a few ideas for you to explore.
DoorDash
Delivery drivers for DoorDash are called Dashers. Dashers deliver mainly from restaurants and earn an average of $12 per hour. Pay is contingent on if there are deliveries to be made, the dollar value of the deliveries, and any tips that they receive. DoorDash is only available in select areas. Dashers must have a smartphone and data plan, be 18 or older, have access to a delivery vehicle such as a car, bike, or motorcycle, and have valid insurance.
TaskRabbit
TaskRabbit workers are called Taskers. They can take on gigs that app users do not want to do themselves. These tasks can include anything from assembling furniture to grocery shopping and more. Taskers must also have a social security number, be 18 years old, provide information for a background check, and have a smartphone and checking account. Taskers can expect to make $20 or more per hour depending on the rates they set for themselves and the tasks they choose to take on. The platform keeps 15% of the earnings.
Instacart
If you prefer grocery delivery, Instacart shoppers and drivers can earn $15 per hour. If you do not own a vehicle, this can be a very lucrative option. In-store shoppers can work up to 29 hours per week and collet people's grocery lists and prepare them for delivery. Delivery drivers do not have a maximum number of hours they can work but must have a driver's license, a car, and insurance.
FedEx Express
If you like the idea of working directly with a logistics company, FedEx Express might be a great option for you. Package types will be like Amazon in that they may be standard packages, perishables, or even alcohol that requires a signature to deliver. The sign-up requirements are slightly more rigid than Amazon Flex in that drivers must have a valid driver's license and good record but must also be able to lift 70lbs at a time and have a high school diploma. Drivers earn a starting rate of $18.50 per hour.
More Ways to Make Extra Money
There are plenty of money-making apps out there that can help you earn extra cash. From mystery shopping to using survey sites and even ways to make a passive income, here are some of my favorite ways to make extra money from anywhere.
The Bottom Line
Amazon Flex is a great option for someone who wants to work a few hours at a time and earn consistent money doing so. While there are challenges unique to people who deliver goods, Amazon Flex seems to be one of the most popular delivery options for independent contractors. There is no commitment once signed up as a driver, so if you are unsure if this is a good option for you, we recommend giving it a try.
More side gig reviews:
Pin it for later!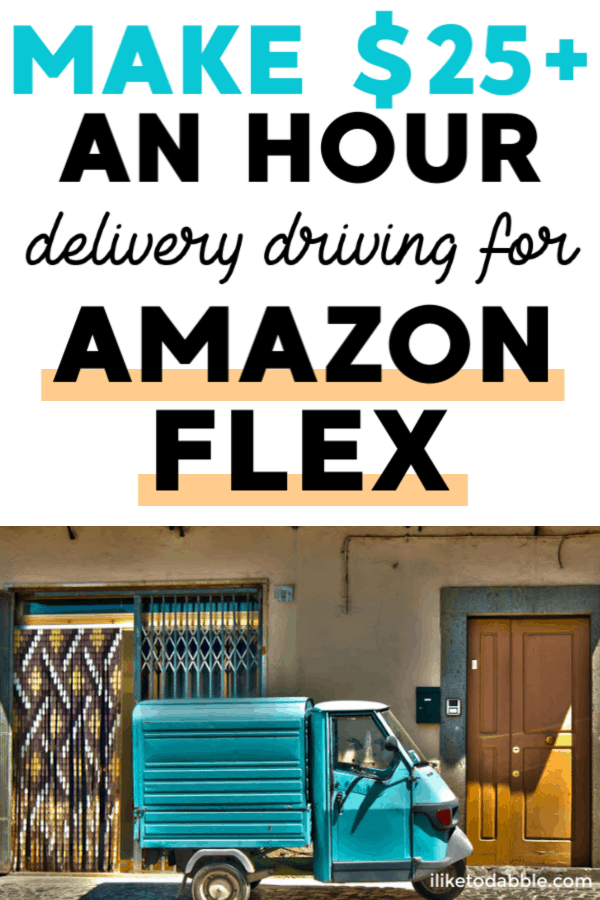 Installation and Setup
9.0/10
Pros
Pays up to $25 an hour and earn tips
Flexible schedule
No boss to report to
Cons
Delivering can be physically taxing
Educational process in unpaid
Work as an independent contractor and keep track of your own taxes
Ashley is a personal finance writer and content creator. In addition to being a contributing writer at I Like to Dabble, she writes for solo entrepreneurs as well as for Fortune 500 companies. When she's not calculating her net worth or reading the hot new finance book, you might find Ashley cage diving with great white sharks in South Africa.