Our website is supported by our users and contains affiliate links. We get paid when you purchase or sign up for anything through those links. Read the full disclaimer for more information.
Last Updated on December 21, 2021 by Daniella
Wondering how much you can make with Instacart?
If you're looking for gig work to make some extra money, or looking for side hustle ideas in general, look into working at Instacart. A big question a lot of people have about gig work jobs like Instacart is how much you can make. In this article you'll learn about the income potential working with Instacart along with exploring:
How much money you can make including weekly and monthly
Reported pay by actual Instacart Shoppers
Reported salaries from online resources like Glassdoor
If this job is really worth it
And more
To learn how to become an Instacart Shopper, read the first post in this series: How to Become an Instacart Shopper
Let's get into it.
How much can you make with Instacart?
Now, the big questions: how much can you make with Instacart?
You can earn up to $20/hour including tips with top workers earning close to $50/hour with tips. During peak times, the income potential is even higher.
At the start of the pandemic, Instacart workers reported making up to $1,000/week, with tips as high as $50 to $100 per order, as grocery delivery was high in demand at the time.
For in-store shoppers, the average base pay salary (not including tips) is around $13/hour while full-service shoppers earned $12/hour, according to Glassdoor.
Depending on the market and demand in your area, your pay can be different.
For example, this Instacart shopper in Seattle reported making $17 to $22 per hour. This shopper (location undisclosed) reported $16 to $19 per hour.
How Instacart calculates your earnings
How much you can earn as an Instacart shopper depends on you role type and these other factors:
How many orders you are able to complete
Your location
If you choose to work as a full service shopper, your pay will depend on:
Number of items in your batch order
The type of items
Driving distance
Effort involved in shopping and delivering
If you choose to work as an in store shopper, you will earn an hourly wage as detailed in your initial offer letter once being approved to work for Instacart.
Instacart pays their shoppers weekly, regardless of your role.
How much can you make with Instacart in a week?
How much you can make with Instacart depends on how many hours you work.
Several reports online point to $200 to $500 per week as an average weekly income with some earning as much as $1,000+ per week.
What real Instacart Shoppers have to say about their weekly pay
We can talk all day about "averages" but that isn't the real truth. Personally, I think it is more helpful to see what real Instacart shoppers have to say about what they are paid.
Naturally, I looked to Reddit for this information. You can view the full thread on Reddit.
1 person remarked that if they work 5 hours a day during Monday – Friday, they make $750 a week with just Instacart.
Then another chimed in about how Friday's seem to be the best earning days.
Another Instacart shopper claimed they made close to $2,000 one week but they definitely overworked themselves to get to that number.

How to make $200 a day with Instacart?
If you want to make $200 a day with Instacart, the key is consistency.
$200/day x 30 days = $6,000/month
Or
$200/day x 20 days = $4,000/month
If you worked consistent hours more in line with a full-time job (up to 8+ hours per day), working every day at $200 a day could earn you $6,000 per month or $4,000 per month with 2 days off per week.
Is it really possible to make this much with a gig job?
Yes!
In fact, this driver did a 30-day case study driving for UberEATS, a food delivery app similar to the setup of Instacart and made over $8,000 during that time!
Other ways to make money with Instacart
Instacart has a referral program where you can earn $10 by referring family and friends. All you do is share your referral link and when your friend joins and makes their first order, you each get $10.
How do Instacart shoppers get paid?
You'll get to keep 100% of your tips as an Instacart shopper and are paid weekly via direct deposit to the checking or savings account that you provide as your payment details once getting onboarded on the app.
Full service shoppers can actually use Instant Cashout which is an immediate transfer to a debit card once they reach $5 in earnings. They can use Instant Cashout for the first time after completing 5 batch orders.
After that you can cashout at any time up to 5 times a day and a daily limit of $3,000.
However, since you are an independent contractor for Instacart, you will need to set aside enough for quarterly taxes.
Final thoughts
That wraps things up!
If you were wondering how much you can make with Instacart, hopefully this article provides some clarification on the pay range you can expect when joining as a shopper. Keep in mind your pay will depend on the specific shopping trips and the market you are located in.
Don't forget taxes!
Related:
Pin it for later!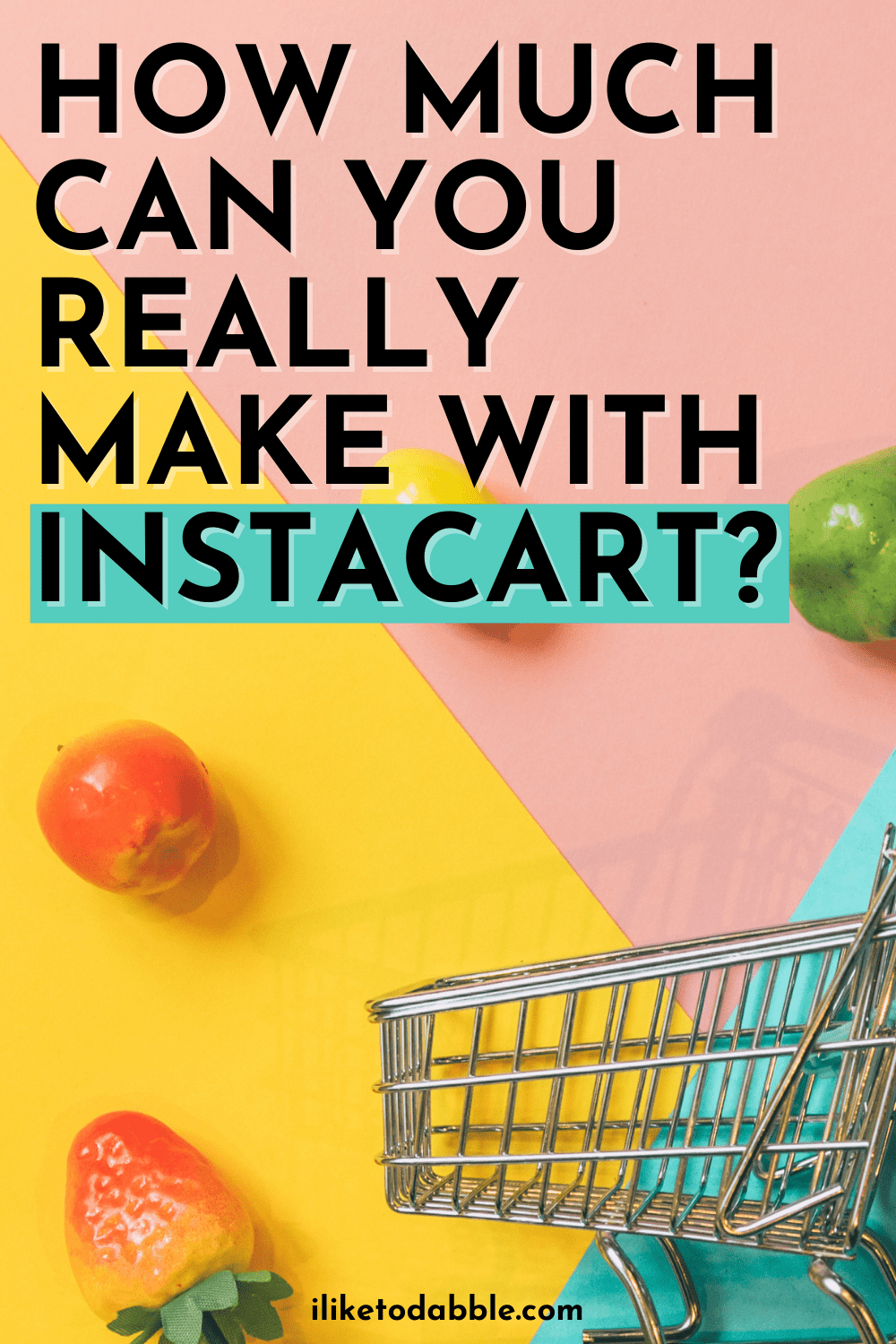 Jenn Leach is a writer, instructor, entrepreneur, and founder of
Millennial Nextdoor
where she teaches millennials life hacks for easy millennial living like being money smart, investing in yourself, and automating your life. When she is not working, you can catch her binge-watching baking reality TV shows or listening to her favorite podcasts about business, money, and life.