Our website is supported by our users and contains affiliate links. We get paid when you purchase or sign up for anything through those links. Read the full disclaimer for more information.
Last Updated on January 16, 2023 by Daniella
Whether you are just getting started or already selling on Etsy, digital art can be a profitable addition to any shop. Printables, templates, patterns, and fonts are all forms of digital artwork that are easy to list and require no fulfillment or inventory.
Plus, selling on Etsy makes for a perfect remote side hustle when selling digital products.
Even if you're not a graphic designer, there are many creative ways to make money selling digital art to the 96 million active buyers on Etsy.
You can transform almost any idea into a digital download that generates semi-passive income and even passive income down the line.
What Is Digital Art?
Before we get started, let's clarify what digital art is. In the Etsy world, digital art refers to any file that can be downloaded and printed by the customer. This includes but is not limited to printable artwork and wall decor, resume templates, sewing patterns, business logos, and custom fonts. If you can create it digitally, chances are you can sell it on Etsy.
Though selling digital art & digital products on Etsy may seem complicated, it's actually quite simple. With a little creativity and some basic design skills, you can find inspiration, create products, and upload them to your shop in no time.
What Types Of Digital Art Are Popular On Etsy?
As you start to brainstorm product ideas, it's helpful to take a look at what's already selling well in the Etsy digital art marketplace. Here are a few prominent categories worth exploring and keeping an eye on:
Small Business
Logos
Business cards
Lightroom presets
Product labels
Events
Invitations
Menus
Thank you cards
Personal Development
Resume templates
Learning materials
Ebooks
Calendars & planners
Artwork
Zoom backgrounds
Patterns
iPhone wallpaper
How To Start Selling Digital Art On Etsy
Hopefully the list above sheds light on how big of an opportunity selling digital art on Etsy is. To find your place in the market and start generating sales, follow these 5 simple steps:
1) Research The Competition
Before designing anything, spend time in the shoes of a buyer. Use Etsy's search bar to browse through shops selling similar products in a niche you enjoy or often browse in yourself. Note what you like and don't like about each listing. Read reviews to gauge what features customers are looking for.
Also, keep an eye out for any patterns you notice among successful Etsy shops. While these trends likely indicate what is working well on the platform, they may also point you toward available opportunities and gaps that you can fill in the market.
Seek out underserved niches where your unique knowledge or experience can give you a competitive advantage.
Related: 20 Best Things to Sell on Etsy
2) Create Your Digital Art
Once you have an idea of what type of products you'd like to sell, start creating your digital art. If you're selling something like a resume template, consider what formats will be most compatible with common word processing programs like Microsoft Word or Google Docs. Otherwise, one of the most user-friendly ways to begin making professional-looking designs is Canva.
Canva is a free online design platform that's beloved by both novice and experienced designers. With a library of built-in templates and easy drag-and-drop tools, it's an ideal way to spin up digital art. As you develop more expertise, Photoshop and Procreate are two feature-rich software solutions that enable greater customization for complex designs.
If you face "designer's block" during the creation process, source ideas from platforms like Creative Market and Design Cuts. You can also use both of these tools to make money with your Canva designs. These websites offer an array of high-quality design resources, including fonts, graphics, and photos, that can be easily incorporated into your work.
If you purchase any of these designs to use in your own art, be sure to select the "Commercial" license option to be able to use them in your art.
3) Build Your Shop
Now that you have a few products ready to go, it's time to set up your Etsy shop. Sign up for an account using your email address, and then click the "Your account" button on the upper right-hand corner of the page. Click "Sell on Etsy" at the bottom of the dropdown menu and then "Get started" in the middle of the page.
After answering a few simple questions, you will reach the beginning of an easy 6-step onboarding process. Select a memorable shop name, create your first listing, and link your bank account and credit card details. With the logistics out of the way, return to your shop and further customize it with a banner (or a few) and an 'About Us' story.
These final steps help bring your shop to life. Highlight bulk discounts, popular products, or a little bit of personality with your shop banner. In the 'About' section, share your background with visitors. Buyers love to shop small and connect with the creator of a product, so this is an ideal space to begin building that relationship.
4) List Your Digital Art
Use this guide from Etsy for how to upload your digital products. If at all possible, launch your shop with at least 5-10 initial listings. Listing multiple products will help increase your average order value, and will also lend legitimacy to your brand.
Because your store will have no reviews at first, it is extra important to convey professionalism and address any potential customer objections upfront. To do this, high-quality imagery is essential. Clearly display what the customer will receive upon purchase, and use mockups from websites like PlaceIt and SmartMockups to demonstrate how the digital download can be used.
Next, make sure your product titles and descriptions are as clear and inviting as possible. Research Etsy SEO and ensure that your target keywords are present in each listing.
Finally, start by pricing your products in line with similar listings. It may be tempting to launch at a steep discount, and some sellers do this to generate initial traction, but try to avoid entering a pricing war with your competition. Ultimately these types of actions lead to a race to the bottom and your goal is to earn sales based on design preferences, not price.
5) Market Your Products
Many sellers believe 'if you build it, they will come' but unfortunately this is rarely the case. In the world of online sales, you have to win customers by grabbing their attention. Luckily there are multiple ways to do this when selling digital art on Etsy.
The simplest way to get in front of potential buyers is Etsy SEO. Start by optimizing your shop and product titles with relevant keywords used by your ideal customer. Keep in mind that broad searches may be competitive and very specific searches may have low volume. The trick is in finding the highest volume keywords that you can rank near the top of the page for.
One of my favorite courses to help you master this is The Etsy Entrepreneur from Sharon Tseung.
Other promotional tactics involve blogging and organic social media posts. If you already have a website, write about topics that allow you to feature your products. Also, share your designs and mockups on platforms like Instagram and Facebook. In addition to those images, you can even create videos that show the behind-the-scenes process of creating your digital art. These short-form videos are a popular way to draw attention to your store on TikTok and Instagram Reels.
Once you have earned a few sales and positive reviews, consider running paid ads to scale your revenue. With a budget as low as $1 per day, Etsy Ads can help your listings stand out in search and reach a wider audience.
Final Thoughts
By following these five steps, you can start selling digital art on Etsy and making money from your creativity. This business model is a hassle-free way to make money online because it does not require shipping, inventory, or much customer communication.
Simply design the artwork one time, and you can sell it over and over again. While it may take some time and effort to get started, selling digital art on Etsy is a great way to turn your passion into profit.
More ways to make money with your creative energy:
Pin it for later!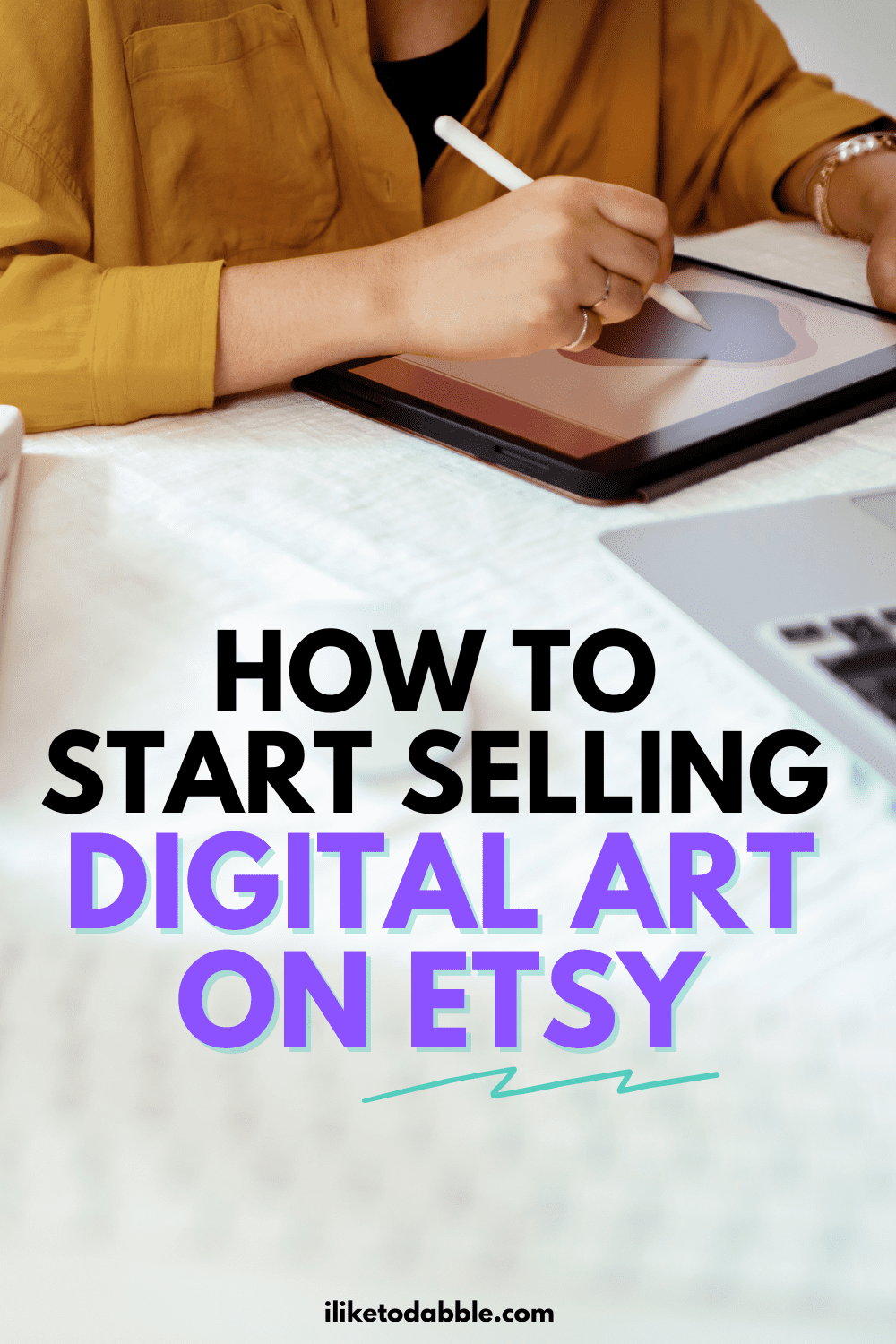 Daniel Anderson is a marketing expert who writes about finding opportunities and making money online. Daniel teaches readers how to start side hustles, scale through digital marketing, and plan for financial freedom. Learn everything you need to know to conquer your finances with step-by-step guides at TheMoneyManiac.com.