Our website is supported by our users and contains affiliate links. We get paid when you purchase or sign up for anything through those links. Read the full disclaimer for more information.
Last Updated on March 20, 2022 by Daniella
Do you want to learn how to become an Instacart Shopper as a side hustle?
With Instacart being available in over 5,000 cities across North America, it is definitely a great and accessible idea to make extra money.
You can make up to $20 an hour with the gig app and some Instacart Shoppers claim they made close to $2,000 in a week.
Let's dive in and learn:
How to become an Instacart Shopper

How does it work

Full service shopping vs. in-store shopping
Pros and cons
Frequently asking questions
Don't forget to take the free side hustle quiz to get you faster on track to making money with the perfect side hustle for you that not only matches your interests and skills, but your personality and lifestyle too.
How to Become an Instacart Shopper
Click this link to head to the application to become a shopper with Instacart.
There are two positions available:
What is a full-service shopper?
In this role you will shop and deliver with Instacart. So, you'll get the grocery order, shop the store to fulfill that order and then deliver to the customer's address.
This is a great opportunity to start making money right away.
What are the requirements?
You should be at least 18 years old, eligible to work in the U.S. with access to a vehicle and smartphone, and the ability to lift 50 pounds with or without assistance.
Pros and Cons working as an Instacart full-service shopper
The perks of working as a full-service shopper are:
Flexible schedule
Mobile work (you'll be moving around on your feet, shopping stores and driving)
Get better acquainted with your community
High income potential
A flexible schedule is a major perk many Instacart workers really like. Work when you want, accepting the orders you choose, on your own schedule.
This is perfect for stay-at-home parents that need to be free early morning and around 3pm for when their kids get out of school but are available for much of the day. They can fill that free time working as an Instacart shopper.
It's also good for college students that are balancing a busy schedule that may be fractured and spread out throughout the day. They can take orders during time gaps they have in their schedule for some extra money.
Next, if you don't want to be stuck in a desk job for your 9-to-5 job or side hustle, working as an Instacart shopper is a good job to pursue.
You'll be mobile, on your feet and moving around. This is not a job you'll get bored of and while you're delivering the order, you can relax, turn on the radio and listen to your favorite music or podcast while en route to your destination.
Driving around town in this job will help you get to know your community better and get to know neighborhoods and areas around town.
Lastly, the income potential for an Instacart shopper is high. There is part-time and full-time availability with the ability for you to make this your primary income source for your family.
The drawbacks include:
Working from your car
More wear and tear on your vehicle
Unreliable or unstable income
Working from your car can be a benefit and a drawback depending on your perspective. It's nice to get a change of scenery, be out and about while working and explore your city while making money.
But, it can get tiring and it can get boring. Plus, it adds more wear and tear on your vehicle which can lead to higher car maintenance costs like the cost of additional oil changes during the year, etc.
And then, like many gig jobs, this is unreliable income. While the potential to make a lot exists, you have no control over how many people order their groceries from one day to the next. You could have a series of slow days followed by a very busy day or vice versa.
The nature of how unstable the income can be can lead a lot of people to pursue Instacart shopping as a side hustle rather than a full-time job.
You can head to this page to learn more about the full-service shopper role.
What is an in-store Instacart employee?
An in-store employee or shopper is someone that fulfills grocery orders by shopping stores and preparing orders for pickup.
Your job will be to shop customer orders with no delivery required on your part.
Instacart offers both delivery and pick-up options for customers so for pickup orders, you'll handpick orders and get them ready for customer pickup.
What are the requirements?
The requirements are nearly the same as the full-service shopper job except access to a vehicle is not required:
You should be 18+ years old
Eligibility to work in the U.S.
Access to a smartphone
Ability to lift 50lbs with or without assistance
Pros and Cons working as an Instacart in-store shopper
The pros of this job are:
High income potential
Driving is not required
Mobile work
Flexibility
The drawbacks include:
Working on your feet all day
Unstable income
Like the full-service shopper job, there is a potential to make a high income working as an in-store shopper. This job has added flexibility because a car is not required, which makes it more within reach for people.
You will be up and around, moving around grocery stores and shopping orders. You won't get bored and you might even be able to listen to your favorite podcast or audiobook while shopping.
This, along with a flexible schedule, working independently and in casual clothes add to the perks of this job.
The drawbacks include working on your feet all day which can lead to health issues like back and foot pain, fatigue, and other potential long-term issues, according to this resource.
Then, like the full-service shopper job, the income in this gig job is unstable. You don't control the number of orders that come in daily and your income can potentially swing in one direction or the other outside your control.
Related: How Much Can You Make With Instacart?
Full-service shopper vs. In-store shopper?
The main difference between these two jobs is the delivery. For people that have a car and would enjoy delivery driving, you can go with the full-service shopper role.
If you don't have access to a vehicle consistently or you don't want to deliver as part of your job, then the in-store shopper job is the best pick for you.
Frequently Asked Questions
What is Instacart?
Instacart is a grocery fulfillment company offering delivery and pickup options for customers. They match shoppers and delivery drivers with consumers that need their groceries delivered. There's also a pickup option where consumers can order pickup through Instacart, have a shopper shop their grocery order and then drive to the store to pick it up.
Consumers can be looking for grocery delivery and pickup for a variety of reasons:
Mobility challenges
People without transportation
Outsourcing this undesirable chore
First, for people with mobility challenges, grocery shopping can be especially difficult.
Next, for people with no transportation, you can imagine how challenging it might be to shop and transport a car trunk full of groceries when you don't have a car.
Households or individuals with busy schedules take advantage of grocery delivery and pickup for convenience. Their schedule is full and it makes it easy on them if they can save time and have their groceries shopped for delivery or pickup.
And then people who just hate grocery shopping can pay to outsource this chore so they don't have to endure what they may consider the painstaking task of shopping for groceries.
How does Instacart work?
As a consumer, you can work with Instacart to place your grocery order online and have it delivered to your home during a time window you choose.
As a shopper, you'll select an order, shop the order at the store and deliver it to the consumer or prep it for pickup.
Conclusion: How to Become an Instacart Shopper
If a side gig like shopping for Instacart looks like a good option for your personality and lifestyle, give it a try by heading to Instacart and applying. You'll be able to set your own hours, work from wherever you have data for connection to Instacart, and make extra money with tips.
What do you think? Is Instacart something you want to try?
For more related side gigs and how to get started:
As well as some side gigs you might want to stay away from:
Pin it for later!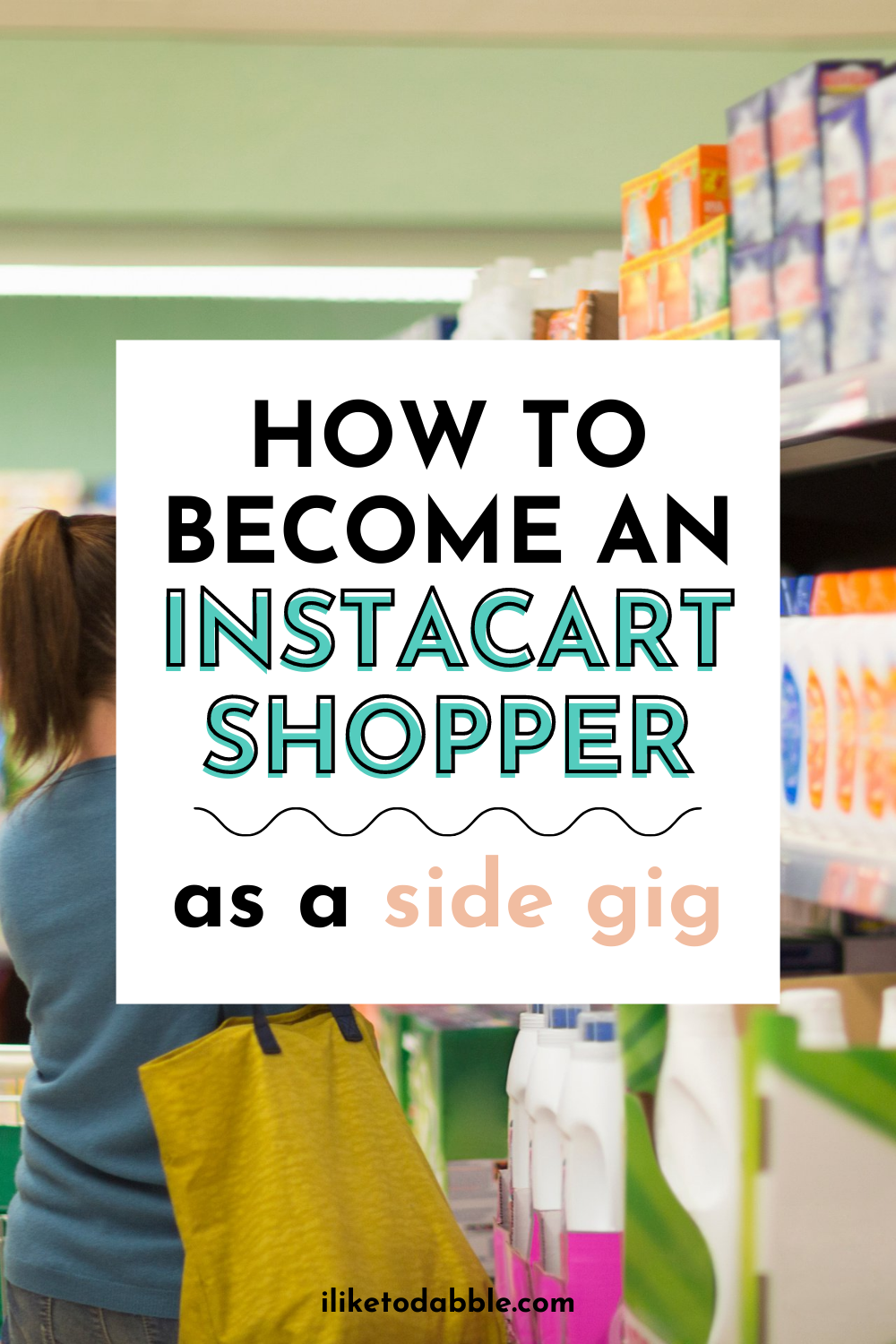 Jenn Leach is a writer, instructor, entrepreneur, and founder of
Millennial Nextdoor
where she teaches millennials life hacks for easy millennial living like being money smart, investing in yourself, and automating your life. When she is not working, you can catch her binge-watching baking reality TV shows or listening to her favorite podcasts about business, money, and life.