Our website is supported by our users and contains affiliate links. We get paid when you purchase or sign up for anything through those links. Read the full disclaimer for more information.
Last Updated on April 6, 2022 by Daniella
With springtime around the corner and people coming out of hibernation, you might be looking for ways to start saving for summer vacation, build an emergency fund, or plan for other things upcoming in the year. Maybe you're looking for realistic side hustle ideas to start saving for some of these goals?
Whether you want to simplify your life or go full minimalist, you will need to majorly declutter. The good news is there are ways you can turn your clutter into cash.
As many of you know we also flip guitars on eBay and freelance as additional side hustles in addition to this blog and our day jobs. Up-cycling furniture or decor is another popular option for turning clutter into cash. I also sell some of our clothes, accessories, etc on Thredup, Facebook Marketplace, and Poshmark. Even though we don't make millions by doing so, it has definitely helped get to some of our financial goals a little quicker.
Pin it for later!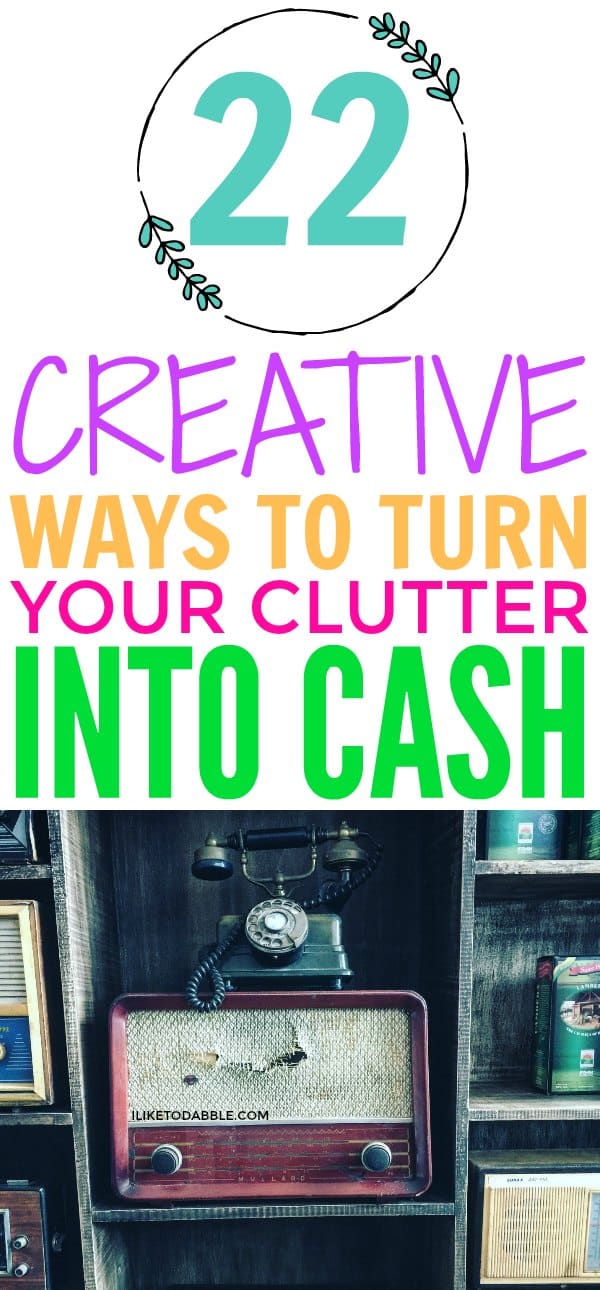 Here are the ways you can turn your clutter into cash!
Let's go through the areas of our home and see what we can sell. One person's trash is another person's treasure!
To get started, ask yourself this – Do you need to get rid of your clutter fast or are you willing to hold out a little longer for a potentially decent payout? This is going to matter when you try to sell your items. Are you willing to wait for a couple of weeks or months for someone to buy your item for what it's worth (or more) off of an app like eBay or are you wanting to offload it quick for less cash?
If you need quick cash, Facebook Marketplace is probably where you should start. Or you can use any of the recommendations in this article.
Let's start with the basement.
Old electronics and furniture tend to end up on our basements. Along with any old holiday decor, workout equipment, old collections, and any secrets that your family keeps. That last one was a joke. Or was it?
Half of what you find down there you can probably sell online for a nice profit, flip or up-cycle to resell at consignment shops.
1. Make money for your old electronics by selling them to stores like Game Stop, V Stock and pawn shops but will often get nowhere near the amount that they are actually worth.
2. Get paid for your old video games, CD's, DVD's, cell phones, tablet's and even books using the Decluttr app.
3. Get paid for your old smart phones with Amazon Trade-in. If you are in the UK, you can use O2 Recycle to make money with your old cell phones and smart phones.
4. Sell your old textbooks on Amazon. You might even be able to make your money back on all those expensive college textbooks. See how here .
5. Sell collectibles on craigslist or Letgo. Letgo is like a more sophisticated version of craigslist when it comes to listing items for sale locally.
6. Sell or swap your old kid's clothes and toys at Swap.com, an online consignment shop.
Related: 15+ Ways To Make An Extra $100 Every Day
17 Best Places to Sell Used DVDs
Into the garage and shed we go.
7. Sell scrap metal at your local scrap yard. This is often easy to find in your garage, shed or yard. Especially if you do not tend to throw away scraps and broken tools as you perform maintenance on your house or vehicle.
8. Make cash off of old aluminum cans and tabs.
9. Sell old car parts for cash on craigslist or eBay.
10. Sell your car online with Vroom.
11. Have a garage or yard sale for any items that you can't sell that easily online. Use the TallySheetApp to easily keep track of everything you sell or even have group sales with your neighborhood.
12. Use the Varagesale app for any items you couldn't get rid of at the garage sale.
13. Make money by renting out your lawnmower or weed wacker on Fatlama. You can use Fatlama to rent out anything from a camera to a game console to even your yard tools.
Related: Tips For DIY Yard Cleanup And Landscaping On A Budget
How to Buy and Sell in Your Local Area Using Craigslist
Let's go through the pantries and closets.
14. Sell designer brands online. If you have brands in high demand such as Coach, Michael Khors, and Kat Von D that you no longer feel attachment to, you can make quite a bit of money on Poshmark. The best thing about Poshmark is you can make good money selling more affordable brands like Old Navy and Nike too. Sign up here and get $5 credited to your account.
15. Sell your old clothes, accessories and handbags of all brands on ThredUp.
16. Go to your local thrift shop. Check out your local Plato's closet to see how much you can get for any brands or items that you may be unable to sell online for a profit.
Related: 9 Best Selling Apps to Make Money Selling Stuff Online (& In Person)
What have we thrown into any guest rooms?
17. Put up any antiques, collectibles or jewelry up for auction on Tophatter. You may have accumulated antique items that you have nowhere to put or collections that have no room for anymore. Don't pitch them because they may end up having a high value. Tophatter is a great way to auction these items off online with little or no hassle.
18. Try eBay for another way of auctioning off items. The more quirky the item, the easier it is to sell.
19. Sell more books. As you are cleaning out the rooms throughout your house, books may keep popping up here and there. If you have no luck selling your books on Amazon, try out sellbackyourbook.com.
20. Up-cycle old pieces of furniture, decor or light fixtures for a unique renovation on a budget or re sell on Etsy. You could even create our own blog and online shop to create a small side hustle or full-time hustle.
Let's clean out those 'everything drawers'.
21. Make money with your receipts. How many errands did you run today and shoved those receipts in your 'junk drawer' or 'everything drawer' or whatever you call it? You can make money by scanning those receipts with Ibotta. Get $10 for signing up with this link.
22. Get money back on your bills. Look through old cable, wifi, phone, and utility bills and ask yourself, should you really be paying that much? Trim is an app that will negotiate lower bills for you. Trim has saved us $66.12 on our AT&T bill since we signed up back on January 4th, 2018! Sign up for free here.
Related: 12 Sites Like Craigslist to Buy and Sell Anything
45 Life Hacks That Will Save You A Ton Of Money
20+ Ways To Lower Your Monthly Bills
For more side hustle ideas, take our FREE side hustle quiz:
What other ways have you made money off your old things? We would love to hear from you in the comments!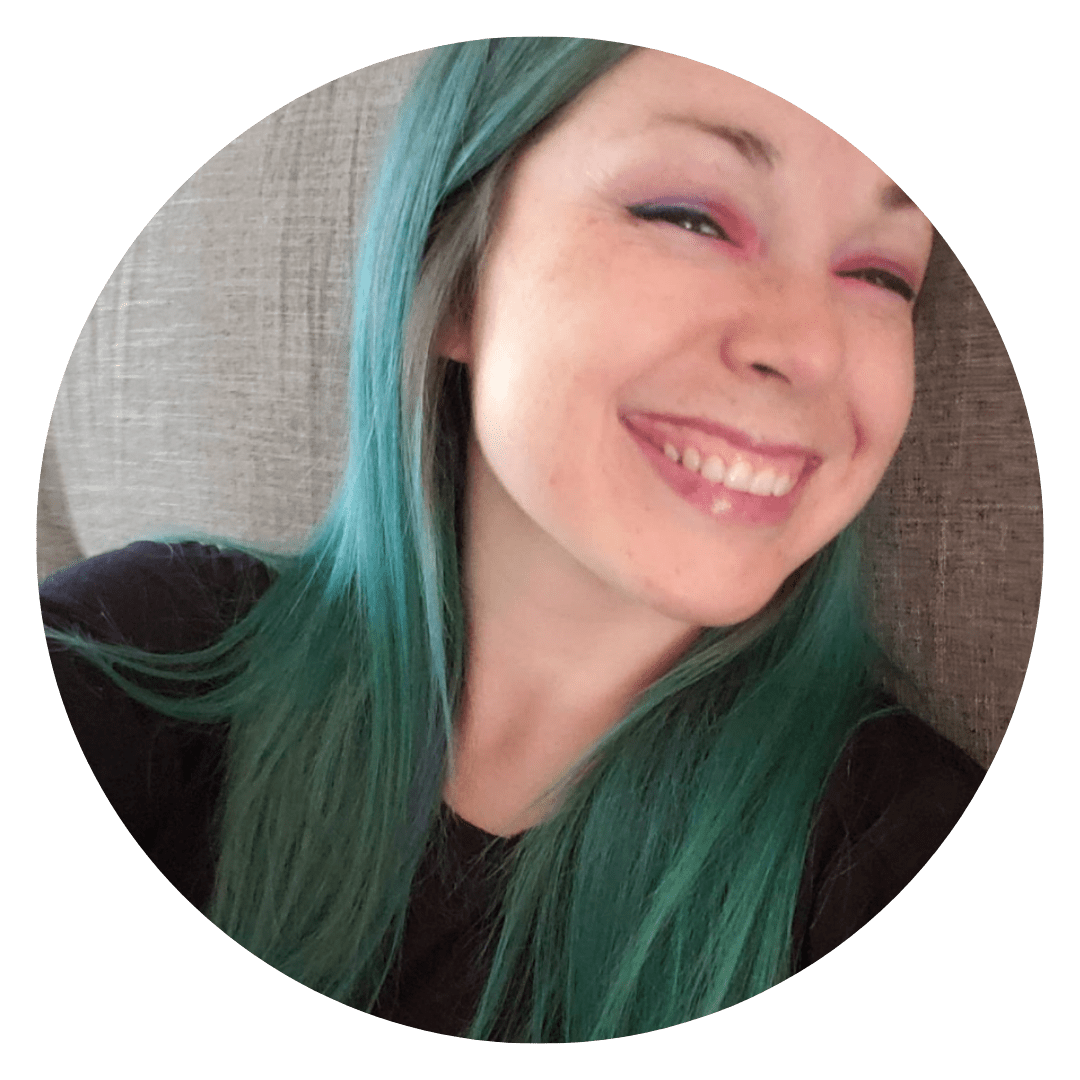 Daniella is the creator and author of iliketodabble.com. When their wife Alexandra and them aren't globetrotting or playing with their 7+ animals, they are dabbling and working towards a future of financial freedom.