Our website is supported by our users and contains affiliate links. We get paid when you purchase or sign up for anything through those links. Read the full disclaimer for more information.
Last Updated on December 2, 2020 by Yovana
If you have been looking for a side hustle, you might be considering driving for a food delivery company. While there are plenty of side hustles available, delivering food is great for people who do not want to drive people around but still use their cars to make money.
What is DoorDash?
DoorDash is an app that allows drivers, called Dashers, to deliver food to people from restaurants. It provides a service to restaurants who do not have a delivery staff and provides a service to people who do not want to pick up their food. Additionally, it provides an earning opportunity for people who want to make extra cash by driving.
DoorDash is a technology company that aims to help make people's lives easier. While they provide jobs to Dashers and a service to diners and restaurants, they also strive to help build stronger communities by helping people to eat locally.
How Does DoorDash Work?
To understand how DoorDash works for dashers, it is important to first understand how the platform works from a customer perspective.
How Customers Use DoorDash
When someone signs up to use DoorDash, they will use their email and password to sign in to the app or online platform. Then, they will be able to see what restaurants in their area are open. Users will have visibility to wait times and what items are available. There are often coupons that users can select as well.
Once they select a restaurant and promotion, users will be able to add items to their cart and pay. The user will pay for their food, any convenience fees, and the Dasher fee. This helps to cover the cost of the Dasher. They will then use a credit or debit card to make a payment and check out. Then, the order is sent to the restaurant.
How Dashers Use DoorDash
When an order is fulfilled by a restaurant, the restaurant will alert the DoorDash system. Then, DoorDash will match a Dasher with that order. The Dasher is responsible for picking up the food and delivering it to the customer promptly. The whole process takes place on the Dasher's app. The App will tell the Dasher when and where to pick up the food and provide a map and contact information of the customer in case they need to reach out.
Use the guide on DoorDash's support site to know what to expect.
How to Register as a Dasher
If this sounds like the best side hustle for you to earn money, signing up is easy. The first step to signing up is to download the app or create a login online. It is important to note that you will be required to download the app even if you sign up online.
Then, you must submit an online application. This step should only take a few minutes. You will then choose your driver orientation including location and car information. The complete signup process should only take a few minutes. You should have information about your car, bank account information, and driver's license information available when you sign up to expedite the process.
When you have the app and have been approved by DoorDash. You will need to have the app downloaded. To start getting gigs, you can select 'dash now' in the app to start receiving orders in your area. You will also be able to use the app to set times that you will be available and begin to create a schedule for yourself.
How to Earn Money on DoorDash
After selecting 'dash now', the app will show you orders. The orders will have the full distance you will need to travel and the minimum guaranteed pay. Then, you can accept an order and go pick it up. The app will tell you where the restaurant is and has a map to help you navigate. You will pick up the order and deliver it to the customer.
Once you have delivered an order, the app keeps track of your earnings. Dashers get paid via direct deposit each week. The 'earnings' tab on the app helps users to keep track of how much they have earned.
Who Can Sign Up for Door Dash?
If being a Dasher still sounds like something you would like to do, it is important to note that there are some restrictions on who can become a Dasher. The requirements for Dashers are as follows:
Dashers must be 18 years or older
Dashers may use cars, scooters, or bicycles but must define their mode of transportation in the app
Dashers must provide a driver's license number
Dashers must provide a social security number if in the United States
Dashers must consent to a background check
How Much Money Can I Make with DoorDash?
If you meet the above requirements, then you might be wondering how much you can earn via DoorDash. DoorDash is one of the side hustles that allows users to sign up and start earning right away. There are several ways that you can maximize your payment and a few things that you should be aware that you will be expected to pay for.
How Much Do Dashers Earn?
The DoorDash website advertises that Dashers can earn $15-$25 per hour. The fee per delivery can vary but is typically no less than $3. Most Dashers can complete at least three deliveries per hour. However, there are many ways for Dashers to increase the amount that they earn.
How Can Dashers Maximize Their Payment?
Dashers can leverage their flexible schedules to earn even more cash when delivering. Here are a few of the best ways to maximize your income as a Dasher:
Accept tips – The easiest way to increase your income is to accept tips. You do not have to change anything in the app to accept tips. However, delivering promptly and being kind while dropping items off to your customers is the best way to earn tips.
Only accept large orders – Dashers are ranked on their acceptance rate, but they also receive a warning if they are denying too many orders. Therefore, you can be picky about your orders to find the largest orders. Additionally, customers tip based on a percentage of the total cost of the order, so it is advantageous to deliver the largest orders possible.
Deliver during peak times – You will only deliver orders when there are orders to be delivered. Therefore, do not anticipate making lots of orders at 5 AM. Instead, try to make orders during lunchtime and dinnertime to maximize the number of orders you can deliver, thus receiving more payments and tips.
Use Multiple Apps – While DoorDash is a reputable delivery option, if there are no deliveries available when you are working, you may want to sign up for multiple apps. UberEats, Postmates, and other apps are also available 24/7 so you can maximize your deliveries.
What Costs Do Drivers Have to Cover?
While Dashers earn money on the app, there are some expenses that Dashers must cover on their own. These costs include:
Gas – If the Dasher is driving rather than using a scooter or a bike, they will be responsible for the expense of making the delivery.
Parking – If the Dasher must park to get the food or make a delivery, they will be responsible for the expense.
Phone and data plans – Dashers must use their phones to make deliveries. Dashers are responsible for paying for their phones and associated data expenses.
Vehicle wear and tear – As you drive your car, it will likely have a bit of wear and tear. You will be responsible for paying for oil changes or other regular maintenance on your car.
Taxes – DoorDash does not take taxes out when Dashers receive payment. Therefore, Dashers should set aside cash to ensure that if they have to pay taxes at the end of the year they can make the payment.
Should I Use DoorDash?
Ultimately, it is up to you to decide which side hustle is best for you.
Pros
Here is what many Dashers love about their job:
It is easy to sign up and become a Dasher
Becoming a Dasher is free
Dashers set their own hours
DoorDash can pay more than other apps, and it is easy to find ways to maximize income
Dashers can accept tips
Cons
Dashers will admit, it's not the perfect side gig. Here are some setbacks:
Dashers might not have a reliable source of income as there are not 24/7 orders in some areas
Dashers are responsible for any expenses associated with making deliveries
Dashers may have to deal with low tip amounts
DoorDash Review: The Bottom Line
If you are interested in side hustles that you can do with your car but do not want to do DoorDash, there are plenty of other options available. You may want to work from home instead of driving, and there are plenty of side hustles that allow you to work from the comfort of your home. Regardless of what you choose, remember that your side gig is a way to save money and achieve your financial goals, so be sure to choose something that you enjoy.
More gig app reviews:
Pin it for later!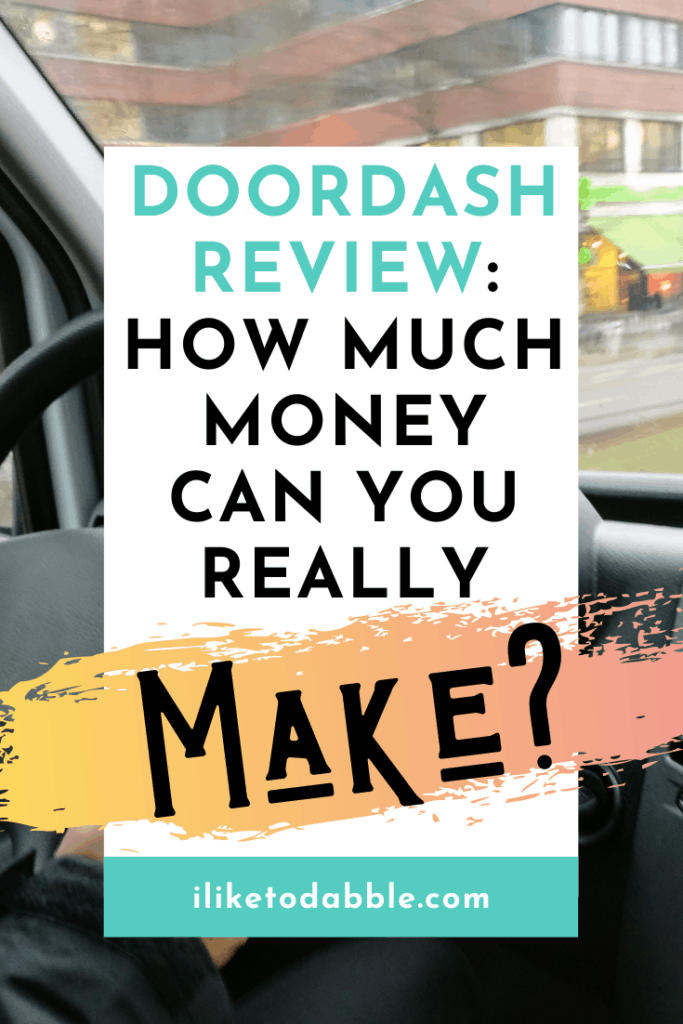 Pros
Becoming a dasher is free
Easy to sign up
Set your own hours
Higher pay than other apps
Ability to accept tips
Cons
Dashers might not have a reliable source of income as there are not 24/7 orders in some areas
Dashers are responsible for any expenses associated with making deliveries
May get stiffed on tips
Ashley is a personal finance writer and content creator. In addition to being a contributing writer at I Like to Dabble, she writes for solo entrepreneurs as well as for Fortune 500 companies. When she's not calculating her net worth or reading the hot new finance book, you might find Ashley cage diving with great white sharks in South Africa.