Our website is supported by our users and contains affiliate links. We get paid when you purchase or sign up for anything through those links. Read the full disclaimer for more information.
Last Updated on December 3, 2020 by Yovana
Over the past few years, making money online has become more mainstream. One concept that has truly stood out has been the aspect of streaming which we will go through in this Twitch review.
The Twitch platform is the largest, most well-known streaming platform that exists today. The platform has an average of 15 million active users both streaming and watching content.
But what everyone wants to know is how to make money on Twitch!
What Can You Stream?
Fun Fact: You can stream far more on the platform than just video games.
Many individuals are under the impression that they must stream popular games to make money on Twitch. This could not be farther from the truth!
While most streamers do tend to play games on the platform, they have plenty of other categories that you can dabble in.
Twitch categories also include different forms of crafting and artwork, adventure, mechanical design, music, and even a popular category for just chatting!
All these categories have additional subcategories that will break your stream down even further. This will assist potential viewers in finding your stream! The higher the viewership the better.
Even more importantly? You can monetize every category listed and make money while enjoying your favorite hobbies.
Let's break down the business side and how to make money on Twitch!
How Can You Monetize Your Streams?
The great thing about Twitch is that there are several different ways that you can make that extra cash. While you may not be making enough upfront to pay the rent, it can assist with putting some extra income in your pocket.
We will start with the ways you can make money without being a Twitch Affiliate or Partner.
Ask for Donations
Many streamers will have a ticker or bar that is on their screen listing a goal with a certain dollar amount attached to it.
This lets your viewers have the options to donate to your stream! Usually, when someone donates, there will be something that pops up on the screen so everyone knows that they donated, and you can give them a proper thank you!
Affiliate Links
Many streamers also sign up for Affiliate programs that provide specific links to their products. When a viewer follows the link, it takes them to the products. If they purchase items from your specific affiliate link, you then receive a percentage of that income from the program.
These affiliate programs are available for a wide array of different products and services. Select a program that makes sense for your channel so that you will reach an interested audience. For example, if you spend most of your time streaming PC games then you may want to look into a program that sells the games that you play or PC products that you use to stream.
Sell Customized Merchandise
This option involves setting up your store where you can sell different types of merchandise that pertain specifically to you and your channel.
Streamers sell everything from logo-based stickers and mousepads to t-shirts and coffee mugs. Merchandise can have endless options for you and your stream to pull in some extra money!
What Comes Next?
After streaming for some time, you will most likely become eligible for the next step on Twitch, which is to achieve Twitch Affiliate status!
According to the Twitch page, you must meet the following criteria to receive a Twitch Affiliate Invitation:
Stream for at least eight hours in the last 30 days
Steam on at least seven days in the last 30 days
Receive an average of three viewers per stream
Grow your audience to 50 followers
If you meet these criteria, you will automatically receive the affiliate invitation from Twitch.
When you achieve Affiliate status this will unlock a few new options for monetizing your streams:
Twitch Subscriptions
Most of us have heard of the term "Subs" being used on the Twitch platform. This term is short for those viewers that have chosen to subscribe to a channel.
Subscriptions to a channel usually will mean that viewers will have special perks such as unlocking custom emotes for the channel. Depending on the amount and channel, they may receive additional perks such as customized merchandise.
There are three monthly subscription options costing $4.99, $9.99, and $24.99.
Twitch Bits
Twitch Bits are mini donations from viewers. They are the equivalency of tipping a streamer, and they come in many different quantities for purchase. For example, to purchase 1,000 bits would cost $10.00.
Beyond that of becoming a Twitch Affiliate is obtaining Twitch Partner. The partner program is an exclusive, invite-only option where you must apply to be considered.
According to Twitch, the Path to Partner program is designed to help you track your progress towards being eligible to apply to the Twitch Partner program. The achievements are as follows:
Stream for 25 hours
Stream on 12 different days
Average of 75 viewers (concurrent viewership excluding hosts, raids, and embeds)
If you achieve these requirements, please keep in mind it will not guarantee that you will obtain partner status.
However, if you do get selected to be a Twitch Partner, you will have these additional options for monetizing your channel:
Selling Games, In-Game Items, and T-Shirts
If you can sell some of these items in the stream you can receive a 5% share of the revenue. This is a bit of extra money in your pocket!
Partners can also sell t-shirts in the official Twitch t-shirt store.
Video Ads
As a partner, you can run revenue-generating ads during your stream. Partners earn a share of the revenue generated from any ads played on their channel. Partners can determine the length and frequency of mid-roll advertisements (anywhere from 30 seconds to three minutes) through their dashboard.
A typical payment is $1 to $2 per thousand views.
Twitch Review: The Streaming Wrap Up
One of the awesome things about Twitch is how many options you have to monetize your favorite hobbies!
Whether you are an artist who wants to paint or a musician who wants to share their music, there will be a category for you to stream on the platform.
Focus on the quality of your content, and the viewership will follow!
Happy Streaming!
More reviews:
Pin it for later!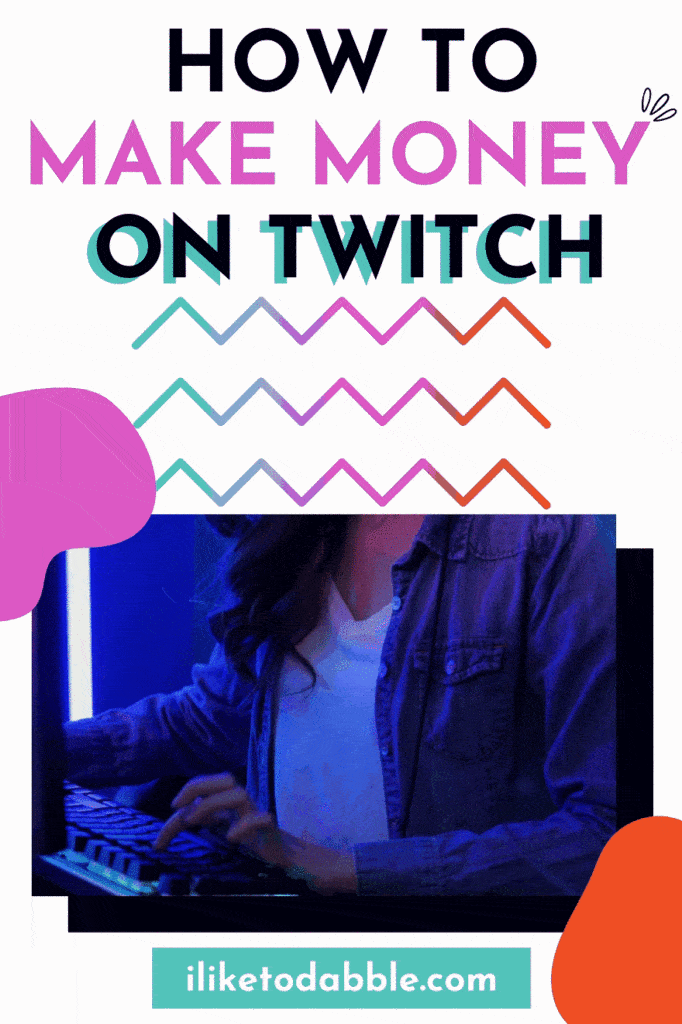 Scarlett Rose is a seasoned cosplayer of 15 years in all different things from Final Fantasy classics to Star Wars and unique designs. She loves costuming as her grandmother was a seamstress. She is also a streamer, writer, voice actress, actress, and a bunny mom.