Our website is supported by our users and contains affiliate links. We get paid when you purchase or sign up for anything through those links. Read the full disclaimer for more information.
Last Updated on May 31, 2021 by Daniella
Starting in November 2020, Snapchat quietly revealed their Spotlight feature, an easy way for Snapchat users to discover your content. You'll notice that more and more social networks and publishers are coming out with Creator programs.
It's a fierce market out there and in order to stay afloat, publishers need users.
TikTok released their Creator Fund in the 4th quarter of 2020, rewarding creators by paying them for their content. And, more and more companies are coming on board, compensating users for using their website, including Snapchat!
With Snapchat Spotlight you can earn up to an obscene amount of money for creating your up to 60 seconds long snap video. It makes it exciting to use the Spotlight feature with the hope of getting compensated for your creativity!
On Snapchat Spotlight only the most entertaining snaps are accepted on a daily basis and those that are accepted have a chance to make a lot of side money if their video goes viral!
In this article, you are going to learn all about the new Spotlight feature on Snapchat. I'll go over:
What is Snapchat
What is Snapchat Spotlight
How to submit your Snapchat to Spotlight
How you can make money on Snapchat Spotlight
And, more!
Here we go!
What is Snapchat?
Started in 2011, Snapchat was unveiled, a social network that lets you chat with your friends, create video stories, and discover other cool videos on the platform. It was a social network unlike others on the market and it grew to a user base of nearly 85 million as of 2021.
Here's how it works:
Snapchat users can join the platform and create video stories using Snapchat's tools and filters to produce entertaining, fun videos to be shared with their friends.
What is a snap?
Users can exchange messages and videos called snaps, that are meant to disappear after they're opened.
What makes Snapchat stand out from competitors in this space are their inventive and unique filters and lenses that can do everything from changing your eye color or hair color, giving you a cartoon-like appearance, adding freckles or sunglasses to your face, and a lot more. You can explore the effects, have fun with it and share with your friends.
What is Snapchat Spotlight and How Do I Make Money on Snapchat Spotlight?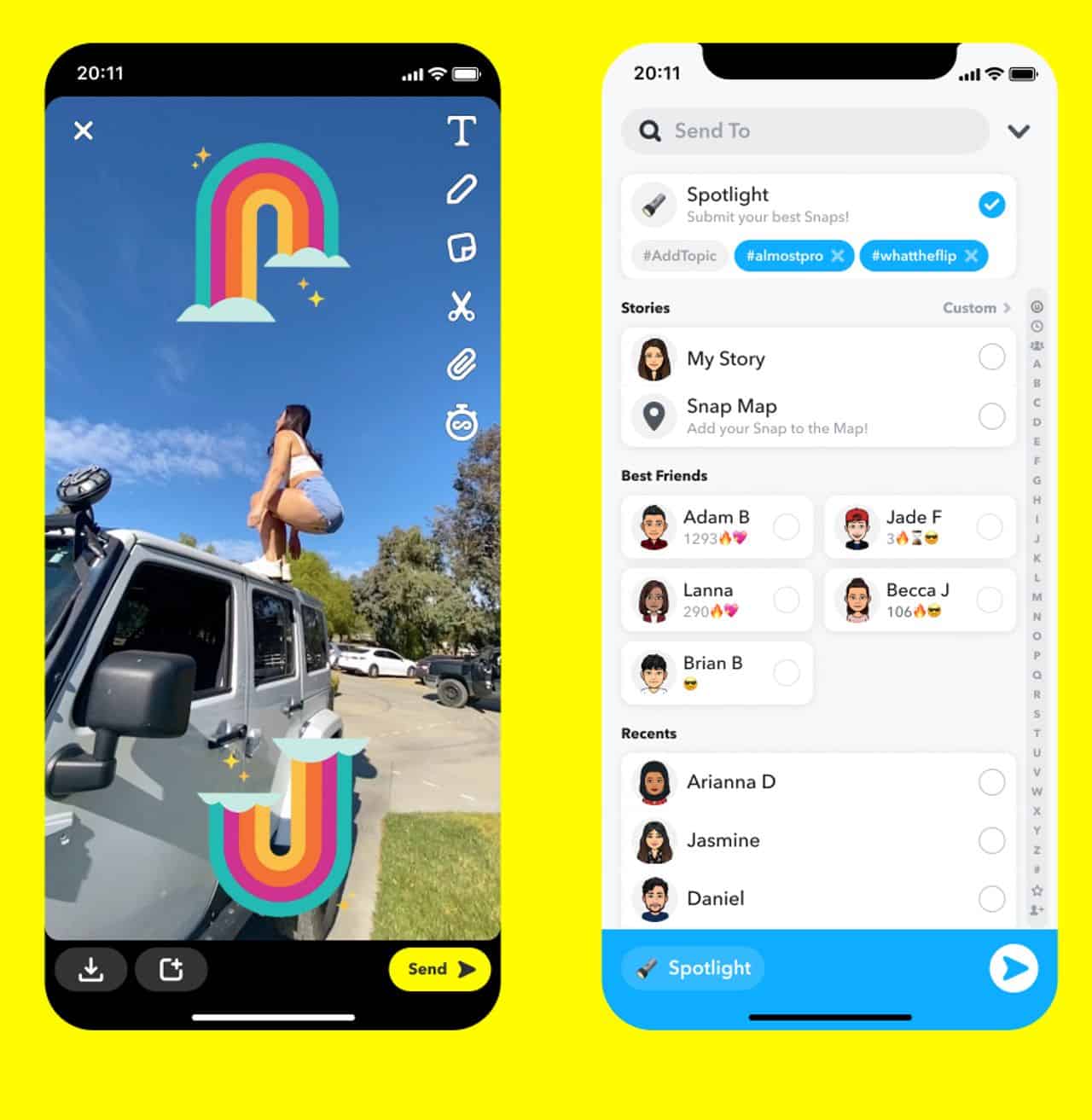 Snapchat users can access Spotlight right from the app by clicking the Spotlight button. Snapchat Spotlight is like TikTok's "for you" page or Instagram's "discover" page.
As a creator, you'll make your snap and you can click the "send to Spotlight" button for a chance to have your video clip seen by the Snapchat community.
According to this source, and shared by other media sources across the web, Snapchat is paying users $1 million dollars per day to use their new Spotlight feature!
Can you get paid to make Snapchats?
Yes. If you submit your Snapchat video to Spotlight and it's one of the best performing videos of the day then you can potentially earn money.
Creators have reported earning $8,000, $20,000, up to $80,000 (and possibly more) for their Snapchat video!
If you head to this community on Reddit, you'll hear creators talk about getting paid for their viral videos on Spotlight reaching up to 200,000 to 1.2+ million videos in the first 24-48 hours!
How to submit your Snapchat video to Spotlight
It's an easy process to submit your snap to Spotlight.
Create a snap video clip
Select Spotlight at the top of the Send to screen
Tap the submit button to send your Snap to Spotlight
You create your snap right on the Snapchat app. It's easy to do and you don't need any outside software or tools to do this, though some users do.
Once you submit your Spotlight snap, it gets reviewed and will either be approved and go live or not be selected.
Either way, there's nothing additional you have to do beyond this point.
If accepted, your snap will be showcased on Snapchat Spotlight. If not, then it won't go live.
How long does Spotlight approval take?
The timeline for approval can vary. When I first started submitting Spotlight snaps, it took hours to get approval. I hadn't used Snapchat much prior to that so I'm unsure if that had anything to do with the longer turnaround time.
After that first submission, the approval process was a lot faster with some Spotlight snaps getting a decision as quick as a few minutes later. This was my personal experience.
How to increase your chances of getting approved for Spotlight?
Snapchat shares these tips to up your chances of getting onto Spotlight:
Be creative: Share high quality video that isn't blurry and no text-only snaps will appear on Spotlight.
Use vertical video: Vertical videos should be used not still images.
Add a #topic: People exploring your topic can find your snap when you do this.
Use creative tools: Use Snapchat's tools to create your Spotlight snap like the text tool, music, stickers, etc.
Post your best stuff: Focus on sharing your very best content.
Avoid posting duplicate content: This is frowned upon.
And, more Spotlight tips and tricks
I've found that all these tips reign true.
When I first started submitting Spotlight snaps for approval, very few were getting approved. I couldn't figure out why some were going live and others weren't.
After time, it became more clear what Snapchat was looking for and now, most of my Spotlight snaps get approved.
What I've personally found is that my snaps that have multiple creative tools used in the video plus music, usually go live. That's the magic formula that increases the chances of my snaps being approved but, I recommend you take advantage of all the tips that Snapchat shared above.
How much can you make on Snapchat Spotlight
The specific amount you can make per Spotlight snap is unclear. Snapchat reports that you'll have a chance to win a share of $1 million dollars per day that they are providing to creators.
The lowest amount I've seen creators earn based on their reports was around $9,000 and the highest I've heard was a reported $88,000.
These figures are from a single snap video on Spotlight and each video earned over 100,000 views over the course of one or two days.
Common questions about Snapchat Spotlight
1. What countries is Snapchat Spotlight available in?
Australia
Canada
Denmark
France
Germany
Ireland
New Zealand
Norway
Sweden
United Kingdom
United States
2. How are people chosen to get a share of the $1 million dollars per day?
Snapchat uses a proprietary formula, taking into account engagement and other factors to determine who gets paid for their Spotlight snap.
3. How will I know if I've earned money?
If you've earned money you'll get a message from Team Snapchat and in that chat we'll confirm your birthday and email address. This happens around 4 to 10 days after your Spotlight snap runs.
Then, you'll get instructions for pay. Payment happens about 60 days after first contact.
Other ways to make money on social media
If you love social media as much as me, why not get paid for the time you spend on it, right? Here are some social networks to make money on social media:
TikTok has a few different ways you can earn. First, if you have at least 10,000 followers and meet a few other requirements, you can join the Creator Fund which pays you for every video you create.
There are no minimum benchmarks here. As long as you create videos that get views, you can earn for each video you publish!
Then, if you have at least 100,000 followers, you can join the Creator Marketplace which is home to the most popular TikTokers like Charli D'amelio, Addison Rae, and others. Once you're on the Creator Marketplace, retailers and companies can contact you to work together, and you can make a lot more money creating TikTok videos.
With Instagram, although they don't have a formal creator program like Snapchat and TikTok, if you build a following on Instagram, the doors open for you to get paid to work with brands. There are some Instagram influencers that make a full time living just from posting brands on their TikTok feed!
YouTube pays creators based on the views their videos get once they are accepted into their Partner program. You need 1,000 subscribers and 4,000 watch hours in the last 12 months in order to qualify for the Partner program.
At that point, you can join, get approved and have ads inserted in your videos which pay you every time users watch the ads. More on how to make money with YouTube.
You can see, more and more social networks are serious about retaining and growing their user base by paying their creators. I wonder what the social media landscape will look like in 5 or 10 years?
Final Thoughts
You can make money on Snapchat Spotlight. I think it's a fun and fruitful way to get rewarded for posting your creative video clips on Snapchat.
If you've had videos go viral or even semi viral on TikTok, they have a good chance of getting approved and going viral on Snapchat Spotlight as well.
It's not a stable source of income and your acceptance onto Spotlight doesn't necessarily mean you'll earn a share of the $1 million dollars reserved for the day but, if your video does pick up traction and goes viral, it's really incredible that Snapchat will pay you for this!
Have you tried Snapchat Spotlight before? Have you earned money from it? Share your experience below.
If you are looking for a side hustle idea and need help, take our free quiz!
Related posts:
Pin it for later!

Jenn Leach is a writer, instructor, entrepreneur, and founder of
Millennial Nextdoor
where she teaches millennials life hacks for easy millennial living like being money smart, investing in yourself, and automating your life. When she is not working, you can catch her binge-watching baking reality TV shows or listening to her favorite podcasts about business, money, and life.