Our website is supported by our users and contains affiliate links. We get paid when you purchase or sign up for anything through those links. Read the full disclaimer for more information.
Last Updated on February 11, 2021 by Daniella
One of the first side hustles I had when I was younger was selling my paintings. I still paint to this day along with crafting various other decorative items. Recently I started a couple of DIY crafts to sell for extra money and thought I would help my readers do the same.
It might be hard to think that someone else would actually buy something you hand made, but people love hand made items.
DIY crafts are genuine and people know where they came from. People love a good story and that is what hand made items give them, a great story that they can be included in by owning that item.
Isn't it wonderful to be able to make money with a hobby of yours?
Related posts: How To Hack Your Future By Getting a Side Hustle
DIY Crafts To Sell For Extra Money:
These are the easiest ideas to start with when you are looking to make money from your handmade items. They also make some wonderful gift-giving ideas as well.
Pin it for later!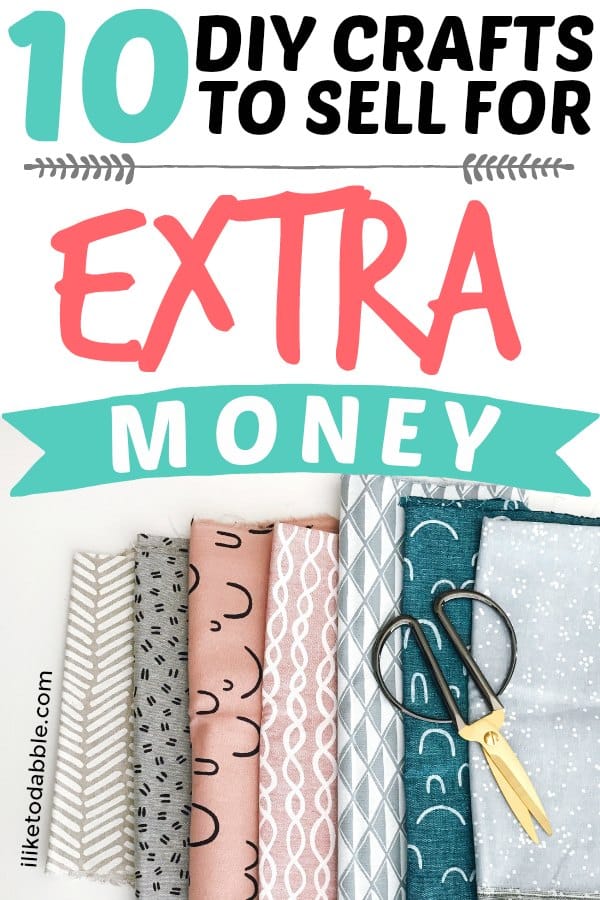 DIY Jewelry
Jewelry is probably one of my favorite DIY crafts to sell. It isn't that hard to make and costs next to nothing to ship due to the fact that you can keep the size down.
If you don't want to sell your jewelry online because honestly, that market is pretty saturated, you can easily sell your jewelry at events or concerts. It is especially easy to sell jewelry at art shows and festivals as the people that come to those are normally looking for new interesting pieces.
If you have never made jewelry before or have no idea where to start, I recommend this deluxe jewelry making kit for only $45 on Amazon. It has everything you need to get started including various sizes and types of pliers, beads, strings, links, wires, etc.
Subscribe to get your free list of side hustles you can start this week!
Claim your free list of side hustles + tons of helpful resources to get started!
DIY Travel Bags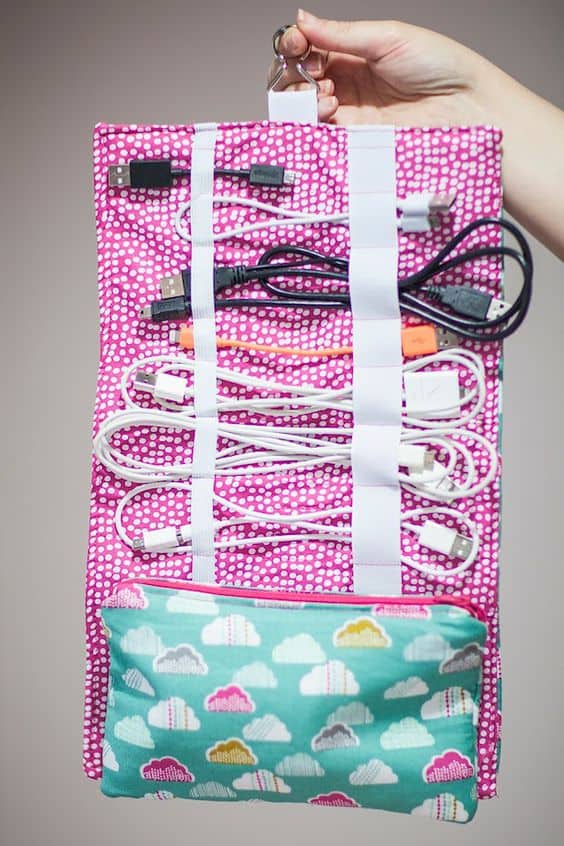 DIY travel bags are a fun craft to make for extra money. You can either buy discount organizing bags and combine them into a fun travel bag or buy bags and add a splash of color or design to them. Photo credit: Make on Pinterest.
I love the white 'dye-able' bags that you see at craft stores like Hobby Lobby or Michael's and tie-dye them with interesting designs. Or you can even use fabric markers and stencils if you rather draw your design.
One of the most popular ways to make DIY bags to sell is by using online services like Threadless, that let you put your own designs on the bags and place it how you want. Then once everything looks good, you complete your order and they print on the bag for you so you don't have to and send it right to your door.
This is a great way to make passive income as there is little to no effort involved and the online service will actually maintain an online shop for you and ship the items for you as well.
DIY Bird Bath or Feeder
We recently cleaned up our back yard and added new landscaping accents throughout. When we were working on the project I got into the idea of making a DIY bird bath. I saw tons of ideas for this on Pinterest and thought it was the cutest thing I have ever seen.
You can either make a DIY bird bath by painting various pots and stacking them on one another or find large bowls that you can up-cycle as a hanging bird feeder. The ideas for this one are endless as there are so many types of bird baths or feeders you can make out of the materials you might already have.
Related posts: 22 Creative Ways To Turn Your Clutter Into Cash
10+ Summer Money Making Ideas For College Students
Tips For DIY Yard Cleanup And Landscaping On A Budget
8 DIY Creative Gift Ideas That You Can Make Yourself
DIY Solar Lights
I started making DIY solar lights when I got bored one weekend and got some new crystals in the mail. If you know me, you know I love crystals and solar lights. I wanted to combine the two.
So I got to thinking about some mason jars I had and made them into solar lights using a solar panel and string of lights to attach to it inside the mason jar. It is important to get a waterproof ring to go with the panel so your solar light doesn't fluke one day and stop working. Then attach a wire hanger around the top of the mason jar and wah-lah, you have a solar light!
I then attached large crystals inside to make it an enchanted work of art and a solar light in one. This is actually what I am trying to sell on my Etsy but need to make more of a variety of them.
To skip the process of crafting the mason jar into a solar light yourself, you can actually buy these off of Amazon pre-made and add your own accents to it. You can even get them in all sorts of different sizes, colors, white light or color changing.
DIY Bath Bombs
Alright, I have never made my own bath bombs before but I have seen a ton of amazing crafted bath bombs for sale on Etsy. I always wondered how they make them and turns out, they are pretty easy. If you like baking cookies, bath bombs should come to you as a second nature.
Check out this amazing tutorial I found from Popular Science for how to make bath bombs.
DIY Planter
Like DIY bird baths, DIY planters are another fun craft idea that can be done so many different ways. I have seen DIY planters done with wood, plastic, horizontally, in a triangular form, stacked up upon each other in pots, and even done as an entire wall. If you have a vision for a DIY planter, go for it even if it has never been done before.
Actually, it is better if it has never been done before as people will want something that everyone else doesn't already have.
DIY Pillow Covers
Did you know you can make pillow covers using t-shirts? When I came across this idea, I thought it was so cool because it involves taking one thing and turning it into another. It is basically up-cycling clothes into bedding and decor!
If you want, you can make these using your own t-shirts or buy cheap ones off of Amazon for a few trial runs. Maybe run them through the wash and if you want to spruce them up a bit more, dye them or use the fabric markers I mentioned above. Or instead, find cheap tshirts with cute or funny designs that would look even better as pillows.
Then you will need scissors, a sewing kit and the right tutorial to follow. Personally you can't go wrong with the DIY network and this tutorial.
Related posts: How To Make Money With Pinterest
45 Life Hacks That Will Save You A Ton Of Money
DIY Blankets
When I was in high school, the fleece DIY blankets were huge. Everyone was making them and they showed up at every event. Now I know why.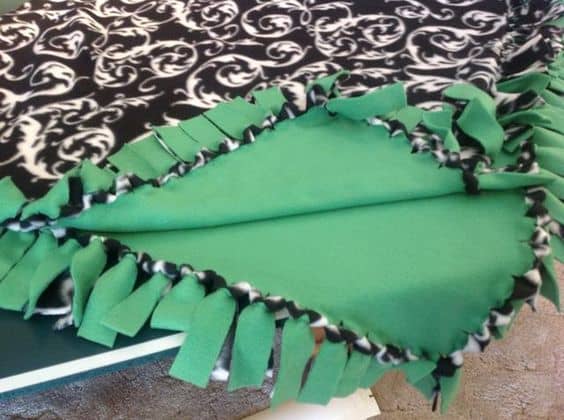 They are fun, easy to make, and super comfortable. To get started on this craft, know what measurements you will need and purchase the fabric and patterns you want. Cut the edges like the picture to the right (Photo credit: Snapguide on Pinterest), and tie them together. If you want to secure the edges more, sew them together in certain spots.
There, you are all done!
DIY Abstract Art
I use to paint my own abstract and surreal art when I was in college. It was a creative outlet to get all my frustrations out with and to my surprise, people actually liked my work and purchased it when I would live-paint at concerts.
If you are thinking 'I am not artistic' or 'I can't draw, how could I paint?'. Stop that! You are limiting yourself.
Play around with paint and get creative with it.
Purchase a canvas pad or some small canvas pieces, a couple of your favorite colors, and just throw the colors onto the canvas. Play around with them, connect with them. That is all that art is, playing with our creativity. To get started, I recommend this acrylic painting set that includes 12 colors, 6 brushes, a canvas, pallet and table easel.
Or if you really hate trying to paint, take that same creative energy and apply it to another abstract sort of craft like crayon molds.
DIY Notebooks
DIY notebooks is another effortless craft to sell for extra money using Threadless. You can easily create the designs and place them on your notebook cover using the site and even run your store through the site so you never have to handle anything.
If you are more of a realist when it comes to your art and want to draw out the designs yourself, get some blank covered notebooks and draw away. You can do a lot with this actually like add glitter or other texture to the cover. Get creative with it!
How To Quickly Sell Your DIY Crafts
Selling your crafts is pretty easy once you know your target customer. If your target customer is at local events mostly then you can either sell your crafts at local art fairs, festivals or concerts. Or you can use one of the many online platforms to reach your target customer.
Selling in person becomes a bit more difficult because for most events you will either have to get approval or pay a fee to set up a booth. If you sell your crafts online, things become much easier and automated.
I think Etsy is the most suitable for selling crafts online. I have seen all types of crafts that do very well on this platform from dog clothes to crystal crowns, Etsy has it all. I actually started an Etsy shop of my own recently and even though it is still in it's beginning phase, I am hoping it will grow to be another great side hustle income for me.
Related posts: How To Make Money As An Artist
50 Ways To Make An Extra $500 A Month
The Best Ways To Sell Your Stuff Online And Actually Make Some Money
---
Resources That I Can't Live Without
Below are my top recommendations for saving money, making money and living a more frugal and sustainable lifestyle.
Trim: Trim will negotiate lower bills for you without you ever having to do a thing besides entering your bill and bank info when you sign up. Trim negotiated a savings amount of $17.40 a month on our AT&T bill. This will put us on track for a yearly savings of $208.80 just from lowering our cell phone bill with no consequence or loss of quality!
Nielsen: Nielsen will pay you for your internet usage. All you have to do is download their app and register your devices. It is noninvasive, will not impact your device's performance and is 100% secure. Then you get rewarded for using the internet like you do any other day! I currently have it installed on all of my devices and it is nice for a little extra income.
Swagbucks: Swagbucks is where you can earn points called swagbucks or SB that transfer into real dollars. Earn money by taking surveys, shopping online, watching videos, discovering content or downloading other apps. Every 100 SB = $1.00 USD.
Cashback Research: Get paid up to $75 per survey and $150 per clinical study. Sign up with my link to get $5.
HealthyWage: You can participate in individual weight loss challenges where you set a specific goal using their calculator and get paid when you reach that goal. There are also jackpot challenges where you compete as an individual or as a team and if you win you can split the jackpot, or step challenges where if goals are met you can split the pot of earnings.
Magic Ears: Work from anywhere you want through their online teaching portal and be your own boss, no degree required. You will make $26 per hour for your time and their application process is pretty painless.
Inbox Dollars: Inbox Dollars will pay you to read emails, take surveys, play games, complete offers and much more. You basically get paid to play around on your phone to pass the time when you are bored. Did I mention they pay you an additional $5 just for signing up? Click here to learn more.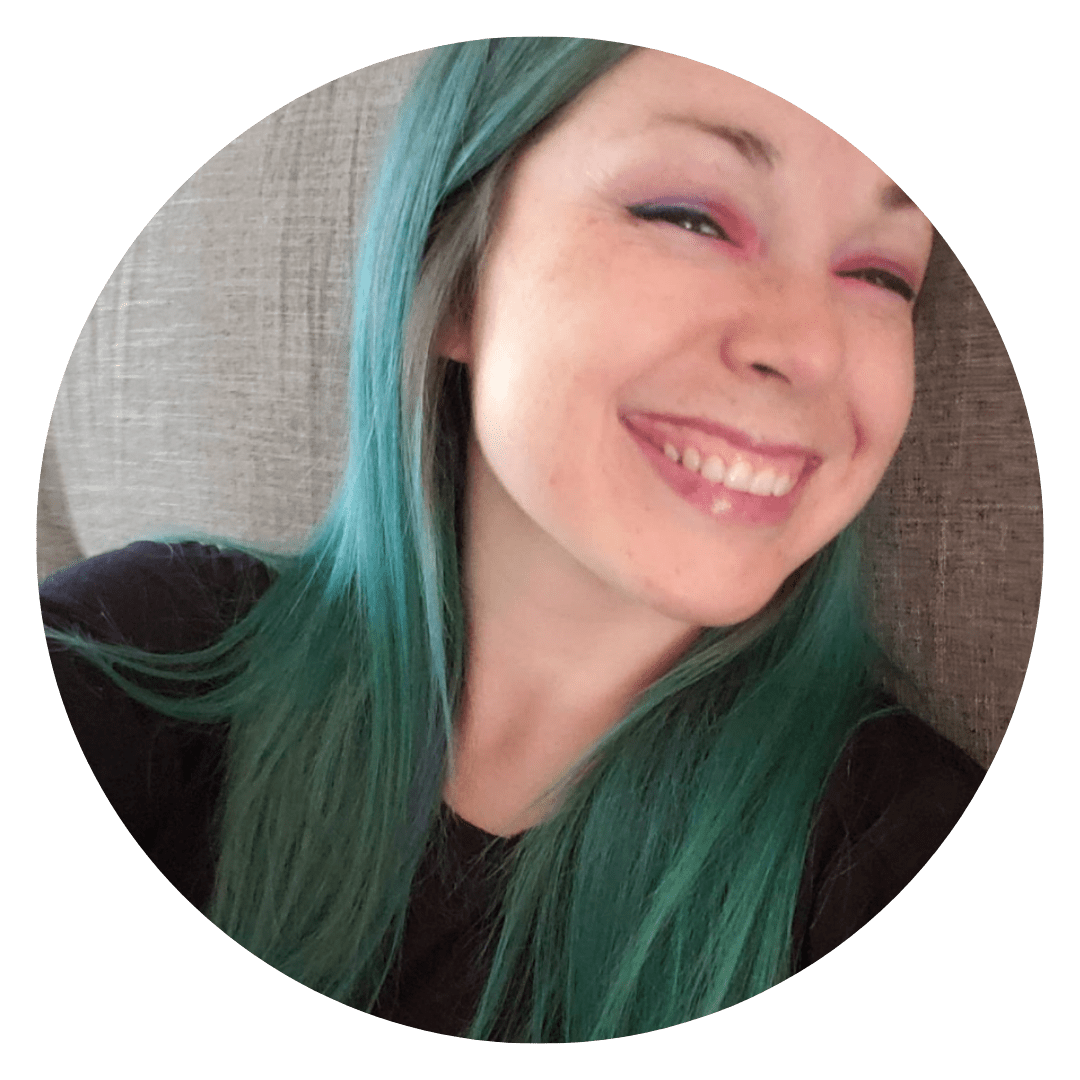 Daniella is the creator and author of iliketodabble.com. When their wife Alexandra and them aren't globetrotting or playing with their 7+ animals, they are dabbling and working towards a future of financial freedom.