Our website is supported by our users and contains affiliate links. We get paid when you purchase or sign up for anything through those links. Read the full disclaimer for more information.
Last Updated on August 1, 2022 by Daniella
Are you looking for to work from wherever you are, whether it is part-time or full-time?
If so, you may have come across FlexJobs and be interested in reading FlexJobs reviews. It's important to know if it is a legitimate site, free of scams, before you continue with your work at home / remote job search.
There are endless sites that offer lists of remote jobs, work from home jobs, part-time jobs, and online freelance work.
Read on to find out what FlexJobs is and what makes it stand out from the pack of online job-hunting sites.
What is FlexJobs?
FlexJobs is an online job board & career coaching service. Companies use FlexJobs to post part-time & full-time jobs, remote work, telecommuting jobs, freelance gigs like freelance writing gigs, or other opportunities including work from home jobs.
The website has over 50 job categories to choose from, so they have a job posting for just about anyone.
FlexJobs is also one of the largest job boards available. It sets itself apart by offering many different types of work including seasonal positions and jobs with alternative scheduling options.
The website was started in 2007 as an extension of Sara Sutton Fell's existing entry-level employment service. Now, over 40,000 companies hire people using FlexJobs. All the company's staff are remote, which is another thing that makes this website unique in the field. The website is one of the oldest, most well-established, and well-known online job boards available.
FlexJobs is also a 100% remote-first company.
How Does FlexJobs Work?
If your initial read on FlexJobs makes it sound like a website you'd like to use, then you should understand how FlexJobs works. Of course, the first step is to sign up.
Sign Up
The sign-up process is simple. You must start by entering your name, email address, and password. Then, you can choose which membership is right for you. To do this, you will need to understand what you are looking for. For example, if you are looking for freelance gigs, you might want an ongoing membership. If you want to find a remote job right away, you might find one in the first month and only need a 30-day membership.
Once you are signed up, you will be able to fill out your profile. Then, you can start searching for a job.
Job Searching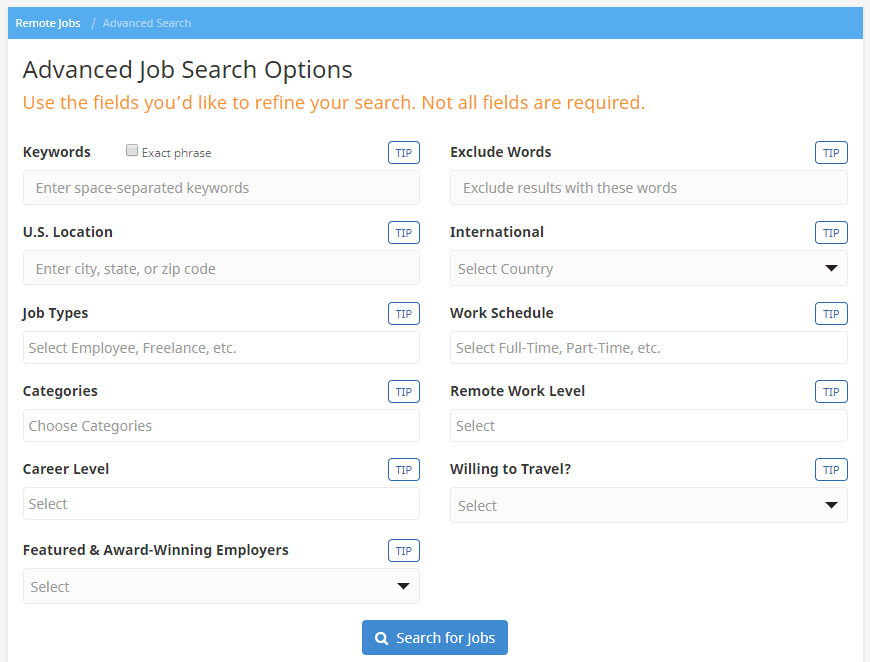 At first, you might be overwhelmed by how many jobs are available on the FlexJobs site. However, you can immediately start filtering jobs by over 50 categories. You can also filter jobs by the duration of the job, expected hours, and more.
FlexJobs includes a tool that helps job seekers research companies. This tool features the top 100 companies to work for remotely and gives users a chance to research a company before applying for a position.
It is important to find the right employer for you. These company profiles can provide information that helps you to craft your application and get a feel for if you would be a good fit at the company before ever reaching out.
You can also view reviews from other FlexJobs applicants to understand what their experience was with each employer.
Job Categories Available
There are a variety of different job categories to choose from on FlexJobs, giving you more of a chance that you'll find the one right for you.
Some of these different job opportunities and field categories on the site include (but are not limited to):
Accounting & Finance
Administrative
Advertising
Animals
Art & Creative
Bilingual
Business Development
Call Center
Communication
Computer/I.T.
Consulting
Data Entry
Editing
Education
Engineering
Entertainment
Environmental
Food
Government
Graphic Design
Human Resources
And over 30+ other career fields
Get a Job
Once you have searched for jobs, you will find one that you want to apply for. Each company will have a form to fill out before sending in your resume, cover letter, and other applicable documents. You will also be able to save a job to return to it later. You can also make notes about a posting before applying and can even report the offer as a fraud.
This is also where FlexJobs' role in your job search ends. From this point on, you will be able to apply for the job and go through the hiring process with the hiring company. FlexJobs does not facilitate interviews or other hiring proceedings. FlexJobs is simply a job bulletin board, and it is your responsibility to begin the hiring process.
How to get paid on FlexJobs
FlexJobs does not act as the middleman for payment. FlexJobs is a membership program, so they make money from both the job posters as well as job seekers. Therefore, they do not take a cut of what a job seeker earns.
If a company hires you as an employee, they will use their internal hiring process and bring you on as a member of their team. This can mean that you are a W2 employee or a W9 freelancer or contractor. You will fill out the applicable contracts, documents, and other non-compete agreements. Then, the company will pay you the agreed-upon wage.
How Much Does FlexJobs Cost?
When you create a FlexJobs account, you will choose a plan. There are three levels of membership and the price is contingent on how long you want to commit to the website.
If you want to try FlexJobs for one week, the cost is $9.95. If you want to try 1 month, the cost is $20.95. Your subscription will renew each month, so if you do not find value in the site or do find a job right away, this is the most cost-effective option. However, if you continue to renew your monthly subscription, it will cost more per month than the longer-term subscription options.
The three-month membership costs $39.95. If you want to search for a job over a few months, this is the most cost-effective option for you. The one-year membership costs $59.95 and is the best option for freelancers and people who anticipate a longer job search.
Every membership offers similar benefits. They all have unlimited access to every job posting, a quick profile creation process, and users can opt-in to email alerts when new jobs are posted. Additionally, they all offer job search tips and resources, and every member can take a skills test to establish what their skills are.
How to Get the Most Out of Your FlexJobs Membership
If this pricing structure gives you hesitation, then you might want to evaluate how you can make the most of your membership. Here are a few ideas to help you:
You may want to test the waters by signing up with a one-month subscription at first. If you find that you do not like the platform, you can cancel at any time.
If you find that it will be valuable to you, you can also upgrade your account at any time. The longer-term subscriptions cost less per month, so this can be a way to save money, especially if you plan to continue to look for gigs over time.
FlexJobs has a skills test that evaluates your writing skills, accounting skills, and more. When you pass a specific skill, FlexJobs automatically adds a badge to your profile, therefore letting employers know that you have what they are looking for. This can help you to land jobs and even have recruiters reach out to you.
Check out their career coaching and resume reviews they have included in your subscription.
The website has hundreds of blog posts, articles, and other content that is designed to help you in your job search. From the moment you sign up, you will have access to all these resources.
You will be able to track your job search activity and see curated jobs waiting for you to review & apply to daily.
How to Cancel FlexJobs
If you have found a job that you love and no longer need to use FlexJobs, you can cancel at any time. You'll simply need to click on your name in the upper right-hand corner of your FlexJobs page. Then, click 'Account Settings' and then 'Subscriptions'. From that screen, you will be able to upgrade your subscription or cancel it. If you choose to cancel, you will lose any remaining time you have paid for.
Is FlexJobs Legit?
In short, yes. FlexJobs is a legitimate company and has an A+ Better Business Bureau rating. The website has been featured in top media around the country and offers a 30-day money-back guarantee. Additionally, FlexJobs recruiters vet every job posting to make sure that every post is legitimate.
What sets this website apart from other, larger job boards like Monster or CareerBuilder is that they focus on flexible positions instead of traditional, burnout-inducing, nine-to-five jobs.
Should I Use FlexJobs?
Ultimately, the decision to use FlexJobs, another website, or to continue your search offline is up to you. Here are a few pros and cons to help you decide if you should use FlexJobs.
Pros
There are several great things about FlexJobs. The list includes:
The website is well-vetted and scam-free.
It caters to people who are not looking for full-time employment, so the jobs are largely flexible.
The website is only a bulletin board for jobs, so the hiring and payment process go through the company that hires you. FlexJobs does not take a cut of your pay.
There are thousands of jobs to choose from.
FlexJobs has several subscription options and users can cancel at any time.
They provide you with tools to aid you in your job search, application, and building your remote career.
Cons
With the good comes the bad. Here are a few setbacks of FlexJobs:
FlexJobs is not free. If you need work, the additional expense can seem off-putting but the resources, career coaching, resume reviews, and everything included in your subscription is worth it.
There are several job posting websites available. While over 40,000 companies advertise their jobs on this platform, the company you are looking for might not use FlexJobs.
Bottom Line
Overall, FlexJobs is a reliable way to search for jobs. They specialize in opportunities outside of full-time work, so there are many unique jobs available on the platform. The cost is reasonable for most individuals, and it is one of the most comprehensive job boards on the market. Overall, we can give FlexJobs our stamp of approval.
If you are looking for other ways to earn money online, there are plenty of side hustles that you can look in to. The internet and modern technologies offer endless possibilities for earning money from the comfort of your home.
More reviews:
Pin it for later!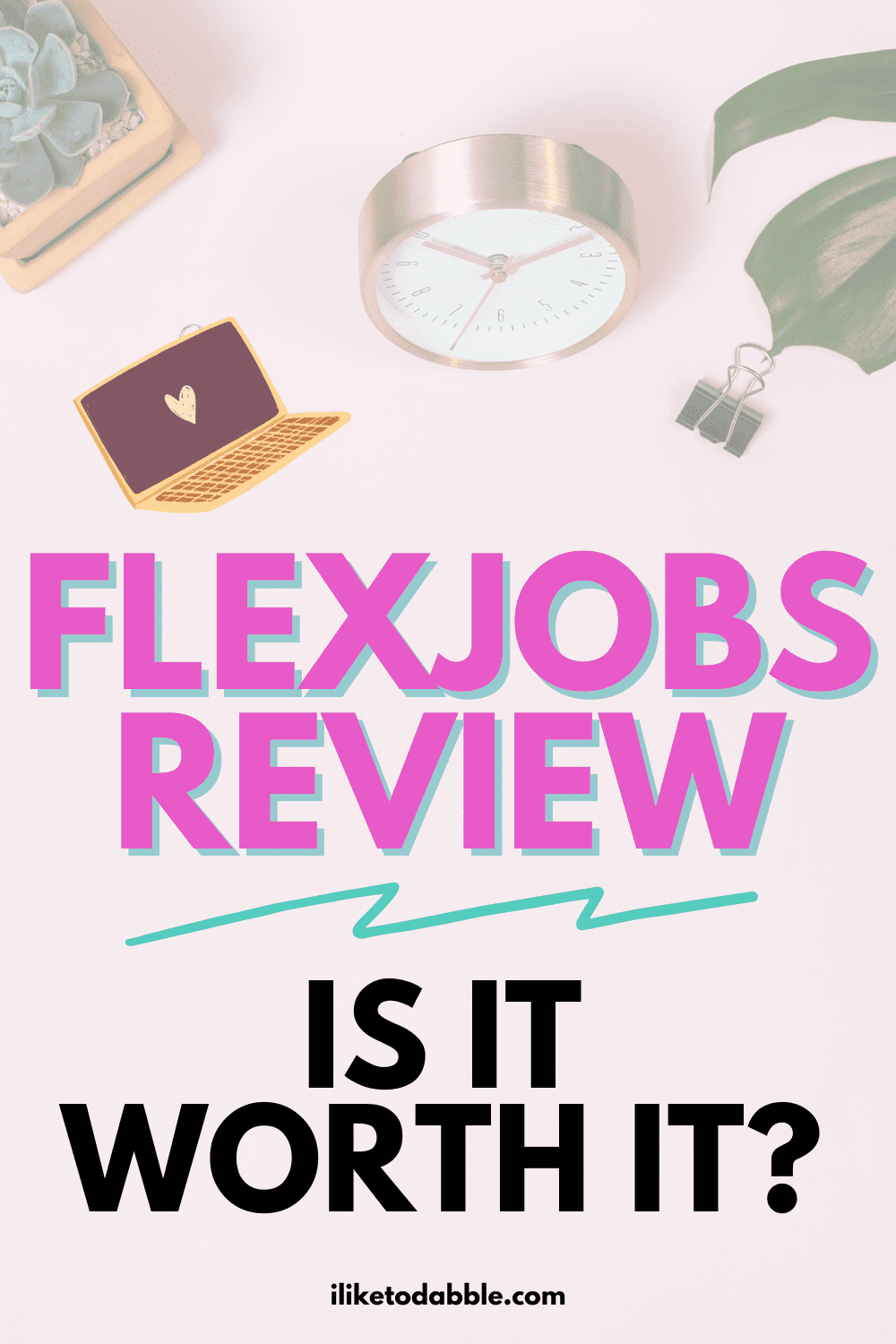 Diverse job listings
9.0/10
Pros
Well-vetted options and scam-free
Catered to more flexible jobs
Thousands of jobs to choose from
Affordable with several subscription options
Provides you with tools to aid you in your job search, application, and building your remote career
Cons
It is not free
Not all companies use FlexJobs to post jobs so you only see listings from companies who do
You may need to subscribe to multiple job boards
Ashley is a personal finance writer and content creator. In addition to being a contributing writer at I Like to Dabble, she writes for solo entrepreneurs as well as for Fortune 500 companies. When she's not calculating her net worth or reading the hot new finance book, you might find Ashley cage diving with great white sharks in South Africa.