Our website is supported by our users and contains affiliate links. We get paid when you purchase or sign up for anything through those links. Read the full disclaimer for more information.
Last Updated on October 27, 2020 by Yovana
InboxDollars is a website and app that pays you for taking surveys, watching videos, playing games, installing other apps, and even pays you for signing up. Which prompted the thought of doing an InboxDollars review in the first place.
When I first heard of InboxDollars, I thought it was either a scam or probably not worth my time. Then I slowly heard good things about InboxDollars from others who tried it. However, I started hearing more cons than pros about the app. I had tried it years ago but I know some things had changed on the app since then, so I reinstalled it and started my trial run for this InboxDollars review.
Pin it for later!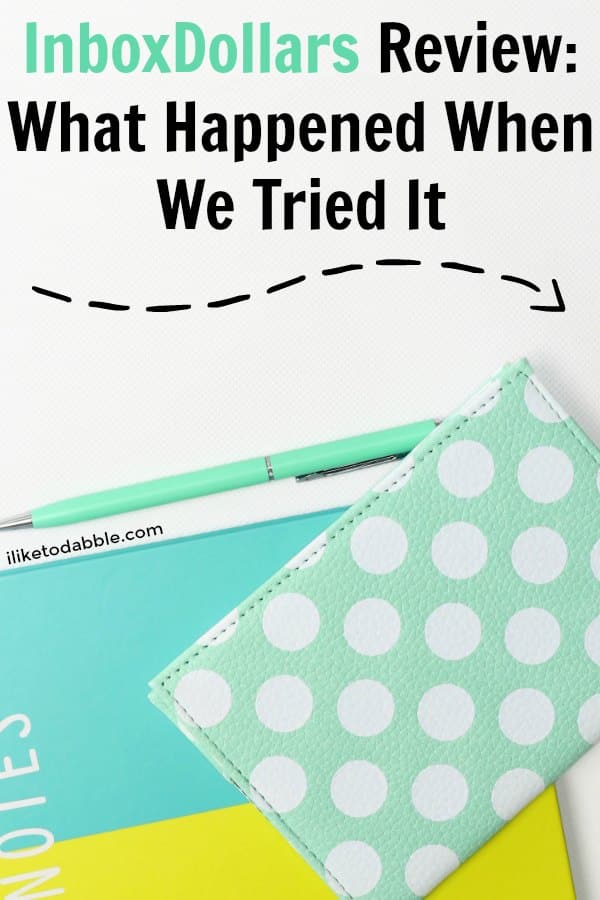 InboxDollars Review: Sifting Through The Hype
Is InboxDollars actually legit or is it a scam? We found out for ourselves.
Downloading and Signing Up for InboxDollars
As you might have seen in InboxDollars advertisements, they pay a $5 bonus to the user just for signing up. This is how they draw users in to sign up and install their app and honestly, they drew me in with that incentive too. I don't know what it is but I fall for that same incentive with most apps 99% of the time.
The sign up process is easy. I chose and entered my name, email and password which prompted me to verify an incoming email from InboxDollars. But that $5 doesn't come immediately after sign up. They pay the $5 to your InboxDollars account once you complete your profile survey. Thankfully, that survey only takes about 10 minutes, at the most. And you are easily prompted for the profile survey on the dashboard once you create your InboxDollars account.
The profile survey consisted of several questions pertaining to anything from basic information such as my name, age and race to a little more private information such as housing ownership, household income and medical history. After I completed the profile survey, lo and behold! There was a magic $5 in my InboxDollars account.
Click here to download/register the Android app for InboxDollars, free $5 bonus included.
Click here to download/register the IOS app for InboxDollars, free $5 bonus included.
Is InboxDollars secure?
If you refer to the InboxDollars Privacy Policy page, you will see they are very clear about how they use your information. InboxDollars does not rent, sell or share user information unless it is to third party applications that pertain to the offers they are displaying to you on the platform itself. There is no need to be weary of filling out this information in the profile survey and in the other surveys throughout the app unless you don't fully understand their privacy policy. I recommend you fully read and understand their privacy policy before downloading the app.
Related posts: 17+ Ways To Make Extra Money By Taking Online Surveys
50 Ways To Make An Extra $500 A Month
How To Make An Extra $1000 This Month With Your Phone
What can you earn money for on InboxDollars?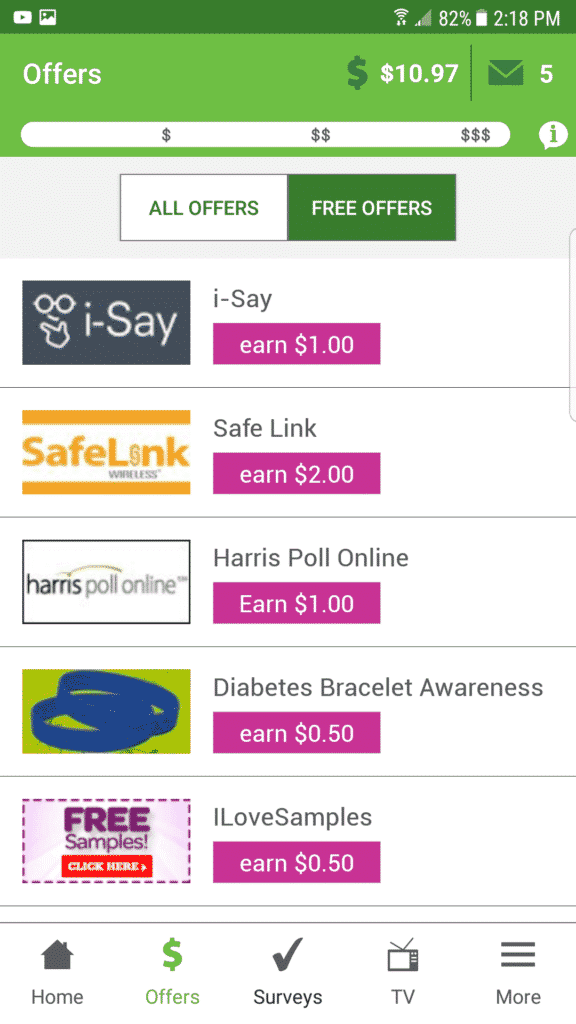 You can earn money for a variety of activities through the app. Some of the activities have an actual payout for completing them and others award you points towards scratch offs and wheel spins that hold the actual cash prize.
You can get paid on InboxDollars for the following activities:
Answering surveys
Completing offers
Signing up for other subscriptions
Downloading apps
Searching on the web through their InboxDollars search console
Using the 'Spin and Win' feature
Playing games
Watching videos and ads
Confirming emails
Purchasing Groupons
Referring friends
Entering 'WinIt' codes
How much money can you actually earn, realistically?
To my surprise, after 1 hour of installing and registering for InboxDollars, I earned $10.97. This was probably because I dedicated a lot of that hour to completing various offers and surveys on InboxDollars (along with other household chores and multitasking). I will warn you, not all the activities are paid out equally and some can be a real waste of time. So choose what you do on the app wisely for the best possible cash outcome.
This is what I did during that hour to receive $10.97:
Finished the profile survey – $5.00
Extra signup bonus – $0.25
Finished 2 10 minute surveys – $0.50
Selected a category of videos to run while I was in the shower which gave me a scratcher – $0.17
Free spins from the 'Spin and Win' feature- $0.05
Completed the free offer of downloading Lucktastic on Android – $1.00
Completed the offer to download and use ShopTracker – $4.00
However, the app will not pay out any of the earned rewards until your account reaches a threshold of $30. Good thing it isn't that hard to get to $30, but it will take time.
When watching the videos and ads on InboxDollars along with playing the arcade games, you don't get paid out for those activities. Instead you are paid out with 'progress' towards your next scratch off or wheel spin. When you complete the three tiers of progress, you get a scratch off unlocked. Most scratch offs hardly pay over $0.25 though. Same thing with games and the wheel where I spent more time for a smaller payout.
Below is a screen shot of one of my scratch offs, back when I was still at $6.05 in my InboxDollars account.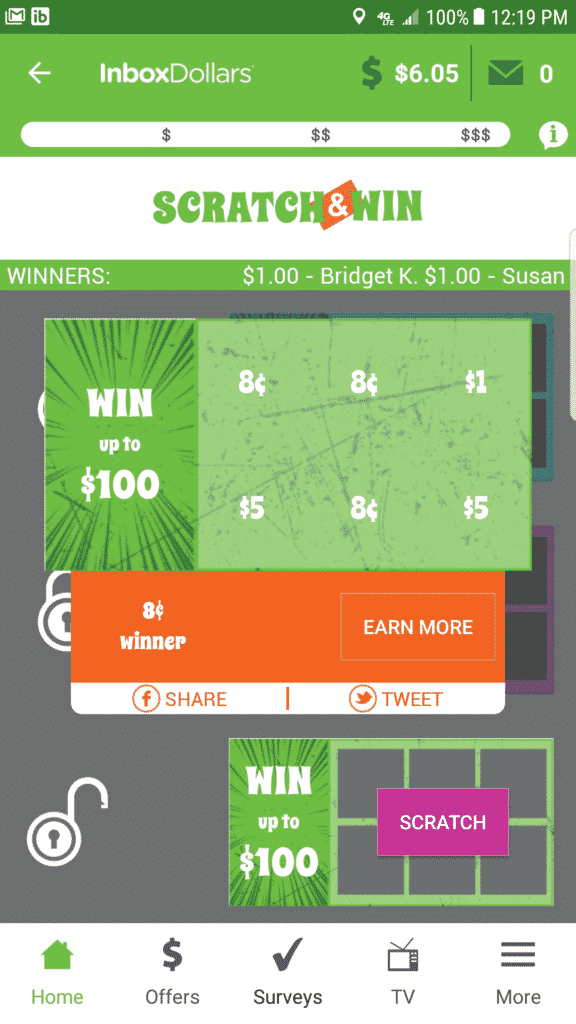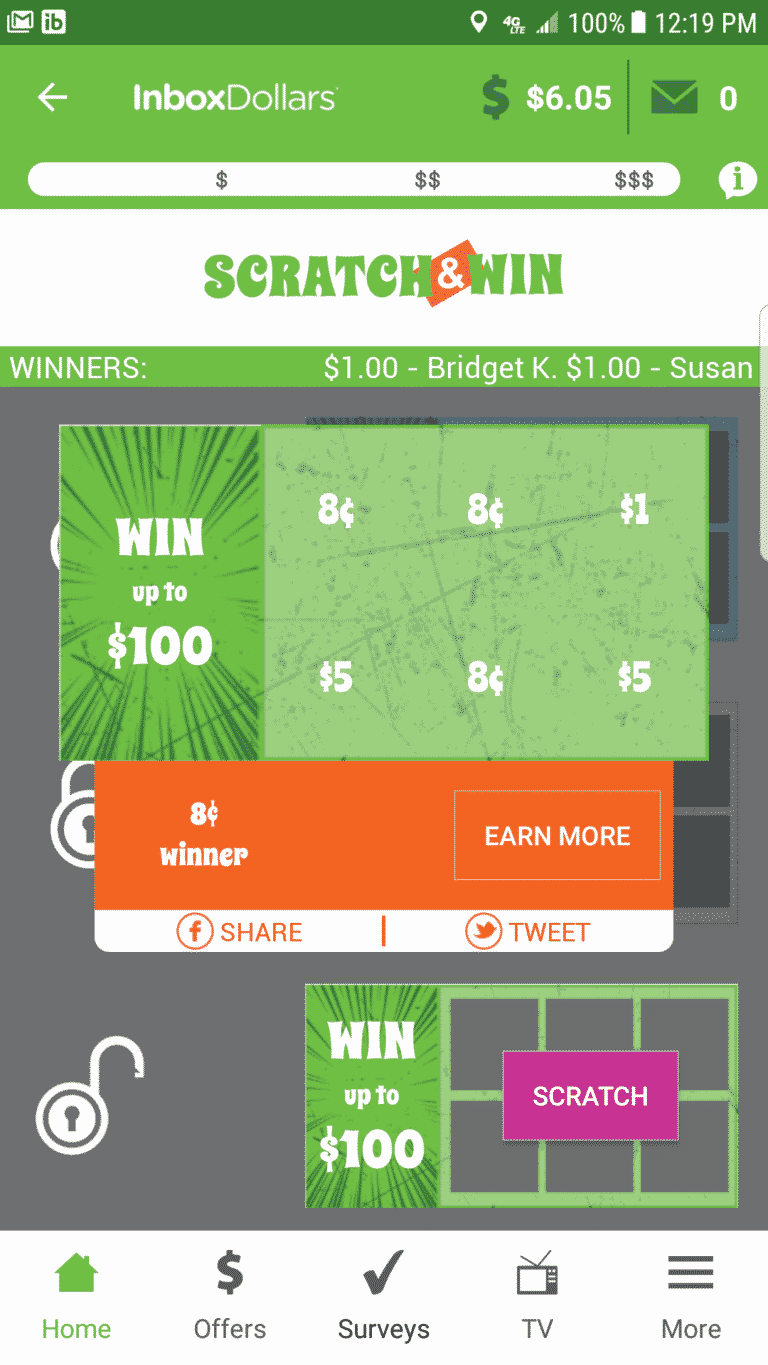 The best paying opportunities on InboxDollars that I found were completing offers or downloading other apps for a payout, as you can see above from my activity on the app. I only found one semi high paying survey on the app and that was for $2.25 to complete a 20 minute survey. When I went to try to take that specific survey though, I did not qualify to complete it after a couple of simple questions about what type of car I drive. But I received $0.25 for a shorter and simpler survey they recommended following the rejection of my qualification.
You will see that often with the InboxDollars surveys offered some days where the higher paying ones are harder to qualify for. It is all based on your demographic, I guess.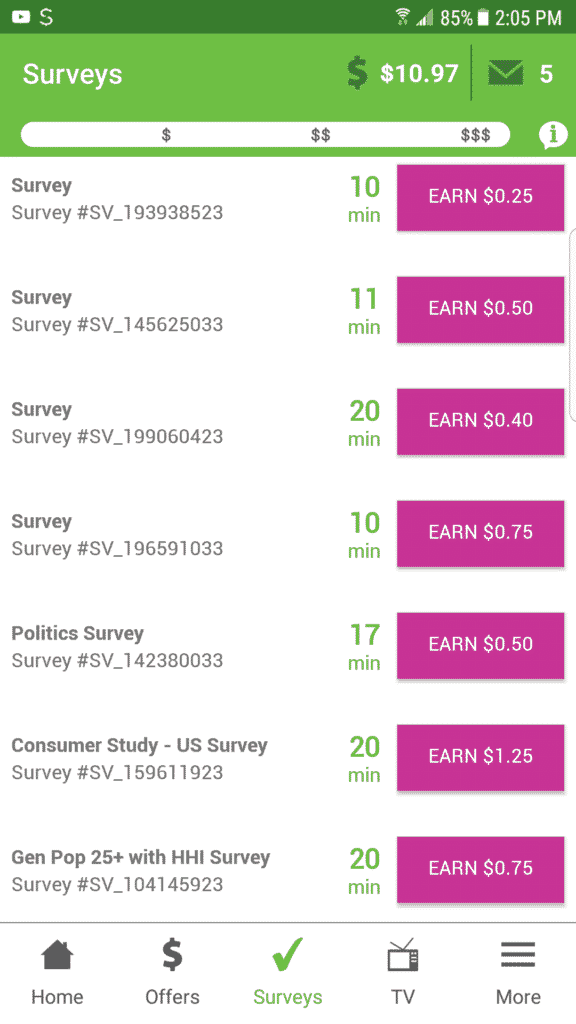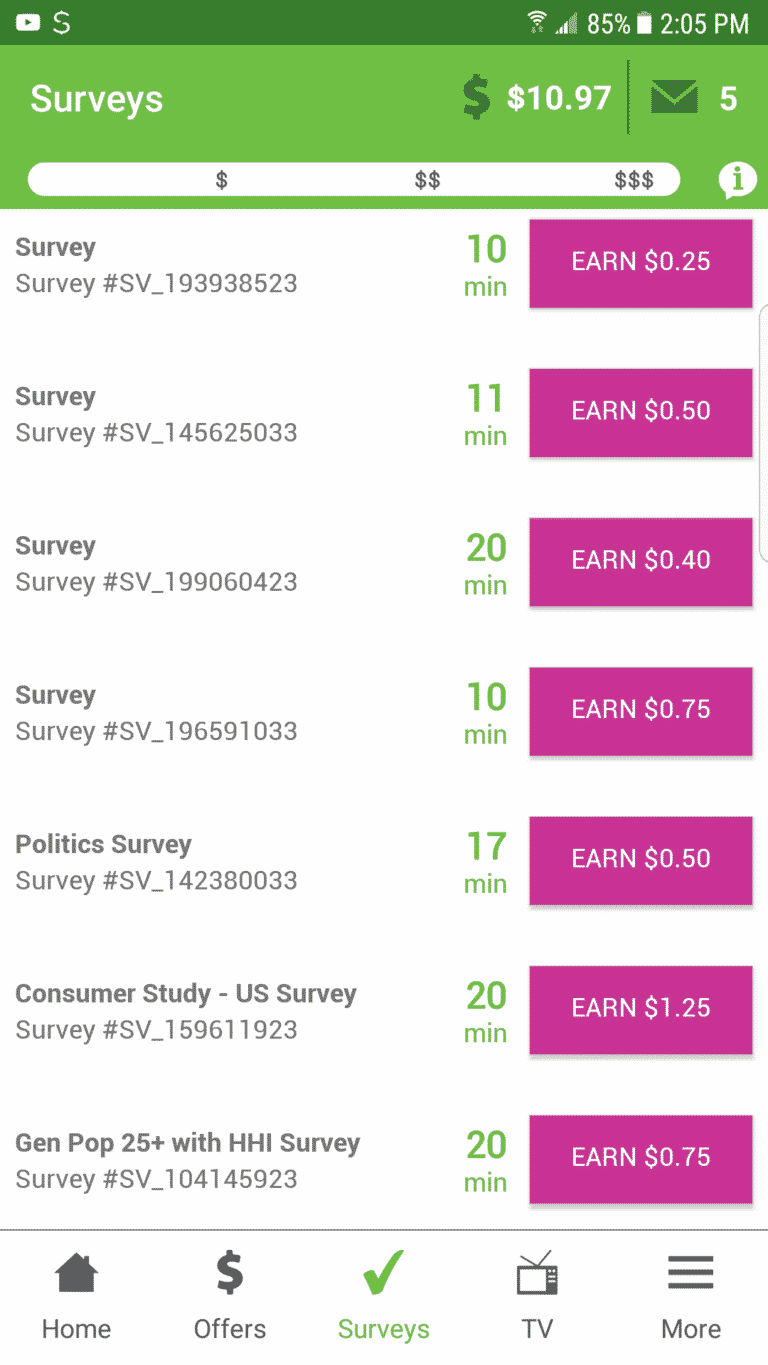 Related posts: 15+ Ways To Make An Extra $100 Every Day
How To Make $10,000 a Month Using Skills You Already Have
8 Ways To Make Extra Money Without Getting Out of Bed
The Pros
The pros of InboxDollars is that the app is very well organized when comparing the other survey websites and apps I have used in the past. The categories are easily stated, easy to find, and easy to navigate with very little delay or slow downs. The payouts from activities are almost instant to the InboxDollars account unless they are from an app download. Then they will come anywhere from 20 minutes later to a couple of days later.
I also like that this app rewards you for your activity in actual dollars and not points, like another well known similar platform SwagBucks. There are plenty of apps out there similar to both of these apps and even they don't pay you out in actual dollars. I have come across too many consumer survey sites where I thought I would get paid out in actual money, but instead were 'rewarded' with a gift card from either Amazon, Target, etc.
So, Kudos to you InboxDollars, for the ACTUAL money.
The Cons
In addition to some cons that kind of came out before in my initial assessment (as you can read about above in the post), there are a couple more pain points that I couldn't help but noticing.
I am not very happy about the $30 income threshold before I can withdraw my earnings from InboxDollars. I am sure there is a reason for this but it can be challenging to reach that threshold. It isn't impossible though and I will have a pretty good chance of reaching that threshold this week if I continue to download apps from their free offers area of the app.
Another con of this app is that it can appear to spam your email inbox. This is because of the InboxDollars inbox being linked to the emails they send you. You see, every day InboxDollars sends these 'paid emails' for you to confirm in your InboxDollars inbox (on the app). These are just emails where you literally click a button saying confirm and you get progress towards another scratch off. Well these emails are also sent to your actual email that you gave InboxDollars too. So be sure to unsubscribe from those emails so you are bombarded with constant InboxDollars emails on your gmail or whatever you use on your phone.
Below is a screen shot of one of the 'Paid Emails' that you would see in the InboxDollars app to confirm. These emails also get sent to your email inbox so unsubscribing to them and only using them in the app makes things easier, at least for me.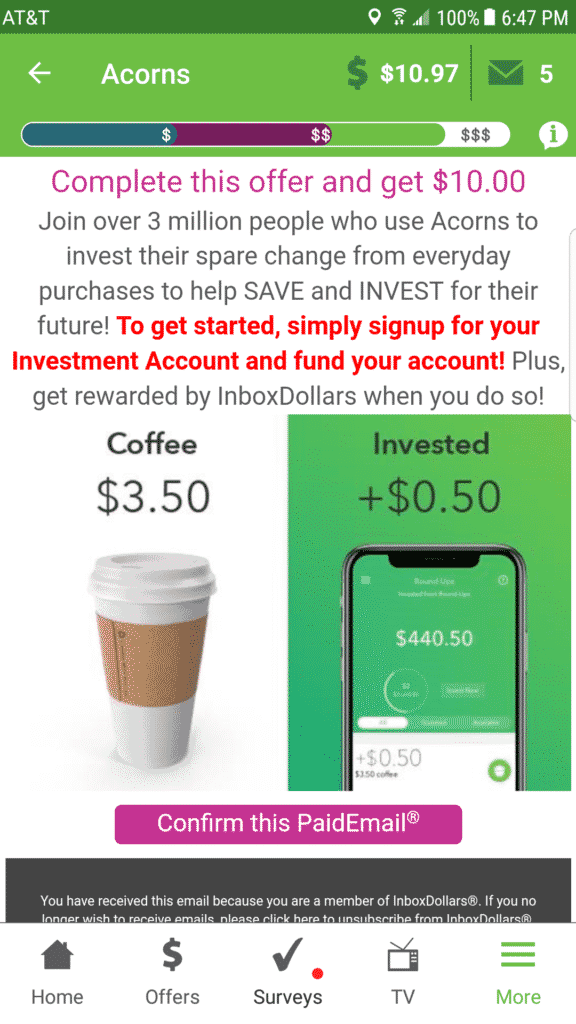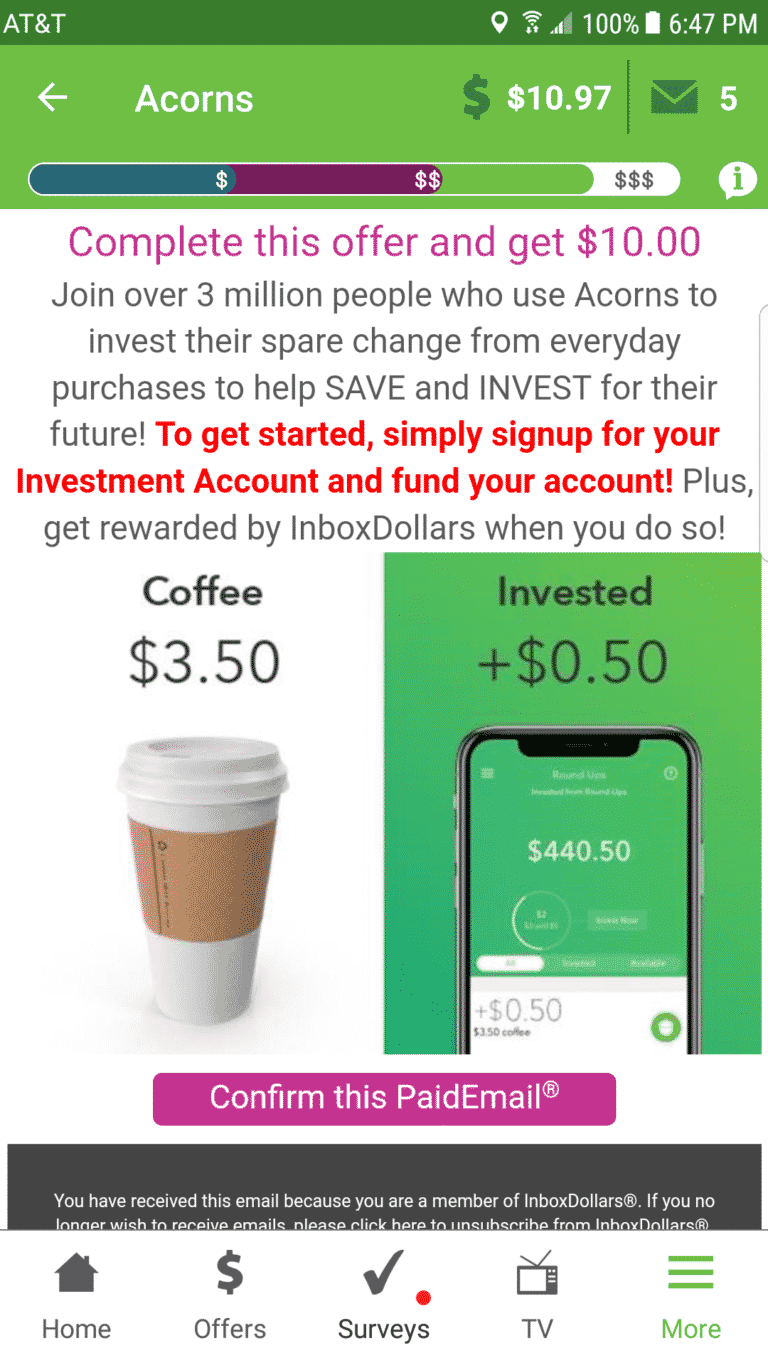 InboxDollars Review Conclusion: Is InboxDollars worth your time?
As you can see, you aren't going to make thousands of dollars with this app. And you are definitely not going to create a second job or legit side gig with using InboxDollars either.
The amount that you will earn through the app won't be a substantial enough supplement for your income, but it still can help. Depending on the time you have and how much you like playing on your phone and completing these types of activities will tell you how much you can earn in your spare time.
Once you hit that $30 threshold, that is enough for a free dinner or the trash bill, at least! I mean, in most cases isn't $30 better than $0?
Click here to download/register the Android app for InboxDollars, free $5 bonus included.
Click here to download/register the IOS app for InboxDollars, free $5 bonus included.
Have you tried InboxDollars? What were your own experiences? We would love to hear from you in the comments below!
---
Similar apps to InboxDollars:
Swagbucks: Swagbucks is where you can earn points called swagbucks or SB that transfer into real dollars. Earn money by taking surveys, shopping online, watching videos, discovering content or downloading other apps. Every 100 SB = $1.00 USD. Get a $5 bonus when you sign up! Install the Swagbucks Swagbutton extension to your chrome browser here and get a $10 bonus!
Mistplay: Get paid for playing games on your phone. Read our full review of the app here.
Panel App: With the Panel App you can earn points for taking surveys and referring others. Those points can then be used to enter sweepstakes or redeem for cash and gift cards.
Ebates: Get cash back for the things you already buy online, guaranteed more cash back than any other browser extension. Sign up with this link to get a $10 welcome bonus!
Ibotta: Get cash back for scanning your receipts or shopping through the app online. Sign up with my link to get $10 cash back on Ibotta.
Dosh: All the perks of a cash back credit card without having to actually get one! Just link your current cards to the app and get cash back! No receipt scanning, no waiting for the bank to approve your rebate, nothing but instant cash back! Read our review of Dosh here.
Subscribe to get your free list of side hustles you can start this week!
Claim your free list of side hustles + tons of helpful resources to get started!
Related posts: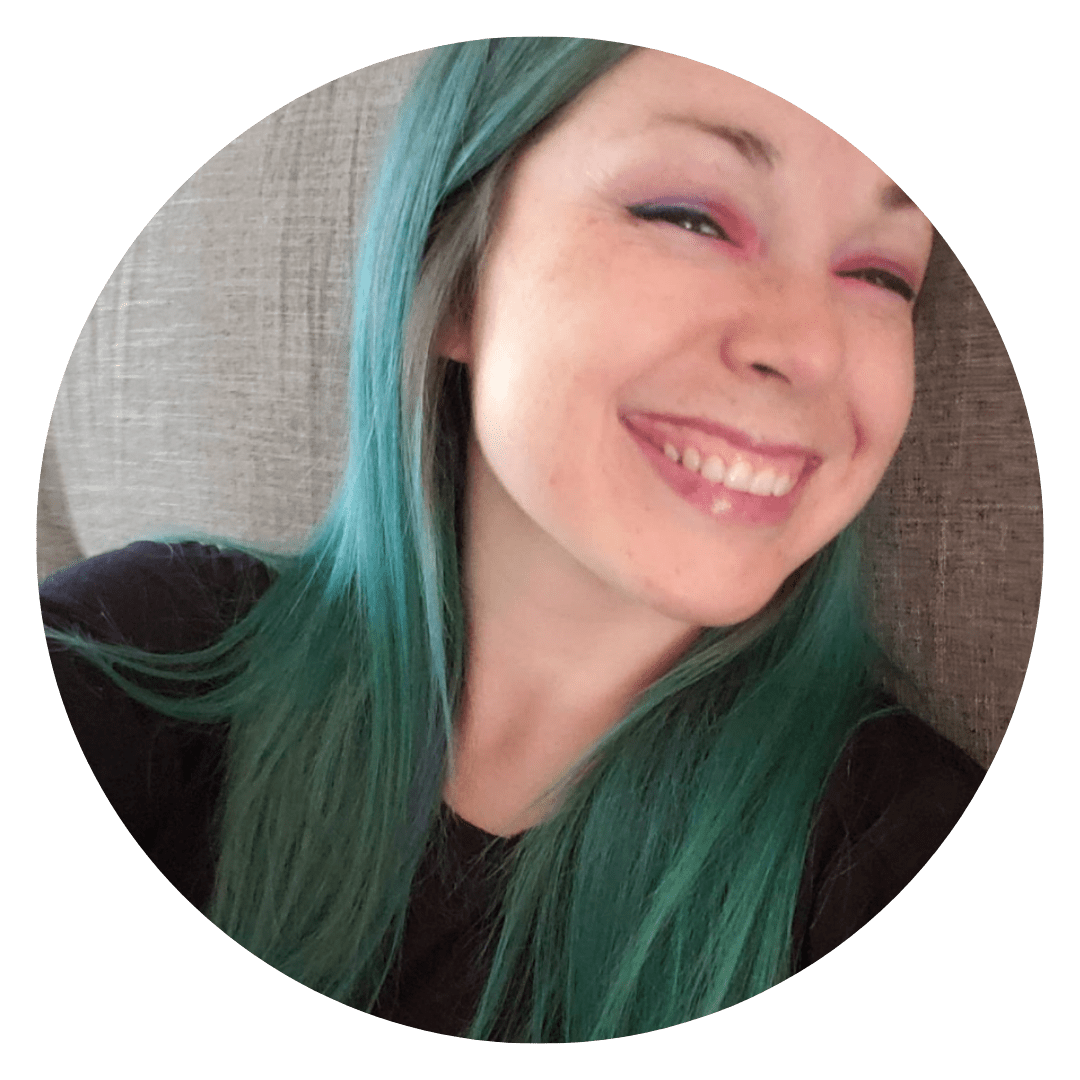 Daniella is the creator and author of iliketodabble.com. When their wife Alexandra and them aren't globetrotting or playing with their 7+ animals, they are dabbling and working towards a future of financial freedom.