Our website is supported by our users and contains affiliate links. We get paid when you purchase or sign up for anything through those links. Read the full disclaimer for more information.
Last Updated on September 17, 2022 by Daniella
These days you may have heard the term digital nomad tossed around the internet and media. It might sound cool to have the freedom to roam where you please, not strapped down by a desk job and fixed to a set place for the long term.
The truth is, this is the appeal for many people.
They are drawn to digital nomadism because they're sick of their 9 to 5 job, they want independence, adventure, and the unlimited income potential that can come from being a digital nomad.
How amazing would it be to work anywhere in the world?
You could pop open your laptop and work from the beach, from your hotel room, from your favorite coffee shop or flying to your next destination!
In this article, we're going to dive into the life of being a digital nomad, sharing 7 incredible digital nomad jobs you can snag to get one step closer to your dream of working independently.
Let's go!
What is a digital nomad?
A nomad is a wanderer. They aren't confined to a single community and they regularly travel.
A digital nomad is someone that lives this nomadic lifestyle using technology to make their living. They are remote workers and travel their country or the globe, working anywhere they wish.
What jobs can you do as a digital nomad?
Virtually any job that you can work from your computer you can do as a digital nomad.
You will want to consider that working as a nomad means that you probably won't be able to attend face-to-face meetings or work in-person with clients, etc.
But, that's why virtual meetings exist, right?
To identify what kind of jobs you'll like to do, think about your interests and passions. Uncover your skill set, think about your background, education, expertise, and past work history.
Check out our
side hustle quiz
and get matched with remote gig ideas and curated resources!
For example, if you worked as secretary for an accounting firm in the past, a digital nomad job that may be a good fit is a virtual assistant.
Or, if you worked at a design agency creating designs for various clients, work as a freelance virtual graphic designer.
So many jobs today can be worked entirely online. It might surprise you that you can even negotiate ways at your current 9 to 5 to move to remote work or find a good job match in your expertise that is 100% remote.
How do I become a digital nomad?
The first step to becoming a digital nomad is to take action.
Make a plan and figure out what kind of job you'll do, where you want to take your life as a digital nomad, if you'll travel alone or with someone or in a community, and hash out all these details.
When transitioning to a virtual job, this new job won't be considered stable, at least not at first, so it's a good idea to have an emergency fund and emergency travel fund in place.
Save up money to grow these savings accounts which can act as a cushion if you lose your job, get dropped by a client, have extra travel expenses that arise, or for any other purpose.
Here are the steps to start your path as a digital nomad:
Reduce your expenses
Cut off location-based expenses
Make your travel plan
Join a community
Start your journey
How to start saving for becoming a digital nomad
We talked about starting an emergency fund and emergency travel fund. Trim your expenses to help you save at a quicker pace and this can even include taking on a temporary side hustle to grow your income.
Have a savings mindset which will mean saying no to drinks with your friends and ditching the weekend shopping trips for a while.
Keep your eye on the prize and remember the goal that you're working toward.
Open a high yield savings account
for your "digital nomad fund" and earn interest on the money you save (which could end up being hundreds more dollars when compared to your average bank account).
How to reduce expenses and location-based expenses
Start by eliminating the non-essentials like cable TV, subscription boxes, food delivery and other non-essential extra costs you're paying for every month.
Next, tackle location-based expenses like your housing costs, car payment, etc.
Continue on in your lease until it's terminated and if you need to go beyond that, go for a month-to-month lease so you can leave at the end of the month when you're ready to start your journey.
Pay off your car or get rid of it, opting for public transit for travel or walking or cycling to your destinations.
The goal is to streamline your costs and go as minimalist as you can because as a digital nomad you'll want to travel light.
Think about a backpacker traveling through Europe. Everything they need is right in their backpack: passport, wallet, a few changes of clothes, and other essentials.
You will want to have that mindset as you transition to digital nomad life.
Related:
Make your travel plan
This will probably be the most fun part of the entire process. Map out your travel plan and figure out where you'll be traveling.
Consider the locations you want to visit, the season, travel expenses, lodging, and more.
Will you be a solo traveler or be in a group or with your partner? What will be your preferred method of travel? Flying, by train, etc.
Get really detailed here as you don't want to forget the important details like if stable internet will be in your area, the season aligns with your travel time (you might not want to be in India during monsoon season, for example), and more.
Check out Nomad List which will help you identify cool places to check out and work independently as a traveler. Their nomad list map is one of my favorite features of their site. It shows you the entire globe on a number rating based on the weather, internet speed, clean air, and many more factors. It's really cool. You'll want to check it out.
Join a community
Being a part of a digital nomad community will be an invaluable resource you can have in your back pocket. You'll be able to connect with other travelers who you can share your experience with, learn from, get tips and best practices from, vent to, and more.
It's like being on the inside track of the traveler community.
You will get the opportunity to mix and mingle with seasoned digital nomads who can provide a ton of help and share life lessons with you to help you avoid any pitfalls they encountered.
Here are some places to connect with other digital nomads:
Do some browsing online as there are many more communities out there that you can join. You don't have to be limited to just one.
Find a job and start your journey
Lastly, find a good digital nomad job and begin your journey as a traveler. Keep reading to learn about some jobs you can pursue that work well with a remote lifestyle.
7 Digital Nomad Jobs to Work Remotely
Whether you're a beginner or a seasoned worker in your industry, there's something for everyone in this roundup of digital nomad jobs.
1. Virtual assistant
A virtual assistant is someone that helps clients virtually. It's like an online admin or a personal assistant online. The tasks you do might include:
Answering emails or phone calls
Scheduling meetings and events
Organizing files and spreadsheets
And, more!
The work you do will vary based on the needs of your client. VA's can earn up to $10 to $100 per hour depending on the industry and your skill set.
You can find jobs in freelance work sites like Upwork, online job banks like Indeed or social media networks like LinkedIn.
Places that are hiring VA's include:
Fancy Hands (use for starting out but doesn't pay enough to continue work on – use it for starter experience)
This job requires no college degree or specialized background. It's a great job for introverts.
2. Graphic designer
Graphic design involves designing graphics like social media posts, book covers, web pages and more.
If you're a creative and you can use graphic design software like Photoshop or Canva, then this job is for you.
You'll have plenty of options working as a designer as well as the ability to sell your own designs online for passive income.
You can go freelance and work with clients you want to, doing it fully independently as your own business. You can also choose to work for a design agency or in a single role for a larger client. Or both!
You can snag graphic design jobs in the same places mentioned for VA work: Upwork, Indeed, and LinkedIn.
3. Writer
For writers you literally just need yourself and a computer. Then, you can work anywhere!
Writers can earn up to $10,000 per month or more. You'll make the most money if you pick a niche and stick to it, like being a food writer or a B2B writer, for example.
You can find freelance writing jobs on sites like Solid Gigs, Contena, Media Bistro, ProBlogger, or you can reach out directly to a publication you want to write for (which is how I got my first freelance writing gig).
Also look on LinkedIn in their freelance listing of jobs and utilize Facebook Groups that post freelance writing jobs by searching for "Freelance writing" or "Freelance writers" in the search bar on Facebook and filter by Group.
4. Digital publisher/influencer
You might have seen many influencers across social media touting their lifestyle traveling and working abroad. This can be you!
If you've got a presence on social media like YouTube or other platforms, monetize it and get paid to influence.
Here are some ways you can make money as a digital publisher or influencer:
Brand deals or sponsorships
Virtual and in-person speaking and meet ups
Affiliate marketing
Selling your own digital products like online courses
You'll have a lot of flexibility and freedom and this is the kind of job where you might not be glued to a laptop all day, like if you were a VA or writer, for example.
Read these helpful resources for more on making money as an influencer:
5. Social Media Manager
Social media managers get paid to manage social media for their clients. The work you do might include:
Creating social media posts, graphics, and captions
Building a social media calendar
Engaging with fans
Monitoring data/analytics
And, more!
Social media managers can make up to six figures or more per year.
You can find jobs on freelance job boards, through networking, groups, and on social media.
Learn more about how to become a social media manager.
6. Vlogger/ Sell Your Travel Videos
If you love documenting your life and travels, you could make money selling your videos and set up a YouTube channel. Your channel can serve as both your portfolio for video projects and create vlog series, review products, and more.
After you reach 1,000 subscribers on YouTube, you can then you can begin monetizing your videos with ads.
More ways to make money as a vlogger:
Sell a video course on Teachable
Sell your videos on site like Uscreen
Freelance out your video editing skills
7. Blogger
A blogger is a digital publisher that gets paid to write their blog. Your blog can be centered around a specific niche like food, travel, finance, or any topic you're passionate about. You write about this topic to an interested audience and make money through these routes:
Brand deals/sponsorships
Advertising
Your own products like ebooks, online courses, coaching, etc.
To get started creating your own blog, head to Bluehost where you can grab your domain and hosting for only $2.95 a month – a price I negotiated specifically for my readers. For more on how to make money blogging, read about these 10 effective ways to make money blogging.
Start a Money Making Blog Free Email Course
In this free 5 day email course, I show you everything from creating your blog from scratch, to SEO keyword research strategies, basic branding, creating an email list, social media strategies and monetization strategies to start building a profitable blog.
Sign up for the newsletter to receive regular updates and get instant access to the free course.

More Digital Nomad Jobs to Explore:
There are tons of ways to work remote and make money, it doesn't necessarily have to be a laptop based job.
Some more digital nomad jobs and ideas to explore include:
Pros and Cons of Being a Digital Nomad
As with anything, there are advantages and disadvantages to being a digital nomad. Let's explore them.
Pros
Freedom and flexibility to work where you want
You make your own schedule
Unlimited income potential
First, it's undeniable that the freedom and flexibility of working an independent lifestyle is a draw for many people. You'll get the opportunity to plan your own dream schedule, work when and where you want, draw an unlimited amount of income and as far as traveling goes, nothing is off limits.
Cons
You won't get the opportunity to plant your roots, meet people in the community long term, make friends and socialize one-on-one since you'll be traveling
Away from friends, a family, and support system
The different laws between states and countries can pose a challenge
As long as you know what you're getting yourself into and are expecting to be pretty adaptable, you will find very few cons to working remote.
Final Thoughts
If this is something you're curious about, these 7 jobs are an opportunity to get you there. Your dream of being location independent is within reach.
Start searching for areas you want to explore and doing small gigs online to build experience and portfolio. Once you have your destination(s), you will be ready to have a solid income stream together.
What do you think about digital nomadism? Was this article helpful? Let us know in the comments below!
Browse these other helpful articles:
Pin it for later!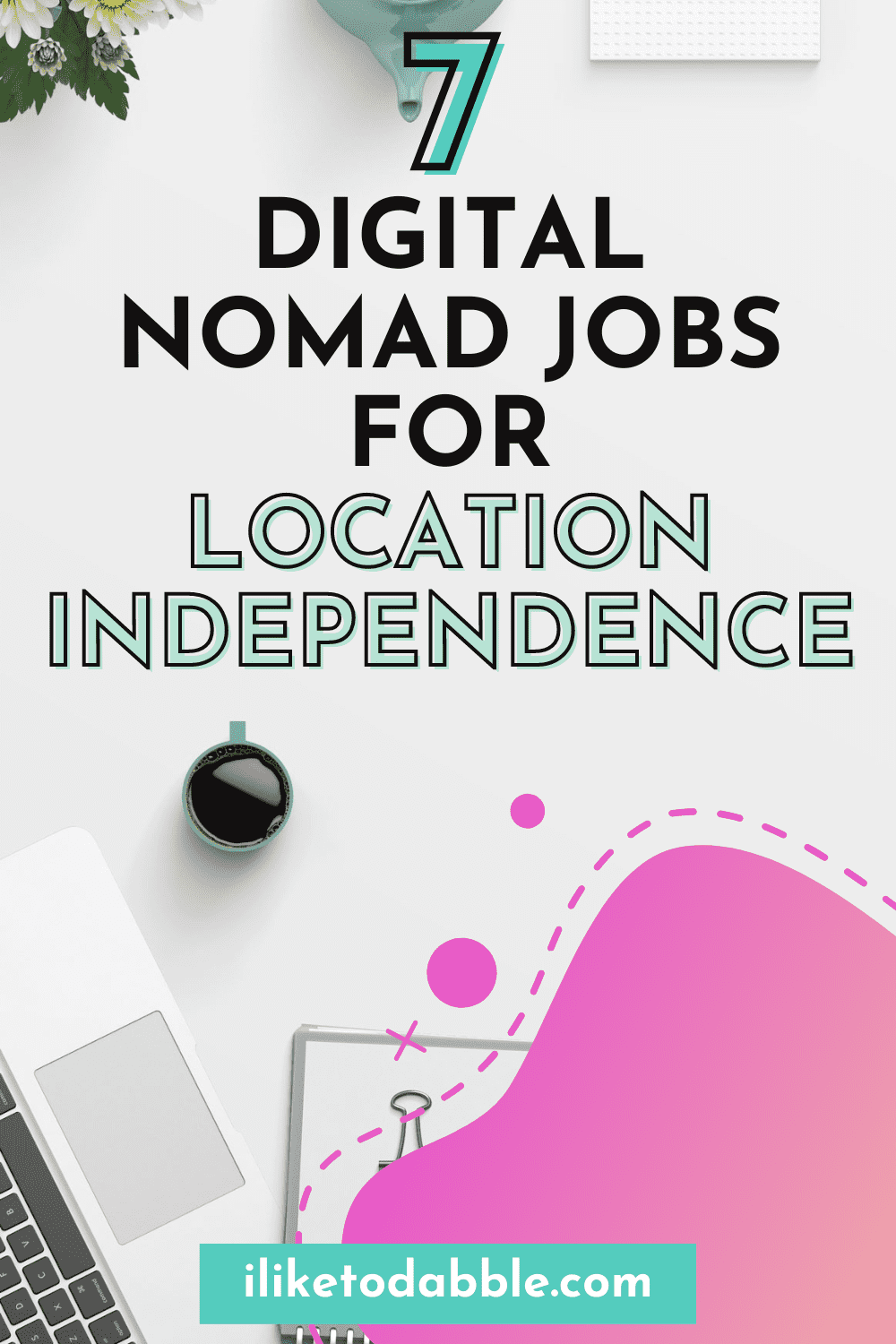 Jenn Leach is a writer, instructor, entrepreneur, and founder of
Millennial Nextdoor
where she teaches millennials life hacks for easy millennial living like being money smart, investing in yourself, and automating your life. When she is not working, you can catch her binge-watching baking reality TV shows or listening to her favorite podcasts about business, money, and life.