Our website is supported by our users and contains affiliate links. We get paid when you purchase or sign up for anything through those links. Read the full disclaimer for more information.
Last Updated on January 26, 2021 by Daniella
If you're looking for ways to save money, cash back apps are totally the way to go. They are an easy way to score free cash (and gift cards) almost effortlessly.
The way it works varies a bit based on the cash back app you join but in a nutshell, you install the app, sign up for free, then start earning your cash back, based on the app. It's super easy and many of these apps have extra perks associated with them like referral programs, other ways to make money, and more.
For the best money-saving cash back apps, this is definitely for you. Don't forget to bookmark so you can come back to it later. This article is going to share the 7 best cash back apps to save more money (& make extra cash). Enjoy!
6 Best Cash Back Apps to Save More Money (& Make Extra Cash)
Go through the list to identify your favorite cashback opportunities you'd like to try. To get the most benefit and earn the most cash back, we recommend you join them all! You'll love that each app is free to register and easy to use. Take a look.
1. Dosh
Dosh is one of my favorite apps for saving money on everyday purchases. They partner with a ton of national and local retailers to save you money on your purchases.
How does it work?
After you install the app, Dosh will locate their partners in your area, along with the cashback offers and you can choose which stores you want to shop. It also works for online shopping too.
You need to link a debit card or credit card to the app and when you buy from a Dosh partner with that card, you'll get cash back instantly added to your Dosh account. Once you reach a balance of at least $25, you can cash out and have that money deposited into your bank account, PayPal, or other options.
2. Fetch Rewards
Fetch Rewards offers a fun way to score cash back when you scan your receipt. It's a free app and once you download it, there are multiple ways to score cash back:
Ereceipts
Scanning your paper receipt
SingleCare
Referral program
How does it work?
For ereceipts, this pertains to your online purchases.
You can link your Amazon account or email address and Fetch will scan for your latest eligible purchases, automatically applying your cashback in the form of points to your Fetch account.
The idea is for you to earn points on your eligible purchases and then redeem them for rewards like gift cards, sweepstakes, and more.
Scanning your receipt is really fun. You use the app to scan your paper receipt to apply all cashback rewards to your Fetch account.
SingleCare is a way for you to earn points on your prescriptions and save up to 80% on prescription purchases. You'll get a digital card that you can scan with your pharmacist and get savings on your prescription.
The referral program rewards you for sharing Fetch Rewards with friends and family. You earn points for successful referrals. Right now they are offering 4,000 points for every friend you refer and your friend also gets 2,000 points when they scan their first receipt.
Learn more about Fetch Rewards.
3. Ibotta
Ibotta helps you save money on your grocery purchases and everyday shopping. It's a free app that offers many ways to save. You can save on both in-store shopping and online shopping.
They have partnered with over 1,500 brands, paying out over $600 million dollars to their members since their start in 2012.
Their partners include Cabela's, Home Depot, Sephora, Lowes, and more!
You can use your computer or phone to get cash back.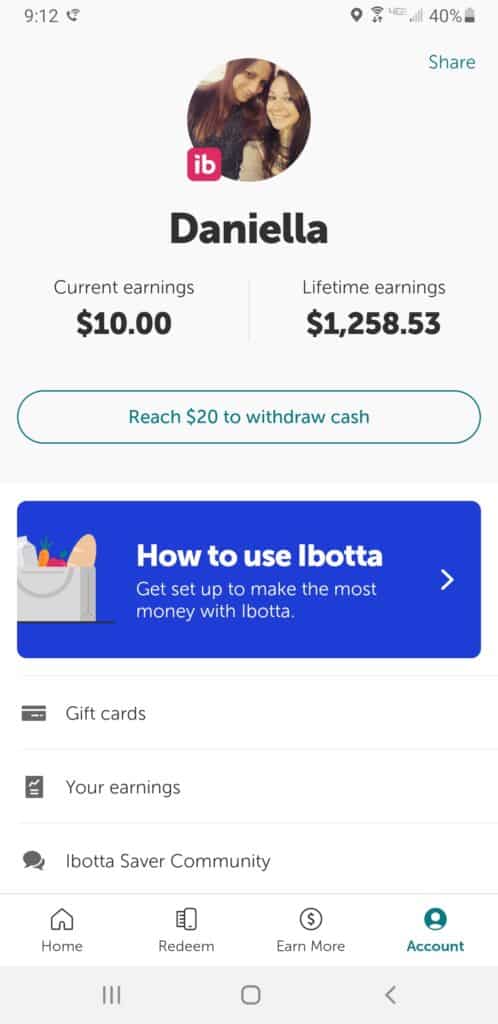 How does it work?
In store, all you do is link your debit card or credit card to Ibotta, shop with that card, and pay with Ibotta.
You can also link your loyalty accounts to start saving on your favorite retailers you shop at all the time.
Then lastly, you can scan your receipt with their app to get instant cashback sent to your Ibotta account on eligible purchases.
If you want to lower your shopping bill, definitely integrate Ibotta into the mix so you can start saving.
To get started with Ibotta, you can check them out here.
4. Rakuten
Rakuten is a shopping portal that earns you free cash back on your purchases. You can use Rakuten one of two ways:
Website
App
Chrome extension
How does it work?
The app and website are free to join. Regardless of the route you go, you will need to register for Rakuten before getting started.
From here, to get savings on your purchases through the site, find your retailer you'll be buying from, click them on Rakuten which will activate their retail website and you'll shop like normal. After check out, you will get your cashback applied straight to your Rakuten account.
Rakuten partners with thousands of popular retailers like Target, Ebay, Kohls, and more.
The app is really neat and gives you the chance to save up to 40% in just one tap! You can get coupons, free shipping codes and find low prices on the stuff you buy.
To use the Chrome extension which is my personal favorite way to take advantage of Rakuten, just download the extension from their site. It will activate every time you land on a Rakuten-partner website.
The popup will show you that the retailer site is a Rakuten partner, along with how much savings you're eligible for if you buy.
Click "Activate" when you want to buy, shop like normal and your cashback amount will be applied to your Rakuten account.
How to redeem your cash back?
When it's time to redeem, head to the Rakuten site and go to your Cash Back balance to see when your next payout will be.
Payouts happen every 90 days and as long as you have a balance of $5.00 or more, you will be paid out. If your balance is under $5.00, wait until you hit that minimum threshold for payout to happen.
Payout is via PayPal.
To get setup with Rakuten and learn more, just click here.
Related: Rakuten Review: There is No Such Thing as Free Money
5. Earny
Have you ever bought an item online and the next week it goes on sale? That's the worst feeling ever and I'm sure it's happened to all of us.
For Earny members, if that happens, Earny works to get the difference credited back to you.
How does it work?
They take note of these price drops and help you get that lost money back in your pocket. And, this is just one of the benefits of Earny.
They also have a watchlist feature that you can add your favorite items to so you can see the price history and be alerted when the price drops to your desired level.
To get set up with Earny, check them out.
6. Swagbucks
Swagbucks is a multifaceted app and website that will bring you a ton of different benefits, from earning cashback to paying you money for your time.
They pay you for your time with:
Discovering stuff online
Earning cash back for online shopping
Watching videos
And, more!
How does it work?
They pay you in their currency, Swagbucks or SB. So you earn SB points which accumulate on your account for the activities you do. Then, you can redeem for rewards.
They also have a nice referral program so you can refer Swagbucks to friends and family and get rewarded for each successful referral.
For the cash back, you just shop through their shopping portal, finding your favorite retailers and you will get awarded cash back for your spending. The cash back ranges from 1% to up to 10% or more and you earn points for your cashback which you can redeem for awesome gift cards.
Head to Swagbucks to learn more and sign up with our link to get a $5 bonus.
7. Drop
The best thing about Drop is that you don't have to worry about scanning any receipt. The cash back is automatic when you make your purchase.
All that you need to do is connect the retailer.
How does it work?
After downloading the app and signing up through Facebook or your email, you will be brought to the app.
There you will see tabs to:
link a credit card and see card linked offers
shop through the app to earn points
take surveys
play games
and earn rewards
Once you earn enough points, you can cash them out for gift cards to:
Amazon
Apple
American Airlines
Sephora
And more
Final Thoughts
What we love about this roundup of 7 best cash back apps is that you can access most of these through their app or by website, which gives users a lot more flexibility.
There are no strings attached here and you don't have to pay to use any of these cash back apps.
For ways to save money everyday through cash back, take advantage of one or more of these recommendations above. You can save on everything from your grocery purchases, restaurant takeout, everyday purchases, even for walking!
Have you used any of these cash back apps?
Comment below to share your experience.
Related:
Pin it for later!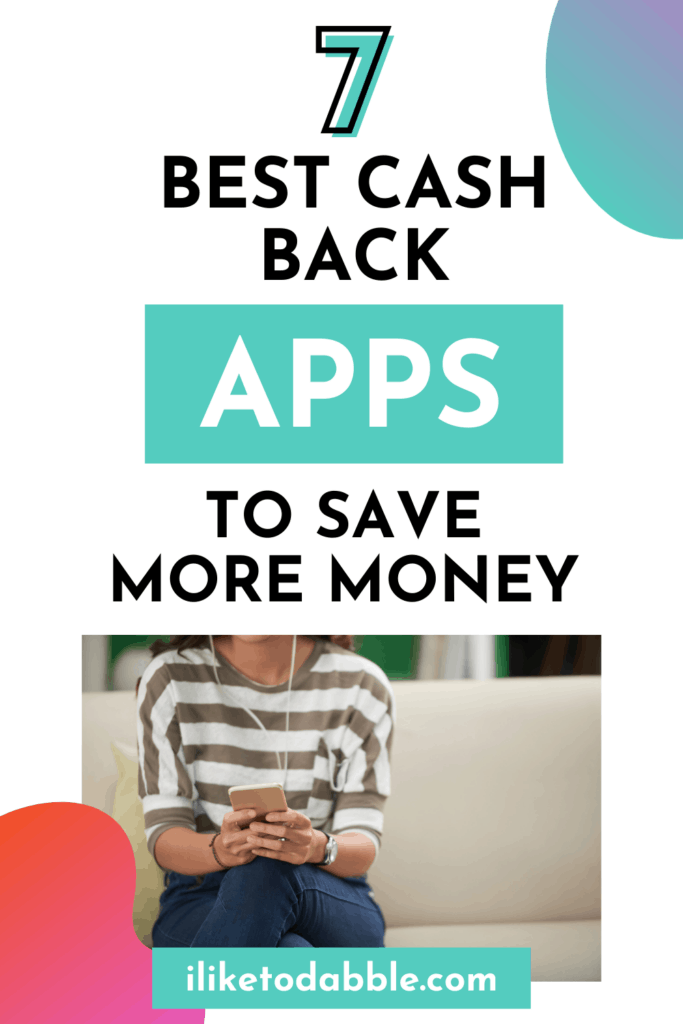 Jenn Leach is a writer, instructor, entrepreneur, and founder of
Millennial Nextdoor
where she teaches millennials life hacks for easy millennial living like being money smart, investing in yourself, and automating your life. When she is not working, you can catch her binge-watching baking reality TV shows or listening to her favorite podcasts about business, money, and life.