Our website is supported by our users and contains affiliate links. We get paid when you purchase or sign up for anything through those links. Read the full disclaimer for more information.
Last Updated on October 27, 2020 by Yovana
There are tons of easy ways to make money online and they have absolutely been a godsend to me. Whether you need some extra cash to help pay off some debt, student loans, or to help with the finances while you stay home with the kids, utilizing any one of these easy ways can help you make money online while you never have to leave your home!
Been dying to get out of the city and plan that dream vacation? Take on a side hustle to help pay for your unforgettable getaway and use these easy ways to make money online. You won't regret it!
Here are 40+ easy ways to make money online and start feeling confident about your financial situation!
Pin it for later! Just hover over the image and select the pin icon.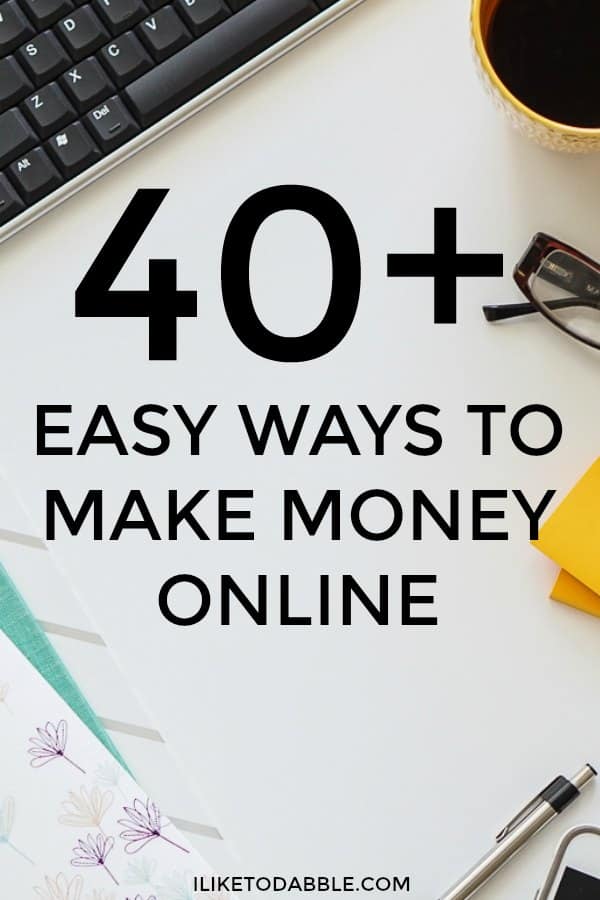 Start a blog
Starting a blog in my spare time has been one of the best decisions I have ever made. I have already made over $1000 from affiliate marketing and even more from ads and I have only been blogging for 3 months, going on 4. Along with displaying ads or affiliate links, you can also write sponsored content or even offer special classes and services that your readers can sign up for. I hope to one day turn this side gig into my full-time gig.
If you have not yet started a blog and want to, or are having trouble with where to start, check out How To Create A Self Hosted WordPress Blog .
Start a blog with Bluehost! If you sign up for Bluehost with my link you get a free domain, free site builders, free 1-click WordPress install, 24/7 support and all for only $2.95 a month! You really can't beat that deal. I have already made $3000 from affiliate marketing alone after only 6 months of blogging, thanks to the Making Sense Of Affiliate Marketing course.
Not sure about starting a blog, no sweat. You can even make money with affiliate marketing on Pinterest!
Want to start a blog like this one? Sign up and I can help you out!
The Ultimate Blogger Freebie Master List
Sign up to get this master list of the top freebies for bloggers; free stock photos, checklists, courses, guides, planners, etc.
Affiliate market through Pinterest
You don't really need a blog to take a stab at affiliate marketing. You can affiliate market through Pinterest if you have an idea of a product you want to promote and sell for a company you love, create an awesome graphic for Pinterest, disclose that it is an affiliate product, upload your graphic, and inject the link! Find out more in this post where I tell you step-by-step how to make money with Pinterest.
If you are not yet familiar with affiliate marketing and how to use affiliate links, read up on it here.
Advertise
Place ads on your blog or website. You can even place ads on your Facebook, Twitter, Instagram, and Pinterest through sponsored posting, sharing referral links, or sharing affiliate links through posts.
Have you heard of how you can advertise on your car? You get paid to just drive around with some stickers on your car! Check out programs like Wrapify or Carvertise to advertise on your car and make a passive income of an average amount up to $450/month!
Become an influencer
Many users of Instagram are banking off of the concept of being an influencer. Being an influencer means that companies pay you to promote their products on social media or your blog through pictures, videos, posts, etc.
To get started influencing, check out Izea or Linqia. Check out more ways to make money with sponsored content here.
Flip web sites and resell domains
I use to buy domains and put them up for auction on GoDaddy auctions. You can put your domain or site up for auction and with a buy now price.
I recently came across a site called Flippa that lets you list the domain listing for free and you can keep it there as long as you want without charge.
Test websites
There are sites out there now that pay users for evaluating chosen websites and apps for them. Sign up for UserTesting, where you can make $10 per 15-20 minutes for testing websites and web apps.
Among some of the other sites out there that pay you for testing sites and apps for them are Userlytics, UserTest, and WhatUsersDo.
Become an online mock juror
You can become an online mock juror. Online mock jurors help lawyers prepare for real life cases. You can earn anywhere from $10 an hour to $60 an hour and all of the evidence you review is online. Way better than driving all the way to the court house for jury duty that hardly pays and is a pain in the you-know-what!
Make money online with travelers and by traveling
You can make money off of regular travelers by renting space available in your home on Airbnb. Check out Homestay where you can also become a host and make a pretty penny by offering your home up for stay (get it, home-stay..*chuckle*). Homestay and Airbnb are popular for travelers since the whole idea is that you are staying with locals and getting the local expereience, much different and more authentic than staying in hotels or resorts. Best thing is the app takes care of all the money for you so you don;t have to deal with the headache of check ins and check outs.
Make money while traveling using sites and apps like Trusted Housesitters!
Want to learn how you can travel for free and make money while doing it? Check out my 12+ ways to travel for absolutely free!
Want to pave the way for a future of financial freedom? Get loads of tips that I use every day to make extra money and save extra money as I prepare for mine!
The Money Tips Master List
Sign up for the master list of money tips that I use to get in shape for a future of financial freedom!
Take surveys
Surveys have become a popular answer by bloggers for what to do in your spare time to make extra money. Swagbucks and InboxDollars are the popular ones you always hear of. There are some others that you may not have heard of though, such as Pinecone Research and Harris Poll.
Join a panel
Sign up for UserMuse and join panels to get paid for your feedback. You set your hourly rate on UserMuse and that is what you get paid for your feedback. Browse open projects and pick what is right for you!
Scan your receipts
You can either scan your receipts on Ibotta or Checkout51 from your grocery shopping trips, gas station trips, restaurant and bar outings, or your shopping sprees. You can even use Ibotta for a number of online shopping ventures as well.
I really only got started with Ibotta a week or so ago and I am obsessed. I already made $40 just for making the purchases I already do, but this time getting cash back for them!
Become a virtual assistant
Work as a virtual assistant part time with Fiverr. Sign up, get registered, and start your virtual assistant work online from the comfort of your own home.
Here is an example page of someone with WordPress gig services up for grabs on Fiverr!
Write letters to congress
Become an independent contractor for Next Wave Advocacy, LLC who run grassroots political campaigns on a variety of issues. They pay you to call people who might be interested at any of the issues at hand whether it be healthcare, taxes, or basic human rights. You then help those people communicate their opinions about the issue into letters on their behalf and send them to members of Congress.
I love this idea because not only are you getting paid to help others, I think you can make a real difference with simple letters to Congress.
Become a transcriptionist
Want to get paid just for listening and typing? If you are a great note taker and pay good attention to detail, have the time and most importantly the patience, taking on a side hustle as a transcriptionist might be perfect for you. You can make up to $25 an hour as a transcriptionist. Check out TranscribeMe or TranscribeAnywhere for transcription opportunities!
Get paid to work out
Last year I wanted to lose weight and get back into the shape I was once in. I was getting married and wanted to feel like my best self. I started running and doing as many Jillian Michaels videos I could find. Downloading her app helped me a ton as well. I lost about 50 pounds using one or more of these methods and got a nice payout for it. I have Jillian Michaels and running to thank for the motivation to keep me going and staying fit to this day. Jillian Michaels is a true fitness rock star and you can check out her new app for free here.
As time went on through my weight loss journey I found apps like HealthyWage and DietBet. These apps let you take weight loss challenges where you bet how much weight you can lose each month. If you win the bet each month, you can get paid up to $10,000 from HealthyWage.
Read more on how to get paid for working out!
Get paid to shop
Mystery shopping seems to be a hot side hustle these days. It pays pretty well and is also fun. There are tons of mystery shopping job sites out there that you can use to get your mystery shopping or secret shopping side hustle career off the ground. Check out the best mystery shopping companies to work for to choose which one will work the best for you.
Check out more ways to get paid to shop!
Use a rewards card
With the Amazon Prime Rewards Card

I get so much cash back every month. That is why this is the only credit card I will allow myself to have. I get so much cash back with it that any purchase I make on Amazon is free most of the time! With the Amazon Prime Rewards Card you can get 1%-5% back on purchases, depending on where you make the purchase. You get 5% back if the purchase is at amazon.com, 3% back if the purchase is at restaurants, gas stations and drug stores and 1% back on all other purchases.
The best thing about this card is no matter where you are, you are at least always getting a portion of your cash back! I got $200 back this past month which I saved up to use on Prime day. Thanks to that extra cash back, I got us an entire patio set for free. Sign up today for the Amazon Prime Rewards Card and start getting cash back on your regular purchases with this link.
Utilize cash back applications
Cash back applications are great for when you tend to more of an online shopper. If you tend to make large purchases online like I do for my blog's hosting, for example. I get $10 cash back just by paying my web hosting bill with Ebates.
Other sites like Ebates to help you get the most cash back are as follows:
Sell your stuff online
There are tons of ways to sell your old things online nowadays. Not only with Amazon and Ebay but with a variety of other sites. I have personally used all of these and was quite happy with the results I saw! That is why I still use these to sell any of my old electronics, music instruments or accessories, DVDs, CDs, games, clothes, books, or antique and vintage items. It is one of the easiest and most fun ways to make extra money in your spare time. At least I think so!
Sites and apps I sell my stuff online with:
The best thing about selling your stuff online is that it takes such a small amount of time to put the items up for sale and then afterward all you have to do is ship the items out! The apps/sites take care of the rest!
What other ways do you make extra money online? I would love to hear from you. Comment below!
Related:
The Top 28 Sites That Pay You To Blog
How To Make Money With Pinterest
10 Effective Ways To Make Money Blogging
How To Make $1000 By Losing Weight
15+ Ways To Make An Extra $100 Every Day
How To Score Free Concert Tickets
How To Shop Online And Not Pay A Dime
The Best Ways To Sell Your Stuff Online And Actually Make Some Money
10 Things You Are Throwing Away Your Money On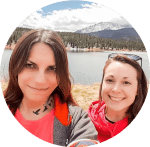 Daniella is the creator and author of iliketodabble.com. When her wife Alexandra and her aren't globetrotting or playing with their 7+ animals, they are hustling and working towards a future of financial freedom.