Our website is supported by our users and contains affiliate links. We get paid when you purchase or sign up for anything through those links. Read the full disclaimer for more information.
Last Updated on October 27, 2020 by Yovana
I love new and weird ways to make extra money. The less effort to get out of bed for a little side hustle action is all the better! I have always been a huge side hustler and now even more since starting this blog.
Think of all the side hustles and count the ways you can make extra money especially with the internet and a new app coming out every day. Now scratch that number because there are more than you can ever think of. What is even better is how much extra money you can make without ever leaving your bed. Yes I am SERIOUS!
Don't be ashamed about the fact you might need or want a side hustle. There is nothing wrong with needing extra money and going out to hustle for that money to pay off debt, feel more comfortable about your finances or save for a future dream. According to this CNN Money article back from July 2017, more than 44 million Americans have a side hustle. So you aren't the only one. It has become a "norm" more now than ever.
One thing I hate about working extra is having to leave the comfort of my bed to do so ;). That is why I compiled a nice little list of ways to make extra money without getting out of bed.
Side hustle from the comfort of your bed!
Pin it for later!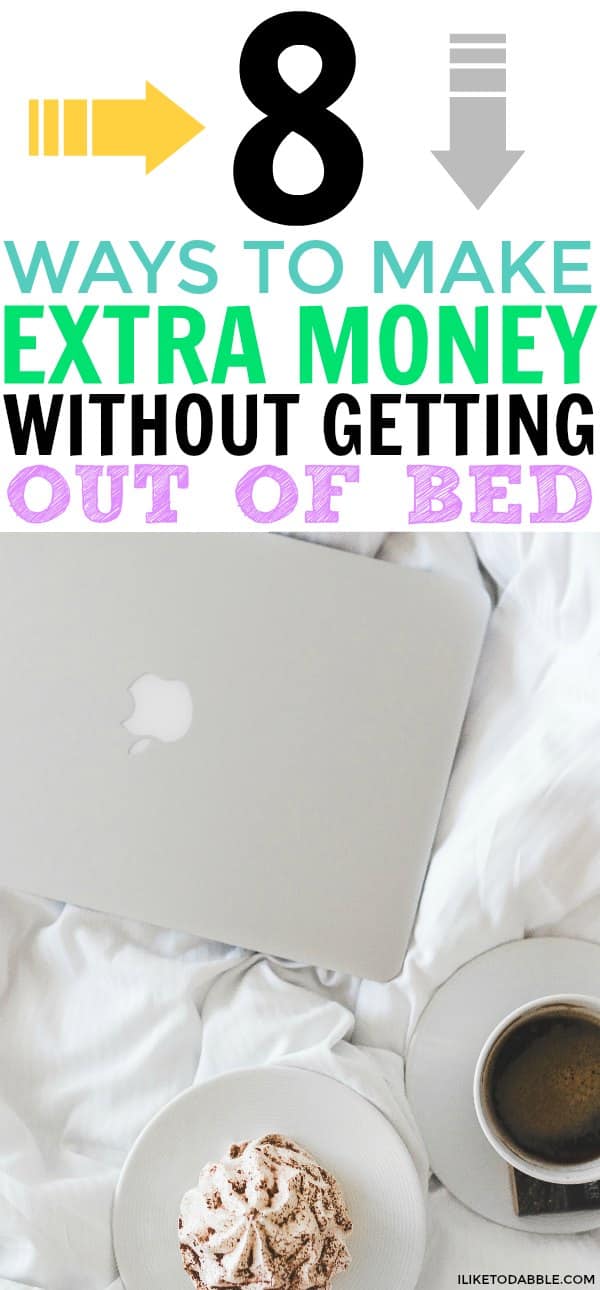 Get paid to play online.
Nielsen is a company that will pay you for your internet usage. All you have to do is download their app and register your devices. It is noninvasive, will not impact your device's performance and is 100% secure. Then you get rewarded for using the internet like you do any other day! I currently have it installed on all of my devices and even though I don't earn $100 from it every day, it is nice for a little extra income. Check it out here.
Once you install their app, you will automatically be entered into their monthly sweepstakes. Nielsen gives away $10,000 every month to their lucky sweepstakes winners!
This company will pay you to save energy.
OhmConnect will pay you to use less energy in your house. Since local authorities rather pay you to save energy than pay power plants to produce more energy, OhmConnect came to be.
With OhmConnect you not only are saving energy, you are saving money on your utility and energy bills because of it, and get paid to do it! Check out here to learn more on how it works and how you can easily make extra money with it.
Make extra money by taking survey's on your laptop or phone.
Surveys have become a popular answer for an easy side hustle that you can do in your spare time to make extra money. Swagbucks and InboxDollars are the popular ones you always hear of. Sign up for Swagbucks with my link and get a free $5 to start out with!
There are some others that you may not have heard of though that you might find more success with and a higher payout:
Related: 17+ Ways To Make Extra Money By Taking Online Surveys
Get paid to shop.
There are tons of ways to get paid to shop. From scanning receipts to linking cards, you can easily get cash back for making purchases online and never having to leave the house.
Keeping track of your receipts and expenses can pay off, literally. You can either scan your receipts on Ibotta or Checkout51 from your grocery shopping trips, gas station trips, etc. But what people aren't talking about when it comes to Ibotta, is the huge opportunity for cash back and rewards for online shopping through Ibotta.
What better way to keep track of expenses than with a fun and FREE budget planner!? Writing everything down is the best solution I have found to stay on track and stick to a budget. This is why I created a budget planner and tracker printable that can be used to create a budget from scratch with little to no effort! All you have to do it fill it out every month to help you stick to that budget.
Sign up to get your free budget planner!
Effectively manage your finances and grow your savings.
Keep in mind that everyone has different financial needs depending on their financial situations. There may be some sections and categories in this planner that may or may not apply to you. There may also be some additional sections and categories that apply to your financial situation but are not included in this freebie planner.
Cash back applications are great for when you tend to more of an online shopper. You can combine them with your already-awesome saving you get with Amazon Prime. Or if you tend to make large purchases online like I do for my blog's hosting, for example. I get $10 cash back just by paying my web hosting bill with Ebates.
Other sites like Ebates to help you get the most cash back are as follows:
A few cash back applications that I am currently obsessed with:
Dosh – All the perks of a cash back credit card without having to actually get one! Just link your current cards to the app and get cash back! No receipt scanning, no waiting for the bank to approve your rebate, nothing but instant cash back!
Spent – I just started using this app and love it. This app will learn from you to help you organize your expenses and gives you cash back when you make purchases. How cool is that!? The Spent app basically pays you for the money you would be spending anyways. If you have an iphone, download it here. If you have android, click here.
Related: Get Paid To Shop
How To Shop Online And Not Pay A Dime
Sell your old electronics, collectibles, or clothing and accessories online.
There are a variety of apps available now that give us the ability to easily sell our stuff without hardly doing anything. You no longer have to leave the house and go to a thrift shop to sell your things. Everything can easily be done remotely from the comfort of our phones. I know to some people, that doesn't sound exactly ideal. But in the sense of anti social side hustling, this one is perfect.
My favorite app to use to sell old brand name clothing, shoes, purses and accessories along with beauty accessories self care/makeup is Poshmark. If you sign up for Poshmark with my link, you get a free $5 to start out with.
You can easily sell old electronics, smart phones, gaming consoles and accessories, laptops, tablets, stereos and speakers, and instruments among other items on apps like Decluttr, eBay and Amazon.
Check out this post about how my wife and I flip guitars as a side hustle on eBay for a pretty penny.
Related posts: 12+ Side Hustle Ideas To Make Extra Cash This Month
How We Make Extra Money From Flipping Items On eBay
22 Creative Ways To Turn Your Clutter Into Cash
How To Make An Extra $1000 This Month With Your Phone
Work virtually as a freelancer or virtual assistant.
Sites like Fiverr and Upwork make it possible for millions of people to side hustle as a freelancer. Most have turned their side hustle into their main hustle because of such useful platforms that change the way we work and how we collaborate.
On Fiverr, you can freelance as a writer, designer, copywriter, virtual assisting with tasks like social media management, etc. There are tons of work for any freelancers in I.T. as well. It is worth checking out for some easy side cash.
If solely writing is more your freelance style, then check out this site for some great freelance writing opportunities.
Become a transcriptionist.
Want to get paid just for listening and typing? If you are a great note taker and pay good attention to detail, have the time and most importantly the patience, taking on a side hustle as a transcriptionist might be perfect for you. You can make up to $25 an hour as a transcriptionist. Check out TranscribeAnywhere for transcription opportunities!
Start a blog.
You can easily start earning some extra cash by starting a blog. However, it may take some time to steadily make a noteworthy income with blogging. Blogging is not a way to get rich quick but it can help with your current financial situation. You just have to be willing to put in the work to see results, like anything else in life. Don't knock it until you try it.
If you have not yet started a blog and want to, or are having trouble with where to start, check out How To Create A Self Hosted WordPress Blog. If you sign up for Bluehost with my link you get a free domain, free site builders, free 1-click WordPress install, 24/7 support and all for only $2.95 a month! You really can't beat that deal.
You really can make money blogging. I am not joking! Starting a blog has been a great way for me to make extra money online without ever leaving the comfort of my bed. I am sitting on my bed as I type this. You have no idea how blogger's make money?Don't sweat it, I knew nothing of this either before I started. Check out my free guide to make money blogging from day 1!
Here are some free blogging resources that have helped me on my blogging journey. Maybe they can help you too?
The Ultimate Blogger Freebie Master List
Sign up to get this master list of the top freebies for bloggers; free stock photos, checklists, courses, guides, planners, etc.
What other ways are you able to make extra money from your bed? I would love to hear from you!
More ways to make extra money: 6 clever ways to make an extra $600 this month
15+ Ways To Make An Extra $100 Every Day
40+ Easy Ways To Make Money Online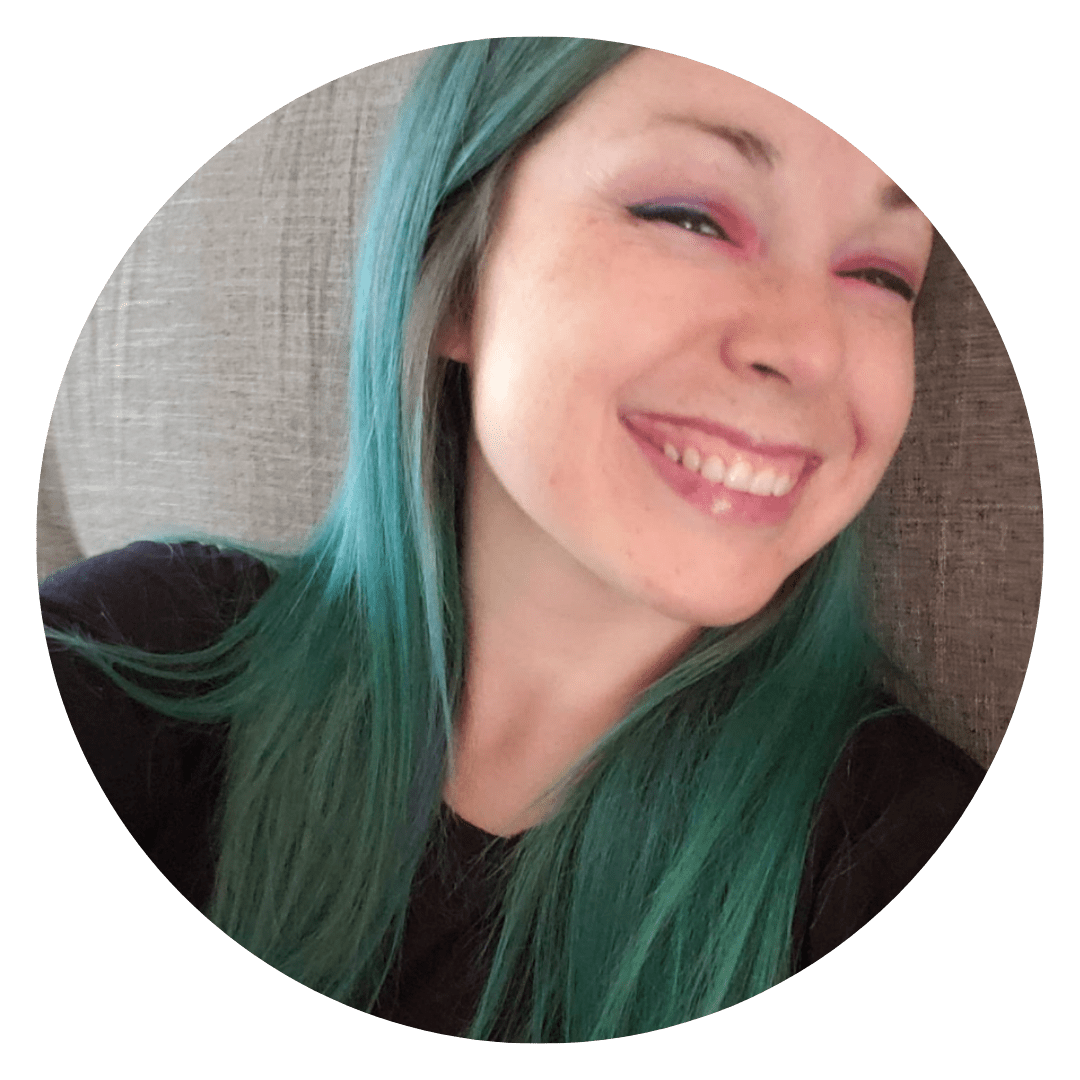 Daniella is the creator and author of iliketodabble.com. When their wife Alexandra and them aren't globetrotting or playing with their 7+ animals, they are dabbling and working towards a future of financial freedom.