Our website is supported by our users and contains affiliate links. We get paid when you purchase or sign up for anything through those links. Read the full disclaimer for more information.
Last Updated on December 1, 2020 by Yovana
Ever lose an hour or two by watching makeup reviews and tutorials on YouTube? If you're anything like me, you'd watch maybe 3 to 4 videos from Jeffree Star and wonder where your morning went.
I love Jeffree's products and are some of my favorites among the majority of beauty brands out there but let's face it, they aren't your Dollar Store prices. Even if we understand that we are paying for quality when it comes to a brand like Jeffree Star Cosmetics, we might not always be able to afford it.
The good news is that you can find free makeup samples and accessories from your favorite brands with a little bit of extra effort.
How to Get Free Makeup Samples: 11 Ways
I've shown you in the past ways to get free stuff like gift cards and concert tickets. Well now, I can't wait to dig into how to get you free makeup samples too (along with skin-care and free perfume samples).
Whether it is for a free birthday gift or a request to send you free makeup and beauty samples by mail, many cosmetic companies offer free samples and will send you them. They want you to try their products so you come back for more.
1. Receive Free Makeup Products to Try With Toluna
Toluna is a site that works with companies to gather consumer's opinions on products. On Toluna, you can fill out surveys about the products you already use and make money from your opinions.
You can also receive free products from Toluna to try out and then provide your feedback on the products. Not just samples, full-sized products! This includes entire boxes of products, makeup products like lipsticks and foundation and beauty products such as lotions and creams.
Check out more about Toluna here.
2. Score Free Cosmetics From Ulta
Sign up for Ultamate Rewards and get a free birthday gift of free cosmetics and earn points with every purchase towards more free stuff.
Download the app for more personalized offers, coupons and more.
Related: Poshmark Review: Buying and Selling Used Brand Name Items Online
3. Get Free Makeup Samples by Mail From PINCHME
Some companies, such as PINCHME, offer free makeup samples in exchange for your honest feedback about their products.
All you have to do is take a short shopper survey to get started, then pick your samples. You don't need a credit card to sign up; it's completely free.
Makeup brands like L'oreal work with Pinchme and sometimes offer free samples. Over 20,000,000 samples have shipped.
4. Request Free Beauty Samples From Department Stores
Most department stores will give you free makeup samples when you request them in-store. They usually receive these directly from the brands to give out in the store for the "try before you buy" shopper experience so they definitely have them on hand.
You can also receive them online. When you puy any makeup or skin-care product from Nordstrom, you can add 3 trial-sized products to your order, free of charge.
5. Get Free Samples From Sephora
Sign-Up for Sephora's Beauty Insider Program. After signing up, Sephora will send you free full-size makeup products on your birthday. Plus, if you sign-up for the Insider program in-store, they'll *usually* gift you the free birthday makeup that day (no matter when your birthday actually was).
6. Order Makeup Online and Get Complimentary Free
Samples With Your Order
If you visit the Offers page on Smashbox.com, you can often find ways to get free samples with your online purchase. Sometimes they will have a purchase minimum to reach for the free gift but other times like around the holidays, they may not. Check it out and see what you can get.
7. Follow Your Favorite Brand's Social Media
I follow so many brands on social media, it is kind of alarming. But I just love the artistic makeup looks they post and when they feature makeup artists on their profiles.
What is even better is when they do giveaways. Instagram is the most popular for this where they will give away makeup products to their followers and even sometimes entire collections.
Look up some of your favorite brands on Instagram, follow them and see what giveaways they have going on.
Searching the following hashtags will show you current live beauty giveaways:
#makeupgiveaway
#beautycompetition
#freemakeup
#beautygiveaway
8. Join The L'Oreal USA Consumer Participation Program
You can join the L'Oreal USA Consumer Participation Program and get invited to on-site events where you will have the opportunity to test and keep free makeup samples and products.
If you can't attend in person for some reason, they will offer to send you the same products by mail. However, you won't be able to choose what you get.
9. Get Free Makeup Samples Through RedBook
The website Redbook has a blub readers can join called Club Red. They send you free samples to review and also invite you to events where you can win prizes.
After you join and log in, you must complete a questionnaire about your life and interests. Then they will email you daily with offers that fit your profile.
10. Sign Up for Influenster for More Free Samples
Similar to Toluna, Influenster will send you free makeup products to test and review.
It doesn't matter if you are an influencer or not, all you need is some sort of social media following. Nikayla from the Budgeting Couple only had a few hundred followers when she signed up and was accepted with no problem. She then received 3 full-size Vitamin C skincare products in one month.
All they ask is for you to share your honest review on Influenster.com and with your "audience" (via Instagram or whatever platform you choose). It is sort of like being a low-key brand ambassador.
11. Get Free Product Samples on SampleSource
This site SampleSource promises to send you free samples after you become a member (which is 100% free).
The following steps are required in order to receive your free samples:
Register with your email
Enter in your shipping information
Verify your email
Fill out their questionnaire so they know what you like
Check your email for when they alert you of free samples
Pick your samples
Track your order on the site as they ship it to you for free
Check out more on SampleSource by simply clicking here.
More Freebie Sites to Browse for Free Beauty Samples
The 11 options above aren't the only way to get free makeup samples. There are tons more sites out there for you to try.
More freebie sites to get free beauty and skincare items:
Rebate Key: Creams, serums, and shampoo are often available for free on Rebate Key. Check out this Rebate Key review.
Magic Freebies: This is a UK based site will send you samples of makeup and beauty products directly to your mailbox.
I Crave Freebies: Get free products from a variety of categories. All that is required is filling out a form and then they will send you your free sample.
Related: 9 Best Mystery Shopping Apps to Make More Side Money
Look Out for Scams, Counterfeit Makeup, and Sites That Aren't Worth Your Time
The number of tricks people try to pull in order to scam you online are insane. And also, annoying.
Fakes
Makeup scams and counterfeits are on the rise. The worst scams are on eBay and happen when there are high demand items just released like mystery boxes from certain brands. When the buyer finally receives their box it is usually weeks to months after their purchase and is nothing like the item description originally stated.
These products are very dangerous because not only may they be fake but they could also have harmful chemicals in them. Always buy your products directly from the brand's website or any known partners of the brand for this very reason!
MLM Scams
There are companies out there that target women using Instagram to join their MLM. They promise things like the comfort to work from home, make money, and get free makeup for recruiting their friends and families and selling directly to them.
The well-known beauty and skincare MLMs are Limelife, Younique, and Rodan + Fields. The majority of their revenue from the recruitment side of the house and make their members buy hundreds to thousands of dollars of products before earning a dime.
These MLM companies have very similar structures to pyramid schemes because they are basically just as much of a scam.
They'll tell you that you can get loads of free products by recruiting your friends and hitting specific recruiting and sales goals. This rarely happens, at least not without you shoveling out more money to the company for products you will probably never be able to sell.
Steer clear of these at all costs.
Freebie Sites That Are a Joke
I found on another blog that MySavings was a great site to find free makeup samples on. When I went to the site, signed up and chose a free sample for them to "send" me, it was a dead end.
I tried for this mud mask: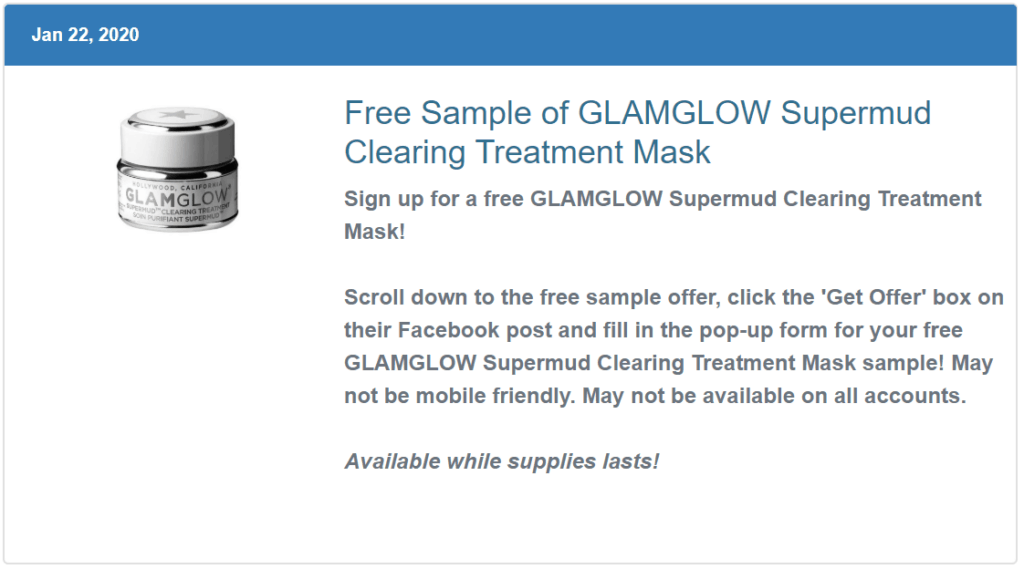 I verified my email and liked them on Facebook as instructed. Then when I went back to click on this sample to see how I could request it, it just sent me to their Facebook page with no said freebie.
Unfortunately a lot of sites out their claim they will send you freebies and once you try it, you end up at a dead end after dead end. This is when you unsubscribe because it is basically a waste of time.
Ways to Save Money on Makeup and Beauty Products
There are a couple of creative ways you can save money on makeup and get your favorite products for cheaper.
DIY Makeup
I've made my own sugar scrubs before and swear they worked better than any that I bought. You can also make your own makeup like mineral powder and face toner.
Do some research online and look for DIY articles on Pinterest or videos on Youtube.
Squeeze The Life Out of Your Makeup
Your makeup products can last much longer without you having to make another purchase with a couple of tips and hacks.
If your mascara goes dry too soon, drop a few drops of saline or eye drops into the mascara and stir (never pump).
When our foundation runs low and you can't get to the product that is still left in the container, plop some moisturizer in there and create a tinted moisturizer.
Powders and eye shadows easily can easily crack or get crushed into bits. Mix rubbing alcohol with it enough to form a paste and let the alcohol evaporate. It will be good as new!
Use Cashback Apps and Rewards Programs
I love cashback sites and rewards programs for anything I buy, not just makeup. But when combining the usage of these apps or programs (like with the Ulta rewards program)with using the makeup brand's own reward program, I reach peak reward stacking levels!
My favorite apps and programs are:
Rakuten: You can either link your card to get cash back on in-store purchases, visit their site to make purchases directly through it for cash back or use their browser extension that can automatically apply cash back for you.
Drop: Earn points on every purchase you make that you can redeem for free gift cards.
Ibotta: One of the most popular cashback apps and for good reason! Get cashback at almost any online store and in-store when linking cards or scan your receipts.
Related: Capsule Wardrobe Experiment: Why I Wore The Same Outfit Every Day For a Week
Sign up to get your free Money Saving Challenge Tracker printable!
Save $100 a week during the 10 week $1,000 Money Saving Challenge and set yourself up to be a money saving queen!
Conclusion: TL;DR
There are a variety of ways to get free makeup samples online and in the store. In case this was TL;DR (too long; didn't read), we will give you a quick recap.
You can review products that sites and companies will send you and receive products for free, get free birthday gifts, score freebies from rewards programs, or request them directly from the store. But steer clear of fakes, scams, and sites that aren't worth it.
Always be following your favorite brands and creators in the beauty industry on social media to get the first word on any free products and giveaways.
In addition to stocking up on free samples, you can make your own makeup or find tricks to squeeze more life out of your products to save money.
What other ways have you been able to score freebies and save money? Tell us in the comments below!
More ways to get free stuff:
Pin it for later!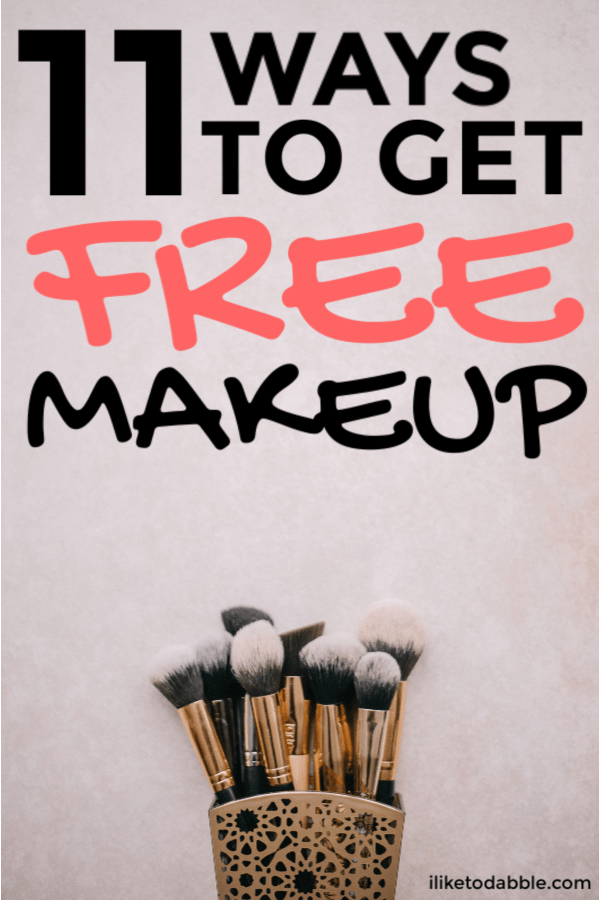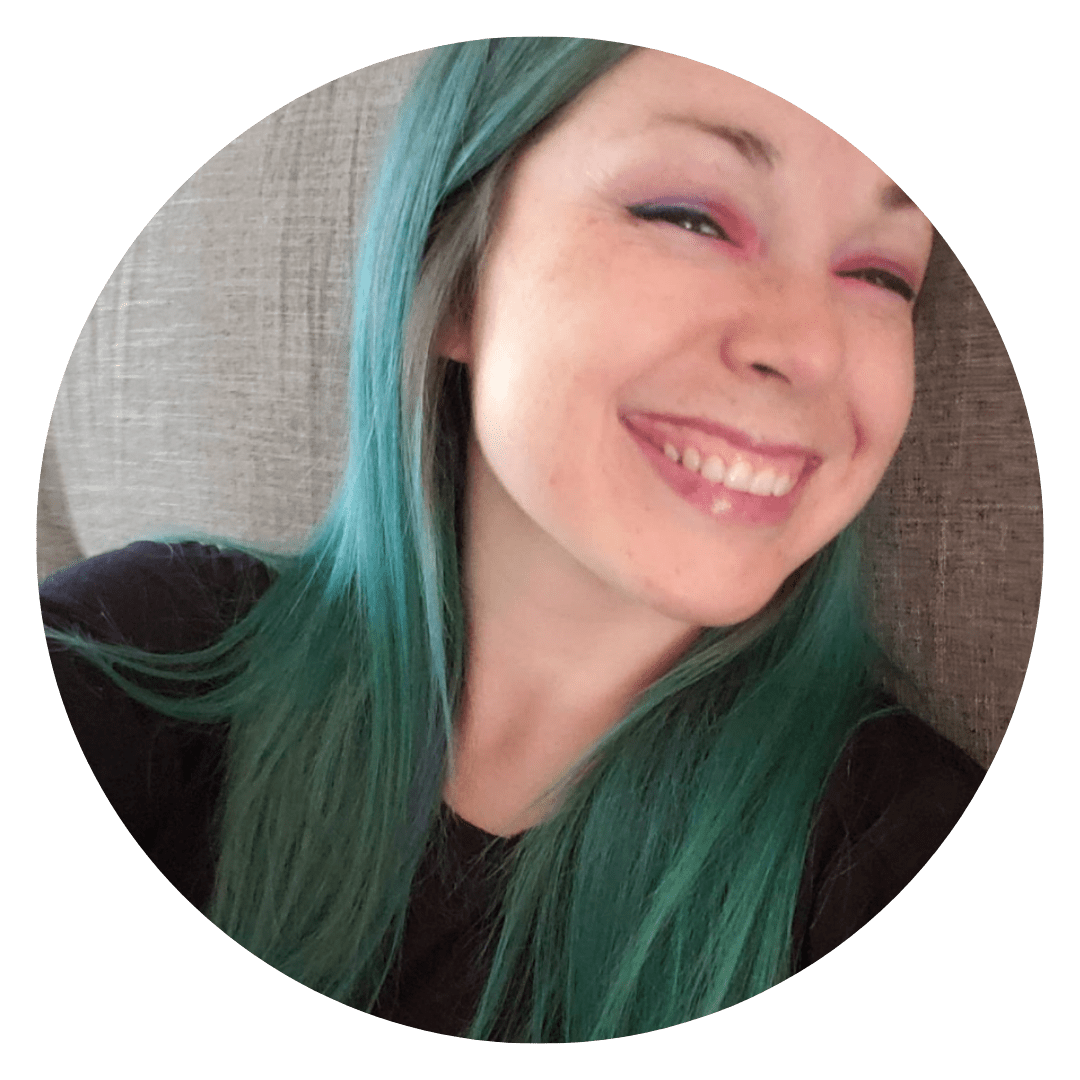 Daniella is the creator and author of iliketodabble.com. When their wife Alexandra and them aren't globetrotting or playing with their 7+ animals, they are dabbling and working towards a future of financial freedom.