Our website is supported by our users and contains affiliate links. We get paid when you purchase or sign up for anything through those links. Read the full disclaimer for more information.
Last Updated on November 30, 2020 by Yovana
This post is sponsored by CreditRepair.com. All opinions are my own.
Are you looking to raise your credit score? So were we but knew we had to address our debt first. We didn't have much but enough that it effected our score.
As you learned in 5 Ways to Travel Hack Without Trashing Your Credit, we were able to raise our credit score with our new travel hacking hobby we took up in the last 2 years. But we've also been working on our debt.
Our balances include:
My student loans: $15,000 Remaining balance: $0 (Updated May 2019 when I finally paid off my student loans!)
Hospital bills: $2,500 Remaining balance: $0
Credit card debt: $4,451 Remaining balance: $0
Auto loan we took out together at the end of 2017: $28,000 Remaining balance: $18,145 (I know what you're thinking, that's a large purchase. And it was. But it was something we really wanted. We probably should have waited to make this purchase until my student debt was gone. However, I personally think it was 100% worth it for our preowned Toyota Rav4 Hybrid that goes on most of our adventures with us and is the best car I have ever owned. In the long run, it also saves us a fortune on gas and maintenance.)
Saving more was definitely an option but we wanted to speed up the process. The sooner we pay off our balances, the sooner we lower our credit utilization and raise our credit score even more.
The answer for us was side hustling. We wanted to be able to still travel and work on our house to soon to sell and move. This way, we could stash money away while working on a couple of other goals at the same time.
Pin it for later!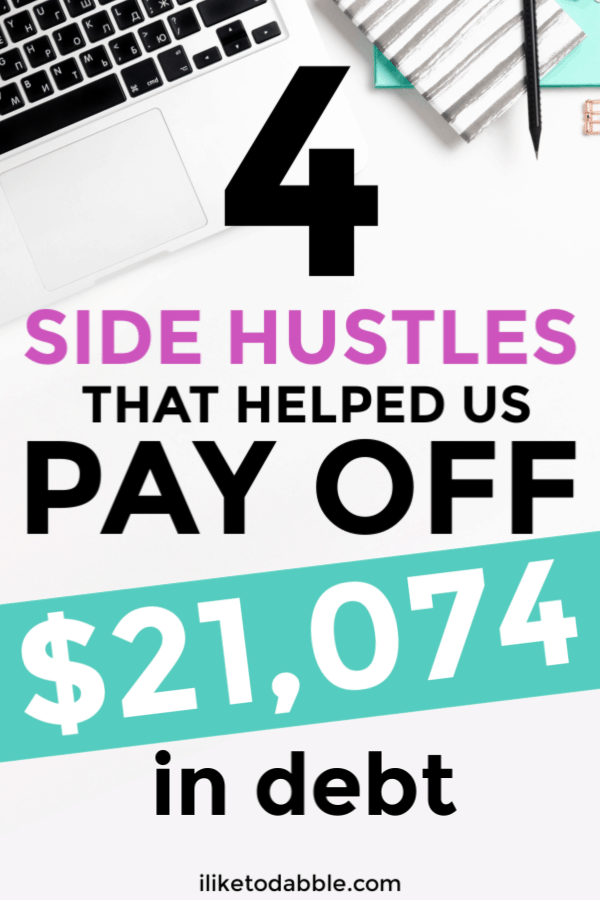 4 Side Hustles That Helped Us Pay Off $21,074 in Debt
Sounds like a lot right!? After I totaled up what we paid off from the bullet points above, it comes out to $21,074. Wow! (Updated May 2019 from when I paid off my student loans and more on the car, this number is now around $35,000)
When you can't save enough money to start making big strides towards slashing your debt balances, you need to figure out a way to make more. You can make more money at your current job by asking for a raise or apply for a higher paying job. And/or you could get a side hustle.
We weren't able to make more money at our jobs right away but it was possible over time. During that time, we started side hustling. We got pretty creative with it.
Here is what we came up with.
Flip Items for Profit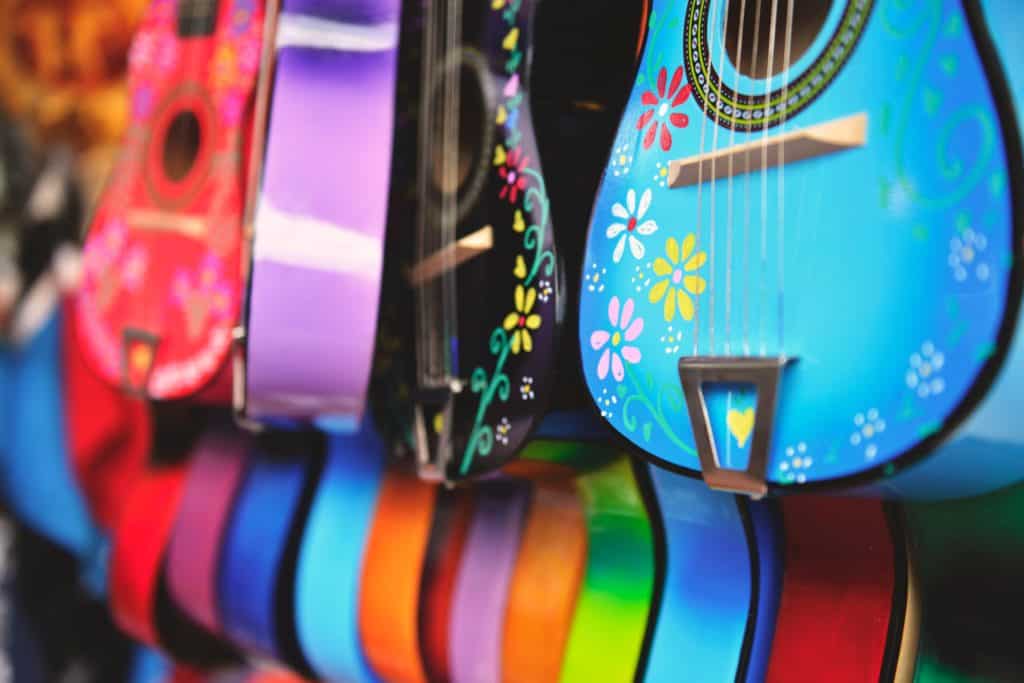 Flipping items is when you buy an item and then turn around and resell that item for a profit. You can do this with both new and used items.
Over the last 2 years we started flipping a variety of items online for profit, guitars being the biggest money maker. In addition to guitars we also flip musical accessories, computer accessories like hard drives, designer brand clothing/accessories and collectibles like Funko.
Thanks to the variety of resale apps and sites on the market today, this has become quite the fun cash flow venture.
Apps and websites that we use to flip items online:
eBay: For guitars, musical accessories, computer accessories and collectibles.
Poshmark: For designer brand clothing and accessories.
Mercari: For designer brand clothing and accessories.
Reverb: For guitars and musical accessories.
Sweetwater: For guitars and musical accessories.
Facebook Marketplace: For anything too big to ship
Related posts: 12 Sites Like Craigslist to Buy and Sell Anything
How We Make Extra Money from Flipping Items on eBay
ThredUp Review: Upcycle and Get Paid (+ How It Compares to Poshmark)
Decluttr Review: What Can You Sell & How Much Can You Make?
Start a Blog
I originally started my blog as a hobby and even though I did monetize it from the beginning with ads, I never thought it would make much. I was wrong.
Then I got interested with affiliate marketing and started making money off of the products and services I recommend throughout my blog and social media. My wife started to get more involved and we continue to learn more ways to create streams of income from this blog.
With every new stream and accomplishment, came more growth.
It was a somewhat slow growth as I couldn't put as much time into my blog as I would have liked to. I bought this domain in March 2017. Fast forward to March 2019 where the monthly blog income has finally surpassed $3,000.
We are blown away by what we've have been able to do with iliketodabble.com up to this point.
It has been one hell of a ride and it isn't slowing down any time soon.
Related posts: Blogging For Beginners: 30+ Blogging Resources to Create and Maintain a Profitable Blog
The Fail-Proof Guide To Get Started With Affiliate Links
Blog Income Report: My 2019 Blog Review & Analysis
Freelance
Freelance is something I use to be much more active with until I started my blog. I use to do freelance web development work part-time almost every weekend. It was my real only side hustle during the beginning of my career. It was something I kind of fell into.
Because of the demands of my job, blog and other side hustles, I only do freelance work when requested or when helping out other bloggers with something they want to outsource. Now being more design work than development work.
But it definitely helps pay the bills when new work does come around.
Related posts: 15 Remote Jobs That Pay More Than $15 Hourly
How To Make Money As An Artist
Sell on Etsy
In February 2019 we started an Etsy shop as a part of iliketodabble. Items we sell on the shop currently include tshirts, hoodies, leggings, makeup bags, notebooks, stickers, backpacks, tote bags and more.
This side hustle venture is still a new one to us but has so far proven to be quite profitable considering the minimal amount of work and involvement it requires.
The thing about this gig is that we don't have any physical inventory that we have to manage. Instead we sync our Etsy shop to a third party who fulfills the orders and ships the products directly to the customer.
The only involvement we have is any communication that is required with the customer.
I have a lot of fun with this one as I get to exercise my design skills and it is pretty low stress.
Related posts: What is Dropshipping and How to Start a Dropshipping Store
10 DIY Crafts To Sell For Extra Money
How Side Hustling Can Help Your Debt and Credit Score
We aren't done yet, as you can see we still have some debt to pay off. $18,145 to be exact. But we are getting there.
Among the many ways we tried paying off our debt, side hustling ended up being the most effective way for us.
Having a side hustle can be fun and exhilarating but at the same time, it can be very exhausting. Don't burn yourself out. Your happiness and health always come first.
If you come across a great side hustle opportunity but know you probably can't handle it, don't take it. Do what works best for you!
All side hustles are not created equally. Always do your research to see what is worth your time. You don't want to end up side hustling for less than minimum wage.
If you are looking for ways to pay off debt and improve your credit score, the experts at CreditRepair.com can help. They focus on you, your story and the best ways they can help you make a positive change so you can reach your financial dreams.
CreditRepair.com does more than just remove negative items from your credit score. They also repair your credit history and help you rewrite your story to better reflect who you are today and the financial goals you are aiming for.
To schedule a free credit consultation to see where to go from here, click here to speak with one of their qualified professionals!
What other ways have you side hustled or paid off debt? Have other suggestions for raising your credit score? We would love to hear from you! Please share your story or thoughts in the comments below!
Related posts: How Side Hustling Helped Us Dump Over $120,000 In Debt
How to Hack Your Future With a Side Hustle
15 Side Hustle Apps to Make Extra Money
Subscribe to get your free list of side hustles you can start this week!
Claim your free list of side hustles + tons of helpful resources to get started!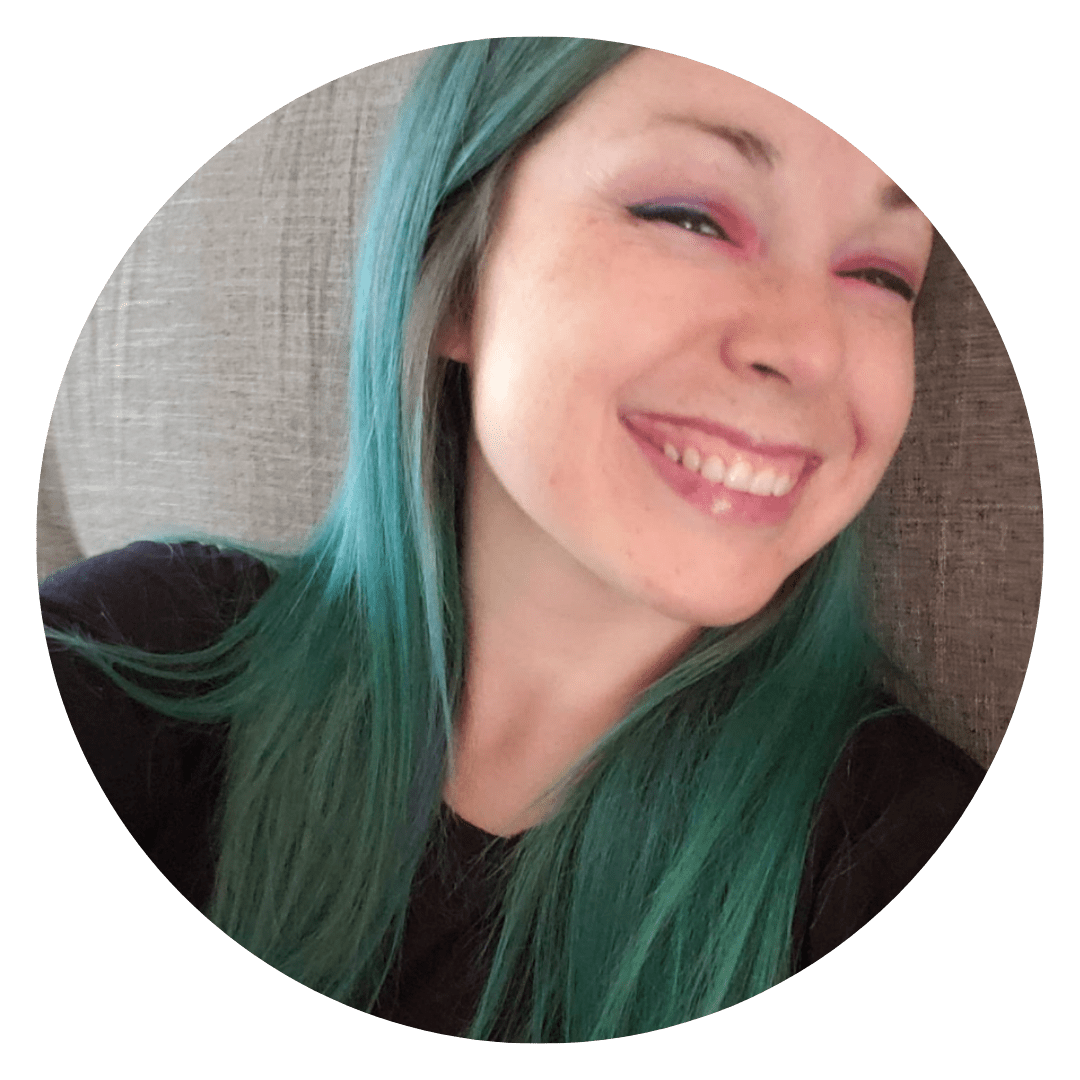 Daniella is the creator and author of iliketodabble.com. When their wife Alexandra and them aren't globetrotting or playing with their 7+ animals, they are dabbling and working towards a future of financial freedom.