Our website is supported by our users and contains affiliate links. We get paid when you purchase or sign up for anything through those links. Read the full disclaimer for more information.
Last Updated on January 9, 2022 by Daniella
The best things to sell on etsy are often the things you underestimate.
Those items that people use in their every day lives are usually your best bet. Don't underestimate simplicity.
However, many Etsy shops fail because even though they are selling things that people are looking for on Etsy, they can't find their listings because of neglecting to use the keywords their potential customers are searching for or they aren't doing it as well as they could me.
Demand is not enough to run a successful Etsy shop, you need a way to reach that demand. On Etsy, that's using SEO on your listings which stands for Search Engine Optimization.
For this list, we actually researched the best selling items on Etsy using a tool called Marmalead. This tool used along with a good SEO strategy will be your ticket to success on Etsy.
20 Best Things to Sell on Etsy This Year and Make Money From Home
There are tons of different categories of items and niche things that you can sell on Etsy and be successful. This list will give you inspiration and ideas of what you can sell but don't limit yourself just to the items below.
Stickers
Stickers have always been popular. From placing them on your devices, walls, and even out and about in the world whether it be a subway station, on the side of a building, street sign, or wherever you want to leave a mark.
Stickers have been that way that we can make a subtle statement. The 4 different sticker keywords below have a high monthly search volume on Etsy and sell well. You could create something like a sticker dropshipping business with Etsy using a third party like Printify.
1. Studio Ghibli Stickers
Studio Ghibli is a Japanese animation film studio known for films like Spirited Away and Kiki's Delivery Service. Stickers of their characters are very popular on Etsy so much that 2,400 people on average are searching for them every month.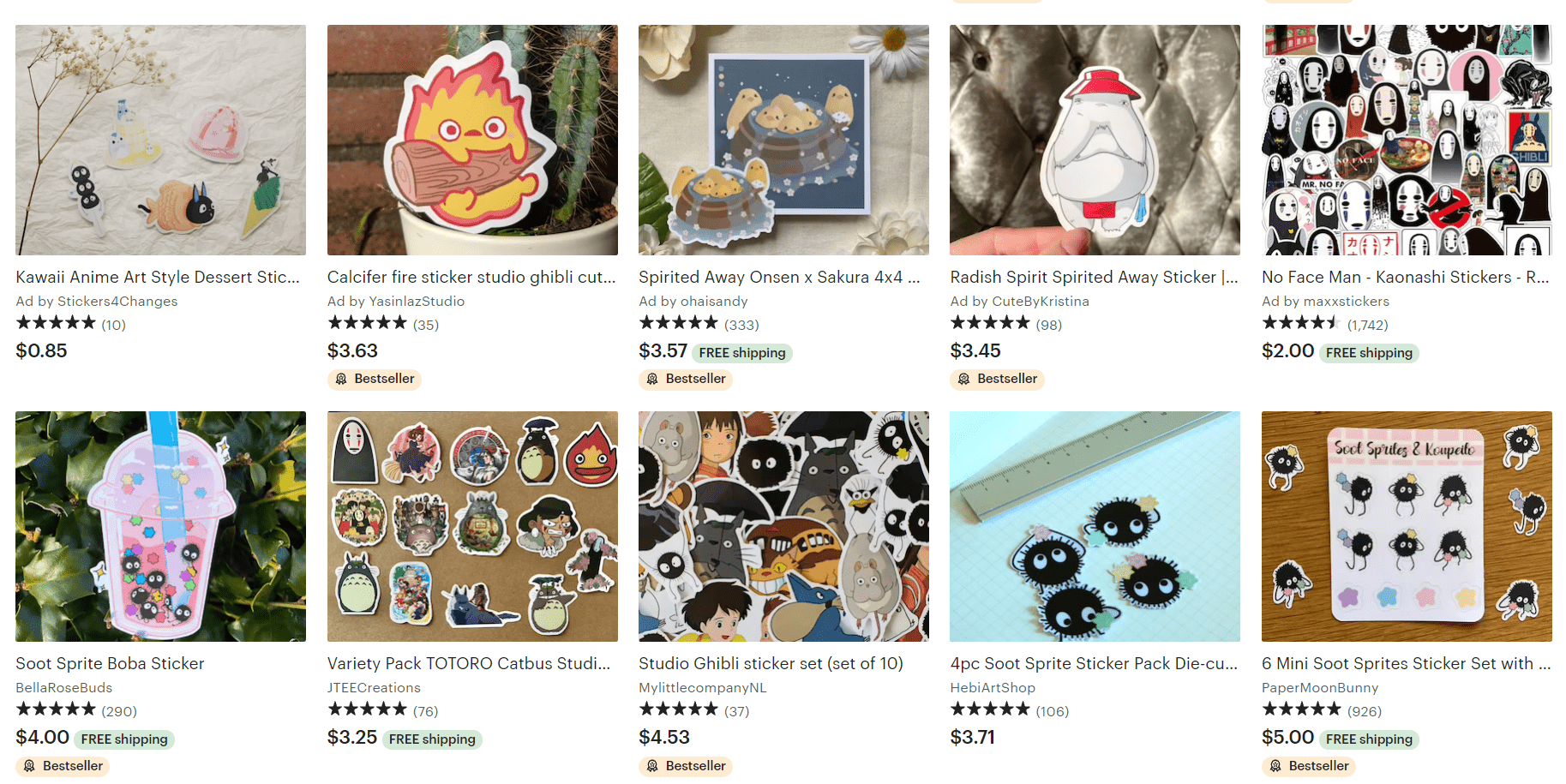 2. D&D Stickers
Of course Dungeons & Dragons has stickers and they're very popular on Etsy.
3. Clear Planner Stickers
Many planner obsessed folks love using stickers in their planner. Clear planner stickers are especially popular.
4. Feminist Stickers
Women, non binary, and gender nonconforming folks belong everywhere, including stickers. Feminist stickers sell well Etsy and make a statement wherever they go.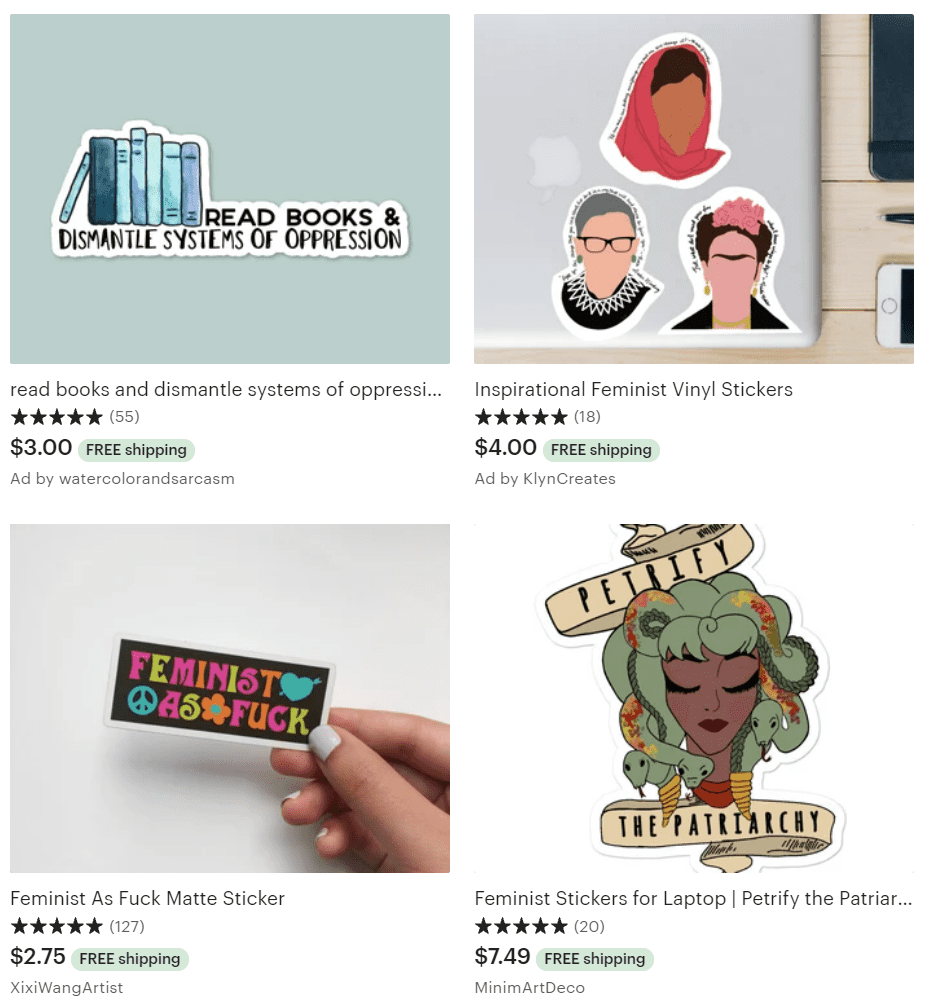 Purses
If you have a taste for fashion and a good bag, selling purses on Etsy could be something that you might want to try. These 4 keywords do well on listings and have a high selling rate.
5. Backpack Purses
Backpack purses are functional and cute. Think of ways that you can use trends to sell backpack purses in your shop.
6. Cross Body Wallet Purses
Cross body wallet purses are popular because of their lightweight and comfortable wear. You can make your own to sell or resell purses on Etsy.
7. Butterfly Purses
Over 4 thousand people a month are searching for the words "butterfly purses" and the keyword is low to medium in competition. There is room for small shops excelling in this keyword though.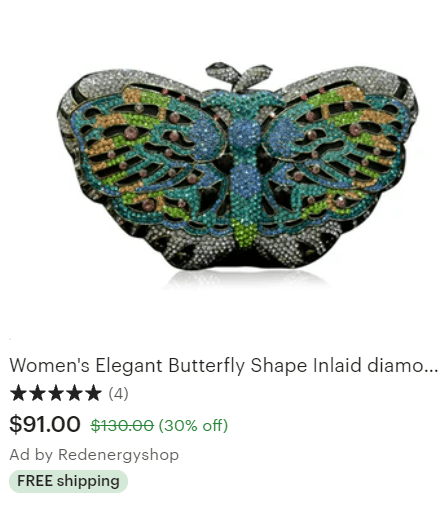 8. 1970s Purses
1970s purses fall within vintage/thrift store fashion, which is our favorite style. This style sells very on Etsy as people flock to the platform to look for rare vintage bags of that time from designers like Dior and Gucci.
Rugs
Rugs are essential to any living space. They add cushion to hard floor or tile and are able to tie a room together completely. Rugs are among some of the best selling home decor categories on Etsy. These 4 keyword sets bring in high search volumes every month.
9. Quilted Mug Rugs
Quilted mug rugs are actually rugs for your glasses – quilted coasters. And they're a small niche in the corner of Etsy bringing 260 searches a month but with a very low competition rate. They are especially popular for the holidays and folks like to collect them.
10. Kids Rugs
Kids rugs are a popular search keyword since many parents buy kids rugs from Etsy. Etsy usually has a better variety to choose from than department stores and have the ability to be customized.
11. 8×10 Rugs
8 by 10 rugs are the most popular rug rize on Etsy with 50,000 monthly searches. If selling rugs is something that you have an interest in, keep this size in mind.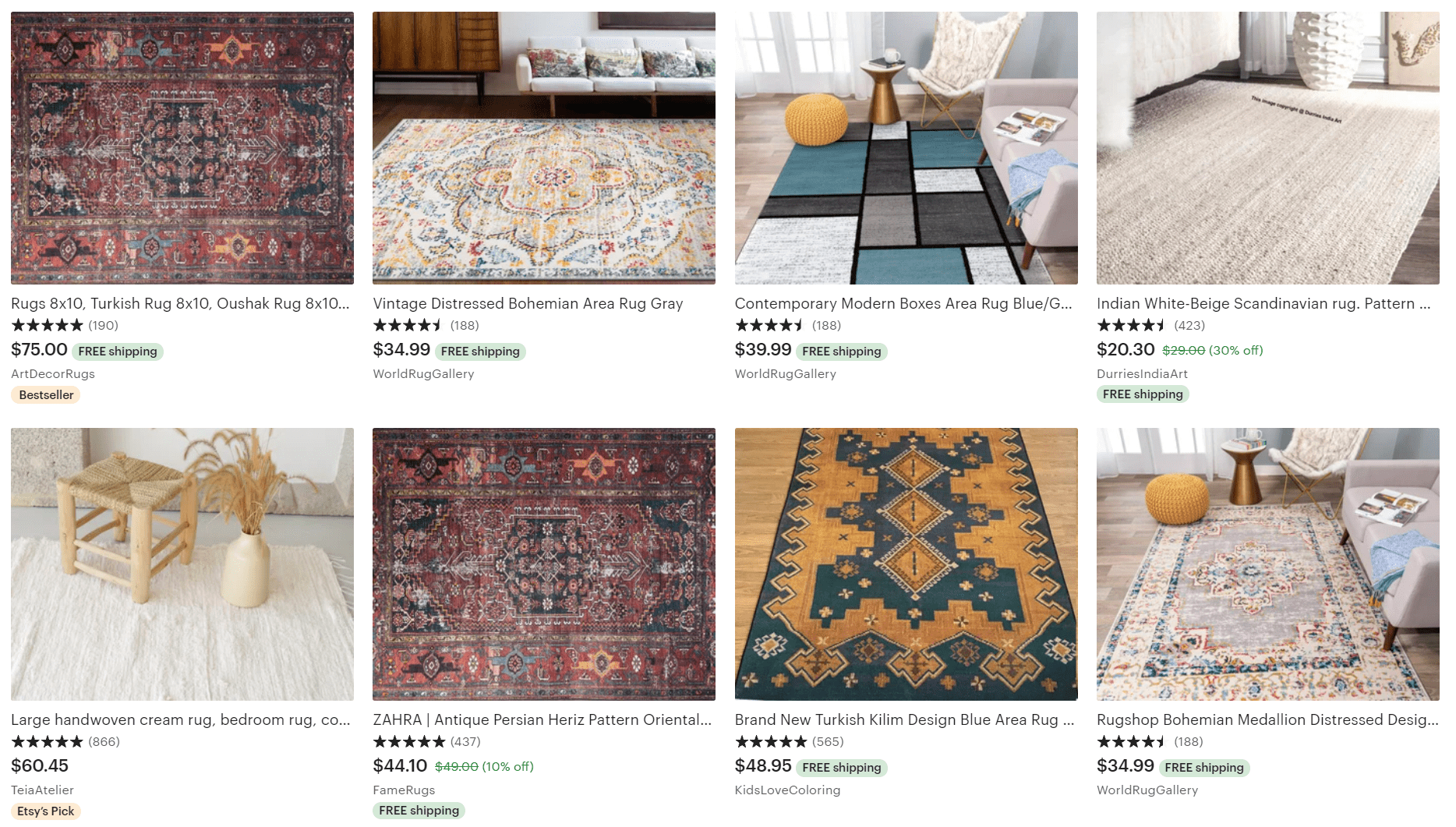 12. Handmade Rag Rugs
Handmade rugs are both a popular trends and shopping keyword on both Pinterest and Etsy which is a great reason to use Pinterest to promote your Etsy listings.
Printables
I myself sell printables on Etsy but neglect the store more than I should. Even with that, I am able to make passive income on the platform because I did that keyword research before hand (and like to take advantage of Etsy ads on my listings).
These 4 keywords I've found to be quite popular.
13. Meal Planner Printables
Meal planners are in high demand with many of us trying to better our health and wellness in one way or another. Think of niche meal planning trends going on and use Pinterest for searching for those trends to help you create and list the perfect meal planner printables that could bring you passive income.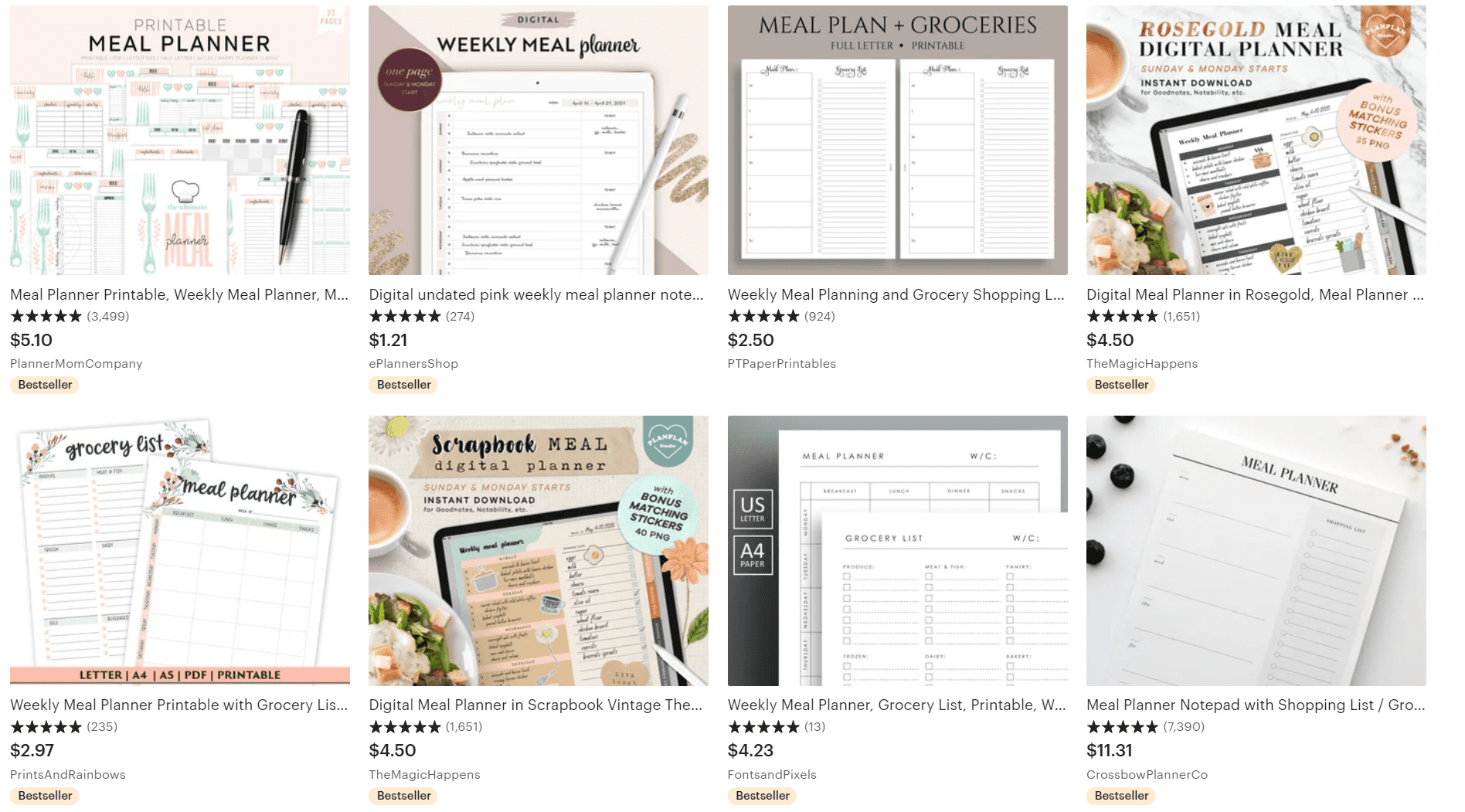 14. Blog Planner Printables
I actually sell my own blog planner printable on my Shopify and Etsy. If you're a blogger who wants to help other new bloggers, this could be a great idea for an additional stream of income.
15. Budget Planner Printables
If you have a budget that works well for you, try repurposing your own budget style in a cute and easy to use budget planner printable. You can make your printable design in Canva and list it on Etsy. You can also create multiple styles with different colors and formats.
16. Vacation Planner Printa
bles
If you get a rush from planning the perfect travel itinerary or have a format of vacation planner that you love to use, create them as digital downloads/printables and sell them as a side hustle.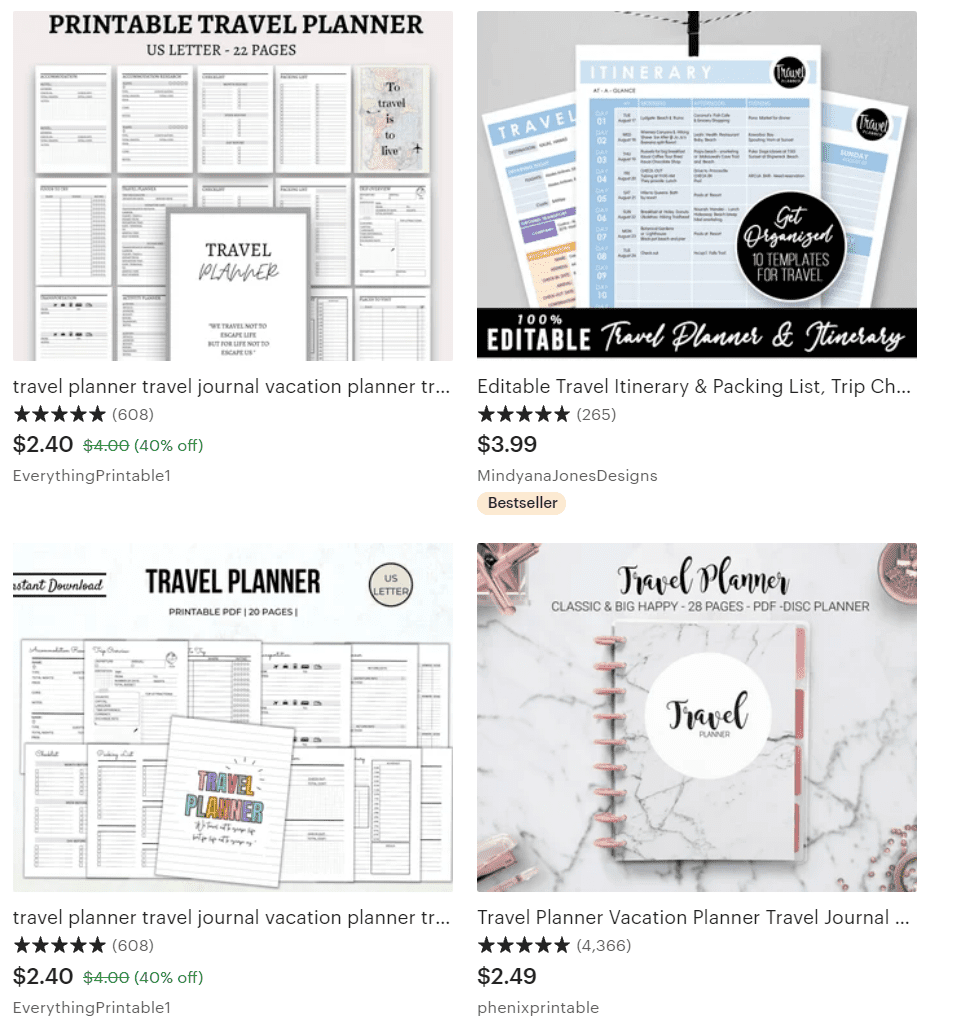 Jewelry
Jewelry seems hard to sell online with the competition that is out there, especially on Etsy. However, there are categories and keywords that have gaps to fill. These keywords show promise.
17. Ancient Greek Jewelry
Ancient Greek jewelry has 3,000 people searching for it every month. From opal and goddess necklaces to several gold and silver ancient styles, this category has a lot of promise on Etsy.
18. Chanel Jewelry
Chanel jewelry is a popular category with 33,000 monthly searches but should be used wisely if it's a category you want to go after. You cannot create jewelry with the Chanel logo on it and try to sell it as your own as a designer inspired product is illegal to sell.
However, you can buy vintage Chanel jewelry from thrift stores and resell them on Etsy.
19. Wire Wrapped Jewelry
Wire wrapped jewelry is a popular searched items with many possibilities. You can sell wire wrapped crystals, gems, and more.

20. Succulent Jewelry
Succulent jewelry is exactly what you think it is. It is jewelry that features little succulent accents on it. Popular items are earnings and necklaces.
Tips for a Successful Etsy Shop
You can't create a successful Etsy shop overnight but there are a couple of key things you must have in order to build a booming shop.
From the nature of this article, you guessed it – keywords are definitely important. Your listing must be descriptive with keywords targeting the most search traffic and least competition. But that isn't the only thing that you need for a sale.
4 things every successful Etsy shop must have:
Follows Etsy's legal recommendations
Listings that target high volume keywords
Good photo quality with different angles
Use Pinterest to market your listings
Great customer service – treat your customer like your best friend
Frequently Asked Questions
What can't you sell on Etsy?
First things first, before we talk about what you can sell on Etsy, let's talk about what you can't.
Anything you sell on Etsy must be specifically made by you (both digital and physical products), vintage, or a craft supply. Anything else you can't sell on Etsy.
Yep – that means you can't resell items if they aren't vintage or craft supply.
Read Etsy's Seller Policy for more information.
What sells well on Etsy?
Many things sell well on Etsy but there are 3 types of things we think that perform far above all other categories.
Those 3 are collectibles, custom/boutique style items, and digital products.
Our list of the best things to sell on Etsy goes into some of the most searched for and best selling items proven from data that we grabbed from a tool that we use called Marmalead.
How to Find What Sells Well on Etsy
When starting an Etsy side hustle, researching how to position your shop and listings on the platform is a must. Marmalead is a tool we use and love that helps us with that research.
Marmalead is a tool where you can enter keywords to see the search volume and competition for. You can also compare keywords, see competition between keywords of the same listing type, predictions for how the keywords will perform in the coming months due to seasonality and trending data, and more.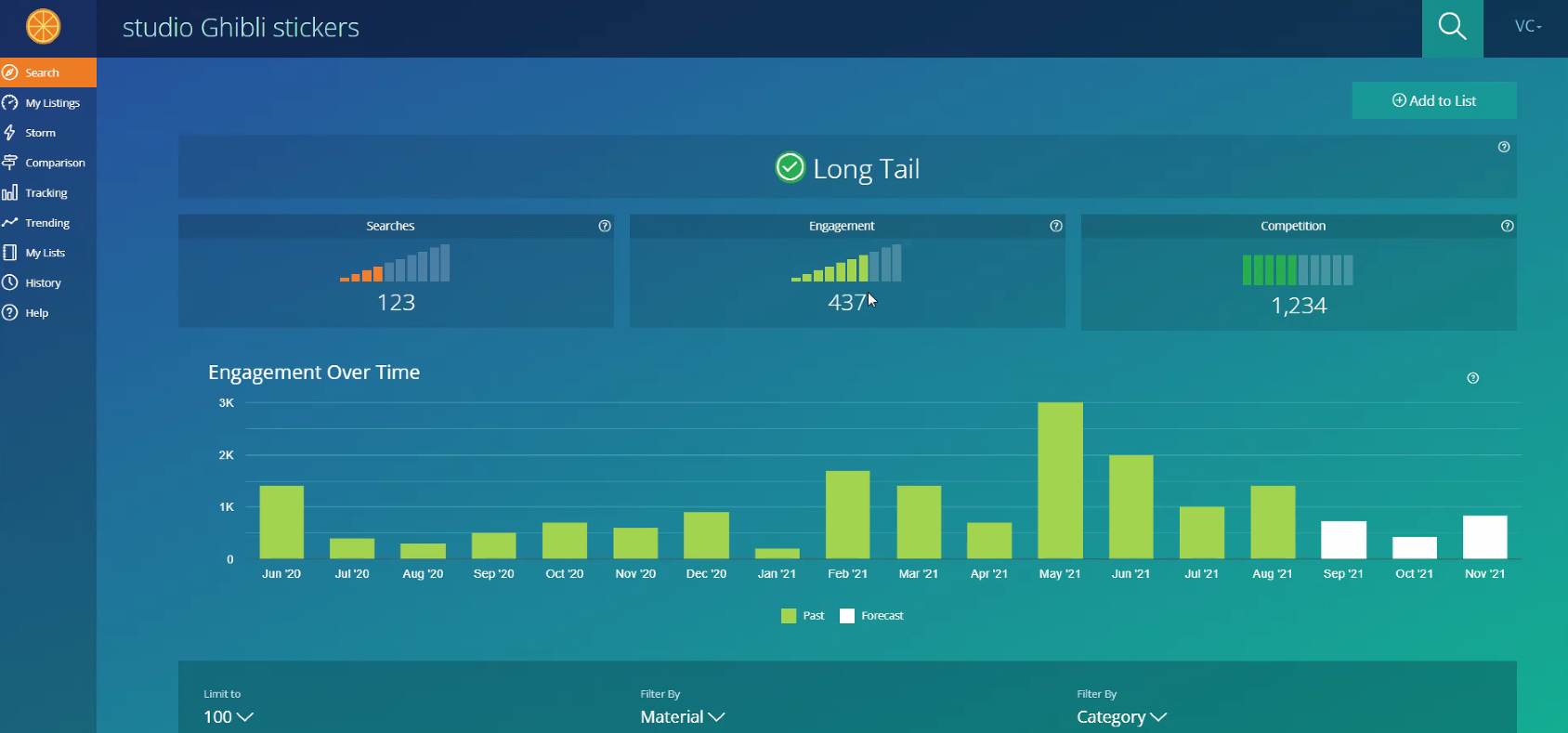 It's a must try tool for any Etsy seller to help them reach their potential customers.
Another tool that we like is the Keywords Everywhere Chrome Extension that also works in Etsy but can be used for any SEO research you do for your side hustle (or researching a potential side hustle).
Happy Selling!
Now that you have 20 ideas for the best things to sell on Etsy this year, use this information as inspiration for where you'll go next with exploring this side hustle.
Think of things that you would enjoy making/selling and start researching using the tools we mentioned in this article. See what ideas you come up with for your own specific vision.
You might be excited to see what you find.
Related:
Pin it for later!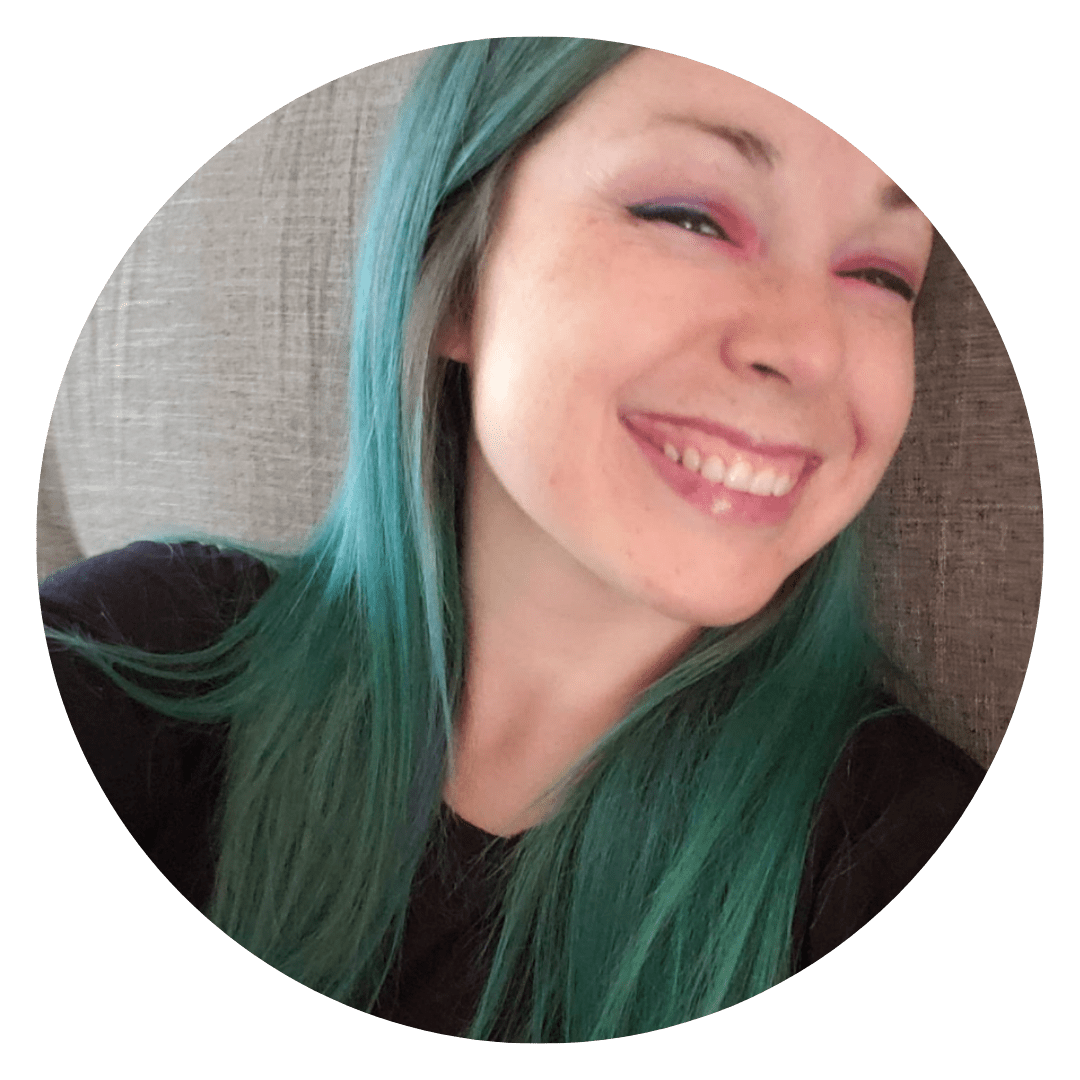 Daniella is the creator and author of iliketodabble.com. When their wife Alexandra and them aren't globetrotting or playing with their 7+ animals, they are dabbling and working towards a future of financial freedom.