Our website is supported by our users and contains affiliate links. We get paid when you purchase or sign up for anything through those links. Read the full disclaimer for more information.
Last Updated on August 1, 2022 by Daniella
Entering the workforce or thinking about making a career change? These LGBTQ+ friendly companies to work for have a history of supporting the queer community across their values, advertising, and company policies.
While there's plenty of giants out there like Apple, Microsoft, and Alphabet that are well-known for being welcoming to queer folks, I wanted to shine the light on some employers that aren't always in the spotlight, including those that also offer remote jobs and 4 day work week companies.
Browse this guide and add it to your own personal toolkit of LGBTQ+ career resources to expand your job search and career trajectory.
While you're here, grab your free list of 100+ remote-first companies to apply for remote jobs at and pivot to remote work:
Unique LGBTQ+ Friendly Companies to Work For (Multiple Career Sectors)
As a queer person myself, I believe not discriminating against LGBT folks is a requirement for every company. A truly positive workplace should elevate both its queer employees and LGBT folks through advertising and charity.
I also wanted to share some opportunities that weren't limited to just tech or high level professionals. LGBTQ people are statistically underemployed, often in service jobs. Queer folks of every walk in life need a friendly, safe, and inclusive place to work.
And yes, these companies are hiring!
Grindr
Over the past few years Grindr has made themselves a fixture in the LGBT community. Self described as "authetically queer", Grindr's hiring policy promotes diversity and equity amongst its staff.
If you'd like a workplace where you won't feel like you're in the minority for once, this is a great fit. Oh, and they're remote first!
Browse jobs hiring in the US, Canada, and Taiwan.
Hilton
Hilton has been putting their money, and reputation, on the line for the LGBTQ+ community for over a decade. Not only have they included queer folks in their ads and made hotels LGBT friendly, they've also proritized equality in their hiring practices and workplace culture.
Whether you're working in housekeeping or corporate, you can expect to be treated fairly as an LGBT employee.
Browse local and remote jobs available.
LVMH (Moët Hennessy Louis Vuitton) & Sephora
In 2019, LVMH signed a UN commitment in 2019 to further the rights of queer folks in business. While there's plenty of examples where they've made good on this promise, including hiring a trans woman to model Louis Vuitton clothing, their Sephora brand shines as a queer inclusive business for both consumers and employees.
Trans women, in particular, have been very accepted in Sephora stores. In the past, they've held trans feminine specific makeup classes carried out by their transgender employees.
Regardless of what brand you work for or which country you're in, LVMH has worked diversity and inclusion into their core business.
Browse remote opportunities worldwide in a variety of fields.
IKEA
IKEA's commitment to the LGBT community is more than just their iconic reusable rainbow bags. They consistently receive top marks from the HRC foundation for LGBTQ+ equality in the workplace. They were also one of the first big companies to include gay folks in their advertising.
Most IKEA jobs are on location, but they are in several countries worldwide.
Pepsico
At the time of writing, there's an spotlight for Transgender Visibility on the homepage for Pepsico careers. Besides a strong commitment to LGBT folks specifically, Pepsico has mandatory diversity training for executives and a commitment to gender parity.
Careers range from corporate positions to manufacturing and supply chain.
Gap Inc.
Gap includes Old Navy, Athleta, and Banana Republic. They've always been a great employer for diverse folks, including LGBT people – even running ads featuring gay men back in 2012. For over 15 years, Gap Inc. has received a perfect score when it comes to LGBT inclusivity in the workplace.
It's worth noting that they continue to take an active stance, including providing LGBT inclusivity training to traditionally less queer-safe markets like Japan. This means that Gap Inc. employees are supported worldwide, not just in "progressive" parts of the world.
From retail to corporate in almost every country, they have several jobs hiring.
Hallmark
Known for cheesy greeting cards and even cheesier movies, Hallmark has received criticism in the past for lacking diversity. While they responded by adding more LGBTQ characters into their movies, we're not there yet in terms of 100% queer Hallmark films.
It's a fine line to walk balancing your core audience's values and your own, but internally Hallmark doesn't shy away from the queer community. Not only did they get a perfect score on the human rights index, they're also an active participant in Pride.
Hallmark produces movies and greeting cards, operates retail stores, and also owns Crayola.
Learn more on their careers section of their website.
Converse (and Nike)
Not only does Converse actively support the LGBTQ community through activism and awareness (their 2022 Pride collection is a great example), they also donate regularly to a variety of queer and social justice organizations.
Owned by Nike (another great company to work for if you're LGBTQ), both brands have diversity in the forefront of their career pages.
Etsy Inc.
Diversity is a guiding principle at Etsy corporate, and that's reflected in 100% score as a LGBTQ friendly employer. Besides being a generally great place to work, they also offer paid gender neutral parental leave and other benefits that don't exclude same-sex couples.
They're moving to hybrid work and some positions are fully remote (especially in tech).
Browse hybrid and remote jobs available.
Mastercard
Mastercard is always hiring in an array of positions from tech, to recruiting and HR, to compliance and even project management. This global company also offers hybrid working arrangements and fully remote jobs with offices in several difference countries.
They also partnered with Citi back in 2019 for the TruName initiative that allows trans and nonbinary folks to use their forever names on their credit cards, rather than their deadnames.
If you're an employee at Mastercard, you'll get trans inclusive healthcare as apart of your coverage from day 1 of employment, IVF coverage, and other queer and trans inclusive healthcare covered as a part of your insurance through United Health Care
You can browse their hybrid and remote positions available on their careers page.
Walt Disney Company
Corporate Disney roles, including their films and media, are incredibly LGBTQ friendly – but I want to highlight the recent changes to the parks that have made them a wonderful place to work for queer folks.
In 2021, Disney Parks recently revamped their employee handbook to be more inclusive. Disney has always had s\trict dress codes for cast members, but all gendered references have been dropped. They've also improved the gendered costume options for cast members so they can be their authentic selves at work.
While Disney parks have had a rocky history with the LGBTQ community, they have made steady improvements over the years. This includes offering health insurance to same-sex partners starting in 1995 and allowing same-sex marriages at Disney Parks starting in 2007.
Browse positions for almost any skill set.
Get a Job at a LGBTQ+ Friendly Company
In a world that's still not always welcoming to the LGBTQ+ community, it's important to be able to trust that the companies you work for are supportive of your needs.
Browse more LGBTQ+ career resources:
Pin it for later!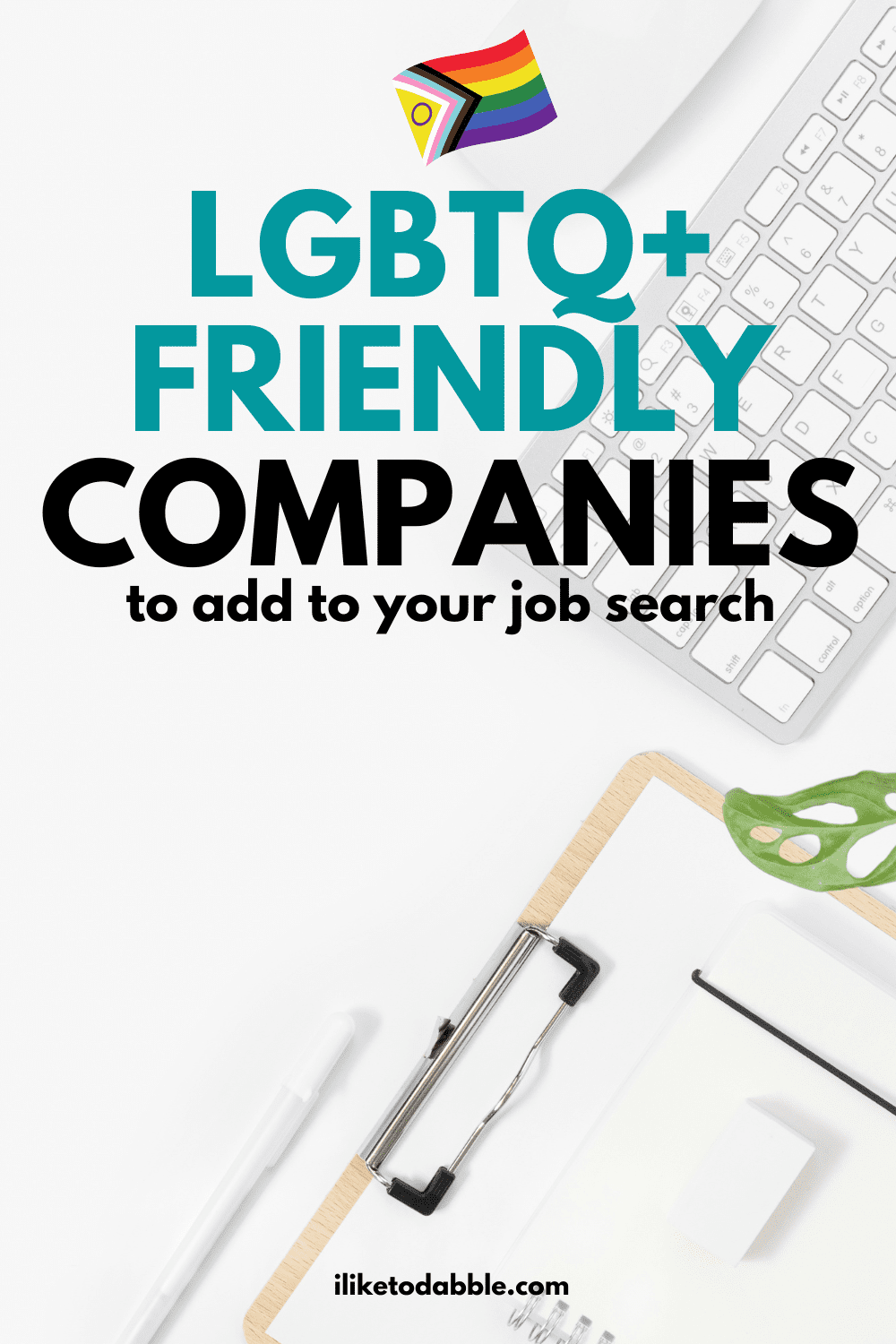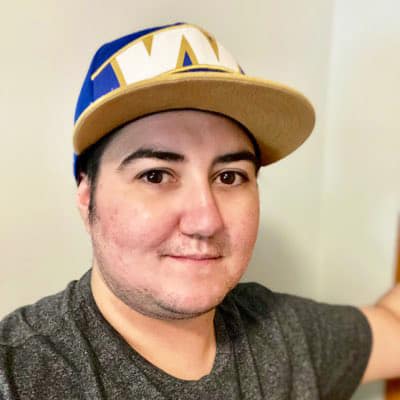 Everett is a professional content creator and marketer with a serious passion for writing. When not juggling their business or raising five kids, you'll likely find them playing video games, blogging, or exploring.