Our website is supported by our users and contains affiliate links. We get paid when you purchase or sign up for anything through those links. Read the full disclaimer for more information.
Last Updated on May 5, 2023 by Daniella
Remote-first companies are a growing trend in the workplace. And for those of us who never want to step foot in an office again, they're our absolute favorite.
Remote work not only offers more flexibility and autonomy to employees, but it's also the best option for a company's budget. When a company doesn't have to pay for real estate, furnishing an office, paying utilities & insurance for the space and the employees, it saves a ton of money.
This is gaslighting at its finest.

Remote workers work better for the company's budget that anything else! https://t.co/YHHt8in15r

— Side Hustle Queen 👑 Daniella (@iliketodabble) July 29, 2022

In fact, they save so much money that Flexjobs estimated US employers were saving $30 billion every day during the coronavirus pandemic with remote work. Several of those same companies and employees have continued to work remotely as an option, became permanently remote, or were remote before and remain remote.
This is great news for people who want to work remotely. There are lots of opportunities available for remote workers, from applying to a remote-first company, surfing remote job boards, working remote side hustles, or forming your very own virtual business.
What are remote-first companies?
Remote-first companies are companies that hire employees who will work from home (or wherever else) rather than in an office or other space. Some remote-first companies have employees in different locations—for example, some employees may work from home while others work at an office—while others have all their staff working remotely.
"Remote-first" is an organizational strategy that designates working remotely the primary option for employees. Some remote-first companies are fully remote while others still offer physical offices as an option for employees that prefer hybrid work and some time in the office.
Remote-First Companies to Help You Pivot to Remote Work
Remote work is a must-have benefit for companies that value their employee's independence. They know people get more work done and are happier with their work life balance when they get the freedom to work from wherever they are.
Happier employees means their quality of work is better which makes a happier and better company, overall. It's a win-win.
They are also the best type of companies to look for jobs at during your remote job search.
Let's dive in to some remote-first companies that are constantly hiring for new talent and if you need more help with your pivot to remote work, use our free quiz to get started:
1. Zapier
Zapier's entire mission is about automation and they're actually ranked one of the best remote-first companies to work for. Their teams work asynchronously across 17 different time zones in dozens of countries.
Other benefits they offer in addition to being able to work from literally anywhere are unlimited PTO, 401k matching, stock options, paid parental leave, home office setup stipend, and a professional development allowance.
Browse open positions at Zapier.
2. Stripe
Stripe is a remote-first company that builds financial tools and economic infrastructure for the internet. It's actually what I use to run payment transactions as a business. Me and the majority of the internet at this point.
Stripe is a great company for remote internships and have a variety of open roles from accounting to engineering, communications, design, product, people & recruiting, and more. Some of the benefits they offer are health care coverage and employee learning.
Browse open positions at Stripe.
3. Hubspot
Hubspot is a remote-first company with employees spread out across 16 countries. They offer benefits such as RSUs (restricted stock units), bonuses, and over time pay for eligible positions. They also offer the salary ranges on each job listing on their own job board on their website.
Browse open positions at Hubspot.
4. FlexJobs
FlexJobs is a website that is 100% dedicated to helping people find and land fully remote jobs. They are also a remote-first company themselves.
Flexjobs is one of my favorite resources to find remote work. They have a premium service that in exchange for a monthly fee, you get access to their job board full of hand-scanned job listings that contain no scams and they provide career coaching and resume reviews for you to be there for you every step of the journey in your remote job search.
As a remote-first employer, they employ a ton of different roles to help them execute this service. Some of the benefits they offer to their employees are medical, dental, and vision coverage, skill development, and meditation and fitness expense reimbursements.
Browse open positions at Flexjobs.
5. Zoom
Zoom made quite an impact in a lot of our lives in the height of the pandemic where it was the sole way many folks were talking with coworkers, family, and friends.
Zoom prides themselves on their remote-first structure and have open roles in a variety of areas including marketing, sales, I.T., security, product, customer service, legal, finance, people experience, and more.
Some of the benefits Zoom offers are healthcare coverage, generous PTO, stock options, and more.
Browse open positions at Zoom.
6. IBM
IBM is a technology company that was one of the first companies to let their employee work remotely back in 1994-1995. Today, they are a still remote-first company that offers benefits like health coverage, a retirement plan, income protection, and more.
They also cater to both entry level and experienced professionals with their free learning portal, SkillsBuild, to help find their new potential remote employees. It's a great portal to use for anyone looking to pivot to entry level roles in tech.
7. Atlassian
Atlassian creates collaboration and remote work tools like Trello. They're remote-first company that tells you exactly how they run things virtually from the application, to the interview, to getting the job on their website.
Atlassian offers benefits like health insurance, 401k matches at 4% with 100% immediate vesting, paid time off, and parental leave.
Browse open positions at Atlassian.
8. Reddit
You might think since Reddit is a forum, what types of jobs could they possibly have, Well, they have a lot.
Reddit hires in a variety of roles like Community, Data, Design, Finance, I.T., marketing, sales, and more. They offer benefits like unlimited PTO, health benefits, home office benefits, paid volunteer time off, and more.
Browse open positions at Reddit.
9. Skillshare
Skillshare is a company that offers online learning in both personal development and professional development courses. Since they are a 100% e-learning platform, it only makes sense that they are also a remote-first company.
Skillshare offers benefits like health, dental, and vision coverage, stock options, 401k, unlimited time off with a required minimum, and more.
Browse open positions at Skillshare.
10. Weedmaps
Weedmaps is an LGBTQIA+ friendly and remote-first company who's mission is to break down geographical barriers for those seeking careers in the technology and cannabiz space.
They pay 100% of their employee's health insurance premiums. That is an almost unheard of health coverage benefit. They also offer 3 weeks of PTO, 401k matching, paid parental leave, and they reimburse you for your home office setup.
Browse open positions at Weedmaps.
11. Aha!
Aha! is an online product development software company. They've been a remote-first company from day 1 of forming and are entirely remote. They offer benefits to their employees like paid time off, retirement savings options, health benefits, parental leave, and more.
Browse open positions at Aha!.
12. GoDaddy
GoDaddy is a remote-first company that is spread across 169 jobs in 34 locations. They embrace salary transparency on their job listings and offer benefits like paid time off, 401, equity grants, and parental leave.
Browse open positions at GoDaddy.
13. Vista
Vista helps small businesses with design and marketing solutions and is a huge online service for that industry. Along with their virtual friendly services, they are also a remote-first company that offers benefits like
Browse open positions at Vista.
14. Quora
Quora has been a remote-first company since June 2020 and prides themselves on the fact that their teams can work from remotely anywhere in the world. They offer benefits like health insurance, parental leave, PTO, and more.
Browse open positions at Quora.
15. Coursera
Coursera's mission is to transform people's lives through learning. They do this remotely so naturally they thrive as a remote-first company.
Coursera offers benefits like free degrees, health and wellness benefits, parental leave, paid time off, and more. A great way to get a leg in with this company is take courses and programs on their website for the role you're applying for if they listing requires more education or experience. Some of their courses are free and plenty in the career development area that don't take long to complete. It will make you stand out as someone that uses their service.
Browse open positions at Coursera.
16. Muck Rack
Muck Rack is a software that manages media relationships and a place where many remote freelancers post their portfolios for free.
They offer benefits like health insurance, home office setup, 401k matching, paid time off, parental leave, and more. They have a variety of open roles in customer success, marketing, people, product, technology, and more.
Browse open Muck Rack positions.
17. Calm
Calm is a mental health app with an amazing company behind it. Calm believes that we live in an age of unprecedented anxiety and that the world is on the cusp of a mental health revolution. Their mission is to make the work happier and healthier.
They talk the talk and walk the walk as a remote-first company knowing that having remote work as an option for their employees is extremely important for their mental health.
18. Gitlab
GitLab is an open core software company with a DevOps Platform used by hundreds of thousands of organization across the globe. A big part of their culture is remote work.
GitLab has an asynchronous style of working that allows for greater flexibility and productivity. They also provide full flexibility for where you want to live as long as they have an entity in that location.
19. Pinterest
Pinterest is a social media sharing and shopping platform that became a remote-first company back in 2020. They even paid a $89.5 million fee to cancel its new lease for their San Francisco office at the time.
They are still a remote-first company today and usually hire throughout the year. Some of the benefits they offer include health benefits, paid time off for holidays and vacations, employer sponsored retirement plan, and more.
Browse open roles at Pinterest.
20. Toptal
Toptal connects freelancers from all over the world to companies for contract work. They are one of the top exclusive freelancer platforms out there and are also a remote-first company. They eat, sleep, and breath a flexible and globally connected culture.
Toptal offers benefits like flexible time off, learning and development opportunities, health care coverage, and more.
Browse open remote jobs at Toptal.
100+ Remote-First Companies
Download the full list of 100+ remote-first companies and go to each of their careers pages via google by typing in the name of the company and the word "careers page" or "jobs hiring". Be sure to go directly to the company's website to apply and not through a job search board.
Open your mind during your remote job search. What I mean by this is to focus on your zone of genius and not the sector you work in.
For instance, you might work in finance even though your actual work isn't finance based such as maybe working in customer service, scheduling, sales, data entry, or analysis. Open your mind to all of the different sectors you could possibly apply to and work in doing the type of work you do or how you could pivot your skills to a slightly different job position and sector that may be more remote-friendly than where you currently are at.
I say this because you might see a lot of these companies as "tech companies" and you may not have any experience in tech. That doesn't matter. Just because the company is a tech or software company doesn't mean that the work is tech related work.
There are tons of positions open at a majority of these companies that aren't tech heavy positions, such as:
Business development
Community
Content strategy
Data
Design
Finance
Legal
Marketing
People & culture
Product
Sales
I.T.
Bottom Line
If you're interested in working for one of these companies, it's important that you research them thoroughly before applying or interviewing so that you know what they're like as an employer and if they're a good fit for you personally!
If you need some guidance pivoting to remote work, start with our free remote work quiz:
More ways to pivot to remote work:
Pin it for later!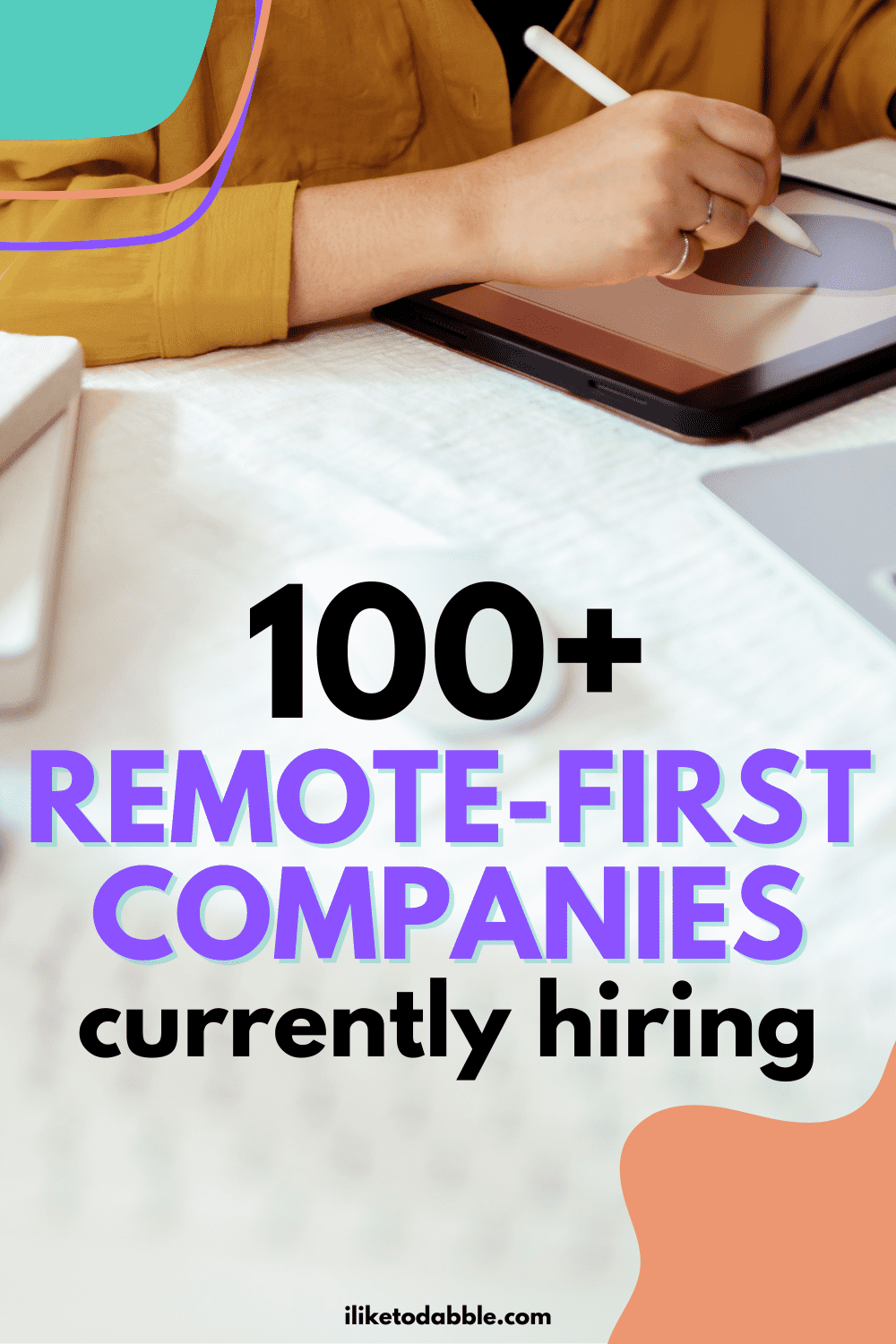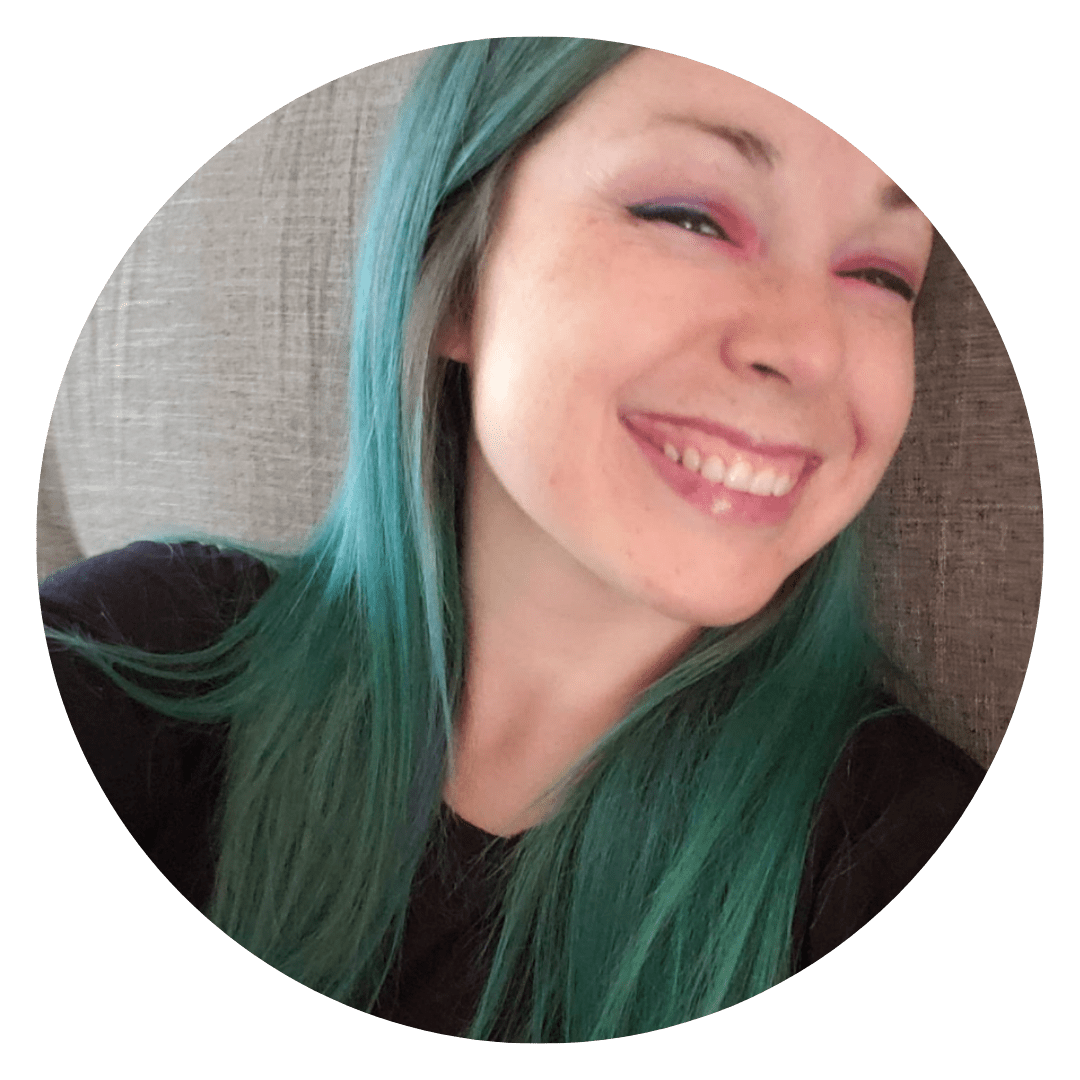 Daniella is the creator and author of iliketodabble.com. When their wife Alexandra and them aren't globetrotting or playing with their 7+ animals, they are dabbling and working towards a future of financial freedom.