Our website is supported by our users and contains affiliate links. We get paid when you purchase or sign up for anything through those links. Read the full disclaimer for more information.
Last Updated on December 3, 2020 by Yovana
With the recent popularity of shows like Tidying Up With Marie Kondo, the spotlight has been on professional organizers more than ever and you may be wondering if this would be a good career path for you.
What kind of personality does professional organizing require? What are the necessary skill sets? Do you need professional training?
We're talking all about how to become a professional organizer, what steps to take, and whether or not this may be a good career choice for you next.
What is a Professional Organizer?
Let's start with the basics: What exactly is a professional organizer?
A pro organizer is a person who works intimately with clients to design systems and processes that help them to not only get organized but to improve their overall quality of life.
Many pro organizers see themselves as much more than just an organizer. They're teachers, mentors, friends, and sometimes, a shoulder to cry on. A good professional organizer is someone who's invested in helping to transform lives, from the inside out.
Do I Have the Right Personality and Skill Sets to be A Professional Organizer?
To be an organizing professional, you have to love organizing and be good at it — that's a given. But there's more to the job than just having the ability to straighten, tidy, label, and create a home for everything.
Professional organizers have a passion for helping others and a real thirst for transformation. Your clients will often come to you in a vulnerable, worn-down state and they're seeking your expert knowledge and compassionate disposition as a way to get back on track in life and start living a more fulfilled, purposeful existence.
The relationship you have with your clients will be very intimate; they're opening up their home or office to you, after all. It's vital that your clients trust not only your skills but also your personality to help them make the physical and emotional changes required to start living life to the fullest.
While no one pro organizer is the same as another (nor should they be!), there are certain personality traits and skill sets that will help to ensure you have what it takes to do the job successfully.
Some of these include:
A passion for organization (again, no-brainer here)
A compassionate disposition
A genuine love for people and a desire to form intimate connections
Impeccable problem-solving skills
Great time-management skills
Decide On Your Area of Expertise
One of the biggest problems facing professional organizers, and what may stop your search for how to become a professional organizer dead in its tracks is the fact that it can be hard to:
Differentiate yourself from other organizers.
Explain what exactly you do to your potential clients.
So, how do you solve those issues? You choose an area of expertise.
There are all different kinds of people out there that seek the professional help of an organizer. You can set your organizing business up for the best shot at success by critically thinking about the various categories of people who are seeking your services and then choosing the one that most resonates with you or that you feel the most passionate about.
By choosing a specific area of expertise, you can market yourself in a way that differentiates you from other organizers. Here are a few of the most common areas of expertise:
Kitchen and Home
The kitchen is one of the most common areas that clients are seeking professional help with. For most people, the kitchen is the heart of the home — and also the heart of the disorder. But home organizers can help find structured solutions for all areas of the home including bathrooms, pantries, garages, playrooms, and more.
Office
Another problem area for many people is their office, whether that be in their home or outside of their home. A cluttered, disorganized office leads to stress, anxiety, and unproductivity. This kind of organizing is usually less about labels and storage bins and more about filing, digital organization, and paper management.
Chronic Disorganization
Chronic disorganization or hoarding is used to refer to human behaviors that cause them to hang on to excess clutter. Those who deal with chronic disorganization problems often have mental disorders or have experienced severe traumas that are causing them to live in a cluttered and often unsafe environment. This type of professional organizing is not for beginners and should be handled by those who have a background in psychology.
By having a specific area of expertise, you can nail down who your target client is and get really specific in your marketing and messaging to attract that client. This will also help you stand apart from all the other organizers who take a more generic approach to their targeting and service offers.
Becoming a Certified Professional Organizer
To be clear, you don't have to be certified in order to call yourself a professional organizer. However, obtaining your certification will give you the credentials you may need to separate yourself from the rest of the pack, gain legitimacy, and get dedicated training and experience that will make you a better organizer.
Certified Professional Organizers (CPOs) are required to adhere to a set of standards set forth by the BCPO (Board of Certification for Professional Organizers). In order to get your CPO designation, you'll be required to follow a detailed course of education, log a designated amount of client hours, and then pass the CPO exam.
Here's what you'll need to do:
Complete 1500 hours of documented, paid organizing work within 3 years (average of 9.6 hours per week).
Apply to and pass the CPO certification exam.
Maintain your certification (pay an annual maintenance fee, apply for recertification every 3 years, and either take 45 hours of continuing education or re-take the CPO exam).
There are also tons of free resources available for professional organizers, conferences, and seminars to attend, and professional organizing coaches who can walk you through building and running a successful organizing business.
Get to Work Marketing Your Business
Once you have your certification, tons of hours of experience (at least 1,500!), and a portfolio built, you should be ready to take your business to the next level and start attracting clients and filling your calendar. Here's are some tips for finding your first clients:
Build a website and brand
Start marketing your business anywhere you can — online and offline
Get active and stay active on social media
Create free content for your website, social media channels, and anywhere else you can get your business in front of potential clients
Consider targeting your ideal client through Facebook, Instagram, and Google Ads
Final Thoughts
Whether you're interested in making professional organizing your full-time business or a side hustle, your ability to succeed in this field depends largely on your ability to not only organize but to connect with others.
As a pro organizer, you'll form intimate relationships with your clients and you'll play a major role in transforming their lives for the better, giving them more time and energy to spend with their loved ones and doing the activities that bring them the most joy.
As with any profession, it's important that you always keep learning and staying on top of industry trends so that you can remain relevant and best serve your clients.
If you have a passion for organization and you're looking for a career that has the ability to truly make a difference in someone's life, starting your own professional organizer business may be a great choice for you.
What questions do you have about becoming a professional organizer? Let us know in the comments below!
Related:
Pin it for later!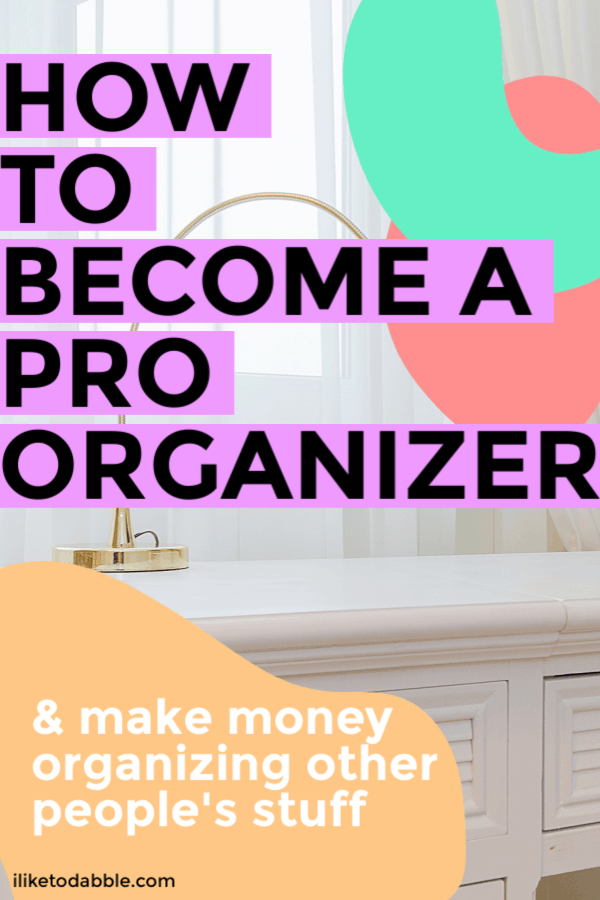 Jen Obermeier is the entrepreneur behind Pro Organizer Studio. She has helped thousands of students around the world grow their own successful professional organizing businesses by coaching them through her unique Inspired Organizer ® program.