Our website is supported by our users and contains affiliate links. We get paid when you purchase or sign up for anything through those links. Read the full disclaimer for more information.
Last Updated on March 21, 2022 by Daniella
I've been hearing more and more about people becoming a mobile notary public as a side hustle. I did some research and I'm going to share everything you want to know about a notary side hustle.
I had some of my own questions like "how much does a mobile notary make?" or about what requirements are needed, if a specialized degree or certificate is required, etc. I started with those questions that led me down into a rabbit hole of different ways to make money as a notary and how someone can use a side hustle like this to start building multiple income streams.
What this article will cover:
What is a notary
Mobile notary vs. notary
Requirements for becoming a mobile notary
How much mobile notaries make
The pros and cons of a mobile notary
Let's get into it.
Notary Side Hustle: What is a notary?
A notary public is like a professional impartial witness appointed by the state government. Notaries are used to witness the signing of documents that require a witness to verify the identity of a signer.
For example, some government documents, like getting a birth certificate or DMV paperwork, require a notary public stamp.
That means you need to sign those documents in the presence of a notary public who will verify your identity, usually with a government-issued form of identification like your state I.D. or drivers license.
Then, they'll witness you sign the forms and stamp their Notary seal stamp on the documents to show proof that you had it notarized.
Becoming a notary is a job that requires a process you need to go through to be commissioned by the state, along with supplies, and other requirements. More on this below.
Mobile notary vs. notary?
A mobile notary is a Notary public that travels.
This job is very high in demand especially with the global pandemic that the world is facing. Many people are weary of visiting public places especially highly trafficked places like the office of a Notary public which may be in a postal center, business center, or other high traffic location.
A mobile notary will travel to the person, visiting them in their home or public places like the parking lot of a Starbucks, etc.
They come to the person who needs the notary stamp and verifies them/witnesses their signing.
That's the difference between a mobile notary and a notary.
How much does a mobile notary make?
How much you make as a mobile notary varies based on several factors including your experience, location and other considerations.
The average mobile notary public in Texas earns around $39,500 annually but some notaries can make up to six figures per year.
So you can see that earning a full-time income as a mobile notary is definitely within reach.
After conducting a Google search in my area (Texas) for mobile notaries, I see most of them charge a flat fee for services.
The prices seem quite reasonable, at around $6.00 per signature and $1.00 for each additional individual signature according to this notary company, so getting this service won't be incredibly expensive for consumers.
Keep in mind though, this is just one of the charges and there are varying prices and signing packages that might apply and come with a different price tag.
You might wonder how someone can make a living charging just $6.00 but consider the type of documents a notary is witnessing which can include multi-page government documents, loan documents, legal documents, adoption forms, etc.
For example, a mobile notary who visits your home to sign home loan closing documents might make $75 from that visit. It probably took them an hour including travel time for that appointment. That's essentially $75/hour!
Then if you consider a mobile notary who does 3-4 of those appointments per day most days out of the week. That's a $300 day!
According to this CNBC article, some notaries make up to $2,400 a month as a side hustle.
Not bad, right?
What are examples of documents that a notary might need to be present for?
There are many documents that a notary is required for including:
Loan documents, loan closings and escrow closings
Real estate and property ownership/transfer documents
Deeds
Name changes
Business documents
Financial documents
Personal statements
Affidavits
Adoption papers
Wills
Power of attorney
Lien release
Bill of sale
Medical records
And, a lot more!
There are literally dozens of different types of documents that require a notary. It's plenty of work to keep a Notary public busy and supply them a full-time income notarizing documents throughout the week.
What are the requirements for becoming a mobile notary?
The requirements vary from state to state so make sure to research what's needed from your state in order to become a commissioned notary public.
For Texas you need to:
Get a $10,000 surety bond
Complete the application
Pay the state filing fee ($21)
Get your commission certificate and take your oath of office
Buy supplies (notary seal, journal and fee schedule
Get E&O insurance
To read the specific notary requirements per each state, The American Society of Notaries' website has this information.
How long does it take to get the notary commission?
In Texas it takes up to 2 to 4 weeks and it lasts for four years.
Can anybody become a mobile notary?
No, everyone is not eligible to become a notary.
Here are requirements for Texas:
Must be at least 18 years old
Be a resident of the state of Texas
Not be convicted of a felony
Not be convicted of a crime that involves moral turpitude
For existing escrow agents, the state residency requirement is waived.
Are mobile notary classes/training required?
It will depend on your state if notary classes or training is required. Some states may not require a class, but will have other requirements to meet.
I spoke with Mackenzie of Life@23k about being a notary and the requirements she had to meet –
"I had to take a class through my states Secretary of State website first. That was $45 and once I passed, I had to file with the state for another $35. Then I had to go in-person to a county office to file, pay the registration fee to the state, give proof of insurance and bond (prices vary), and take a notary oath. That part was 2 weeks. Then I had to order my stamp and book. Another $70 and 2 weeks wait. So overall, a month-long process and around $150-$200.
In Nevada, you don't need to register to be mobile notary. You can do that automatically once you become a notary. What you can charge is set by the state, and most services are going to be less than $20. Where you make money is traveling (especially after hours but those prices are also set by the state) and with additional training, like becoming a signing agent or e-notary. Those also have additional state registration and class fees. Some services, like e-notaries, also have to pay for background checks, registration fees to the site you're signing up with, and possibly membership to the NNA, National Notary Association. That can be a few hundred dollars."
What kind of supplies will I need as a notary?
You will need:
An official Notary seal (this is a requirement for working as a notary)
A journal
How do I get the official Notary seal?
You will be responsible for getting your Notary seal and ensuring that it adheres to the requirements.
These are the requirements for the state of Texas:
Ink stamp or embosser
The notary public seal name must match the name on the application
Your notary ID number
The seal should show the words "Notary Public, State of Texas" clearly
A star of five points
Commission expiration date
Read all the requirements here (for Texas) and work with a vendor in your area who can create your Notary seal.
What's required for the journal?
A journal is used to record each signer you offer notary services for. It should be used by only you (no sharing) and it should be tamper-resistant and must stay in your possession.
Every state does not require a journal. Some of the states where a notary journal is required include Texas, Mississippi, Arizona, California, Hawaii, Louisiana, Maryland, and others.
The laws vary from state to state for journal requirements. Refer to your state to learn about what's required for your journal.
Pros and cons of becoming a mobile notary
Like any side hustle, there are benefits and drawbacks. These are some pros and cons to consider about becoming a mobile notary:
Pros of a mobile notary job
Work on the go
You won't be bored
Flexible schedule
Run your own mobile notary business
Cons of a mobile notary job
You'll be running your own business which can be a double-edged sword. Making the rules and being the boss is great. You won't have to answer to a manager and you can pick your dream schedule and work the hours that align best with your life.
But, if you aren't organized and you don't run your business well, your company can suffer and so can your income.
Then, there's travel, which is a requirement of being a mobile notary. Likely your travel will be limited to the surrounding area where you live which may extend to a few cities surrounding your home base.
A travel-based job is rarely boring, which is nice. You'll be on the go spending a lot of time in your car, working independently, and you can relax driving from destination to destination listening to your favorite radio show or podcast.
But, travel is exhausting and with constantly driving for work, this will put more wear and tear on your vehicle, which can lead to higher vehicle maintenance costs.
Then lastly, the pay.
You can make a lot as a mobile notary but like any business, your income is not guaranteed so you won't get the income stability that exists in a W2 job and you may not get the financial peace of mind with your earnings ever, if at all, until maybe you're more experienced in your field.
A lot to consider definitely.
What's the final verdict?
Final Thoughts on Working a Notary Side Hustle
Is becoming a mobile notary a viable side hustle to pursue?
Yes!
I think working as a mobile notary public is a great side hustle to take up, if that's something that interests you and works out for your personality. It's one of the few side gigs that can turn into a full-time income and this can happen fairly quickly depending on how many appointments you take, or you can work it into a side hustle stack.
If you want a side hustle that you can start quickly with high income potential and you don't mind the travel, look at a notary side hustle.
Would you do this? What do you think?
Related:
Pin it for later!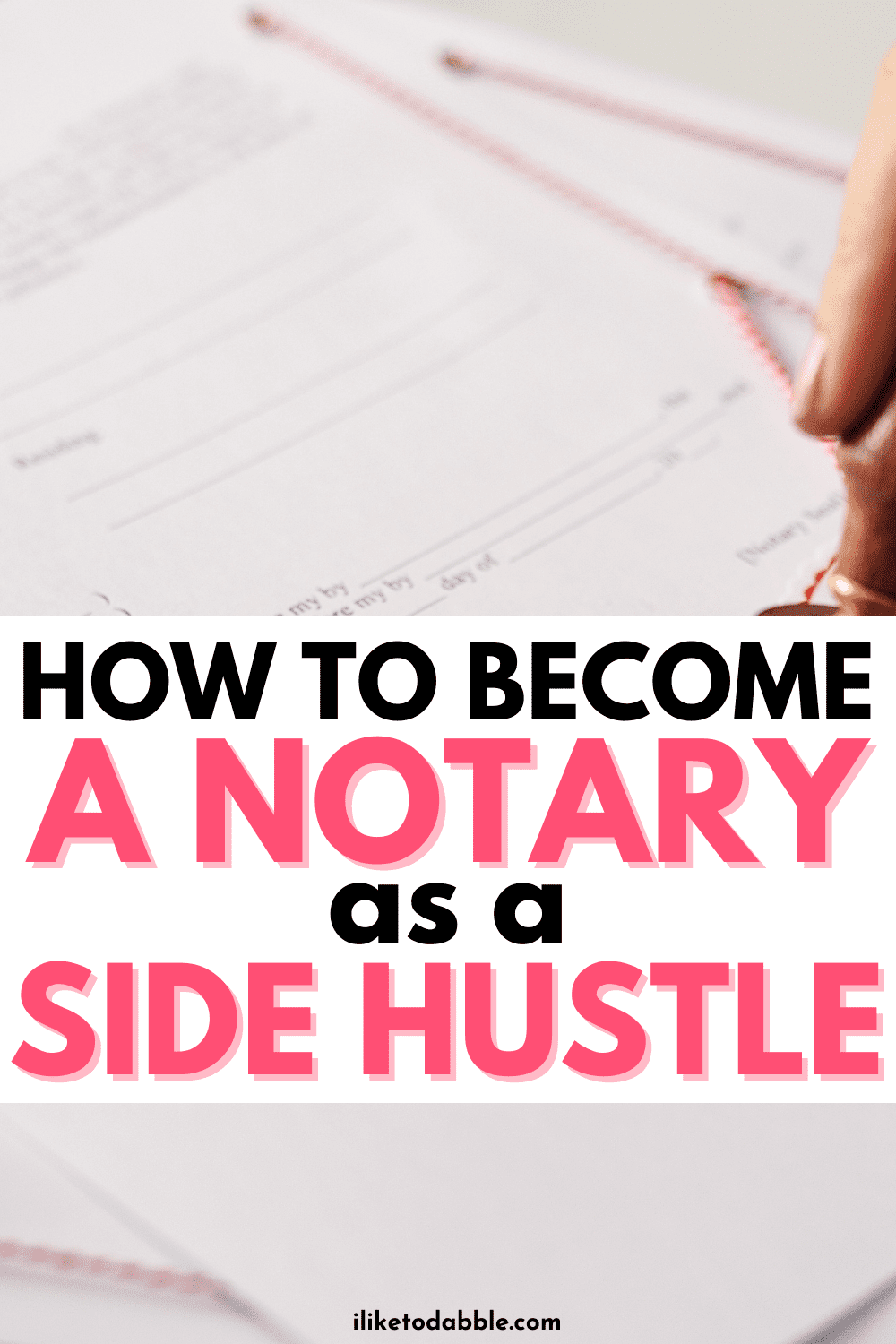 My favorite side hustle tools that make my life 100% easier:
Bluehost: Host your website, blog, or other project using Bluehost and get a special discount only for ILTD readers 😍
Canva: Canva is what we use to create all of the beautiful graphics you see on our blog, social media, marketing, and our free and paid products. This is a MUST HAVE tool for any online side hustler.
Convertkit: Convertkit is what I use to host my email list and all communication between ILTD and our subscribers. I've used the service now for almost 5 years and continue to love it!
Side Hustle Income Tracker: Get the same side hustle income tracker I use when I first started side hustling with formulas for calculating profit, taxes, and more.
Quickbooks: What I use for keeping track of my business finances all in one place, invoice clients, and more.
Jenn Leach is a writer, instructor, entrepreneur, and founder of
Millennial Nextdoor
where she teaches millennials life hacks for easy millennial living like being money smart, investing in yourself, and automating your life. When she is not working, you can catch her binge-watching baking reality TV shows or listening to her favorite podcasts about business, money, and life.