Our website is supported by our users and contains affiliate links. We get paid when you purchase or sign up for anything through those links. Read the full disclaimer for more information.
Last Updated on November 30, 2020 by Yovana
Yurts. They have been partially responsible for the "Glamping" trend that has been sweeping across Airbnb.
And we are obsessed with them!
Last summer my wife and I found a yurt for rent on Airbnb in Applegate Valley, Oregon. It would have been a perfect stop on our Pacific Northwest road trip before we hit the Redwood Highway and drive into and down California.
I had always wanted to stay in a yurt and it was a bargain too. So we booked it!
It was one of the best stays we had on Airbnb and was a truly enchanting experience.
If you haven't yet singed up for Airbnb, go ahead and do so here to get $55 off your next trip. That's $40 towards your first stay and $15 towards Airbnb Experiences.
We have luckily never had a poor experience using Airbnb. I have heard and read all the horror stories online about finding hidden cameras or mold in rooms. What I have to say to that is those stories aren't common and there are ways you can make sure it doesn't happen to you.
Some precautions we take are avoiding new listings with few reviews and few photos. We also mostly tend to book with Superhosts. The Superhost badge isn't easy to get and are a sure sign that your stay will be worth it.
Additional tips: Always read as many of the reviews you can on the listing before you book. Read through the listing as thoroughly as possible and communicate with the host to set expectations.
Let's get back to the good stuff – enchantingly darling yurts! These are my favorites I have come across on Airbnb so far. Some we have had the pleasure of staying in and some we hope to stay in.
Pin it for later!
This yurt was the first yurt we ever stayed in. After our flight landed in Medford, Oregon in the early afternoon and we were already wiped out, this was the perfect oasis at the top of the Applegate valley to find refuge in.
Our hosts were more than we could ask for and brought us fresh fruit and some of my favorite snacks: Larabars! They were a delight and welcomed with open arms into their home.
The yurt had both heat and air available along with plenty of games and books for entertainment.
As we stepped out the front of the yurt we could see horses feeding and around the bend on my run I caught a couple of cute cows. I loved the area the yurt was in and was also close to everything in town.
I give this yurt a 10 out of 10 and we will 100% be back!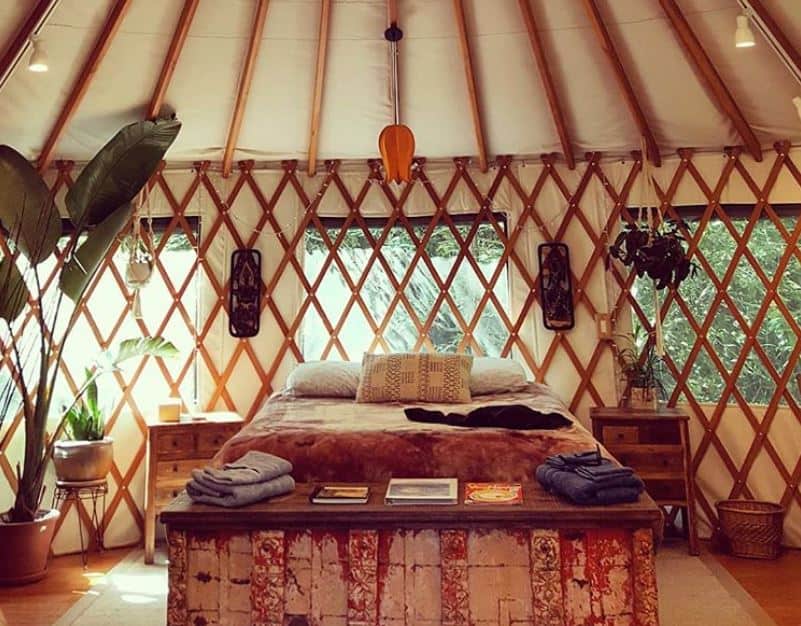 Don't tell my favorite yurt couple from Applegate valley this but, this yurt was one of the coolest places we have ever stayed.
This mountain top yurt in the redwoods is located southeast of San Jose. It is in the middle of the forest on Mt. Madonna and walking distance to Mount Madonna Retreat Center. There is also a Buddhist mediation center nearby and you can hear their chanting and bells in the distance.
The shower and bathroom were outside but absolutely perfect. We had a heater in the yurt which we actually ended up using.
I also applaud the snacks. In my opinion, every Airbnb is not complete without snacks. I always look to see if an Airbnb has snacks in the reviews or the listing before booking.
This one gets a 10 out of 10 as well and can't wait to maybe come back in the near future!
If you want a yurt that is also a tree house, this yurt is wild. It has glass walls and a two-story deck allow maximum enjoyment of the surrounding trees and mountains.
Located in Augusta, Virginia perched on the side of a mountain, this yurt will make you feel as if you are floating in the forest. Nearby cities include Staunton, Charlottesville and D.C..
Amenities include wifi, Netflix, a washer and dryer, a full kitchen and a grilling area. If we are ever in the area near Augusta, we are definitely going to come up with a reason to check out this unique Yurt!
Related posts: 10 Unknown Airbnb Hacks You Have to Try
31 Ways to Save Money on Travel
Sign up to get your free travel budget planner!
Enter your email and we will send it straight to your inbox!
The Zion Backcountry Yurt in Utah is the perfect enchanting getaway, especially for hikers. It is located 45 minutes from the East entrance of Zion National Park and placed upon a serene, backcountry setting, overlooking the trail.
Even though it is closed during the winter, it is open between May through the 1st of October.
Whenever you do plan on going though, it is definitely worth the trip. You can fit up to 11 people in the 572 square foot yurt. There are 7 beds and a hammock outside.
Relax on the deck or get in a game of horseshoe. Amenities include the essentials, hot water, an indoor fireplace and free parking.
With us being hikers, this yurt definitely calls to us. I can't wait for the day where we hike Zion and get the opportunity to check this place out!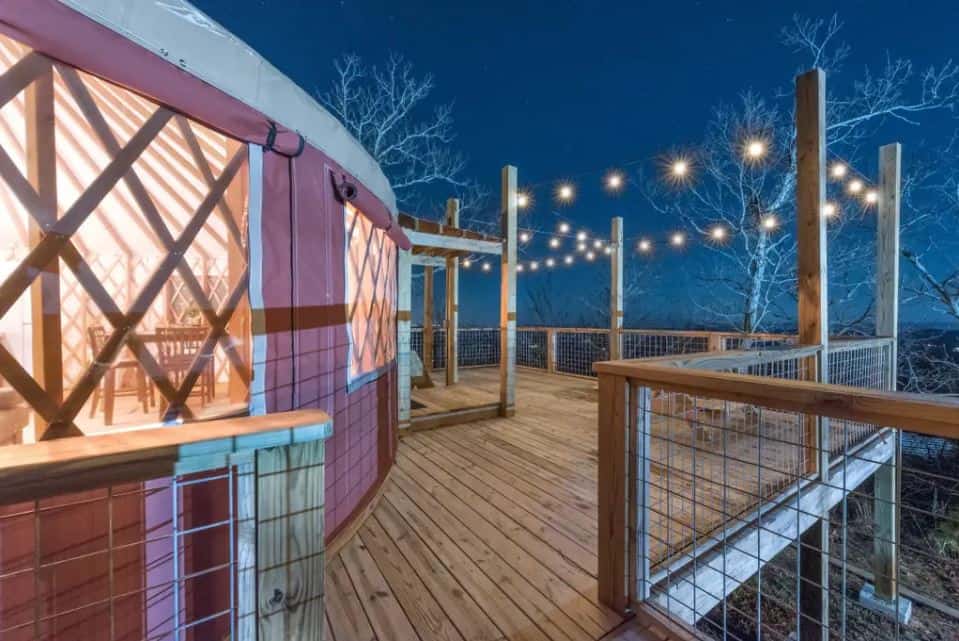 When I was browsing yurts on Airbnb that I would like us to visit during future adventures, this one stood out to me for a number of reasons. First, the view is absolutely killer!
It is gorgeous, spacious and the ultimate mountain retreat nestled on top of the Chattanooga Valley. Not only can you find a full kitchen in the yurt but there is also a full bath with a shower, a bedroom with a king sized bed and a living area with WiFi included.
The over sized deck created the optimal setting for stargazing and outdoor dining.
If you fly into Chattanooga airport, it is a 30 minute drive. Outdoor activities include Cloudland Canyon 4 miles away and Lookout Mountain Hang Gliding 10 miles away.
This urban yurt is neatly placed in a .36 acre garden oasis in Boise, Idaho. Characteristics of the space include wood floors, electricity, venting skylight, and a gas heat stove.
There is a delicious garden bistro only a short 3 minute walk from the property and a 5 minute walk to the Buena Vista foothills trailhead.
The yurt holds up to 4 people and amenities include an indoor and outdoor fireplace, laptop friendly work space, WiFi, coffee maker and more.
But wait, you haven't heard the best thing about this absolutely adorable getaway – it is only $59 a night!
Related posts: 12+ Ways to Travel for Free
Cheap Travel Destinations to Visit in 2019
Expedia Travel Hacks To Save More Money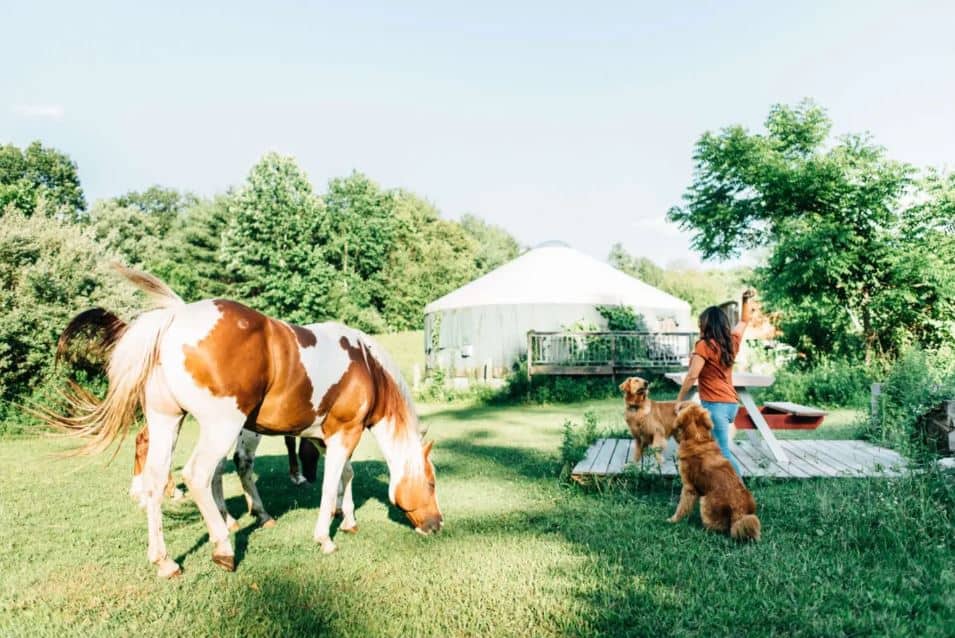 If you love horses, I have a surprise for you! This yurt is located on a 27 acre horse farm!
And it also includes a hot tub.
This lovely yurt in Accord, NY is 700+ square feet with a skylight, 1 bedroom and loft, full kitchen and bath. Additional amenities and features include air conditioning, a propane fireplace and wood fired pizza oven.
When you are staying there you will be have the delight of being located in a private area behind a hill in a horse field. Horses are not the only animals that frequent the property though. During your visit you will also see chickens, goat, pigs, puppies, and kittens galore.
This is the only listing featured on this list that qualifies as Airbnb Plus. Airbnb Plus is when a listing reaches a specific set of requirements such as thoughtfully designed areas, a consistent average rating of over 4.8 over the past year, and a couple of other requirements that you can read here.
They are the higher quality side of Airbnb without any added cost. This listing is only $99 a night.
This unique glamping yurt in it's own little slice of urban oasis within Seattle is quite the interesting listing. Yep, that is a sauna that you see in that picture. In addition to the sauna and self check-in, the amount of amenities are endless in this hidden gem.
This eclectic property is within steps from many local shops and dining along with a historical theater. Browse the Airbnb Experiences section on the app near your stay and see what other fun things you can do during your stay.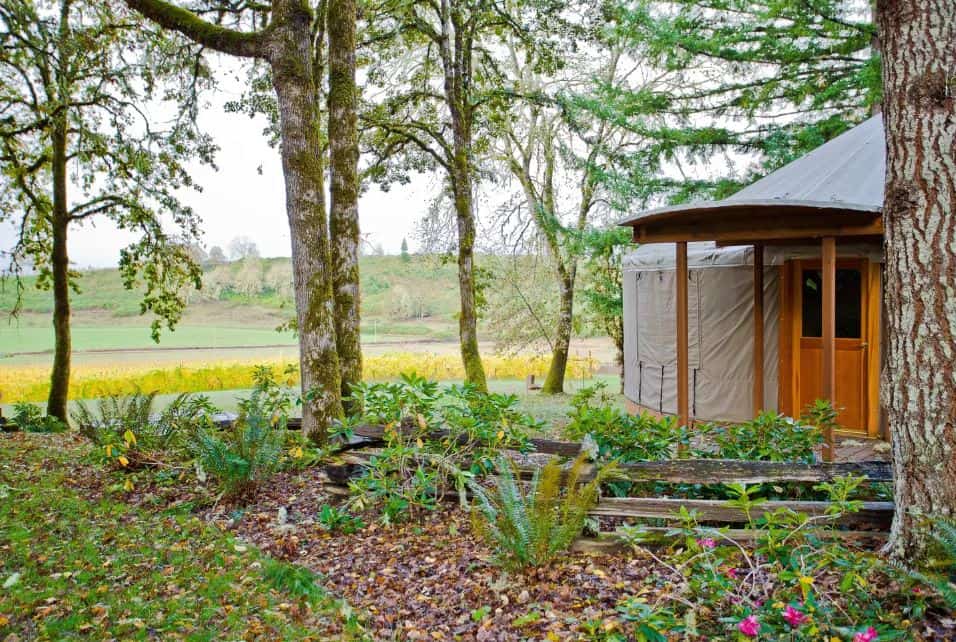 If wine is your thing, checking out a yurt on a historic Oregon vineyard might be your kind of trip. It is meant as a place to come, unplug and take in the nature (and wine) around you.
A turntable with a vinyl collection is as tech-savvy as this listing gets. The urt sleeps 4 but you can call to arrange larger parties.
Guests have access to the entire property, and Tasting Room during open hours or by appointment.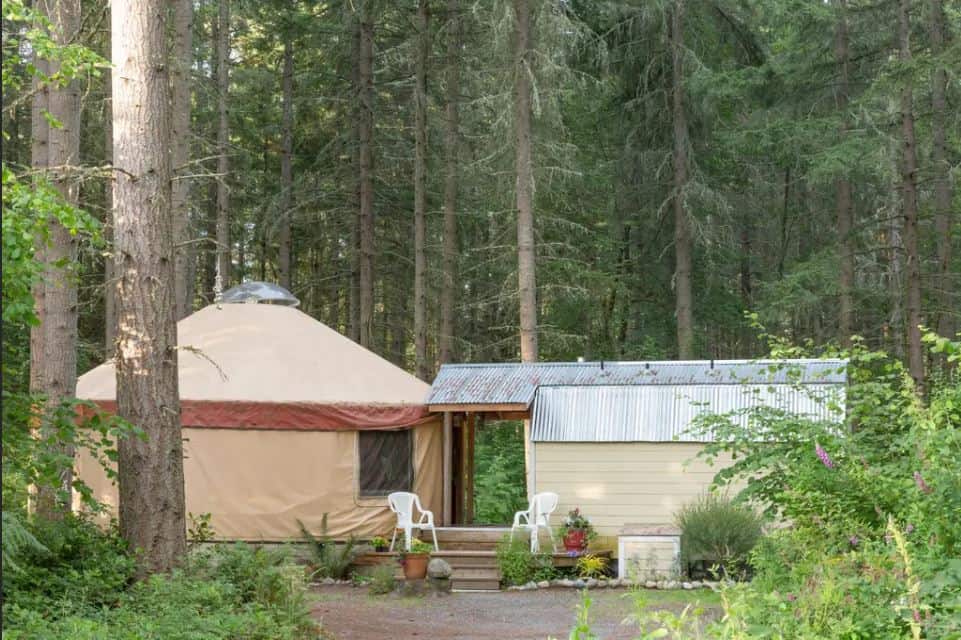 The Paisley Paradise Yurt is located about an hour drive from the Seattle/Tacoma airport and 37 minutes from Mt. Rainer. The 24 foot tall yurt is on 20 acres of pure forest for the ultimate retreat.
The coolest element about this listing is the custom tile work in the bathroom. It is absolutely beautiful.
Other amenities and characteristics include WiFi, bed warmer, and a wood stove. The hosts have a Superhost badge and built everything themselves. I can't wait for us to visit this breathtaking property.
Have you ever stayed in a yurt before? What was your favorite thing about your experience and would you do it again? What other interesting properties have you stayed in? We would love to hear from you in the comments!
More Ways to Make Your Trip Memorable:
Airbnb is one of our favorite travel apps for finding unique accommodations such as yurts. But there are a couple of other travel apps that I never go on a trip without.
Related posts: 5 Ways to Travel Hack Without Trashing Your Credit
How To Take An Unrealistic Road Trip On A Realistic Budget
How One Couple Ditched The 9 To 5 For Van Life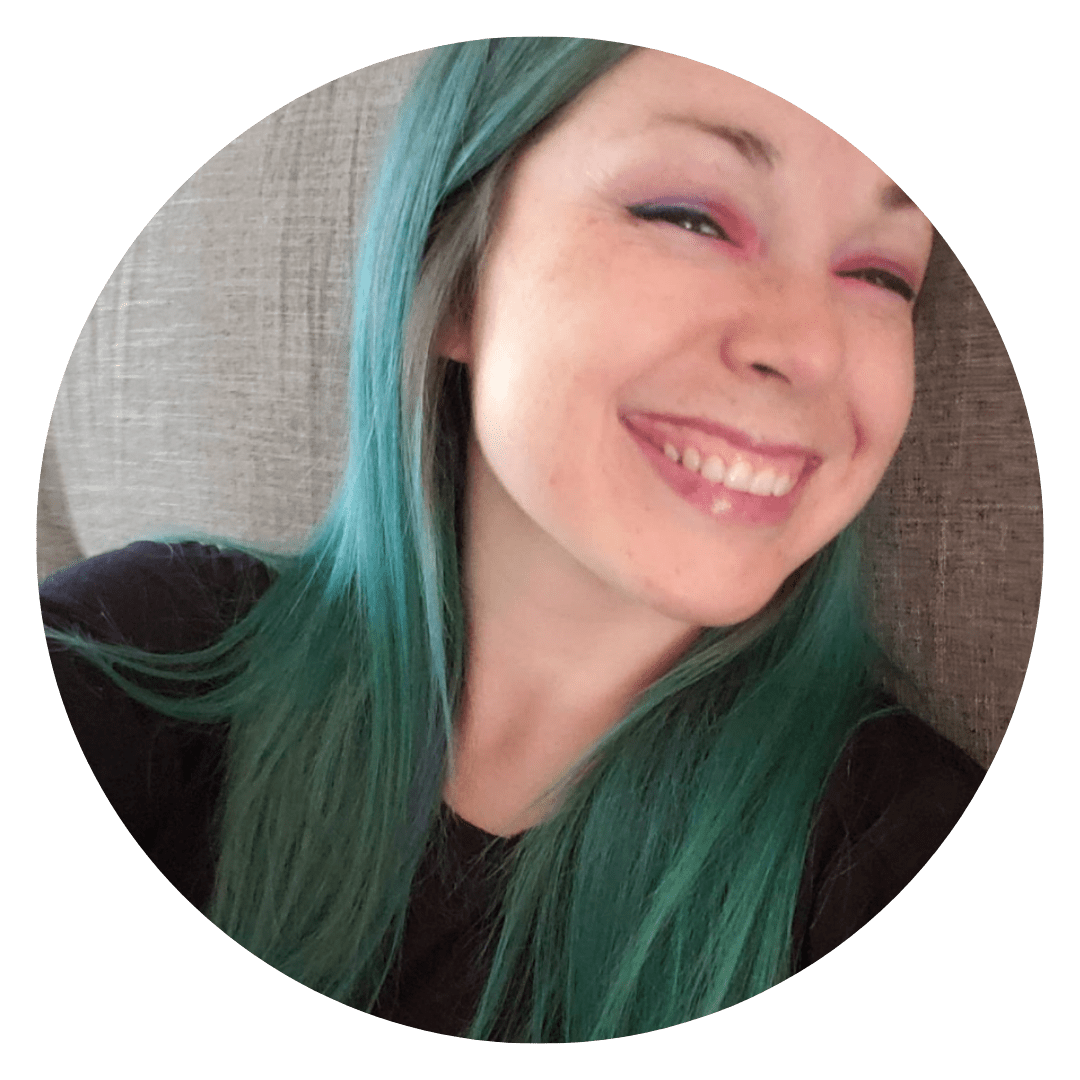 Daniella is the creator and author of iliketodabble.com. When their wife Alexandra and them aren't globetrotting or playing with their 7+ animals, they are dabbling and working towards a future of financial freedom.