Our website is supported by our users and contains affiliate links. We get paid when you purchase or sign up for anything through those links. Read the full disclaimer for more information.
Last Updated on December 2, 2022 by Daniella
Have you ever done a money saving challenge before?
I love doing money saving challenges myself when I am looking to beef up my emergency fund. Money saving challenges are also great for saving towards paying off debt or an upcoming goal like a trip. In the finance world, these funds for saving goals are also called sinking funds.
Regardless of what you're saving up for currently, a money saving challenge can help you get there. They're especially great for folks with ADHD or low motivation to save because it makes saving fun with gamifying the way you're saving.
Automation is always king when saving money but when you can't afford to automate your savings every month or week, a challenge definitely can come in handy to help push you to save in any way you can.
Pin it for later!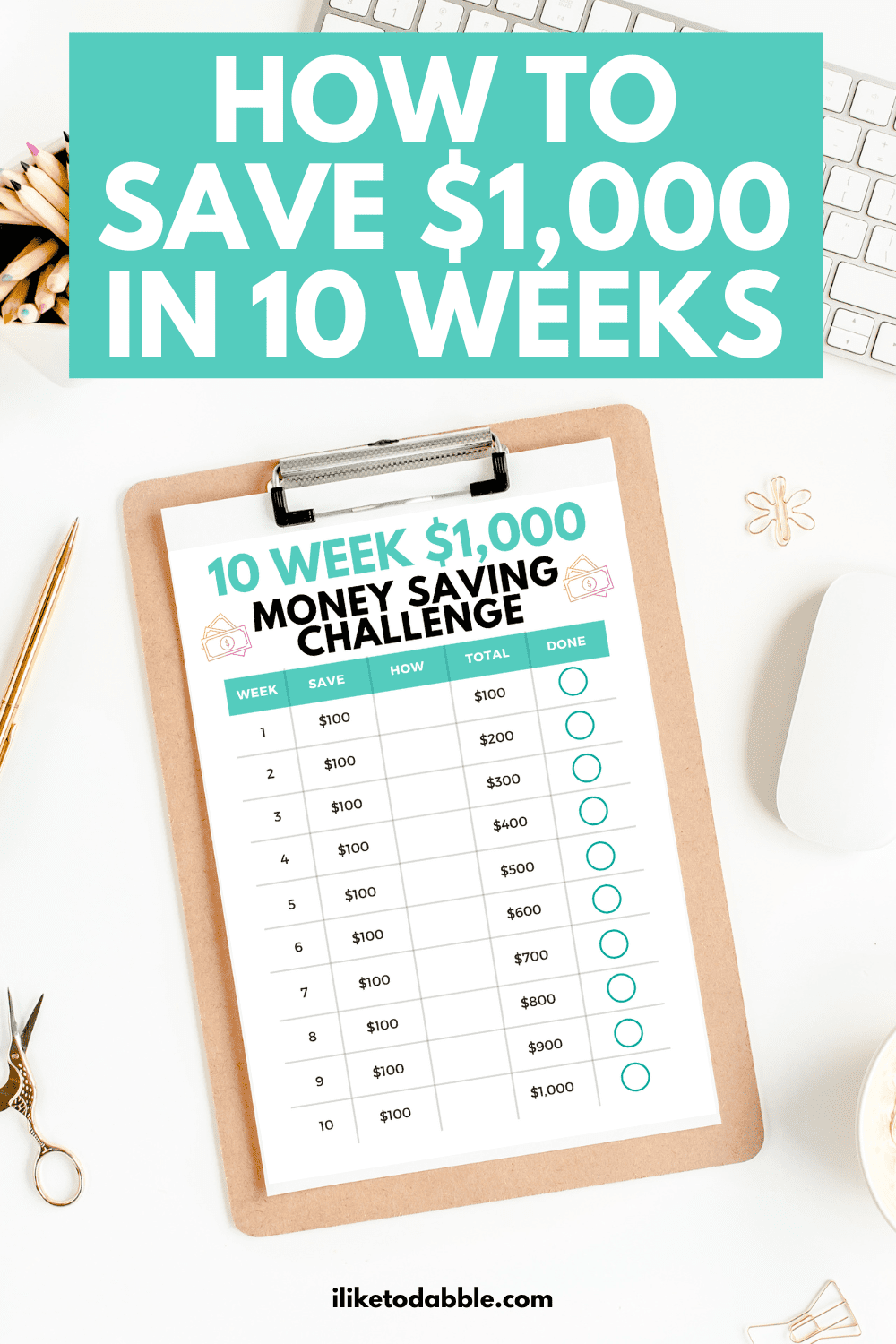 The 10 Week Money Saving Challenge
I created the 10 week money saving challenge to help others easily save $1,000 in a structured, yet fun & gamified way. For this saving plan, all you have to do is save $100 a week or earn $100 week whether that's through a side hustle or something else.
To complete the challenge, save $100 a week for 10 weeks. That's $1,000!
You might think that is a stretch but once you get started, trust me you will find so many creative ways to make or save that money. This type of organization and dedication you put into these 10 weeks will help plant the seeds for your future.
The 10 week money saving challenge will not only help you find ways to save money on a consistent basis but also get your head in the right space to push towards other financial goals.
10 Week Savings Tracker
Sign up below to get the 10 Week Money Saving Challenge Tracker that you can print out and make it fun to fill out each week as you crush your savings goals!
Sign up to get your free Money Saving Challenge Tracker printable!
Save $100 a week during the 10 week $1,000 Money Saving Challenge and set yourself up to be a money saving ninja!
This savings tracker has 5 columns:
Week: Number of the week
Save: How much to save that week
How: Did you save it from your existing income and cut existing expenses or did you side hustle it and that is your extra income? State if it was saved or hustled.
Total: How much you have saved so far
Done: Mark in the circle when you saved $100 for that week.
When you mark that last circle with a 'X' on the last week of the challenge (or whatever you want to mark it with), you're done & $1,000 richer!
Now, let's get into the different ways you can actually pull off this savings challenge.
Ideas to Save $100 a Week
There are tons of ways to save money each week without completely cutting off your spending. You can do "no-spend" days but I've often find myself restricting myself too much that after my no-spend days are complete, I find myself wanting to make an impulse purchase as a "treat".
But, that's me.
However, I don't think that way of thinking is necessarily wrong. You can still gamify your savings by treating yourself to buying things that actually bring you joy. Where you can go wrong though, is buying stuff that you couldn't care less about.
It's all about value-based spending, babyy!
Ways to save $100 a week:
Find subscriptions you don't need and cancel them.
Wait for 30 days before buying something you want. See a cute cardigan today? Wait for 30 days to see if you still think that you MUST have it.
Try a "No Spend Week".
Create a budget and track your spending with Personal Capital.
Lower your monthly bills with Trim (it's free). Trim negotiated a savings amount of $17.40 a month on our AT&T bill.
Meal plan for the week ahead and prep your meals ahead of time.
Make all your coffee at home or for free at the office.
Say no to happy hour or use the Dosh app where you can get cash back at tons of restaurants and bars. Read our review of the Dosh app here.
Unplug most of what is plugged in at your house. Chances are you aren't using them. Or get these power-saving timer outlets.
Get cash back on your groceries and bonuses with Ibotta. You also get a free $10 bonus when you sign up.
Sign up for Ebates for another $10, more cash back and savings bonuses.
Look for cheaper insurance providers. I switched from Progressive to Geico last year for our car insurance and that saved us $150 a month.
Another way that makes saving money so much easier is by automating. I especially love Digit for that.
Digit automatically deposits money from your checking account into the Digit savings account created for you on their app. They do this by analyzing your spending habits and how much you currently have in the bank. Don't worry, they are secure and will never overdraft.
Related posts: How to Save Money on Healthcare
Ideas to Make an Extra $100 a Week
Side hustles are the quickest hack to make more money. However, not all side hustles are created equally and they all range in different effort requirements and potential pay ranges.
You can make extra money from working on a gig app, freelancing, getting a second job or doing odd jobs for others for money, creating something of your own like a blog or product, or starting any sort of business on the side of a day job.
Use our free side hustle quiz to find the perfect side hustle type for you.
Ideas for making an extra $100 a week:
Related posts: 28 Ways to Make an Extra $100 a Day
Teach English Online: 10 Companies That Will Pay You to Teach and Work From Anywhere
InboxDollars Review: What Happened When We Tried It
12 Sites Like Craigslist For All Your Buying and Selling Needs
17+ Ways to Make Extra Money By Taking Online Surveys
How to Make Money as an Artist
Use a Money Mantra to Help You Out
Create a money mantra for what you want to manifest in your financial life. Your mantra should describe the personal vision you have for your finances and how you intend to get there. Something like "I am so happy and grateful now that I am a money saving ninja and I have been able to save and invest $100,000″.
As you see in that mantra we have the vision: "I have been able to save and invest $100,000" and the how: "I am a money saving ninja". Always start off the mantra with "I am so happy and grateful now that".
Ideas for more money mantras:
I am so happy and grateful now that I have $5,000 saved to go to Europe this summer.
I am so happy and grateful now that I have saved and made enough extra money to pay off my debt this year.
I am so happy and grateful now that large amounts of money come to me from various sources of income that I have been able to set up.
Write it down multiple times a day. Say it out load in the morning when you wake up during your morning routine, and at night when you go to bed.
Obviously it isn't true yet but saying it in the present tense let's the universe know to get the wheels turning on that goal! This isn't a get out of jail free card. You still have to put in the work for your goals.
The repetition of the mantra helps you keep that goal in the forefront of your mind. It keeps you in the mindset to keep working towards that future.
Don't just say it, do the opposite and wait for the universe to hand you stacks of cash. You have to put in the work.
Related posts: 29 Life and Money Lessons Learned in 29 Years
6 Simple Ways to Stop Stressing About Money and Enjoy Life
What to Do With Your Money Going Forward
There are plenty of things you can do with your savings to make it work for you and your future.
You can build an emergency fund, invest or add it to an existing travel fund. If you have debt, I urge you to apply a part of it towards that. Pay extra every month on your debt payments to ultimately become debt free.
Let's talk about investing.
If your money is just sitting around in a savings account, it is just sitting there, doing nothing and not growing.
You want your money to grow, and in order to do that you have to invest.
My recommended app for beginner investors:
I have recently started using M1 Finance and am really starting to love it. M1 Finance is 100% free with dynamic rebalancing of your portfolio and no fees.
What are some savings tips you have? Maybe a saving or money success story? Share with us in the comments! And share any wins you have with this challenge and tracker printable!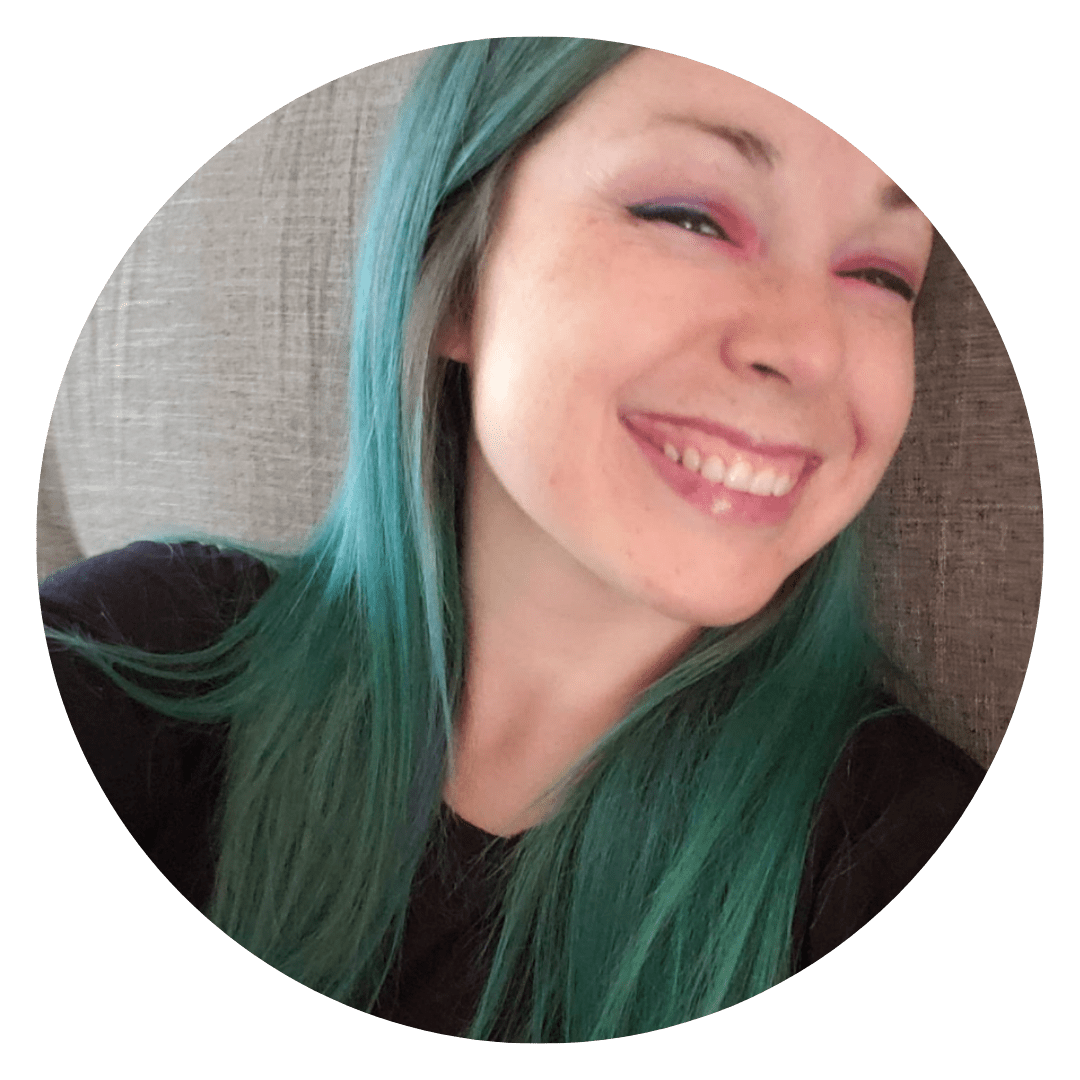 Daniella is the creator and author of iliketodabble.com. When their wife Alexandra and them aren't globetrotting or playing with their 7+ animals, they are dabbling and working towards a future of financial freedom.